Outdoorsman Toolkit is reader-supported. When you buy through links on our site, we may earn an affiliate commission.
Learn more
Keychain multi tools are a rapidly growing segment of the multi tool market, yet many people question their value. Can anything that small actually pack in a useful set of tools? We decided to look at some of the best keychain multi tools on the market today and figure out which ones are actually worth owning.
What is a Keychain Multi-tool
When we started writing this article we realized there was a lot of confusion over what a keychain multi tool actually is. A lot of full size multi tools come with keyrings or other attachment points that you could use to put your keys on. Does that make them keychain multi tools? Definitely not. In general there are four categories of multi tool. These are micro/keychain, pocket, full sized, and heavy duty.
Micro and keychain multi tools are the smallest you'll encounter. They're less than three inches long and weigh just a few ounces. They have the widest range of form factors among all the multi tool categories. They can be one piece multi tools, shrunken versions of full size tools, swiss army style, and a range of more exotic shapes. They don't have the same utility of their larger cousins but are much more portable, making them extremely popular among EDC enthusiasts.
Pocket tools include both traditional folding multi tools and larger pocket knives. Think of something like the Leatherman Skeletool or Victorinox Huntsman. They have a reduced selection of full sized tools but don't pack the full loadout of a standard multi tool. In many cases these tools are designed to replace a folding knife for pocket carry, hence their name.
Full size and heavy duty multi tools are very similar categories with a lot of overlap. Full size tools are usually between four and five inches long and weigh up to about eight ounces. They can have either a butterfly fold or slide out design but generally have full sized pliers. Think of the Leatherman Wave+ or Gerber MP600. They incorporate features like bit drivers, removable/replaceable parts, and an extensive range of tools.
Heavy duty multi tools are basically just more ruggedly built full size tools, like the Leatherman Surge. They can weigh as much as 12-13 ounces but usually aren't more than five inches long. The best way to think about it is that every heavy duty multi tool is full size, but every full size multi tool isn't heavy duty.
Now that we know what a keychain multi tool is, let's go through some of our contenders for the best keychain multi tool.
Best Keychain Multi Tools
Choosing the best of anything is always going to be subjective. Our needs aren't all the same and a tool that's great for a hiker might not work at all for a contractor. When creating this list we tried to find keychain multi tools with great build quality, from manufacturers we trust. This lets us recommend great tools and explain the role they were built to fill.
Leatherman Micra Keychain Multi Tool
The Leatherman Micra is one of the earliest keychain multi tools to hit the market. It's been around since 1996 and pretty much created the micro tool market. Leatherman is well known for the care they put into all their tools. The Micra is clear evidence of that, with excellent craftsmanship and sturdy materials. Leatherman packed 10 different tools into this 2.5 in and 1.8 oz little tool. These include:
Spring Action Scissors
420HC Straight Edge Knife
Flat/Phillips Head Screwdriver
4.7 in/ 12 cm Ruler
Nail File
Nail Cleaner
Attached Tweezers
Medium Screwdriver
Bottle Opener
Extra Small Screwdriver
The Micra is one of our favorite keychain multi tools just because of how useful and durable it is. All the tools work very well, especially given their tiny size. The scissors in particular are a nice touch. Many other keychain tools come with a small pair of pliers, but for a tool this size we find scissors to be much more usable and durable. Another thing we really loved were the attached tweezers. There's nothing wrong with the swiss army style removable ones, but they are very easy to lose.
You can find out more about the Leatherman Micra by reading our full review here.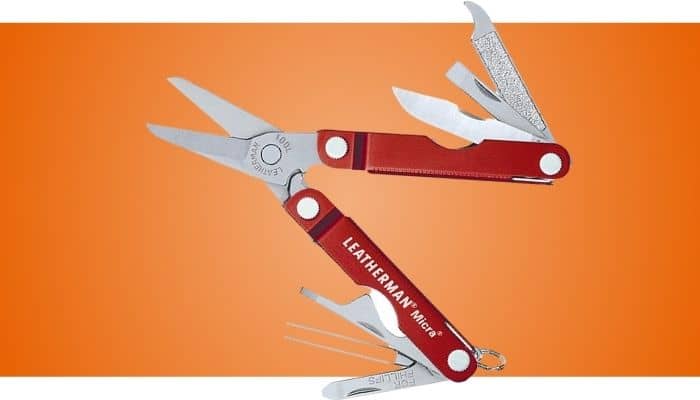 Gerber Dime and Dime Travel Keychain Multi Tools
The Dime is Gerber's answer to the Leatherman Micra and Squirt tools. It's on the larger end of the keychain multi tool market, coming in at 2.8 in long and weighing 2.2 oz. For this larger size you get 12 tools in a classic butterfly fold design. There are two variants of the Dime, original and Travel. The tools on these two multi tools are:
Needlenose Pliers
Regular Pliers
Wire Cutters
Straight Edge Knife – Original Only
Spring Action Scissors
Tweezers
Bottle Opener
Package Opener – Original Only
Flathead Screwdriver
Cross Driver
Lanyard Ring
File
Zipper Pull – Travel Only
We thought the Dime was a pretty good keychain multi tool. It has a mix of tools that work well for their size. There were a few negative points we wanted to touch on. We found the design of the knife to be odd. It has a modified sheepsfoot profile that pretty much eliminates the point. The pliers are another sore spot. At the small size of the Dime we didn't find them to be very useful at turning bolts or getting a firm grip on things.
Overall we found the workmanship of it to be slightly below that of some other tools on our list, though it definitely isn't flimsy. The travel variant isn't a bad choice if you frequently find yourself going through security as it still gives you a good selection of useful tools.
You can find out more about the Gerber Dime by reading our full review here.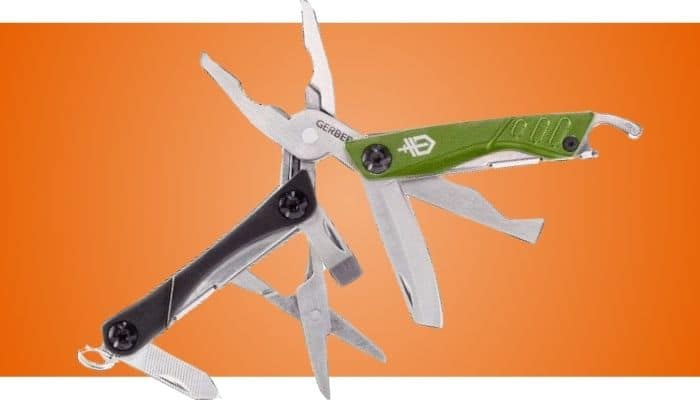 Leatherman Style PS and CS Keychain Multi Tools
The Leatherman Style series encompasses both the TSA compliant PS and the EDC ready CS. They are each 2.9 in long and weigh a featherweight 1.4 oz. The Style series combines a butterfly fold design with styling reminiscent of the Leatherman Skeletool. The PS provides you with eight tools while the CS only gives you six. These tools include:
Spring Action Needlenose Pliers – PS Only
Spring Action Regular Pliers – PS Only
Spring Action Wire Cutters – PS Only
Spring Action Scissors – Small on PS, Large on CS
420HC Straight Edge Knife – CS Only
Flat/Phillips Head Cross Driver
Tweezers
Nail File
Carabiner/Bottle Opener
The biggest difference between the two is the substitution of pliers for larger scissors on the PS and it's lack of a knife blade. Both tools are well made and use quality materials. We found the scissors on the CS to see more use than the pliers on the PS but understand the change. For frequent flyers or others going through security it's great to have the basic tools the Style PS provides. We can attest personally that it will pass muster at airports all over the world. Both of these are well made tools and provide you outsized value, especially for their low price.
You can find out more about the Leatherman Style PS by reading our full review here.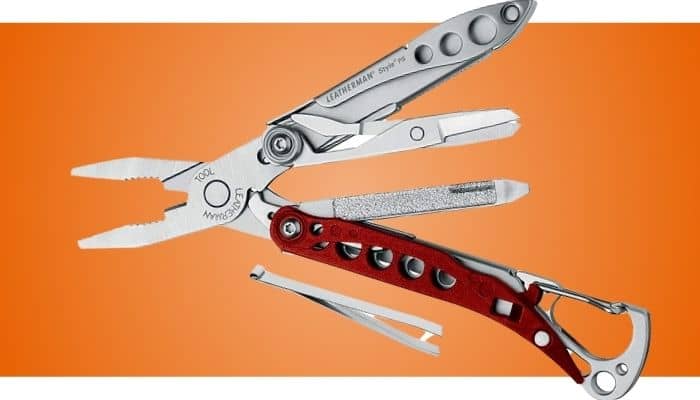 Leatherman Squirt PS4 and ES4 Keychain Multi Tools
The Squirt series from Leatherman also includes two different tools, the standard Squirt PS4 and the more specialized Squirt ES4. The Squirt series are on the small side for this category, coming in at just 2.25 in long and weighing just 1.9 oz. They each have nine tools, with the only difference between the two being the dedicated wire strippers on the ES4. The included tools are:
Spring Action Needlenose Pliers
Spring Action Regular Pliers – PS4 Only
Spring Action Wire Cutters
Spring Action Wire Strippers – ES4 Only
420HC Straight Blade Knife
Spring Action Scissors
Flat/Phillips Head Cross Driver
Medium Screwdriver
Bottle Opener
File
The Squirt series is available in several different colors, allowing you to personalize your multi tool to your taste. They're both quality multi tools with a good mix of basic tools. One thing we noticed was that they didn't feel quite as sturdy as we were expecting. After handling the Micra and the Dime we noticed the Squirt felt slightly flimsier. Don't get us wrong, it's a nice little tool. Overall though, we ranked it below some of the other keychain tools on this list.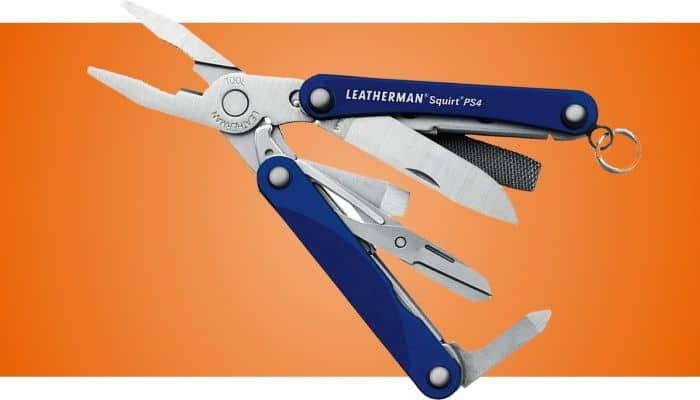 SOG MacV Tool Keychain Multi Tool
The SOG MacV doesn't fold in the traditional sense. It's a one piece multi tool that resembles a flattened skull. It's about average as far as size goes, coming in at 2.5 in, but definitely beats out many other tools with its low weight of .6 oz. Another place the SOG MacV shines is in the number of includes tools. SOG packed 12 different fully functional tools into a pretty tiny space. These include:
Bottle Opener
Cord Cutter
Large Flat Screwdriver
Small Flat Screwdriver
Pry Bar
Hex Bit Driver
Carbide Sharpener
Nail Puller
Phillips Screwdriver
¼ in Wrench
⅜ in Wrench
5/16 Wrench
The MacV is honestly one of the better one piece multi tools on the market. We especially liked the carbide sharpener. It allows you to put a field edge on your knife without packing in a full whetstone. The bottle opener was also one of the best we've seen in this category. Not a huge factor but a nice touch. Unfortunately it does lose out to some other keychain multi tools due to its lack of a blade, scissors, or any kind of pliers. The skull design is also off puttingly 'tacticool' for many potential users. Despite this, it's still a well designed and high-quality tool that provides you a lot of value, especially for its low weight and profile.
If you like the form factor of the SOG MacV, check out our head to head comparison of the best one piece multi tools.
Gerber Curve Keychain Multi Tool
The Gerber Curve is a curious little tool that shares more in common with old school swiss army knives than traditional folding multi tools. It's quite small and light, coming in at 2.25 in long and weighing just .8 oz. Instead of a butterfly fold design it has four fold out tools that lock in place. All told the Gerber Curve includes:
Straight Blade Knife
Phillips Head Screwdriver
Medium Flat Screwdriver
Small Flat Screwdriver
File
Bottle Opener/Carabiner
The Curve is one of the only keychain multi tools we've seen that includes a locking system. We love lockable tools in larger multi tools and were pretty impressed with how it worked on the Curve. There was of course play in the tools but it was much tighter than we were expecting. The screwdrivers on the Curve work very well and we found the curved shaped of its handle to be easy to work with. Overall we give the Gerber Curve high marks for its interesting design, excellent execution, and low price point.
Gerber Bear Grylls Compact Keychain Multi Tool
Gerber has had a relationship with famed outdoorsman and survivalist Bear Grylls for several years now. The Bear Grylls Compact Multi Tool is a product of this relationship. It's on the heavy side for a keychain multi tool, coming in at a full 3 oz for 2.5 in of length. It comes with ten different tools designed to be of use in a wilderness survival situation. These tools include:
Needlenose Pliers
Wire Cutters
Serrated Blade Knife
Straight Blade Knife
Phillips Screwdriver
Small Flat Driver
Medium Flat Driver
Lanyard Ring
Bottle Opener
Tweezers
One thing we did like was that most of the tools on the Bear Grylls Compact are outside accessible. Unfortunately we don't have much else good to say about this multi tool. It was difficult to open most of the tools using a fingernail. There have also been numerous reports of the pliers breaking under very light strain. It looks and feels cheap, and not in a good way. We recommend you steer clear of the Gerber Bear Grylls Compact Multi Tool.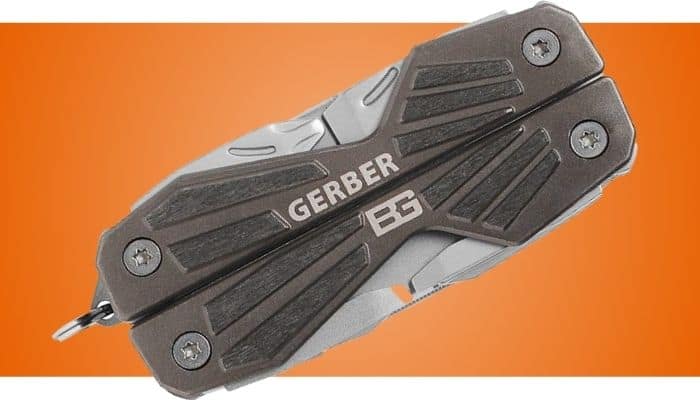 Victorinox Keychain Multi Tools
Victorinox is a famous name in the multi tool world, having invented the swiss army knife as we know it today. They produce a range of small pocket knives that fall into the keychain multi tool category. Listing out every version would be an article unto itself, so we've tried to include an overview of several highly popular versions. We'll start with the tools and functions available on some Victorinox knives.These include:
Straight Blade Knife
Nail file
Scissors
Cuticle pusher
Hook tool/Package Opener
Screwdrivers
Letter Openers
Orange Peeler
Bottle Opener
Wire Stripper
Keyring
Flash Drive
LED Light
Retractable ballpoint pen
Toothpick
Tweezers
Etc.
The Midnite MiniChamp includes most of these tools, while some of the more basic versions might only have three or four. The entry level tool is the Victorinox Escort. It has just a small knife blade, nail filer, plus tweezers and a toothpick. All of the small Victorinox products use the same basic form as the Escort, at 2.25 in long and a variety of weights.
Victorinox makes versions for hikers, IT guys, executives, and everyone in between. All of their products are well made and stand up to frequent use. One of the things we love most about Victorinox's keychain multi tools is how personalized they can be. They frequently release limited edition versions in a huge range of fanciful patterns, styles, and tools loadouts. You can even pay an additional fee to have it customized with your initials or a short message.
There are some compromises of course. None of their products include pliers and in general you should only use them for light duty tasks. They're still excellent pocket knives that are used everyday by lots of people all over the world. If you prefer the old school style of a traditional swiss army knife, it's hard to go wrong with a product from Victorinox.

Griffin Pocket Multi Tool
The Griffin Pocket Multi Tool is honestly one of the best one piece keychain multi tools on the market. It's sturdily built, comes in several different sizes and materials, and has a lot of useful features. The Griffin has 12 tools built into a stylish package. These include:
Scoring Tool
Box Cutter
5/16 Hex Wrench
Bit Driver
Flat Head Driver
4,5,6, and 7 mm Hex Wrenches
Pocket Clip
Mini Pry Bar
Ruler
The Griffin doesn't have many of the traditional tools that you think of in a multi tool. There are no knives or pliers for one. What it does have is a number of useful features that work very well, especially given its small size and form factor. The Griffin Pocket Multi Tool is also just about the only tool on this list we would use to hold all our keys. Its pocket clip design is great for hooking your keys to your belt loop or the side of a pocket.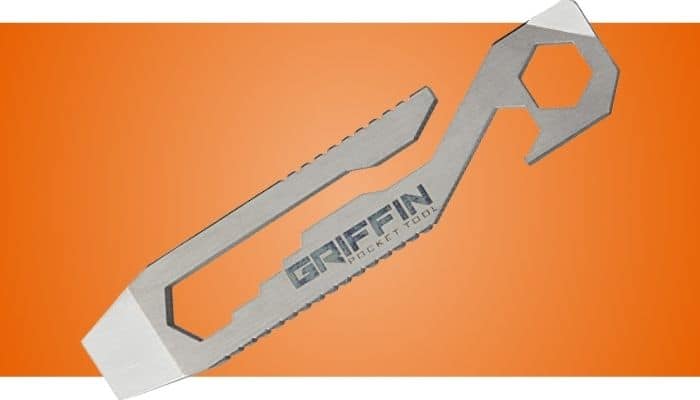 Nite Ize DoohicKey
The Nite Ize DoohicKey is another one piece multi tool that we think provides a lot of value, especially for its low price. It's not the smallest tool on this list, coming in at 2.6 in long and weighing .4 oz, but it makes up for this with its outsized usefulness. Nite Ize lists just six different functions for this tool, including:
Flat Head Screwdriver
Box Cutter
Bottle Opener
Hex Wrench
Carabiner
Ruler
The DoohicKey can't compare to something like the Leatherman Micra or Gerber Dime in functionality. It doesn't have pliers, a knife blade, or even a phillips head screwdriver on it. At the same time though you can often find the DoohicKey for just a tiny fraction of the price of those other tools. It's incredibly lightweight, coming in at just above the weight of your average key. If you're in the market for something inexpensive but still useful, check out the Nite Ize DoohicKey.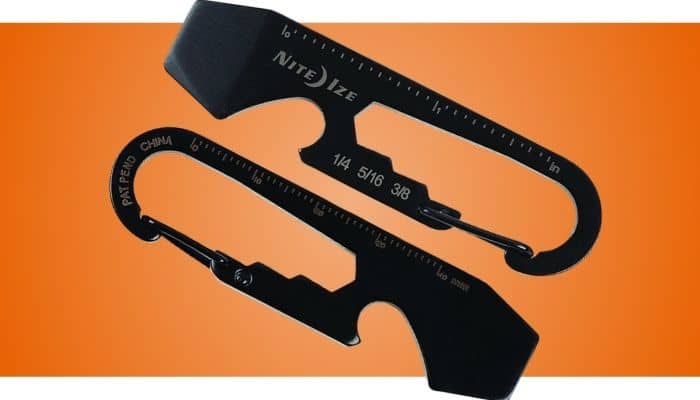 Keychain Multi Tool Buyers Guide
Before you make any purchasing decision it's important to know what you should look for in any micro or keychain multi tool. There honestly isn't one single tool that we can point to as the outright best. Instead there are a lot of high-quality tools that share several important characteristics. To round out this review we've listed out what we think are the most important factors in what makes a keychain multi tool great.
Practicality – Likely Uses For the Multi Tool
As you're trying to decide what multi tool is right for you, think about your average day. Do you find yourself outdoors a lot? Are you a hiker or camping enthusiast? Things like this will shape the types of tools you'll want on your multi tool. Decide whether you prefer a larger pair of scissors or a small pair of pliers. You should also think about where you'll be with your tool. Many cities, states, and countries restrict the kinds of tools and knives you can carry.
As a general rule you should expect to get about 40-50% as much utility out of a keychain sized tool as you would out of a full size tool. Don't buy a micro multi tool expecting to be able to routinely turn large bolts or torque down screws. These are light duty tools for intermittent use. They work great for what they are but you shouldn't overestimate their strength or durability.
Trusted Brands
You should never buy something just because it's made by a famous company. By the same token though a company that has demonstrated a commitment to quality and built a loyal customer base over many years shouldn't be ignored. Leatherman, Gerber, Victorinox, and SOG are some of the largest manufacturers of knives and multi tools today. They've all got good reputations and they all stand by their products.
Build Quality
Keychain multi tools are never going to be as robust as their full size or heavy duty cousins. That doesn't mean that they should fall apart if you look at them funny. If you can, try and get your hands on any multi tool you're considering. Open up all the tools and see if they have any play in them. Check how thick the handle material is and what kind of fasteners the manufacturer used.
Any quality multi tool should open and close smoothly. There shouldn't be any problem using the included tools as intended. If a tool looks or feels flimsy it probably isn't a good investment.
Price
It should go without saying but a keychain multi tool should cost significantly less than a full size one. Most of the tools on this list fall well under $40, cheaper than even the lowest priced all up multi tool. Even the best quality keychain multi tool will be far less capable than a cheap full size tool. They're also more fragile and more likely to be lost due to a broken keyring or bad carabiner.
You should think of keychain multi tools as something useful to have around, but not something you need to break the bank on.
Size and Weight
A keychain multi tool has to be small and lightweight. None of the tools on this list are longer than three inches and most of them weigh just one to two ounces. Think about what you already have on your keychain and then think about what you're willing to add to it. That's a good rule of thumb for how beefy a tool you can choose.
Warranty
Any multi tool you purchase should come with a warranty on parts and workmanship for at least 20 to 25 years. Both Leatherman and Gerber offer very generous warranties that they are happy to stand by. You want to know that if something breaks in the normal course of using your tool the company will make it right.
Conclusion
Now you know the basic difference between the different multi tool categories and how a keychain multi tool can benefit you. Don't stress out so much about finding the best keychain multi tool. List out your needs, figure out your budget, and then find one that you like.
A keychain multi tool is the one thing you'll have on you wherever you are. It's a tiny set of tools that you won't forget or leave behind because it's right there on your keys. As long as you keep our buying guide in mind and know what you're looking for in a tool it's hard to go wrong with most of the tools on this list.