Outdoorsman Toolkit is reader-supported. When you buy through links on our site, we may earn an affiliate commission.
Learn more
There are few things you can carry that are as useful as a multi tool. For a lot of people though, carrying a half pound hunk of steel on their belt isn't appealing. For those who want the functionality a multi tool provides without the heft Leatherman released the Skeletool. It's a stripped down multi tool designed to provide the essentials without all the extra features.
Today's Leatherman Skeletool Review will cover the included tools, their functionality, and the overall build quality. It'll give you a good overview of the Skeletool and help you decide if it's the multi tool for you.
Leatherman Skeletool Overview
The Skeletool has been one of Leatherman's most popular multi tools since its introduction in 2007. It's a hybrid between a full size multi tool and a pocket tool. It measures four inches when closed and weighs just 5 oz.
There are several different variants of the Skeletool, including the Skeletool CX and Skeletool RX. You also have multiple color and pattern choices. Each variety folds out butterfly style and has a variety of different tools and types of blades.
Leatherman Skeletool Original, CX and RX Tools
The Skeletool Original, Skeletool CX, and Skeletool RX each have slightly different tool loadouts. The most noticeable difference is the type of knife blade included.
Other than that though they have the same length, weight, and general layout. Each comes with either seven or eight tools, focused around a pair of needle nose pliers with a pair of permanent wire cutters.
Pliers and Wire Cutters
The main tool of all Skeletool variants is a pair of needle nose pliers with regular pliers below them. There's also a set of regular and hard wire cutters.
Unfortunately, these aren't removable/replaceable parts like those found on many of Leatherman's other premium multi tools but they are good tools job are effective at cutting through wire.
Knife Blades
Each type of Skeletool offers a different variety of knife. They come in straight edge, serrated or combo. Each blade is 2.6 in long and made from 420HC or 154CM stainless steel.
'
This gives you a good edge, excellent corrosion resistance, and the ability to easily sharpen up. Choosing between the blade types comes down to how you intend to use them. Straight edge blades are the easiest to sharpen and do a great job at cutting smoothly and precisely through different materials.
A serrated edge is more difficult to upkeep but is ideal for cutting through rope, straps, cardboard or other thick materials. The combo blade offers a good mix of cutting capability but makes it more difficult to sharpen both the straight edge and serrated edge portion of the blade.
Large Bit Driver
Other than the knife and pliers the most significant tool on any Skeletool is the large bit driver. It's sized to Leatherman's proprietary flat bits, requiring the purchase of more direct from them.
It comes standard with a double end Phillips head bit and has space in the handle to hold a spare. Depending on the variant you choose you can also get bits such as a carbide glass breaker, great for EMTs and other first responders.
Carabiner/Bottle Opener
The final tool included on all Skeletool variants is the combination carabiner and bottle opener. It's built into one of the handles and is effective at securing the Skeletool to a pocket, keychain, belt loop or bag.
The bottle opener is one of the better versions we've seen on a multi tool and is fully capable of popping a beer or soda cap without issue.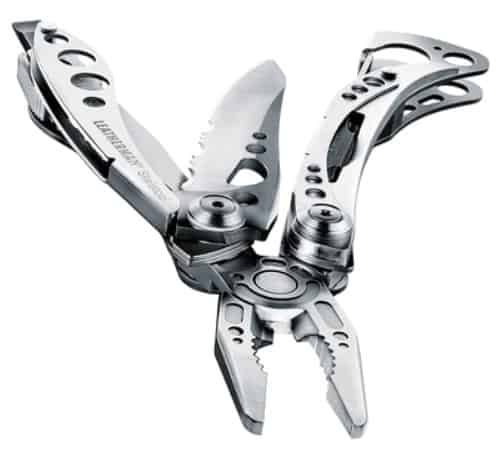 Leatherman Skeletool Review
The Leatherman Skeletool is one of the lightest and easiest to carry multi tools on the market today. It combines much of the functionality of a full size multi tool with the portability and light weight of a pocket tool.
Plus it has a really sharp design. Its combination of smooth angles and long curves make it a delight to look at in your hand or on your belt. The cut out steel handles are easy to clean and help reduce the weight even further. There are several major variants for different purposes and professions plus nearly endless customizable colors, patterns, and engravings.
There's no getting around it though, the Skeletool isn't really a full size multi tool. It has no saw, no scissors, and none of the features like can openers, corkscrews or a steel file. If you're looking for a full size and fully functional multi tool you should look elsewhere.
That being said, the Skeletool is one of the coolest hybrid multi tools out there, made from quality materials by a well regarded manufacturer, and priced just at the point of affordability for the average multi tool user.
Leatherman Skeletool Pros – Things We Liked
Extremely lightweight
Perfect for EDC
Provides the most commonly needed tools
Very sharp design
Leatherman Skeletool Cons – Things We Didn't Like
Limited selection of tools
Proprietary bit driver size
Wire cutters not replaceable
Who's The Leatherman Skeletool For?
The Leatherman Skeletool is one of those rare tools that just about anyone can get value from. It's perfect for the everyday user who wants to have a basic set of tools at hand. It can also supplement larger multi tools for serious EDC enthusiasts or act as a backup.
It's a smaller and lighter version of the classic multi tool design that still provides excellent value.
Leatherman Skeletool accessories and extras
Part of the appeal of the Skeletool line is how stripped down they are. If you want to customize your Skeletool a bit there are plenty of accessories that can improve it.
Sheath / Holster / Pouch – The Skeletool comes standard with a pocket clip and a built-in carabiner. This gives you two great ways to carry your Skeletool. If you're a traditionalist though it's hard to beat the classic belt pouch.
You can choose between the new black nylon Leatherman pouch or our personal favorite, the natural brown leather Heritage pouch. It's a gorgeous and sturdy pouch modeled after the design used for the original Leatherman Pocket Survival Tool.
Bit Kit – One of our biggest gripes with Leatherman bit drivers is their use of a proprietary bit size rather than the ubiquitous ¼ inch. If you want to get extra bits for your Skeletool you need to purchase the 21 piece Leatherman bit kit.
It includes everything from Torx bits, Phillips heads, flatheads, and other useful bits.
Replacement Parts – Leatherman backs the Skeletool with their standard 25 year warranty. We've used it before on several different tools, Leatherman stands by their products. If you have any issues with your Skeletool we highly recommend you submit a request.
Different Colors – The Skeletool and its variants are available in a wide range of colors and patterns. If you make your purchase directly from Leatherman you've got the option to further customize your Skeletool with engraving and special color choices.
Leatherman Skeletool Vs Comparable tools
The Leatherman Skeletool is the poster child for the Leatherman pocket tool category. It's a great multi tool, but there are tons of other great multi tools on the market today.
Let's see how the Skeletool stacks up against them.
Comparison Table
Skeletool Vs Wave
The Wave+ is Leatherman's best selling multi tool of all time. It's loaded down with 18 different tools, including a saw, a double file, large and small bit drivers, and much more. It's a full size butterfly fold multi tool that encompasses the best of Leatherman's traditional tools in a stylish package.
It honestly might be the best multi tool on the market, and it only costs a little more than the Skeletool. When it comes right down to it there's almost no comparison between the Wave+ and the Skeletool. Of course, the Wave+ doesn't fulfill the same niche that the Skeletool does.
The Skeletool is a lightweight pocket tool with the most important tools of a multi tool. It isn't designed to compete with something like the Wave+. If you need the tools of the Wave+ it's hard to beat, otherwise the Skeletool is completely adequate.
To learn more about the Leatherman Wave+, check out our full review.
Skeletool Vs Freestyle
The Freestyle is to the Skeletool what the Skeletool is to the Wave+, a stripped down version. It combines the pliers of the Skeletool with a combo 420HC blade.
That's it. It has no carabiner, it has no bottle opener or bit driver. It's designed for folks who want to carry a pocket knife with a little bit extra. Overall though, we think the Skeletool is superior.
It's only slightly larger and heavier than the Leatherman Freestyle yet offers several additional features, most important of which is the large bit driver. Unless you absolutely want the lightest mostly full size Leatherman the Skeletool is the way to go.
Skeletool Vs Wingman
The Leatherman Wingman is a full size multi tool designed for the value market. It includes a selection of the most in demand tools found in multi tools but built for occasional use. The Wingman has full sized pliers, a full size combo knife, and a large pair of scissors.
It finishes its tool load with fixed screwdrivers and a small can opener and file. It's larger and heavier than the Skeletool but provides only marginally more functionality. It also costs only slightly less than the Skeletool.
Overall if you're considering the Wingman we'd recommend the Skeletool. It's lighter and smaller, yet provides probably 80% of the utility of the Wingman.
To learn more about the Leatherman Wingman, check out our full review.
Skeletool Vs Signal
The Signal is Leatherman's wilderness survival multi tool. It provides you with 19 different tools and is tailor made for hikers, campers, and other outdoorsman. It's built on a slightly less beefy version of the Leatherman MUT frame and uses a butterfly fold design.
We're not going to lie to you, the Signal is a sweet multi tool. It looks sharp, comes in a variety of awesome patterns, and provides a ton of really useful tools. The Skeletool basically can't compete with the Signal in any category but price.
It's just half the cost of the stock Signal.
If you frequently find yourself out in the backcountry it's hard to beat the Leatherman Signal. If you're more likely to be riding a desk than hiking down the trails though, the Skeletool is definitely your best choice.
To find out more about the Leatherman Signal, check out our full review.
FAQ: Leatherman Skeletool Multitool
Whether you're an experienced outdoor enthusiast or a novice camper, having the right tools by your side can make a world of difference during your adventures. The Leatherman Skeletool Multitool is a reliable and versatile companion designed to meet the needs of campers, hikers, and wilderness explorers. We understand that you may have some questions about this impressive multitool, so we've compiled a list of frequently asked questions to help you make an informed decision. From its key features and durability to its suitability for camping and maintenance tips, we have you covered. Read on to discover everything you need to know about the Leatherman Skeletool Multitool, ensuring you can make the most of your outdoor experiences with this exceptional tool at your side.
What is the Leatherman Skeletool Multitool?
The Leatherman Skeletool Multitool is a versatile and compact tool designed for outdoor enthusiasts and campers. It combines multiple functions into a single tool, including pliers, a knife, screwdrivers, and more, making it a handy companion for various tasks in the wilderness.
What are the key features of the Leatherman Skeletool Multitool?
The key features of the Leatherman Skeletool Multitool include:
Pliers: The Skeletool includes needle-nose pliers with a wire cutter, allowing you to grasp and manipulate objects with precision.
Knife: It has a high-quality stainless steel blade that can be accessed easily with one hand, making it convenient for quick cutting tasks.
Screwdrivers: The multitool features both a Phillips and a flathead screwdriver, offering versatility for tightening or loosening screws during camping trips.
Bottle Opener and Carabiner Clip: The Skeletool has a built-in bottle opener for enjoying your favorite beverages and a carabiner clip for easy attachment to gear or belts.
Lightweight and Portable: Weighing only a few ounces, the Skeletool is designed to be lightweight and compact, making it ideal for camping and outdoor adventures.
Is the Leatherman Skeletool Multitool durable?
Yes, the Leatherman Skeletool Multitool is known for its durability. It is constructed with high-quality materials, such as stainless steel, ensuring it can withstand the rigors of outdoor use. The Skeletool is designed to be tough and long-lasting, making it a reliable tool for camping trips.
Can I use the Leatherman Skeletool Multitool for camping?
Absolutely! The Leatherman Skeletool Multitool is an excellent choice for camping. Its various tools, including pliers, knife, and screwdrivers, come in handy for tasks like repairing gear, cutting ropes, opening food packages, and more. Its lightweight design also makes it easy to carry with you on camping trips.
Does the Leatherman Skeletool Multitool have a warranty?
Yes, Leatherman offers a 25-year limited warranty on their products, including the Skeletool Multitool. This warranty covers any defects in material or workmanship, providing you with peace of mind and ensuring that you can rely on the tool for years to come.
Can I replace the components of the Leatherman Skeletool Multitool?
The Leatherman Skeletool Multitool allows for component replacement. Leatherman provides various accessories and replacement parts for their tools, including blades, bits, and other components. This ensures that you can maintain and customize your Skeletool as needed.
Is the Leatherman Skeletool Multitool safe to use?
When used properly, the Leatherman Skeletool Multitool is safe to use. It is important to follow the instructions provided by Leatherman and exercise caution when handling the tool's sharp edges and blades. Keep the multitool away from children and use it responsibly to prevent accidents.
Can I take the Leatherman Skeletool Multitool on a flight?
No, the Leatherman Skeletool Multitool, like other similar tools, is generally not allowed in carry-on luggage on flights. However, you may be able to pack it in your checked baggage. It's advisable to check with the airline's guidelines and the Transportation Security Administration (TSA) regulations for specific rules regarding multitools and sharp objects.
How do I clean and maintain the Leatherman Skeletool Multitool?
To clean and maintain the Leatherman Skeletool Multitool, you can follow these steps:
Wipe the tool with a clean, damp cloth to remove any dirt or debris.
Dry it thoroughly to prevent rusting.
Apply a small amount of lubricant to the pivot points and hinges periodically to ensure smooth operation.
Keep the tool in a dry and secure place when not in use to maintain its longevity.
Remember to consult the user manual or Leatherman's website for specific cleaning and maintenance instructions for the Skeletool Multitool.
Conclusion – Final Thoughts On the Leatherman Skeletool
The Leatherman Skeletool is one of those iconic multi tool designs that really stands out. It embodies a minimalist aesthetic of 'just enough' that many people find appealing.
It really is just enough, with the basic tools most frequently called upon in a multi tool packaged in an attractive butterfly fold body.
If you've never carried a multi tool before and want to give it a try, it's hard to beat the Leatherman Skeletool as the multi tool to start out with.