Outdoorsman Toolkit is reader-supported. When you buy through links on our site, we may earn an affiliate commission.
Learn more
Gerber is famous among knife aficionados for producing high quality knives that are always made in America. It's now trying to establish itself as a top manufacturer of multi tools as well. To do that they've created an interesting take on the one handed opening trend. It's flagship tool, the Multi-Plier 600 (MP600), is incredibly popular among members of the US military and the general public. Our Gerber MP600 review will explore the tool loadout, durability, and usability of this multi tool and let you know if Gerber is living up to its reputation.
Gerber mp600 Overview
The Gerber MP600 is based on an innovative one handed opening plier design with internal access tools. Instead of a traditional butterfly fold the MP600 pliers slide up out of the main body. There are two release switches on either side of the tool that make this work. The big draw of this is that you can flick out the pliers without needing to unfold the tool.
The MP600 is 4.9 inches long closed and comes in at 9 oz. That's a little larger and heavier than some other full size multi tools but not too bulky overall. One of the really interesting things about the MP600 is how adaptable it is. Currently Gerber offers close to 20 different versions of this tool, with different configurations of plier types, finish, tool loadout, and intended use.
Gerber mp600 Tools
The Gerber MP600 has all the standard tools you expect from a multi tool along with a few really special items. Because there are so many different versions of this multi tool it's important that you check exactly what you're getting before making a purchase. Some of the versions provided are basically worthless outside a narrow field of use.
This is a pretty cool concept overall. Instead of building separate tools for different needs Gerber designed a standard multi tool body that they then filled with different kinds of tools. They have versions available for general use, M4/M16 maintenance, combat engineering/demolition, and more.
All tools on the MP600 lock open using Gerber's Saf.T.Plus locking system. There are sliding release buttons on either side the tool's body that release the tools when you're done. This is one of the better locking systems we've yet seen. There was no play in the tools when extended and they release easily when you're done. We were a little worried about the plastic construction's long term durability but so far it's held up well to frequent use.
Pliers and Wire Cutters
Unlike many multi tools the Gerber MP600 offers a pair of pliers for just about any need. You can choose between the usual needlenose and standard pliers but also a custom designed blasting cap crimper tool specifically for combat engineers. Whichever option you choose you can expect quality design. The pliers mate together perfectly, giving you excellent gripping power to really torque down on nuts and bolts. One of the only things we didn't like was the lack of a spring action option for the pliers.
The wire cutters are another unique feature to Gerber. Leatherman has been adding replaceable wire cutters to some of their premium multi tools but Gerber is trying to take this one step further. The MP600 comes with either a basic steel wire cutter or replaceable triangular tungsten carbide blades for those really stubborn or hard to cut wires. Tungsten carbide is one of the hardest tool materials known to man. It resists chips and doesn't dull as quickly as traditional steel.
The triangular design allows you to rotate the blades three times to give you longer life on your cutters. Unfortunately the cutters Gerber have come out with don't seem to be living up to their hype. Numerous users report that the blades struggle to cut through coated wires and are incredibly brittle. So brittle that they often break when trying to rotate them.
Knife Blades
Like most of the other tools on here you can get several different knife blades for your MP600. There's even a bladeless version for users who frequently enter secured areas. There are straight blades, serrated blades, half straight half serrated, and everything in between. You can choose different blade angles and even go for blunt tipped blades.
The knife blades come sharp, are easy to maintain, and generally provide everything you need from a multi tool blade.
Screwdrivers
The Gerber MP600 base model comes with four different screwdrivers, one phillips head and three flatheads of various sizes. The phillips head has a tapering point that fits reasonably well in a variety of screw sizes but is a bit stubby compared to some of the offerings from Gerber's competitors. The flat heads fill a useful range of sizes, starting fairly small and moving up to a standard largish. None of them will work for electronic sized screws unfortunately.
Gerber doesn't have any bit drivers in their MP600 line but they do offer an interesting accessory to get around this. More on that below.
Can Opener, Bottle Opener, File
Gerber really shows their desire to 'do things differently' with the design of the MP600's can and bottle openers. Unlike basically every other multi tool and swiss army knife on the market Gerber choose to separate these into two tools.
Both work just fine, the can opener in particular glides through cans with ease, but they definitely could have combined these into a single tool without sacrificing any utility. The bottle opener is weirdly shoehorned into the base of one of the flathead screwdrivers but doesn't seem to impact the drivers strength or usability.
The file is a standard steel file and works well enough. The only strange choice Gerber made here was coating the file surface with black oxide. We found that the coating Gerber placed on it scrapes off very quickly with regular use, something they really should have expected on the surface of a file.
Lanyard ring and Ruler
It always sits funny with us that multi tool makers count a lanyard ring as a 'tool'. Is it a useful feature? Sure, especially in areas where there's a risk of dropping your multi tool in water or muddy conditions. But a tool, definitely not. That being said, Gerber's does exactly what you need it to do and is sturdy enough to support the weight of the tool without issue.
The design of the MP600 makes the ruler less useful that it would be on a traditional butterfly open multi tool. It just comes down to the overall length of the tool's body. The ruler is 8 cm/ 3 inches long depending on the side you're looking at.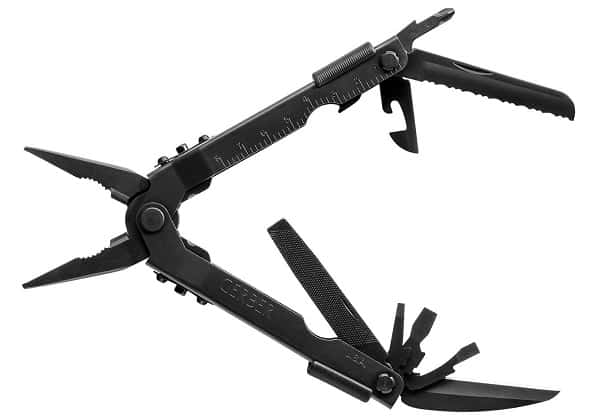 Pro Scout
The MP600 Pro Scout is the premium multi tool in the MP600 line. It has 14 tools, a stainless steel finish, and comes standard with Gerber's tool kit attachment set. The biggest differences between the standard MP600 and the Pro Scout are the addition of Fiskars branded scissors and a universal saw coupler that allows the use of RemGrit cutting blades.
The RemGrit blades are pretty good at sawing through plastics and thin pieces of metal. Overall we found it to be a neat feature but one that we rarely called upon. The Pro Scout is only available with needle nose pliers and standard wire cutters, which we think says interesting things about Gerber's triangular replaceable blades.
Sight Tool
The Gerber MP600 Sight Tool includes the standard tool loadout of the MP600 with just a few tweaks. It's designed to provide the perfect tool for infantry, police, and firearms enthusiasts everywhere. The namesake tool of this multi tool is the M4/M15/AR15 sight adjuster tool.
This allows you to quickly adjust the front post sight of a rifle in the field or on the bench. It also includes a carbon scraper and a longer than normal phillips head driver. Is this tool for everyone? Absolutely not. For those who need it though, the MP600 sight tool version provides a very useful multi tool for emergency repairs and adjustments when you need them most.
DET
The MP600 DET is even more specialized than the Sight Tool variant. Gerber designed this tool for the highly specific needs of US Army combat engineers working with explosives. The key tools for this are the blasting cap crimper pliers and C4 punch useful only when dealing with plastic explosives.
The DET isn't something most people will need. For the highly trained men and women of the US armed forces who do need it though, it's a useful and well designed multi tool.
Gerber mp600 Review
The Gerber MP600 is overall a good tool with a few interesting features. The one handed open pliers are almost unique among multi tools and feel less like a gimmick than we were expecting. The specialized variants really show Gerber's commitment to providing military men and women with the best gear available. The build quality and durability of the MP600 are also excellent. Unfortunately, some of Gerber's design choices drop it below the level of the top of the line multi tools it competes with.
The replaceable wire cutters are finicky at best and don't match up to the quality of those offered by other major manufacturers. One thing we really didn't like was the lack of scissors on the majority of offered models. For a company owned by Fiskars, this seemed like a major oversight. The separate can and bottle openers also seemed like a weird choice. The space used for them could have provided an extra tool slot.
The black oxide coating also became an issue faster than we expected. It provides the MP600 with a sharp initial look, but quickly began to show wear. Scratches that would have been invisible on a stainless steel multi tool were extremely evident on the MP600. Not something that everyone will care about but a mark against it nonetheless. We also found that the locking mechanism needed regular care to keep it working smoothly.
Gerber mp600 Pros – Things We Liked
One handed opening pliers
Lots of available variants
Attractive design
Made in the USA
Durable and well made
All locking tools
Gerber mp600 Cons – Things We Didn't Like
Black oxide starts to come off fast
Lack of scissors on most models
No outside accessible tools
Ruler is less usable because of body design
Who's The Gerber mp600 For?
Gerber has been clear from the beginning that the MP600 line was designed with the men and women of America's armed forces in mind. Everything from the tactical appearance and rugged design to the DET/Sight Tool variants and Berry compliant sheaths are focused on this market.
It just so happens that as a byproduct of this focus Gerber created a useful, interesting tool that any handy person would be happy to use.
Gerber mp600 accessories and extras
No multi tool would be complete without optional accessories. In Gerber's case there are some that can really amplify the value of your multi tool.
Sheath / Holster / Pouch – All variants of the MP600 come standard with a nylon sheath. Depending on if you purchase a DOD compliant version or not your sheath will be made in either China or the US.
Tool Kit – Many multi tool manufacturers now offer a bit kit to go with a built in bit driver. Gerber has taken the unique step of building a tool kit with bit attachment that fits over their standard phillips head driver. Once in place you can use the included bits for several different screw types and sizes.
Pocket Clip – Gerber doesn't currently offer a pocket clip for the MP600. In our opinion this is a mistake. Without an effective pocket clip you're basically limited to using the belt sheath or just letting the MP600 roll around in your pockets.
Replacement Parts – Gerber offers a limited lifetime warranty on all their knives, tools, and multi tools. This only applies to the original owner and doesn't include damage due to wear and tear, misuse, or sharpening of the blades.
Different Colors – The MP600 is available in either black oxide or stainless steel finishes. We recommend you go with the stainless. It may not stand out as much as the black oxide but it definitely holds up better over the long term.
Gerber mp600 Vs Comparable tools
The Gerber MP600 is a quality multi tool with interesting features, but how does it stand up to its biggest competitors? Here are some highlights of other multi tools similar to the MP600 and our opinion on which one is superior.
Comparison Table
Gerber mp600 Vs Diesel
The Gerber Diesel is basically a slightly larger version of the MP600 with a few differences in tool loadout. It has the same one handed opening plier design and length of the MP600 but is slightly wider and thicker than its cousin.
The Diesel has scissors and a saw blade where the MP600 doesn't. If you like one you'll probably like the other. Deciding between the two really comes down to what tools you think you'll use more.
Gerber mp600 Vs Center Drive
The Gerber Center Drive is clearly designed with the handyperson in mind. It uses Gerber's one handed open plier design along with an outside accessible knife blade and bit driver. The central draw of the Center Drive is the full size bit driver. It extends out several inches and lets you get the functionality of a regular bit screwdriver in a multi tool.
If you're just looking to do odd jobs around the house we'd recommend you go with the Center Drive. It's specialized for repair and construction type jobs. The MP600 is an overall more balanced multi tool for the money.
Read our Gerber Center-Drive review
Gerber mp600 Vs Leatherman Wave+
– The Wave+ is Leatherman's flagship multi tool, the same as the MP600 is for Gerber. It's slightly smaller when closed and weighs half an ounce less. It's also a standard butterfly open multi tool with scissors, replaceable wire cutter blades, and both a saw and included bit drivers.
The Wave+ overall beats out the MP600 on just about every metric. It's lighter, just as sturdy, has a better tool loadout, and the finish stands up better than the MP600's. All of this at a price just barely above the MP600's. The only reason to go with the MP600 over the Wave+ is if you really like the one handed open pliers.
Read our Leatherman Wave Plus review
Conclusion – Final Thoughts On the Gerber mp600
The Gerber MP600 is a military multi tool that is also fairly useful around the house. It's got interesting features and is a durable, well made tool.
All in all the Gerber MP600 is a pretty good multi tool that falls just short of great. For its price we still think the MP600 is a good value. Its sturdy, has a tool loadout for just about any user, and looks sharp.
LEATHERMAN FREE T4

REVIEW
Rating: 4.7 Stars Out of 5.0