Outdoorsman Toolkit is reader-supported. When you buy through links on our site, we may earn an affiliate commission.
Learn more
The Military Utility Tool, or MUT, is Leatherman's first entry into the tactical multi tool market. It was designed to work seamlessly with the firearms used by America's soldiers, sailors, Marines, and airmen while also providing them with a useful set of basic tools. It does this with some pretty specialized parts that you don't find on many other tools.
Our Leatherman MUT review will go over the features of this tool, its overall design, the quality of its workmanship, and who we think would benefit by owning a MUT
Leatherman MUT Overview
The MUT is an attempt by Leatherman to combine the tools needed for basic military rifle maintenance into a day to day useful package. They wanted a specialized multi tool that still gave you the general utility you crave from a multi tool. What they came up with was a heavy duty tool that's about as sturdy as any multi tool we've seen. Leatherman started with a standard butterfly open tool and started modifying different areas. They included detachable bits stored internally along with several removable and replaceable parts.
It's a hefty tool to be sure, coming in at 5 in long folded and weighing a full 11.2 oz. That puts the MUT right up there with the Leatherman Surge and other heavyweight tools. The design itself is also quite eye catching. Throughout this Leatherman MUT review we'll find out if Leatherman succeeded in their goal of building a generalized specialty tool.
Leatherman MUT Tools
The MUT is one of the most specialized multi tools on the market. About a quarter of its 16 tools are only really needed when maintaining firearms, the M4/M16/AR15 rifle in particular. Despite this focus the MUT maintains a good balance of general utility and specialized functionality. Several major tools on the MUT are removable and replaceable, a feature we're always a fan of.
A really interesting feature of the MUT's design is that all the included tools save for the pliers/wire cutter are outside accessible. This is an excellent design philosophy given the tools intended users, as generally when working in a combat situation you won't have the ability to use both hands on a tool.
Pliers, Wire Cutters and Crimper
The MUT is only available with a needlenose point though it does of course include a regular plier section on the needlenose. We found the pliers to be well designed, providing substantial grip on a variety of surfaces. The teeth meet together well and the size of the handle really lets you torque down on whatever you're grabbing.
The wire cutters on the MUT use Leatherman's removable blade system and include both regular and hard wire areas. Leatherman put a lot of thought into their blades and you can definitely tell when you use them. These can power through copper wire without issue and hold up pretty well against a reasonable thickness of steel. You'll find a small divot cut out on either side of the cutters at their base. This is to cut stranded wire without crushing the delicate inner wires. Wire cutters are usually the first item on a multi tool to wear out or get damaged. Having an inexpensive replacement available is a great feature in our book.
The wire crimper is located just below the joint of the pliers. It does a good job crimping wires but isn't quite as capable as a full set of wire crimpers would be.
Knife Blades
The blade on the Leatherman MUT is made of 420HC stainless steel and uses Leatherman's modified sheepsfoot blade style. It's a combination blade with the front portion a straight blade and the back serrated. It's a full three inches long and can just about remove the need to carry another knife.
Like most of Leatherman's blades they come from the factory almost sharp enough to shave with and hold an edge well. Sharpening the serrated blade can be tricky but once you get the hang of it you'll be cutting through rope and other rough materials in no time.
Saw
The Leatherman MUT also comes with a standard saw blade for cutting through small branches and other materials. It has a nice open tooth pattern and cuts well through wood and light plastics. We found the blade to cut smoothly and rarely snag.
Cutting Hook, Hammer, Bolt Override and Carabiner/Bottle Opener
The base of the MUT is actually a combination tool that incorporates fully five of the 16 listed tools into it. These include the hammer, cutting hook, bolt override, and carabiner/bottle opener. We'll start off with the hammer as that's the primary tool of this little assembly. We love any multi tool that has a hammer on it. There's just something so nice about being able to quickly hammer down a nail or knock something into place from your pocket tool.
The MUT's hammer has a nice ridged head and works well. The end of its face is the bolt override tool. This is one of the tactical specific tools on the MUT. When shooting modern sporting rifles or military carbines there's always a chance a round will jam in the receiver. The bolt override tool allows you to quickly pull back the bolt carrier and release the cartridge while in the field. It also works well as a light prying tool for wood staples and other items, though it definitely won't get under a nail.
The cutting hook is located on the opposite face of the hammer and is one of four removable parts on the MUT. It does a good job getting through ropes and other smallish cordage but we found it to snag often while cutting nylon web straps. We also noticed that you can't use the cutting hook if you leave a bit in the bit driver.
The bit blocks the opening of the cutting hook just enough to stop most materials. Like the wire cutters the cutting hook will definitely wear out before the rest of the tool. Having the option to quickly exchange it for a razor-sharp new one is a great feature.
The carabiner/bottle opener both work as advertised and the bottle opener in particular does an excellent job of popping bottles the first time. The carabiner was perfect for hanging the MUT off a belt loop or attaching it to a gear bag.
Large Bit Driver
The bit drive on the MUT is one of the more interesting features of this multi tool. Described by Leatherman as a "Large Bit Driver" it uses two-sided full-size bits rather than the smaller proprietary bits found on most other Leathermans. The MUT driver also has a rectangular configuration and the bits themselves provide much greater reach than a standard multi tool driver does.
We really like that Leatherman includes two bits, a flat/phillips head one and a 7/64 hex and #15 Torx driver. These fit right into dedicated slots on the handles of the MUT and stay out of the way when not in use. Too many multi tool bit drivers become useless after you drop the bit from your pocket or bag.
Carbon Scraper, Cleaning Rod Adapter and Disassembly Punch
The last three tools on the Leatherman MUT are entirely focused on firearms maintenance. The first is a replaceable bronze carbon scraper rod. When cleaning an M4/AR15 you have to remove the built-up carbon from inside your rifle to prevent misfires and jams. A scraper rod allows you to quickly clear out all the little grooves, nooks, and crannies inside. Leatherman chose to go with bronze here because it's softer than steel and so won't damage your rifle.
The disassembly punch is another replaceable tool designed for rifle maintenance. There are several pivot and connector pins in modern combat rifles that must be removed for proper cleaning and maintenance. Having a perfectly shaped and sized tool at hand makes this significantly easier.
One of the most basic steps in cleaning any firearm is to scour and scrub out the bore with a cleaning rod. The MUT includes a #8-32 cleaning rod and brush adapter that allows you to attach standard cleaning tools. This lets you quickly swab out the barrel of your rifle without breaking out a full cleaning kit. Leatherman positioned this on the plier section of the MUT so you can use the remainder of the tool for leverage.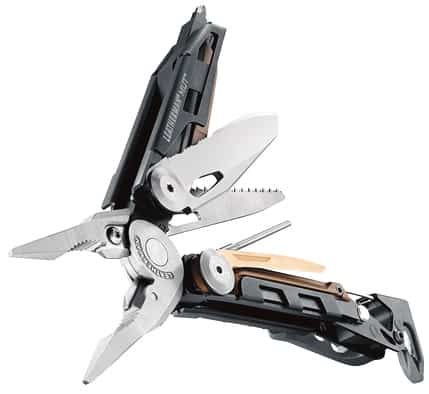 Leatherman MUT Review
The MUT is a tool built for a specific purpose and from what we've seen it fulfills that purpose well. It's a big tool but it has a big job to do. Everything about the MUT feels heavy duty. The tools themselves are extremely durable and Leatherman took the step of making all the ones likely to break easily replaceable. You can fully break down an M4/AR15 for cleaning and maintenance just using the tools on the MUT.
Despite this laser focus the MUT also includes a lot of very useful general tools. The knife easily opens out with one hand and its large size lets you get real use out of it. The saw cuts well and is easy to clean and maintain. We really like that all the tools are outside accessible. This is a convenient feature we hope to see on more multi tools going forward.
The MUT is an excellent tool that definitely meets Leatherman's goal of a specialized tool with general usability.
Leatherman MUT Pros – Things We Liked
Sturdy and attractive design
Rifle maintenance tools work well
The hammer
Lots of replaceable parts
One-handed opening knife
All outside access tools
Extra long bit driver
Leatherman MUT Cons – Things We Didn't Like
Big
Heavy
Cutter hook doesn't go through straps well
Pocket clip doesn't come standard
Who's The Leatherman MUT For?
Leatherman makes no secret about who they built the MUT for, the servicemen and women of the U.S. armed forces. It was designed to provide them with essential combat related tools to keep their weapons and equipment working when it counts. It just so happens that they also built one heck of a general purpose multi tool while doing so.
Lots of EDC minded folks, preppers, and homestead types will be attracted to the MUT as well. It has great tools and does what it was designed to do very well. There are definitely better general purpose multi tools on the market but for its intended audience of soldiers, sailors, Marines, and airmen the MUT is an excellent choice.
Leatherman MUT accessories and extras
Because the MUT is such a large and specialized tool there are more accessories than you would usually find on a multi tool. We'll go over each of these add-ons in the rest of our Leatherman MUT review.
Sheath / Holster / Pouch – Leatherman includes a MOLLE compatible black or MOLLE brown nylon belt pouch with every MUT. It works on belts, bags, or a standard military body armor/plate carrier system. There have been reports of the velcro wearing out with frequent use but this is common among all multi tool pouches.
Bit Kit – The Leatherman bit kit is an almost essential add-on for most people. It includes several additional flat, phillips, and torx bits that really open up the bit drivers utility. The MUT does come with more bits that most multi tools but we still think the bit kit is a good investment.
Pocket Clip – One of the first accessories we recommend you pick up is the MUT pocket clip. The carabiner on the MUT does a good job attaching it to different items but the pocket clip really opens up your carry options. Leatherman includes a MOLLE compatible belt pouch as well but many people aren't fans of this method of carry.
Replacement Parts – The MUT has more replaceable parts than just about any other multi tool we've reviewed. Thankfully Leatherman planned ahead for this and offers a set including the wire cutters, carbon scraper, cutter hook, and disassembly punch all in one.
Different Colors – The MUT doesn't offer a lot of bells and whistles when it comes to color choices. Currently it's only available in stainless steel and black.
Leatherman MUT Vs Comparable tools
The Leatherman MUT is highly specialized but still manages to be a great all around multi tool. Let's check out how it matches up against some of the tools competing with it.
Comparison Table
MUT Vs MUT EOD
The MUT EOD is an even more specialized variant of the MUT designed for combat engineers performing demolitions work. Instead of standard pliers it has a blasting cap crimper and instead of a disassembly punch it has a C4 punch. Otherwise the two tools are identical.
If you're performing military demolitions work the MUT EOD is an invaluable tool. Otherwise the regular MUT is the way to go.
MUT Vs Signal
The Leatherman Signal is another specialized multi tool and is built around the same basic body as the MUT. The Signal though is designed for wilderness survival and bushcrafting rather than firearms maintenance. It includes a removable fire starter and sharpening tool and replaces the firearms tools of the MUT with more camping specific ones.
This is another one that really comes down to how you see yourself using your multi tool. If you're a service member or firearms enthusiast the MUT is arguably a better choice. For hikers, campers, and other who frequently explore the outdoors we recommend the Signal.
Read our Leatherman Signal Multi-Tool Review
MUT Vs Wave+
The Wave+ is Leatherman's flagship multi tool. It's a big tool with a lot of really useful features built in. In our previous review of the Wave+ we covered all the ways this is arguably the best value full size multi tool on the market today. It has tools for just about any common job and can stand up to a lot of abuse.
If you often work with combat rifles you'll probably get more use out of the MUT. For anyone who just wants an excellent multi tool for day to day needs, we definitely recommend the Wave+
Read our Leatherman Wave+ Multi-Tool Review
MUT Vs Surge
The MUT is without a doubt a heavy duty multi tool but it isn't the only one Leatherman has on the market. The Leatherman Surge is a beast of a tool that goes a lot farther than most multi tools do to provide you with a real tool box on your belt. It has 21 different tools and can handle just about any job you need it to without complaint. What's more, the Surge is one of the most durable tools we've ever reviewed.
Both the MUT and the Surge are big, durable multi tools. Choosing between them basically comes down to whether you're a builder or a soldier.
Read our Leatherman Surge Multi-Tool Review
MUT Vs OHT
The OHT is an interesting tool from Leatherman that uses a one handed opening design for every tool, including the main pliers. It was built to be usable when you can't use two hands, like say during a combat situation with a jammed weapon. It also has 16 tools on it but it designed with a more general purpose use case than the MUT.
Both these tools combine a lot of outside access tools that are one handed opening. The OHT beats out the MUT with it's slide out pliers but the MUT does provide more usefulness when working with combat rifles.
Read our Leatherman OHT multi tool review
MUT Vs Charge TTi
The Charge TTi is the top of the line general purpose multi tool Leatherman offers. It's made from lightweight and corrosion resistant titanium and is absolutely packed full of useful tools. Not only that, it's one of the most attractively designed multi tools we've ever seen. It has several removable parts including bit drivers and cutter blades and is overall one of the best quality multi tools on the market today.
If you're looking for maybe the best multi tool on the market, go with the Charge TTi. If you want to properly maintain your M4 in the field, the MUT may become your best friend.
Read our Leatherman Charge+ TTi multi tool review
Conclusion – Final Thoughts On the Leatherman MUT
There are a lot of multi tools out there that try to incorporate 'tacticool' features to attract firearms enthusiasts, law enforcement, and members of the armed forces. The MUT is one of the very few that actually live up to their design and provide real tactical benefits. It has well designed tools that do exactly what they're supposed to. You can quickly field strip a rifle and make basic repairs to it using just the MUT.
Not only that, but Leatherman managed to pack in several more very useful general purpose tools with outside access. The Leatherman MUT is absolutely one of the best tactical multi tools out there and won't let you down when it counts.
LEATHERMAN FREE P2

REVIEW
Rating: 4.7 Stars Out of 5.0