Outdoorsman Toolkit is reader-supported. When you buy through links on our site, we may earn an affiliate commission.
Learn more
One handed open multi tools are rapidly becoming a major segment of the market and it's easy to see why. They're convenient, extremely useful for certain professionals, and just downright cool. Leatherman currently offers just one tool in this category, the Leatherman OHT. It was released quite a bit later than many comparable Gerber tools but we think it holds its own well. In today's Leatherman OHT review we'll go over the tools Leatherman included in the OHT, how well the one handed system works, and give you our general feel on its quality and usefulness.
Leatherman OHT Overview
The Leatherman OHT was born out of an expired Gerber patent. You've no doubt seen the many Gerber multi tools that use slide out one handed opening pliers. The initial patent on this system expired and thus came the OHT. That's not to say the OHT is a rip off, Leatherman took great pains to maximize the utility of this tool and they built it with their usual high level of craftsmanship.
The OHT is a large multi tool, coming in at 4.5 in long and weighing a full 9.9 oz. This puts it very close to the Leatherman Surge, one of the heaviest multi tools on the market today. It was clearly designed with first responders and military users in mind. Everything from the default color to the tool loadout is customized for military and EMT needs.
The big draw of the Leatherman OHT is that every single tool on it is accessible with one hand. Most Gerber tools allow you to use the pliers and possibly a knife with one hand, but the OHT is the only tool we've seen that is totally one handed accessible. Let's see if this feature is worth some of the design compromises Leatherman made.
Leatherman OHT Tools
Despite its large size and weight the Leatherman OHT has just 16 tools. This mainly comes down to the placement of every tool on the outside of the handles. Because of the tool's locations Leatherman had to make some pretty serious compromises on tool size and shape. The slide out pliers are full size but the knife blades and just about everything else are noticeably smaller than what you would expect on such a large multi tool.
Leatherman did a good job shoehorning them all into such confined spaces and even managed to include a locking system for all the included tools. We did notice that you had to deploy or lock away the pliers to use certain tools effectively. More on that below.
Pliers and Wire Cutters
The pliers on the Leatherman OHT slide out from the core of the handles using two locking sliders on either handle. One of the features we really like about this is the locking bar Leatherman put in place. If you rotate it 90 degrees away from the handle's axis it prevents the pliers from deploying. A nice touch not found on most other one handed products.
The pliers themselves were constructed with Leatherman's usual precision and attention to detail. They have an excellent grip pattern on them that is easily able to bite and hold onto different materials. They come to a needlenose tip but also have a regular plier area. One thing we really loved was that the pliers are spring action. Once you release them they spring open in a very satisfying way.
We're big fans of Leatherman's replaceable wire cutter blades. As one of the parts that wears out the fastest on a multi tool it's great being able to switch it out with just an allen wrench. They provide you with an area for regular and hard wire and even come with a notch for cutting stranded wire without crushing it. In keeping with the tactical/first responder theme of the OHT the wire cutters come standard in black oxide.
Knife Blades
There are two knife blades on the OHT, a tanto-esque straight blade and a sheepsfoot serrated blade. These are both made from 420HC stainless steel and come quite sharp from the factory. One of the first thing's we noticed when holding the OHT was that Leatherman put an imprint of each tool next to it's deployment point on the handle. It was a nice touch that helped you quickly identify what you were looking for even in the dark.
On opening the knife blades we were a little surprised with how small they were. The OHT is about the same size as the Leatherman Surge yet has only a 2.37 in knife. We understand that they had to do this to fit all the tools on the outside of the handle but we found the blade's to be less capable than we were expecting because of this.
Saw
The saw on the OHT has a good bite pattern but was just as small as the knife blades. It works well enough for sawing thinner materials up to about ¾-1 in but above that it became a struggle. For its intended audience this probably isn't too much of an issue. If you're looking for a tool to take out bushcrafting or on a job site this could become more of a problem.
Screwdrivers
There are four screwdrivers on the Leatherman OHT, one phillips head and three flatheads of various sizes. All but the medium flathead are located farther up the handle from the knives and saw, right next to the pliers. The phillips head is of the flattened variety similar to the one on the Leatherman Wingman but fit well in medium to large sizes screwheads. The flathead drivers came in small, medium, and large.
Each size flathead screwdriver worked well enough, though we're finding fewer and fewer flathead screws out in the wild these days. The largest one actually works fairly well as a light pry bar as long as you aren't overly concerned with accidentally bending or chipping it. One thing we noticed right away was that you can't use any of the screwdrivers if the pliers are deployed. It completely blocks them from use until you slide it back in and lock it in place.
Strap Cutter, Cleaning Rod and Oxygen Tank Wrench
On to the more specialized tools on the Leatherman OHT. These are the strap cutter, cleaning rod holder, and oxygen tank wrench. The strap cutter and oxygen tank wrench are actually found on one tool extension. We didn't use it to cut seat belts but the cutter easily went through reasonably thick canvas and some old storage webbing. The oxygen tank wrench is included as a gap on the strap cutter and we assume it would work well, though we didn't have any oxygen tanks to test it out on.
The cleaning rod holder is an interesting little add on we really liked. It was hard to find at first as it's hidden underneath the slide lock for the pliers. Once they are secured and locked in place you'll notice a #8-32 threaded hole that fits most standard firearm brushes and cleaning rods. It's positioned near the top of the handle and gives you a good deal of tool to grip onto.
Can and Bottle Opener
The last tool on the OHT is the trusty old can and bottle opener combo tool. Leatherman chose to shake things up a bit and went with an interesting design style to better fit it into the OHT. We found that it opened cans and bottles quite easily, though it did have a tendency to puncture the bottle caps while opening them.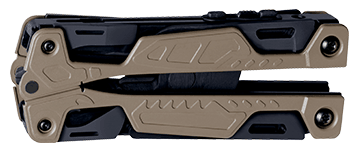 Leatherman OHT Review
The Leatherman OHT was the company's first foray into one handed opening tools and overall we think they did a great job. The pliers work very well and lock down a lot more securely than those found on other manufacturer's products. The all outside access tools was a feature we really liked, especially since you could use them while wearing gloves. The included tools made a lot of sense given the OHT's intended market of first responders.
Some things we didn't like were the size and number of the tools included. Leatherman had no choice but to make compromises when using just one side of the multi tool's handles. You can really tell the difference with the knife and saw blades. They're significantly smaller than those found on similarly sized multi tools. The fact is that the OHT is nearly the same size and weight of the heavy duty Surge but has only 75% of its tools, and in smaller sizes. We also wished Leatherman gave you the option to get the OHT in stainless steel instead of black oxide.
Honestly though, we can forgive Leatherman for the few flaws the OHT has. It was clearly built to be a new concept for multi tool design and we think they did a great job executing it. All the tools are easy to access and lock open securely. For first responders it's hard to find a multi tool that provides a better mix of general purpose and special use tools.
Leatherman OHT Pros – Things We Liked
One handed everything
All locking tools
Usable even with gloves
Replaceable wire cutters
Excellent plier grip
Very solid construction
Leatherman OHT Cons – Things We Didn't Like
Large and heavy
Small tools for its size
No stainless option
Who's The Leatherman OHT For?
Leatherman doesn't try to pretend that the OHT is for everyone. They built it to compete with Gerber in the military and first responder markets. Fully a quarter of the tools found on the OHT are only really useful to users in those markets. For the average EDC enthusiast one handed open is a neat gimmick, for EMT's, soldiers, and police it can be an essential feature.
Don't get us wrong, this is definitely a great and well made multi tool, it just isn't for everyone.
Leatherman OHT accessories and extras
Given its intended user base of first responders and military personnel there are several useful accessories available with the OHT. This Leatherman OHT review wouldn't be complete without going over the most important of them.
Sheath / Holster / Pouch – Leatherman offers two sheath options with the OHT, both MOLLE compatible. You can get it in black or brown and wear it on your belt or attached to a mil spec bag.
Bit Kit – The OHT doesn't have any bit drivers in keeping with its one handed design. Because of this Leatherman doesn't offer any bit kit's for it.
Pocket Clip – At the moment Leatherman doesn't offer any pocket clip option for the OHT. Given its design it's an understandable decision. Adding a metal clip to the side of the handles would make it much more difficult to deploy tools with one hand.
Replacement Parts – Leatherman backs all their products with a 25 year limited warranty. This covers any failure in materials or workmanship but doesn't protect you from user error or incidental damage. The wire cutters are the only expendable/replaceable part on the OHT. You can either order replacements and put them on yourself or pay a small fee to have them installed at the Leatherman service center.
Different Colors – The OHT is available in two different color options, coyote tan or black. In either option the tools themselves are all black oxide. One of our biggest gripes with the OHT is that Leatherman doesn't offer a stainless steel version. We generally prefer stainless to black oxide as it usually holds up better appearance wise over years of use.
Leatherman OHT Vs Comparable tools
As the one handed multi tool market continues to grow the Leatherman OHT is facing more and more competition. Let's find out how it compares to many of the top multi tools on the market todayl.
Comparison Table
OHT Vs Wave+
We love the Leatherman Wave+. There's a reason it's been the company's flagship tool for the last decade or so. It's a big, well built tool that incorporates all the latest and greatest innovations in multi tool design. It has 18 different tools in a compact and reasonably lightweight package. There are several different removable tool options on the wave that let you customize how you carry it.
The Wave+ is an excellent choice for an EDC multi tool but it honestly doesn't really compete with the OHT. If you need the one handed opening utility and specialized tools of the Leatherman OHT the Wave+ just won't get the job done.
For more information about the Wave+ multi-tool check out our full review.
OHT Vs MUT
The Leatherman MUT is a heavy duty multi tool built with the U.S. military in mind. The majority of the tools on it are designed entirely around disassembling and maintaining AR15/M4 rifles quickly and efficiently. Despite this Leatherman managed to cram several very good general purpose tools in as well.
The MUT and OHT complement each other but generally fulfill different missions. The MUT is an excellent multi tool for soldiers, law enforcement, and firearms enthusiasts but lacks the one handed access tools of the OHT. EMT's, firefighters, and other first responders will probably find more use out of the OHT than the MUT.
For more information about the MUT multi tool check out our full review.
OHT Vs Surge
–
The Leatherman Surge is one of the best heavy duty multi tools on the market today. It's a very large and very sturdy tool that comes close to providing you with an actual tool box on your belt. Despite being the same size as the OHT at 4.5 in it has 21 tools to the OHT's 16. These tools serve a very different purpose though.
The Surge was built to be the perfect tool for contractors, loggers, miners, and others who work very hard all day long. It was made to stand up to any kind of abuse you throw at it while still providing you with excellent tools. It just might be the toughest multi tool available, but it doesn't really compare to the OHT.
There are only four tools on the Surge that could be considered one handed opening and even those only work marginally well with a single hand. The OHT simply fulfills a different role than the Surge.
For more information about the Surge multi-tool check out our full review.
OHT Vs Gerber Center Drive
The Gerber Center Drive is another specialized multi tool that has an interesting main feature meant to draw attention. Instead of the one handed everything approach of the OHT the Center Drive provides you with a large center axis bit driver. It actually works almost as well as a standard bit screwdriver but doesn't allow most other tools to be opened with one hand. Gerber intended the Center Drive to compete with other construction/handyman multi tools on the market.
Both the Center Drive and the OHT are designed with specific purposes in mind. The Center Drive provides a lot of value to people in the building trades but the OHT is much more useful to first responders.
For more information about the Center Drive multi-tool check out our full review.
Conclusion – Final Thoughts On the Leatherman OHT
The Leatherman OHT is pretty much unique in its design. Lots of other multi tools advertise one handed open pliers or knife blades or saws. The OHT is the only one that lets you use every feature of your multi tool without ever unfolding anything or setting down whatever else you were holding.
Is it the best multi tool available? Definitely not, the tools on it are too specialized for most people and the general purpose one's suffer from some compromises to allow one handed opening. However, if you're a first responder, law enforcement officer, or soldier the OHT is definitely worth a second look. It has a lot to offer in a very well made package.
LEATHERMAN SIDEKICK

REVIEW
Rating: 4.7 Stars Out of 5.0