Outdoorsman Toolkit is reader-supported. When you buy through links on our site, we may earn an affiliate commission.
Learn more
When deciding between heavy duty and full size multi tools you'll understandably have to make some compromises. The Leatherman Rebar is a tool designed to fill the gap between these two categories. It's a full size multi tool that encompasses the toolset and do anything ethos of a heavy duty tool. Follow along with our Leatherman Rebar review to learn more about this packed out multi tool and find out how close Leatherman came to the mark.
Leatherman Rebar Overview
Leatherman has been producing high quality multi tools ever since Tim Leatherman released the Pocket Survival Tool (PST) in 1983. The Leatherman Rebar is a throwback to that first groundbreaking design. It combines modern manufacturing techniques and 30 some years of experience with the spirit and style of the PST. First released in 2012, the Rebar has a lot going for it in a pretty small package.
The overall design goal of the Rebar was to build a full size tool to heavy duty specs. It's smaller than other workhorses but has the same rugged strength and long lasting durability we've come to expect from the heavy duty category.
It's a full size tool, coming in at four inches long closed and weighing 6.7 oz. At first glance it would be easy to mistake it for a PST. What you don't see with just a cursory look is all the ways Leatherman improved the Rebar over that first wonderful tool. The Rebar took everything that made the PST a legend and improved upon it. Let's see what Leatherman provides with the Rebar.
Leatherman Rebar Tools
The Rebar comes with 17 different tools built into its handles. These are basically improved versions of the tools that came with the PST, plus a few extras. Leatherman has learned a lot over the years and it definitely shows in the Rebar. It lacks some of the trendiest new developments in multi tool design like removable bit drivers but it's still a well built tool overall.
All the tools on the Leatherman Rebar are internal. A lot of newer multi tools put the knife and a few other high use tools on the outside of the handles but we understand why Leatherman went with tradition on the Rebar. One improvement we definitely like is the all locking design of the Rebar. Every tool locks out when in use to protect you from inadvertent folding.
Pliers, Wire Cutters and Crimpers
The Rebar comes with Leatherman standard needlenose and regular combination pliers. They have an aggressive bite pattern that makes it easy to get a firm grip on just about anything. We found these pliers to join together almost perfectly, without the gap you often see in inferior multi tools.
Leatherman included their newest replaceable wire cutter system on the Rebar, something we're always a fan of. These have both regular and hard wire cutter sections and even include a small cut out for cutting stranded wire. They work well and are easy to replace yourself or by sending them off to Leatherman. We've covered these cutters in detail on several of our other reviews and they always hold up well.
The crimper is located just underneath the joint of the plier assembly. They do a serviceable job of crimping electrical connectors.
Knife Blades
Leatherman included two different knife blades on the Rebar, a clip point smooth blade and a sheepsfoot serrated blade. Both of these are made using 420HC stainless steel and come nice and sharp from the factory. A lot of people like to trash talk 420HC as blade steel but we think its combination of reasonable hardness and ease of sharpening work very well on a multi tool.
The straight blade is 2.9 in long, a nice length for general utility work. One thing we really like is the design of the serrated blade. Sheepsfoot knives are well laid out for sawing through things, the best use for a serrated knife like this one. Leatherman took the time to add in a pretty generous notch beside each of the knife blades on the handles. This makes it much easier to open up the knives, especially if you're wearing gloves.
Saw
One of the things we love about the Leatherman Rebar is its inclusion of a saw. For a tool designed to fulfill heavy duty needs having the ability to power through wood, plastic, and other medium thickness materials is a nice touch. The saw on the Rebar is well made and has an excellent double tooth pattern that cuts well. Overall, a nice addition to the tool.
Screwdrivers
There are three different screwdrivers on the Rebar, one phillips head and two flat heads. The phillips head is a bit of a classic design for Leatherman as most of their full size tools have moved to bit drivers. It works well, giving you good purchase in medium to large sized screwheads. We really like that Leatherman extended the length of it a bit, you can get deeper into those hard to reach areas.
The two flat head screwdrivers on the Leatherman Rebar are small and large sized respectively. They both work well enough and the larger one can be used for light prying if you're careful how you do it. The small driver saw more use while we were checking it out. It was just the right size to tighten up smaller slotted screws.
Wire Stripper, Can Opener and Bottle Opener
The can and bottle opener on the Rebar use the standard style familiar to anyone who has seen a multi tool before. Leatherman also included a small wire stripper notch on the base of the opener. The two main tools on this assembly work as well as any we've seen. They'll pop open a beer or soda on the first try or open up that can of chili for your camping trip. We did notice the bottle opener tends to puncture the cap while opening but it wasn't too much of an issue.
The wire stripper works alright, but as we've covered in several of our other reviews, isn't a huge improvement on just using the knife blade.
Awl, File and Ruler
One of the things we love about the Leatherman Rebar is its included awl. Most first generation multi tools and swiss army knives came with awls but they've been notable by their absence in many modern tools. Even better, the awl on the Rebar has a built in thread loop that lets you pull cord through whatever you've punctured. If you don't know what the heck you'd use an awl for, check out our earlier article on awls.
The file on the Rebar is double sided with one side single cut and the other a diamond pattern double cut. This lets you apply different filing strengths for different materials. Like most of Leatherman's included tools these work very well, though they do have a tendency to get clogged up if filing softer materials.
The last tool we'll talk about is the ruler. It runs along both handles of the Rebar and gives you a full 8 in or 20 cm of measuring capability.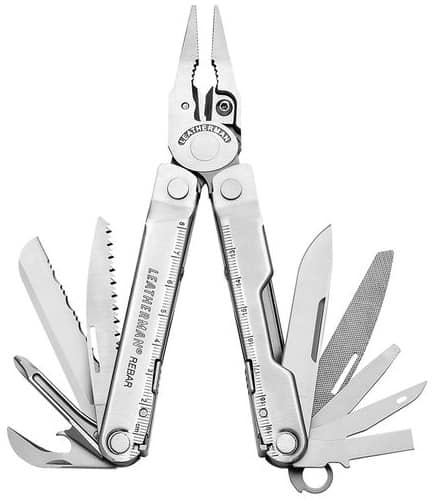 Leatherman Rebar Review
The Leatherman Rebar is a full sized tool built to be as strong as larger heavy duty tools. It has the tool set to meet just about any need without the high weight of many larger tools. In our opinion, Leatherman really packed the Rebar with value. It's a good bit cheaper than most of the company's other full size tools but still provides excellent utility.
The blades on the Rebar are a good size for the tools overall length and give you a lot of room to work with. While it doesn't have a removable bit driver, all the screwdrivers on it do a great job for their size. We love the all locking tools. That's one innovation we can really get behind. The replaceable wire cutters are another of our favorite features. Wire cutters are the part of a multi tool we most often wear out. It's great that Leatherman is taking this into account with their newer designs.
The only real gripe we have is its lack of scissors. They're honestly one of the tools we most often find ourselves reaching for. It would have been nice to have a pair on the Rebar.
All in all, we think Leatherman fulfilled most of their goals with the Rebar. It's a rugged full sized tool with a lot of useful features. Is it perfect? Of course not. There are a lot of tools that beat it in certain things, but as a whole it's a well made multi tool that we'd be delighted to carry every day.
Leatherman Rebar Pros – Things We Liked
Lightweight
Rugged
Replaceable wire cutters
Simple but useful
All locking tools
Excellent price point
Leatherman Rebar Cons – Things We Didn't Like
No outside accessible tools
Lack of scissors
Who's The Leatherman Rebar For?
The Leatherman Rebar is one of those rare multi tools that appeals to just about everyone. It's ruggedly built but still lightweight and compact. It isn't packed to the brim with tools but the ones it has will fulfill most of your day to day needs. The Rebar is strong enough for the jobsite but won't look out of place in a tech startup. Its affordable price makes it accessible for just about any budget as well.
Overall we think just about anyone who wants to have a basic set of tools with them would like what Leatherman's done with the Rebar.
Leatherman Rebar accessories and extras
Most full sized multi tools these days have a lot of available accessories. This definitely isn't a bad thing, as bit drivers and replaceable parts often provide outsized value for their cost. The Rebar though is almost entirely permanent, and so is more limited in the extras available.
We've included some of the most useful options and extras in our Leatherman Rebar review to help you figure out how to customize your multi tool.
Sheath / Holster / Pouch – Leatherman gives you two belt carry options for the Rebar, black nylon or black leather box. The black nylon is the standard carry case available for all Leatherman products. It works well but isn't quite as sharp as the leather option. We absolutely love the leather box option. It's not quite the same as Leatherman's classic brown leather sheath but it's still a high quality and attractively designed carry option.
Pocket Clip – Sadly Leatherman doesn't offer any pocket clip options for the Rebar. Given that this is one of our favorite ways to carry multi tools we think it was a mistake. For a tool as compact as the Rebar pocket carry would work very well.
Replacement Parts – Leatherman offers a 25 year warranty on every tool they make. It covers materials and workmanship and believe us when we say that Leatherman stands by it. If you ever have a problem with your multi tool don't hesitate to reach out to them. They make quality tools and will absolutely want to make it right.
You can also pick up replacement wire cutters for your Rebar from Leatherman or send your tool in to have them installed for you. These are reasonably priced and give you good value for your money.
Different Colors – The Rebar is available in three standard colors. These are stainless steel, black oxide, and coyote tan. The coyote tan is a combination of tan handles and black oxide tools. It looks pretty sharp, though we're partial to the stainless steel's ability to hide wear.
Leatherman Rebar Vs Comparable tools
The multi tool market seems to get more and more crowded every day. Even just looking at other Leatherman tools, there's a lot of competition for the Rebar. Here's a head to head comparison of the Leatherman Rebar with some of the most popular multi tools in its category.
Comparison Table
Rebar Vs Wave+
The Wave and new Wave+ are the best selling multi tools in Leatherman's history. It has 18 tools and includes most of Leatherman's newest innovations in tool design. There are several outside access tools and a full tool locking system in place. We won't lie to you, the Wave+ is one of the best multi tools on the market today. It provides a lot of value in a small package. The only real downside to the Wave+ is its price, close to twice that of the Rebar
The Rebar and the Wave+ are basically two sides of the same coin. If you want a multi tool with all the bells and whistles and aren't afraid to pay for it, go with the Wave+. If you want a really good multi tool that gives a nod to tradition, give the Rebar a look.
For more information about the Wave+, check out our full review here.
Rebar Vs Super Tool 300
The Leatherman Super Tool 300 is pretty much the Rebar's bigger brother. It's based on the same overall design, just a little bigger and beefier in every dimension. It includes 19 tools to the Rebar's 17 but is otherwise nearly identical. The Super Tool 300 is half an inch longer and weighs 9.6 oz to the Rebar's 6.7 oz.
Given how similar these two tools are it really just comes down to whether you want bigger or smaller. The Rebar is more compact and includes most of the same tools, while the Super Tool 300 is just a little sturdier and more functional.
Read our Leatherman Super Tool 300 review.
Rebar Vs Wingman
The Leatherman Wingman is the company's entry level full size multi tool. It has 14 tools that cover most situations you'll find yourself in. While it's a great tool, you can definitely tell that it was built to be a value multi tool. Everything about it just feels a little less polished than what you would find on something like the Wave+. It includes some tools, like the box cutter, that are of marginal usefulness at best.
Overall the Rebar is a better tool that provides a lot more functionality at a price that isn't too far off from the Wingman's.
For more information about the Wingman, check out our full review here.
Rebar Vs Sidekick
The Leatherman Sidekick is another version of the basic Wingman design. It replaces the Wingman's scissors with a saw and its box cutter with a small serrated blade. The Sidekick does more closely match the usability of the Rebar but overall still falls short. The included tools just aren't as useful as those on the Rebar. Also like the Wingman, the Sidekick just feels cheaper than the Rebar.
Both the Wingman and the Sidekick are excellent value tools, they just can't stand up to something as well made as the Rebar. Read our full Leatherman Sidekick multi-tool review.
Rebar Vs Surge
The Surge is ounce for ounce probably the strongest and most rugged multi tool on the market. Everything about it was built to withstand hard use on a day to day basis. It has 21 different tools, including four outside access main tools. The Surge is one of those tools that just looks tough. There are compromises to this design though. The Surge is big and heavy, coming in at a full 12.5 oz. You'll definitely notice it on your hip. It also might be too much tool for many casual EDC enthusiasts.
Both these tools are rugged and well built. If you work in construction or other heavy duty trades you'll probably get more use out of the Surge than the Rebar. If you just want an excellent multi tool that won't have you leaning to one side carrying it, go with the Leatherman Rebar.
For more information about the Surge, check out our full review here.
Rebar Vs Skeletool
The Skeletool looks to us like someone made a bet at Leatherman to see how much they could strip down a full sized multi tool. Don't get us wrong, it's a great little tool, but it has literally the minimum amount of tools and material to get the job done. The Skeletool includes 7 different tools but is really just a pair of pliers with a knife blade and a bit driver. It's extremely lightweight, coming in at just 5 oz, but you lose a lot of functionality with that 1.7 oz difference.
This one's pretty easy to call. If you just want a pair of pliers and a knife to carry around with you the Leatherman Skeletool is the tool for you. If you want a fully functional and ruggedly built full sized multi tool, check out the Rebar.
Conclusion – Final Thoughts On the Leatherman Rebar
With the Rebar Leatherman took everything they've learned about multi tools since 1983 and distilled it down into one rugged package. It combines all the useful features we loved about the PST and Super Tool 300 into a more compact and lightweight package. It lacks many of the bells and whistles more expensive tools have but makes up for it with the high level of craftsmanship that went into it.
The Rebar doesn't have removable bits, exchangeable blades, or even diamond grit files. It's basic, but in the same way a delicious home cooked meal is basic. All the ingredients might be simple and easy to come by, but when combined with care they make something extraordinary.
GERBER CENTER DRIVE

REVIEW
Rating: 4.7 Stars Out of 5.0