Top 3 Best Fishing Multi Tools
Gerber MP600 Pro Scout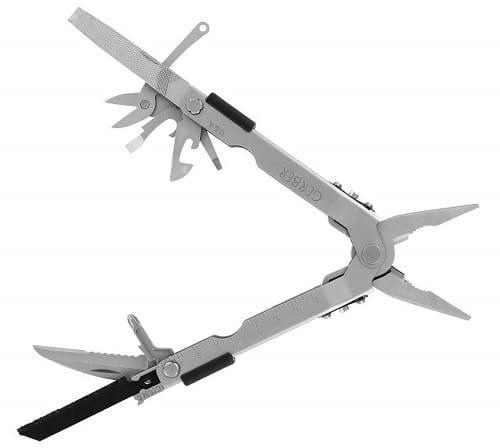 Versatile 14-tool set: Adaptable for fishing, camping, and minor repairs.
One-handed operation: Handy for multitasking during fishing.
Replaceable saw blade: Useful for different tasks on camping trips.
SOG PowerLock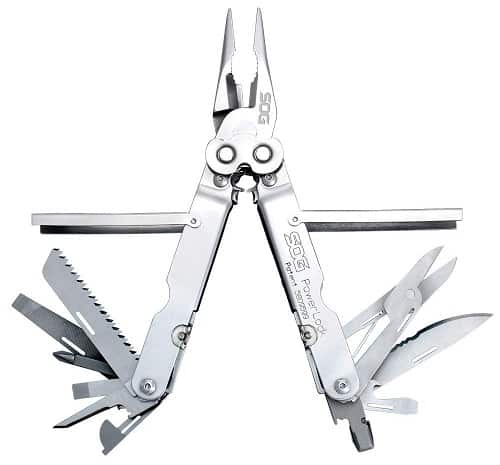 Multiple tools including a 3-sided file and needle nose pliers: Useful for various outdoor tasks.
One-handed opening: Essential for efficient multitasking.
Durable construction: Ensures longevity even under harsh conditions.
Leatherman Wingman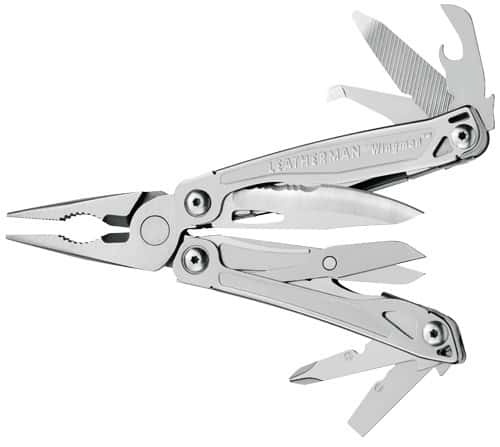 14 different add-ons: Including a combo knife, wire cutters, and three screwdrivers.
One-handed opening and outside-accessible features: Provide enhanced usability.
Replaceable pocket clip: Convenient for carrying without a sheath.
Outdoorsman Toolkit is reader-supported. When you buy through links on our site, we may earn an affiliate commission.
Learn more
Multi-tools are incredibly handy devices that allow you to work or adapt to a range of different situations. They have a lot of versatility but are commonly used for fishing.
Owning a single device that can cut a line, scale a fish, and tighten a screw as you need is quite useful out on the water. However, through all models are similar, they do have their differences.
For that reason, it is best to do your research before making a purchase. Here, we will break down a slew of the highest rated models to help you find the best fishing multi tool for you.
Best Multi Tools for Fishing
There are many different fishing multi-tools on the market, and they range from everyday carry tools (which have simple features like screwdrivers and can openers) to tactical multi-tools that use heavy-duty items like wire cutters and bolt grippers.
Often, the best fishing multi-tools will have a mix of both traits. Such is the case with the following items, all of which have enough unique characteristics and special add-ons to ensure all of your fishing trips run smoothly.
Gerber MP600 Pro Scout
Upon my search for a sturdy companion for my outdoor adventures, the Gerber MP600 Pro Scout caught my eye. As someone who frequently finds himself amidst nature, be it hiking, camping or fishing, I was in need of a multi-tool that could withstand the test of time and the unpredictability of the wild.
The Gerber MP600 is a compact powerhouse, housing 14 different tools that are a blend of heavy-duty and delicate finesse. The rugged stainless steel construction promised a durable ally, something that could endure my habitual fishing trips. The military-grade design didn't just allure but held a reputation among the angler community for its strength and multipurpose usability. Being a regular at the riverside, the thought of having a tool that could switch between a can opener to a wire crimper seamlessly was enticing.
The one-handed operation was a blessing in disguise during my fishing expeditions. It allowed me to manage my line with one hand while the other swiftly navigated through the multi-tool's offerings. However, I soon realized that not all was smooth sailing.
While its robustness was unmatched, I found the tool a bit challenging to navigate initially. Unlike my trusty old Swiss Army Knife, which has been my go-to gadget for years, the Gerber MP600 required a more hands-on approach. Deploying the pliers, which is the gateway to accessing other tools, was a two-handed affair. This was a stark contrast to the ease I enjoyed with my Swiss Army Knife, especially when every second mattered in the wild.
One feature that did impress was the replaceable saw blade. During a camping trip, this feature proved to be a lifesaver as I found myself exchanging blades based on the task at hand – a commendable feature by Gerber. However, the inconvenience crept in again when I needed to switch to other tools, a process that felt less intuitive and more chore-like.
The add-on tool kit seemed like a promising addition, but the magnetic adapter sleeve had a mind of its own. Losing it in the middle of a dense forest wasn't on my agenda, yet it nearly happened. It's a good concept but requires a tad bit more refinement to ensure it stays put during vigorous activities.
The Gerber MP600 Pro Scout is indeed a strong contender in the realm of multi-tools, offering a variety of functionalities, strength, and a promise of durability. However, the ease of use, a critical factor for someone who is always on the go, felt slightly compromised. It's a tool more suited for the patient angler or camper who has the time to navigate through its offerings rather than someone in need of a quick tool fix amidst a thrilling adventure.
On one of my early morning fishing expeditions, the sky was clear and the river calm, the Gerber MP600 Pro Scout found a place on my belt. As the sun cast a golden glow on the waters, I found myself in a tangle with a stubborn wire that refused to cooperate. The ease with which I could pull out the wire cutters from the Gerber was remarkable. With one hand managing the line and the other swiftly cutting through the wire, the task was handled within seconds.
But soon after, a need to tighten a loose screw on my boat arose. This is where the multi-tool tested my patience. Accessing the screwdriver required deploying the pliers first, a task that demanded both hands and a momentary pause to my fishing. While the tool did its job efficiently once accessed, the pause was a subtle reminder of the trade-off between versatility and ease of use. Each click and clasp of the tool echoed the robust construction, reassuring me of its durability, yet the longing for a smoother transition between tools lingered. Nonetheless, as the day progressed, the Gerber MP600 stood resilient against the whims of the wild, and the minor hiccup soon faded against the backdrop of a bountiful catch and the serenity the outdoors offered.
In retrospect, the Gerber MP600 Pro Scout is a reliable companion with a robust exterior ready to face the harsh elements, making it a worthy addition to my outdoor gear albeit with a slight learning curve.
Pros:
Durable Construction: The stainless steel body promises longevity even with regular use in challenging outdoor conditions.
Versatile Tool Selection: With 14 different tools, it covers a broad spectrum of needs for fishing, camping, and minor on-the-spot repairs.
One-Handed Operation: A feature especially useful for fishermen, allowing multitasking in crucial moments.
Replaceable Saw Blade: A thoughtful feature enabling adaptation to different tasks by swapping out blades as needed.
Military-Grade Design: Exudes robustness and reliability, living up to its reputation in strenuous use cases.
Cons:
Accessing Tools: The necessity to deploy the pliers to access other tools can be cumbersome and time-consuming, especially in urgent situations.
Stiff Operation: Some tools are stiff to deploy and require a significant amount of effort, which can be a hindrance in quick-fix scenarios.
Add-On Tool Kit Adapter: The magnetic adapter sleeve is easy to misplace, which could render the additional kit useless in tight situations.
Ease of Use: Compared to other multi-tools, transitioning between tools isn't as intuitive or smooth, posing a slight learning curve for the user.
Accessibility: The design could be challenging for individuals with less hand strength or dexterity, making it less user-friendly to a broader audience.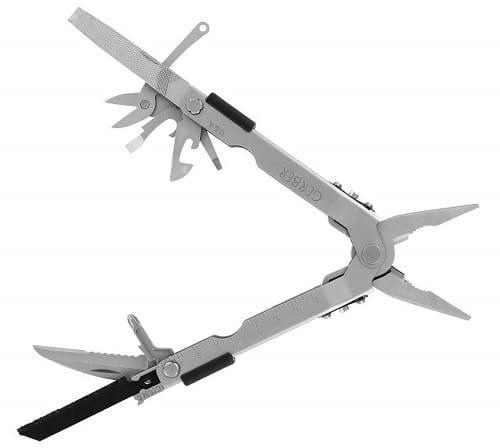 SOG PowerLock
Our next fishing multi tool is the PowerLock from SOG. This device blends great characteristics, ranging from quick use features to Compound Leverage mechanisms, to ensure you get the most out of its different add-ons.
Here, you get multiple screwdrivers, a crimper, 3-sided file, needle nose pliers, bolt grip channel, partially-serrated blade, awl, ruler, scissors, wire cutter, and wood saw all wrapped up in one easy-to-handle package.
As with the Gerber MP600, the PowerLock comes with one-handed opening, enabling you to work with your line without needing to pause or break. This also makes the model easy to operate in tricky or slick conditions.
Beyond that, the Powerlock has a heavy-duty construction that ensures it will last a long time. Fishing multi-tools take a lot of abuse, and it's nice knowing yours will stay strong years into the future.
It is also important to note that there are many subtle advantages to this tool that are not apparent right away. It is not simply that you get great features and solid construction, but that each tool operates beyond the industry standard.
For example, the scissors and saw both cuts with ease, while the screwdrivers and crimpers do their job without any hitches or issues. A small bonus, but one you'll feel every time you use the PowerLock.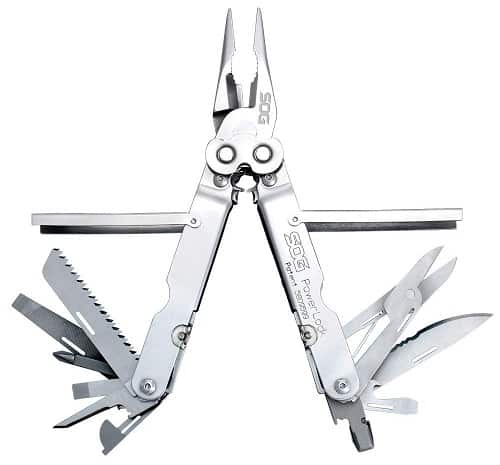 Leatherman Wingman
The Wingman is another example of a fishing multi-tool done right. This model comes with fourteen different add-ons that work together to create one of the most dependable multi-tools around.
As you would expect, this comes with a spring-action plier system on the top. However, you also get scissors, needlenose pliers, wire cutters, a wire stripper, 420HC combo knife, a ruler, can opener, file, bottle opener, package opener, and three different screwdrivers.
The list doesn't stop there. To make sure you're always prepared, the Wingman also comes with a replaceable pocket clip, locking blade, one-handed opening capabilities, and outside-accessible features.
The sharp blade is one of the most impressive aspects of this tool. Not only does it lock into place when fully deployed, but it only folds away once manually unlocked. That then makes it much safer to operate.
The removable pocket clip adds to that functionality by providing you with a way to put the multi-tool directly onto your pocket or belt loop without a sheath. Of course, you can use a sheath if you want, but it's always nice to have options.
The one-handed functionality is as great here as it is in other models. However, the outside-accessible features that enable you to take advantage of the tool while it's folded, add an extra layer of usability other multi-tools lack.
Read our full Leatherman Wingman review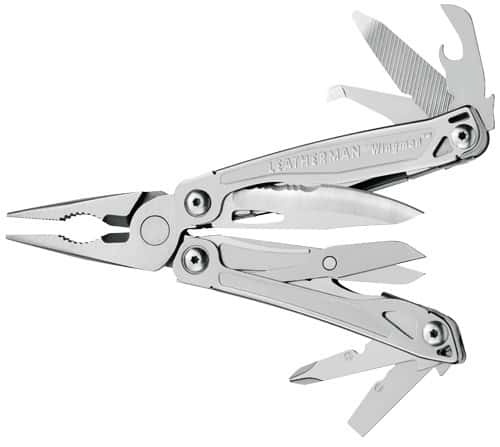 Leatherman Wave Plus
Continuing with the best Leatherman models, the Wave Plus is a multi-tool for all anglers. This device takes all of the aspects packed into the company's best-selling model and improves upon them in various ways.
The Wave Plus is made from stainless steel and comes with a soft, black nylon sheath. In addition, it also provides a staggering number of tools to meet all of your fishing needs.
The switch between needlenose and regular pliers ensures you'll be able to grip line, hooks, or fish with ease, while the crimper and wire cutters enable you to work on motors or electronics if needed.
Adding to that, there are numerous handy outdoor tools as well. The two corrosion-resistant knives are perfect for stormy weather, the spring-action scissors can cut through line, and the file sands down both wood and metal. There is even a diamond-coated file to sharpen blades.
However, with so many options, the Wave Plus is for more than just business. The easy-to-use bottle and can opener make this great for people who like to camp and fish at the same time.
It is unlikely that something goes wrong during a trip, but accidents do happen. The Wave Plus' versatility ensures you'll never be caught off guard.
Read our full Leatherman Wave Plus review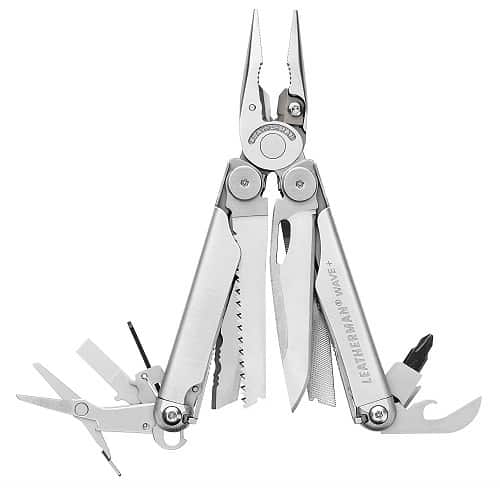 Victorinox SwissTool Spirit X
Moving away from Leatherman, the Victorinox SwissTool Spirit X is one of the most versatile multi-tools on the market. That makes it a great choice for all anglers.
The most notable aspect here is the sheer number of tools the Spirit X comes with. Many multi-tools, including the ones reviewed above, have a long list of different features. However, none of them can match the Spirit X's twenty-four.
You get everything with this model. Not only does it come with the usual culprits like a strong blade, screwdriver, and wire cutter, but it also has a chisel, scraper, reamer, and multiple saws.
However, do not think those options make the Spirit X bulky or awkward to use. The unique craftsmanship ensures all of the tools are expertly tucked back behind two metal strips.
That creates a sleek, attractive package that is not only pleasing to look at, but easy to use. On top of that, the Spirit X is also incredibly light, allowing anyone to handle it with little worry.
All of those features come wrapped up inside Victorinox's incredible warranty. That statement not only promises all tools to be first-class stainless steel but provides a lifetime guarantee against any material defects.
Though that does not cover normal damage, it does ensure you're making a strong purchase. It is always nice to know you're buying something backed by the company, and that you'll be protected should something go wrong.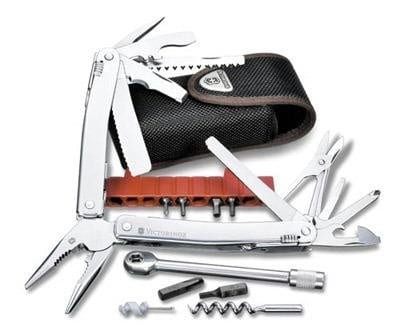 Victorinox Deluxe Tinker
While not nearly as big or multi-faceted as the Spirit X, the Victorniox Deluxe Tinker is one of the best small fishing multi-tools around. This model gets high marks because of how well it fits premium tools and enhanced durability inside a compact and affordable package.
This is a pocket knife that provides you with every essential tool you'd ever need while fishing. It is easy to assume the Tinker lacks versatility as a result of the size, but it has seventeen different tools inside.
There are two blades, scissors, pliers, a wire cutter and crimper, a multipurpose hook, tweezers, a toothpick, reamer, bottle opener, and various screwdrivers.
Each of those features then comes inside Deluxe Tinker's easy-to-handle package. The multi-tool weighs just 4.3 ounces and measures only 3.5 inches long. In that way, it is a perfect item to drop in your pocket or toss in a bag before heading out.
Those features enable you to cut, hack, saw, or pinch whatever you need while on an outdoor excursion. In that way, though the Tinker is perfect for fishing, it is great for those who like to hike or camp around fishing as well.
As you would expect, this also comes protected with Victorinox's stellar guarantee. You can purchase a well-crafted leather belt pouch for it as well.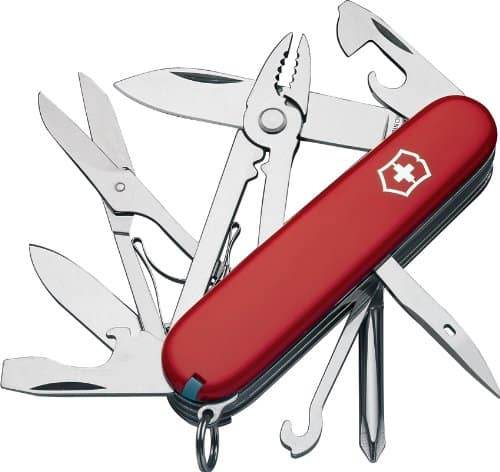 Gerber Center-Drive
This section ends with the Gerber Center-Drive. This model is just as dependable as any other tool on the market, but it stands out from the pack as a result of its unique design.
Most multi-tools come with a standard look. They have a two-part body that opens up to reveal or give access to the different tools inside. The Center-Drive does not follow that approach.
Rather, this model comes with a special center-axis driver that opens to align like a screwdriver. That creates an incredible amount of power and provides the same torque you'd get with a full-sized tool.
To back that up, this also has a long outboard blade and a special one-thumb opening mechanism to easily access the tools inside. All of the larger features are accessed with a quick flick.
In addition, the Center-Drive offers sixteen different well-made tools that provide you with all the functionality and use of similar models. That includes a nail puller, standard pliers, wire cutters, bottle opener, and serrated blade.
Though you may not always use the screwdriver while out on the water, you'll definitely access many of the tools during your trips. The increased design and functionality are just there for you whenever you need them.
Read our Gerber Center-Drive Review
Best Specialized Fishing Multi Tools
The above multi-tools are all about versatility. They provide numerous options, giving them the ability to tackle a range of different situations in a range of different ways. It is not about having a tool that can do one or two things well, it is about having a device that can do a bit of everything.
However, those go-wide multi-tools are not the only ones for fishing. Sometimes you need a tool that, while dependable, is a bit more specialized for one task. That is what you'll find in the section below.
Gerber LineDriver
The first specialized fishing multi-tool we'll cover, the Gerber LineDriver, is all about line management. There are many different things you need to balance while trying to bring in a big catch, but none are more important than keeping your line in the water for as long as possible.
The LineDriver helps with that by allowing you to quickly tie knots and handle a tricky line. It has two ends, each of which brings their own unique tools and functions to the table.
The front rotates to clear eyelets and tie knots, keeping your fingers out of the way so it is easier to thread a new line. It also comes with a spinning vise that clamps down onto hooks or lures.
In contrast, the back has numerous utility tools that help manage tough line. The scissor snips cut through thick or thin cord depending on their setting, the crimper adds extra general utility, and the hook threader funnels line through the eyelet for quick exchanges.
All of those features are then backed by the pocket clip and tether point. Each of those work to anchor the device and ensure it stays secure during use.
Everything about this multi-tool makes your fishing time easier. Though this does require a bit of maintenance, you have to rinse it after use and regularly apply oil, it is durable and made to last a long, long time.

Gerber FreeHander
Every angler knows that fishing can take you to some wet, slippery, or unstable conditions. Even nearly-calm lakes or slow-moving rivers can make balance a hassle. To help with that, there is the FreeHander.
This Gerber device, as the name suggests, is a multi-tool that allows you to both cut and secure line with one hand. It does that by combining a line nipper with a tool that can quickly manage line or lure exchange.
It also has a special wide-paddle design to ensure the angler makes the most contact they can with the tool. That feature makes the FreeHander, not just useful, but perfectly suited for small lures, thin lines, and wet/cold conditions.
All of those upgrades stem from the device's SuperVise Tech technology. That feature is a special pivoting retention clip that cinches the line during lure exchange to prevent you from losing lines or lures to the waves.
The FreeHander also has a tether point built directly into the line cutter so that you can move the tool in any direction. That increases mobility and makes it easy to use in tighter spots.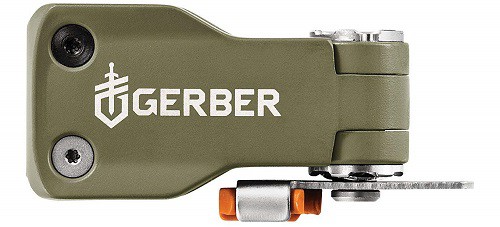 Gerber Gutsy
Continuing on the train of great specialized Gerber fishing gear, the Gutsy is a special grab-and-go fish processing tool that works with all popular species.
Anglers typically bring tackleboxes with them while they fish. However, sometimes that is not an option. You never know when you're going to have a spontaneous trip, and that is where this device comes in.
The Gutsy is a massive upgrade to the standard fish scaler. Instead of only being able to process fish, this device can perform four different functions that help maximize your fishing experience.
The scaler has sharp teeth to quickly and easily remove scales, a gut hook that slides right into the fish vent to open the cavity, and the scooper to remove any remaining veins. There is also a bottle opener to crack open a beverage as you wait for something to bite.
As an added bonus, the Gutsy is sleek and easy to carry. You don't just get a great device, you get a compact tool you can easily throw into your bag, pocket, or car. It's perfect for on-the-go travel and something you can keep with you at all times.
You don't always know when you'll head out to the water. However, with the Gutsy you'll always be ready when the occasion arises.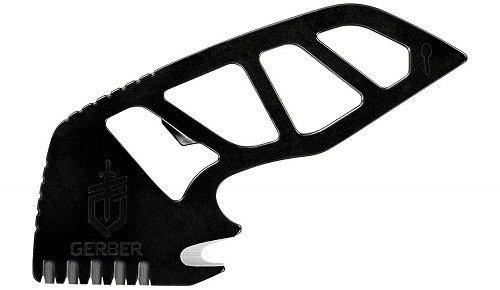 Rapala Fishermans Multi-Tool
One of the most affordable high-end fishing multi-tools, the Rapal Fishermans Multi-Tool is a device that may seem similar to the tools of the first section. However, it differs because it is specially designed for fishing use.
Rather than providing a broad range of tools that are useful when casting a line or sailing, it offers specific tools that anglers need. In that way, this is perfect for people who want to blend versatility with specialization.
Perhaps the best example of that comes from the retractable line scissors and jig eye buster. Each of these only pop out when in use, allowing you to quickly use and put away the device. They can be a bit unwieldy at times but should be easy to handle after a few uses.
On top of that, there is also a multi-size line threader and carabiner clip. The threader makes it much easier to get your device out on the water, while the carabiner clip enables you to never lose the device.
This tool also has a die-cast metal frame to ensure it lasts a long time. Though some worry about discomfort, there is also a soft-grip handle to ensure you never get sore.
The beverage wrench, which helps pop open any can or bottle, is simply icing on the cake. This is not a necessary feature, but a handy one that saves you space and keeps all of your items in one tool.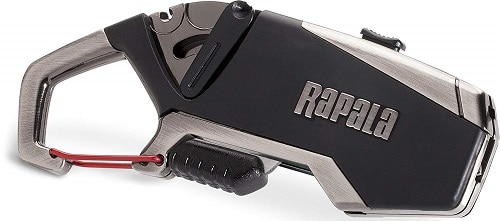 Booms Fishing
As with the above model, the Booms Fishing Tool is a multi-tool that, while similar to the first section, differs through the fact that it is only for anglers. You get all of the multi-tool functionality, but in a way that furthers your hobby.
This small device is all about allowing you to quickly and easily perform various tasks while fishing. The pliers, which are at the forefront of this model, have thick, durable jaws and a bearing loaded spring.
That is then backed by the usual assortment of utility tools, including knives and saws. Those not only make the tool easy to use, but also enable a range of tasks like splitting rings, cutting fish lines, and crimping split lead and sleeves.
As all of the tools on this specialized device are multi-functional, they can be used for many non-fishing applications while on the boat or on the shore. For instance, this tool is perfect for driving in screws, cutting food, or opening cans.
Something else to note about this model is that it is made to last for decades if taken care of correctly. The gear is crafted with polished stainless-steel, ensuring it is resistant to the corrosion that comes from water or harsh weather.
The compact package also makes the tool easy to take along for a trip. If you don't want to drop it into your bag, or if you want to free up pocket space, there is a custom sheath that fastens directly onto your belt.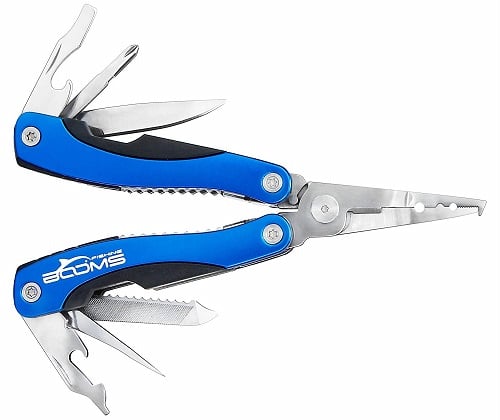 TyePro Fishing Knot Multi Tool
Perhaps no item on this list is more specialized than the TyePro Fishing Knot. This multi-tool is unique because it is made to help anglers tie fishing knots in situations where sight is compromised. That means low-light times of day like dawn or dusk, as well as rocking boats in uneven conditions.
However, it has another application. The tool is also perfect for people who have poor eyesight or shaky hands. If you are someone who deals with either of those, this is an amazing tool to bring along on your trip.
The TyePro doesn't just help tie knots either. It also improves threading and allows anglers to tie hooks, jigs, and lures. Rather than enabling you to only do one take, this offers a great amount of versatility.
To increase the general functionality, this also comes with a stainless-steel line cutter, detachable lanyard, o-ring, and a spring-loaded handle. That then provides you with an all-in-one tool with great functionality for all conditions.
Just be sure to know that this tool is only for hooks and jigs that have an exposed shank above the eyelet. It won't help much with other styles, and it should be tested before use.
This model works best for tackle used for popular species like bluegill, walleye, perch, small catfish, and bass. It is great for many common fish.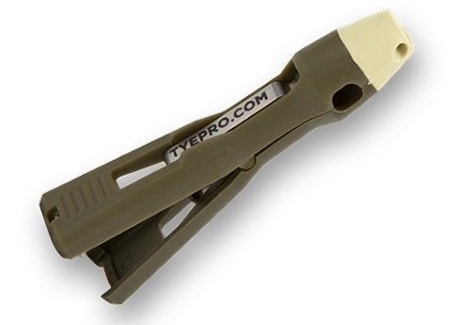 Buyer's Guide – What Does the Best Fishing Multi-Tool Need?
There is no doubt that the above sections cover the best fishing multi-tools on the current market. However, when searching for a solid device, there are many great options out there.
To separate the wheat from the chaff, it is important to know the aspects that help make a multi-tool special. You don't want a device with one or two great qualities, you want a durable tool that is useful in all fishing situations.
One-Handed Operation
As covered above, one-handed operation is a critical aspect for any fishing multi-tool. There are countless times where you'll only have a single hand available while out on the water, including when wrestling with a fish or keeping your rod steady. Being able to perform such tasks and operate your tool at the same time is invaluable.
Water Resistant/Stainless Steel
You simply cannot use water-oriented tools that are not water resistant or crafted from stainless steel. Anything that does not meet those marks will quickly rust, which then ruins your purchase. In fact, this is so important that it is not worth considering any multi-tools that do not meet this requirement.
Needle Nose Pliers
You will find needle nose pliers on just about every fishing multi-tool, and there's a reason for that. They are perhaps the most important fishing instrument, providing you a quick, easy way to grab or manipulate hooks while on the water. It is not worth looking at a tool that lacks this feature.
Wire Cutters
It is unlikely you'll encounter wires while fishing. Even so, wire cutters are great to have on a multi-tool because they allow you to chop through line with ease. This simple add-on is much more effective than using your teeth, and they come in handy when using a braided or heavyweight line. If you can, look for tools that enable you to replace the cutter blades.
Scissors
Just about every fishing multi-tool comes with a blade, but that is not true of scissors. Though both tools work towards the same end, scissors are especially important because they are so easy to use. Rather than attempting to saw at a line while teetering in unstable conditions, you can cut it with a simple snip. These have the added function of being able to open plastic or snack packaging as well.
Metal File
A good metal file is one of the most overlooked features in fishing multi-tools. Though it is easy to dismiss this as a little-used add-on, there are many ways to take advantage of it over time.
As you fish, you'll find that your hooks wear down or rust. Being able to quickly sharpen them up ensures your gear stays at the top level and stops you from needing to buy new items.
Tools are Spring Loaded
Getting a spring-loaded multi-tool may not seem like a big deal, but this feature is vital. You want a tool that is both easy to use and operate, which is exactly what this small upgrade ensures. Though you will find spring-loaded tools in most of the top models, do not bother with those that don't have it.
Build Quality
Calling back to the idea of stainless steel, you have to get a multi-tool that will last. There is nothing worse than purchasing a new tool only to have it break down after a few uses. Fishing accessories can take a beating. Always ensure the model you buy is a high-quality device from a well-respected or well-reviewed company.
Size
When purchasing a multi-tool, bigger is not always better. It may seem like a good idea to get the largest tool possible, but such options do not typically work for fishing. The size makes them hard to control (especially in tough conditions) and they do not easily fit into pockets or tackle boxes. When searching for the ideal multi-tool, it is better to go with a lightweight, compact package.
Price
Price is perhaps one of the trickiest features to balance. It is important to stay within your budget, but that does not mean you should buy the cheapest multi-tool you can find. Price often reflects quality. The trick is to purchase an affordable model that also comes with all or most of the essential features listed above.
FAQ: Best Fishing Multi Tool
As you delve into the world of fishing and outdoor adventures, having the right tools at your disposal is crucial. One tool that proves to be indispensable for anglers is the fishing multi tool. With its compact design and a variety of features, it streamlines your fishing experience by combining several essential tools into a single device.
However, we understand that you may have questions about fishing multi tools and their suitability for your needs. In this Frequently Asked Questions (FAQ) section, we aim to address some of the common queries you may have, providing you with the information you need to make an informed decision when choosing the best fishing multi tool.
From understanding the key features to look for in a fishing multi tool to exploring its versatility in outdoor activities beyond fishing, we'll cover a range of topics to help you navigate the world of these handy tools. We'll also address maintenance tips, travel regulations, and considerations when it comes to investing in a fishing multi tool.
Whether you're a seasoned angler or a beginner looking to enhance your fishing gear, this FAQ section will shed light on important aspects related to fishing multi tools. So, let's dive into the frequently asked questions and equip ourselves with the knowledge to make the right choice for our fishing and outdoor adventures.
What is a fishing multi tool?
A fishing multi tool is a versatile tool that combines several essential fishing functions into a single compact device. It typically includes features such as a knife blade, pliers, scissors, fish scaler, hook remover, and more.
Why do I need a fishing multi tool?
A fishing multi tool can be incredibly useful and convenient for anglers. It eliminates the need to carry multiple individual tools, saving space and reducing weight in your fishing gear. It allows you to quickly handle various fishing-related tasks and makes your fishing experience more efficient.
What are the key features to look for in a fishing multi tool?
When choosing a fishing multi tool, consider features such as a sturdy construction, corrosion resistance, comfortable grip, a sharp and durable knife blade, spring-loaded pliers, a fish scaler with good scaling capabilities, a hook remover, and additional tools like scissors, screwdrivers, or bottle openers.
Are fishing multi tools waterproof?
While some fishing multi tools may have water-resistant properties, not all are completely waterproof. It's essential to check the product specifications or consult the manufacturer to understand the tool's water resistance capabilities. Additionally, it's always recommended to keep your multi tool dry and clean for better longevity.
Can a fishing multi tool replace individual fishing tools?
A fishing multi tool can be a versatile and practical option, but it may not completely replace all individual fishing tools. For specialized tasks or specific fishing techniques, dedicated tools like fillet knives or baiting tools might still be preferred. However, a good fishing multi tool can cover most common fishing needs.
Can a fishing multi tool be used for other outdoor activities?
Absolutely! Fishing multi tools are designed to be multi-purpose tools, making them useful for various outdoor activities such as camping, hiking, hunting, and more. They often come with features like can openers, saws, or screwdrivers, which can be handy in different situations.
How do I maintain a fishing multi tool?
To keep your fishing multi tool in optimal condition, it's recommended to clean it after each use, particularly if it has been exposed to saltwater. Wipe it down with a damp cloth, remove any dirt or debris, and dry it thoroughly. Apply a light coating of lubricant or oil to the moving parts to prevent rust and ensure smooth operation.
Are fishing multi tools allowed on airplanes?
Air travel regulations vary, but generally, fishing multi tools with knife blades are not allowed in carry-on luggage. However, you can pack them in checked baggage as long as they comply with the airline's guidelines. It's advisable to check with the airline or relevant authorities before traveling.
Are expensive fishing multi tools worth the investment?
Expensive fishing multi tools often offer higher quality materials, better durability, and improved functionality. If you frequently engage in fishing or outdoor activities, investing in a high-quality multi tool can be worthwhile for its longevity and reliable performance. However, it's important to assess your needs and budget before making a purchase.
Can I sharpen the knife blade on a fishing multi tool?
Yes, most fishing multi tools with knife blades can be sharpened. It's recommended to use a sharpening stone or a knife sharpener designed for small blades. Follow the manufacturer's instructions or consult a professional for proper sharpening techniques to maintain the blade's sharpness effectively.
Remember, it's always advisable to refer to the specific product's user manual or contact the manufacturer directly for detailed instructions and information related to their fishing multi tool.
Conclusion
There are many steps needed to narrow down the best fishing multi-tool. Not only it is important to ensure it comes with a range of critical characteristics, but you also need to know exactly what you want to get out of it.
Specialized multi-tools are great to have, but wider-reaching options go a long way. Know what you need at first, then break down the different models listed in this article.
Remember, while some tools seem great at first glance, they may only help solve one problem. It is best to choose the one that will give you the best results in every single fishing situation.