Top 3 Best Survival Fishing Kits
Vigilant Trails Pocket Survival Fishing Kit
Comprehensive Kit: Includes hooks, sinkers, lures, a lockback knife, and a unique hand-reel unit.
Compact and Portable: Easily fits in pockets, making it ideal for on-the-go adventures.
Quality Gear: High-quality components, well-organized within the kit.
Native American Owned with Survival Guarantee: Adds trust and assurance in product reliability.
Affordable: Good value for the price.
Downsides: Some components like hooks and spool are smaller than expected, and the 10 lb test line might not be adequate for bigger catches. There's no reel for drag, and additional gear may be needed depending on personal or regional fishing needs.
Best Glide ASE Compact Survival Fishing Kit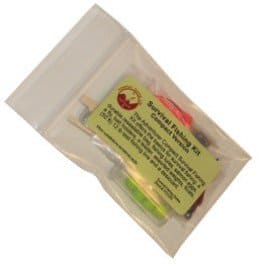 Ultra Lightweight: Contains basic gear needed for wilderness fishing.
Contents: Includes six hooks, salmon egg bait, swivel, 50 ft of 12 lb test line, sinkers, bobber, and artificial lures.
Packaging: Smallest and most portable kit from Best Glide, packaged in a six mil zip lock bag.
Advantage: Small enough to fit just about anywhere, easy to keep with you at all times​.
Best Glide ASE Standard Emergency Survival Fishing Kit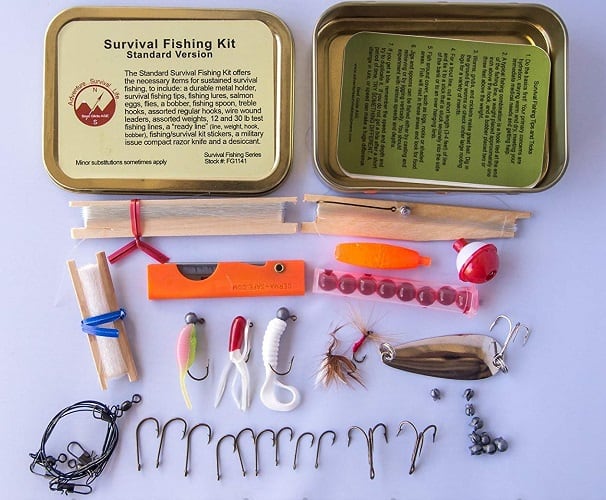 Enhanced Version: Includes all items in the Compact kit plus additional tools.
Contents: Eleven hooks, 50 ft 12 lb line, 50 ft 30 lb line, ready line (hook, bobber, sinker), salmon egg bait, various lures, and a folding knife.
Packaging: Comes in a sturdy metal tin, containing a good quantity of frequently used fishing gear.
Suitability: Capable of feeding a larger group in an emergency, lightweight, and compact for easy transport.
Outdoorsman Toolkit is reader-supported. When you buy through links on our site, we may earn an affiliate commission.
Learn more
In a true survival scenario getting enough calories can be the difference between life and death. Fish are one of the best sources of protein and ready calories you can easily find out in the wild. One of the easiest ways to prepare yourself for an outdoor emergency is to pack a small survival fishing kit into your bag. Today we'll be reviewing a bunch of these kits to help you find the best survival fishing kit for your needs.
Best Survival Fishing Kits Reviewed
With survival fishing kits less is usually more. You want something that's lightweight and portable while still meeting the basic needs of a fisherman.
With that in mind, we selected several different pocket fishing kits across the spectrum of price, capability, and design style.
Vigilant Trails Pocket Survival Fishing Kit
As someone who thrives in the embrace of nature, be it hiking, camping, or setting out on RV adventures, having reliable survival gear is non-negotiable. It was on one of my early morning musings that I stumbled upon the Vigilant Trails Pocket Survival Fishing Kit, and the allure of its compact yet comprehensive offerings was too good to pass up.
Upon receiving the kit, the first thing that caught my eye was the neat packaging. Every piece of gear was meticulously housed in a pocketable pouch, which was further encased in a reusable heavy-duty plastic bag. Inside, a variety of fishing essentials awaited — a range of hooks, sinkers of different sizes, a large bobber, a robust 125 ft of 10 lb Test Monofilament Line, an assortment of specialized lures, two swivels, a lockback knife, and a line winder. And oh, the hand-reel unit, a rare find, had me sold from the get-go. The line came pre-spooled on it, ready to cast into the serene waters at a moment's notice.
Being a Native American owned brand with a Survival Guarantee was the cherry on top. Knowing that Vigilant Trails would replace the kit for free in case it meets a true survival situation, added a layer of trust to my purchase.
Taking it out into the wild, its compactness was both a boon and a bane. Sliding effortlessly into my jean pocket, it was a breeze to carry around. The gear was of high quality, especially the back-lock knife, which although not meant for heavy-duty cutting, did a commendable job at scaling and gutting fish. However, the compactness did have its downfalls. The size of the worms, hooks, and the spool were a tad smaller than anticipated. I had my reservations on whether they could handle a hefty catch like a large catfish, which are aplenty in my area. The 10 lb test line, though generous in length, had me wishing for a stronger or varied strength offering to tackle bigger fish, especially with no reel to allow for drag.
The kit didn't miss out on the extra mile either. A personal thank you note from the CEO was a classy touch that resonated with me. It reflected a level of care and pride in the product which was reassuring.
On a recent weekend expedition up to the tranquil lakes nestled within the mountains, the Vigilant Trails Pocket Survival Fishing Kit was put to the real test. As the morning mist cleared, revealing the calm waters, I eagerly set up with the kit. The hand-reel unit felt intuitive in my hands as I cast the line into the serene lake. The sun peeked through the clouds, casting a golden glow on the water's surface, as I patiently awaited a catch. It wasn't long before a gentle tug signaled a fish on the hook. As I carefully reeled it in, the 10 lb test line held steady, showcasing its grit.
The lockback knife was a handy companion, aiding in swiftly scaling and gutting the fish. As I sat by the campfire later, cooking the day's catch, the satisfaction of a well-spent day engulfed me. The kit had not only stood up to the task but had enhanced the experience, making the wild feel a bit more like home. It's these quiet moments amidst nature, with reliable gear at my side, that fuel my passion for the outdoors, urging me to venture farther, and with the Vigilant Trails kit, I know I'm well-equipped.
Despite the few downsides, the Vigilant Trails Pocket Survival Fishing Kit has become a staple in my outdoor escapades. It's a well-thought-out, value-packed kit that covers the basics and a bit more. I did, however, decide to supplement it with another kit with stronger test line and larger hooks to better match my local fishing needs. Yet, every time I head out, it's the Vigilant Trails kit that finds its way into my pocket, ready to tackle whatever the wilderness throws my way.
Pros:
Comprehensive Kit: Offers a wide range of essential fishing gear, including a variety of hooks, sinkers, lures, a lockback knife, and a unique hand-reel unit.
Compact and Portable: Fits easily into pockets or other small storage spaces, making it ideal for on-the-go adventures.
Quality Gear: High-quality components that are well-organized within the kit.
Native American Owned with Survival Guarantee: Provides a sense of trust and assurance in the product's reliability.
Affordable: Provides good value for the price, especially with the inclusion of a serviceable back-lock knife.
Cons:
Size of Components: Some gear like hooks, worms, and spool are smaller than expected which might be a concern for catching larger fish.
Line Strength: The 10 lb test line might not be adequate for bigger catches, with no variety in line strength provided.
No Reel for Drag: The absence of a reel could make handling bigger fish more challenging due to lack of drag control.
Might Need Supplementation: Depending on personal or regional fishing needs, one might need to supplement this kit with additional or larger gear.
Best Glide ASE Compact Survival Fishing Kit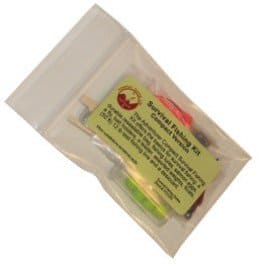 The Best Glide ASE Compact Survival Fishing Kit is an ultra lightweight set of fishing gear. It contains the basic gear you'd need to catch a fish in the wilderness, including:
Six Hooks
Salmon Egg Bait
Swivel
50 ft of 12 lb Test Line
Sinkers
Bobber
Artificial Lures
The ASE Compact fishing kit is the smallest and most portable of Best Glides survival fishing kits. It's packaged in a six mil zip lock bag instead of a metal tin and includes the bare minimum you'd need to fish in a survival situation.
Because of this it's small enough to fit just about anywhere you care to pack it and easy to keep with you at all times. If you're looking for the peace of mind a survival fishing kit provides but are seriously short on space, the Best Glide ASE Compact Survival Fishing Kit is a great option.
Best Glide ASE Standard Emergency Survival Fishing Kit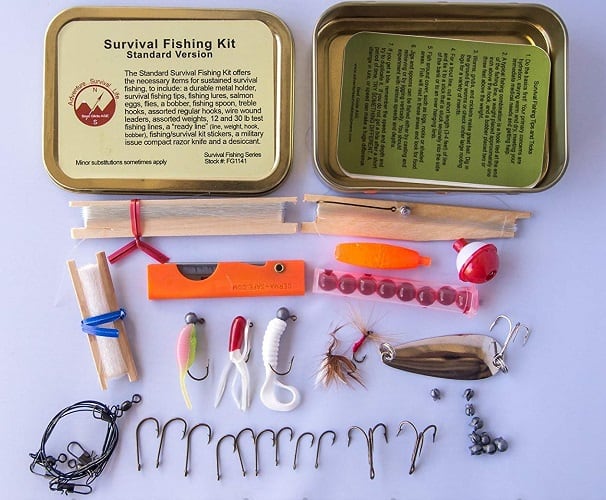 The Best Glide ASE Standard Emergency Survival Fishing Kit is the next level up version of their ultra portable Compact kit. It includes everything that the Compact kit has plus several additional tools, including:
Eleven Hooks
50 ft 12 lb Line
50 ft 30 lb Line
Ready Line Including Hook, Bobber, and Sinker
Salmon Egg Bait
Jig, Fly, and Spoon Lures
Leaders, Bobbers, and Sinkers
Folding Knife
The Standard Kit comes in a sturdy metal tin and includes more of the most frequently used fishing gear. Where the Compact Kit can provide emergency nutrition for one, the Standard Kit is capable of feeding a larger group in an emergency.
Overall the ASE Standard Emergency Fishing Kit includes a good quantity of the most useful gear for a survival situation. It's lightweight, compact, and easy to slip into just about any bag or pocket.
Uncle Flint's Survival Fishing Kit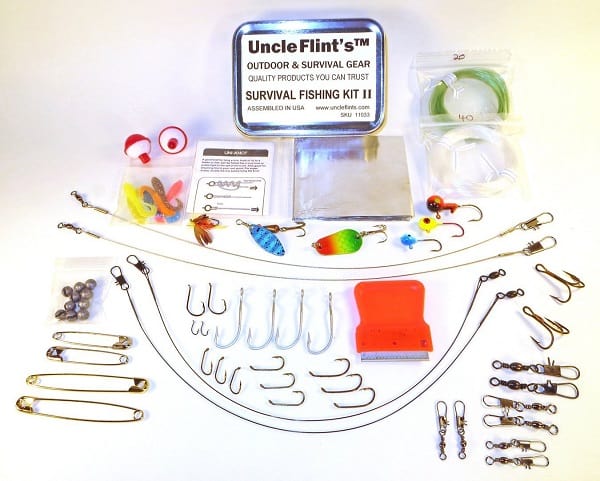 Uncle Flint's Survival Fishing Kit is a lightweight fishing kit contained in a small metal tin. It provides you with 63 pieces of fishing gear, including:
20 Different Hooks in Various Sizes
Lures, Jigs, and Flys
Snap Swivels
Two Steel Leaders
50 ft 10 lb Test
50 ft 20 lb Test
Folded Aluminum Foil
Basic Fishing Knot Guide
Single Edge Razor Blade
Four Large Safety Pins
The Uncle Flint's kit gives you all the gear you need to catch a variety of fish. The different hooks are sized for everything from small bait fish up to multi pound catfish and trout. It has a variety of different lures and the means to make more.
The inclusion of a scraper/razor blade knife is really nice. It allows you to quickly scale and clean your catch without putting your fingers at risk.
It's definitely on the high end of the survival fishing kit pricing spectrum, but you get a lot of value for your money.
Last Man The Ultimate Paracord Survival Kit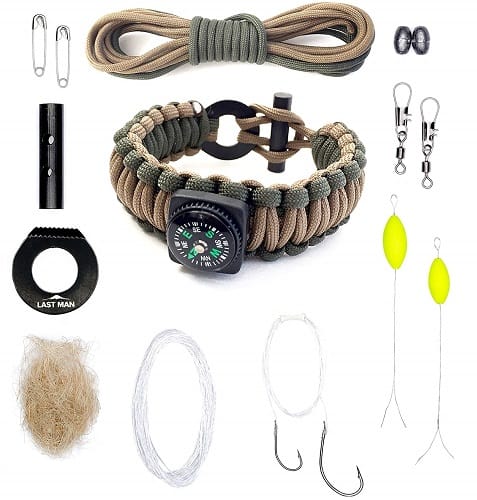 The Ultimate Paracord Survival Kit from Last Man Survival is a bracelet style survival kit that includes basic gear needed in an emergency. It gives you useful tools like tinder, a striker, a ferro rod, compass, and of course a survival fishing kit.
All of this fits on your arm in a somewhat bulky but easy to wear bracelet. The fishing kit itself is the epitome of basic. It's made up of two hooks, some fishing line, and a pair of swivels plus sinkers and bobbers.
That's not a whole lot of gear, but it's enough to catch some fish if your life depended on it. When you add in the fire starting gear, small metal striker/scraper, and basic cordage you end up with a very useful piece of kit to take with you when hiking or camping.
READYMAN Survival Cards Wilderness 2.0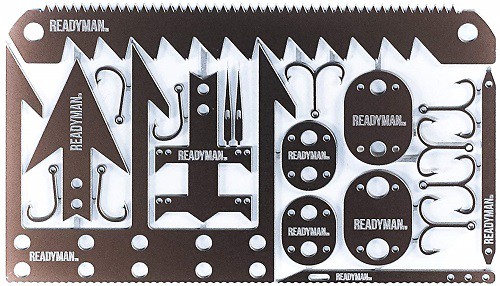 The Readyman Wilderness 2.0 Survival Card is a unique pocket survival kit designed to slip into your wallet for EDC. It includes 25 pieces of gear capable of filling dozens of functions, including:
Hooks
Arrowheads
Snare Locks
Awl
Sewing Needles
Saw Blades
Tweezers
Fishing Trident
Lures
It noticeably doesn't include any fishing line, but if you've got any paracord on you it's pretty easy to tie the inner strands together into makeshift line. The Wilderness Card 2.0 gives you a good mix of different survival focused gear.
The arrows and trident head can be used for a fishing bow, fishing spear or as a way to hunt other small game. This gives you multiple ways to use the same gear, something we're always a fan of.
It's definitely not the best fishing specific survival kit, but for how incredibly lightweight and portable it is we think you should definitely consider adding it to your EDC.
Ka-Bar Backpacker Kaster Lightweight Fishing System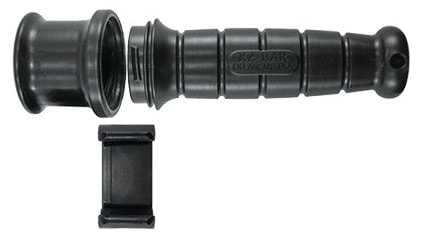 If you're looking for a great value add to a survival fishing kit the Ka-Bar Backpacker Kaster bears some serious consideration. It's a three part plastic handle based on the iconic Ka-Bar Marine Corp Fighting Knife and designed to act as a handheld reel and casting tool.
By spooling your fishing line around the head of the Kaster and clipping the attachment tool on you get a good way to reel and cast without the bulk of a full size fishing rod. The handle itself is hollow, perfect to hold the components of your fishing kit.
While not a fully fledged survival fishing kit on its own, the Ka-Bar Backpacker Kaster is a great add on to a purchased kit or base for a DIY survival fishing kit.
BCB Liferaft Fishing Kit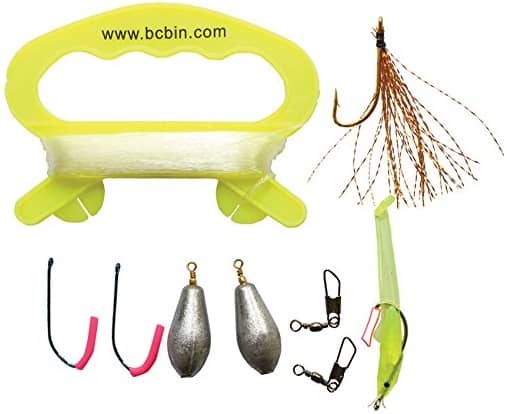 The BCB Liferaft is an ultra lightweight survival fishing kit designed for EDC or as part of a bug out bag. It's made up of just 10 components, including:
118 ft of Line on a Winder
Two Hooks
Two Sinkers
Two Swivels
Two Lures
That gives you the bare minimum gear needed to catch a fish without any extras. This allows you to pack the BCB Liferaft kit just about anywhere.
The winder is especially nice. Holding fishing line in your hand or trying to use a makeshift stick rod isn't the easiest thing to do. The winder makes it a lot easier to pull in larger fish without injuring your hands.
For a survival fishing kit that has what you need without any frills, the BCB Liferaft is an excellent choice.
High Altitude Brands Lightweight Portable Telescopic Fishing Pole

For those who like to really be prepared, the Lightweight Telescopic Fishing Pole from High Altitude Brands definitely deserves a second look. It's a combination full size fishing reel, collapsible telescoping rod, and compact tackle/rod/reel carry case.
It's designed to be a full-fledged fishing system that's lightweight and packable. It doesn't provide you with any tackle but has space for a comprehensive set of hooks, sinkers, bobbers, lures, and any other gear you care to bring with you.
The High Altitude Brands Telescopic Fishing Pole isn't the lightest or most compact survival fishing kit. If you're already planning to do some sport fishing while out in the backcountry, or if you really want to be prepared, it's a great choice.
Mechanical Fisher's Yo Yo Fishing Reels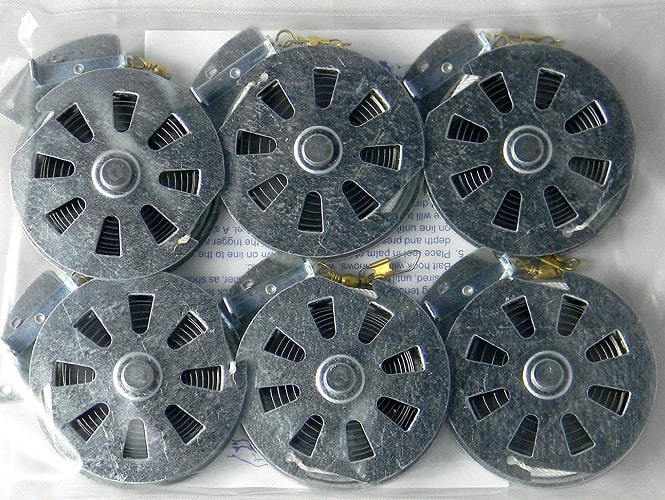 One of the biggest dangers in wilderness survival is time. Spending too much time searching for food can leave you without shelter, warmth or another essential need. With that in mind, the Mechanical Fisher's Yo Yo Fishing Reel might be the perfect survival fishing kit add on.
It's a self contained fishing unit made up of braided nylon line with a swivel pre spooled on a spring activated reel. It's made of stainless steel and uses a spring tension system with a flat trigger mechanism.
When a fish takes the bait and pulls away the trigger activates and the tension spring reels it in, setting the hook. You can tie the Yo Yo to a branch overhanging the water and let it fish for you.
This lets you work on other survival tasks while still fishing. It doesn't include hooks, sinkers or other gear but is a great add on for any survival fishing kit.
Buyer's Guide to Buying the Best Survival Fishing Kit
Picking out the best survival fishing kit really comes down to the contents of the kit. Your standard fishing gear is inexpensive and commoditized.
By that we mean that a fishing hook or some monofilament line are functionally almost identical to any others. You don't need to worry too much about the quality of the gear or the price.
The Type of Fish You're After
Where you are in the world and what kind of fish you have available will play a big role in what survival fishing kit you choose. You wouldn't use the same bait, hooks, and tackle for a catfish that you would for a trout or salmon after all.
A good rule of thumb is to look for a kit with several sizes of hooks and a mix of line tests. That allows you to fish for small and large fish.
Make sure that you consider whether you're likely to be fishing in a stream, in a lake or on the ocean when you choose your pocket survival fishing kit.
Fishing Kit Basics
Survival fishing kits are by necessity basic. They don't include all the bells and whistles common to modern sport fishing, instead packing in just the right amount of classic gear needed to catch fish.
Fishing Line – The type and amount of fishing line in your emergency kit ties with hooks in importance. For a working pocket fishing kit you should have at least 50 to 100 feet of a good test line.
10 lb to 20 lb test monofilament is common but it's not unusual to see some fishing kits include 30 or even 40 lb test for extra durable line. If possible you should choose a kit that includes a winder for the line.
This makes it a whole lot easier to pack away your kit and prevent tangles in the line. You can also fish directly from the winder and more easily reel in your catch.
Hooks – Hooks are the second crucial part of any survival fishing kit. Realistically as long as you've got hooks and line you've got yourself a way to fish.
A good survival fishing kit should contain a good number of several different sized hooks. You want to be capable of fishing for everything from bait fish all the way up to multi pounders.
Fishing hooks are tiny and extremely lightweight. They're also the piece of gear you're most likely to lose in the course of fishing. More is always better. It's not a bad idea to throw an extra pack or two in your kit after you purchase it.
Bobbers/Floats – Bobbers and floats are a big part of a survival fishing kit. When you're fishing with bait they give you a good indication of when the fish are biting. They also allow you to eyeball a line that you've put out unattended without having to constantly check the position.
If you're planning mostly to fish with artificial lures a bobber becomes less important.
Sinkers/Weights – You should always include several small sinkers in your fishing kit. Nine times out of ten you won't be using a rod in a survival situation. Having a weight on your line makes it a whole lot easier to cast effectively.
Lures – Fishing lures are an excellent addition to a survival fishing kit. They allow you to go after high calorie fish like large sunfish or bass. These will often go for small lures, taste great, and offer a lot of calories per fish.
It's not a bad idea to pick a kit that includes a plastic worm or two as well.
Bait – It's always a good idea to get a survival fishing kit that includes some bait. Match the type of bait you include in your kit to where you plan to hike. Common packaged baits include fish eggs, artificial baits, and things like small packs of dried insects.
Added Extras
Once you get past the basic fishing gear there are a few other useful tools that are nice to have but not strictly speaking essential. Most of these fall under the category of standard EDC, so there's a good chance a preparedness minded person will already have them.
Knife – Let's be honest, if you're the kind of person thinking about picking up a survival fishing kit you probably already EDC a pocket knife. There are few single tools more critical to wilderness survival than a quality knife.
For fishing they allow you to cut bait, trim your line, whittle down a sturdy stick for a fishing pole, and prepare kindling or even wood for a fire. You also have to have a good knife to properly clean and scale any fish you do catch.
It's never a bad idea to double up on lightweight tools though. Many quality pocket fishing kits include a small razor blade or even full knife.
If you're looking to pick up your first EDC pocket knife or would like to upgrade, check out our full folding pocket knife review for some great options.
Pliers – One of the best pieces of gear to add into a survival fishing kit is a pair of pliers or forceps. Any fishing enthusiast can tell you that fish like to swallow hooks. When you've only got a half dozen or so in your pocket fishing kit you can't afford to lose any.
You can slip a pair of medical style forceps in if you've got space or choose to carry a full fledged multi tool, as we'll cover more in depth below.
Multi Tool – It's probably not a surprise that a multi tool review site recommends you include a multi tool in your survival fishing kit. Ounce for ounce there are few things more useful in a survival situation than a high quality multi tool.
Your basic Leatherman or Gerber multi tool gives you pliers to pull hooks, cutters to clip through line, a sturdy knife blade for cleaning your catch, and often things like a dedicated fish scaler and saw blade.
If you already carry one as part of your EDC you probably don't need to include another in your survival fishing kit. If you're the kind of person who believes in 'one is none, two is one' we've previously reviewed a bunch of great tools specifically for their usefulness to fishing enthusiasts.
Check out our best fishing multi tool review to find out our thoughts and recommendations.
Collapsible Pole – A collapsible pole definitely falls under the 'nice to have, but not essential' category of survival fishing kit gear. They make casting and catching fish a lot easier but are still pretty bulky and difficult to pack away.
In most places with water to fish in it won't be too hard to find a good stick to tie your line off to. If you like the idea of a complete fishing kit and don't mind the extra bulk a collapsible fishing pole isn't a bad idea.
Container
The vast majority of survival fishing kits are packed in pouches or small metal tins. A few specialized ones come in purpose built containers designed to hold line or otherwise aid in fishing, and some are included as part of general survival bracelets and other tools.
The biggest thing to consider when comparing containers is how durable the container is, whether or not it can be resealed after you open it, and how much weight it adds to the kit.
It needs to be sturdy enough to prevent any of the fishing gear from getting damaged but still light enough not to weigh you down.
Ready-Made Kit or DIY
As more and more people become aware of the prepping community and basic preparedness topics manufacturers have responded. There are tons of great survival fishing kits and pocket survival systems for you to choose from.
If you're looking for something a little more customized than the excellent ready-made pocket fishing kits out there DIY is always an option. Most fishing enthusiasts have enough random odds and ins sitting around their tackle box to make several.
One of the most popular types of survival fishing kit are built around the ubiquitous Altoids Tin. You can do a full Altoids Tin survival kit or focus specifically on fishing gear.
It's just the right size to hold the essentials without weighing you down or bulging out your pockets. Plus you get to enjoy delicious Altoids before you make it. A win win!
From a cost perspective you'll usually save a few bucks by making your own but given how inexpensive survival fishing kits are it's not going to be a huge difference.
Top Survival Fishing Kits Video
FAQ: Best Survival Fishing Kit
As outdoor enthusiasts, campers, and hikers, we understand the importance of being prepared for any situation that may arise during our adventures. When it comes to survival in the wilderness, having the right tools and knowledge can make all the difference. In this section, we address some of the common questions about the best survival fishing kits, providing you with valuable insights to help you make informed decisions and enhance your outdoor experience.
Whether you're a seasoned angler looking to augment your existing gear or a beginner seeking guidance on the essential components of a survival fishing kit, we've got you covered. From understanding what a survival fishing kit entails to tips on selecting the best one for your needs, we aim to equip you with the information necessary to confidently venture into the wild and secure a reliable food source from nearby water bodies.
So, let's dive into the frequently asked questions and explore the world of survival fishing kits, ensuring you have the tools you need to face any unexpected challenges that may come your way.
What is a survival fishing kit?
A survival fishing kit is a compact and lightweight set of fishing tools specifically designed for emergency or survival situations. It typically includes fishing line, hooks, lures, and other accessories that can be used to catch fish for sustenance when traditional food sources are limited or unavailable.
Why do I need a survival fishing kit?
When you're camping, hiking, or engaging in other outdoor activities, a survival fishing kit can be an essential addition to your gear. It provides you with a means to procure food from nearby water sources, such as lakes, rivers, or streams. In emergency situations or survival scenarios, having a fishing kit can significantly increase your chances of obtaining a reliable food source.
What should a good survival fishing kit include?
A good survival fishing kit should include the following essential items:
Fishing line: A durable and lightweight fishing line that can withstand various conditions.
Hooks: Assorted sizes and types of hooks suitable for different fishing situations.
Lures: A selection of artificial lures to attract fish.
Sinkers: Weights that help sink the bait or lure to the desired depth.
Bobbers: Floats that indicate when a fish has taken the bait.
Swivels: Small connectors that prevent the line from twisting.
Fishing line winder: A device to manage and store the fishing line.
Safety pins: Useful for improvising additional fishing hooks or tools.
Carrying case: A compact and waterproof case to hold all the fishing kit components.
Are there any additional items that I should consider including in my survival fishing kit?
While the essential items mentioned above are the foundation of a survival fishing kit, you may also want to consider adding the following items:
Multi-tool or pocket knife: Useful for various tasks, including cutting fishing line or preparing the catch.
Fishing line leader: A stronger and more durable line section used as a leader to prevent fish from breaking the main fishing line.
Fishing gloves: Protect your hands from fish handling or potential injuries.
Fishing guidebook or instruction manual: Especially helpful for beginners or those unfamiliar with fishing techniques.
Spare parts: Extra hooks, fishing line, or other small components that may break or wear out during use.
How do I choose the best survival fishing kit for my needs?
Consider the following factors when selecting a survival fishing kit:
Durability: Look for high-quality materials and components that can withstand rugged conditions.
Compactness and portability: Ensure the kit is lightweight and easy to carry in your backpack or survival gear.
Versatility: Choose a kit that includes a variety of hooks, lures, and other fishing accessories suitable for different fishing scenarios.
Ease of use: The kit should be user-friendly, even for those with limited fishing experience.
Price: Consider your budget and find a kit that offers the best value for its features and quality.
Can I assemble my own survival fishing kit instead of purchasing one?
Yes, you can assemble your own survival fishing kit by purchasing individual components separately. This allows you to customize the kit based on your specific needs and preferences. However, be sure to carefully select high-quality items that meet the criteria mentioned earlier.
Best Survival Fishing Kits Recapped
Final Thoughts
Picking the best survival fishing kit for your needs really comes down to what you're willing to carry and where you're located.
You want the gear inside to work well for the types of fish common to your area, and you want the whole kit to be lightweight, compact, and easy to slip into a pocket or bag.
We always recommend you go for a little more capability in exchange for a bit more weight, but if you're a dedicated ultralight hiker or someone who loves to cut every ounce from their kit a basic survival fishing kit is still a good idea.