Outdoorsman Toolkit is reader-supported. When you buy through links on our site, we may earn an affiliate commission.
Learn more
There's nothing quite like the sound of a low fire crackling in the darkness of a chilly fall night. Just thinking about it brings up memories of Scouting trips with your school friends and frosty mornings out on the back acres with family. If you're looking to recapture those memories and save some previous ounces on your next hiking trip you should check out wood burning camp stoves. These allow you to use natural fuel of the wilderness to cook your meals and warm up your nights. Today we're reviewing several different camp stoves to help you find the best wood burning camp stove.
Best Wood Burning Camping Stoves
Wood burning camp stoves are one of those products that leave a lot of people scratching their heads. After all, can't you just make a campfire?
While natural campfires are great, wood burning camp stoves allow you to create a tiny yet intense fire perfect for quickly boiling water or cooking a camp meal. They can run off of leaves, twigs, pinecones or just about any other kind of dry biomass you find.
This makes it a lot easier to find fuel and allows you to cook your meals without worrying about watching a fire for hours.
We reviewed some of the best foldable, packable, and high-tech wood burning camp stoves across the spectrum of price and materials.
Check them out and let us know what you think.
BioLite CampStove 2 Wood Burning Camp Stove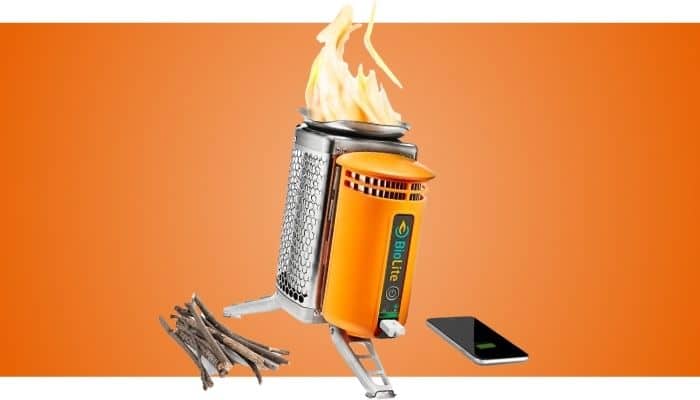 The BioLite CampStove 2 is the updated edition of BioLite's original high tech wood burning camp stove. It's designed to convert the heat generated by your fire into usable electricity with 50% more efficiency than the original.
It uses a thermoelectric generator to power a small internal fan. This injects fresh air into the combustion chamber, helping to increase heat production and reduce smoke almost to nothing.
It includes an integrated 2600mAh battery to store power and an LED panel that shows you the status of the fire strength, power output, and fan speed.
The CampStove 2 stands on a folding aluminum tripod and is made from durable materials. It's 5 in tall when packed, weighs just over two pounds, and can run off any renewable fuel source. When fully stoked it will bring a liter of water to boil in just 4.5 minutes.
Out of the box it comes with a nylon stuff sack, a 100 lumen flexlight, a USB cord, and an easy to use firestarter. It's definitely on the expensive side, starting just above $100, and rises in price even more when you add in useful extras like a grill tray.
The BioLite CampStove 2 is one of the most advanced wood burning camping stoves available today. It's heavier and more expensive than its competitors but offers features they don't even come close to matching.
Solo Stove Titan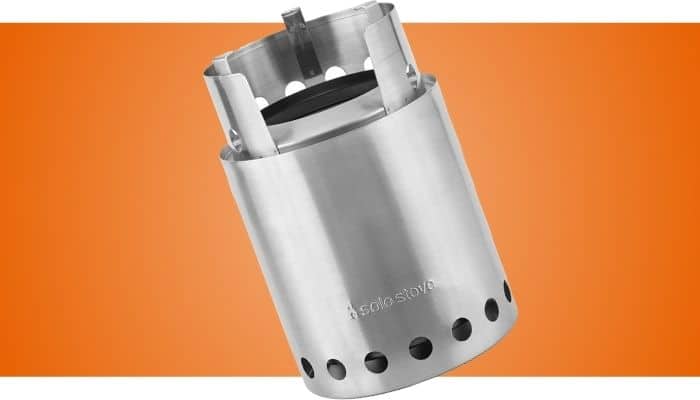 The Solo Stove Titan is an advanced portable wood burning camp stove designed to produce more heat and less smoke. It uses a double wall combustion chamber design to more fully burn whatever organic fuel source you fill it with.
It's made from durable stainless steel and measures 5.6 in tall when packed away. It extends out to 7.9 in when fully deployed and ready to cook.
Once you get the fire going with any organic fuel source the physical properties of the cylinder will cause a gasification effect to take place. This creates a hotter and less smokey flame capable of boiling a liter of water in just 4-6 minutes.
For all its capabilities the Titan doesn't weigh a lot, just 16.5 oz, and comes with a nylon stuff sack to keep any residual soot off your other gear.
The Solo Stove Titan is definitely more expensive than some of its competitors but the combination of strong materials, excellent workmanship, and efficient design makes it a real winner in our book.
Solo Stove Lite – Portable Camping Wood Burning Stove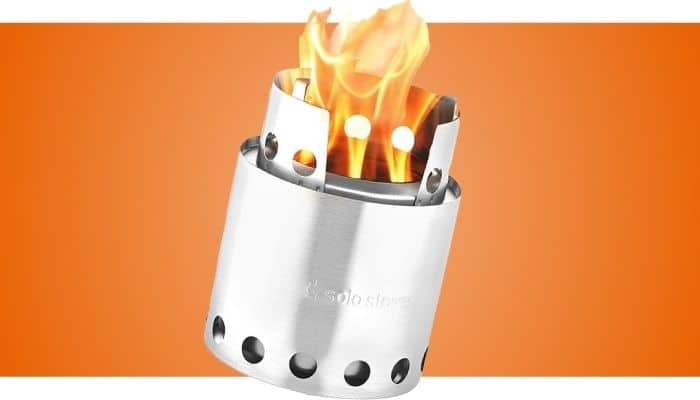 The Solo Stove Lite is the lighter and more packable version of Solo Stove's original Titan wood burning camp stove. It uses a double walled design to create a secondary gasification process that more efficiently burns fuel.
It's made with stainless steel and chrome wire and made to be as compact and packable as possible. It stands just 3.8 in tall when in storage mode and is designed to fit perfectly inside the Solo Stove Pot 900 camping cook pot.
It weighs just 9 oz and is capable of boiling a quart of water in just 8-10 minutes. It's unique design allows it to run effectively on leaves, twigs, branches, and just about any other kind of wood debris you can find.
The Solo Stove Lite is an ultraportable and lightweight wood burning camp stove great for hiking or camping. It's made from durable materials and provides excellent performance when it counts.
TOAKS Titanium Wood Burning Stove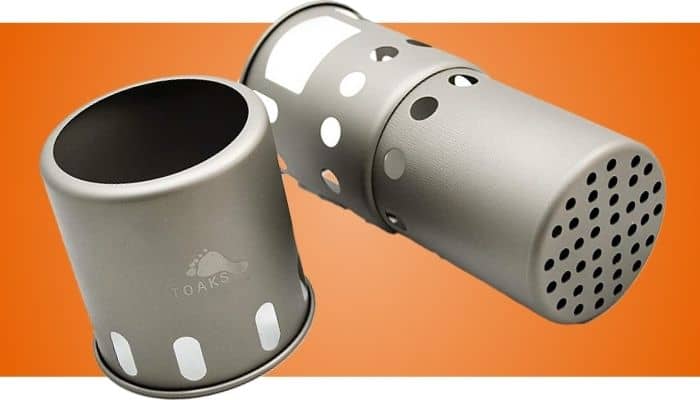 The TOAKS Outdoor Titanium Backpacking Wood Burning Stove is a stove system designed for those looking to cut every possible ounce. It's made from durable and ultra lightweight titanium and designed to fit into any backpack system.
The TOAKS stands just 4 and ⅛ in tall when packed and is made up of two stackable canisters. It lacks the double wall design common to many modern wood burning camp stoves but still provides a safe setup for a small fire.
It weighs just 7.8 oz and comes with a nylon drawstring carry pouch to help protect the finish from scratches. It's priced right in the middle of the field and is overall a good quality ultra lightweight backpacking stove that saves you money on fuel and weight on a hike.
BioLite Basecamp Wood Burning Stove System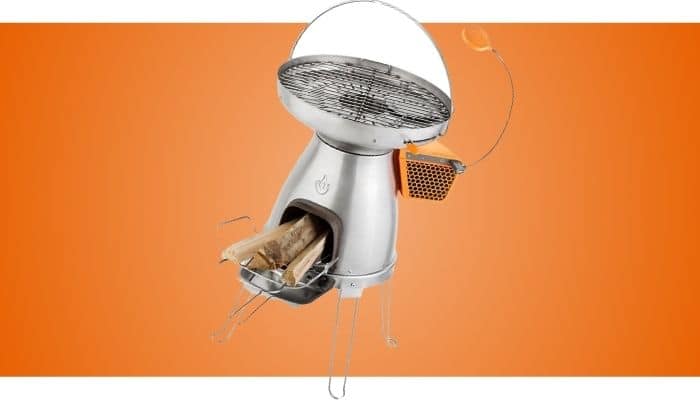 The BioLIte Basecamp is a large capacity wood burning stove system capable of cooking lots of food and charging your devices while doing so. It uses BioLite's unique thermoelectric generator to convert the heat of the flames into usable electricity.
The Basecamp isn't for hikers or anyone else who has to pack it in. It weighs over 18 pounds and has a large 138 square inch grill surface capable of cooking up a lot of food.
It has a builtin 2220 mAh battery and an adjustable fan that helps keep the fire at its peak. It also helps reduce the smoke produced while you're enjoying your fire.
You can adjust the heat distribution to the grill surface from diffuse for effective grilling to intense and direct to boil water. One of the coolest features of the Basecamp is the optional PizzaDome. This allows you to cook up crisp and delicious pizza while out camping.
We'll level with you, the Basecamp is pricey. When you add in the PizzaDome you're looking at well over $200 for a pretty heavy and bulky camping stove. It's great for car campers, RV'ers, and others who enjoy the great outdoors but don't want to pack in their gear.
Bushcraft Essentials Bushbox Outdoor Pocket Stove
The Bushcraft Essentials Bushbox is a foldable wood burning camp stove. It's made up of several interlocking pieces of stainless steel and is designed to fit in your pack or your pocket.
Its flat pack design allows you to slip it into just about any available space, then pop it together for a very nice 3.9 inches squared surface. The Bushbox is a multi fuel capable stove and can run on twigs, pinecones, trangia style gas or things like Sterno cubes.
This gives you considerable flexibility in how you cook out in the backcountry. It weighs just 16.58 oz and comes with a durable cotton carry pouch.
The Bushcraft Essentials Bushbox is a lightweight and incredibly portable little camping stove. It gives you a lot of choices in how you fuel it and can fold down to a truly tiny flatpack.
Überleben Stoker Flatpack Twig, Stick, or Wood Burning Stove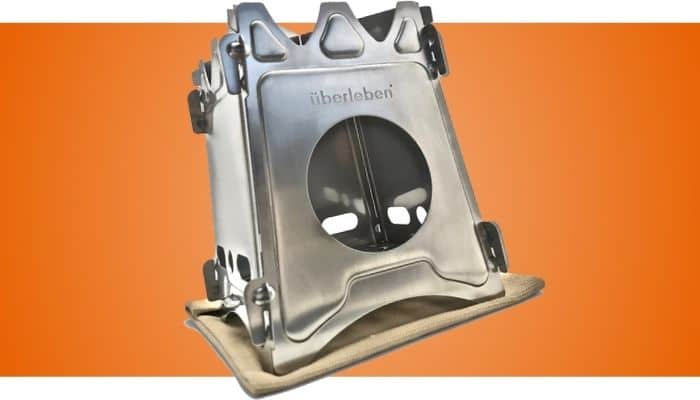 The Überleben Stoker is a flatpack style wood burning camp stove designed to burn just about any available fuel. It's made from stainless steel and is capable of fitting into just about any nook and cranny of your pack.
It gives you a 4.5 inch cooking surface, plenty for boiling water or heating up a small skillet, and weighs 14.5 oz. This is a bit heavier than some other folding camp stoves but still reasonably lightweight.
The Stoker comes with a really nice dark gray canvas carry pouch that protects the inside of your bag from the pointy bits on the flat sides. It's easy to put together and sturdy enough to hold full pots of water without issue.
Just five panels make up the Stoker, allowing you to assemble it in seconds and have a fire going just a minute after. Price wise it's very affordable, especially given its excellent performance.
If you're looking for a lightweight and extremely packable wood burning camp stove the Überleben Stoker is an inexpensive and reliable option.
Unigear Wood Burning Camp Stoves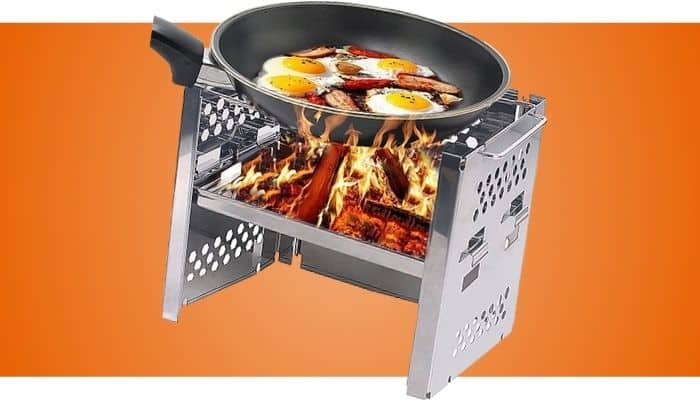 The Unigear Wood Burning Camp Stove is a foldable metal grill/cooktop combo perfect for multi person camping trips. It's made from stainless steel and folds down into a flat rectangle about the size of an Ipad Mini.
It gives you a large cook surface about 7" that's capable of supporting a skillet, cook pot or your favorite bbq meats. It weighs just over a pound and a half and is very affordably priced.
It can burn wood, of course, but also runs on pinecones, twigs, leaves, and pretty much anything else you can think of. If you'd like to grill out while in the backcountry you can even put a small camping stove in the combustion area and create your own gas grill wherever you find yourself.
The Unigear Wood Burning Camp Stove isn't the best cook option on the market. It's a little rough around the edges, but for its exceptionally low price you get a sturdy and flexibly fueled stove that's great for cooking up larger amounts of food.
VINIDA Wood Burning Camping Stove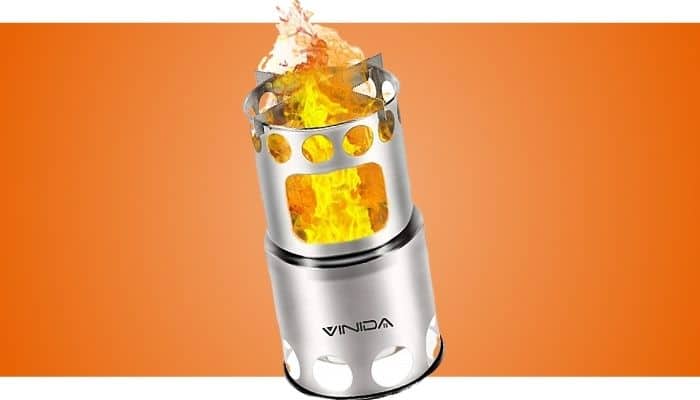 The VINIDA wood burning camping stove is a lightweight four part stove system designed for hiking and camping use. It's made from stainless steel and uses stackable system of cylinders to maximize the heat output.
It's incredibly lightweight, coming in at just 9.17 oz, and very portable. When all the pieces of the VINIDA are stacked together they're just under 4 in tall. That's a very lightweight and easy to carry stove.
It will burn just about any organic fuel source and can boil a liter of water in just 7 to 10 minutes. Our favorite part about the VINIDA? It's price. You'll pay noticeably less for it than the nearest competitor.
Overall the VINIDA wood burning camping stove is a great value priced product. It's not perfect, but you end up with a functional and sturdy camping stove at a very reasonable price.
Vargo Titanium Hexagon Wood Stove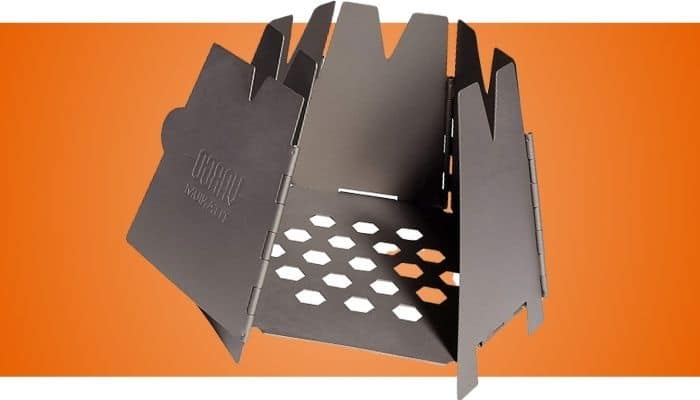 The Vargo Titanium Hexagon is a folding wood burning camp stove designed for ultralight hikers. It uses a unique seven part panel design with a hinged system that allows you to assemble and disassemble it in seconds.
It's made from durable and lightweight titanium and weighs just 7.4 oz. It has a conical shape that tapers to a dulled point near the top, perfect for holding a hiking pot or skillet.
It will run on just about any organic matter and can boil up to 1.5 liters of water at a go. It comes with a nylon carry case to keep any leftover soot or ash away from your gear and is easy to pack away.
It's in about the middle of the pack as far as price goes and is durable enough to stand up to frequent use.
The Vargo Titanium Hexagon Wood Stove is a quality product from a respected manufacturer. It's a great option if you're looking for a lightweight cooking solution that takes up the least amount of space possible in your pack.
Best Wood Burning Camp Stove Comparison Chart
Image
Title
Price
Prime
Buy

Top

Top

BioLite CampStove 2 Wood Burning and USB Charging Camping Stove

Prime

Buy on Amazon

Top

Solo Stove Titan - 2-4 Person Lightweight Wood Burning Stove. Compact Camp Stove Kit for Backpacking, Camping, Survival. Burns Twigs - No Batteries or Liquid Fuel Canisters Needed.

Prime

Buy on Amazon

Top

Solo Stove Lite - Portable Camping Hiking and Survival Stove | Powerful Efficient Wood Burning and Low Smoke | Gassification Rocket Stove for Quick Boil | Compact 4.2 Inches and Lightweight 9 Ounces

Prime

Eligible

Buy on Amazon

Top

TOAKS Titanium Backpacking Wood Burning Stove

Prime

Eligible

Buy on Amazon

Top

Bushcraft Essentials Outdoor Stove Bushbox LF

Prime

Eligible

Buy on Amazon

Top

Überleben Stoker Flatpack Stove | Twig, Stick, or Wood Burning | Compact & Collapsible | 304 Stainless Steel | Emergency Bushcraft Survival, Camping or Backpacking | Waxed Canvas Sleeve

Prime

Eligible

Buy on Amazon

Top

Unigear Wood Burning Camp Stoves Picnic BBQ Cooker/Potable Folding Stainless Steel Backpacking Stove

Prime

Eligible

Buy on Amazon

Top

Vargo Titanium Hexagon Wood Stove

Prime

Eligible

Buy on Amazon
Product prices and availability are accurate as of the date/time indicated and are subject to change. Any price and availability information displayed on [relevant Amazon Site(s), as applicable] at the time of purchase will apply to the purchase of this product.
Prices pulled from the Amazon Product Advertising API on:
Buyer's Guide to Buying the Best Wood Burning Camp Stove
There are a lot more factors that go into choosing a wood burning camp stove than you might think. The obvious ones are price, weight, and size, but you also have to take into account things like shape, material, and the specific features a stove provides.
Price
There's a pretty big range of prices in wood burning camp stoves. You can get basic rocket style stoves for right around $20 or well over a hundred for one made from premium materials and with advanced functionality.
The majority of the wood burning camp stoves on the market are priced between about $40 to $70. This gets you a quality camp stove that can stand up to frequent use and that won't weigh you down too much.
Size, Weight and Cooking Space
The size and weight of your wood burning camp stove affects how portable it is and how much you can cook on. It's a balancing act between packability and cooking space.
For most basic hiking needs you'll only need enough cooking space for a small hiking pot. That lets you quickly boil water or heat up some coffee or tea.
If you want something with enough space for grilling food or cooking on a larger skillet you'll have to add some extra weight to your wood burning camping stove.
Stability
The stability of your wood burning camp stove is one of the most important factors to consider when comparing performance. It needs to stand upright on earth, gravel, and other surfaces without issue.
The last thing you want is for your fire to flip over and spill coals and burning wood around your campsite. Look for features like stabilizing arms, a large base, and the ability to plant tent stakes through the sides.
Additional Functions
One of the biggest factors that affects the price and portability of a wood burning stove are the extra functions it possesses. Every wood burning camp stove allows you to at least boil water and warm your hands over the fire, but some offer a lot more than that.
In the past several years really advanced wood burning camp stoves have appeared on the market that actually produce power and charge up your devices. The heat from the fire can produce electricity and power small fans to intensify that same heat.
While not as exciting, some camping stoves also offer add ons like grill trays and integral pots/kettles for cooking and boiling water.
Collapsible
Many of the best and most portable wood burning stoves are actually collapsible. They're made from thin sheets of metal that fold down on hinges or come completely apart.
This allows you to pack then flat in a very small space then fold them out when needed. They're not quite as sturdy as solid wood stoves, of course, but they're great for ultralight backpackers who want the lightest possible cook option.
They're made from different materials, with stainless steel and titanium being the most common.
Wood Burning Stove Windshields
Anyone who's ever tried to build a fire on a windy night knows how difficult and annoying it can be. Wood burning camp stoves are naturally shielded from some of the effects of the wind, but that shielding isn't always perfect.
If you can't find a natural windbreak stove windshields are a great option to look into. Those like the Wealers Camp Stove Windshield put a collapsible wall around your stove that protects it from the effects of the wind.
They don't weigh much at all and are designed to take up as little space as possible.
Fire Starters for Wood Burning Stoves
Wood burning camp stoves are a lightweight and inexpensive way to cook food while out in the backcountry, but what do you do if the wood just won't light?
If you're camping in damp conditions it can be really hard to find dry tinder and small branches to feed your stove with. Even if you've got perfect weather you may not want to spend a lot of time shaving down a branch or gathering dry leaves to start a fire with.
Fire starters are a great option for this. They're specially prepared tinder tabs that ignite quickly with a lighter or ferro rod and burn at a very high heat to quickly start a fire.
You can choose between options like Coghlans Solid Fuel Tablets if you have really stubborn damp wood or a lightweight and spark light capable one such as the popular WetFire Tinder.
These are designed to ignite under and conditions and quickly dry out your kindling to help warm you up.
Pocket Bellows
When you're trying to get a fire going one of the hardest things to do is get enough air to feed the flames. There are three parts to a successful fire, fuel, heat, and a source of oxygen.
You can try just blowing into your firebox, but that gets tiring quickly and can put your face too close to the flames for safety. A great option to check out is a pocket bellows.
They include models like this one from Epiphany Outdoor Gear and allow you to quickly feed the flames without risking your eyebrows. They weigh next to nothing and take up about as much space as a AA battery when fully folded down.
Ferro Rods and Windproof Lighters
When you're using on a wood burning camp stove you need to have a reliable way to start a fire when it counts. There are tons of options, including matches, lighters, ferro rods, and even primitive fire starting methods like a bow drill or friction fire.
The easiest, and the most reliable to our mind, are windproof lighters and ferro rods.
Windproof lighters have been available for right around a century and have been refined to a really high level. There are tons of great windproof lighters to choose from, including classic ones like Zippos or BIC's and really advanced plasma arc lighters.
They require a source of fuel or charging but give you a quick and reliable source of ignition when you need it.
Ferro rods, short for ferrocerium rods, are based on old school flint and steel fire starters. By scraping a knife blade or other piece of steel rapidly across the surface you can create a cloud of 5,000+℉ sparks.
These can quickly ignite dry tinder. Ferro rods are a great tool to keep as part of your EDC or to pack as a primary or backup firestarter while out hiking and camping. There are tons of really cool ferro rods you can pick from, including ones built into other emergency kits or wearable tools.
Why Choose a Wood Burning Camp Stove
With the explosion of excellent and extremely lightweight hiking and camping stoves on the market some people question the benefits of the wood burning camp stove. They're overlooking one really important consideration: Fuel.
Wood burning camp stoves don't require you to buy or pack in any fuel source. As long as you're hiking somewhere with a reasonable amount of trees and deadwood on the ground you'll have basically endless fuel without spending a dime.
This can save you serious money over the long term and help lighten your load on long duration hikes. There's also the psychological aspect of it.
There's just something incredibly comforting and enjoyable about watching a merrily crackling campfire burn on a chilly night. Wood burning camp stoves allow you to enjoy a small fire without having to find rocks or other barriers to keep coal and sparks contained.
Top Wood Burning Camping Stoves Video
FAQ: Best Wood Burning Camp Stove
As camping and outdoor enthusiasts, we understand that choosing the right wood burning camp stove can be a daunting task. With so many options available in the market, it's natural to have questions about these versatile and eco-friendly cooking companions. In this FAQ section, we aim to address some of the common queries you may have regarding the best wood burning camp stoves.
From understanding how these stoves work to their advantages, safety considerations, maintenance tips, and factors to consider when making a purchase, we've compiled a list of frequently asked questions to help you make an informed decision.
Whether you're a seasoned camper or a beginner venturing into the world of outdoor cooking, this FAQ section will provide you with valuable insights and practical information. So, let's dive in and explore the answers to some of the most commonly asked questions about wood burning camp stoves.
What is a wood burning camp stove?
A wood burning camp stove is a portable stove designed for outdoor use that uses wood as its primary fuel source. It typically consists of a combustion chamber, air vents, and a cooking surface, allowing campers to cook meals, boil water, and stay warm while camping or hiking.
How does a wood burning camp stove work?
Wood burning camp stoves work by burning small pieces of wood or biomass fuel in a controlled combustion chamber. Air vents allow for efficient airflow, providing oxygen to sustain the fire. The heat generated by the burning wood can be used for cooking or heating water.
What are the advantages of using a wood burning camp stove?
There are several advantages to using a wood burning camp stove:
Eco-friendly: Wood is a renewable and carbon-neutral fuel source, making it an environmentally friendly choice.
Cost-effective: Wood is widely available and often free, reducing the need to carry or purchase additional fuel.
Lightweight and portable: Wood burning camp stoves are generally lightweight and compact, making them easy to carry during outdoor activities.
Versatile: In addition to cooking, wood burning camp stoves can also be used for heating and drying purposes.
Independence from fuel canisters: With a wood burning stove, you don't need to rely on fuel canisters, which can be a hassle to transport and refill.
Can I use other types of fuel in a wood burning camp stove?
Most wood burning camp stoves are designed specifically for burning wood or biomass fuel. While some models may offer the option to use alternative fuels, such as alcohol or solid fuel tablets, it's important to check the manufacturer's instructions before using any fuel other than wood.
Are wood burning camp stoves safe to use?
Wood burning camp stoves can be safe to use when used properly and with caution. However, it's important to follow the manufacturer's instructions and exercise caution when handling open flames and hot surfaces. It's also crucial to ensure that you use the stove in a well-ventilated area and maintain a safe distance from flammable materials.
How do I maintain and clean a wood burning camp stove?
Maintaining and cleaning a wood burning camp stove is essential for its longevity and optimal performance. Here are some general tips:
Allow the stove to cool down completely before attempting to clean or disassemble it.
Remove ashes and debris from the combustion chamber regularly.
Clean the air vents and any other removable parts using a brush or cloth.
Check for any signs of rust or damage and address them accordingly.
Store the stove in a dry place to prevent corrosion.
What factors should I consider when choosing a wood burning camp stove?
When selecting the best wood burning camp stove for your needs, consider the following factors:
Size and weight: Choose a stove that is lightweight and portable for easy transportation.
Cooking capacity: Consider the number of people you typically cook for and choose a stove with an appropriate cooking surface.
Fuel efficiency: Look for a stove that provides efficient and consistent burning, allowing you to make the most of the available fuel.
Stability and durability: Ensure that the stove is stable and made of durable materials to withstand outdoor conditions.
Ease of use: Consider the setup process, ignition method, and overall user-friendliness of the stove.
Remember to conduct thorough research, read customer reviews, and compare different models to find the wood burning camp stove that best suits your camping and hiking needs.
Final Thoughts
A wood burning camp stove is an economical and environmentally friendly way to cook while out on the trails. They're extremely light and remove the need to pack in heavy camping fuel and butane cartridges.
Picking out the best wood burning camp stove really depends on what you intend to do with it and how much you care to spend.
There are great basic models at very affordable prices or incredibly cool high-end wood burning stoves with truly jaw dropping price tags.
Make sure you know how you'll primarily use your stove and whether features or weight reduction is most important. As long as you get these two right you'll be sure to love your new stove.