Outdoorsman Toolkit is reader-supported. When you buy through links on our site, we may earn an affiliate commission.
Learn more
From your morning caffeine hit to a warming hot drink as you settle down for the night, a camping kettle is an essential piece of equipment.
Whether you're after a kettle to help you cook dehydrated meals in a flash, or simply to make your camp kitchen more functional and civilized, read our reviews to find the best camping kettle for your next adventure.
Best Camping Kettles
To help you to find the very best camping kettle for your next trip, we've reviewed nine of the best models out there.
From ultra-light camping kettles to heavy-duty ones, cheap camping kettles to deluxe models, we've got all angles covered in our top camping kettle reviews.
GSI Outdoors – Halulite Ketalist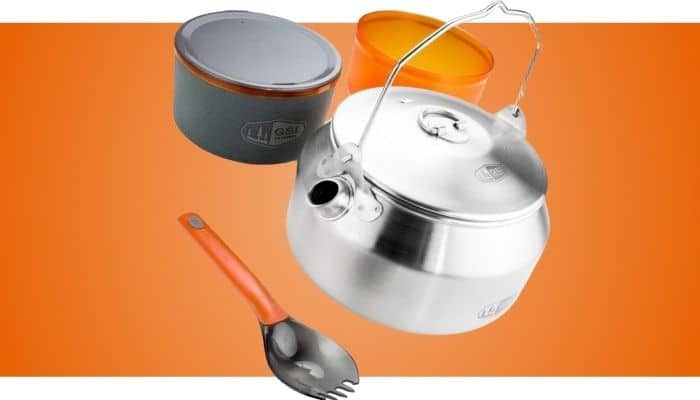 The Halulite Ketalist Set by GSI Outdoors is a great solution to your hot beverage needs when out camping or backpacking. This handy set includes a bowl, mug and foon (fork and spoon combined) that stow neatly inside the kettle, making it a great choice for preparing dehydrated meals, as well as your morning tea or coffee.
The kettle has a one-liter capacity and weighs in at 5.8oz, with the entire set weighing a total of approximately 11oz. Made from hard-anodized aluminum, heat is rapidly and evenly distributed for reduced fuel consumption and faster boiling times. The kettle is also lightweight and abrasion-resistant, making it ideal for both car camping and backpacking.
Thanks to its easy-pour spout, this model is highly convenient and easy to use. The handle is hinged and locks upright into place, away from the heat, so you won't risk burning your fingers. Note that the manufacturers recommend this kettle for stove-top use only.
Its one-liter capacity is plenty enough for a hot drink and a dehydrated meal in one fuel burn. The included polypropylene bowl and mug are both 14 fl oz and come with sip-it openings to reduce spillage. They also have low centers of gravity, making it easier to place them down on uneven terrain.
Easy to pack, lightweight and durable, this camping kettle and accessories are a great value for money buy that will easily make a hot drink for two, or a meal and a drink if you're alone on the trail.
Esbit Kettle for Camp Stoves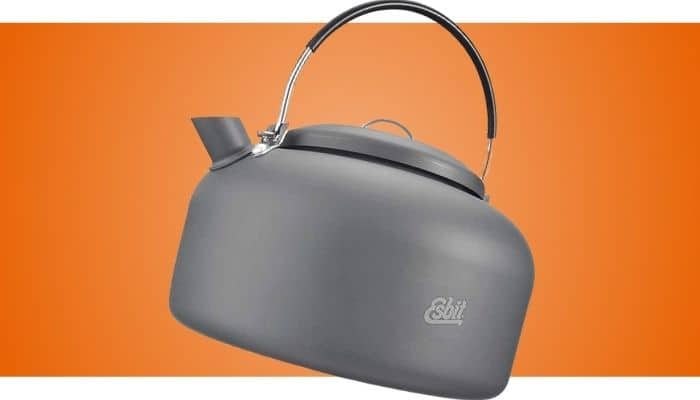 If you need more than one coffee to get you going, or tend to camp in a group, then you will appreciate the generous 1.4-liter capacity of the Esbit Kettle. Designed to be used on alcohol stoves, this camping kettle works great for both campsite and backpacking use with its low weight of just over six ounces.
Thanks to its hard-anodized aluminum construction, complete with a built-in heat exchanger, this kettle gets your water boiling fast. Not only does this save you time, but it also saves on fuel, making it an efficient and economical choice. If you're out backpacking you can rehydrate a meal and make a hot drink in one go, meaning you can pack less fuel for a lighter load.
The included lid and wide shape means it has a larger surface contact area with your stove, further reducing heating times. The lid has a hinged handle, as does the kettle itself, which remains cool and upright when in use. The spout pours well for safer water transfer and less spillage.
This kettle has a good capacity and is lightweight enough to take out into the backcountry with you. It's also good value for money given its solid, durable construction. The only real downside is its lid, which could fit more closely and tends to come off when being transported.
However, on the whole, this camping kettle is a good solid all-rounder that is definitely worthy of serious consideration.
LevelOne Collapsible Silicone Outdoor Camping Kettle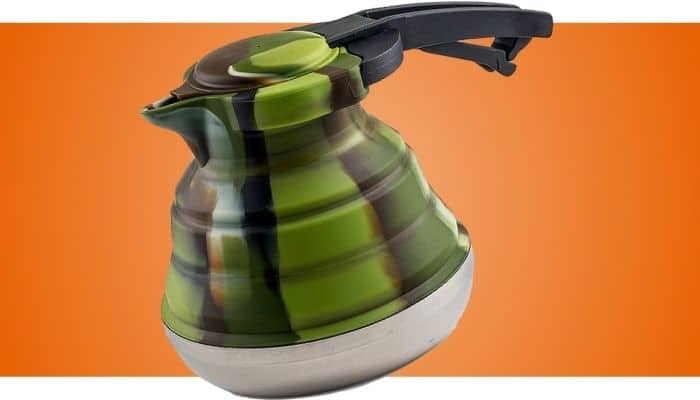 Are you looking for a kettle for use down at the campsite? If you need one that packs up real small and weight isn't an issue, then check out this collapsible silicone camping kettle by LevelOne.
This kettle has a capacity of around one liter, which is plenty for three or four cups. While its silicone body is less durable than hard-walled models, it does make it a great space saver. Combining an aluminum base with its silicone body and plastic handle, this camping kettle is designed purely for use with camping stoves where the flame will not surpass the base.
Although this kettle is a good choice for car camping, its fairly heavy weight of 16 ounces makes it unsuitable for backpacking. Shaped like a conventional home kettle, it is pretty easy to use and the spout pours accurately. The only issue is the lid closure, which can be a little fiddly to lock into place.
Although this camping kettle is nowhere near as durable, or as light, as some other models, its collapsible design has made it extremely popular. Priced at around the mid-market rate, it isn't cheap; however, if you struggle to get all your camping gear packed, then this space-saving camping kettle could be just what you are looking for.
Fire-Maple Tea Kettle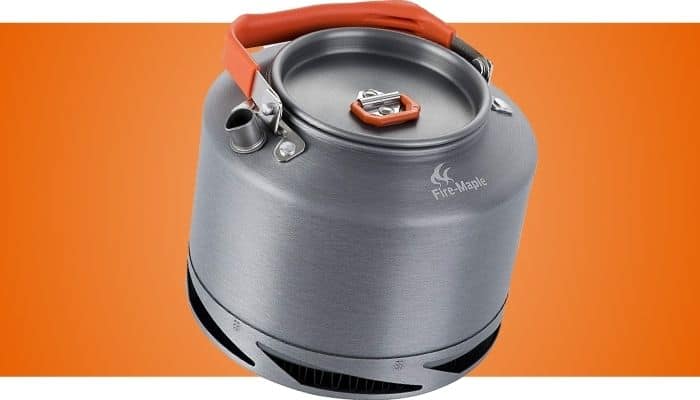 If you enjoy drinking tea on your car camping adventures, then this camping kettle by Fire-Maple makes an excellent choice. It even comes complete with a mesh tea infuser ball, so you can brew and enjoy loose teas in the great outdoors.
Designed to work with all camping stoves, this kettle has a generous 1.5 liter capacity and thanks to its hard-anodized aluminum body and built-in heat exchanger design, its heats up rapidly for more efficient boiling.
The handle is made from strong and durable stainless steel with a nylon coating that is ergonomically shaped to make it easier and safer to pour. Unfortunately, it can get pretty hot, so you might want to have a cloth or oven mitt to hand in your camp kitchen whenever you're making tea or coffee.The handle folds down when not in use making it easier to pack.
While this kettle is designed to boil quickly and features a reduced wind interference design, at 10.8oz, it is a little heavy for backpacking, unless you're traveling as a large group and splitting the weight of various essentials between you. The only other real downside is that the lid is fairly loose-fitting, so you'll need to take care when pouring. It does, however, feature a small pull handle for easy removal.
On the whole, this sturdy camping kettle is a good buy if you're looking for a durable camping kettle with a good capacity and a rapid boil time. While it's not the cheapest, it should last for many years to come.
Primus LiTech Coffee/Tea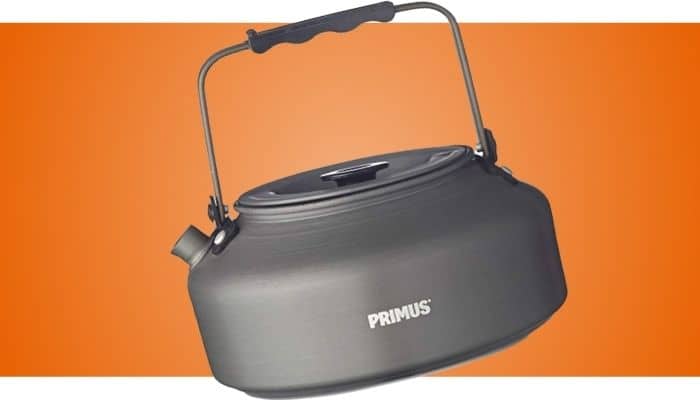 The Primus LiTech camping kettle is a small but adequately sized model that makes a great choice for one-person camping and backpacking. It has a 0.9-liter capacity and weighs just 6.2 ounces, so whether you're backpacking or car camping, it's a good choice.
Made from hard-anodized aluminum, this kettle is designed for stovetop use. It is durable and easy to clean, while its folding handle helps to reduce bulk when you're transporting it. At three inches high by six inches wide, this really is a compact little kettle, ideal when space is an issue.
Thanks to its low height and wide base, as well as its hard-anodized aluminum construction, this model heats up rapidly for a quick boil time. The lid helps to reduce energy use and features a small pull handle for easy removal. Unfortunately, it could be a slightly snugger fit. However, the main issue with this model is that the main handle grips tend to get very hot during use, so caution is needed to avoid burning your hands.
In spite of these slight drawbacks, this is nonetheless a great small camping kettle. Lightweight enough to carry out into the backcountry, it is also reasonably priced and solidly made. It would make a great replacement for your cooking pot to save weight out on the trail with dehydrated meals, as well as rapidly making hot drinks to warm you up on cold hikes.
MSR Pika Ultralight Aluminum Teapot for Camping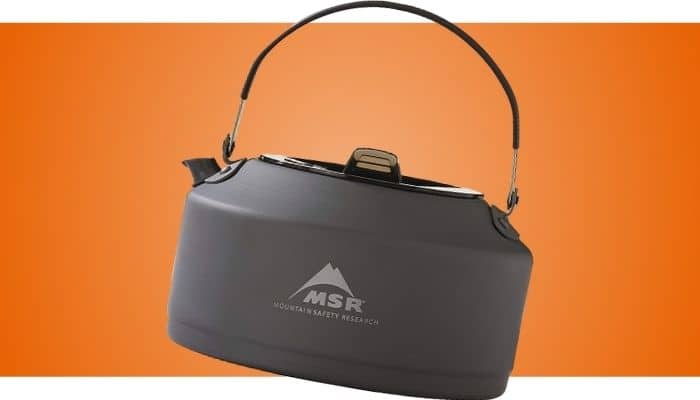 If you're looking for a well-designed camping kettle that is light enough for backpacking, as well as general camping, take a look at the Pika Teapot by MSR. Weighing in at just 5.2 ounces, this compact model has a one-liter capacity making it a great choice for individuals and couples alike.
Thanks to its wide, low design, measuring 3.5 inches high by 5.5 inches wide, this kettle is ideally proportioned for excellent heat exchange efficiency. Thanks to its hard-anodized aluminum construction it boils quickly, saving you time and fuel. Compact and durable, this kettle is definitely one of our top favorites.
Featuring a wide opening for easy cleaning, you can also use it to store your stove when you're on the go, taking up less room in your pack and protecting your stove from rolling around your vehicle. The handle folds down too, saving extra space when storing and transporting it.
This model has been very carefully designed. It features a lipped, no-drip spout for precision pouring, that results in a steady, thick stream of boiling water – ideal for your pour-over coffee. While heating, the handle stays upright so it remains cool enough to handle.
Unlike lesser models, this camping kettle features a stay-put lid that secures into place when you're pouring. It is also easy to remove once you've stood your kettle back in its upright position. This makes it much easier and more comfortable to use, as well as enhancing safety.
In spite of its excellent design, this model is not overly priced, coming in around the middle of the market. If you want a practical, no-fuss camping kettle that is lightweight and heats up fast for backpacking or regular camping, then we think this is one of the best models to beat.
GSI Outdoors Glacier Stainless Ketalist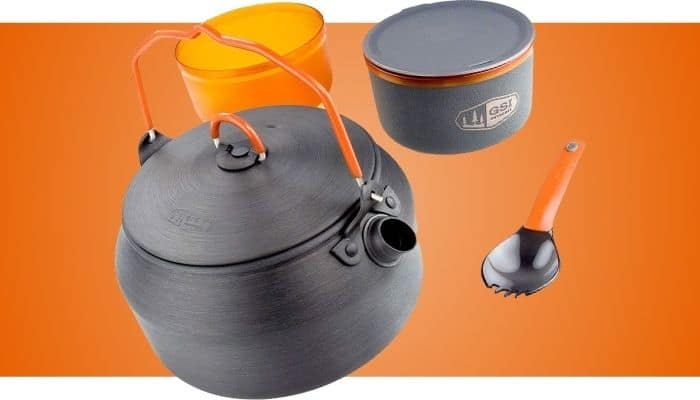 The Outdoors Glacier Ketalist by GSI is designed for use with all types of stoves and even open fires. It's your best choice if you are looking for a highly durable kettle that will live up to the rigors of the great outdoors with frequent use. It comes complete with a polypropylene mug, bowl and telescoping foon (fork-spoon).
Made from a heavy-duty 18/8 stainless steel, this one-liter capacity camping kettle features a rust-proof finish that will look like new for years to come. Aside from its extra-durable exterior, its stainless steel construction also means it heats up rapidly with an even, controlled heat. This is speeded up even further by its wide base for an extra-efficient heat transfer that will save you time and fuel.
The folding handle helps to conserve space when you're storing this model, and it can also be used to suspend it over your campfire. The included mug, bowl and foon stow away neatly inside the kettle itself, saving you more space and there's even enough room inside for a 110g fuel canister too.
While this handy cookset makes a great choice for car camping at 14 ounces, it is a little on the heavy side for backpacking. The mug and bowl include sip-opening lids for less spillage, as well as low gravity centers so you won't have to worry about setting them down on uneven ground. They are also insulated and they won't stain or retain odors, for easy maintenance both at the campsite and on your return home.
If you're looking for a highly durable camping kettle that can be used on your campfire, the Glacier Ketalist makes a great choice. While it is undoubtedly heavier than aluminum models, its heavy-duty, rugged construction makes it a solid choice that will serve you well for many years to come.
Snow Peak Kettle No. 1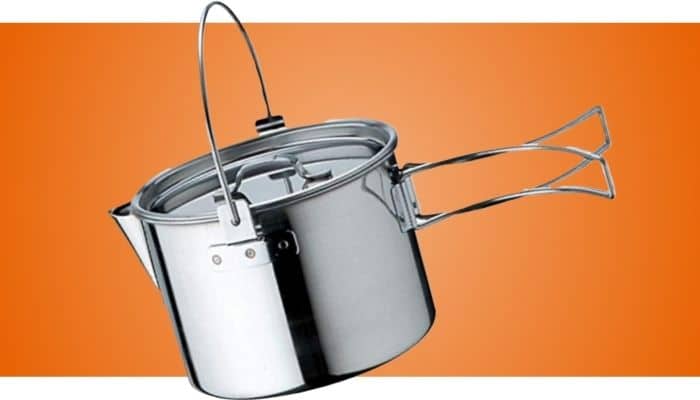 If you're looking for an extra durable, small camping kettle that can be used over a fire or with a stove, then the Snow Peak Kettle No.1 is definitely worth considering. It is also one of the cheapest camping kettles in our reviews, making it excellent value for money, combining a low price point with a high-quality product.
With its 0.9-liter capacity, this model isn't the largest; however, it's enough for a drink and liquid for a meal for one or hot drinks for two. While it is a little on the heavy side at 9.2 ounces, you could conceivably use it for backpacking and wilderness camping.
Thanks to its heavy-duty stainless steel construction, this highly-polished kettle is both durable and corrosion-resistant. It also conducts heat rapidly for fast boil times. This camping kettle can be used with any type of fire – use the upper handle to suspend it over your campfire, or place it on your small camping stove. The handle folds away after use to save space when storing and transporting your kettle.
This model also benefits from a folding side handle. This makes pouring water much easier and the handle stays cool. The easy-pour spout allows you to empty the kettle completely with ease. And as it is dishwasher safe, it's also easy to clean on your return home from the wild.
Aesthetically pleasing, highly practical and solidly made, this camping kettle offers impressive performance at a low price. If a few extra ounces aren't a problem for you, then we highly recommend this excellent little model that has been designed to last a lifetime.
Snow Peak Field Barista Kettle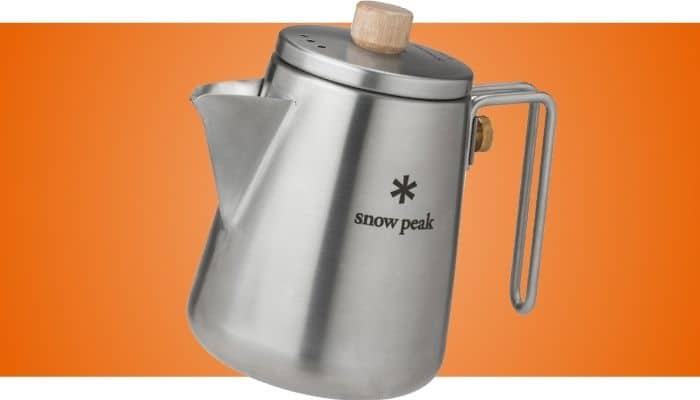 The Snow Peak Field Barista Kettle is a luxury camping kettle with a substantial price tag to match. Both stylish and well designed, it's ideal if you are looking for home-away-from-home comforts while camping or if you have high coffee standards.
Designed to accompany the two existing outdoor barista items by Snow Peak for a perfectly brewed coffee in the great outdoors; this camping kettle has been carefully designed to provide a precise and consistent pour over. It is also highly recommended for discerning tea drinkers too.
Made from a stainless steel and brass construction, complete with natural wood accents, this model takes a little longer to boil than some of the thinner walled kettles we have seen. Its higher standing shape is also less conducive to a faster boil. However, this kettle is extremely durable thanks to its solid construction.
One of the heaviest, weighing in at 19.05 ounces, this one-liter camping kettle is best reserved for car camping or where you don't have far to walk to reach camp. Its handle is fully detachable for easy storage and it remains cool throughout the heating process, so you won't have to worry about burning your fingers. The wooden handle on the lid also stays cool and is a nice touch that sets this kettle apart in terms of looks.
If you really appreciate a good coffee and want a camping kettle to match other elements from the Snow Peak Barista range, then this durable, beautifully crafted model makes a great choice. However, it's three or more times the price of most regular camping kettles.
Therefore, for your average camping trip, you may prefer to purchase a regular-priced kettle and spend the extra money on a grinder and coffee drip. But this really comes down to your budget and personal preferences.
Best Camping Kettles Comparison Table
Image
Title
Price
Prime
Buy

Top

Top

Top

GSI Outdoors - Halulite Ketalist, Superior Backcountry Cookware Since 1985

Prime

Buy on Amazon

Top

Top

Top

Esbit Hard Anodized Aluminum Water Kettle for Camp Stoves, 1400ml

Prime

Buy on Amazon

Top

Top

Top

LevelOne Collapsible Silicone Outdoor Camping Kettle (Camo)

Prime

Buy on Amazon

Top

Top

Top

Fire-Maple Tea Kettle, Camping Outdoor Hiking Picnic Coffee Pot | Easy to Clean Hard Anodized Aluminum and Stainless Steel Cookware Set | Tea Pot and Coffee Pot | Camping Cookware

Prime

Eligible

Buy on Amazon

Top

Top

Top

Primus Litech Coffee / Tea Kettle 1.5L w/ net stuff sack P-733810

Prime

Eligible

Buy on Amazon

Top

Top

Top

MSR Pika Ultralight Aluminum Teapot for Camping and Backpacking (1-Liter)

Prime

Eligible

Buy on Amazon

Top

Top

Top

GSI Outdoors, Halulite Ketalist II Lightweight Camping Cook Set

Prime

Eligible

Buy on Amazon

Top

Top

Top

Snow Peak Kettle No. 1 with Lid (30.4 Oz), CS-068, Stainless Steel, Made in Japan, Lifetime Product Guarantee, Foldable for Backpacking and Camping

Prime

Eligible

Buy on Amazon

Top

Top

Top

Snowpeak suno-pi-ku fi-rudobarisuta Kettle [Cookware Camping Supplies kukka- Kettle] (NC) CS – 115 , multicoloured

Prime

Buy on Amazon
Product prices and availability are accurate as of the date/time indicated and are subject to change. Any price and availability information displayed on [relevant Amazon Site(s), as applicable] at the time of purchase will apply to the purchase of this product.
Prices pulled from the Amazon Product Advertising API on:
Buyer's Guide to Buying the Best Camping Kettles
If you're still undecided about which camping kettle is best for you, take a read through our comprehensive buyer's guide. We'll cover all the main features of your new camping kettle, so you'll know just what to look out for when making your choice.
Price
You can pick up a decent and effective camping kettle for anywhere between $20-$35, but some models with extra accessories or special design features will cost a fair bit more. That said, some of the kettles that we have reviewed at a low or middle price range perform just as well as some of the higher-priced models on the market.
While you do tend to get what you pay for, if you are looking for a basic, average-priced camping kettle, we'd recommend focusing on the following features in our buying guide.
After all, when it comes to purchasing the best camping kettle, price isn't always a clear-cut indicator of good design.
Types of Kettle
The main type of camping kettle that you will likely be considering is a typical rigid walled kettle.
Usually slightly dome-shaped for better heat transfer rates, these kettles are a good choice for the outdoors as they are durable and less likely to scratch or become damaged by heat, rocky terrain or the rest of your camping gear.
A new, increasingly popular type of camping kettle is the collapsible style model. Usually made from a silicone body, with a metal base, these kettles are less durable. However, they are highly compact and easily transported.
While collapsible kettles may not last as long as their rigid walled counterparts, they are useful when space is at a premium. They do require an increased level of care and attention when being used though, to ensure that they do not tear during transport or become burned while heating.
Camp Fire or Camping Stove
The majority of camping kettles are recommended for use with stoves. If you are looking for a model that can also be used over a campfire, be sure to double-check its suitability before making your purchase.
Generally, the more durable stainless steel camp kettles are specifically designed for use with camp fires, as well as stoves. Plenty of hard-anodized kettles are also suitable for use with camp fires too. However, to avoid invalidating your kettle manufacturer's warranty, always check the specifications first.
Material and Durability
Camp kettles can be made out of a variety of different materials; however, the main ones are hard-anodized aluminum, stainless steel and silicone.
Here's more on each type and how it will affect your kettle's durability:
Silicone
Used for the body of collapsible camping kettles
Lightweight and flexible
Take care not to allow it to come into contact with flames
The least durable, especially when used in a harsh outdoor environment or transported alongside sharp equipment
Hard-anodized Aluminum
Popular camping kettle material
Lightweight yet strong
Conducts heat evenly
Durable
Abrasion-resistant
Stainless Steel
Highly durable
Scratch-resistant
Conducts heat less evenly than aluminum
Heavier than silicone and aluminum
Good choice for intensive, regular use
While each material has its own pros and cons, hard-anodized steel is generally accepted as the best all-round material for camping kettles. That said, if the extra weight doesn't bother you, stainless steel versions are much more durable, often lasting for a lifetime of regular use.
Size and Weight
Size, or capacity, is obviously a major consideration. If you regularly car camp as a large family group, then you will want a camping kettle with a large capacity. If you are backpacking alone or as a couple, then a small capacity kettle will suffice. In general, the most popular camping kettle sizes range from just under one-liter to one-and-a-half or two liters.
If you regularly car camp, then the external dimensions and weight will be less important to you than if you're looking for the best camping kettle for backpacking. As with most camping equipment, ultralight models tend to be some of the most expensive, so if weight is less of an issue for you, you can often save yourself a few dollars with a heavier model.
For backpacking, you'll obviously want to check the dimensions of your camping kettle carefully. Ideally, you should be able to fit your stove or fuel canister inside your kettle. This is where models with wide openings can be extremely useful, saving you extra space in your pack. Even if you're not backpacking, it can be helpful to have your tea or coffee related paraphernalia neatly stored and organized inside your kettle, so everything is in one place when needed. .
Another issue regarding size concerns boil times. Low-profile models with a wider base and less height have better heat transfer ratios, which will, in turn, speed up your boil time and save you fuel.
Handle
When choosing your new camping kettle, make sure that you don't overlook the handle. An unsuitable handle will make pouring difficult, uncomfortable or even dangerous.
Firstly, you should look at how the handle is attached to the body. Ideally, you'll want a handle that is riveted on securely, so there is no chance of it breaking off. You will also need to consider what type of material the handle is made from and whether it differs from the main body of the kettle itself.
You may want to avoid plastic handles as they can melt when they come into contact with flames or high temperatures. They are also more likely to shatter or snap if you accidentally drop your kettle in a rocky area or onto concrete.
Metal handles are likely to get very hot unless they stand several inches above the kettle when in use. Some models have insulating grips to help protect your fingers and to make pouring easier.
Whatever the material used for your kettle's handles, take a good look at their thickness. While thinner handles will weigh less, they can be uncomfortable and slippery to grip. Ideally your kettle's handles will have a coating or a grip piece to make it easier and safer to pour.
Some kettles have just one overhead handle, others have just a side handle, while certain models have one of each. You'll certainly need an overhead one for suspending your kettle over your campfire. Side handles can make pouring easier, especially if you have a small capacity kettle and empty it fully with each use.
You should also check that your kettle's handles are removable or fold away for easier storage. This can save you a lot of space and make them much more compact for fitting in your backpack.
Lid
Your kettle's lid will speed up your heating time for greater fuel efficiency. It's also an excellent safety measure, protecting you from bubbling, boiling water.
When making your purchase, look for a kettle with a snug-fitting lid. Some models feature special lock-in-place lids that are designed to stay in place when you pour and can only be removed when you stand your kettle back upright.
Loose-fitting lids are not only hazardous, but they can also slow down your boil time. They reduce your fuel efficiency when compared to tighter fitting ones and easily get lost should they fall off at the campsite or in your vehicle.
Aside from fit, you should also take a close look at the lid's handle. You'll want a small handle that preferably won't get too hot. Most handles are plastic or have a plastic coating to help protect your fingers. Some are more like pull knobs, whereas others feature hinged designs that stay upright for cooler temperatures when in use.
At a Glance: Our Top 9 Best Camping Kettles
FAQ
What is the best camping kettle?
We review and recommend many great kettles in our best camping kettle guide, but our top overall recommendation is the GSI Outdoors Halulite Ketalist.What are the best camping kettles?
GSI Outdoors Halulite Ketalist
Esbit Kettle for Camp
LevelOne Silicone Kettle
Fire-Maple Tea Kettle
Primus LiTech
MSR Pika Ultralight Teapot
GSI Outdoors Glacier Cookset
Snow Peak Kettle No. 1
Snow Peak Field Barista
Is an Aluminium kettle safe?
There are several materials you should avoid when buying a camping kettle, and aluminum is one of them. It's recommended that you also avoid copper kettles and kettles with brass fittings or have any lead in the soldering.
Is rust in Kettle dangerous?
No. Iron/rust is generally fine for humans to consume. Some Japanese tea drinks even prefer a rusted kettle for their drinks. Of course, as with all minerals, there is an upper limit you should consume. And if you have iron allergies it's best not to use a rusted kettle.
Top Camping Kettles Video
Final Thoughts
With such a large number of excellent products to choose from, it's well worth taking the time to think about your priorities and intended use.
If you need a light camping kettle, then you should opt for a model like the Halulite Ketalist or the Pika Ultralight Kettle. If packability is your main concern, then you won't get much more compact than the LevelOne Collapsible Silicone Kettle. Will you be using a stove or a campfire? If your answer is both, you'll definitely want to take another look at the Snow Peak Kettle No.1 or the Glacier Stainless Ketalist.
When choosing the best camping kettle, carefully consider which features are the most important for your needs. Whatever your lifestyle, you're sure to find just what you need in our wide-ranging selection.