Outdoorsman Toolkit is reader-supported. When you buy through links on our site, we may earn an affiliate commission.
Learn more
Once the temperatures really start to drop it can be less and less attractive to go out into the great outdoors. After all, no one likes putting on heavy winter coats and multiple layers. One great compromise when winter temps bite hard is a heated vest. These offer consistent warmth without needing thick layers of wool, down, or other insulators.
Today we're covering some of the best heated vests available to help you find the perfect option for your needs.
Heated vests only recently hit the market in a big way. Until very recently you pretty much had to bundle up or shiver.
Thankfully they're now available from a huge range of manufacturers with a ton of different features. Depending on your climate and the activity you're planning to use it for there are lots of great options out there.
Our list below comprises some of the best heated vests for hiking, camping, winter sports, and just staying cozy around town.
Gerbing Gyde Torrid Softshell Vest – 7V Battery Heated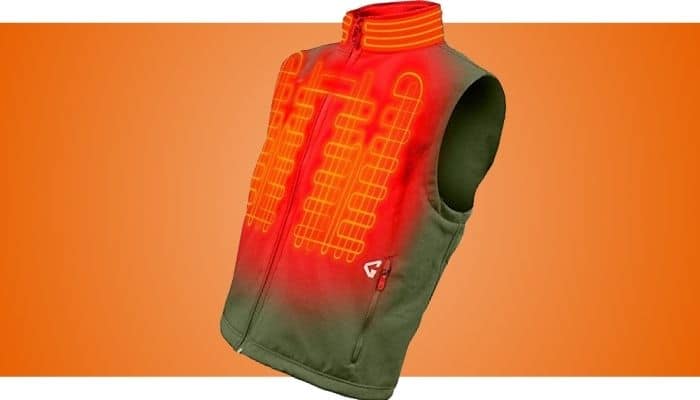 The Gerbing Gyde Torrid is a softshell heated vest designed for travel and outdoor use. It's made from a lightweight stretch shell backed with a soft fleece liner and coated with a durable water repellent finish.
This gives it a very comfortable fit and offers substantial protection from moderate rain. It's powered by a 7 V lithium ion battery capable of providing up to 8 hours of heat on a 3-hour charge.
You can choose from four different settings, starting at low and going up to an extra toasty extreme. We found the low setting to be a gentle warmth, while extreme honestly felt like we were sitting right next to a crackling campfire.
The heating elements themselves offer comprehensive coverage. They're located all along the back and front of the vest, though the pockets aren't heated.
Overall the Gerbing Gyde Torrid is an affordably priced heated vest that provides a lot of value. It isn't the best in any one category but offers a good mix of in-demand features.
Ororo Lightweight Heated Vest with Battery Pack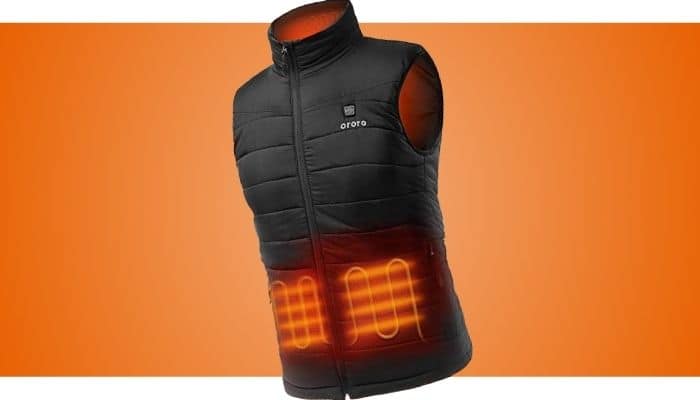 The Ororo Heated Padded Vest is a lightweight option for those who like all over heating. It's made entirely from nylon with a design similar to puffer style vests.
It has four heating elements located in the upper back, behind the neck, and at each pocket. This offers a good distribution of warmth and lets you keep your core and your hands comfortably warm.
It's powered by a lithium ion battery capable of running the vest on low power for up to 10 hours. There are three different settings that allow you to adjust the temperature of the vest to conditions and your personal comfort level.
The vest itself doesn't weigh you down and does a good job cutting out wind chill. It's also rated for light to moderate rainfall, perfect for day hikes and other times where weather could become an issue.
One of our favorite things about the Ororo vest is how easy it is to care for. It uses durable carbon fiber heating elements that are fully machine washable.
Ororo says it can be washed up to 50 times without an issue. This makes it a whole lot easier to care for long term.
The Ororo Heated Padded Vest is one of the best values you'll find. It's well-made, very comfortable, and offers excellent heating and a longer than average battery life.
Outcool Lightweight Heated Vest
The Outcool Heated Vest is a lightweight insulated vest powered by a lithium ion battery. It's made with a soft cotton insulation sandwiched between two waterproof yet breathable nylon polyamide layers.
This gives it a soft and lightweight feel and a comfortable fit. The battery provide up to 8 hours of warmth on low and is designed to charge as flexibly as possible.
You can use either the included charger or either an Apple Lightning charger or micro USB port. It can also be used to top up your phone in a pinch.
It offers three zones of heating centered around the chest and upper back. You can choose from three levels of heat to maximize your comfort.
The Outcool uses carbon fiber heating elements. These offer excellent performance and a rapid initial heat up period. Best of all, they're fully machine washable.
PROSmart Heated Polar Fleece Vest for Men and Women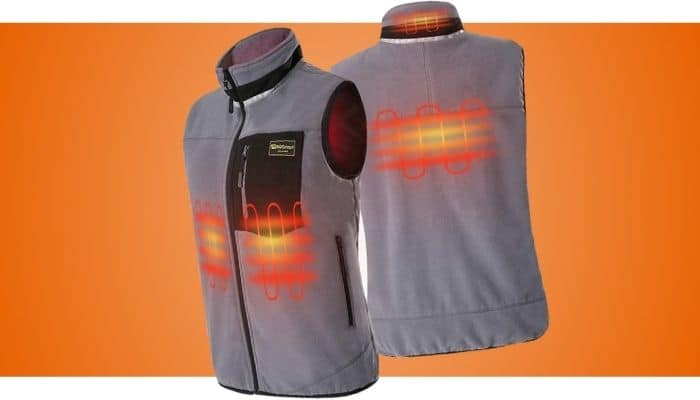 The PROSmart Heated Polar Fleece Vest is a unisex heated vest designed for a variety of activities. It's made from polar fleece and offers three heating elements focused on the upper back, pocket area, and the back of the neck.
It runs off a single lithium ion battery capable of providing up to 10 hours of battery life on the lowest setting. Because it's made with a fleece shell it's somewhat less water and wind resistant than heated vests with a more durable outer layer.
If you plan to use it only around town or in fair weather this doesn't have to be an issue.
One thing that's really nice about the PROSmart vest is the battery system. It comes standard with a 10,000 mAh battery but can also be powered with any standard USB capable power bank.
A good thing too as the included battery takes nearly 7 hours to reach a full charge from zero.
It's fully machine washable so long as the battery is removed, though the manufacturer does recommend you wash it in a small mesh laundry bag.
Given its reasonable price we'd put the PROSmart heated vest somewhere in the middle of the pack. It offers good functionality and performance but we really prefer to have at least basic water and wind resistance in a winter vest of any kind.
Volt Cracow Heated Vest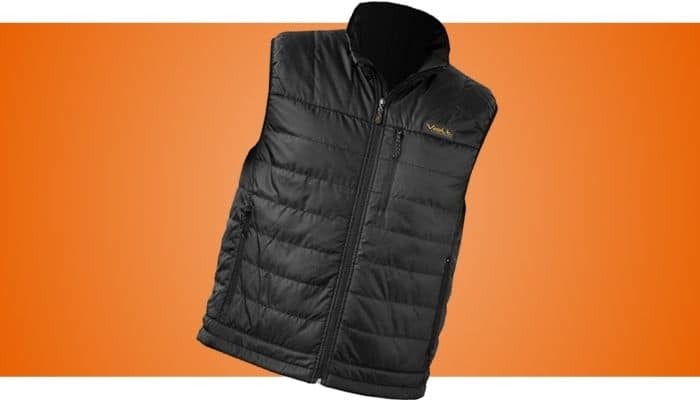 The Volt Cracow is a quilted nylon heated vest designed for hiking, skiing, and other cold weather activities. It's powered by a lithium ion battery capable of providing up to 10 hours of warmth on the lowest setting.
It has three heating elements, two on the chest and one on the upper back, and does a good job keeping you warm even on very cold days. The vest has two pockets that zip up with bright yellow zipper pulls.
Let's start with what we liked about the Cracow. It's very comfortable to wear with a soft touch feel and contoured fit. The vest also has a good level of natural insulation using a down alternative. The quilted design keeps it from shifting around as can happen with larger baffles.
There are a few things we think could be improved though. To start with it doesn't offer any formal water resistance. While the nylon is better than say fleece, it lacks a DWR finish or similar water mitigation coating.
Then there's the price. It sits on the high end of the heated vest price spectrum despite similar vest providing comparable performance. It's also not machine washable, requiring a careful hand wash every time you want to get that multi-day hike funk off.
Overall we liked the Volt Cracow. It could be improved in a few areas but generally is a good heated vest that's comfortable to wear and offers worthwhile performance.
Makita Lithium-Ion Cordless Heated Vest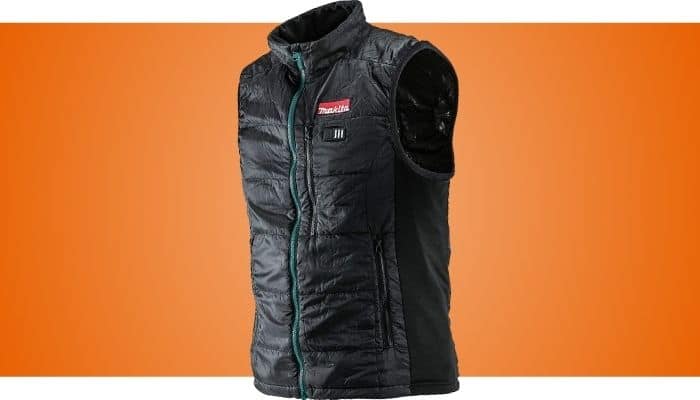 The Makita Heated Vest is a complementary product to their line of high-end power tools. It's powered by Makita's standard 18V tool batteries.
We'll be honest with you, this isn't a good option for hiking, camping, or other winter sports. The Makita battery is bigger and considerably heavier than most other vests.
It's actually belt mounted rather than fitting into a pocket and doesn't come standard with the vest. The benefit of this design is battery life. It offers up to 28 hours of warmth on the low setting.
That's great, but doesn't overcome the downsides of weight and bulkiness to our mind.
Basically if you're already a proud Makita Tool owner the Makita Cordless Heated Vest can be a great add on to your kit. Otherwise we recommend you look elsewhere.
Arris Hobby Heated Vest for Hiking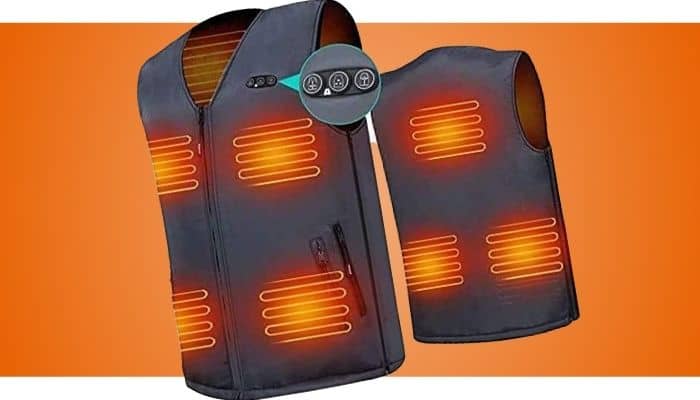 The Arris Hobby Heated Vest is a hiking and outdoor focused garment with a lot to offer. It's made from a wind and water resistant synthetic fabric with a soft touch inner layer.
It runs on a lithium ion battery pack and gives you fully 7 different heated zones. What's really cool about this vest is how customizable it is.
You can independently control the heat setting on three different sections of heating elements. This allows you to target additional heat to your back, chest, or abdomen. It also lets you stretch the battery pack for as long as 20 hours.
By itself that's a really nice feature, when you combine it with the ergonomic design of the vest it gets even better. Arris Hobby designed it to provide one of the best and most contoured fits possible.
This allows you to experience a greater feeling of warmth even on lower powered settings.
All in all the Arris Hobby hiking vest is one of our favorite heated vests. It offers excellent performance, a comfortable fit, and one of the most affordable price points on our list.
Heated Vest Comparison Table
Image
Title
Price
Prime
Buy

Top

Top

Top

Gerbing Gyde Torrid Softshell Vest – 7V Battery Heated Clothing for Men, Olive Green

Prime

Buy on Amazon

Top

Top

ORORO Men's Lightweight Heated Vest with Battery Pack (X-Large)

Prime

Eligible

Buy on Amazon

Top

Top

PROSmart Heated Vest Polar Fleece Lightweight Waistcoat with USB Battery Pack(Unisex,Black) (Gray, L) (Gray, S)

Prime

Eligible

Buy on Amazon

Top

Top

VOLT Men's Cracow Heated Vest, Black, Large

Prime

Buy on Amazon

Top

Top

Makita DCV200ZL 18V LXT Lithium-Ion Cordless Heated Vest Only, Large, Black

Prime

Eligible

Buy on Amazon

Top

Top

ARRIS Heated Vest 7 Heating Pads Men Women Size Adjustable Electric Heating Clothing for Hiking, Camping, Fishing, Motorcycling with 7.4V Battery …

Prime

Eligible

Buy on Amazon
Product prices and availability are accurate as of the date/time indicated and are subject to change. Any price and availability information displayed on [relevant Amazon Site(s), as applicable] at the time of purchase will apply to the purchase of this product.
Prices pulled from the Amazon Product Advertising API on:
Buyer's Guide to Buying the Best Heated Vest
Picking out the best heated vest really comes down to choosing between a few key features. Style and comfort are important of course, but the nuts and bolts of the vest itself should really be your focus.
Price
Heated vests are pretty consistent in their pricing. The majority of the heated vests on the market come in between $80 and $120.
Some higher powered or branded vests can approach $200, but only top of the line vests go much above that.
Power Source
When it comes to any winter use product there's really only one battery type you should consider: Lithium Ion. Lithium ion batteries provide the best mix of energy density, total lifespan, and ability to resist the cold.
Less robust batteries can be seriously damaged by cold weather. Lithium batteries experience no long term damage from very low temperatures and are able to provide their full battery depth of cycle over and over again.
Simply put, you should make sure your heated vest uses a quality lithium ion battery.
Battery Life
The life of your battery depends on the size of the battery itself and the strength of the heat generated. A vest with a smaller battery may provide a longer total battery life if it has fewer heating elements or is on a lower setting.
You want to balance battery life with the size of the battery you're carrying. A bigger battery can definitely extend the vest's heating time, but it also makes it a lot less comfortable to wear.
Recharging
The good news is lithium ion batteries are some of the fastest charging options out there. For most heated vests you can go from drained batteries to a full charge in just a few hours.
Make sure you consider what type of charger your vest uses. Some rely on proprietary systems that can be a lot more expensive to replace than a simple USB. If your chosen vest uses a widely available option you're more likely to already have things like a spare wall charger or car charger.
Heat Pad Placement
The location of the heating elements in a heated vest plays a major role in how comfortable you'll be. Everyone's body runs a little bit different, so you should consider where you generally get cold or overheated.
Some of the most common places heat pads are placed include the lower back, the sides of the chest, around the neck, and in the front pockets. We highly recommend you pick up one with a pocket warmer.
It's great to be able to put your chilled hands into the pockets for a moment and warm them right up.
Waterproofing
It's a good idea to consider water resistance with any outdoor clothing, with something like a heated vest this is doubly important. The last thing you want is your vest to soak through in a sudden shower and damage the battery pack.
Some heated vests offer full water resistance but many only provide a waterproof pocket for the battery. Some don't even offer that.
Make sure you plan ahead if you purchase a heated vest without waterproofing by bringing a lightweight rain jacket or poncho.
Comfort and Style
The best heated vest in the world won't make the grade if it isn't also comfortable and stylish. We aren't talking runway ready stylish, but just something you're going to be willing to wear regularly.
Comfort wise you want your vest to fit well and contour effectively to your body. The heat pads need to be at least semi-flexible and capable of moving with your body while active.
Most heated vests are made from either fleece or windbreaker material. Generally they don't offer a ton of insulation on their own, relying instead of the heating element to keep you warm.
These can be quite stylish when well done. We recommend you stick with solid colors. Black, dark gray, blue, etc, all match well with just about any outfit and allow you to wear your heated vest just about anywhere.
Heat Settings
One of the biggest benefits of a heated vest over a traditional one is the ability to adjust the temperature to conditions. With a traditional down or fleece vest if the temps go up you just have to tough it out.
With a heated vest you can turn up the heat when temperatures drop or cool down when they rise. Most heated vests will have at least three settings, with higher quality models offering many more.
Pockets and Zippers
Most heated vests offer three pockets. Two at hand level on either side and a single breast pocket.
They use zippered closures just about across the board, though a few rely on a hook and loop fastener. Pretty much the only thing to think about with pockets is how you hold your hands.
If you frequently keep them in the hand warmer spots you should make sure there's enough space for it to be comfortable.
Care and Maintenance
Any hiker can tell you how annoying it can be to wash and care for technical clothing. Many heated vests unfortunately fall into this category.
Some are machine washable, but have different preparation requirements before throwing them in a. At the least you'll need to remove the battery pack and control system.
Depending on what kind of material the vest itself is it may be hand wash only. Make sure you consider how much hassle you're willing to put up with in cleaning and caring for your vest.
Top Heated Vests Video
FAQ – Best Heated Vest
As outdoor enthusiasts, we understand the importance of staying warm and comfortable during camping, hiking, and survival adventures. In our pursuit of finding the best gear to enhance your outdoor experiences, we have received numerous questions about heated vests. To address these queries and provide you with valuable insights, we have compiled a list of frequently asked questions (FAQ) about the best heated vests. Whether you're a seasoned camper, a hiking enthusiast, or someone who values preparedness in survival situations, this FAQ section aims to shed light on the key aspects of heated vests, their benefits, safety considerations, and more. So, let's dive in and find answers to the questions you may have about these innovative garments that keep you warm and cozy in even the coldest of environments.
What is a heated vest?
A heated vest is a specialized garment designed to provide warmth and comfort by incorporating heating elements. These heating elements are usually powered by rechargeable batteries and generate heat to keep the wearer warm in cold weather conditions.
How does a heated vest work?
A heated vest utilizes heating elements, such as carbon fiber or electrical wires, which are strategically placed throughout the vest. These elements are connected to a power source, typically a rechargeable battery pack. When activated, the heating elements produce heat that is evenly distributed across the vest to provide warmth to the wearer.
Are heated vests safe to use?
Yes, heated vests are generally safe to use. However, it's important to follow the manufacturer's instructions and guidelines for proper usage. Most heated vests have built-in safety features like automatic shutoff timers and temperature controls to prevent overheating. It's crucial to use a reputable brand and ensure the vest is certified for safety.
What are the benefits of using a heated vest?
Heated vests offer several benefits for outdoor enthusiasts, including:
Increased comfort: They provide warmth in cold conditions, allowing you to stay comfortable and extend your outdoor activities.
Versatility: Heated vests can be worn as a standalone outer layer or as a mid-layer under a jacket, making them suitable for various outdoor activities.
Mobility: Unlike bulkier layers, heated vests are lightweight and provide flexibility and unrestricted movement.
Health benefits: The warmth generated by heated vests can help improve blood circulation and alleviate muscle stiffness or joint pain caused by cold temperatures.
Can heated vests be used in wet conditions?
Most heated vests are designed to be water-resistant or water-repellent, meaning they can withstand light rain or snow. However, it's essential to check the manufacturer's specifications to ensure the vest is suitable for wet conditions. It's generally recommended to use an additional waterproof shell or layer to protect the vest and its electrical components from heavy rain or immersion.
How long does the battery last on a heated vest?
The battery life of a heated vest varies depending on factors such as the heating level selected and the capacity of the battery itself. Higher heat settings tend to consume more power and can result in shorter battery life. On average, most heated vests offer battery durations of 4 to 10 hours. It's advisable to carry spare batteries or a portable charger if you plan to use the vest for an extended period without access to recharging.
Can heated vests be washed?
In most cases, heated vests are machine washable, but it's crucial to refer to the manufacturer's care instructions. Typically, the electrical components, including the battery pack, should be removed before washing. Use a gentle cycle with mild detergent, and avoid using bleach or fabric softeners. After washing, allow the vest to air dry completely before reattaching the battery pack.
Can I use a heated vest for other outdoor activities besides camping and hiking?
Absolutely! Heated vests are versatile and can be used for a wide range of outdoor activities beyond camping and hiking. They are popular among hunters, anglers, skiers, snowboarders, motorcyclists, and anyone who spends time outdoors in cold weather. Additionally, they can be beneficial during everyday tasks like walking the dog or commuting in chilly conditions.
Remember to conduct thorough research, read customer reviews, and choose a heated vest that best suits your specific needs and preferences.
Final Thoughts
With heated vests there are thankfully just a few core features you need to consider when making your choice.
So long as you keep the pointers we listed above in mind it's easy to pick out the best heated vest for your specific needs.