Outdoorsman Toolkit is reader-supported. When you buy through links on our site, we may earn an affiliate commission.
Learn more
If you spend a lot of time in cold weather you know how hard it can be on your hands. The body naturally prioritizes the warmth of the core over the limbs, leading to numb fingers and serious discomfort. Hand warmers can offer considerable warmth in all weather conditions and are both inexpensive and lightweight. Today we've put together a list of the best hand warmers available to help you pick out the one that's perfect for your needs.
Hand warmers are simple things. They're there to give you comforting warmth over as long a period as possible. Depending on how long you need them to run for there are different types and styles that will work best.
Our list covers 11 of the best hand warmers across a range of heating types, styles, and price points.

Zippo Hand Warmer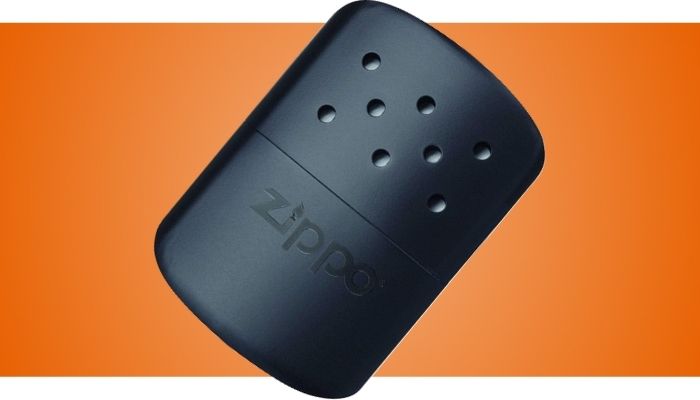 Zippo is renowned for their iconic lighters but they also produce excellent hand warmers. Their core product is powered by the same lighter fluid that fuels their lighters.
It's made from stainless steel and is available in tons of color and pattern options. To get started using yours just pour lighter fluid into the opening and let it thoroughly soak the absorbent material. Once lit it will burn for 6 to 12 hours depending on the version you've purchased.
It includes the hand warmer itself, a durable cloth pouch to keep it in while lit, and a measuring funnel for easy refilling. Because it doesn't rely on a wick there's no need to replace any parts through years of use.
If you're looking for a rugged and seriously stylish pocket warmer the classic Zippo Hand Warmer is a great option.

Human Creations EnergyFlux Series Rechargeable Hand Warmer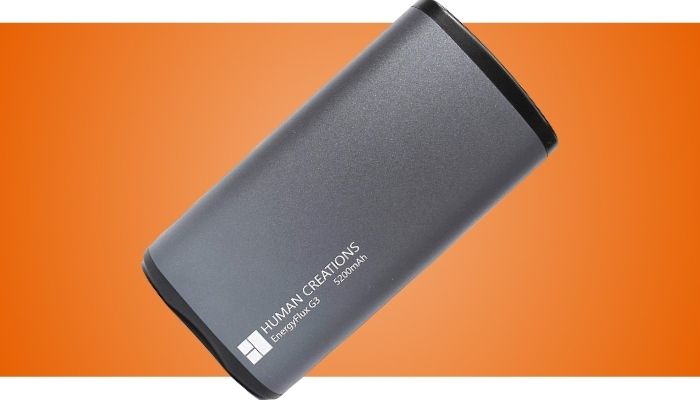 The Human Creations EnergyFlux Series hand warmer is a battery operated warmer packed full of features. It offers 360 degree heat production at 2 temperature settings.
It's powered by a 5200mAh lithium-ion battery that charges fully in just 4 hours. It will run for up to 4 hours on a low setting of 107°F or up to 3 hours on a high of 117°F. The EnergyFlux will also act as a portable power bank for your phone.
If you like the thought of a plug in hand warmer the Human Creations EnergyFlux is ready to go. It works well, produces an astounding amount of heat, and has a reasonable battery life.

HotHands Hand Warmers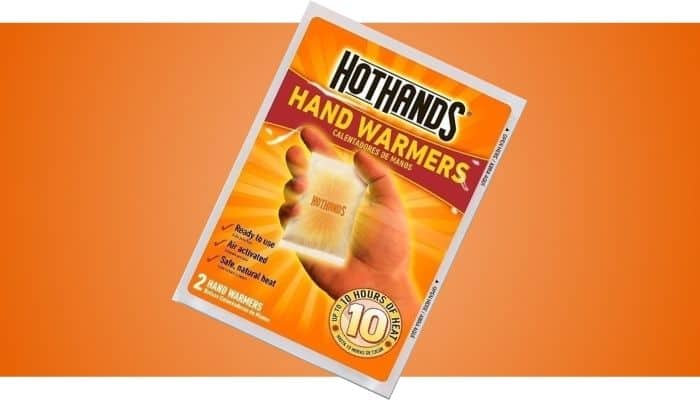 HotHands is one of the most well known names in the hand warmer market. Their products come in distinctive blaze orange packaging and are often available in bulk packs of hundreds of units.
HotHands are disposable air activated hand warmers that can last for up to 10 hours. In our experience you get about 2 hours of real heat then many more at a low lukewarm.
On a positive note though they're inexpensive, available everywhere, and fit easily inside your gloves. This is a major benefit on truly arctic days somewhere like Alaska or Northern Canada.
For an inexpensive and quality disposable hand warmer it's hard to go wrong with HotHands.

HotSnapZ Reusable Pocket Warmers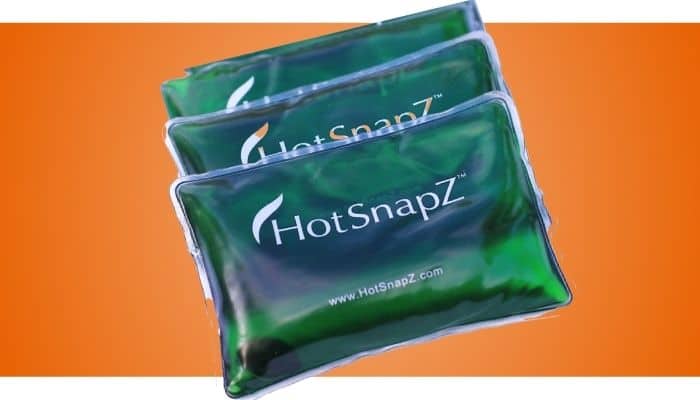 HotSnapZ reusable pocket warmers are crystallization style hand warmers. They're sealed in small rubber pouches and can be triggered with the click of a metal disc.
It's honestly really fun watching them once they get going. You'll see the reaction in real time as a wave of crystals spread across the liquid inside. They can reach up to about 130°F but usually only last for about 30 minutes to an hour.
One really nice feature of HotSnapZ is how many varieties they come in. You can get them in multiple shapes, sizes, or packaging patterns. They're endlessly reusable by boiling them for a short while and give you a good amount of heat.
If you're looking for an economical way to keep your hands warm for a short while HotSnapZ can be a great way to go.

Zippo Rechargeable Hand Warmers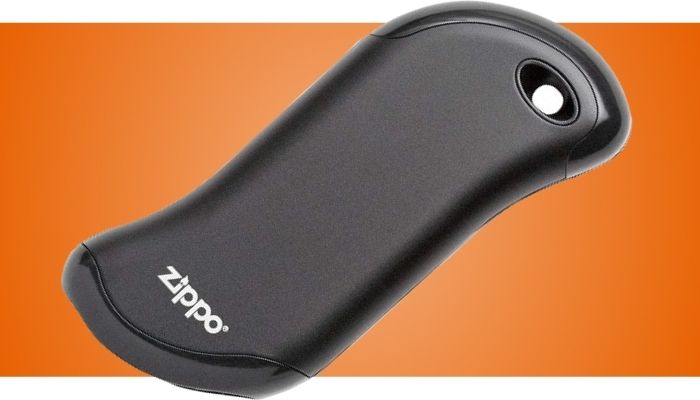 Zippo offers their battery operated hand warmers in 3 different sizes. They're rated at 3, 6, and 9 hour runtimes but each offer similar performance and features.
The 3 hour runtime hand warmer resembles a standard portable battery and can reach temperatures up to 107°F. The 6 and 9 hour pocket warmers have a much curvier design to conform to your pocket better and produce temperatures up to 120°F. All three designs give you dual sided heat production.
The two larger warmers actually have the same size battery, with the 9 hour warmer simply having the ability to run at a lower setting. All of these can be charged by USB or act as a portable battery for your phone, Ipod, or other small electronic device.
These are some of the better battery powered hand warmers on the market and are backed by the full weight of the Zippo name. If you've been wanting to try out one of the new battery warmers but weren't sure about quality any of these Zippo hand warmers are a great place to start.

Celsius Long Lasting Solid Fuel Hand Warmer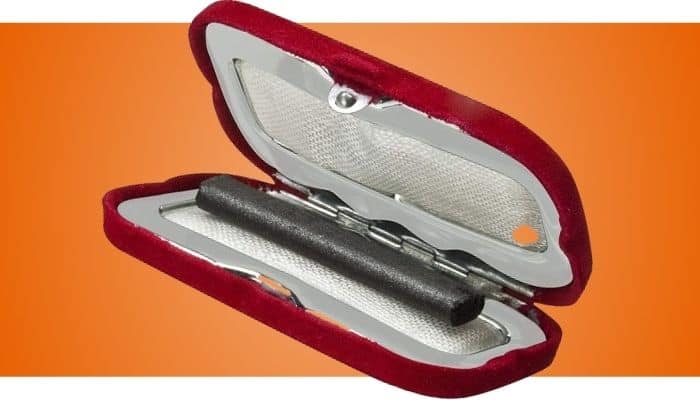 The Celsius Solid Fuel hand warmer is a charcoal powered warmer. It comes standard with a single fuel stick that can provide up to several hours of comfortable and nearly odorless warmth.
It can be a bit tricky to figure out how to light the fuel sticks but once you get the hang of it you'll be doing it in seconds. The case itself resembles a somewhat thicker glasses case and gets nice and hot.
The great thing about fuel powered hand warmers is their extended runtime. It's easy to carry a few spare rods of fuel to keep it going for days on end.
If you're tired of carrying around a pocketful of disposable warmers or put off by the distinctive smell of lighter fluid the Celsius Solid Fuel Hand Warmer may be the answer to your problem.

Cypers Double-Side Rechargeable Hand Warmer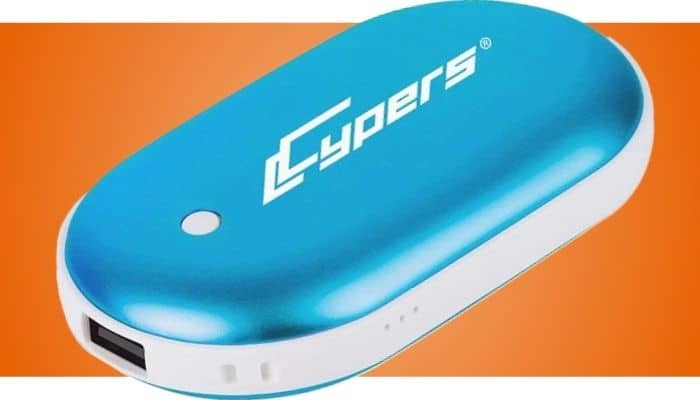 The Cyphers Double-Side is a rechargeable battery operated hand warmer. It's made from durable aircraft grade aluminum and ABS and offers 3 different heat settings.
It's powered by a 5200mAh lithium-ion battery and can double as a portable phone charger when needed. It can provide between 4 and 8 hours of runtime depending on what setting you have it on.
Low is 107°F, medium is 118°F, and high is 131°F. This gives you a range of heat settings to keep your hands comfortable no matter how cold it gets outside.
The Cyphers Double-Side is a durable and long lasting battery powered hand warmer. It's great for folks who live in very cold climates and have frequent access to charging.

Celestron FireCel Plus Hand Warmer
The Celestron FireCel Plus is a battery operated hand warmer. It pulls triple duty as a pocket warmer, portable battery and miniature flashlight.
It's available in two sizes, 2500mAh and 5200mAh, both lithium-ion batteries. It produces dual sided heat and lasts for between 4 and 8 hours. The flashlight has 5 different settings including a red light and an SOS mode.
It comes standard with a wrist strap, USB charging cable, cloth carry case and a mini carabiner. When used as a battery the larger version will provide up to 2 full charges for most modern smartphones.
If you're looking for a lot of extra features in your hand warmer check out the Celestron FireCel Plus.

Grabber Hand Warmers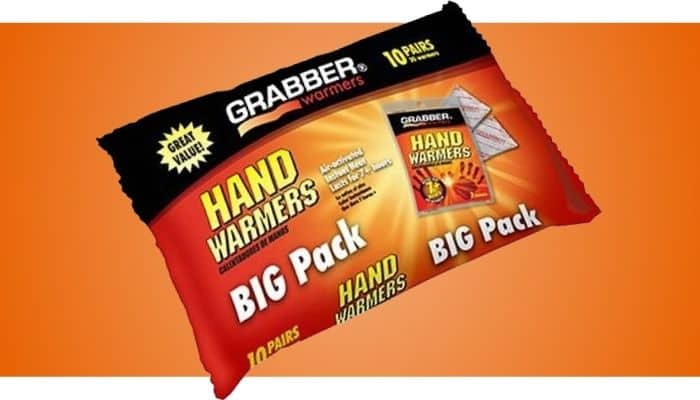 Grabber Warmers are disposable hand warmers available in large multi packs. They're air activated and heat up in about 15-30 minutes.
They're extremely small, odorless and provide hours of heat for a very inexpensive price. You can also reuse them to a limited extent.
If you head inside after getting them going and they're still warm you can seal them in an airtight container to stop the reaction. This can extend the use of a single pack to multiple outings.
Grabber Hand Warmers are lightweight, extremely compact and cheap as dirt. They work well for what they are and are great to keep in an emergency kit or to toss in your car.

Celestron Elements ThermoCharge Hand Warmer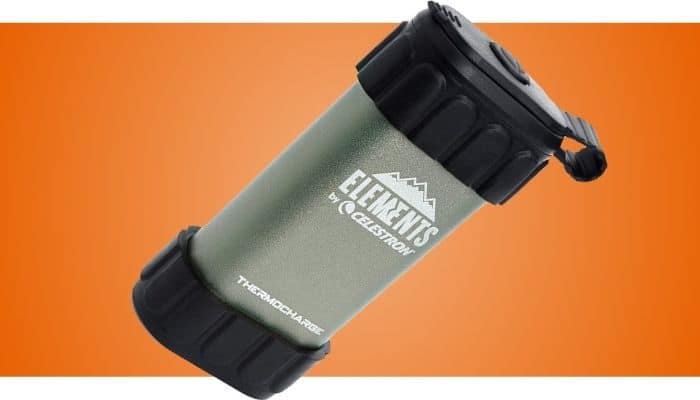 The Celestron Elements ThermoCharge is a battery operated hand warmer and portable charger. It's made from aircraft grade aluminum with protective silicone caps on either end.
They're powered by a 4400mAh lithium-ion battery capable of providing up to 6 hours of continuous heat. The ThermoCharge is definitely on the compact size for battery hand warmers.
It easily fits into your pocket or bag when not in use but probably won't slip into your glove. It comes standard with a USB charging cable and soft carry case.
The Celestron Elements ThermoCharge gives you a quality hand warmer and useful charger for your smartphone. It's a great option if you're looking for a portable warmer that's compact and durable.

OCOOPA Rechargeable Hand Warmer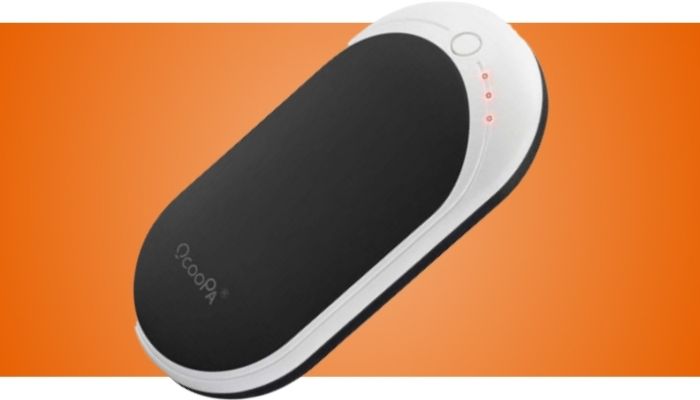 The OCOOPA is a battery powered hand warmer that can also charge your phone. It's made from aircraft grade aluminum and durable ABS and offers 3 different levels of heat production.
The OCOOPA is powered by a 5200mAh lithium-ion battery and charges via a USB-C port. USB-C offers the fastest charging time available. This same port can be used to help charge up the latest and greatest smartphones on the market.
It offers dual sided heating elements and 3 different settings. Low power mode gives you 107 °F, medium is 118 °F, and high runs at 131 °F. Depending on the setting you can get up to 8 hours of continuous heat.
The OCOOPA is lightweight, compact and produces significant heat for a great runtime. It's one of the fastest charging battery operated hand warmers available today.
Buyer's Guide for Buying the Best Pocket Hand Warmers
Hand warmers are a deceptively simple product. They do one central task, produce heat, but show a huge amount of variety in how well they do it.
It's important to consider your runtime, sizing, and feature needs when choosing the best hand warmers.
Runtime
One of the most important things to think about when comparing hand warmers is how long they last. Most manufacturers claim their products last for upwards of 6 to 10 hours but many show a significant heat loss after just an hour or two.
For extended use at a consistent temperature you really have two options – battery powered and catalytic. These allow you to either refuel or recharge as needed.
Heat Output
There's a pretty rock solid ceiling on the heat a hand warmer should achieve. You don't one that gets much above 130 degrees Fahrenheit as it can cause discomfort or even burns.
You really want to focus on consistency over time. Many hand warmers start off strong then drop off a cliff. You don't want to have an hour or so of comfort then nothing.
Size
Size is a really important consideration for hand warmers. As the name implies they should be able to fit comfortably in the palm of your hand.
Disposable versions will often be smaller than similar reusable ones. This is because they only have to contain a small amount of material to carry out a chemical reaction. They're great for slipping inside your glove or sock to keep your fingers and toes warm constantly.
Think about the shape and weight of a potential hand warmer before you make a purchase. You want something that you can comfortably carry around in your pocket all day long.
Disposable or Reusable
Choosing between single use of reusable hand warmers really comes down to how you plan to use them. If you're just keeping your digits comfortable on a day hike or your daily commute disposable may be the way to go.
They're generally smaller and lighter than reusable hand warmers and allow you to carry several with you. If you're planning on being out for many hours or see a persistent need for a hand warmer reusable is the way to go.
This is especially true if you have to pack in your hand warmers for multiple days.
Power Source
When it comes to hand warmers you've now got more options than ever before. You can go disposable, reusable, battery or chemically powered.
Electric – Battery powered hand warmers are rapidly becoming one of the most popular options on the market. Most rely on rechargeable lithium-ion batteries to produce heat.
They're generally quite heavy given the weight of the battery but provide a lot of utility. As with any electronic it's important to check reviews before purchasing one. More so than just about any other hand warmer product you get what you pay for with battery warmers.
Catalytic – Catalytic hand warmers rely on flames fueled by lighter fluid. They're one of the longest running hand warmers but can get too hot if not properly monitored.
Catalytic warmers are fully reusable but they do involve an actual flame. It's a good idea to keep them away from children and to never keep one on while sleeping.
Crystallization – Crystallization hand warmers are relative newcomers to the hand warmer scene. They rely on the crystallization reaction of supersaturated solutions. To trigger the reaction you click a small metal disc inside.
Crystallization hand warmers can be used many time by placing them in boiling water once they've cooled. The only downside is their short runtime, most only last from 20 minutes to about 2 hours.
Charcoal – Charcoal hand warmer rely on a smoldering piece of charcoal held in a special container. They usually look a lot like a glasses case and are lined with felt on the outside and a fire-resistant material on the inside.
You start them up by igniting a rod of charcoal and quickly smothering it. The resulting ember will burn for up to about 6 hours and produce a comfortable heat.
Air Activated – Air activated hand warmers rely on the exothermic, or heat producing, reaction of iron oxidation. They're by far the most common type of hand warmer as they're inexpensive to make and available in bulk.
They're one time use but make up a huge chunk of the hand warmer market. You can expect up to about 10 hours of warmth depending on the size of the hand warmer
Puncture resistance
Crystallization and air activated hand warmers are only as good as the strength of their chemical reactions. If they spring a leak you'll quickly find yourself with a cold empty container.
The truly disposable cloth warmers aren't too big of a deal but the crystallization pouches should be made of durable rubber and plastic.
Extra Features
If you want extra features on your hand warmer you have to go with a battery powered model. These will often include methods to charge your phone or offer small flashlights.
Additional Uses for Hand Warmers
You can obviously use a hand warmer to keep your hands warm but there are tons of other useful tasks they can complete.
Drying Wet Socks and Boots – If you wet your boots on a winter hike it can be a lot more serious than just some discomfort. The last thing you want is frozen socks and boots.
Putting a few fresh hand warmers in can help evaporate off the water and get them nice and toasty for the days hike.
Warming Your Sleeping Bag – There's nothing quite like getting into a toasty sleeping bag on a cold winter night. If you throw a few hand warmers up and down your bag you too can experience this bliss.
Helping With Battery Troubles – If you're going on a cold weather hike with lithium-ion batteries you may notice significant performance issues. Hand warmers can help warm them up initially and keep them at a good temperature to continue operating.
Stop Drinking Water From Freezing – A hand warmer may not maintain a high heat for more than a few hours but it will often keep water from freezing. When mountaineering or going on a winter hike having to melt your water bottle every morning can be a real hassle.
Keep Food Warm – A hot meal on a long hike is a luxury. If you had leftover oats or other hot food from breakfast popping a hand warmer on a sealed container can help keep it warm for a midday pick me up.
Soothing Aching Muscles – Winter sports are hard work. After a long day hiking, skiing, or boarding your muscles are likely to be a bit sore. Placing a few hand warmers on the tensest spots can help relax away the pain and get you ready for the next days activities.
Top Hand Warmers Video
FAQ – Best Hand Warmers
As the temperature drops and outdoor adventures take us into colder climates, keeping our hands warm becomes essential for both comfort and safety. Hand warmers have become indispensable companions for camping and hiking enthusiasts, providing much-needed warmth in chilly conditions. In this section, we address some common questions about hand warmers to help you make informed decisions and get the most out of these handy devices. Whether you're a seasoned outdoor enthusiast or new to the world of hand warmers, this FAQ section will provide valuable insights into their functionality, types, usage, safety considerations, and more. Read on to discover answers to frequently asked questions and enhance your knowledge about the best hand warmers for your next wilderness adventure.
What are hand warmers?
Hand warmers are small, portable devices that generate heat to keep your hands warm in cold weather. They are commonly used during outdoor activities like camping, hiking, skiing, and hunting.
How do hand warmers work?
Hand warmers work through a process called exothermic reaction. They contain ingredients like iron, activated charcoal, salt, and water, which react to produce heat when exposed to air. Some hand warmers are disposable, while others are reusable and require reheating to reactivate.
What types of hand warmers are available?
There are two main types of hand warmers: disposable and reusable. Disposable hand warmers are typically single-use and activate when opened and exposed to air. Reusable hand warmers often require heating in an oven or microwave to reactivate and can be used multiple times.
How long do hand warmers last?
The duration of heat provided by hand warmers depends on the type and brand. Disposable hand warmers usually last between 4 to 10 hours, while reusable hand warmers may provide heat for 1 to 8 hours, depending on the heating method and design.
Can hand warmers be used for purposes other than warming hands?
Yes, hand warmers can be used for various purposes beyond warming hands. They can be placed inside gloves, pockets, sleeping bags, or even used to warm up electronic devices like smartphones or camera batteries in extremely cold conditions.
Are hand warmers safe to use?
Hand warmers are generally safe to use as long as the manufacturer's instructions are followed. However, it's important to exercise caution, especially when using hand warmers with children, the elderly, or individuals with reduced sensation in their hands. Avoid direct contact with the skin and do not puncture or ingest the contents of hand warmers.
Can hand warmers be reused?
Some hand warmers are designed for reuse. These reusable hand warmers often contain a gel or liquid that can be heated in an oven or microwave to reactivate. However, it's important to check the manufacturer's instructions for specific guidelines on reusing the hand warmers.
Can hand warmers be used in wet conditions?
Most hand warmers are not designed to be used in wet conditions. Moisture can affect the activation process or reduce the duration of heat provided. However, there are specific hand warmers available that are designed to be water-resistant or waterproof, which can be suitable for wet environments.
Can hand warmers be used for medical purposes?
Hand warmers are not intended for medical use and should not be used to treat medical conditions. They are primarily designed to provide temporary warmth and comfort in cold weather environments. If you have a specific medical condition, it's best to consult with a healthcare professional for appropriate recommendations.
How should hand warmers be stored when not in use?
Hand warmers should be stored in a cool, dry place away from direct sunlight and moisture. Disposable hand warmers should be kept in sealed packaging until ready for use. Reusable hand warmers should be stored according to the manufacturer's instructions, which may involve draining the liquid or gel before storage.
Remember to check the specific product details and instructions provided by the manufacturer for the best usage and safety guidelines when using hand warmers.
Final Thoughts
Picking out the best hand warmers really depends on how you're using it and what features you need. Obviously a battery hand warmer is the way to go if you want a charger as well but beyond that you need to consider where you're going.
Distance hiking or cold weather trekking usually benefit from catalytic or charcoal hand warmers. These last the longest and are the easiest to refuel in the wild.
Disposable warmers are great but can get expensive if you use a lot of them.
Whatever path you decide to go just make sure you're getting the performance you need.