Outdoorsman Toolkit is reader-supported. When you buy through links on our site, we may earn an affiliate commission.
Learn more
A quality pocket knife is just about the most basic part of an everyday carry. It's small, lightweight, and can be used for literally thousands of possible tasks. Unfortunately, pocket knives require basic upkeep just like any other tool. There are few things as dangerous as working with a dull knife, so make sure you've got an effective knife sharpener handy. Today we're reviewing the best pocket knife sharpeners on the market to help you find the best one for your next hiking or camping trip.
Best Pocket Knife Sharpeners
Choosing the best pocket knife sharpeners comes down to where and how you intend to use it. If you want a single sharpener for your kitchen and outdoors knives you'll be looking at a different system than an ultralight hiker.
Our list includes examples of entry level and high-end knife sharpeners in a variety of styles. Check them out and see if there's one you like.

Smith's Pocket Pal Sharpener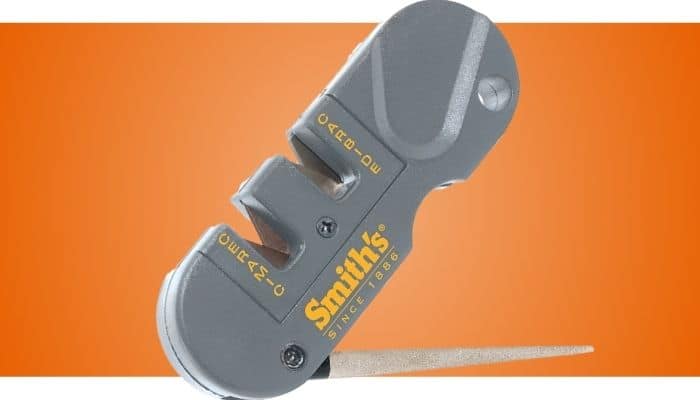 Being an avid outdoorsman, whether it's hiking through the rugged trails, setting up camp amidst nature, or enjoying the serene ambiance during my RVing adventures, having a sharp knife is indispensable. I stumbled upon Smith's PP1 Pocket Pal Multifunction Sharpener while looking for a compact, portable solution to keep my knives in top-notch condition during my outdoor escapades. The Pocket Pal quickly earned its place as a trusty companion.
This compact marvel is just 3.5 inches long and weighs a mere ounce, making it a breeze to carry along. It easily slips into my pocket or attaches to my backpack via the lanyard hole, always staying within arm's reach. Despite its diminutive size, it's packed with features. The carbide and ceramic slot sharpeners alongside the diamond grit sharpening rod provide a comprehensive sharpening solution. The pull-through carbide slot briskly sets the edge on my dull knives, while the ceramic slot hones it to a razor-sharp finish. The diamond rod is perfect for my serrated blades, getting into every whorl and wave with ease.
The sharpener exhibits its prowess especially when I am out in the wild and need a quick fix for my blades. It may not replace my meticulous sharpening routine at home with my Japanese Waterstone, but it surely stands as a reliable interim solution. I particularly appreciate the easy-to-follow instructions on the packaging, making the sharpening process straightforward even for a novice. The ergonomics of the sharpener ensure a comfortable grip, making the task less tedious.
Although, during a thorough testing, I noticed the preset sharpening angles may not align well with every knife, especially my 'Navy Seal Tactical Folding Knife', which remained stubbornly dull post sharpening. The pull-through design, while quick, doesn't provide the precision a sharpening stone offers. On closer inspection, the edges appeared a tad rough, akin to having very fine serrations. However, this little tool does wonders on my Sheffield and Victorinox knives, quickly restoring their sharpness.
Moreover, the Smith's Pocket Pal also proved to be a lifesaver when I was fixing a quick meal and realized my pocket knife had lost its edge. A few swift pulls through the sharpener and I was back in action. The Pocket Pal may not be the epitome of precision, but it surely is a godsend when time is of the essence.
On one of my recent camping trips, as the sun dipped below the horizon casting a golden glow, I decided to prepare a hearty meal to enjoy by the campfire. As I reached for my trusty pocket knife to slice through some fresh veggies, I realized the blade had dulled. The Smith's PP1 Pocket Pal Multifunction Sharpener was right there in my pocket, ready to spring into action. I quickly ran my knife through the carbide slot a few times, followed by a couple of passes through the ceramic slot.
In no time, my knife was back to its sharp self, gliding through the vegetables with ease. As I sat by the campfire, savoring the meal, I couldn't help but appreciate the convenience and efficiency the Pocket Pal brought to my outdoor adventures. Its ability to quickly restore my blade's sharpness on the fly, with minimal fuss, made my camping experience smoother and allowed me to focus on soaking in the wilderness.
For those who cherish their blades and are on a quest for a more refined edge, investing in a higher-end sharpener like Smith's Precision Sharpener Kit or Lansky's Sharpener Kit would be prudent. But for the adventurers out there seeking a quick, portable, and effective solution to dull blades, Smith's PP1 Pocket Pal Multifunction Sharpener is a worthy contender. It's a quintessential tool that resonates well with the phrase, 'big things come in small packages'.
Pros:
Compact and Lightweight: At just 3.5 inches long and weighing a mere ounce, it's incredibly portable and easy to carry along on any outdoor adventure.
Multi-Functional: Features carbide and ceramic slots for quick edge setting and honing, plus a diamond rod for serrated blades, making it a versatile tool for various sharpening needs.
Ease of Use: The straightforward design and clear instructions make sharpening a breeze even for those new to knife maintenance.
Quick Sharpening: Provides a swift solution to dull blades, especially handy in outdoor or on-the-go situations.
Durable Construction: Built to withstand the rigors of outdoor use, ensuring it lasts through many sharpening sessions.
Economical: Offers a decent sharpening solution without burning a hole in the pocket, making it a value-for-money choice for budget-conscious users.
Cons:
Lack of Precision: The preset sharpening angles and pull-through design may not provide the precision required for high-quality or specially designed blades.
Potential for Rough Edges: May leave a rougher edge on blades, which might not be ideal for those seeking a finely honed edge.
Not Suitable for All Knives: Some knives, especially those with unconventional designs or poor quality steel, may not sharpen well with this tool.
Temporary Solution: More suited for quick fixes rather than a long-term sharpening solution, necessitating a more thorough sharpening with specialized tools at later times.
Replacement Costs: While the carbide and ceramic components are replaceable, the cost of replacement may add up over time.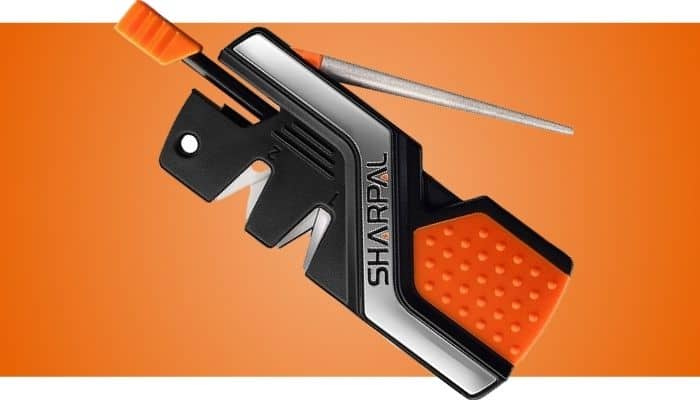 The Sharpal 101N is a backwoods survival tool that gives you everything needed for basic survival. It packs 6 different tools into a 3.5 inch long package.
For your sharpening needs it has a pair of carbide and ceramic slot sharpeners. This lets you put a rough edge on your blade then hone it up to perfection. There is also a diamond grit sharpening rod with fish hook groove. It allows you to sharpen fish hooks as well as serrated knives.
Once you get past the sharpening tools you move into the survival specific gear. The Sharpal 101N includes both an ear splitting emergency whistle and a ferrocerium rod. This allows you to make an emergency fire and signal for help from miles around.

Lansky Blade Medic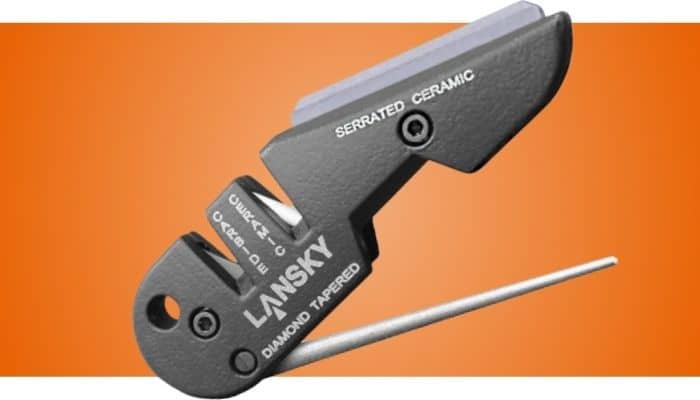 The Lansky Blade Medic is a pint sized sharpening system built to provide field sharpening on straight and serrated edge knives. It has four different sharpening tools in a very small package.
The primary sharpening tools are a pair of carbide and ceramic slot sharpeners. These allow you to sharpen and hone your straight edge knife quickly and easily. For larger or serrated blades there's a tapered diamond grit rod that lets you pay special attention to your blade.
Something unique to the Blade Medic is the inclusion of the serrated knife sharpener. It's a small wedge shaped sharpener built to get inside even the smallest of serrations.
The Lansky Blade Medic is compact, lightweight, and provides tons of value. It's an excellent tool to throw in a hiking pack or keep in your car or workshop.

Smith's Pocket Pal X2 Sharpener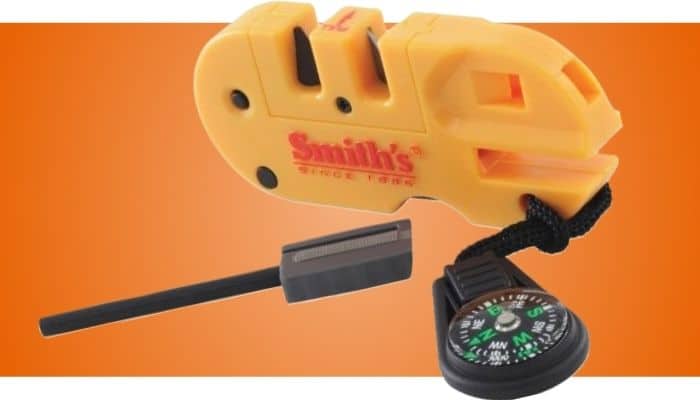 The Smith's Pocket Pal X2 is an updated version of their class Pocket Pal sharpener. It uses the same high-quality design of the original with the addition of several useful survival tools.
The sharpening system on the X2 is identical to the one on the X1. A pair of carbide and ceramic slot sharpeners for basic edge maintenance plus a tapered diamond grit rod.
What sets it apart is the inclusion of a ferrocerium fire starter and a small compass. This gives you the ability to start an emergency fire and perform basic navigational tasks.
The X2 is just as good as the X1 at putting a field edge on your tools and knives. The addition of a few basic survival items makes it an even more suitable EDC, bug out bag, or hiking tool.

Camillus Glide Ceramic Blade Sharpener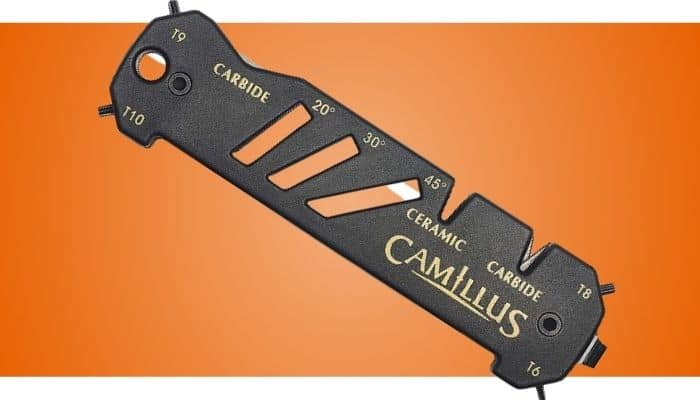 The Camillus Glide is a pocket knife sharpener that takes things a step farther than many of its competitors. It includes 12 different tools and sharpening systems in a very small package, including:
Slot Ceramic Sharpener
Slot Carbide Sharpener
Multi-Angle Carbide Sharpener
20, 30, and 40 Degree Shear Sharpeners
T6 Driver
T8 Driver
T9 Driver
T10 Driver
Flathead Screwdriver
Fish Hook Sharpening Groove
These tools give you the capability to do basic maintenance on a variety of knives and tools. The slot sharpeners will put a field edge on your pocket or hunting knife while the groove sharpener lets you touch up the edge on your fishing hooks.
If you're trying to get just the right edge on an unusual knife blade the multi-angle carbide sharpener allows you to reach any angle you need. For scissors and shears the preset angles on the 3 shear sharpeners makes it easier than ever to maintain a razor edge on them.
For a true multi tool sharpening system look no further than the Camillus Glide.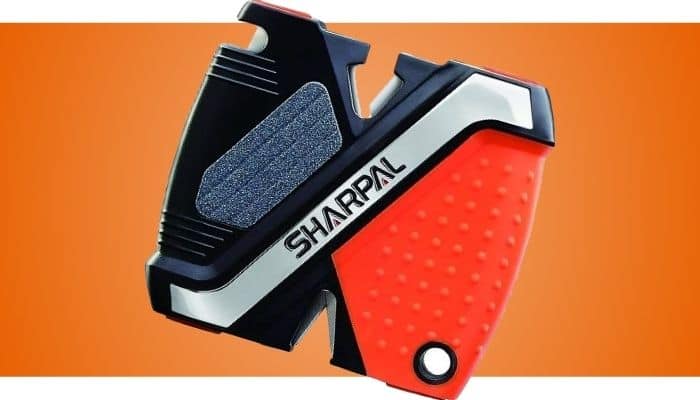 The Sharpal Multi Tool Sharpener is designed to be the perfect sharpening system for the outdoorsman and angler. It combines a pair of slot sharpeners with a grooved sharpening stone for use on fish hooks. It also provides you with a bonus of a compass and line cutter.
There's both a carbide and ceramic slot sharpener for effective sharpening and honing of your blade. The grooved sharpener is perfect to touch up your fish hooks and help hook that bass when they're biting. The compass is small but effective for an emergency situation and the line/cord cutter is perfect for slicing fishing line or paracord.
The Sharpal Knife Sharpener isn't the best purpose built sharpener on the market but it does provide significant value to the hiker, camper, or fisherman looking to save on space.

Spyderco Triangle Sharpmaker Knife Sharpener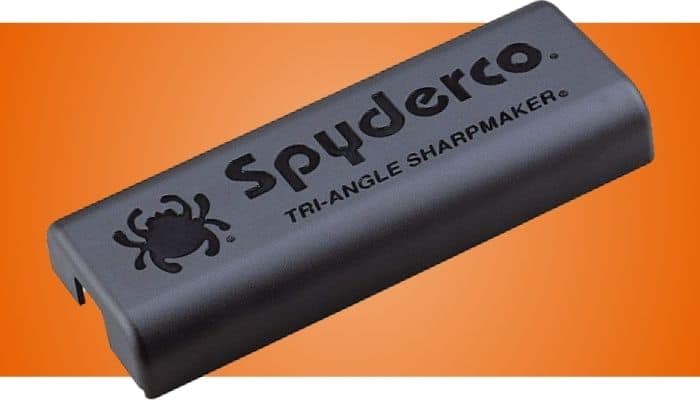 Spyderco is one of the most innovative and well known knife manufacturers in the world. Their pocket knives introduced many of the features now considered standard among high-quality knives and their Triangle Sharpmaker sharpening system carries on this tradition.
It's designed to take the guesswork out of whetstone sharpening. Instead of a horizontal stone or plate you get a series of ceramic, carbide, and diamond grit rods. These insert into prepositioned slots on a plastic base to create the perfect 30 or 40 degree sharpening angle.
To use them all you have to do is keep your knife blade vertical and draw it down the rods. This gives you the razor sharp finish of a whetstone with the ease of use of a slot sharpener. The only real downside to the Triangle Sharpmaker is its size. It's not really built as a portable sharpening system.
If you're looking for a home, shop, or base camp sharpener though the Spyderco Triangle Sharpmaker combines the best features of multiple sharpeners all into one.

AccuSharp Knife and Tool Sharpener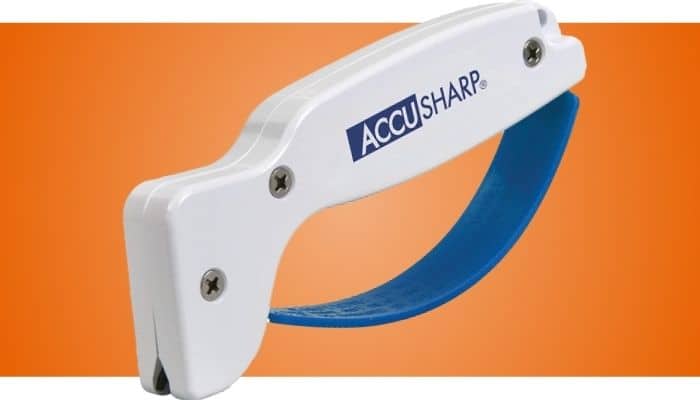 The AccuSharp Knife and Tool Sharpener is a slot style sharpener designed around an easy to hold handle. It's built to allow anyone to sharpen just about anything in seconds.
The AccuSharp is capable of sharpening straight or serrated edge blades as well as axes, hatchets, machetes, and cleavers. It uses a pair of diamond honed tungsten carbide sharpening blades that remove chips and dull spots in seconds.
The plastic handle is comfortable to hold and has a finger guard to make sure no injury causing slips occur. If you're looking for a no fuss way to sharpen all your outdoor tools and kitchen knives the AccuSharp Knife and Tool Sharpener is an inexpensive and effective solution.

Spyderco DoubleStuff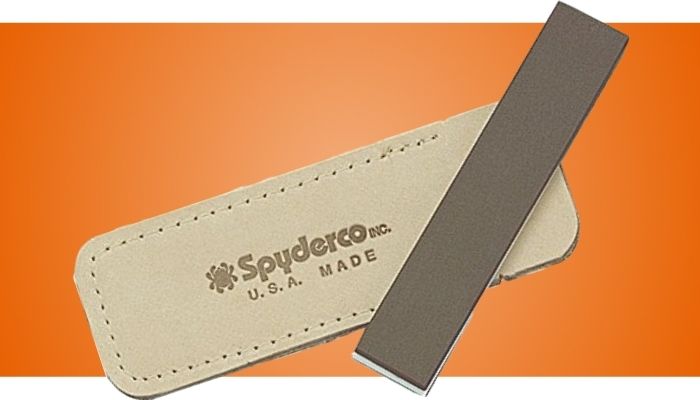 Another excellent product from Spyderco, the DoubleStuff is a modern twist on the traditional whetstone. Rather than a single grit stone Spyderco bonded a medium and fine grit stone together into one.
This gives you the precision sharpening ability that a whetstone provides in a much more compact and packable system. It comes with an attractive leather pouch and is designed to be cleaned with either a plastic scouring pad or be run through an autoclave. This makes it ideal for use with dental or other medical tools that need sharpening.
The Spyderco DoubleStuff combines two excellent whetstones into one. It allows you to take a dull knife all the way up to razor sharp with just a few easy steps.

Wamery Diamond Sharpening Rod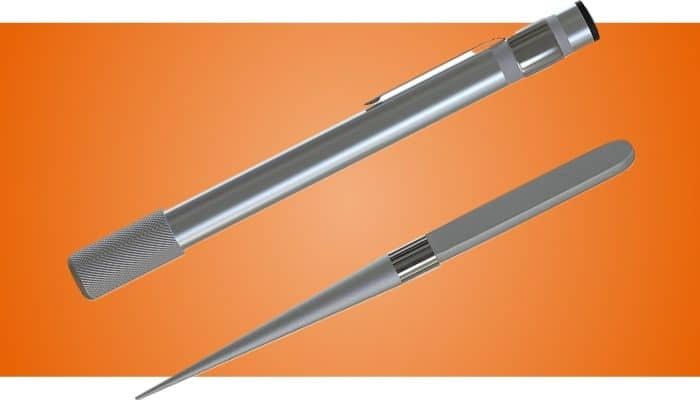 The Wamery Diamond Sharpening Rod is designed to be a versatile and extremely portable sharpening system. It uses a removable diamond coated rod with varying intensities of grit.
You can sharpen both straight and serrated blade types with the rounded and tapered sharpening rods. Just remove the blade from it's safety housing and attach the side you need. The tapered rod is best for putting an edge on serrated blades while the rounded works wonders on straight edge ones.
Best of all, it weighs well under 2 oz and is about the same size as a ballpoint pen when closed up. For an effective way to field sharpen straight and serrated edge knives the Wamery Diamond Sharpening Rod deserves serious consideration.

DMT Diamond Plate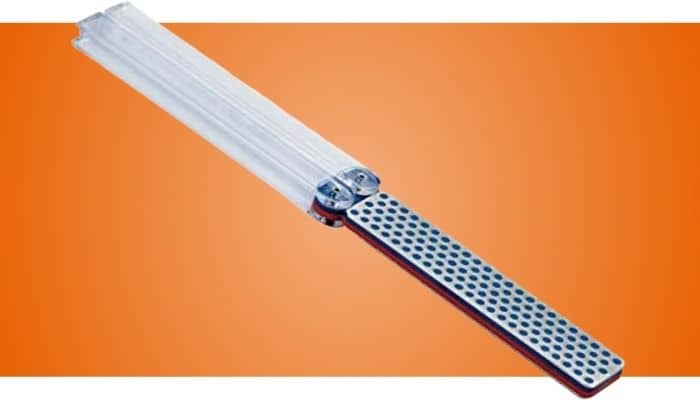 The DMT Diamond Plate sharpener relies on a balisong handle design to produce one of the most portable diamond plate style sharpeners available. It's just 5.5 inches long unfolded and under 3 when closed up tight.
It gives you both a coarse and fine diamond sharpener that doesn't require any oil to work. You can sharpen dry or with a splash of water, whichever you prefer. The coarse blade quickly repairs chips or other damage to the blade and sets a basic edge.
Once you've properly stroked it over the fine edge you have a servicable field edge. When you're done just fold the whole thing up and store it away for later.
If you prefer a plate style sharpener but still need something portable, check out the DMT Diamond Plate Sharpener.

Victorinox Pocket Knife Sharpener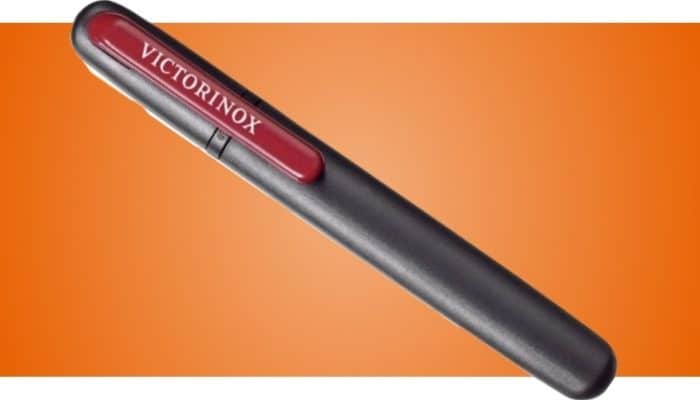 Victorinox has been making high quality swiss army knives and accessories for over 100 years. Their Pocket Knife sharpener gives you a pen sized whetstone with the added bonus of ceramic finishing rods.
The sharpener is designed for maximum portability. The whetstone itself is concealed inside a rugged plastic tube and is easy to use. Just get the right angle set up on your blade and draw it across the stone. It has a medium level grip capable of doing basic sharpening up to a good edge.
On the top of the plastic body is a slot style ceramic sharpening setup. With the ceramic finishing rods you can get it even sharper.
If you want the benefits of a traditional whetstone with the portability of a slot style sharpener the Victorinox Pocket Knife Sharpener is an excellent option.

Wusthof 2-Stage Pocket Knife Sharpener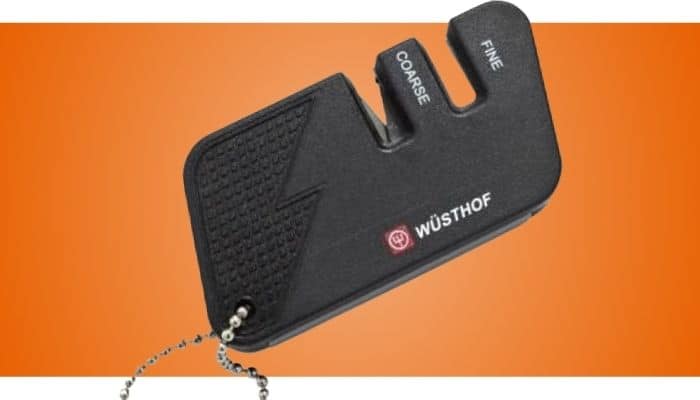 Wusthof is a well known German knife maker with decades of experience producing fine cutlery and chef's knives. Their 2-stage Pocket Knife Sharpener is a slot style sharpener that's just 3 inches long and weighs under 2 oz.
It uses a two step process for sharpening. Start by passing your blade several times through the coarse carbide slot then put on the final finish with the fine ceramic section. It allows you to restore a sharp edge to your knife in under a minute with minimal fuss.
The whole thing is made from durable plastic with a rubberized grip on one end. It comes with a key chain attachment for easy storage and secure placement.
The Wusthof 2-stage Pocket Knife Sharpener is an easy to use and inexpensive knife sharpener that gets the job done when it counts. It won't provide true razor sharp edges on high-end blades but does a good job putting a field edge on blades.
Buyers Guide for Buying the Best Pocket Knife Sharpener
When it comes to sharpening pocket knives and other outdoor specific tools there are certain criteria that must be met. A big one is portability and packability. Another is user friendliness and the size of the total sharpening system.
Below we've covered some of the most commonly asked questions about knife sharpeners and broken down the different types and materials used.
Total Tool Size and Weight
One of the most important factors for a hiking or survival knife sharpener is size and weight. A good sharpener is an essential item but it can't take up a lot of space. A full sharpening system or a large shop style sharpener doesn't suffer from these same restrictions.
Look for ones marketed as pocket or micro sharpeners. These are exceptionally small and have the basics needed to maintain an edge in the field. They can be used for major repairs but generally don't do quite as a good a job as more purpose built sharpeners.
Grit Size
With knife sharpeners the grit number gets larger the finer the grain is. A very rough grit sharpener, suitable for initial reshaping and coarse grinding, will be around a 100-500. These are best used to repair damaged or chipped knives.
Once you've got a basic blade on you can move up to higher grit like 1000, 2000, or 3000 for putting a rough edge on. 4000 to 8000 grit stones are finishing and polishing stones that help give your knife edge that last razor sharp step and put a mirror finish on the blade.
Is the Sharpener Multi-Functional
Most sharpeners that are more than a simple whetstone definitely qualify as multi tools. Even standard whetstones are multi functional. They can be used to sharpen knives, scissors, yard tools, axes, and other bladed implements.
Hiking, camping, and survival focused sharpeners often have multiple types and varieties of sharpeners built right in. This combination of multiple tools and multi functional utility place knife sharpeners firmly in the multi tool category.
When it comes to modern knife sharpeners there are three main types of materials under dozens of brand names and monikers. These are diamond, tungsten carbide, and ceramic. There are also traditional whetstones, covered more in detail below.
Diamond Sharpener – Diamond sharpeners are the most recent advance in sharpener technology. They use tiny lab grown diamond chips that are attached to plates, rods, and other sharpening forms. Diamond is the hardest material known to man. This makes it perfect for use as a sharpening and honing material.
The small chips work to grind off small bits of metal to create an evenly sharpened blade. Many serrated knife sharpeners rely on diamond grit materials because they can be irregularly shaped.
Tungsten Carbide Sharpener – Carbide sharpeners are used for aggressive repair of damaged blades. They quickly scrape away the surface layer of metal on a knife blade and leave a rough edge below. Most systems that use a carbide sharpener will also include either a diamond or ceramic sharpener.
An important point to keep in mind when using a carbide sharpener is that they're somewhat rough on the blade. They tend to pull of a bit more material than a similar grit whetstone.
Ceramic Sharpener – Ceramic sharpeners are used to smooth and polish an already mostly sharpened knife blade. When paired with a carbide sharpener they create an effective pair of rough and fine sharpening capability.
Whetstones
Whetstones have been used to sharpen metal tools since there have been metal tools. They're the most basic type of knife sharpener available. They consist of a small piece of hard, consistently grained mineral that abrades metal off a knife blade.
To use a whetstone you put water or oil on the surface of the stone for lubricant and draw your blade across it. It takes some skill to get right as you have to maintain the proper blade angle throughout your pass. Because of this whetstones are the least beginner friendly sharpening method.
In the past whetstones were naturally mined but for the last 50 or so years they've almost entirely switched to synthetic stones. Natural stones have history behind them but the synthetic stones have consistency and cost savings. It's possible to create stones that have exactly the same grit and grain pattern in a scientific manner.
The most recent advance in whetstone technology are diamond plates. These use the same principle as a whetstone but rely on diamond grit plates to do the actual sharpening. They require the same skill to use as a traditional whetstone but allow you to more rapidly perform the sharpening.
Slot Sharpeners
If you're just starting out with knife sharpening a slot sharpener is one of the most user friendly options available. It's basically two small pieces of carbide, ceramic, or diamond grit sharpener suspended at a specific angle.
To use them all you have to do is apply firm downward pressure on the blade and draw it along the sharpener slot. As it passes through each level in turn it removes different amounts of material and leaves you with a sharp knife blade.
Electric Sharpeners
Electric sharpeners combine the features of slot sharpeners with multiple materials and grit levels. They automatically grind off an specified amount of material with a single pass. You can get a very precise blade angle and sharpness, but at a cost.
Electric sharpeners are known to be fairly aggressive with their sharpening. They remove more blade material than is absolutely necessary and can lower the lifespan of your knife. Also, they usually require wall power to operate and are quite large and heavy.
Not a great option to put in your gear bag or hiking pack but an acceptable choice for your workshop or kitchen.
Top Pocket Knife Sharpener Video
FAQ – Best Pocket Knife Sharpener
Welcome to the Frequently Asked Questions (FAQ) section for our comprehensive guide on the "Best Pocket Knife Sharpener"! In this section, we address common queries and provide insightful answers to help you make informed decisions about choosing the right pocket knife sharpener for your camping, hiking, or survival needs.
From understanding the importance of a pocket knife sharpener to selecting the most suitable type for your requirements, we cover a range of topics to equip you with the knowledge necessary to maintain the sharpness and functionality of your pocket knife. Whether you're a seasoned outdoor enthusiast or just starting your adventures in the wilderness, this FAQ section aims to address your concerns and provide clarity on the subject.
We explore the frequency of pocket knife sharpening, the various types of sharpeners available, and offer guidance on choosing the perfect sharpener that aligns with your preferences and lifestyle. Additionally, we touch upon the versatility of pocket knife sharpeners, their compatibility with other blade types, and their limitations when it comes to fixing damaged or chipped blades.
By delving into these frequently asked questions, we aim to empower you to make an informed decision that will enhance your outdoor experiences and ensure the longevity of your trusty pocket knife. So, let's dive in and find the answers to those burning questions you may have about the best pocket knife sharpeners!
Why do I need a pocket knife sharpener?
A pocket knife sharpener is an essential tool for anyone who relies on their pocket knife during camping, hiking, or survival situations. Over time, the blade of a pocket knife can become dull and less effective. A pocket knife sharpener allows you to restore the blade's sharpness, ensuring optimal cutting performance and safety in the great outdoors.
How often should I sharpen my pocket knife?
The frequency of sharpening your pocket knife depends on various factors, such as the frequency of use, the type of tasks performed, and the knife's blade material. As a general guideline, it's recommended to sharpen your pocket knife whenever you notice a decline in its cutting ability. Regular maintenance sharpening, such as once every few months or after heavy use, can help keep your knife in optimal condition.
What types of pocket knife sharpeners are available?
There are several types of pocket knife sharpeners available on the market, each with its own advantages. Some common types include:
Sharpening Stones: These traditional sharpeners require manual effort to achieve a sharp edge. They come in various grit levels, allowing you to choose the right level of abrasiveness for your knife.
Pull-Through Sharpeners: These compact sharpeners feature built-in sharpening elements and a slot to guide the blade through. They are user-friendly and convenient for quick touch-ups in the field.
Pocket Sharpeners: Designed for portability, these small sharpeners often feature foldable or retractable sharpening elements. They are lightweight and easy to carry in your pocket or backpack.
Sharpening Rods: Also known as honing rods, these cylindrical rods are used to straighten and refine the blade's edge. They are particularly useful for maintaining the sharpness of already relatively sharp knives.
How do I choose the best pocket knife sharpener for my needs?
Consider the following factors when choosing a pocket knife sharpener:
Portability: If you plan to carry the sharpener with you on camping or hiking trips, opt for a compact and lightweight model that fits easily in your pocket or backpack.
Ease of Use: Look for a sharpener that is user-friendly and doesn't require extensive knowledge or skill to operate effectively. Pull-through sharpeners or pocket sharpeners are often straightforward options.
Sharpening Method: Decide on the type of sharpener you prefer based on your comfort level and desired sharpening results. Sharpening stones provide precise control but require more effort, while pull-through sharpeners offer convenience at the expense of some control.
Blade Compatibility: Ensure that the sharpener is suitable for the type of pocket knife blades you own. Some sharpeners work better with certain blade materials or blade shapes.
Durability: Look for a sharpener made from high-quality materials that can withstand outdoor conditions and frequent use.
Can a pocket knife sharpener be used for other types of blades?
Yes, many pocket knife sharpeners are versatile and can be used for sharpening other types of blades, such as kitchen knives, hunting knives, or even scissors. However, it's important to consider the specific sharpening requirements of different blade types and adjust the technique accordingly.
Can a pocket knife sharpener fix damaged or chipped blades?
While a pocket knife sharpener can improve the cutting edge of a dull blade, it cannot fix significant damage or chips on the blade. In such cases, it's recommended to seek professional knife repair services or consult with an expert for proper blade restoration.
Remember, proper knife maintenance and regular sharpening will help extend the lifespan of your pocket knife and ensure its optimal performance when you need it most.
Final Thoughts
Picking out the best pocket knife sharpener requires you to know what you're looking for.
You can get a pretty good system for just about any type of need. So long as you sit back and think about where and how you want to use your sharpener it's easy to find one to fill your needs.