Outdoorsman Toolkit is reader-supported. When you buy through links on our site, we may earn an affiliate commission.
Learn more
Knives have been one of the main components of multi tools since the 1890's. In recent years they've been overshadowed by the folding plier designs but are still one of the most important features of a quality tool. Thankfully, manufacturers understand this and have created a range of specialized tools that focus on high-quality knife blades with a few additional multi tool features.
Today we'll review a list of these innovative tools and some of the best multi tool knife blades on traditional butterfly fold designs.
The first set of tools we'll look at are basically folding knives with added tools. They have a range of shapes and use cases going from traditional jack knives to some really interesting designs.
You'll likely recognize many of these tools from other reviews we've done as many cross several categories. Keep reading to see what works and what doesn't in these knife multi tools.
Kershaw Select Fire Knife Multi Tool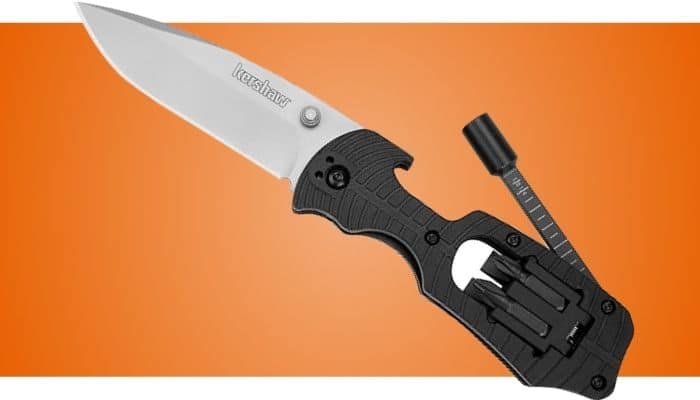 The Kershaw Select Fire pocket knife is a dedicated folder with a twist. It has a hollowed out handle that accommodates several removable bits as well as an extended bit driver. It has two real tools with several different addon bits available. It comes from the factory with:
Straight Knife Blade
Fold Out Bit Driver
Two Flathead Bits
Two Cross Driver Bits
Kershaw is well known in the EDC world for making quality blades at reasonable prices. The Select Fire is no exception to this, using 8Cr13MoV blade steel to give you a corrosion resistant blade with reasonable hardness. The bit driver is the really cool feature though.
It's longer than those found on most other multi tools and when fully extended almost gives you the feel of a standard screwdriver. The included bits slot right into the center of the handle and are easy to switch out as needed.
Overall this is a quality folding knife with useful multi tool features.

Gerber Obsidian Fine Edge Multi Tool Knife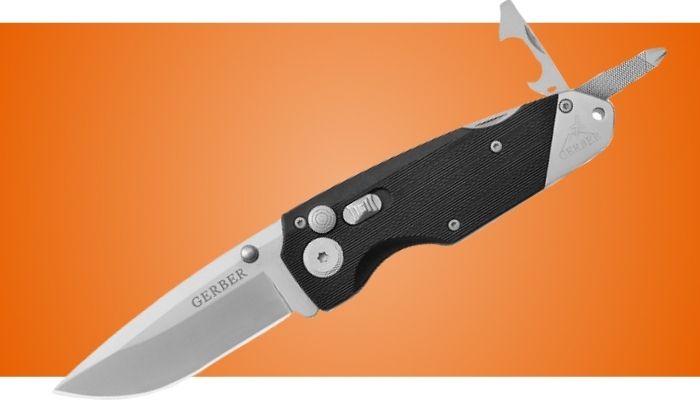 Gerber's expertise is in knives and the Obsidian is no exception to this. It's a quality folding knife packed with five different tools for a variety of situations. These tools include:
440 Stainless Knife Blade
Cross Screwdriver
Flathead Screwdriver
Bottle Opener
File
We all know Gerber loves releasing different versions of the same tool. For the Obsidian they went with both a straight edge and serrated edition. Each blade is 3 in long, a pretty standard length for a folding knife, and comes pretty sharp from the factory.
The other tools are acceptable but nothing groundbreaking. The flathead screwdriver is better than the included cross driver though both do an acceptable job turning lighter screws. We wouldn't recommend using the file for much other than your fingernails as it's quite small.
Overall a quality folding knife with several useful but uninspired tools. If you've been considering replacing your EDC folder this should definitely be considered.

Victorinox Alpineer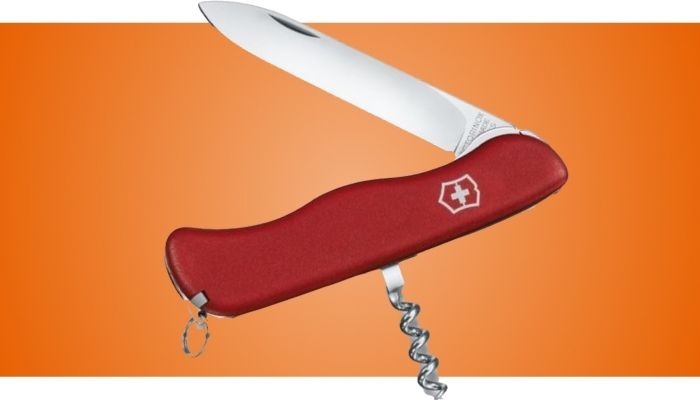 Victorinox is just about the oldest multi tool maker in the world. They invented the category with their landmark Swiss Officer's Knife all the way back in the 1890's. The Alpineer continues in this proud tradition, combining precision Swiss engineering with a few key tools. It gives you five, including:
Straight Edge Knife
Corkscrew
Toothpick
Tweezers
Keyring
The Alpineer has a very minimalist approach to its tool loadout. The main blade is extremely sharp and has a locking switch for safety. We really like that Victorinox paired it with a corkscrew. It's an often overlooked tool that really comes in handy for the right person.
The other included tools are Victorinox's classic plastic toothpick and metal tweezers. They're just as good as ever and reflect well on the tool as a whole. If you're looking for something a little more refined than your standard EDC/survival tool the Victorinox Alpineer is an elegant option.

Leatherman Crater Multi Tool Knife C33TX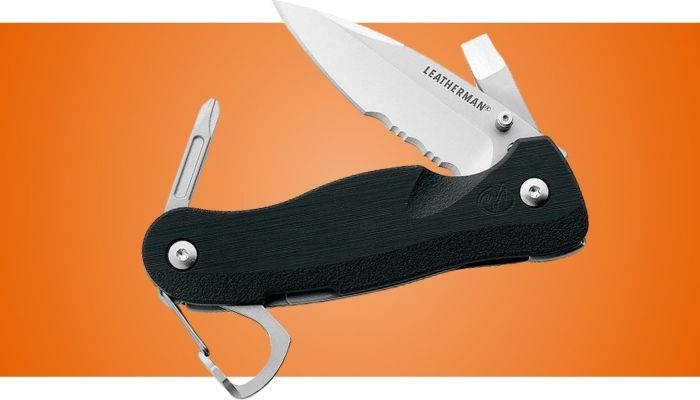 Leatherman is famous for inventing the modern multi tool but less well known for their folding blade knives. The Crater C33TX is an attempt to combine their multi tool expertise with a high-quality folding knife. It uses a traditional pocket knife body but comes with five different tools. These include:
420HC Combo Knife Blade
Carabiner
Bottle Opener
Phillips Head Screwdriver
Flathead Screwdriver
The main blade is 2.6 in long and a bit on the shorter side for a dedicated folder. Honestly though, we think the addition of the screwdrivers more than makes up for this. They're built with the high level of quality we've come to expect from Leatherman and add a lot of value.
The fold out carabiner/bottle opener is another nice touch. Combined with the included pocket clip it gives you a lot of carry options. You can get the Crater in either stainless steel or a totally blacked out version.
We really liked the Crater C33TX. It's one of those tools that you don't know you need until you see it, but once you've seen it you really, really need it.

Gerber GDC Money Clip Fixed Blade Knife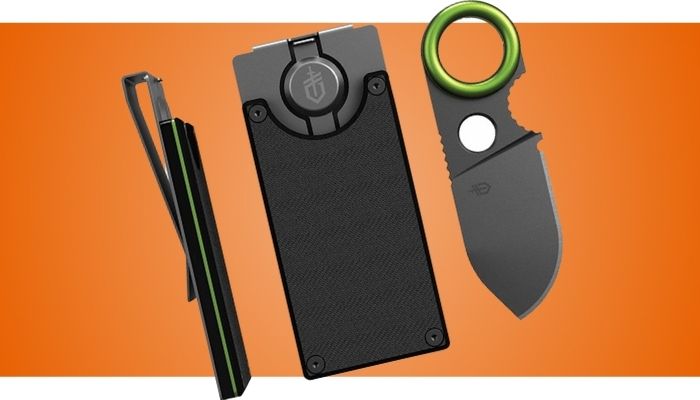 The Gerber GDC Money Clip is a tool any EDC enthusiast will love. It combines a minimalist money clip with a 1.75 in straight edge blade. The whole thing is honestly gorgeous, with a textured dark gray plastic and titanium oxide coated steel body.
The money clip itself holds five cards and several bills, plenty for most days out on the town. The knife blade is securely held on the reverse side of the clip with a button release system. Using it for the first time was a bit weird honestly. It doesn't have a traditional handle, instead there's a ring to insert your finger in and a textured rest point for your thumb.
It works, but it definitely isn't as functional as a fold out knife blade. As a gadget though the GDC Money Clip is really cool. It gives you a great minimalist wallet setup and allows you to incorporate even your wallet into your overall EDC.

SOG Baton Q2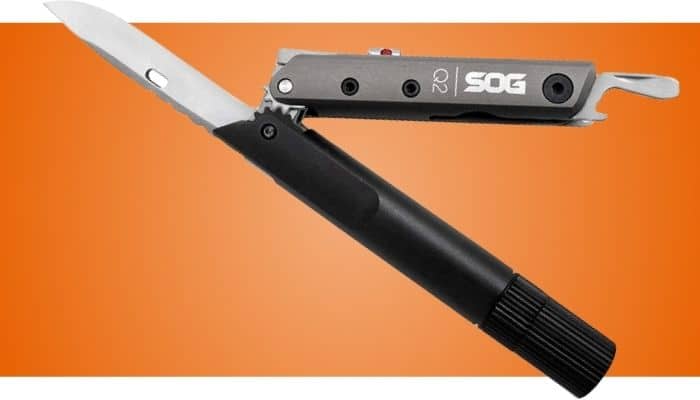 The Baton Q2 from SOG is built to be an urban survival tool. It has an almost unprecedented design, resembling a large pen when fully closed yet folding out to provide several useful tools. The Q2 gives you four different tools, including:
Straight Edge Blade
Bottle Opener
Flathead Screwdriver
75 Lumen LED Flashlight
Let's start with the Q2's innovative design. Instead of a traditional butterfly or folding knife format SOG went with a cylinder system. The bottom acts as the handle when the blade is revealed and contains the flashlight. It's honestly the best flashlight we've seen in a multi tool.
75 lumens is enough light for real tasks. Most multi tool lights will barely help you find dropped keys but the Q2 can actually replace a dedicated flashlight. Even better, it runs on a standard AAA battery rather than the more exotic (and expensive) ones found in most EDC flashlights.
The blade itself is 2.5 in long and made from high quality 5Cr15Mov blade steel. To deploy you push a release button on the top of the body and the cover falls away to help widen your grip. The flathead and bottle opener both work exactly as advertised and can be used without first revealing the knife blade.
If you're looking for something completely off the beaten path, check out the SOG Baton Q2.

Gerber GDC Zip Pull Multi Tool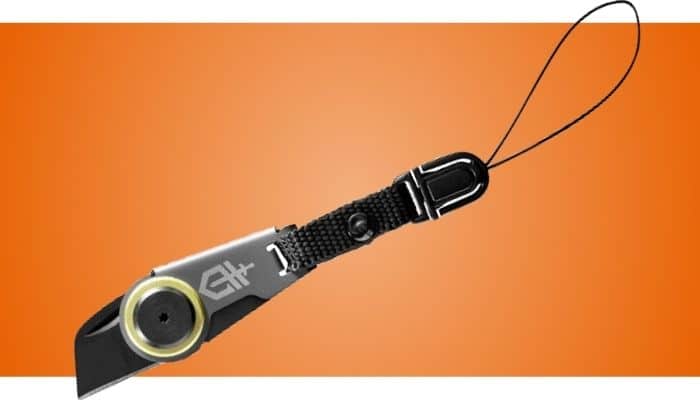 Gerber is known for making interesting little tools and the GDC Zip Pull is no exception. It's basically a small fold out knife blade closer to a razor blade in size. You can thread it through a zipper pull on a bag, jacket, or pretty much anywhere else.
It uses a push button clip and it's really easy to remove the main blade from your zipper then reattach it. One thing we really loved was the sturdy frame lock Gerber Used. It makes it much easier and safer to use.
The blade comes very sharp and is great for cutting paper, opening packages, or slicing cordage. The only real downside is its small size. You definitely won't be peeling an apple or doing any whittling with this one. If you can get past that though it's a very focused and useful little tool.

Gerber Curve Knife Multi Tool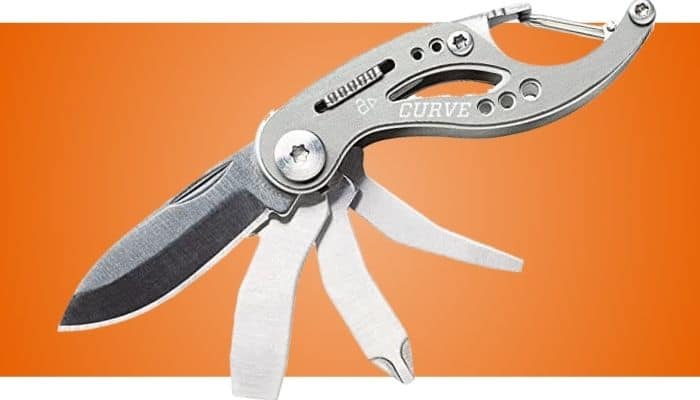 The Gerber Curve is a good bit smaller than many other tools on this list. It's a keychain multi tool that weighs just .8 oz and is only 2.25 in long. Looks can be deceiving though, as this little tool packs in a lot of value. It includes six different tools, such as:
Straight Blade Knife
Small Flathead Screwdriver
Medium Flathead Screwdriver
Phillips Head Screwdriver
File
Bottle Opener/Carabiner
The Gerber Curve is an interesting little tool but actually works really well. One thing we liked was that all the tools lock in place when in use. For a tool that's barely two inches long this a rare feature.
Also unusual for anything its size, the screwdrivers on the Curve were enjoyable to work with. They won't beat out those on larger tools but they definitely give you more value than you'd expect.
The knife blade is understandably small, coming in at just 1.25 in long, but is made from quality blade steel and holds an edge. It's great for peeling an apple, cutting open packages, or general knife work.

Leatherman Juice B2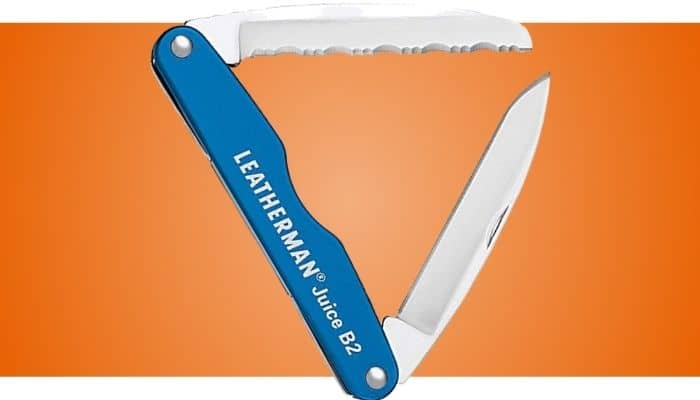 The minimalist Juice B2 is an oddity for Leatherman. As a company well known for making large and high-end multi tools, It has just two knife blades in its 3.2 in frame. More than anything else it resembles an old school jackknife with a serrated and straight blade pair of knives.
The knives fold out from the same side of the Juice B2 at different ends. They're each 2.2 in long and are made from Leatherman's standard 420HC blade steel. This makes them both easy to sharpen and able to hold a blade for a reasonable length of time.
If you want a classic pocket knife from a modern manufacturer your should definitely consider the Leatherman Juice B2

Junhao Tactical Folding Knife Multi Tool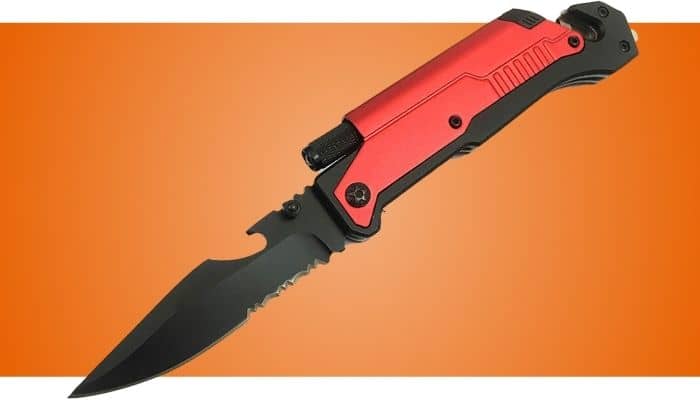 No folding knife review would be complete without a few tactically focused products. The Junhao Tactical Folding Pocket Knife definitely fits the bill. It provides you with six different tools in a classic folder design, including:
Combination Knife Blade
LED Light
Strap Cutter
Bottle Opener
Glass Breaker
The Junhao is much more tactical in appearance than the other products on this list. It honestly kind of looks like Frankenstein's monster and rides the line between functional and 'Tacticool'. That being said the included tools actually work quite well.
The knife blade is definitely made from cheaper steel but as long as you're willing to sharpen it more often this isn't too much of an issue. The bottle opener in the spine of the knife does weaken it in theory, but in practice this shouldn't be much of an issue.
We really liked the included fire starter. It slides out of a small slot and produces a satisfying spray of sparks when struck with the knife blade. The LED light was one of the brighter ones we've seen in a multi tool. Still not as good as a dedicated flashlight though.
While definitely not the best multi tool knife out there, the Junhao Tactical Folding Pocket Knife is fun to use and reasonably priced.
Best Knife Multi-Tool Comparison Table
Image
Title
Price
Prime
Buy

Top

Kershaw Select Fire (1920); Multifunction Pocketknife with 3.4-Inch 8Cr13MoV Stainless Steel Blade, Black Glass-Filled Nylon Handle, 1/4-Inch Hex Drive, 2 Flathead Bits and 2 Crosshead Bits; 5 oz.

Prime

Eligible

Buy on Amazon

Top

Gerber Obsidian Knife, Fine Edge, with Screwdriver and Bottle Opener [22-41021]

Prime

Eligible

Buy on Amazon

Top

Victorinox Alpineer Swiss Army Pocket Knife, Medium, Multi Tool, 5 Functions, Locking Blade, Red

Prime

Buy on Amazon

Top

Gerber GDC Money Clip w/ Built-in Fixed Blade Knife [31-002521]

Prime

Eligible

Buy on Amazon

Top

SOG Multitool EDC Pen Light - Baton Q2 LED Flashlight with EDC Knife and Screwdriver Multi Tool with Pocket Clip for Emergency Kit (ID1011-CP)

Prime

Eligible

Buy on Amazon

Top

Gerber GDC Zip Blade [31-001742]

Prime

Eligible

Buy on Amazon

Top

Gerber Curve Multi-Tool, Gray [31-000206]

Prime

Eligible

Buy on Amazon

Top

ALBATROSS Best 6-in-1 Survival Tactical Military Folding Pocket Knives with LED Light,Seatbelt Cutter,Glass Breaker,Magnesium Fire Starter,Bottle Opener;Multi-Function Emergency Tool(Black)

Prime

Eligible

Buy on Amazon
Product prices and availability are accurate as of the date/time indicated and are subject to change. Any price and availability information displayed on [relevant Amazon Site(s), as applicable] at the time of purchase will apply to the purchase of this product.
Prices pulled from the Amazon Product Advertising API on:
Best Butterfly Open Multi Tools with Knife
Butterfly fold tools make up the majority of the modern multi tool market. They generally include a wide variety of tools in a range of sizes. One of the most common included tools is a quality knife blade.
Each of the tools we've chosen to review here has either multiple knife blades or is based mainly around the quality of its knife. Let's check them out.
Leatherman Charge TTi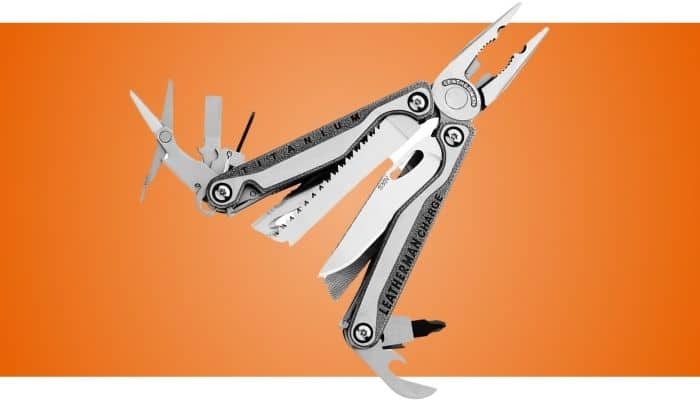 The Charge TTi is the top of the line multi tool currently available from Leatherman. It's built on the body of a Leatherman Wave+ using higher end materials and tools. It has a titanium frame, S30V main blade, and a seriously comprehensive loadout of tools, including:
Needlenose Pliers
Regular Pliers
Wire Cutters
Hard Wire Cutters
Wire Crimper
Wire Stripper
S30V Straight Blade Knife
420HC Serrated Edge Knife
Saw
Cutting Hook
Spring-Action Scissors
Eight Inch Ruler
Can Opener
Bottle Opener
Wood/Metal File
Diamond File
Large Bit Driver
Small Bit Driver
Medium Flathead Screwdriver
That's a long list of tools and we can say from experience that they're all excellent. Leatherman spared no expense with the Charge TTi. Every tool on it is perfectly machined and tested to ensure that it's the best available.
The two knife blades are each 2.9 in long and come razor sharp from the factory. The straight blade is made from high quality S30V blade steel. It's extremely corrosion resistant and holds a true razor edge.
If you're looking for probably the best multi tool on the market and willing to pay for it, the Leatherman Charge TTi is the tool for you.
For more information on the Leatherman Charge TTi, check out our full review.
Leatherman Wave+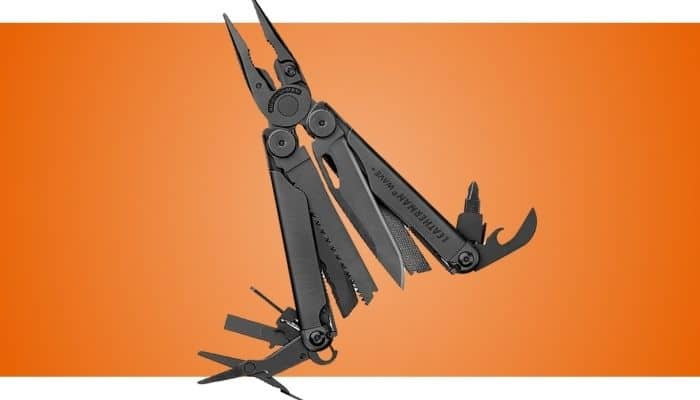 The Wave+ has been one of the best selling multi tools from Leatherman for over a decade. It's a full size tool packed with 18 different functions and features. Everything about it is well made, fully tested, and backed by Leatherman's industry leading warranty. It includes tools such as:
Needlenose Pliers
Regular Pliers
Wire Cutters
Hard Wire Cutters
Wire Crimper
Wire Stripper
Straight Blade Knife
Serrated Edge Knife
Saw
Spring-Action Scissors
Eight Inch Ruler
Can Opener
Bottle Opener
Wood/Metal File
Diamond File
Large Bit Driver
Small Bit Driver
Medium Flathead Screwdriver
You probably noticed that this is almost identical to the tool list of the Charge TTi. The Charge is just a higher end version of the Wave+ with several material and tool substitutions. The Wave+ provides you with most of the Charge TTi's functionality at a fraction of the price.
It lacks the high end blade steel of the Charge but still has a pair of very capable cutting blades. The bit drivers, files, scissors, and other tools are all just as excellent.
The Leatherman Wave+ has a great tool loadout, excellent knives, and is very well made. It's one of the best multi tools on the market today and one you should seriously consider.
For more information on the Leatherman Wave+, check out our full review.
Leatherman Skeletool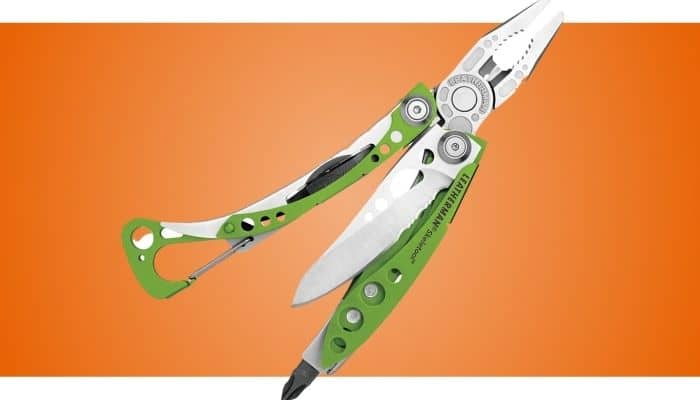 The Skeletool is one of the most popular pocket tools on the market today. It's a relatively large tool, coming in at 4 in long, but gives you a lot of value for those inches. It has seven different tools in a standard butterfly fold body, including:
Needlenose Pliers
Regular Pliers
Wire Cutters
Hard Wire Cutters
420HC Combo Knife
Carabiner/Bottle Opener
Large Bit Driver
The Skeletool is honestly one of the best knife specific multi tools on the market today. More than any other tool on this list it exemplifies the image of a folding knife that happens to have multi tool features tacked on.
The pliers, cutters, and carabiner all function perfectly. Leatherman did a great job putting the Skeletool together. The only real complaint we had was Leatherman's use of a proprietary bit size. The ¼ in bit is incredibly common, their decision not to go with it honestly has us scratching our heads.
Other than that though, the Skeletool's popularity is well earned. It has a good mix of basic tools in a really useful configuration.
Multi Tool Knife Buyers Guide
No matter what use you're planning to put your multi tool knife there are a few features you should always look for. These include things like average price, material quality, manufacturer, and its size and tool loadout.
Different tools will shine in different ways, just make sure whatever tool you choose isn't going to fall apart on you.
Price
High end folding knives and multi tools can easily cost several hundred dollars. Thankfully you don't have to spend that much to get a quality product that provides real value. If you're looking at folding knives with multi tool qualities you should probably try to spend less than $50.
This will get you a pretty good knife with some quality tools attached. Most knives priced above this use either very high end blade steel or are coming from a branded manufacturer like Spyderco or Benchmade. They're great knives, but they usually don't come with any multi tool features.
For a high quality multi tool knife blade you generally will need to spend more than $50. The Leatherman Skeletool is a great example of this. It's about as stripped down as a multi tool can get but still generally costs $50+.
Knife Steel
The type of steel to use in your EDC knife is always a contentious topic. Many people refuse to use anything other than high carbon steel that holds a razor edge. If you're just an everyday user though there are plenty of quality, reasonably priced blade steels in use by major manufacturers.
Leatherman in particular makes the majority of their knife blades using 420HC stainless steel. It isn't as hard a steel as some other high end varieties but is corrosion resistant and easy to sharpen. A good thing to keep in mind is that the more expensive the steel used in your blade the more upkeep required.
High carbon blades, for example, can be difficult to sharpen if you aren't experienced with a whetstone.
Brand Name
When you're looking at multi tool knives the brand landscape widens more than with traditional multi tools. The usual suspects are there of course: Leatherman and Gerber being high on this list, but you can also find very nice products from Kershaw, Victorinox, SOG, and many other makers.
Number of tools
With a knife focused multi tool you expect to get fewer tools than on a traditional butterfly fold model. Most have somewhere between three and 6 tools, with a few exceptions. There are tools out there that only have a single tool, the main knife blade, but are still interesting enough to warrant inclusion.
If having a high quality knife and a large number of tools is your goal you should definitely consider a butterfly fold tool. If you're just looking for a folding knife with benefits, there are plenty of others you can check out.
Unit and knife size
For multi tool knives four inches is about as large as you'll ever need. This gives you around a 3-3.5 in knife blade. In the US in particular you don't want to carry anything longer than this. Many states use 3.5 inches as the boundary line between a pocket tool and a concealed weapon.
There is a valid argument for going even smaller than this. If you just want a useful pocket tool you can find quality three and even two inch tools with quality blades. Just remember, the shorter the knife blade the fewer activities you can use it for.
Final Thoughts
Given the ubiquity of knife blades on multi tools picking out the best multi tool knife was really difficult. There are a lot of things that make a knife great and they don't always carry over between different tools. When it came right down to it though there were some standouts.
The best knife multi tool came down to three. The SOG Baton Q2 is definitely the most innovative tool on the list. It's design is unique yet fully functional. The Kershaw Select Fire has one of the better knife blades on our list. Its bit driver is also one of the highest quality in the category.
For combination of value, tool loadout, and general quality though the Leatherman Crater C33T takes the prize. It's inexpensive, well made, and includes several really useful tools in a compact package.
The Leatherman Skeletool won in the multi tool knife category hands down. It completely encompasses what a knife centric tool should be, cutting away unnecessary features and providing maximum value. Several other tools are better than the Skeletool in certain ways but none can match its combination of portability, utility, and quality.