Top 3 Best Camping Knives
Super SOG Bowie Knife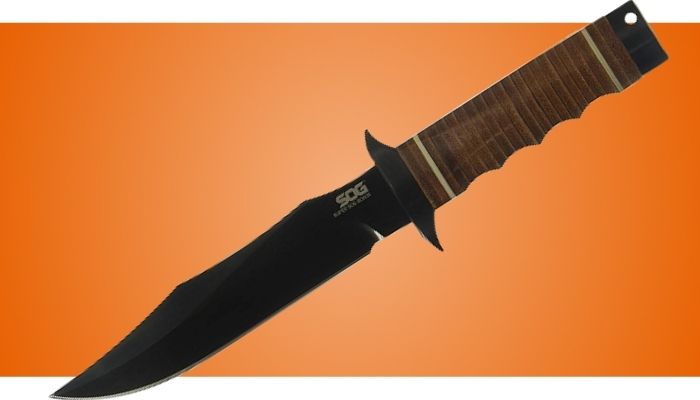 Material: Made of AUS-8 high carbon steel with a titanium nitride coating, ensuring durability and corrosion resistance.
Size and Design: Measures nearly 13 inches, with a 7.5-inch straight edge blade, ideal for heavy-duty tasks.
Handle and Sheath: Features a leather handle for a secure grip and a black leather sheath for easy carrying.
Sharpness and Balance: Comes incredibly sharp and retains its edge well, with a well-balanced weight.
Victorinox Huntsman Swiss Army Knife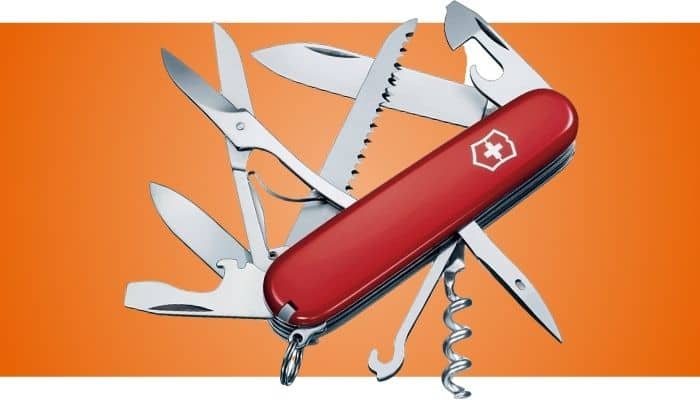 Versatility: Includes 15 different tools, such as knives, corkscrews, and saw blades, in a compact design.
Portability: Compact and similar in size to a large folding knife, making it convenient to carry.
Multi-Functionality: Suitable for various tasks, from cutting thread to opening packages and sawing small limbs.
Practicality: Known for its practicality and iconic design, ideal for both camping and everyday use.
CRKT Chanceinhell Machete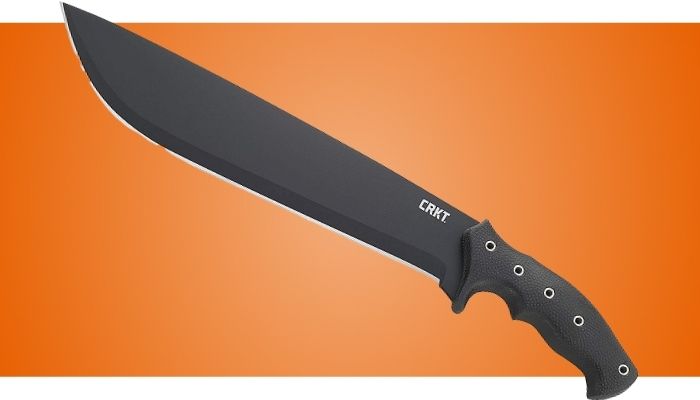 Material and Design: An 18-inch full tang machete made from carbon steel with a corrosion-resistant powder coating.
Blade: Features a 12-inch long blade with a gently curving shape, suitable for chopping through brush and other tasks.
Handle and Sheath: Equipped with a comfortable handle with a textured grip and a sturdy nylon sheath.
Size and Weight: Despite its size and weight, it offers good balance and doesn't feel overly heavy, making it a great secondary camping knife
Outdoorsman Toolkit is reader-supported. When you buy through links on our site, we may earn an affiliate commission.
Learn more
A crisp winter breeze, the sound of logs popping in the fire, and the stars shining above your head. There are few activities more restful and invigorating than a well planned camping trip. It helps you get back in touch with nature and decompress from the stress of modern life. As any good outdoorsman knows, a high quality camping knife is an essential tool for a successful camping trip. Today we're going to go through what makes for the best camping knife and offer some examples of really nice knives we think you'll really like.
Best Camping Knife Reviews
While there are tons of great knives out there, some qualities are universal. The best camping knife is going to be sturdy, easy to use, and able to stand up to the job it was designed for.
With that in mind we picked out some types of knives we think are really useful on a camping trip and selected great examples for each category.
Bowie Knife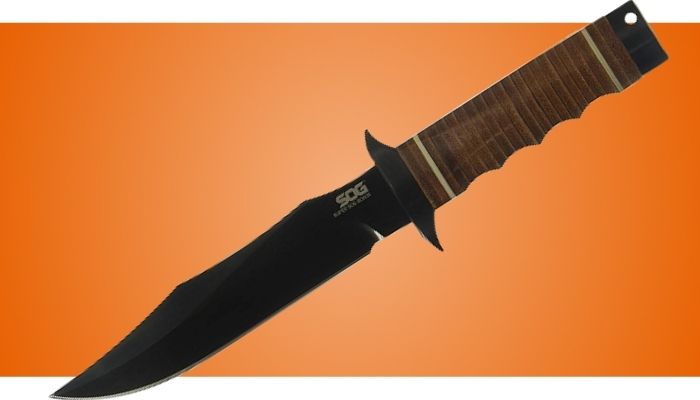 The Bowie knife, an iconic piece of Americana, is a venerable companion for those who venture into the wild. Its large, capable blade has been a trusted ally of campers, hunters, and adventurers since the days of the legendary frontiersman James 'Jim' Bowie. The Bowie knife is more than just a knife; it's a survival tool that's excellent for a variety of tasks from cutting branches to preparing food, making it a versatile choice for campers and outdoor enthusiasts.
Now, onto a gem among Bowie knives – the Super SOG Bowie. When I first laid hands on this knife, I could feel the legacy coursing through its meticulously crafted blade. This isn't just a knife; it's a statement of ruggedness and functionality intertwined.
The Super SOG Bowie exudes a rugged charm that's as genuine as the wild trails I often find myself on. Its AUS-8 high carbon steel blade coated with titanium nitride stands as a barricade against corrosion, a testament to its resilience against the elements. Measuring nearly 13 inches with a 7.5-inch straight edge blade, this knife is a behemoth ready to take on whatever nature throws my way.
What caught my eye was the exquisitely crafted leather handle, offering a secure grip even in the most demanding situations. Accompanied by a black leather sheath, it's easy to carry along on my belt, a silent promise of reliability as I tread through unknown paths.
Using the Super SOG Bowie felt like having a piece of history by my side. Its sharp edge, comparable to the finest chef knives, glided through wood and rope with an ease that left me in awe. The knife held its edge impressively well, even after strenuous use, a quality that's invaluable when out in the wild. The weight and balance of the knife felt comforting, the heft reassuring of its durability yet not burdensome.
There's a sense of unmatched security when you have a knife that could stand against a charging wild animal or help in making a shelter. This knife isn't merely a tool; it's a survival companion. The craftsmanship SOG has invested into this Bowie knife resonates with every cut, every thrust. The bonus? It comes with a sharpening stone in a sewn-on pouch on the sheath, ensuring the blade remains sharp, ready for whatever adventure lies ahead.
In the ever-evolving market of survival knives triggered by pop culture, the Super SOG Bowie stands tall, retaining the classic essence while embracing modern-day engineering marvels. Owning this knife is like having a piece of the American frontier spirit, a blend of history and modernity.
On one of my weekend escapes into the woods, the Super SOG Bowie was put to a real test. As the sky darkened unexpectedly and the winds picked up, I realized a storm was fast approaching. Hastily, I decided to build a shelter. The Bowie was in my hand, slicing through thick branches and underbrush with a finesse that was almost poetic. As I swiftly gathered materials, the knife felt like an extension of my hand, its balanced weight a comforting assurance.
The storm hit before I could finish, but under the makeshift shelter, I sat dry, the Bowie by my side. It was not just the physical aspect but the psychological reassurance it provided in that moment of distress, symbolizing a rugged resilience against the unpredictable nature of the outdoors. The experience cemented my trust in the Super SOG Bowie. It's not just about having a tool; it's about the confidence it instills, knowing that when pitted against nature's whims, I have a reliable companion in the Super SOG Bowie.
Would I recommend the Super SOG Bowie for outdoor enthusiasts? Without a second thought. It's not just a knife; it's a reliable companion when the wilderness calls. Its blend of aesthetics, functionality, and historical significance makes it a prime choice for anyone with a heart yearning for adventure. Whether it's cutting through the underbrush, preparing a campfire meal, or ensuring safety against unexpected threats, the Super SOG Bowie is a trustworthy companion on the trail of the wild.
Pros:
High-Quality Material: Made from AUS-8 high carbon steel with a titanium nitride coating, ensuring durability and corrosion resistance.
Sharpness: Comes incredibly sharp right out of the box and retains its edge exceptionally well even after rigorous use.
Versatile: Its design and size make it suitable for a variety of heavy-duty tasks, from cutting wood to preparing food.
Historical Appeal: Carries a classic aesthetic reminiscent of the American frontier, marrying traditional design with modern craftsmanship.
Comfortable Grip: The banded leather handle provides a secure and comfortable grip, accommodating even large hands with ease.
Well-Balanced: Despite its size and heft, the knife is well-balanced, making handling it a breeze even in demanding situations.
Protective Sheath: Comes with a robust leather sheath that includes a pouch for a sharpening stone, adding to its utility and ease of transport.
Cons:
Size: May be too large for casual hikers or campers who might prefer something more compact.
Price: On the pricier side, but justified by the quality and craftsmanship.
Weight: Might feel heavy for some, especially over extended periods of use.
Not Ideal for Smaller Tasks: While great for heavy-duty tasks, it might not be as suitable for more intricate or delicate work due to its size.
Swiss Army Knife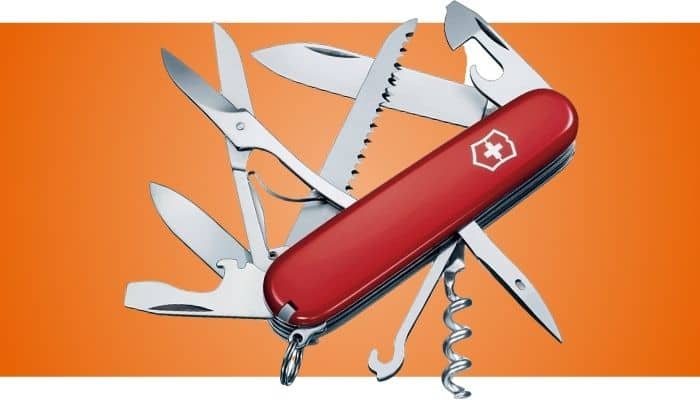 If we're talking camping knives we have to mention the Swiss army knife. It's one of the most recognizable and iconic knives in the world for a very simple reason.
It rocks.
Swiss army knives were the original multi tools and still provide a ton of value for your money. They pack knives, corkscrews, saw blades, and tons of other cool tools into a very compact package.
We've reviewed Swiss army knives many times before, and know that there are a ton of them out there that you can choose from. For the best camping knife though, we recommend the Victorinox Huntsman.
This is the knife that most people picture when they think of a Swiss army knife. If you were a Boy or Girl Scout there's a pretty good chance you've still got one of these in a drawer somewhere.
They're about the size of a large folding knife but include 15 different tools and functions. You can cut thread, open a package, saw through small limbs, pop the top on an icy cold beer, and pretty much anything else you can think of.
Ounce for ounce a classic Huntsman Swiss army knife is one of the best camping knives you can have with you.
Machete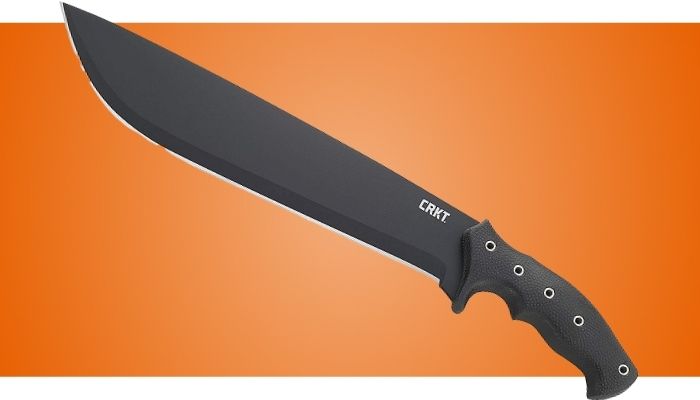 For hikers who like to blaze their own trails it's hard to beat the value of a quality machete. They're perfect for clearing brush, chopping small limbs for the fire, and a lot of other general utility tasks.
While not the only knife you'll need on your camping trip, a machete is a really useful tool to have. We've covered machetes in depth before, but one stood out as the best option for a camping machete.
The CRKT Chanceinhell is an 18 inch long full tang machete. It's made from carbon steel with a corrosion resistant powder coating. The blade itself is 12 inches long and offers a gently curving shape that's great for chopping through brush or other utility tasks.
It comes standard with a sturdy nylon sheath and has a comfortable handle with a textured grip. We really like the balance and feel of the Chanceinhell. At 18 inches it's a big and relatively heavy blade but it doesn't feel nearly as hefty as you would think.
It's too big for some smaller tasks but is an excellent secondary camping knife to keep on hand.
Multi Tool Camping Knife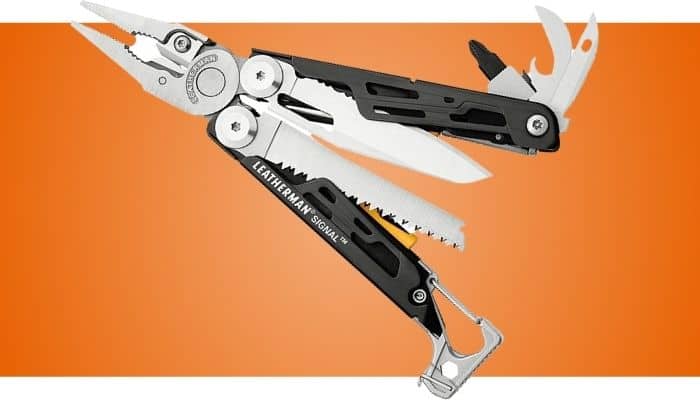 As a multi tool site it's no surprise that we recommend multi tools as one of the best options for a camping knife. They're packed full of features and replace many single purpose tools you would otherwise have to carry.
A rugged multi tool replaces or enhances a knife, a saw blade, scissors, pliers, can openers, and many, many more. Even if you choose to carry another knife we highly recommend you bring a quality multi tool along on your hiking and camping trips.
We've reviewed dozens and dozens of different multi tools. There are a ton of really great ones out there, but the one we would choose to have with us camping is the Leatherman Signal.
The Signal was designed from the ground up to be the perfect outdoor and camping multi tool. It's big, rugged, and able to take a serious beating. The Signal includes 19 different tools built to help you in the wild places of the world.
There's a high quality combo blade knife made from 420HC stainless steel, a saw blade, awl, bottle/can opener, and so, so much more. Some of the coolest tools on the Signal aren't actually permanently attached.
In either handle is a removable tool specifically for hiking and camping. There's a diamond coated sharpener rod and slot sharpener combo plus a safety whistle and ferro rod.
That gives you everything you need to start a fire, signal for help, and put a field edge on your main knife blade. That's a whole lot of tools included within a very compact camping knife.
If you want to know more about the Leatherman Signal, check out our full review here.
Gut Hook Knife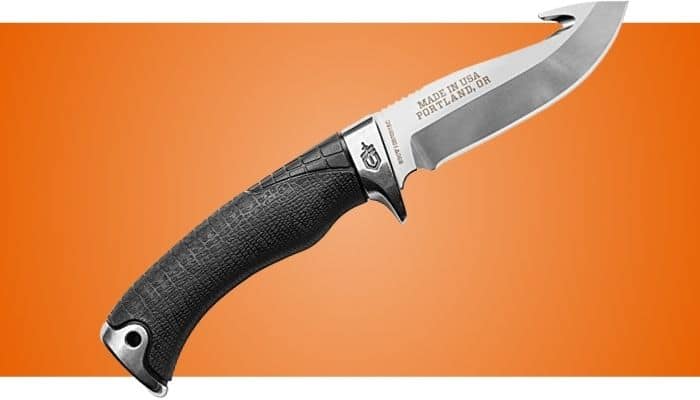 Hunters are some of the most avid outdoorsman you'll ever meet. They love being out in the wild places of the world looking for game and just enjoying their surroundings.
They also have pretty unique needs for a camping knife, with a gut hook being pretty high up on that list. Gut hook knives are designed specifically for skinning, gutting, and cleaning game animals.
They have a curved little blade that's designed to slice through the skin of a game animal without rupturing the guts. There are tons of different kinds of gut hook knives. Some are very purpose focused while others are pretty much normal knives that just happen to have a gut hook as well.
There are a lot of great gut hook knives out there, but one really stands out as a camping knife.
The Gator Premium Gut Hook edition is a fixed blade Gerber knife with a built-in gut hook. It's made from S30V carbon steel with a Gerber Gator Grip handle.
This allows it to take a razor sharp edge and provides a rock solid grip in wet and slippery conditions. The blade itself is 4 inches long. This is a great length for most camping tasks like shaving down kindling or making a feather stick to start a fire.
The gut hook on the Gator Premium is located just behind the tip. It provides you with an efficient way to field dress game.
Pocket Knife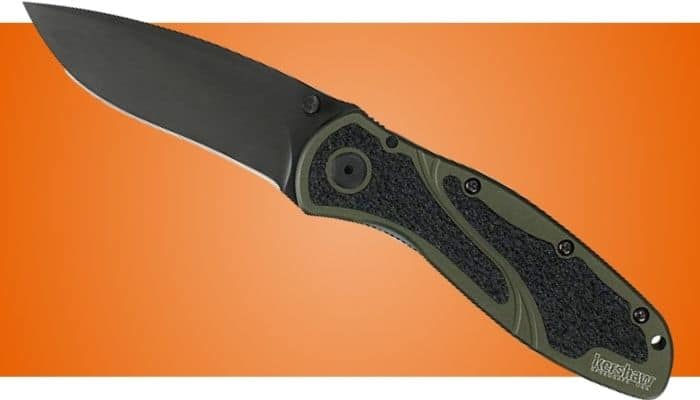 One of the most obvious camping knives is the classic folding pocket knife. A good sharp knife blade is one of the most useful things you can have with you, this is especially true out in the wilds.
You can use a quality folding knife to cut cord, open camping food, whittle, shave down wood for tinder, and many more tasks. They're lightweight yet sturdy enough for a vast variety of tasks.
We've reviewed folding pocket knives before and identified some really nice ones. That said, picking out the best pocket knife is basically impossible. You've got literally thousands to choose from with wildly varying features. Keeping that in mind, we picked out one we think really stands out.
The Kershaw Blur is a lightweight folding pocket knife loaded with great features. It has a 3.4 inch long blade made from Sandvik 14C28N with a diamond like carbon coating.
This is just about the perfect working length while hiking and camping. It has a SpeedSafe assisted opening system that allows you to easily and safely flip it open with one hand.
Once open it locks in place with a liner lock. A secure blade is far easier and safer to use than one that could close on you at any time. It comes with a pocket clip that can be adjusted for ambidextrous use.
All in all it's a great pocket folding knife with a lot to offer for camping.
Whittling Knife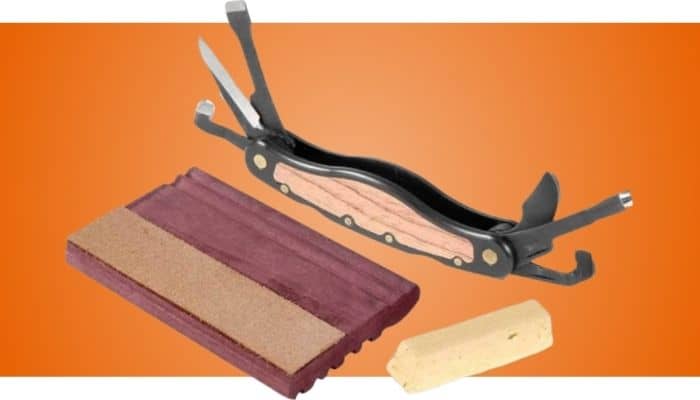 Camping knives aren't all about utility. For a lot of people there are few better ways to spend a night out under the stars than quietly whittling by the fire.
Whittling knives have significantly different shapes and purposes than your standard camping knife. Most whittling knives come in sets with several different varieties available. This allows you to make very precise cuts, gouges, and grooves in wood.
A good whittling knife for camping has to be compact, easy to use, and relatively lightweight. The Flexcut Carvin' Jack embodies all of these qualities.
It combines 6 tools into a fold out handle. This gives you everything you need to make pretty impressive wood carvings while out camping.
These tools include a carving knife, chisel, hook knife, V scorp, gouge scorp, and straight gouge. It also comes with a sharpening strop and Flexcut Gold polishing compound.
With those two you can keep a near razor edge on your camping knives at all times.
Kukri Knife
A kukri knife is one of those tools that just about everyone has seen, even if they didn't realize they saw it. This Nepalese utility knife has a recurved blade has been the signature weapon of the Gurkha Regiments for over a century.
Besides its obvious combat and self-defense uses the Kukri is a seriously useful camping knife. Its recurved blade is perfect for slicing through brush and other debris. It's also useful for things like shaving down kindling for tinder and general cutting tasks.
We've done a full category review of kukri knives and covered some of the best available today. For a camping knife though, we recommend the Ka-Bar Kukri.
From the makers of the celebrated Marine Fighting Knife, the Ka-Bar Kukri is a rugged camping knife with an 11.5 inch long blade.
It's made from carbon steel with a black powder coating to help resist corrosion. The handle uses Ka-Bar's distinctive banded grip and is made from lightweight yet highly durable Kragon G.
This gives you a razor-sharp chopping and defense tool that can take a licking and keep on ticking. It comes standard with a cordura nylon sheath with leather details.
The Ka-Bar Kukri is big, heavy, and extremely durable. It's a whole lot of knife and is one of the best heavy duty camping knives you could ask for.
Best of the Rest
A lot of camping knives don't really fall into a single defined category. The ones below are some of the best camping knives you can get specifically because of how versatile and durable they are.
Gerber Bear Grylls Ultimate Knife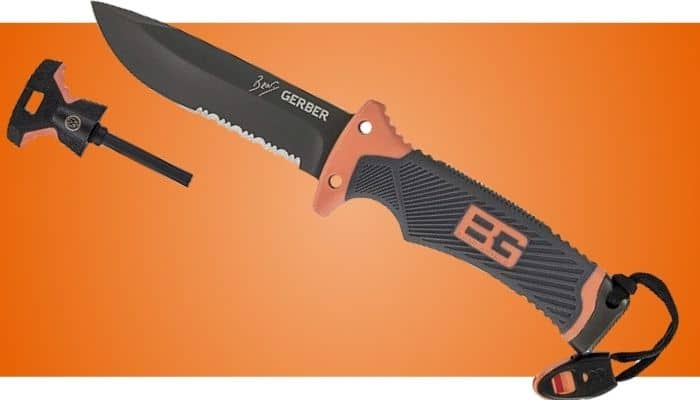 The Gerber Bear Grylls Ultimate Knife is meant to be the end all be all of outdoor and camping knives. It's a full tang combo blade made with high carbon stainless steel. That's just the beginning though.
It includes a survival sheath that incorporates a ferro rod, diamond grit sharpener, and a mini copy of Bear Grylls survival guide. This allows you to quickly start a fire and sharpen up your blade while figuring out the best ways to escape your situation.
The handle is made with a textured rubber grip for comfort and has a grooved metal pommel. This allows you to hammer in things like tent stakes without risking your actual knife blade.
The whole thing measures 10 inches long and the blade itself is nearly 5 inches. All in all it's a great knife to have on you when hiking or camping.
Benchmade Bushcrafter 162 Knife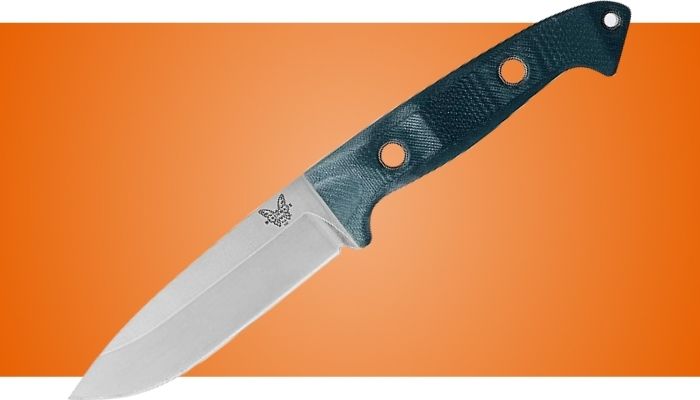 Benchmade is one of those rare brands that just oozes quality. Their range of folding and fixed blade knives represent some of the best tools available, and the Bushcrafter 162 is no exception.
It's an ultra tough and downright handsome fixed blade knife. It measures just over 9 inches from tip to pommel and is made from CPM-S30V high carbon steel.
This gives it a razor sharp 4.4 inch long blade that's up to just about any task you can put it through. The handle is made from G10 resin soaked fiberglass that gives it a nearly unbreakable grip and a really nice appearance.
It comes with a classic natural brown leather sheath and is one of the best-fixed blade camping knives you can find.
Spyderco Endura 4 Lightweight Folding Knife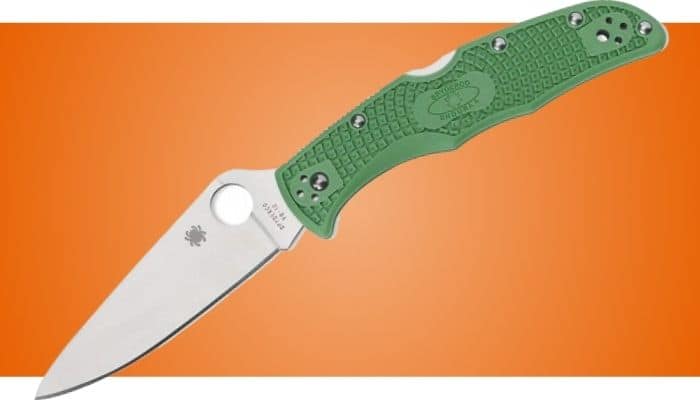 The Spyderco Endura 4 isn't just one of the best folding camping knives you could ask for, it's one of the best knives on the market period. It's made from VG-10 stainless steel and has a gorgeously textured reinforced nylon handle.
This gives it a razor sharp edge and a bombproof design. Like every member of the Spyderco Endura family it has a 4 position pocket clip, back lock system, and Spyderco's iconic Round Hole opening assist.
The Endura 4 is a big and extremely robust folding knife that can handle just about any cutting task. It's one of the best choices you can make for a pocket folding camping knife.
Buyers Guide to Buying the Best Camping Knife
When picking out the best camping knife you have to consider the features you need most. Camping knives vary wildly in size, quality, durability, and purpose.
Without knowing at least the broad strokes of how you intend to use a camping knife you really can't find the best one.
Price
When pricing out camping knives the sky is truly the limit. You can get pretty great fixed or folding knives for around $20 to $40, or spend several hundred on a top of the line model from a well known manufacturer.
It really comes down to the features you need and what you're willing to spend. Most modern camping knives from reputable manufacturers will last for years with proper care whether you're spending $20 or $500.
Intended Use
This one seems kind of silly at first glance, after all, it's a camping knife right? When you really break it down though there are a whole lot of things a camping knife could be used for.
If you just want a general purpose knife for opening pouches of food, cutting cords, and maybe a little whittling you're going to have vastly different needs than someone planning to blaze a trail through rough terrain.
Your basic pocket folder is a great knife and one of the tools we highly recommend you include as part of your EDC, but it isn't the end all be all of camping knives. Hunters, fishermen, hikers, and expedition backpackers all need different kinds of knives.
How you intend to use your camping knife should be one of the biggest things you consider.
Style of Knife
When we talk about camping knives there are three broad categories of knife that all the various styles fall into. These are folding, fixed, and multi tool/Swiss army style.
Folding Blade – A folding blade knife is what the vast majority of people picture when they think of a camping knife. It's usually relatively small, rarely more than 3.5 to 4 inches, and provides you with a versatile blade.
It's small enough to fit in your pocket and great as part of your EDC. The downside to this convenient design is strength and size.
As we mentioned above, folding knives are usually quite short. This makes them less useful for heavy tasks like breaking down firewood. Their core design is also weaker than other knives. The fold in the middle gives you a known breaking point.
We still highly recommend you bring a folding knife with you on camping trips. They just might not be sturdy enough for really intense tasks.
Fixed Blade – Fixed blade knives have been used pretty much since the dawn of human civilization. At their most basic a fixed blade knife is a single piece of metal with a blade and a tang that's wrapped with a handle.
Fixed blade camping knives vary in size from just larger than a folding knife up to 20+ inch long machetes. They can be far more durable than comparable folding knives because they're generally larger, thicker, and heavier.
All fixed blade knives aren't equal though. The biggest thing to look for in a fixed blade knife is a full tang design. This means that the unsharpened piece of metal that extends into the handle goes all the way through.
This gives you significantly more strength than a half or partial tang knife.
Multi Tools – Last but certainly not least are your multi tools. Multi tools include everything from your basic 5 piece swiss army knife all the way up to 20+ tool folders from famous brands like Leatherman and Gerber.
Multi tools are some of the best and most versatile camping knives out there. They not only provide you with a useful knife blade, they include things like saws, fish scalers, bottle/can openers, and much more.
The only real downside to a multi tool as a camping knife is the size of the blade and the weight of a tool. Pretty much across the board a multi tool knife blade is going to be shorter and thinner than a comparable folding or fixed blade knife.
Multi tools are also heavier than either folders or fixed blade knives. If you value all the extra tools they provide, which we definitely do, they can provide a whole lot of value on a camping trip.
Blade Length
The length of your blade is the biggest factor in what you can actually do a camping knife. We highly recommend you get at least a 3 inch blade. This is pretty much the minimum useful size for a knife when out in the wilderness or at a local campsite.
Depending on your needs this may be enough knife. If not there are tons of fixed blade knives that are significantly larger. For a standard utility knife we recommend something in the 5 to 7 inch range. This is enough for just about any general purpose task but still short enough to handle easily and safely.
Above that is where you start to get into machete and Bowie knife territory. These are great knives, but have very specific use cases that the average hiker and camper won't find themselves in.
Straight, Serrated or Combo Blade
Once you know what style of knife you want you have to decide on what type of blade you want. You can choose between a straight/plain edge, serrated edge, or combo blade.
A straight edge is exactly what it sounds like, a straight line of razor sharp knife blade. It's by far the most common type of knife edge available. Straight blades are intuitive to use, easy to clean, easy to sharpen, and honestly just downright easy.
They're a great option for a camping knife but do suffer from one flaw. They don't cut as well through tough, fibrous materials. That razor sharp edge is great for cutting things but doesn't do very well at all when you need to repeatedly slice or saw through things. They also dull the fastest out of all the blade types but are the easiest to sharpen
A serrated edge has multiple valleys and peaks all along the edge of the blade. It looks a lot like a smoothed down saw blade and is excellent at cutting through fabric, wood, rope, and other cordage. They hold an edge longer than a straight blade but they're also harder to clean, sharpen, and generally upkeep.
If this is your first camping knife we don't recommend you go for a pure serrated blade.
Combo blades combine the benefits of straight and serrated edge blades while minimizing some of their downsides. They have a half straight half serrated design, with the straight edge usually on the portion of the blade nearest the tip.
Carry Options
The type of camping knife you choose affects how you can carry it. If you have a folding knife it's easy to slip it into a pocket or a pouch on your pack. For multi tools, and especially fixed blade knives, a sheath or holster is the best option.
Fixed blade knives almost always come with some kind of sheath/holster but you can also choose from a variety of custom options online. You can get everything from traditional leatherwork to high tech kydex.
For smaller fixed blade knives on the 1-2 inch scale you can sometimes find neat options like a neck holster. Keep in mind though that these should only be used as an emergency tool of last resort.
On of the biggest factors that separates a high-quality camping knife from a value one is sharpness and edge retention. More expensive knives use high carbon steel that can hold a razor edge for a longer time.
They're great knives, but there is a tradeoff. Carbon steel is more likely to rust or otherwise corrode than stainless steel. It's also a lot harder to sharpen for a beginner. If you want to get a high end camping knife you need to be ready to properly care for it and sharpen it.
If you choose to get a serrated knife be prepared for the sharpening process. You'll need to use a rod style sharpener to individually freshen up the edge on each serration. It's a time consuming and delicate process and one of the reasons high end serrated knives aren't recommended for beginners.
There are a ton of different knife sharpeners available. The most basic are pretty much just flat pieces of whetstone or a synthetic alternative. To put a good field edge on your knife a pocket sharpener is a great option. These generally have both a carbide and ceramic slot sharpener plus a diamond grit sharpening rod for serrated blades.
Durability
The durability of a camping knife is just as important as functionality. You should definitely manage your expectations based on what type of knife you choose though.
A folding knife is always going to be less durable than a fixed blade knife. This comes down to the differences in design priorities and can't really be overcome.
For a fixed blade camping knife you should look for one made from high quality steel with durable handles such as polymers, wood, or even antler. These are able to stand up to significant use and abuse.
Folding camping knives should always have a quality and easy to use locking mechanism. After that you should search for knives with the best mix of size, weight, and durability.
Top Camping Knives Video
Frequently Asked Questions – Best Camping Knives
As camping enthusiasts, we understand that choosing the right camping knife can be a daunting task. With so many options available in the market, it's natural to have questions and seek clarity. In this section, we aim to address some of the common questions that campers often have when it comes to selecting the best camping knife for their outdoor adventures.
Whether you're a seasoned camper or new to the world of outdoor exploration, our FAQ section will provide valuable insights and answers to help you make an informed decision. From understanding the importance of a camping knife to exploring the features that matter most, we've compiled a list of frequently asked questions to guide you through the process.
We'll cover topics such as the essential features to look for in a camping knife, the ideal blade length for different tasks, the advantages of folding knives versus fixed-blade knives, maintenance and sharpening tips, and even legal considerations when it comes to carrying camping knives.
Remember, while the answers provided here serve as general guidance, it's always essential to consider your unique needs, preferences, and any local regulations that may apply to your camping destination. With the right information in hand, you'll be well-equipped to select a camping knife that enhances your outdoor experiences and becomes an invaluable companion during your adventures. Let's dive into the frequently asked questions and find the answers you've been seeking.
Why do I need a camping knife?
A camping knife is an essential tool for any outdoor enthusiast. It can be used for various tasks such as preparing food, cutting ropes or branches, building shelters, and even for self-defense. A good camping knife is versatile, durable, and reliable, making it a must-have for any camping trip.
What features should I look for in a camping knife?
When choosing a camping knife, consider factors such as the blade material, blade length, handle design, weight, and overall construction. Look for a knife with a high-quality stainless steel blade that is rust-resistant and holds its edge well. The blade length should be suitable for your intended purposes. A comfortable and ergonomic handle with a good grip is important for safety and ease of use. Additionally, consider the weight and portability of the knife, as it should be practical for outdoor adventures.
What is the ideal blade length for a camping knife?
The ideal blade length depends on personal preference and the intended use of the knife. Generally, camping knives have blades ranging from 3 to 6 inches in length. A shorter blade is suitable for detailed tasks like food preparation, while a longer blade offers more versatility for cutting branches or carving wood. Choose a blade length that fits your needs and feels comfortable to handle.
Are folding knives or fixed-blade knives better for camping?
Both folding knives and fixed-blade knives have their advantages. Folding knives are compact, easy to carry, and offer convenient storage. They are great for general camping tasks and everyday use. On the other hand, fixed-blade knives are typically stronger and more durable. They are better suited for heavy-duty tasks like chopping or batoning wood. Consider the intended use and your personal preferences when deciding between the two.
How do I maintain and sharpen a camping knife?
Proper maintenance and regular sharpening are important for keeping your camping knife in optimal condition. After each use, clean the knife with mild soap and water, then dry it thoroughly to prevent rust. Apply a light coat of oil to the blade to further protect it. When sharpening, use a whetstone or a sharpening system designed for knives. Follow the manufacturer's instructions for the specific sharpening tools you choose. Regularly honing the blade and sharpening it as needed will ensure the knife remains sharp and ready for use.
Can I use a camping knife for self-defense?
While a camping knife can be used for self-defense in emergency situations, it should not be relied upon as a primary self-defense weapon. It is important to prioritize personal safety and consider carrying other self-defense tools or seeking professional training for self-defense purposes. Remember, the primary function of a camping knife is to serve as a versatile tool for camping tasks and outdoor activities.
Can I bring a camping knife on an airplane?
No, you cannot bring a camping knife or any other type of knife in your carry-on luggage when flying. Knives must be placed in checked baggage, and there are specific rules and regulations regarding their transportation. It is always advisable to check with the airline and Transportation Security Administration (TSA) for the most up-to-date guidelines and restrictions on carrying knives.
Are there any legal restrictions on carrying camping knives?
Yes, there are legal restrictions on carrying knives, and they vary depending on your jurisdiction. It is important to familiarize yourself with the local laws and regulations regarding knife possession and carry. Some areas may have restrictions on blade length, blade locking mechanisms, or the type of knife you can carry. Always ensure compliance with the laws and regulations of the specific area where you plan to camp or hike.
Remember, these FAQs are general guidelines, and it's important to research and consider your specific needs and the local regulations when selecting and using a camping knife.
Best Camping Knives Recap
Final Thoughts
The best camping knife available is going to change depending on what kind of camping you're doing and how you like to camp.
Folding knives are great options for your basic campout and some light hiking, while fixed blade knives are heftier but provide a stronger and larger utility focus.
Figure out what tasks you need to complete and find the knife that fulfills them best.
As long as you follow that principle it's easy to find the very best camping knife.