Outdoorsman Toolkit is reader-supported. When you buy through links on our site, we may earn an affiliate commission.
Learn more
One of the most widely used tools in the world is the humble machete. From Latin America all the way to Southeast Asia, people have been using machetes for centuries. They're one of the most useful survival tools you can have when out in the backcountry. Today we decided to review 9 of the best survival machetes available.
It's really hard to choose the best machete on the market. In most cases any type of machete made from quality materials will get the job done. What changes is how fast it does it and how tired you are after doing it.
With that in mind we've put together a list of the best survival machetes in a variety of styles, price points, and intended uses.

CRKT Chanceinhell Fixed Blade Machete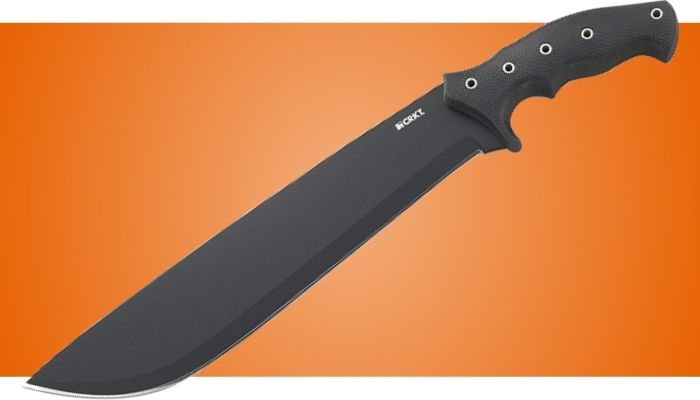 The CRKT Chanceinhell is an 18 inch long full tang machete made from coated carbon steel. It weighs 20 ounces and has a glass filled nylon handle.
It was designed by Ken Onion for CRKT and has a blade profile close to that of a traditional latin machete blade. The handle is ergonomically designed to reduce hand fatigue, allowing you to continue working throughout a long day in the field.
It comes with a nylon sheath that can be attached to your belt in two different carry profiles. The Chanceinhell is a large, well balanced machete that combines the best features of stainless and carbon steel. It's an excellent option for a quality survival machete.

KA-BAR Kukri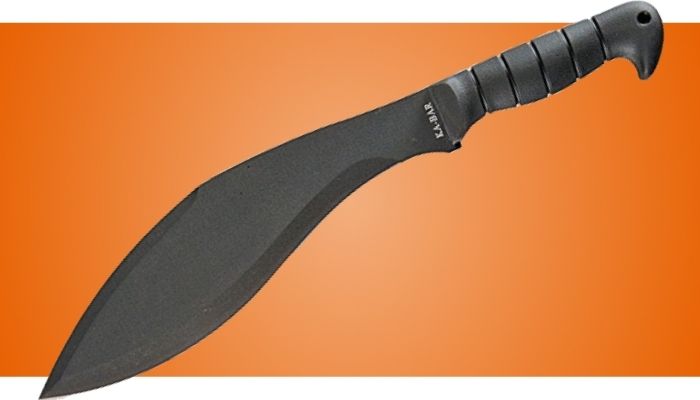 KA-BAR is world famous as the designer of the eponymous Marine Corp Combat Knife. Their kukri style machete is 17 inches long and made from high carbon steel.
It weighs 1.7 pounds and is coated with a corrosion resistant finish. The handle is made from Kraton G and has an ergonomic design. It comes standard with a leather and cordura sheath for secure storage.
KA-BAR is well known for the quality of their knives. The KA-BAR kukri style machete is large, sturdy and exceptionally well made.

SOG SOGfari Machete Tanto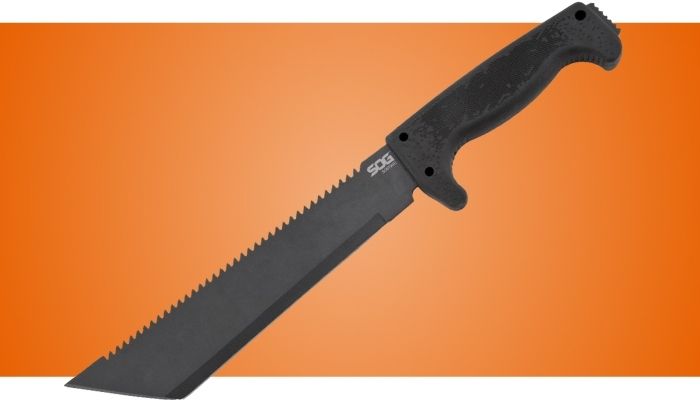 The SOGfari tanto machete is a full tang straight edged saw back machete made by SOG. It uses the popular Japanese inspired tanto blade profile combined with a saw located on the back of the main blade.
It's 16 inches long and weighs 13.5 ounces. The blade is made from high carbon steel and coated with an anti corrosion finish. This gives it excellent hardness and blade retention without being prone to rust.
The aggressively straight tanto blade profile is excellent for chopping through thicker brush. The saw on the back is large enough to cut through substantial branches while the relatively slender thickness of the blade makes it move faster than you would expect. It even has a spiked pounding point extending from the bottom of the blade for hammering tasks.
The SOGfari tanto machete is a midsized machete that packs a real wallop. It's sturdy enough for serious chopping and includes a very useful saw on the back.

Schrade SCHKM1 Kukri Machete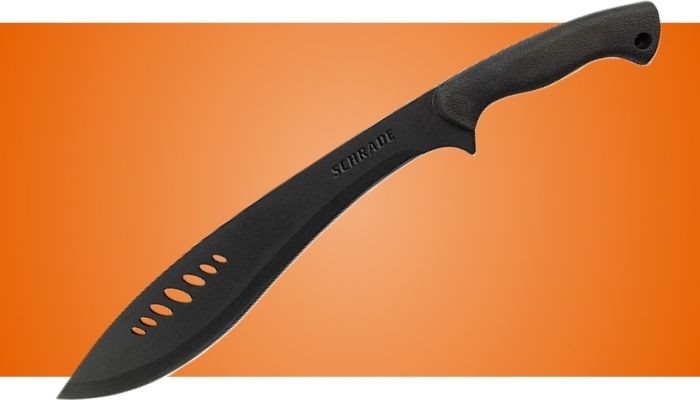 The Schrade SCHKM1 is a full tang kukri style machete made from powder coated carbon steel. It's 19.7 inches long and weighs just 22.6 ounces.
The handle is designed with Schrade's signature Safe-T-Grip handle and a pronounced quillion. This gives you a firm grip during heavy work and prevents your hand from accidentally sliding up onto the blade.
It comes standard with a ferrocerium rod, striker, and a sharpening stone to put a field edge on it. These all fit into the nylon sheath designed for shoulder, leg, or belt carry. This gives the Schrade SCHKM1 a significant amount of useful tools in a very reasonable package.

Gerber Bear Grylls Parang Machete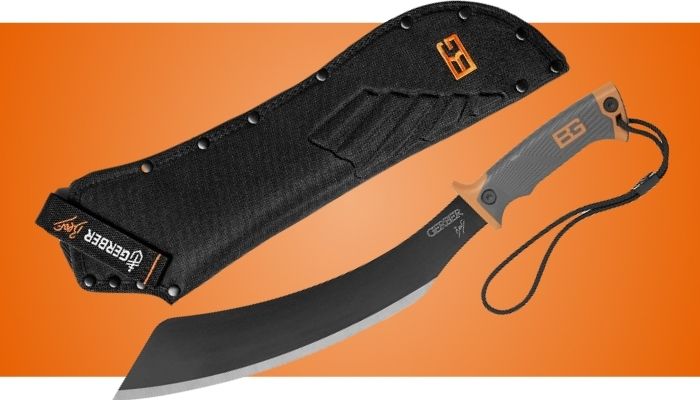 The Gerber Bear Grylls parang machete is a full tang machete perfect for heavy chopping and clearing tasks. It's 19.5 inches long and weighs 19.4 ounces without the sheath.
The blade is made from high carbon steel with an anti corrosion coating. This gives you excellent blade hardness without added risk of rust or other damage. The handle is made from nylon with a rubber overlay. This improves your grip while also reducing the strain of repetitive strikes.
It also comes with a copy of Bear Grylls signature Priorities of Survival guide. Overall it's an excellent and inexpensive parang style machete.

Kershaw Camp 18 Camp Series Machete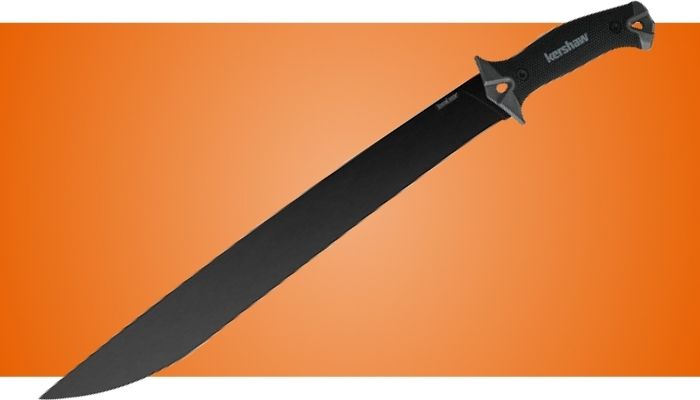 The Kershaw Camp 18 is a 24 inch long full tang machete. It's made from coated high carbon steel and has a latin style blade profile.
The handle on the Camp 18 is made of sturdy polymer with a rubber overlay. The whole thing weighs 2.6 pounds and comes standard with a molded polymer sheath. This gives you substantially more protection than the nylon sheaths other machetes come with.
The latin style blade is perfect for clearing brush or chopping through tall grass. Overall the Kershaw Camp 18 is a very large machete that's heavy but highly capable.

Condor Tool & Knife Golok Machete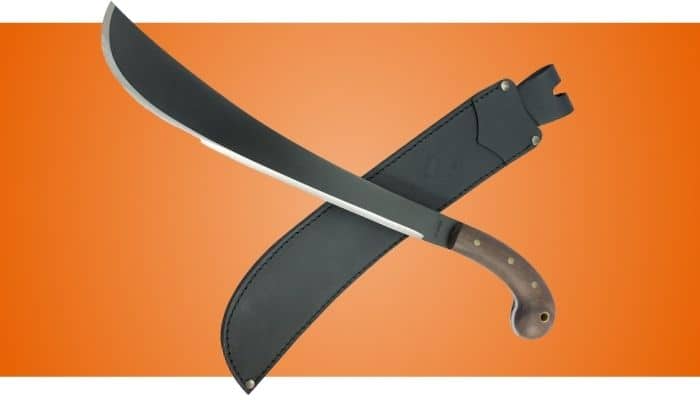 This Golok machete from Condor Tool & Knife is a 19 inch long carbon steel machete. It's based on the classic Indonesian bush tool upgraded with modern materials.
The blade has a gentle curve up to a very deep belly and tip. It's coated with an anti corrosion finish and uses a full tang design. Unlike the mostly polymer machetes we've covered up till now the Condor Golok has a beautiful walnut handle. It's sturdy and looks very nice when freshly polished.
The Condor Golok machete is large, beautifully designed, and provides significant value as a practical tool. It's definitely on the pricey side but you get a very nice tool for your money.

Ontario SP8 Machete
The Ontario SP8 machete is a military and survival machete with a 15 inch long plain edge blade. It's made from high carbon steel with a non corrosion coating.
The blade has a perfectly straight angle to it with a chisel style nose. This makes it perfect for heavy chopping tasks, especially when paired with the saw on its back. The handle is made from durable and slip resistant polymer. It also comes with an attractive leather cordura sheath.
The SP8 is a next generation survival machete. It's designed to provide significant benefits in an emergency situation, a challenge we think it amply fulfills.

Schrade SCHBOLO Full Tang Survival Machete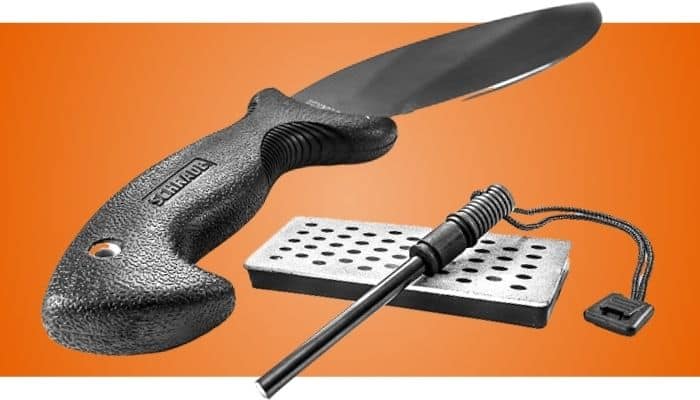 The Schrade SCHBOLO is a 20.2 inch long full tang machete with a bolo blade profile. It's made from coated carbon steel and weighs 26.8 ounces.
It has a Safe-T-Grip polymer handle with a paracord lanyard loop to secure it to your wrist. This helps prevent you from losing control of the machete while out working. It comes standard with a nylon sheath that allows several different carry options.
The Schrade SCHBOLO is a versatile bolo style machete made from quality materials. It's inexpensive, ruggedly built, and will provide you with years of use if properly cared for.

Condor Tool & Knife Engineer Bolo Machete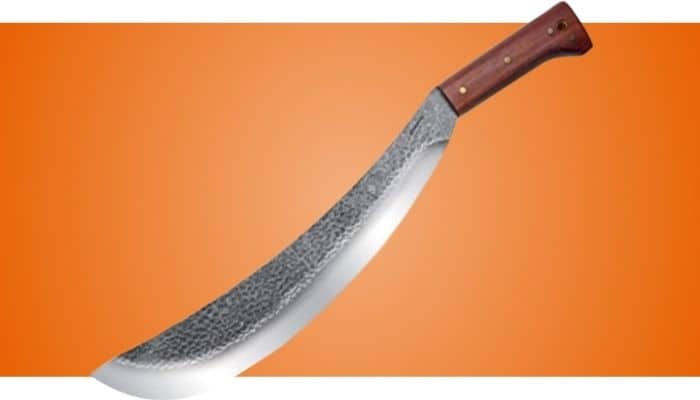 The Condor Engineer Bolo is a 20 ⅛ inch machete built in a classically gorgeous style. It's made from hammered high carbon steel and has a beautiful hardwood handle.
The blade itself is 15 inches long and has the gentle curve characteristic of a bolo machete. It's perfect for chopping through tall brush and green woods. It weighs just over a pound, making it one of the lighter machetes we reviewed. One thing to keep in mind is that the uncoated high carbon steel of its blade will require significantly more cleaning and oiling than more modern designs.
As long as you're willing to put in the upkeep though the Condor Engineer is a beautiful bolo machete that provides a lot of value in a very nice package.
Popular Types of Machete
Just about every culture in the world has used some kind of large outdoor knife. Over the past century or so these have been broadly classified into several different styles based on the angle and grind of their blades and the type of task they were designed for.
Kukri – Kukri or Khukuri knives are a type of Nepalese knife loosely related to machetes. They have an inwardly curved blade profile and are one of the most distinctive varieties of knife in the world.
They were made famous as the signature service knife of the Royal Gurkhas regiment, the Nepalese Army, and Gurkha units all over the world.
Bowie – The Bowie knife is a large profile American knife famously associated with the frontiersman Jim Bowie. In appearance it looks like a very large clip point knife. It's mainly used for wilderness survival tasks or skinning and gutting game rather than clearing brush.
Latin/Bush – The latin or bush style machete is what most people picture when they think of a machete. They have a long straight back blade with a gentle curve. Generally they're quite thick and have a servicably sharp rather than razor edge on them.
Latin machetes were designed for clearing small brush and green vegetation while moving through the jungles of Latin and South America.
Bolo – Bolo machetes have a rounded blade profile and are usually sharpened for a few inches on the back of the blade as well as the front. They're the most common type of machete found in the Philippines.
The thick blade and rounded design make them perfect for clearing green brush or harvesting crops like peanuts and soybeans.
Panga – The Panga machete is a straight edge blade with a characteristic broadening of the blade near the tip. It has a very thick backside with a sharply curved tip. This makes it perfect for chopping brush in its homeland of East and Southern Africa.
Parang or Golok – The Parang or golok machete are large primary grind knives most popular in Southeast Asia. They're usually thicker than other varieties of machete and have a more rounded blade style.
This makes them perfect for cutting through thicker or woodier vegetation.
USVR/Spetsnaz – The USVR survival machete, commonly referred to as a Spetsnaz machete, is a somewhat rare survival tool originally issued in the closing days of the USSR. It was designed to combine a sturdy machete, saw blade, sewing needle, and storage compartment into a single tool.
They were never widely issued before the fall of the USSR but have since found a niche amount military enthusiasts and survival minded individuals.
Intended Use and Best Machete for the Job
Depending on what kind of task you're carrying out you should pick a different machete. Most machetes can carry out all the tasks below but some do them better than others.
The Best Machete for Brush Clearing – Most machetes will do a good job clearing brush of just about any type. The rule of thumb is to go for thinner and more curved machetes like the latin or bolo machete when chopping green vegetation or vines.
For thicker or woodier brush you should go for broader and straighter bladed machetes like the parang or panga.
The Best Machete for Cutting Grass – Cutting grass is a task any machete can accomplish. For the sake of your arm and stamina though you should go for the lighter, thinner style machetes such as the latin or bolo, These will do a good job cutting the grass without tiring you out too quickly.
The Best Machete for Combat and Self Defence – The kukri knife is the machete that comes to mind when thinking about self defence. It's been carried into battle by the Gurkha regiments for over a century and is one of the most effective combat knives in the world.
The Best Machete for Chopping Wood – The panga machete is the undisputed master of chopping wood and woody vegetation. It has a deep belly that lets you put additional force behind every swing. This allows you to quickly slash through wood without much resistance.
The Best Machete for Butchering Game – The Bowie knife is undoubtedly the best machete type for processing game. The clip point blade is perfect for slipping underneath skin or carefully gutting game.
The Best Machete for Shaping Wood – If shaping or whittling wood is what you have in mind the bowie knife is an excellent option. It's generally slightly smaller than other machetes and has a standard clip point blade and straight edge great for carving.
Buyer's Guide for Buying the Best Survival Machetes
The best machetes will have a good combination of chopping, cutting, and general use features. They shouldn't be too expensive but at the same time need to be made from quality materials.
Make sure to balance the capability and purpose of your machete with its weight, length, and general usability.
Price
Machetes aren't expensive tools. Because they're intended to be used for rough work outdoors they're generally made of quality but inexpensive materials. You can get a serviceable tool for clearing brush from your yard for around $20 to $30.
If you want to buy a survival grade machete, one you can stake your life on, you only need to spend about $80 to $100.
Tang
This one's easy. Only buy a full tang machete.
Machetes are designed for chopping, slashing, and other heavy tasks. The last thing you want is a half or quarter tang machete shattering in your hand.
Type of Steel
The vast majority of machetes will be made of either stainless steel or high carbon steel. Stainless steel machetes resist rust and corrosion better but are softer. They'll dull faster than high carbon steel will and require more frequent sharpening.
High carbon steel gets sharper and holds an edge longer but requires more frequent and consistent upkeep to prevent rust. Some manufacturers offer different coating options to help protect high carbon steel against corrosion.
Blade Thickness, Curve and Tip
The general rule of thumb is that the thicker and heavier the blade the more intense the chopping it can handle. Latin machetes are generally thinner than bolo, panga, or parang ones. They're great for cutting through green vegetation like vines and brush but struggle with thicker, woodier brush.
Machete Length and Weight
Machete's start at about 12 inches long and can reach up to about 20 inches. Most modern machetes fall in the middle of this range. That gives them the best combination of usable chopping surface without becoming too heavy to effectively wield.
The vast majority of machetes will weigh between 1.5 and 2.5 pounds. This gives you a really good balance between length and weight.
Extra Features – Pommel, Saw Back, and Gut Hook
In the past machetes were large knives and nothing else. Now though manufacturers are adding in tons of survival specific features. These include things like gut hooks, saw blades, and tools built into the pommel.
These can add considerable value as long as they don't take away from the core purpose of your machete.
Sheath
A quality sheath is almost as important as a quality machete. You need a good way to store and carry your machete safely when you aren't using it.
Top Survival Machetes Video
Frequently Asked Questions about Survival Machetes
When it comes to selecting the right survival machete for your camping, hiking, or survival needs, it's natural to have questions. In this FAQ section, we address some of the most common inquiries to help you make an informed decision. Whether you're a seasoned outdoor enthusiast or a beginner, we've got you covered with answers to key questions about survival machetes.
From understanding the features that make a machete suitable for survival situations to learning about its versatility for camping and hiking, we provide insights and guidance. Additionally, we touch upon the topic of self-defense, proper care and maintenance, as well as important safety precautions to follow when using a survival machete.
By exploring these frequently asked questions, you'll gain a deeper understanding of survival machetes and how they can enhance your outdoor experiences. So, let's dive into the world of survival machetes and equip ourselves with the knowledge needed to choose the best tool for your adventures.
What is a survival machete?
A survival machete is a versatile outdoor tool designed for various tasks such as chopping, cutting, clearing vegetation, and self-defense in survival situations. It typically features a long, sturdy blade with a sharp edge and a durable handle.
Why should I consider using a survival machete?
Survival machetes offer several advantages for outdoor enthusiasts. They are lightweight, easy to carry, and can perform multiple tasks such as clearing trails, building shelters, and processing firewood. They are also useful for self-defense and can be a valuable tool in emergency situations.
What features should I look for in a survival machete?
When choosing a survival machete, consider the following features:
Blade Material: Look for high-quality materials like carbon steel or stainless steel for durability and edge retention.
Blade Length: A blade length between 10 to 14 inches strikes a good balance between versatility and portability.
Handle Design: Opt for a machete with an ergonomic and non-slip handle for comfortable and secure grip, even in wet conditions.
Sheath Quality: A sturdy and reliable sheath is essential for safe storage and transportation of the machete.
Are survival machetes suitable for self-defense?
Yes, survival machetes can serve as a self-defense tool when needed. Their long blades and sharp edges can deter potential threats and provide a means of protection in emergency situations. However, it is important to prioritize personal safety and use a machete responsibly and lawfully.
Can survival machetes be used for camping and hiking purposes?
Absolutely! Survival machetes are versatile tools that can be immensely helpful for camping and hiking activities. They can be used for tasks such as clearing campsites, cutting through brush or vegetation, preparing firewood, and even preparing food. However, always adhere to local regulations and respect the environment when using a machete.
How do I properly care for and maintain a survival machete?
To ensure the longevity and performance of your survival machete, follow these care and maintenance tips:
Keep the blade clean and dry after each use to prevent rust or corrosion.
Regularly sharpen the blade using appropriate sharpening tools.
Apply a light coat of lubricant to the blade to protect it from moisture.
Store the machete in a dry and secure place, preferably in its sheath, when not in use.
Are there any safety precautions I should take when using a survival machete?
Yes, it's essential to prioritize safety when handling a survival machete. Here are some precautions to keep in mind:
Always maintain a safe distance from others when using a machete.
Use proper cutting techniques, keeping your fingers and body away from the blade.
Wear protective gloves and eyewear when necessary.
Be aware of your surroundings and ensure there are no potential hazards or people nearby before swinging the machete.
Remember, practice proper technique and caution when using a survival machete to prevent accidents and injuries.
Final Thoughts
A quality machete is a tool that can save your life in a survival situation.
It will chop wood, clear brush for a shelter, and aid you in moving through overgrown terrain. The best survival machetes combine rugged durability with a good blade design and light weight.
Once you know what style of machete blade you want for your local environment you're well equipped to choose the best one possible.