Outdoorsman Toolkit is reader-supported. When you buy through links on our site, we may earn an affiliate commission.
Learn more
If you've ever spent any length of time in the great outdoors during winter you know how hard it can be to keep your feet warm. It seems like no matter how thick your socks are there's a temperature level that just won't let them stay warm and cozy. This is especially true if you're out hiking, snowshoeing, hunting, or ice fishing during winter.
Heated socks can solve this problem. The incorporate battery-powered heating elements that keep your feet warm and dry for hours at a time. Today we're covering the best heated socks on the market to help you find the perfect pair for your level of activity and the sport you participate in.
There's not a whole lot of differences between most of the heated socks on the market. The key things to keep in mind are how powerful they are, how long the battery lasts, and where the heating elements themselves are located.
Depending on what kind of activity you're trying to stay warm in and how hard you go at it you'll have slightly different needs than someone else.
Our list includes a variety of different heated socks that encompass a good cross-section of the price points and feature sets available.
Global Vasion Best Heated Socks
The Global Vasion Heated Socks are a value-priced pair of electrically powered socks. They use a pair of rechargeable lithium-ion batteries capable of providing up to five and a half hours of warmth.
The socks themselves are made from cotton with spandex around the edges. They fit most people up to the mid/upper calf and provide pretty good cushioning.
The heating element is located on the front instep of your foot. It has three different heat modes, low (50% power), medium (70% power), and high (100% power) that can be controlled via the battery packs.
They're good for most activities, but work best for people who are able to return home or to a lodge after use to charge back up. Pricewise they're quite affordable, with a set running under $50.
Overall the Global Vasion Heated Socks are a quality product that provides good value for your money.
Dr. Warm Wireless Heated Socks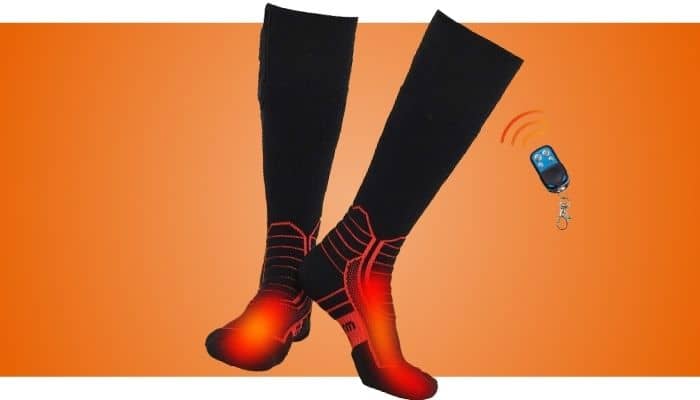 The Dr. Warm Heated Socks are wirelessly controlled electrically heated socks. They're made from a blend of cotton, acrylic, nylon, and spandex for a comfortable and long-lasting fabric.
They're powered by a pair of 7.4 V lithium-ion batteries and can offer up to 11 hours of continuous warmth. This compares favorably to most other heated socks on our list.
You can choose from three different settings, low, medium, and high, and adjust the temperature using an included remote control. This makes it easy to keep your feet at the perfect temperature even as you move from heavy activity to gentler movement.
The heating element goes from the tips of your toes all the way up to your ankle. This gives you pretty comprehensive coverage and keeps your toes nice and warm.
We love how long the battery life lasts and how comfortable they are to wear. These features combined make them a really good choice for hikers, hunters, ice fishers, and others who want to stay warm even on a long day out in the cold.
Sunwill Heated Socks for Hunting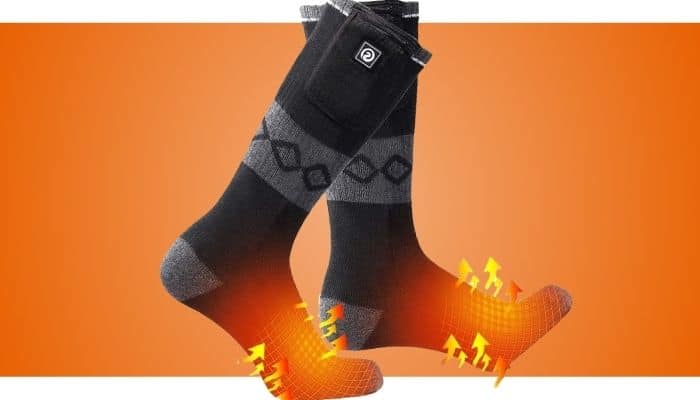 The Sunwill Heated Socks are lightweight and comfortable socks optimized for hunters, fishermen, and other outdoorsmen. They're made with a blend of 80% cotton, 12% polyester, and 8% elastic. This gives you a sturdy yet comfortable fit that helps cushion your feet.
They're powered by a pair of lithium-ion rechargeable batteries that provide up to 6 hours of warmth. The heating element sits both above and under your foot for all-over warmth, great for people who often get sore feet when they're chilled.
You control the heat setting on the batteries themselves. This is a bit of a downside given how bundled up you're likely to be on a day that needs heated socks.
Accessing the battery to adjust the power setting can be a chore. This is especially true if you find yourself wanting to adjust the temperature of your socks multiple times a day. If you're sitting in a hunting blind or out ice fishing though this isn't normally a problem.
They're about middle of the road as far as price goes and provide a pretty good overall value. The Sunwill heated hunting socks are a good choice as long as you don't think you'll be changing the temperature setting too often.
Hotronic XLP One Heated Ski Socks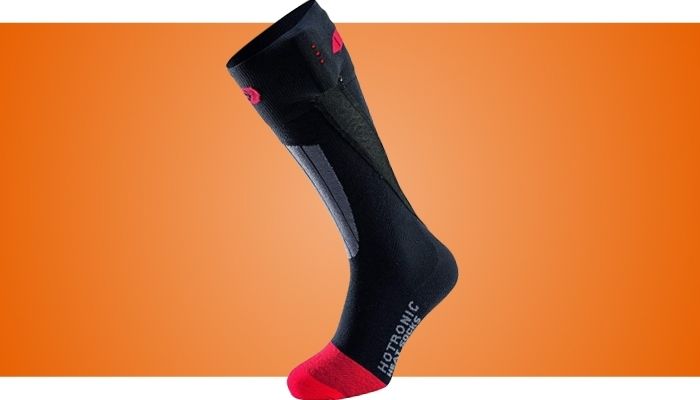 The Hotronic XLP One are high performance heated socks designed for skiers, snowboarders, and other winter sports participants. They're made from a blend of 70% nylon, 20% spandex, and 10% merino wool.
This gives them excellent wicking capabilities for sweat inducing activities without sacrificing comfort. They're powered by two rechargeable lithium ion batteries that slip into a pocket along the side of the socks.
These things are seriously powerful. The high setting can reach temperatures up to 156 °F while the low gives you up to 13.5 hours of continuous warmth.
You can choose between serious heat for icy cold days or enough power for up to two days of fun in the snow. Unfortunately they don't come with a remote control but they are high enough up on your calf that they're easy to reach when needed.
The biggest downside to the XLP One's is price. They're substantially more expensive than almost any other heated sock we reviewed. On the upside though, their overall quality, durability, and performance matches their premium price.
Coolekom Heated Socks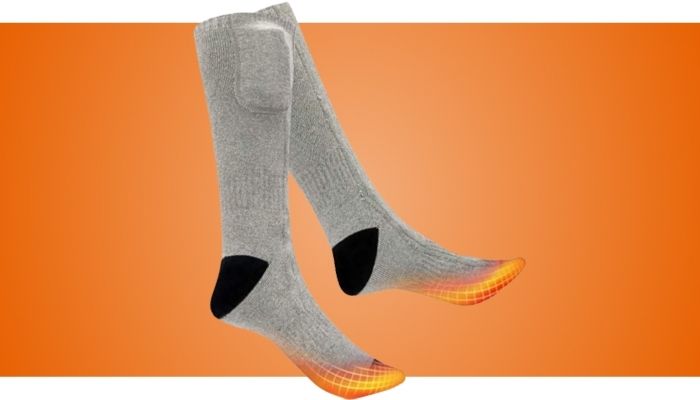 The Coolekom Heated Socks are designed with comfort and targeted warmth in mind. They're made from a blend of cotton, spandex, and polyester with thick cushioned soles and carbon fiber heating elements.
This gives you more efficient and targeted heat in a slimmer and less noticeable package. They're powered by two lithium-ion rechargeable batteries capable of providing up to 9 hours of heating time.
The heating elements are built into the front of the toes and footpad. This gives you excellent warmth in the areas that need it most.
They can be adjusted using a small switch on the side of the battery itself. Accessing them isn't the easiest task but can be accomplished in just a few seconds when needed.
All in all the Coolekom heated socks are reasonably priced and offer good performance. They aren't top of the line heated socks, but they're good enough for most activities.
Lenz Heated Socks 5.0 Toe Cap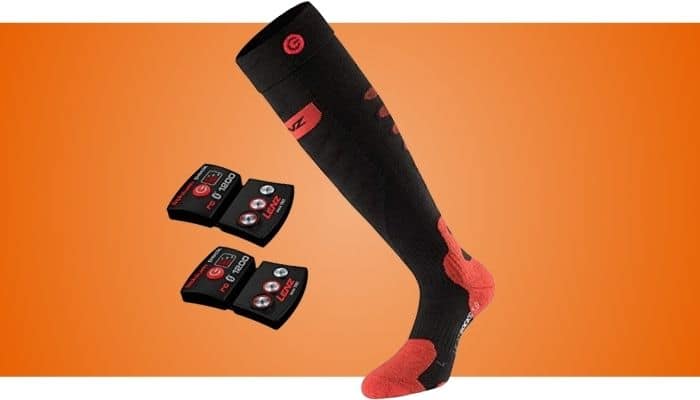 The Lenz 5.0 are high-performance heated socks designed for winter sports athletes and others in need of serious warmth. They're made from a blend of 49 % polyester, 29 % nylon, 10 % polypropylene, 7 % merino wool, 5 % spandex.
This mix of natural and synthetic materials creates one of the most comfortable socks available. They're powered by two lithium ion batteries and give you a choice of three different heat settings.
Here's where things really get interesting.
The Lenz 5.0's offer up to 14 hours of continuous warmth on the lowest setting. Even better, they come fully equipped with Bluetooth capability so you can adjust the setting and monitor individual battery life right from your phone.
These features don't come without a price though. In the case of the Lenz 5.0 this is literal, they're by far the most expensive heated sock on our list today.
If you're looking for some of the best performance and features available the Lenz 5.0 heated socks can provide them. Just make sure you're ready to drop a serious chunk of change for them.
Thermic PowerSock S-700 Multi Fit Heated Socks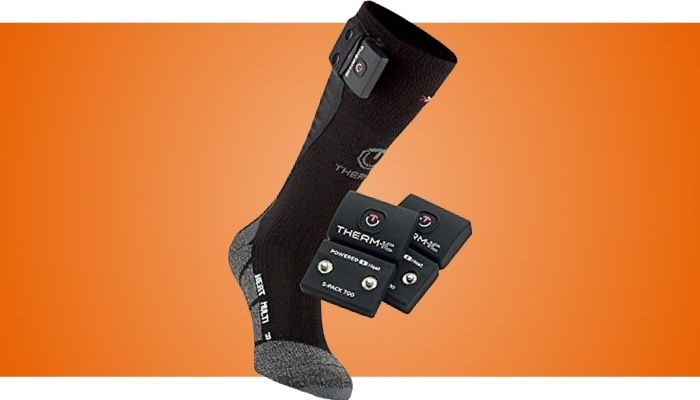 The Thermic PowerSock S-700 Multi Fit are high-quality heated socks designed for athletes and winter sports enthusiasts. They're made from a specialized blend of natural and synthetic fibers.
The sock is designed to closely mimic the shape and movement of your feet and legs during high impact activities. This is especially important for skiers and snowboarders.
The batteries snap onto the outside of the sock so as to avoid putting pressure on your leg. They're capable of providing heat for up to 8 hours and can be controlled by a small switch on the side of the battery.
This can make them a little bit difficult to access but isn't too much of a problem given the prominent position of the battery. Given their high price though we do think they should come with remote control capability.
Mobile Warming Heated Socks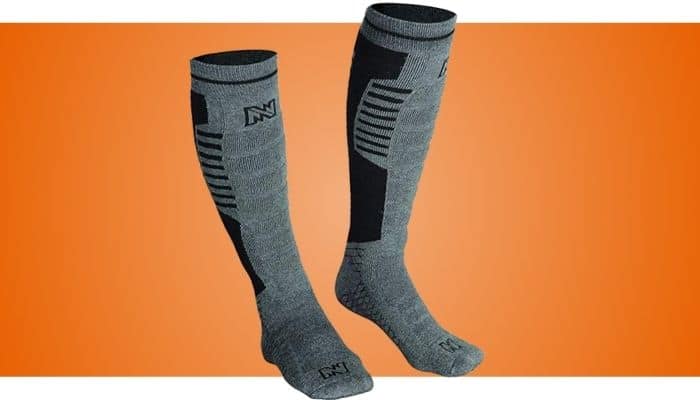 The Mobile Warming Heated Socks are extra cushy socks built for a range of activities. They're made with a tri-blend fabric that combines cotton, nylon, and elastic to maximize comfort without impacting durability.
Each sock is powered by a rechargeable lithium ion battery capable of providing up to 11 hours of heat on the lowest setting. They can be adjusted either on the battery pack itself or through a convenient remote control.
You can choose between three different heat settings, with the heat targeted on your toes and footpad. This keeps the heat right where it's most needed and helps you stay fresh and comfortable through any activity.
The Mobile Warming socks are about the middle of the pack pricewise and offer a really nice value overall.
Best Heated Socks Comparison Table
Image
Title
Price
Prime
Buy

Top

Top

GLOBAL VASION Heated Scoks Winter Electric Rechargeable 3 Heating Settings Thermal Sock for Men and Women (Gray, L)

Prime

Eligible

Buy on Amazon

Top

Dr.Warm Wireless Heated Socks, Remote Control 2600mAh 7.4V Rechargeable Battery Thermal Foot Warmers Heating Sock for Cold Winter Men Women Kids, L

Prime

Eligible

Buy on Amazon

Top

Heated Socks for Men Women,7.4V 2200mah Electric Rechargeable Battery Warm Winter Socks,Cold Weather Thermal Heating Socks Foot Warmers for Hunting Skiing Camping

Prime

Eligible

Buy on Amazon

Top

Hotronic XLP ONE Heat Sock Set, Classic, Large

Prime

Buy on Amazon

Top

Coolekom Heated Socks – 9hrs Heating, Best Heated Socks Women, Heated Socks Men

Prime

Eligible

Buy on Amazon

Top

Set of Lenz Heat Sock 5.0 Toe Cap Black, Medium (6,5 - 8) + Lithium Pack rcB 1200 - 2017 Model

Prime

Buy on Amazon

Top

Thermic PowerSock S-700 Multi Fit Heated Socks Set

Prime

Buy on Amazon

Top

Mobile Warming Heated Socks,Tri-Blend Construction,Grey/Black,Men4-10/Women6-11

Prime

Eligible

Buy on Amazon
Product prices and availability are accurate as of the date/time indicated and are subject to change. Any price and availability information displayed on [relevant Amazon Site(s), as applicable] at the time of purchase will apply to the purchase of this product.
Prices pulled from the Amazon Product Advertising API on:
Buyers Guide to Buying the Best Heated Socks
The heated sock market is one that's pretty focused on a few activities and uses. Because of this there's a lot of similarities between different socks, with differentiating features really coming down to how intense your activity is.
Price
Most heated socks are priced pretty consistently. The market starts around the $50 mark, with the majority of socks falling somewhere between $50 and $100.
High-performance socks, like those designed for winter sports athletes, can frequently run significantly higher. They offer things like more comprehensive heating elements, better ergonomics in their design, and greater flexibility in temperature and control.
Types of Heated Sock
There are lots of different styles of heated socks out there but most of them fall into a few broad categories.
Electrically Heated Socks – By far the most common type of heated socks are electrically heated ones. They rely on thin heating elements layered throughout the sock and powered by either rechargeable or disposable batteries.
Electrically heated socks provide you with the best performance, most flexibility, and lowest cost available. More than likely you'll find that an electric sock fills your needs better than other varieties.
Heated Insoles – Really like the socks you already have? You can get most of the same benefits provided by heated socks with slip-in heated insoles. These are designed to fit into most boots, shoes, ski/snowboarding boots, and other winter footwear.
They don't provide quite the same all over warmth as a heated sock but they do a good job keeping your feet nice and toasty.
To find out more about heated insoles check out our full review found here.
Insulated Heated Socks – All winter socks are designed with greater thickness and insulation than those for warmer weather. Insulated heated socks take this a step further by upping the overall insulation to reduce power usage and increase overall lifespan.
This allows you to extend the time between activations of your heated socks. These are great for multi day hikes or other times where you won't have ready access to charging facilities.
One thing to keep in mind is that they're noticeably bulkier than either regular heated socks or insulated winter socks. Because they incorporate both the insulation and the heating element they aren't as comfortable overall.
Reasons for Use
How you're planning to use your heated socks will significantly affect which ones will work best for you. Skiers, snowboarders, and other winter sports enthusiasts will benefit most from a range of warmth settings and a way to remotely adjust them.
It's not easy to get into your boots on the slopes, so having the ability to lower or raise the temp at the press of a button is really beneficial. For hikers, hunters, and others out doing light to moderate activity this is less important.
It's a lot easier to reach down to a hiking boot when out on the trail or in a blind than it is a ski boot. Weight and bulk becomes more of an issue as well.
Keep these factors in mind while making your choice.
Batteries and Battery Life
In the past the only heated socks available ran on large D/C cell or 9V batteries. They provided acceptable warmth but were expensive to operate and didn't last very long at all.
You can still find these, but we recommend you go with a more modern option. New lithium ion and NiMH rechargeable heated socks are the standard.
These offer hundreds of charges per battery set and provide both more heat and a longer battery life than disposable ones. They're also a heck of a lot cheaper to own over the long term.
Think about how expensive D cell batteries are, then think about going through a pair of them every time you walk out the front door. It adds up fast.
Charging
The type of charger and charge time for your heated socks can play a role in how easy it is to use them. Most unfortunately still use a proprietary charger head rather than a micro USB or similar universal cord.
This can speed up charge time but it makes it more expensive to replace the charger if it's damaged or lost. A really great feature to look for is the availability of a car charger.
This allows you to charge up your socks while driving out to hike, ski, or hunt.
Most heated socks charge up in around 3-5 hours. Ones with larger battery capacity usually take a little longer.
Temp Control
First generation heated socks only had two settings, on and off. Nowadays you have a lot more flexibility in just how warm you want your toes and feet to be.
The vast majority of heated socks offer around three different settings. A low setting between 80 °F and 100 °F, a medium that goes up to about 120 °F, and a high that usually hovers between 130 °F and 140 °F.
How you can activate and adjust your socks is also important. More value priced models generally only have controls attached to battery packs or on the socks themselves.
As you get into higher-end heated socks you'll find lots of remote controls and even a few that you can adjust via your smartphone.
Fabric and Comfort
The type of fabric your sock is made from will play the biggest role in your overall comfort while wearing it. Some heated socks are made from cotton, but we don't recommend it if you're going into the backcountry.
It's just about the worst possible fabric you could use for a winter weight garment. Not only is it heavy, when it gets wet it loses all its insulative properties. It's okay to use if you're working outside on your property or skiing near a lodge. This gives you plenty of opportunities to take a break and dry your socks if you start to sweat.
Your best bet for hiking or other outdoor activities is going to be a synthetic blend or something like merino wool. Keep in mind though that premium materials usually bring premium prices.
Heated Socks Vs Heated Insoles
When choosing between heated socks and heated insoles it really comes down to what activity you're pursuing and where you usually get cold. Heated insoles can only warm the bottom of your feet, and usually not the tips of your toes.
They focus their heating elements near the arch of your foot. This provides a good overall feeling of warmth but doesn't distribute heat as evenly as it could.
Heated socks can place heating elements on just about any part of your foot. One of our favorite spots for heat is on our toes. There's a reason people talk about frostbitten toes, they're one of the first parts of your body to lose temperature when it's really cold out.
Top Heated Socks Video
FAQ: Best Heated Socks
When it comes to keeping warm during chilly outdoor adventures, having the right gear is essential. And when it comes to keeping your feet cozy, heated socks are a game-changer. These innovative socks are designed to provide warmth and comfort in cold weather conditions, making them a popular choice for camping enthusiasts.
As you explore the world of heated socks, you may have some questions about how they work, their safety, and their suitability for outdoor activities. In this FAQ section, we aim to address the most common queries to help you make an informed decision about the best heated socks for your camping needs.
From understanding the technology behind heated socks to learning about their battery life and washing instructions, we've got you covered. So, let's dive into the frequently asked questions about heated socks and discover why they are a must-have item for your camping adventures.
What are heated socks?
Heated socks are specially designed socks that have built-in heating elements, usually powered by rechargeable batteries. They provide warmth to your feet by generating heat, making them ideal for cold weather activities like camping, hiking, and skiing.
How do heated socks work?
Heated socks typically use heating elements, such as wires or carbon fibers, embedded within the fabric. These elements generate heat when connected to a power source, usually a small battery pack. The heat is then distributed evenly throughout the sock, ensuring your feet stay warm and cozy.
Are heated socks safe to use?
Yes, heated socks are generally safe to use when used according to the manufacturer's instructions. They are designed with safety features such as automatic temperature controls and overheat protection. However, it is important to follow the guidelines provided and avoid wearing heated socks while sleeping or when the feet are wet.
Are heated socks suitable for outdoor activities like camping?
Absolutely! Heated socks are excellent for outdoor activities like camping, as they provide warmth and comfort in cold weather conditions. They help to keep your feet toasty when you're exploring the great outdoors, making your camping experience more enjoyable.
How long does the battery last in heated socks?
The battery life of heated socks can vary depending on factors such as the heat setting used and the specific product. On average, most heated socks offer battery life ranging from 4 to 10 hours. It's important to check the specifications provided by the manufacturer to get a better idea of the battery life for a particular product.
Can heated socks be washed?
Yes, most heated socks can be washed. However, it's important to carefully read and follow the washing instructions provided by the manufacturer. Some heated socks have removable battery packs, allowing you to wash the socks without damaging the electrical components.
Can heated socks be used for medical purposes?
Heated socks are primarily designed for outdoor activities and general comfort. While they can provide relief for individuals with conditions like poor circulation or Raynaud's disease, it's always advisable to consult with a medical professional for personalized advice regarding the use of heated socks for specific medical conditions.
Can I wear heated socks with my regular footwear?
Yes, heated socks are designed to be worn with your regular footwear, including hiking boots, winter shoes, or ski boots. They are typically thin and lightweight, allowing for comfortable use without adding excessive bulk or restricting movement.
Are heated socks waterproof?
While heated socks may offer some level of water resistance, they are not typically fully waterproof. It's important to check the product specifications to understand the level of water resistance provided. If you anticipate exposure to wet conditions, consider using waterproof overshoes or investing in a separate pair of waterproof socks to ensure your feet stay dry.
Are heated socks suitable for all foot sizes?
Heated socks come in various sizes to accommodate different foot sizes. It's important to check the size chart provided by the manufacturer to select the appropriate size for your feet. Some brands offer adjustable straps or elastic material that can provide a better fit for different foot sizes.
Remember, it's always a good idea to read product reviews, compare features, and consider your specific needs before purchasing heated socks to ensure you find the best option for your camping adventures.
Final Thoughts
With heated socks less is often more. You want to find a pair that has the lowest impact on your movements while still providing excellent performance.
So long as you keep what type of activity you need to stay warm in and how long you need them to last, it's pretty easy to find the best heated socks around.