Outdoorsman Toolkit is reader-supported. When you buy through links on our site, we may earn an affiliate commission.
Learn more
A ground blind is one of the best ways to effectively camouflage yourself during a hunt. It lets you take up an advantageous position and wait for game to come to you. Unfortunately, nature rarely obliges you with a comfortable place to sit out in the field. Enter the ground blind chair, a cozy and highly portable chair perfect for those long days waiting for deer to come into your sights. Today we're covering the best ground blind chairs to help you find the perfect one for your style of hunting.
Ground blind chairs aren't at the top of many hunter's lists of equipment.
This is a mistake.
While your weapon of choice and its assorted accessories are undeniably important, few things will have as big an impact on your enjoyment of a hunt than a hunting chair. For most days out in the field, you'll spend several hours sitting in a ground blind chair.
You want to make sure those are comfortable hours.
Check out our list below to find some of the best ground blind chairs available across a range of styles, comfort levels, and price points.
Millennium Treestands G200 Best Ground Blind Chair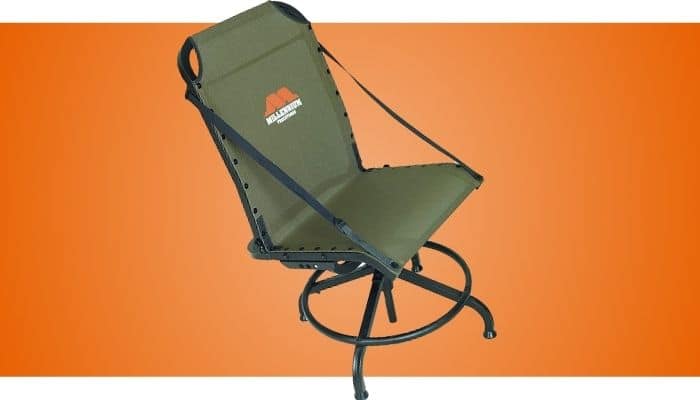 The Millennium Treestands G200 is a four-legged shooting chair designed for a variety of ground blinds. It uses a stainless steel base with a lightweight aluminum framework.
This gives you the best of both worlds. You have added strength to the main structural components and a lower overall weight.
It offers a full 360-degree swivel and is height adjustable from 18" to 23". The individual legs are can also be adjusted independently of one another up to two inches each. This allows you to achieve a comfortably level position on uneven ground.
The G200 weighs 17 lbs and has a 400 lb weight limit. It sets up and breaks down rapidly and is easy to pack in with you. It lacks armrests but is otherwise a really comfortable chair.
All in all, we liked the feel of the G200. It isn't the absolute best out there, but it is a really nice shooting chair with a lot of great features.
ALPS OutdoorZ Stealth Hunter Blind Chair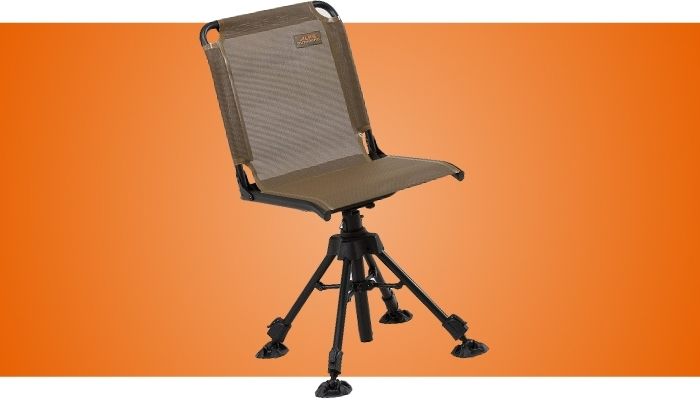 The ALPS OutdoorZ Stealth Hunter Blind Chair is a highly adjustable four-legged chair from the makers of the popular Shadow Hunter X. This updated version adds on an extra leg for greater stability plus a whole host of other great features.
It has four large foot pads designed to provide excellent grip on uneven or wet ground. They're individually adjustable to give you a comfortable seat no matter the conditions. The chair can swivel a full 360-degrees and is fully height adjustable from 17.5" to 23".
It weighs just 16 lbs 9 oz and has a 275 lb weight capacity. It uses a TechMesh material that's designed to be durable, breathable, and fast-drying. The whole thing folds down and fits into a compact carry bag.
We found the ALPS OutdoorZ Stealth Hunter to be a comfortable, portable, and durable chair. It works well for most hunters and is a good option for a ground blind chair.
Browning Camping Strutter Hunting Chair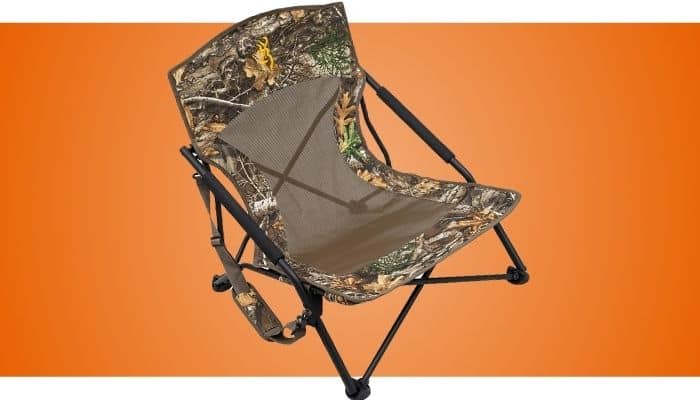 The Browning Camping Strutter is a lightweight and low profile hunting chair designed for minimalist hunting. It weighs just 7 lbs and sits very low to the ground.
It has both a backrest and armrests for added comfort, as well as a breathable mesh backing material. The whole thing collapses down like a traditional beach chair and has an attached carry strap.
While it isn't quite as comfortable or multi-functional as some larger ground blind chairs it definitely works for some hunters. If you prefer to sit in a low profile position it's hard to beat
So long as you know its limitations, the Browning Camping Strutter is a great specialized ground blind chair.
ALPS OutdoorZ Tri-Leg Hunting Stool
The ALPS OutdoorZ Tri-Leg is a minimalist hunting stool designed for those who like to travel light. It's basically three tubular steel supports and a triangular piece of fabric.
It has a built-in webbed strap for easy transport and weighs just 2 lbs. That's about as light as you'll find a dedicated hunting stool.
We liked how easy it was to set up and break down, but weren't impressed with its comfort. It puts a lot of pressure on a particularly sensitive area and isn't the most stable chair out there.
One thing it has going for it is the price. It's just about the cheapest option you'll find for a ground blind chair.
It's definitely not the most comfortable ground blind chair. If you're traveling a substantial distance by foot and are willing to sacrifice comfort for portability it can definitely be a good option.
Redneck Blinds Portable Hunting Chair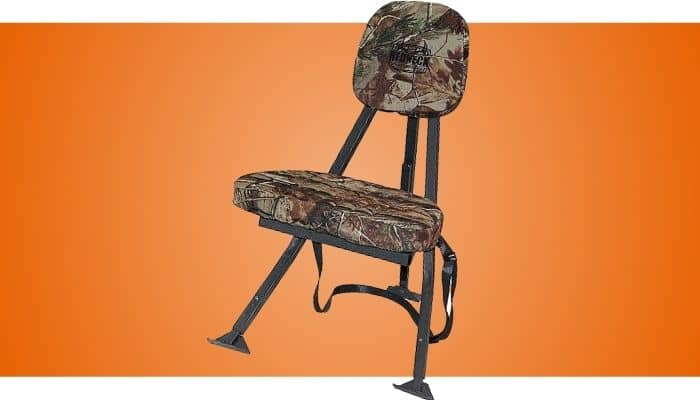 The Redneck Blinds Portable Hunting Chair is a compact and lightweight blind chair. It's made with a powder-coated steel frame and uses an innovative tripod-like design.
Unlike other three-legged blind chairs, the Portable Hunting Chair has an offset seat that's positioned further forward from the supports. This gives it an excellent center of gravity and makes it overall more stable.
Each leg can be independently adjusted to give you a firm seat on uneven ground. It offers a silent 180-degree swivel that pivots around the rearmost leg.
This allows you to quickly reposition yourself within your blind without bumping into your hunting buddies.
The whole thing weighs 16 lbs and collapses down into a compact and highly portable bundle. It comes standard with a heavy-duty carry strap to make it easy to pack into the backcountry.
If you're looking for something that stands out from the pack and shows real innovation the Redneck Blinds Portable Hunting Chair bears some serious consideration.
Primos Double Bull Tri Stool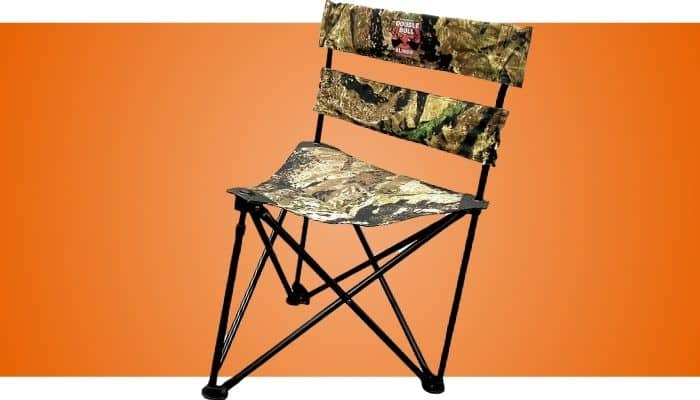 The Primos Hunting Double Bull Tri Stool is a fusion ground blind chair. It combines the best features of a comfortable hunting chair with the weight and portability benefits of a hunting stool.
It weighs just 6.5 lbs yet can offer a full backrest and is capable of supporting 300 lbs. It does this with a lightweight steel frame and a triangular seat. This helps reduce the weight without cutting into comfort.
The seat effectively bears your weight and allows you to spread out during a long wait. The backrest is made up of two pads positioned to provide maximum support for minimum added weight.
It does lack some of the extra features other blind chairs provide. The height isn't adjustable, and it doesn't allow you to swivel around. Overall though, we really like this chair.
It offers a seating arrangement nearly as comfortable as chairs triple its weight at a very reasonable price.
Ameristep Director Chair
The Ameristep Director Chair is a hunting blind chair inspired by the classic Hollywood director's chair. It's made with a powder-coated frame and offers a padded backrest and armrests.
The design offers some features not found on other ground blind chairs. The most obvious is the built-in storage pouch that hangs below the seat. This is a great place to stow snacks, drinks, extra ammo, or anything else you need readily at hand.
The seat of the chair is slightly narrower than the actual body, sitting about an inch inside the footprint of the armrests. We found it to be reasonably comfortable and to offer good stability on mostly even ground.
It sits about 18.5" high and doesn't offer a swivel feature. One thing to keep in mind is that the chair feet are relatively small. If you're hunting in wet or marshy conditions make sure you bring something to set it on.
The Ameristep Director Chair is one of the few ground blind chairs that really stands apart from the pack. It uses a unique design that's relatively comfortable, lightweight, and easy to pack in.
All Seasons Feeders EZ Folding Chair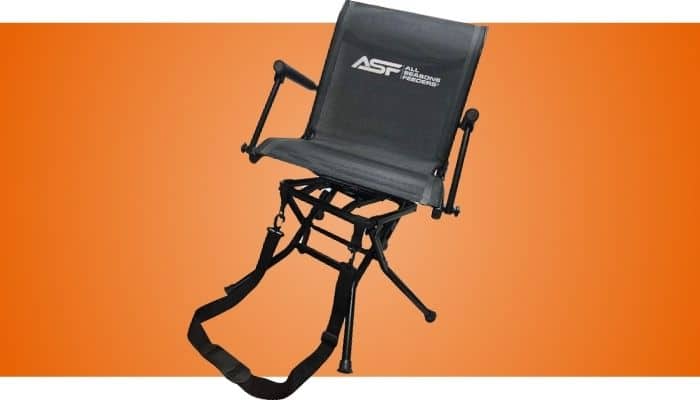 The All Seasons Feeders EZ Folding Chair is a four-legged weather-resistant hunting chair. It's made from powder-coated stainless steel and offers a comfortable seat with a flexible position.
It weighs 15 lbs and sits 18.5 inches from the ground. The height is non-adjustable though the position of the included armrests can be changed somewhat.
As its name suggest the EZ Folding Chair is designed to fold up when not in use. This makes it easy to store in a permanent blind or pack out to your truck.
It uses a widespread base for added stability and offers a full 360-degree swivel. The back mesh is weather-resistant and designed to provide a comfortable, breathable feel.
If you want something with a little more substance to it the All Seasons Feeders EZ folding chair is a reasonable choice to make.
Buyers Guide to Buying the Best Ground Blind Chair
To find the best ground blind chair you need to consider how you're going to use it. You don't want something that's too heavy and unwieldy, but you definitely don't want to end up with an uncomfortable chair.
Price of the Best Ground Blind Chair
The price of ground blind chairs is pretty consistent across the board. There are a few offers in the sub $20 range, but most chairs are $50 and above.
To get a chair that includes all of the best features you should expect to spend well over $100.
Frame and Seat Material
The frame and seat material of your ground blind chair affect every other factor you should consider. You want something that's sturdy yet comfortable, and durable yet lightweight.
With that in mind, we recommend you stick with frame materials such as tubular stainless-steel, aluminum, and other durable and corrosion-resistant metal. These provide ample strength at a very acceptable weight.
You want to go with a seat material that can stand up to the weather while still providing a comfortable seat. Synthetic materials such as nylon and polyester are high on that list.
Make sure they have plenty of padding as well. You'll probably be sitting in it for quite a few hours after all.
Three or Four Legs
Ground blind chairs come with either three or four legs. This one really comes down to your own personal comfort and weight tolerances.
Just about any four-legged chair is going to be at least a little bit more stable than a three-legged on. That's not to say that three-legged chairs are bad. There are plenty of great three-legged ground blind chairs out there.
Just remember that there is a stability tradeoff for the reduction in weight and size you get.
Portability and Weight of the Best Ground Blind Chair
Unless you're setting up a permanent blind there's a pretty good chance you're going to have to carry your chair into the field. With that in mind, it's a good idea to pick out one that is both extremely portable and lightweight.
At the very least it should fold down and fit into a convenient carry bag. We love chairs that come standard with straps to attach them to a backpack or even backpack straps themselves.
Backrest or No Backrest
The lightest and most basic ground blind chairs are really more like stools. They don't have backrests, armrests, or other comfort-enhancing features.
These are easier to haul into your hunting ground and set up rapidly but aren't as comfortable as larger chairs. Ones with a backrest allow you to more comfortably wait on the game.
Swivel or Non-Swivel
A swivel allows your ground blind chair to rotate up to 360 degrees. It can be a good feature to have, especially if you've got multiple openings in your blind to shoot from.
Make sure you consider the quality of the swivel. You want it to move smoothly and silently. This helps avoid alerting game animals to your presence.
Adjustable Height
Everyone's body is a little different. You want to make sure you can adjust the height of your ground blind chair to properly frame your shot.
Someone with a shorter or taller than average torso may find it difficult to sight in their weapon if they're at the wrong height. Another consideration is the actual ground you're sitting on.
The best ground blind chairs have independently adjustable legs. This allows you to sit in a comfortable and level position even in uneven terrain.
Feet
When you're in a hunting blind it's unlikely you're going to be on perfectly smooth and level ground. You want to make sure your ground blind chair has feet that are large enough to provide stability.
Arm Rests
If you're holding a bow, rifle, or shotgun for any period of time you're going to quickly tire out your arms. Armrests can be very beneficial to hunters using firearms.
They allow you to take the weight off your arms while waiting. They can also give you a stable platform to aim from and make it easier to hit your target.
Bowhunters, though, should either avoid armrests or be prepared to stand to take their shots. Armrests can interfere with the ability to fully draw a bow.
Comfort
Any hunter can tell you that the game comes when it comes, if it comes at all. You want to make sure any ground blind chair you're considering is comfortable enough to sit still and quiet in for hours at a time.
Important comfort-enhancing features include padded seat bottoms, armrests, backrests, lumbar support, and even things like cupholders in some cases. All of these things add up to create a much more enjoyable hunting experience.
Noise
The last thing you need after spending hours waiting for the perfect shot is your chair to squeak at the wrong moment and send your prey scrambling away. Swiveled chairs are the main culprits here, with cheaper models often lacking in bearings or lubrication.
Spend a little time moving around on your ground blind chair before you take it out into the field with you. That allows you to figure out what sounds it makes and how you can move around when game is nearby.
Weight Capacity
Not every chair is created equal. If you're a larger hunter it's a really good idea to make sure your chair can comfortably support you.
There are a lot of really stripped down and bare-bones chairs out there that would have a hard time holding up a big kid, forget a red-blooded American hunter.
Top Ground Blind Chairs Video
Final Thoughts on the Best Ground Blind Chair
Picking out the best ground blind chair depends on where you're going and what you're hunting. If you have to pack it across miles of rough terrain to get to your blind you need something that's as light and portable as possible.
Alternatively, if you're setting up a permanent blind where you intend to hunt for hours on end comfort becomes a much bigger concern.
Take these two factors into consideration with the other key features and functions to find the perfect hunting chair for your needs.