Top 3 Best Two Way Radios
BaoFeng Tech BF-F8HP Dual Band Two-Way Radio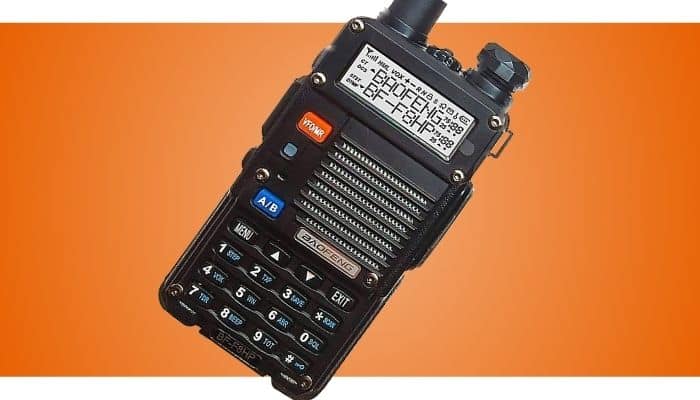 Remarkable transmission power with three settings: 1, 4, and 8 watts, providing flexible communication range options.
Long-lasting 2,000 mAh battery that supports up to 24 hours of use.
Diverse frequency range (65-108MHz, 136-174MHz, and 400-520MHz) catering to various communication needs.
Midland LXT630VP3 36 Channel FRS Two-Way Radio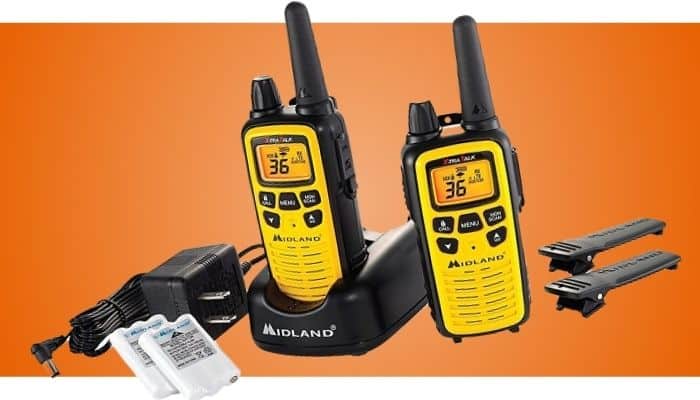 License-free operation with 36 channels plus 121 privacy codes ensuring private conversations.
Dual power functionality using either the included rechargeable battery pack or three AAA batteries.
Handy NOAA scanning and alerts for weather updates, coupled with eVOX for hands-free operation.
Motorola T260TP Talkabout Radio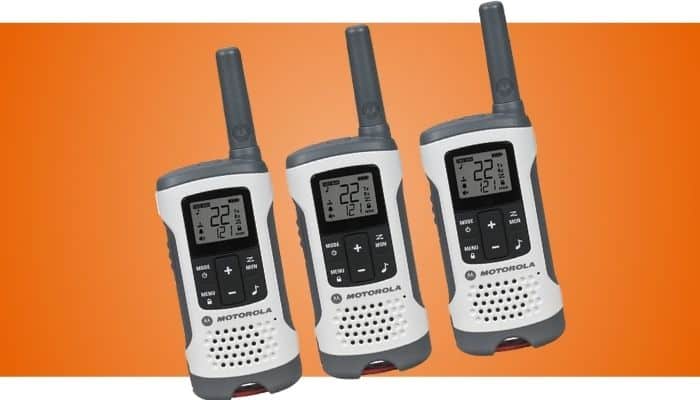 Capable of communicating on 22 channels with 121 privacy codes, offering a good range of private communication options.
Durable design with limited water and dust resistance, making it a reliable companion for outdoor adventures.
Semi license-less operation allowing use on FRS bands without a license, while GMRS bands require an FCC operator's license.
Outdoorsman Toolkit is reader-supported. When you buy through links on our site, we may earn an affiliate commission.
Learn more
Hikers, campers, and vacationers in general understand the annoyance that is getting past where the cell service stops. It's a great feeling on the one hand, but boy does it make staying in touch with separate groups more annoying. Thankfully there's a great solution: Two way radios. Today we're looking for the best two way radio and providing reviews on some of our favorites across the range of performance, price, and durability.
Best Two Way Radio Reviews
Two way radios really fall into one of two categories. Consumer radios designed for license-less use by your everyday people or workers on a job site, and amateur radios designed to offer substantially more power, performance, and flexibility that require licensing.
Our list includes some great examples of each so everyone from soccer moms looking to keep in touch with their kids at a campsite to ham radio enthusiasts looking to better explore their hobby can find a useful product.
BaoFeng Tech BF-F8HP Dual Band Two Way Radio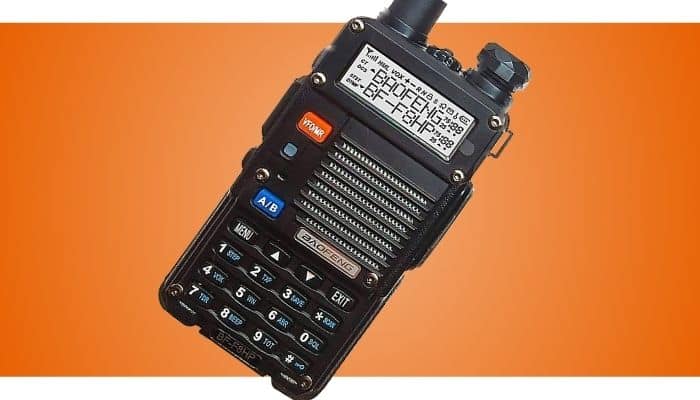 Embarking on my new journey as a HAM operator and a fervent admirer of outdoor activities, I was pointed toward the BaoFeng BF-F8HP – a radio that promised not just efficient communication but also a blend of technological advancements and rugged durability. My pursuits often take me to remote trails, camping spots, and hiking expeditions where reliable communication is not a mere convenience but a crucial necessity.
Holding the BF-F8HP in my hands, I was immediately intrigued by its hardened shell, which upon a few adventures, showed its worth by enduring a few accidental drops and resistances against the relentless elements in the wild. The improved 2,000 mAh battery, subtly reassured me by performing seamlessly through long, continuous hours of operation, even on days where the treks stretched beyond a day.
I marvelled at the intricate blend of the old and the new – maintaining features that made its predecessors (like the UV-5R) beloved while introducing worthwhile enhancements. The three distinct operation modes, each signifying different wattage levels, demonstrated thoughtfulness in design, offering flexibility between longer reach and battery conservation. Although the capability to operate on an impressive range of frequencies (65-108MHz, 136-174MHz, and 400-520MHz) was alluring, I also had to remind myself to adhere strictly to FCC regulations, due to my licensing and acknowledge the device's not-so-beginner-friendly nature.
My expeditions under the boundless skies were made more serene, knowing that the BF-F8HP could connect me to the National Weather Service and FM radio stations, offering a subtle comfort of connectivity even in isolation. Although the FRS and GMRS service frequencies were programmable, I adhered to its non-approval for transmission by the FCC on those particular channels, maintaining a lawful operation.
The convenience and thoughtful addition of the earpiece speaker/microphone cable was a pleasant surprise in the package, especially while navigating tricky terrains where hands-free communication became invaluable. But, the true unsung hero was perhaps the 2100 mAh battery that stayed loyal even during the most extended trails, its life considerably varying with my choice of wattage during transmissions.
One cannot overlook the manual programming process that initially presented a steep learning curve and required an attentiveness which, admittedly, was challenging during eager first attempts. The user manual was a mixed bag of thorough and slightly convoluted instructions which, once deciphered, revealed the impressive capabilities of this little device. An essential tip for any new user would be to dwell patiently on the manual, absorbing its content before diving into the ocean of programming possibilities.
Moreover, the optional USB Programming Cable, which I recommend purchasing, not only simplified the programming process but also introduced a convenience of labelling channels with discernable names, making navigation through the channels a more personalized experience. Utilizing the CHIRP software, freely available from Miklor.com, added another layer of ease to the entire process, seamlessly bridging the device with modern technology.
Despite my fascination with the BF-F8HP, I stumbled upon a hiccup with the provided handheld microphone. My testing found the audio quality to be a tad muffled on the receiving end, which was a slight disheartening in the otherwise smooth sailing. Seeking alternatives, I invested in the codeRED Signal 21-K speaker/mic, and thankfully, it seamlessly made up for the previous shortcoming, albeit at a price that almost rivalled the radio itself.
Embarking on a trek through the dense woods of the Appalachian Trail, I clasped my BaoFeng BF-F8HP tightly, appreciating its compact form and lightweight, yet robust build, which neither added noticeable weight to my pack nor demanded delicate handling. As the verdant canopy thickened overhead, eclipsing the generous sky, I was intrigued to test the radio's proclaimed powerful 8-watt output, notably higher than the standard 5 watts common in similar models.
Establishing communication with a fellow outdoor enthusiast nearly 15 miles away, the crispness and clarity of the reception, despite the enveloping foliage, was nothing short of a pleasant surprise. Simultaneously, the device proved its mettle as a sturdy companion when a sudden, unanticipated downpour tested its resilience to weather adversities. Its performance in real-world, less-than-ideal conditions, not only fortified my confidence in the BF-F8HP but also silently reassured that in the wild, where cellular signals dared not permeate, I was not entirely isolated. The solace brought by the tiny radio, offering a lifeline in the wilderness, enriched my outdoor adventures with a newfound sense of security and connectivity.
In retrospection, the BaoFeng BF-F8HP emerged as a trustworthy companion, linking me to the vast network of frequencies and ensuring a safe and connected adventure into the wilderness. For a seasoned or budding HAM operator with a zest for explorations into the unseen terrains, it snugly fits as a reliable communication partner, so long as one navigates through its initial learning curve and stays mindful of its capabilities versus legalities. Highly recommended for the adventurous soul who seeks connectivity amidst isolation.
Pros:
Powerful Transmission: With three power settings – 1, 4, and 8 watts, it provides a versatile range of communication options.
Durable Battery: The 2,000 mAh rechargeable battery supports up to 24 hours of use, ensuring long-lasting performance.
Versatile Frequency Range: Offers operation at 65-108MHz, 136-174MHz, and 400-520MHz frequencies, accommodating a wide spectrum of communication needs.
Affordability: Generally less expensive compared to other dual-band two-way radios with similar capabilities.
Durable Construction: A hardened shell that sustains through rough handling and weather challenges, relevant for outdoor activities.
Multiple Features: Boasts additional functionalities like FM radio reception, NOAA weather broadcasts, and the capability to program FRS and GMRS frequencies.
Cons:
Not for Beginners: Due to its expansive features and the need to adhere to radio laws, it's not recommended for those unfamiliar with two-way radio operations.
Licensing Requirement: Utilization of several frequencies and power levels mandates an FCC license, potentially a barrier for casual users.
Complex Manual Programming: While it can be programmed manually, the process can be intricate and may require referencing back and forth in the manual.
Additional Accessories Required for Optimal Use: Though it comes with several in-box accessories, optimal use might require additional purchases like a USB Programming Cable for easier programming via a computer.
Potential for Illegal Operation: Ability to operate on non-FRS/GMRS frequencies may lead uninformed users to inadvertently violate FCC rules.
The combination of powerful features, extended durability, and accessible pricing positions the BaoFeng BF-F8HP as a commendable choice for seasoned HAM radio operators and those willing to navigate the learning curve associated with its use. These aspects provide a balanced view for potential users, enabling them to weigh the device's robust capabilities against its complexities and legal operation considerations.
Midland LXT630VP3 36 Channel FRS Two Way Radio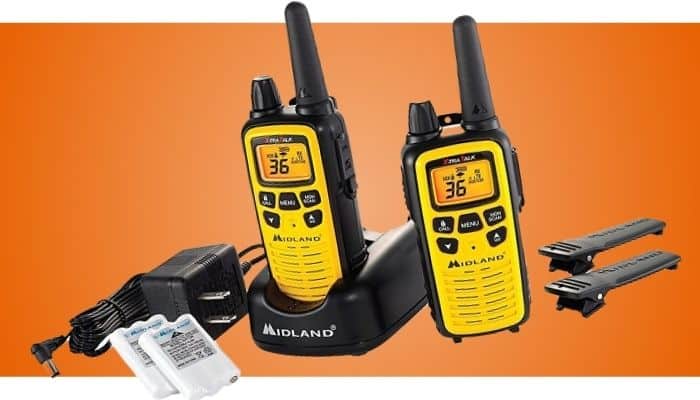 The Midland LXT630VP3 is an FRS two way radio designed for casual use. They come in either pairs or multi-packs and are designed to provide effective backcountry, job site, or other communication over distances of up to 30 miles.
As FRS radios you don't require a license to operate these, but they still offer substantial functionality. You can broadcast on 36 different channels plus 121 different privacy codes. Unless you're at a seriously crowded locale you're almost guaranteed a private conversation.
Other great features we really liked include dual power functionality, eVOX compatibility, and NOAA scanning and alerts. You can run the LXT630VP3 using either the included rechargeable battery pack or three AAA batteries.
The NOAA function allows you to scan the 10 NOAA WX bands for severe weather warnings and will even give you an automatic alert if there are major changes. eVOX makes it easy to use these handy two-way radios in a hands-free configuration.
If you're looking for a good way to keep in touch while camping, vacationing, or in a work setting the Midland LXT630VP3 is a great and very well priced option.
Motorola T260TP Talkabout Radio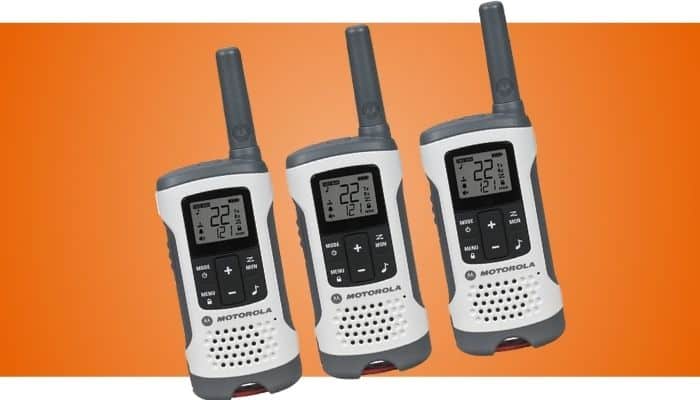 The Motorola T260TP is an FRS/GMRS two way radio designed for consumer to amateur use. It's capable of communicating on 22 different channels and offers 121 different privacy codes.
The body of the radio is made from a tough polymer and offers limited water and dust resistance. We wouldn't drop it in any lakes or even puddles, but you can get it a little wet in the rain and you should be alright.
The range is listed as up to 25 miles, but that's under seriously perfect conditions. Under most normal working conditions you can expect a maximum range of about a mile, with any obstructions cutting it even further. That's not to say it isn't a quality product with a useful range, just that you should make sure your expectations are realistic.
One really important caveat when talking about the T260TP is that it's only a semi license-less radio. It can operate on either the sub one Watt FRS bands or the GMRS bands. If you only operate it on the FRS bands you're okay without a license, but if you move into GMRS without first getting an FCC operator's license you can face a fine.
So long as you know how to properly stay on band and are aware of the real range the Motorola T260TP is a robust and well-made two-way radio that will provide you with years of useful service.
BaoFeng Tech GMRS-V1 GMRS Two Way Radio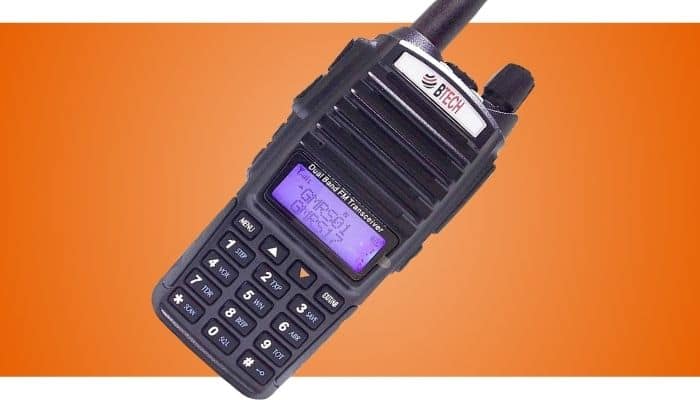 The BaoFeng Tech GMRS-V1 is a semi-duplex two way radio designed to operate in the GMRS bands. It has a digital display and a host of useful features for the professional or amateur radio enthusiast.
It doubles as a VHF/UHF receiver and is fully capable of receiving and alerting you to NOAA weather emergency messages. It comes standard with a bunch of useful accessories including an eVOX compatible earbud kit, wrist strap/belt holster, and a removable V-85 dual band antenna.
It can operate on FRS frequency bands as well, but given the advanced features the GMRS-V1 offers it's a good idea to get licensed if you're going to own one. If you don't have the proper experience or knowledge to stay in legal territory.
This bad boy is fully PC programmable for creating custom channels and really locking down where you want to broadcast. You can program specific features such as a busy channel lockout (BCLO) and transmission time out (TTO).
The BaoFeng GMRS-V1 is a great entry point to amateur radio as it gives you a lot of the more advanced features enthusiasts look for without the high price tag. You'll need an FCC Technician license at a minimum to operate this radio, but if you're willing to take the test it's an excellent product.
BaoFeng Tech DMR-6X2 (DMR and Analog) Dual Band Two Way Radio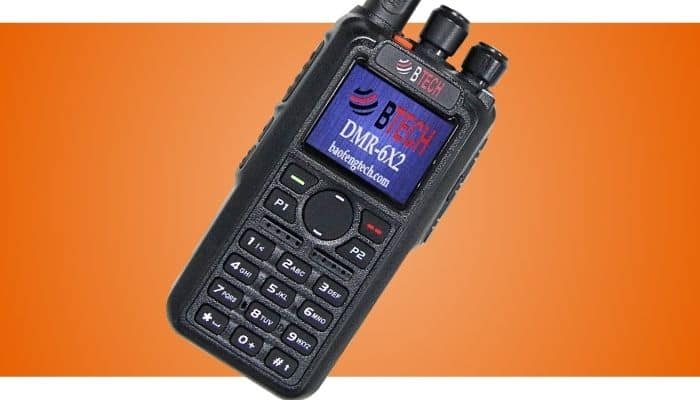 The BaoFeng Tech DMR-6X2 is a dual-band two-way radio that offers advanced features useful to the amateur radio community. It offers fully 4,000 different programmable channels, 10,000 talk groups, and 200,000 saveable contacts.
To get the most out of your DMR-6X2 you need to also download BaoFeng's free software suite. It allows you to make substantial modifications to frequency and usage and really opens up how you can use your radio.
One thing we should mention right out the gate is that this isn't a consumer focused product. You need an FCC license to operate on the vast majority of channels open to the DMR-6X2.
Physically it's a robust and well designed two way radio. It comes in a sturdy polymer housing and includes a laundry list of useful accessories right out of the box. Everything from an enhanced six inch dual band antenna to a pair of high-capacity batteries to extend your operating time are included standard.
If you're interested in amateur radio and would like to learn more about the hobby, the BaoFeng DMR-6X2 is a great way to get a lot of capability for a very affordable price.
Midland GXT1050VP4 50 Channel GMRS Two Way Radio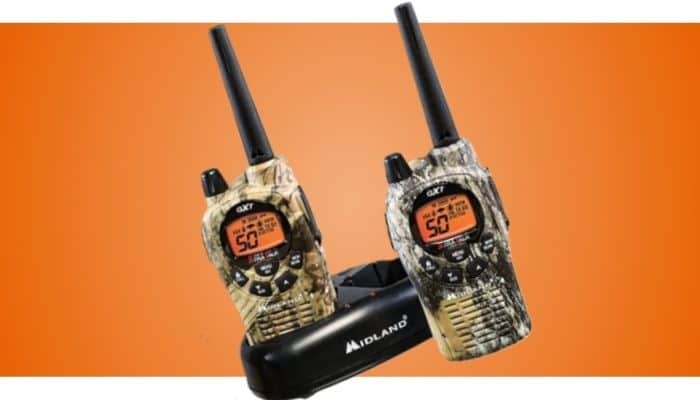 The Midland GXT1050VP4 is a 50 channel GMRS two way radio designed for use by licensed enthusiasts. It provides 142 different privacy codes that give you an effective range of 3,124 different channel options for a private conversation.
Under ideal conditions the broadcast range can reach 36 miles, though we found it to be a lot closer to one to two miles under real-world use. That's actually still really good for a two way radio of this size and power though.
Out of the box the GXT1050VP4 comes with a rechargeable battery pack, both car and home charging cords for the base, belt clips, and eVOX compatible boom mikes. That's a pretty good mix of accessories for a relatively basic GMRS radio, great for folks just looking to stay in touch while in the woods, on vacation, or even somewhere like a cruise ship.
While the GXT1050VP4 does require a license to operate we think it gives you enough additional power and functionality to be worth it. It's got a greater effective range than many FRS only two way radios and is still at a very reasonable price point.
Retevis RT27 Walkie Talkies Rechargeable Long Range FRS Two Way Radio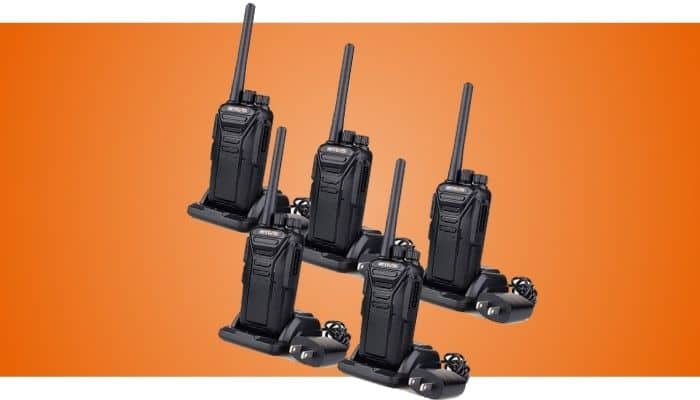 The Retevis RT27 is a license-free FRS two way radio designed for consumer and job site use. It comes in a pack of five, perfect for a small job site or large family on vacation.
They each use a 1,100 mAh rechargeable battery that gives you eight to ten hours of use with a single charge. Even better, every radio comes with its own charging cradle so you can keep them where you need them, when you need them.
It offers DCS/CTCSS codes for better privacy and is fully compatible with eVOX and other useful hands free features. All in all the RT27's offer a lot of functionality for being license-less.
For those looking for a click and talk experience without the need for programming channels or going through a licensing process the RT27 is a really great choice.
Cobra CX312 Walkie-Talkie Two Way Radio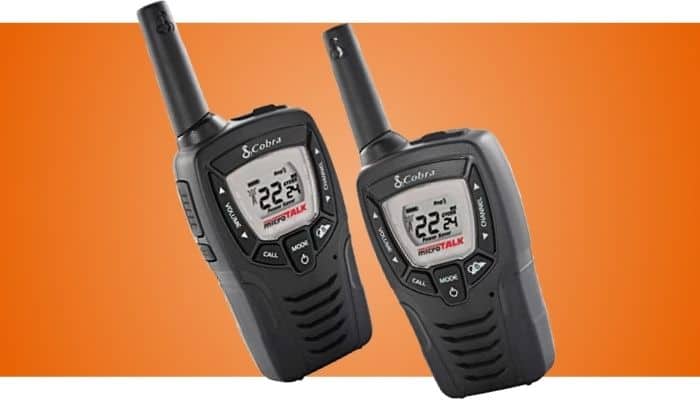 The Cobra CX312 is an entry level walkie talkie style two way radio designed for consumer use. It offers a combined 22 channels on the FRS/GMRS bands and has a listed range of up to 23 miles.
If you just use the FRS channels there's no need to get licensed, but if you aren't certain which are which or if you want to expand the usefulness of your radio's it's an easy test to take and pass. Feature-wise the CX312's are basic, but in a good way.
You don't have a lot of options to worry about and you can pretty much turn them on, sync up your channels, and be good to go for the foreseeable future. That's great if you're just looking to keep in touch with your kids when you're out hiking or while they run off to explore the campground.
Overall the Cobra CX312 is a capable little walkie talkie at a very attractive price. You can pick up enough for the whole family for well under $100.
Best Two-Way Radio Comparison Table
Buyers Guide to Buying the Best Two Way Radio
When picking out the best two way radio you really need to know your own capabilities and the level of performance your task requires. Two way radio's range from children's toys on up to high-powered amateur radios that require extensive experience and multiple licensing exams to use.
Make sure you know where, how, and at what distance you need your radio to work at.
Price
We're living in a golden age of high-quality, low-cost two way radios. Sub $100 radios today offer features and performance you would have been hard pressed to find on a $1,000+ model just a decade or two ago.
Suffice it to say you can get a two way radio or even a set of multiple two way radios for keeping in touch with family for a very reasonable price.
Half Duplex or Full Duplex
Half-duplex and full duplex are highly technical designations that refer to the base functionality of your radio. Duplex two way radios use two channels to communicate, one for outgoing and one for incoming information.
A full-duplex two way radio can communicate in much the same way as a phone. You can talk and listen at the same time without having to push a button.
Half-duplex systems have a similar two channel arrangement to full-duplex but require a push to talk button be pressed. The vast majority of portable two way radios are half-duplex radios.
Intended Use
How you intend to use your two way radio plays a huge role in what features you should look for. If you're a radio hobbyist who merely wants to communicate with others locally from your home you'll have significantly different needs than someone looking for a way to stay in touch while out in the backcountry.
Outdoor use two way radios need to be small and portable, offer a working range of several miles minimum, and offer access to the most commonly used FRS channels. They should also be at the very least shock and drop resistant and offer some level of water resistance.
Amateur radios need a lot more features, flexibility, power, and programmability. A modern amateur radio should be connectable to your PC to do some serious programming and frequency maintenance.
Size and Portability
The bulk of consumer two way radios are handheld affairs commonly referred to as walkie talkies. These are generally hand portable and weigh under a pound each.
You can easily carry one in a belt pouch or within your backpack. They offer substantial backcountry communication capability for their size. Some larger models are designed for use in vehicles or at a basecamp, these are about the size of a small DVD player and weigh just a few pounds.
Range
The range of your two way radio is directly related to its antenna effectiveness and the power of its broadcast capabilities. Modern radio broadcasting is measured in watts and directly relates to the distance it can broadcast.
The vast majority of small handheld two way radios claim an 'optimal condition' range of around 20 to 25 miles. Realistically though you're unlikely to encounter optimal conditions during practical use of your radio.
For most consumer focused two way radios you'll have a consistent range of about two to three miles. An important term you'll see thrown around a lot is 'line of sight'.
FRS radios below two Watts will generally provide only line of sight, or the distance you can see from your vantage point, range.
Channels
For modern two way radios there are a limited number of channels available that correspond to different broadcast frequencies. For a non-licensed individual there are 22 channels available on the FRS band.
If you're willing to get a license from the FCC, good for ten years, you can also use the additional channels of the GMRS.
Privacy Codes/Interference Codes
One of the biggest downsides with two way radios in the past was that anyone on the same frequency as you could listen in on your conversation. If there were a lot of people around on two way radios it could be difficult to find a clear channel to talk on.
Here's where the tech gets really interesting. Privacy codes, also known as interference codes depending on the manufacturer, allow people to have multiple conversations going on the same channel/frequency without interfering with one another.
The actual tech behind it is seriously technical in how it works, but the easiest way to explain it is that your walkie talkie 'hears' everything on a channel but only 'listens' to the conversation with a privacy code.
If there are 10 people trying to broadcast on the same channel your walkie talkie will pick up all the conversations. You and your friend can set your privacy code to 3, as an example, and have a clear conversation. Your walkie talkie only conveys what's said with privacy code 3 to you.
VOX Technology
If you're willing to spend a little more for a higher quality two way radio VOX is a really nice feature to have. VOX, or Voice-Operated Exchange, technology allows you to use your radio in a hands free manner.
The microphone is always listening and can start transmitting when it detects your voice. This can work both through the radio itself or, more commonly, through an attached headset.
VOX capable radios often include a delay circuit as well to prevent the broadcast from closing during the short pauses that often take place during natural conversation. Having a VOX capable radio lets you talk in a much more natural fashion.
Battery Life and Chargers
Two way radios are only as good as their battery life. Most quality walkie talkies these days have internal rechargeable batteries, though some still run on primary batteries such as AAs or AAAs.
Pay attention both to how long your two way radio battery lasts and how it can be charged. We like to see both home and car charge compatibility for a quality two way radio.
NOAA Weather Radio
A great value add for a two way radio is the inclusion of NOAA emergency channels. These provide up to date information on serious weather events in your local area.
In an emergency having access to NOAA can be the difference between life or death. Even if you're just out hiking, hunting, or camping it's great to be able to know what's coming weatherwise.
Do you Need a License?
For civilian two way radios there are two bands of frequencies used. These are the Family Radio Service (FRS) frequencies and the General Mobile Radio Service (GMRS).
FRS frequencies are between 462 and 467 MHz and offer 22 potential channels. Most inexpensive two way radios operate on FRS frequencies and don't require a license to use.
GMRS frequencies are also between 462 and 467 MHz but do require a license to operate. That's because GMRS radios can easily be modified to increase their power, boosting them into frequencies FRS radios can't reach.
Waterproofing
If you plan to take your two way radio outdoors you need at least a minimum level of water resistance. Two way radios are sophisticated digital devices with a lot of internal electronics.
Unless you're ready to drop a serious chunk of change you won't be able to get a truly waterproof model. You will be able to find limited protection from misty conditions and basic splash guards.
Don't expect to be able to submerge your two way radio.
Bluetooth Capabilities
Many higher-end two way radios now offer Bluetooth capability. It allows you to pair your favorite headsets and headphones with your two way radio and use it fully hands free.
Whether or not you need the flexibility that Bluetooth provides depends on how and where you plan to use your radio. For basic users the extra expense that comes along with added capability probably isn't worth it.
If you're going to be using your two way radio frequently or in activities that require the use of your hands it may be a good value add.
Top 2-way Radios Video
FAQ: Best Two Way Radios for Camping
As you embark on your next camping expedition, staying connected with your group members becomes crucial for safety, coordination, and enhancing the overall experience. Two-way radios offer a reliable and convenient means of communication in areas where cell phone signals may be unreliable or nonexistent. In this FAQ section, we address some common inquiries to help you make informed decisions when choosing the best two-way radios for your camping adventures. From range considerations to licensing requirements and additional features, we've got you covered. Explore the answers to these frequently asked questions to ensure seamless communication and peace of mind during your outdoor escapades.
Why do I need a two-way radio for camping?
Two-way radios are essential for camping trips as they allow you to communicate with your group members over short distances without relying on cellular networks. They are great for staying connected, coordinating activities, and ensuring everyone's safety during outdoor adventures.
What range should I look for in a camping two-way radio?
The range of a two-way radio determines how far apart you can be and still maintain clear communication. When choosing a camping radio, consider the terrain and environment where you'll be camping. Look for radios with a range of at least 2 miles for basic camping trips, but if you're venturing into more rugged or remote areas, opt for radios with longer ranges, such as 20 miles or more.
Are there any licensing requirements for using two-way radios?
For most consumer-grade two-way radios, no license is required. However, if you plan to use radios that operate on certain frequencies, such as GMRS (General Mobile Radio Service), a license from the Federal Communications Commission (FCC) may be necessary. Make sure to check the regulations specific to your country and the radio frequencies you intend to use.
How many channels do I need in a camping two-way radio?
The number of channels determines how many different frequencies you can use for communication. For camping purposes, having multiple channels is useful as it allows you to switch to a less crowded channel if interference is present. Look for radios with at least 22 channels to ensure versatility and flexibility during your camping trips.
Can two-way radios work in remote areas without cell coverage?
Yes, two-way radios function independently of cell coverage, making them an excellent communication option for remote camping locations where cellular service may be limited or unavailable. They rely on radio frequencies and do not require any cellular network infrastructure.
Are there any additional features I should consider in a camping two-way radio?
While the basic function of a two-way radio is communication, there are several additional features that can enhance your camping experience. Look for radios with features such as weather alerts, built-in flashlights, hands-free operation (VOX), waterproofing, long battery life, and the ability to use rechargeable batteries.
Can I use a two-way radio for emergencies in the wilderness?
Two-way radios can be a valuable tool in emergency situations during camping trips. Make sure to choose radios that have emergency features like an SOS button or a dedicated emergency channel. It's also crucial to familiarize yourself with local emergency frequencies and protocols before your trip.
Can I use different brands of two-way radios together?
In general, two-way radios of the same frequency range should be able to communicate with each other regardless of the brand. However, it's always recommended to use radios from the same brand and model to ensure compatibility and optimal performance.
How should I take care of my camping two-way radios?
To ensure the longevity of your two-way radios, protect them from water, extreme temperatures, and physical damage. Clean them regularly, avoid dropping them, and store them in a safe place when not in use. Follow the manufacturer's instructions for charging and battery maintenance to maximize their lifespan.
What is the average price range for camping two-way radios?
The price of camping two-way radios can vary depending on the brand, features, and range. Basic models suitable for camping can range from $20 to $100 per pair, while more advanced radios with longer ranges and additional features can cost $100 or more. Consider your needs and budget when choosing the right radio for your camping adventures.
Best Two Way Radios Recap
Final Thoughts
So long as you know where and how you intend to use your two way radio it's easy to find a great option.
Ask yourself how you plan to use it, if you want to go through the licensing process, and what level of performance you need.
Keeping all that in mind, picking out the best two way radio is a breeze.