Outdoorsman Toolkit is reader-supported. When you buy through links on our site, we may earn an affiliate commission.
Learn more
If you've ever been on a winter hike you know the intense need to keep your feet warm. For those of you who live in climates with really significant cold spells you need to find something other than layered socks to keep your feet warm while out skiing, boarding, or hiking. Today we're covering some of the best heated insoles on the market to help you find the best one for your needs.
What makes for the best heated insoles really comes down to how you use them. You need to figure out what temperature range you need, how much battery life will work for you, and what features to look out for.
Hotronic FootWarmer S4 Custom and Universal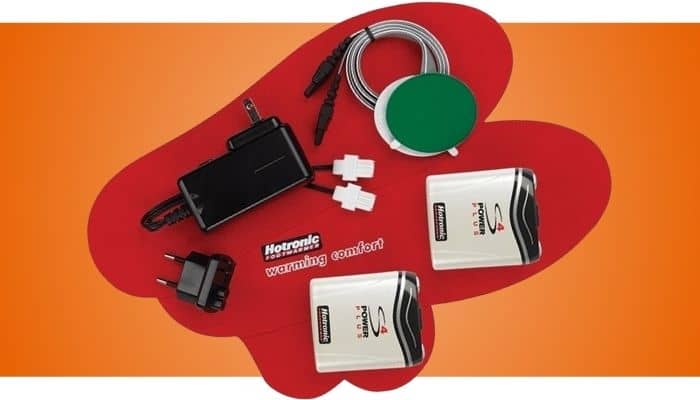 I recently tried out the Hotronic FootWarmer S4, and I have to say, it's been a game-changer for my winter sports adventures. These heated insoles come in two models, the Custom and the Universal, and they come with a pair of NiMH battery packs, a charger, heated elements, and self-adhesive strips, making it easy to set up in your boots or shoes.
One of the standout features of these foot warmers is the multiple heat settings. They offer three basic heat levels and a quick burst option when you really need it. The lowest setting provides subtle, all-day warmth, while the highest setting ensures toasty feet even in freezing temperatures. Personally, I found the second level to be just right, offering noticeable warmth without draining the battery too quickly. It's great to have this versatility to tackle varying weather conditions.
Sizing is another crucial aspect when it comes to foot warmers, and the Hotronic S4 excels in this regard. They offer two sizing options – the universal fit insoles that you can cut down to size, and the custom option with various sizes to choose from. While the insoles may not be the most comfortable, they don't interfere with performance as the batteries attach to the side of the boot, staying out of the way.
Battery life is a critical factor for any foot warmer, and the Hotronic S4 doesn't disappoint. On the lowest setting, they can last over 16 hours, and even on the third level, which provides ample warmth for most conditions, you can get over 5 hours easily. This impressive battery life ensures that your feet stay warm throughout your winter adventure.
However, one area where the Hotronic S4 falls short is in its durability and build quality. While they are not terrible, considering their relatively higher price point, some users have reported issues with the heating cords and cables breaking or tearing over time. A more robust design in this aspect would be greatly appreciated.
What I love about these foot warmers is their versatility in heating levels, long-lasting battery life, and the smart battery placement on the outside of the boot. The sizing options make them accessible to various boot and shoe sizes, which is fantastic.
On the downside, the durability of the product could use improvement, and the price might deter some users, especially those who ski casually and look for more budget-friendly options.
I can't emphasize enough how much of a game-changer the Hotronic FootWarmer S4 has been for me personally. During my recent ski trip, the temperature dropped unexpectedly, and I decided to put these insoles to the test. I opted for the second heat level, and my feet remained comfortably warm throughout the day on the slopes. It made a significant difference in my overall enjoyment of the trip, as I no longer had to deal with the discomfort of cold feet. The easy installation, combined with the long-lasting battery life, allowed me to focus on skiing without worrying about my feet getting cold. Despite the minor durability concerns, the warmth and comfort they provided outweighed any drawbacks, making them an essential addition to my winter sports gear.
In conclusion, if you're looking for a foot warmer that can handle a wide range of temperatures and provide all-day warmth, the Hotronic FootWarmer S4 is a viable choice. While it's not perfect and could benefit from improved durability, it's an excellent way to ensure your feet stay cozy during your winter adventures.
Pros:
Multiple Heat Settings: Offers versatile heat levels to match various weather conditions.
Sizing Options: Provides both custom and universal sizing for a comfortable fit.
Long Battery Life: Impressive battery life ensures warmth throughout the day.
Smart Battery Placement: External battery attachment keeps batteries out of the way.
Versatile Use: Suitable for a wide range of winter sports activities.
Personal Comfort: Personal experience revealed excellent warmth and comfort during skiing.
Cons:
Durability: Some users reported issues with heating cords and cables.
Price: Relatively higher cost compared to more budget-friendly options.
Bulkier Batteries: Batteries are relatively large and may impact ski pants fit.
Dr Warm R4 Heated Insoles for Hunting and Hiking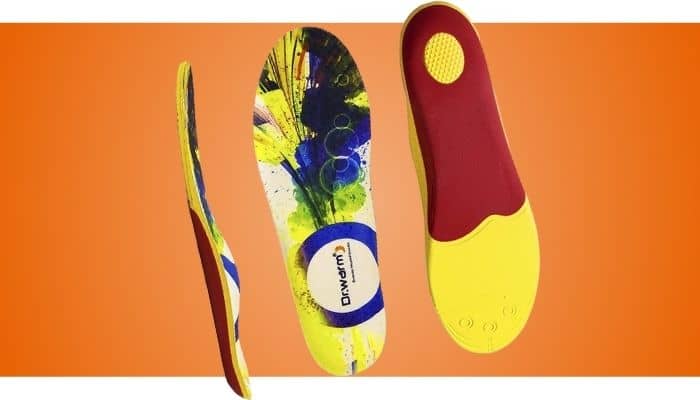 The Dr Warm R4 Heated Insoles are designed with the needs of hunters and hikers in mind. They're sleeker and slimmer than many similar insoles yet offer pretty good performance.
Rather than a detachable battery pack the R4 actually contains the battery within the insole next to the heating element. This prevents an uncomfortable cord from snaking along the side of your ankle while trekking across the countryside.
They offer up to 6 hours of warmth per charge depending on outside temps. They use a control algorithm that automatically adjusts the heat output to keep it within the set range.
You can control the temperature using a handy little remote. It's about the size of a car door remote and is easy to figure out.
The insoles themselves offer a comfortable fit in a wide variety of shoes. They also include substantial arch support to help you maintain the most optimal posture and gait.
While not quite as powerful or long lasting as some other insoles on our list, the Dr Warm R4 heated insoles offer acceptable performance at a reasonable price.
Anseris Outrek 2 Electric Heated Insoles for Hunting, Skiing and Work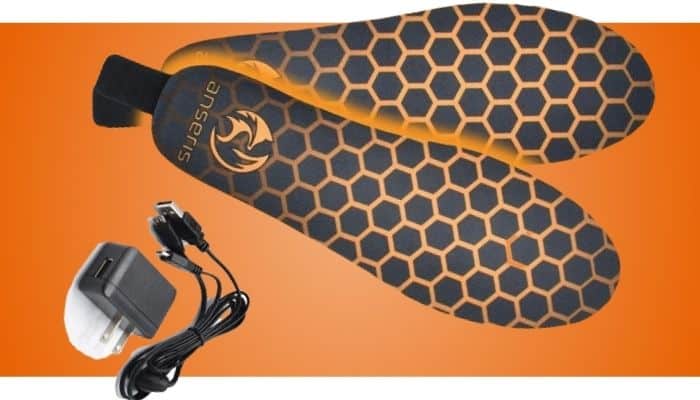 The Anseris Outrek 2 is a battery operated heated insole designed for a range of winter activities. It uses internal rechargeable batteries for a comfortable and lightweight design.
You can use an included remote control to cycle between three different settings. It can reach temps of up to 130 degrees and last for as long as 6 hours on low.
This gives you enough warming action for a full day of hiking, camping, or skiing. They're available in medium and large with scored guidelines along the front and sides to help you find the perfect fit.
The batteries charge up to full in just three to four hours. This means you'll never have to head out with icy cold feet again.
The Anseris Outrek 2 is a value priced heated insole. It gives you reasonable performance for a very affordable price.
HotHands Insole Foot Warmers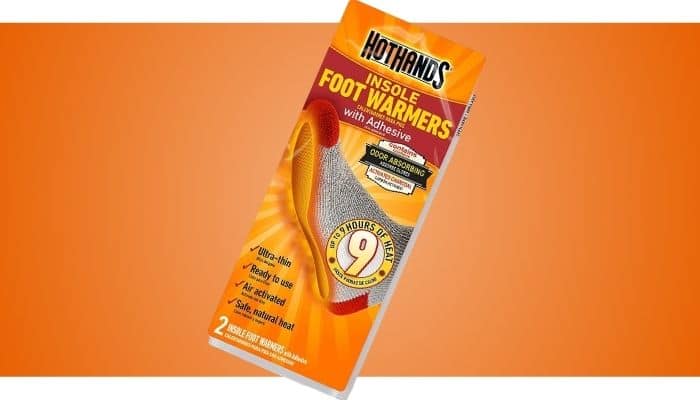 HotHands Insole Foot Warmers are a companion product to the company's wildly popular hand warmers. They're designed to stick securely in place once activated to provide you with up to 9 hours of warmth.
They're air-activated disposable hand warmers that weigh almost nothing. All you need to do to use one is open its foil package and give it a good shake. The chemicals inside will react with the air to create a comfortable warmth that lasts for hours.
These are great to keep in your ski bag, glove compartment, backpack, or bug out bag. They last for years when properly sealed and are ready to go in an instant when you need them.
The biggest downside to the HotHands Insole Warmers is also their greatest benefit: They're disposable. Once you use one up you just have to throw it away. Over time this will become noticeably more expensive than buying a high-quality battery-operated insole.
That's not to say they're a bad choice. On the contrary, they're one of the best options out there from the standpoint of those who don't often find themselves out in the deep winter cold but want to stay warm when they do.
Thermrup Electric Heated Insole Foot Warmers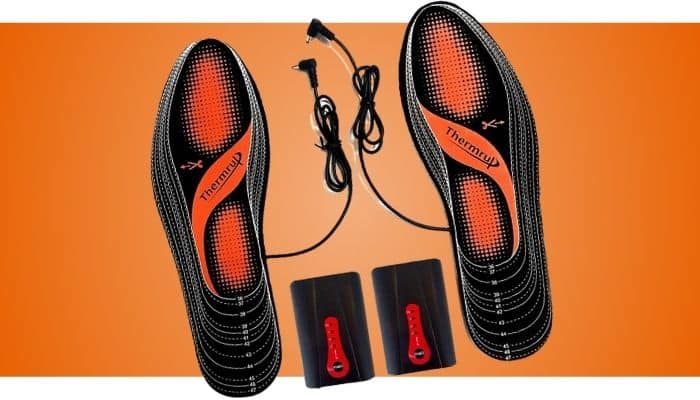 The Thermrup Electric heated insole is a battery-operated insole designed for a range of cold weather activities. It uses a pair of detachable battery packs to provide substantial warmth.
The insoles themselves are made from a layered matrix that helps make them comfortable without sacrificing function. You can choose from four different settings by clicking through the options on the battery pack.
This makes it easy to find the perfect temperature for conditions and your own preferences. It also includes a pair of gaiters to hold the battery pack in place.
Not sure what your size is? The good news is that the Thermrup is extremely customizable. You can trim it down on basically every edge without fear of hitting the heating element itself.
This lets you get a perfect fit within just a few minutes of opening the box. Pricewise it's quite reasonable as well, coming in well under many similar battery-operated tools.
Overall the Thermrup electric heated insole is a good option for those who want a good feet warmer that won't break the bank.
Gerbing 12V Hybrid Heated Insoles with Microwire Technology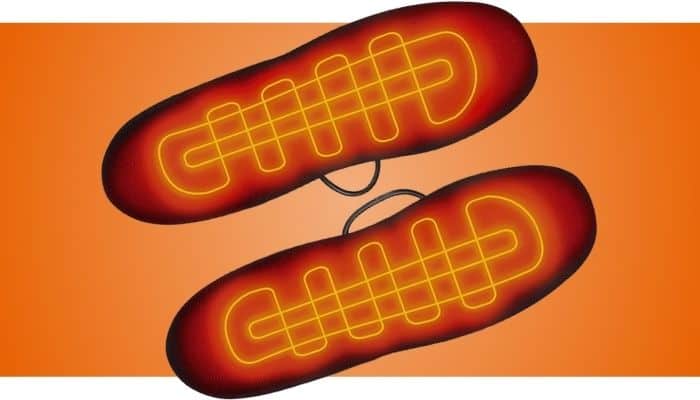 The Gerbing 12V is a hybrid style heated insole designed for motorcyclists and other outdoor enthusiasts. It offers the option to hook up directly to the battery of your motorcycle.
This is a great way to power your heated insoles as it allows you to stay warm and cozy no matter how long your ride is. It uses a Microwire system that embeds tiny steel wires into strategic places.
This gives you a temperature control switch that will help you find the perfect temperature for longer rides or rallys. Because it hooks up directly to your motorcycle it offers basically limitless power while you're riding.
Superfeet REDHOT Insoles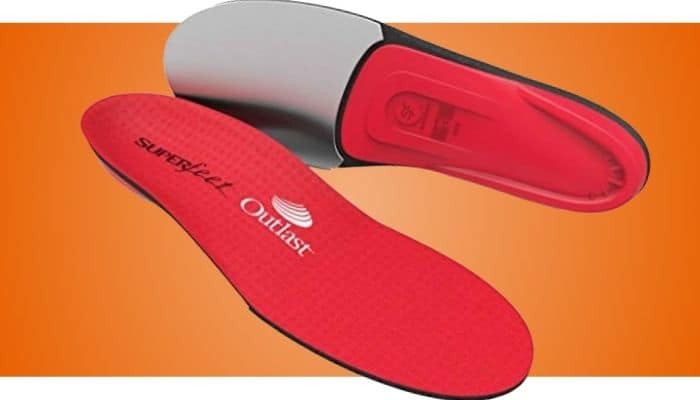 The Superfeet REDHOT is a ski and snowboard focused heated insole designed for really cold temperatures. It includes a number of features specifically to keep your feet comfortable in ski or snowboarding boots.
These include an insulating foil at the front, a deep arch cup to properly center your foot in your boots, and additional support. This makes it easy to keep your feet toasty and comfy for the whole winter.
The top cover of the insoles has a heat resistant coating to help reflect heat back at your feet. All of this for a heated insole that comfortably provides you with warmth while out in the dungeon.
Upstartech Heated Insole Wireless Foot Warmer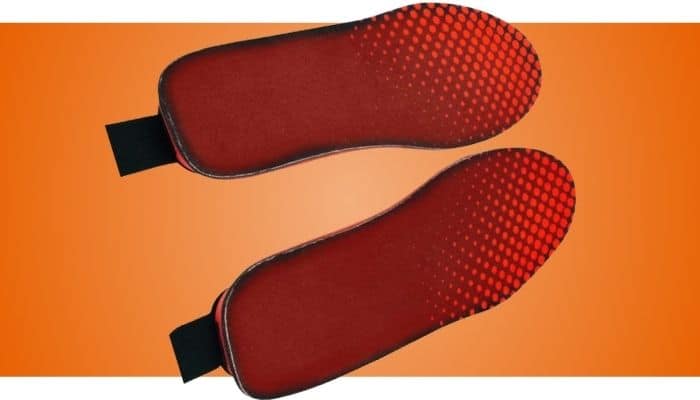 The Upstartech is a battery-powered heated insole. It uses rechargeable batteries capable of providing up to 8 hours of use before they begin to shut down.
This gives you plenty of power for a day's cold activities. It includes a remote control and a charger. This makes it really easy to find the perfect temperature for your needs.
The insoles are available in sizes that range from 4.5 all the way up to 11. You can trim various parts down to get the perfect fit for your needs.
The batteries are rated for up to 500 charge cycles without showing a significant reduction in capacity. They're also just about the most affordable heated insoles on the market.
Heated Insoles Comparison Table
Buyers Guide to Buying the Best Heated Insoles
Picking out the best heated insole can be trickier than you think. There are several key decisions you have to make that will affect which one is right for your needs.
Price of the Best Heated Insoles
There's a pretty big range of prices in heated insoles. You can pick up air-activated ones for just over a dollar a pair, or spend upwards of $100 on really high-end models.
Most battery-powered insoles will run somewhere between $50 and $150.
Types of Insole Heating
When it comes to heated insoles there are two main categories with several subcategories. These are air-activated warmers and electrically heated.
Electrically Heated – Most of the heated insoles on the market today fall into the electrically heated category. These rely on battery packs that are either replaceable or rechargeable. There are also some specialized motorcycle insoles that plug into your bike to keep your feet warm on long rides.
Depending on the type and manufacturer you may be able to adjust the temperature output. Some even allow you to use a remote control to turn them on/off and adjust the temperature.
Air-Activated – Air-activated insoles rely on a chemical reaction between the insole and the oxygen in the air to generate warmth. These are lightweight, inexpensive, and disposable.
The biggest benefits they provide are convenience and short term cost. You can basically keep a few in your bag indefinitely and use them only when they're needed.
If you only have a few days a year where you ski, snowboard, or otherwise need a heated insole they can be a cost effective way to do it. If you're the kind of person who finds yourself spending a lot of the winter months with cold feet, battery operated heated insoles are a better option.
Battery Life and Replacement Batteries
We have some really good news here, battery life for heated insoles has never been better. You can now get up to 10 hours of comfortable heating from a single battery. This depends heavily on the heat level and setting you choose.
One thing to keep in mind is that different heated insoles require different batteries. The vast majority now use rechargeable batteries. This raises the initial cost but significantly reduces the overall cost of ownership.
Size
With most heated insoles you don't have precise size options. They generally come in small, medium, large, etc, and are designed with space at the tip that you can trim down to size.
This makes it really easy to get a perfect custom fit. Just make sure that you order the size closest to your shoe size so you have to trim down the least material possible.
Comfort and Ease of Use
One of the most important things to remember about heated insoles is that they will be literally under your feet. If you've ever had a pebble in your shoe you know how infuriating and uncomfortable it can be to have something weird under your foot.
Look for features like ergonomic design, arched soles, and other orthopedic focused add ons. These help make your heated insoles more comfortable to wear while being active.
Temp Control and Heating Coverage
Different insoles offer different levels of adjustment and heat coverage. Some come with wired or wireless remote controls, while others only have a single on setting.
Heat coverage is something you should really consider. Heated insoles with more comprehensive heat coverage are great in icy winter climates, but can lead to hot and sweaty feet if it's warmer out.
Make sure you think about how much you're going to want to adjust the temperature of your heated insoles before making a purchase.
Top Heated Insoles Video
FAQ: Best Heated Insoles
As you explore the world of outdoor activities like camping and hiking, keeping your feet warm and comfortable becomes crucial, especially in cold weather conditions. Heated insoles have emerged as a popular solution to combat the chill and ensure that your feet stay cozy throughout your outdoor adventures. To help you navigate the world of heated insoles and make an informed choice, we've compiled a list of frequently asked questions. Whether you're new to heated insoles or seeking more information about their features and functionality, this FAQ section will provide valuable insights. Read on to find answers to common queries about heated insoles and make the most out of your outdoor experiences with warm and toasty feet.
What are heated insoles?
Heated insoles are battery-powered devices that you can place inside your shoes or boots to keep your feet warm in cold weather. They typically feature heating elements that distribute warmth across the insole.
How do heated insoles work?
Heated insoles work by generating heat through built-in heating elements. These elements are usually made of carbon fiber or other conductive materials. The insoles are powered by rechargeable batteries, and the heat is distributed evenly across the insole to keep your feet warm.
Are heated insoles suitable for all shoe sizes?
Most heated insoles are designed to be trimmable, allowing you to cut them to fit your specific shoe size. They often come with guidelines or marked lines to help you trim them accurately.
How long do heated insoles last on a single charge?
The battery life of heated insoles can vary depending on the brand and model. On average, you can expect them to last anywhere between 4 to 8 hours on a single charge. However, some high-end models may offer longer battery life.
Can heated insoles be used in wet conditions?
It's important to check the manufacturer's guidelines for each specific model, as not all heated insoles are waterproof or water-resistant. Some models may be suitable for light moisture, while others are not recommended for wet conditions. Always follow the manufacturer's instructions to ensure the longevity of your heated insoles.
Can heated insoles be controlled?
Yes, most heated insoles come with a remote control or a smartphone app that allows you to adjust the temperature settings. Some models even offer multiple heat settings, allowing you to choose the level of warmth that suits your needs.
Are heated insoles safe to use?
Heated insoles are generally safe to use as long as you follow the manufacturer's instructions. It's important to use them as intended and avoid excessive heating, which can cause discomfort or potential burns. Additionally, ensure that the batteries are properly charged and stored according to the guidelines provided.
Are heated insoles suitable for all outdoor activities?
Heated insoles are particularly useful for outdoor activities such as camping, hiking, skiing, and hunting, where you may be exposed to cold temperatures for extended periods. They can help keep your feet warm and comfortable during these activities, but it's essential to choose a model that is suitable for your specific needs and intended use.
Can heated insoles be used in different types of footwear?
Heated insoles are generally designed to be versatile and can be used in various types of footwear, including boots, shoes, and even certain types of slippers. However, it's always a good idea to check the manufacturer's guidelines to ensure compatibility with your specific footwear.
Can heated insoles be used by people with medical conditions?
It is recommended to consult with a healthcare professional if you have any underlying medical conditions, such as diabetes or circulatory problems, before using heated insoles. These individuals may have specific considerations or precautions regarding the use of such devices.
Remember to always read and follow the manufacturer's instructions for proper usage, care, and maintenance of heated insoles.
Final Thoughts on the Best Heated Insoles
There you have it. So long as you keep the central points we covered above in mind it's very straightforward to pick out the best heated insoles for your needs.
They allow you to balance weight, size, and battery life to find the best match possible.