Top 3 Best Premade Bug Out Bags
Emergency Zone 72-Hour Bug Out Bag Survival Kit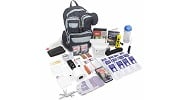 Compact and Lightweight: Weighing just 15 lbs, it's a practical companion for outdoor adventures.
Well-Stocked: Provides 1,200 calories of S.O.S lifeboat rations per person per day, along with an adequate water supply and purification tablets.
Shelter Essentials: Includes an emergency tube tent, mylar blankets, and ponchos for unforeseen circumstances.
Wise Company Go Bag for Hurricanes, Fires, Earthquakes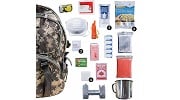 Ample Food Supply: 32 servings of freeze-dried camping food for sustenance over 5 days.
Water Resources: Comes with five water pouches and purification tablets.
Basic Hygiene and Accessory Kit: Though minimal, it includes toilet paper, a few wet wipes, a mylar blanket, an emergency poncho, and a self-contained stove unit with included fuel tabs.
First My Family All-in-One 4-Person Premium Disaster Preparedness Survival Kit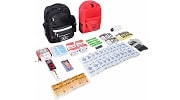 First Aid: An 85-piece first-aid kit to handle minor injuries.
Water Supply: 72-hour supply of emergency water, certified fresh for 5 years.
Food Ration: One 2400-calorie food ration, hypoallergenic and peanut-free.
Shelter Tools: Includes a poncho, emergency Mylar space blanket, 200-hour LED flashlight, 12-hour glow sticks, and a multi-function outdoor camping tool.
Warmth Essentials: A 24-hour body warmer, leather palmed work gloves, and medical-grade masks for protection against the elements.
Outdoorsman Toolkit is reader-supported. When you buy through links on our site, we may earn an affiliate commission.
Learn more
The Federal Emergency Management Agency (FEMA) recommends that every American prepare an easy to carry kit of food and basic supplies capable of supporting them for 72 hours. These kits, commonly called bug out bags, provide you and your family with everything you need to survive without additional supplies. If you're new to the preparedness world a premade bug out bag is a great way to get started. Keep reading to learn more about the best bug out bag on the market and how to figure out what you need.
Best Premade Bug Out Bags
Premade bug out bags aren't intended to be the kinds of deep wilderness survival kits you see in movies and on tv. They're mostly basic kits with things like food, water, first aid supplies, and a bit of gear to keep you warm and safe.
If you've never really thought about preparedness before figuring out which one works best for your needs can be a bit confusing.
We've selected a range of different bug out bags and 72 hour kits at every price point and preparedness level. Check them out and let us know what you think.
Emergency Zone 72-Hour Bug Out Bag Survival Kit
Having a penchant for hiking, camping, and embracing the wilderness, preparedness is something I've always held in high regard. When it came to ensuring safety during unforeseen circumstances, the Emergency Zone 72-Hour Bug Out Bag Survival Kit appeared to be a prime choice, especially after witnessing the havoc wreaked by an earthquake back in '94.
The kit, housed in a discrete black backpack, is meticulously assembled to cater to two people for a stretch of three days. It's quite a compact powerhouse, weighing just 15 lbs, which made it a practical companion in my car during my outdoor escapades. The 1,200 calories of S.O.S lifeboat rations per person per day, along with adequate water supply and purification tablets, painted a reassuring picture of survival in dire straits. The inclusion of an emergency tube tent, mylar blankets, and ponchos were a testament to the thoughtfulness put into this kit.
As a torchbearer of self-sufficiency, the hand-crank flashlight with a built-in compass resonated with my love for traditional outdoor tools. The accessory kit was a treasure trove of essentials, boasting first aid supplies, work gloves, n95 masks, duct tape, and paracord among others. The comprehensive hygiene kit too, was a nod to the meticulous planning behind this survival kit.
Navigating through the pockets of the spacious backpack, I could organize the contents while making room for some personal items, embodying a blend of preparedness and personal touch. The informative booklet encapsulated basic yet crucial information about handling different types of disasters, a reference that could be a beacon in tumultuous times.
The cherry on top was the commendable customer service from Emergency Zone. Upon discovering a broken water packet, a quick email led to a swift resolution with replacement water packets being sent out immediately. Their prompt response, along with a direct contact number for queries, evoked a sense of care and dedication towards customer satisfaction which is rare to find.
The entire transaction was smooth, with fast shipping making the experience even more worthwhile. The value derived from the price was indisputable, especially when comparing it to the tedious and expensive process of assembling a personal kit.
On a serene weekend, I decided to test out the kit during a solo camping trip in the nearby woods. As an enthusiast of outdoor adventures, I believe in realistic testing of any survival gear I acquire. As dusk enveloped the sky, the temperature dipped considerably. I found solace in the warmth of the mylar blankets and the convenience of the hand-crank flashlight which proved to be exceptionally handy as I navigated around my campsite in the dark. The calm night was a subtle reminder of the unpredictable nature of life, and as I sipped water purified with the tablets from the kit, a sense of reassurance embraced me. The thoughtful compilation of this kit not only catered to the basic necessities but also brought a semblance of comfort in the wilderness. This modest test was a testament to the practicality and reliability of the Emergency Zone 72-Hour Bug Out Bag Survival Kit, making me more confident about facing unforeseen circumstances, whether in the heart of nature or amidst the hustle of daily life.
In reflection, the Emergency Zone 72-Hour Bug Out Bag Survival Kit is a well-orchestrated blend of essential survival gear, customer-oriented service, and a value-for-money proposition. It's a prudent investment for anyone who cherishes readiness amidst their adventurous pursuits, making it a hallmark of preparedness I'd gladly vouch for.
Pros:
Comprehensive Contents: The kit is well-stocked with essentials like food, water, and first aid supplies catering to two people for three days.
Quality Backpack: Durable with multiple pockets, making organization and personal customization easy.
Informative Booklet: Provides useful basic disaster response and first aid information.
Customer Service: Prompt and caring customer service from Emergency Zone, ensuring satisfaction and quick resolution to any issues.
Cost-Effective: More affordable compared to assembling a personal emergency kit.
Practical Accessories: Handy tools like a hand-crank flashlight with a built-in compass and a hygiene kit.
Cons:
Water Packet Vulnerability: There was an instance of a water packet breaking, although the issue was quickly resolved by customer service.
Personal Additions Required: May need to add personal items or additional supplies depending on individual needs or preferences.
Initial Dryness: In one case, a water leak required the backpack to be dried out overnight, although all items were protected in plastic bags.
Wise Company Go Bag for Hurricanes, Fires, Earthquakes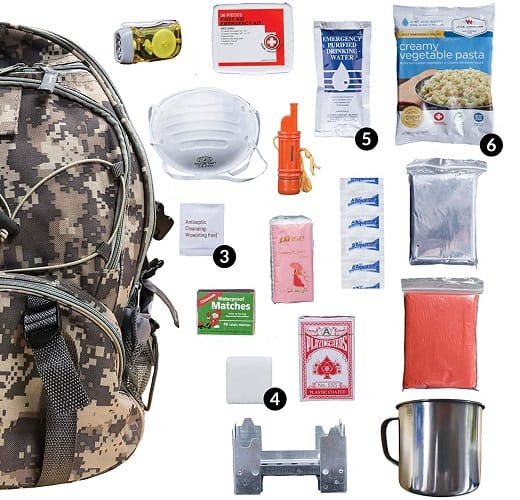 The Wise Company is a well known supplier of food storage and other emergency preparedness gear. Their Go Bag kit is a 5-day bug out bag for a single person.
It contains 32 servings of freeze dried camping food including classics like tortilla soup, rice and beans, oatmeal, and other high-calorie meals. It also offers five water pouches and purification tablets to get more.
The hygiene and accessory kit is smaller than on some other kits but does include toilet paper and a few wet wipes. It offers a mylar blanket, emergency poncho, and self-contained stove unit with included fuel tabs.
This allows you to quickly and easily boil purified water for your meals. If you're traveling with others you'll love the included deck of cards to help pass the time.
All in all the Wise Company 5-Day Go Bag is well stocked with food and water but a little light on comfort items. It's priced at a very affordable point though and comes in either a black, red or camo bag.
The First My Family Disaster Preparedness Survival Kit is designed to get a family of four through 72 hours of disaster. It's technically a two-part kit, coming in a pair of packs sized for a man and a woman.
It includes lifeboat rations, water, and basic gear for four. It has all the things you expect in a bug out bag including mylar blankets and ponchos, but also adds in glow sticks, an emergency whistle and a hand-powered shake light.
One thing we really liked was the inclusion of a folding swiss army style knife. This gives you a ton of useful gear like a knife, can opener, etc, and really increases the overall value of the kit.
The included first aid kit is good for minor bumps and bruises but the lack of a hygiene kit definitely leaves something to be desired.
If you're concerned about the safety of your spouse and children this is a reasonable option. It includes the food, water, and basic shelter components you need in a low profile pair of bags.
Ready America Deluxe Emergency Bug Out Bag
The Ready America Deluxe Emergency Bug Out Bag is a four person 72-hour kit designed for the whole family. It's contained in a single large bag and includes a good mix of gear.
The first thing we noticed was the rations. The Ready America Deluxe kit provides just 800 calories per person per day. This isn't ideal in a stressful and high-activity survival situation. It does include more water than many similar kits though, which made up for this somewhat.
From there the kit really impresses. It has a comprehensive first aid kit for a bug out bag, plus excellent PPE including rubber goggles, gloves, and face masks for the whole family. The hygiene kit offers ample toilet tissue and plenty of wipes for keeping your hands clean.
There are the usual mylar blankets, plastic ponchos, and glow sticks, but we really like the crank flashlight they included. It's a combination light, radio, siren, and emergency phone charger.
Our favorite piece of kit is a butterfly fold multi tool. There are so many useful functions this can fulfill it's impossible to list them all.
The Ready America Deluxe bug out bag is a well stocked kit that's just a little short on rations. Overall though, we think it makes up for it with the protective gear and other useful equipment it provides.
Uncharted Supply SEVENTY2 Emergency Survival Bug Out Bag
The Uncharted Supply SEVENTY2 kit is an emergency survival bug out bag designed for two. It's included in a watertight roll top bag and has noticeably nicer gear than many other premade bug out bags.
Before we tell you what's inside, we have to talk about how it's packaged.
Uncharted Supply wanted to create a kit that was perfect for the total preparedness newbie. Every bit of gear is packed into a fold-out insert with clearly labeled pouches. The back of the insert has step by step instructions on what to do in an emergency and a clear breakdown of the hierarchy of needs.
It contains 2,400 calories worth of Datrex lifeboat rations and a Sawyer Mini water filter. There's no actual water in the kit, so Uncharted Supply recommends you fill up the included Nalgene bottle and 2L Sawyer pouch once you get your kit.
For staying warm and safe it includes a beanie, winter style work gloves, a mylar blanket and an emergency tent for two. It also includes matches and a ferro rod to allow you to make a fire. The first aid kit is one of the best we've seen in a premade bug out bag.
It has basic stuff like bandages and antibiotic ointment, but also includes sunscreen and an easy to use splint for stabilizing broken bones. The PPE is similarly next level, with a very comfortable rubber eye mask and RZ M5 filtration mask with activated carbon filters.
For actual gear you get a butterfly fold multi tool, a folding shovel with a pick axe, a small flashlight and hand crank radio/flashlight combo, plus duct tape and paracord.
That's a lot of gear in a very nice package, but it does come with a downside: Price. The Uncharted Supply SEVENTY2 is one of the most expensive single people premade bug out bags we reviewed, with prices well over $300.
To be honest though, we still think it's a good deal. It gives you high quality gear in a good pack with excellent information resources, and maybe the difference between life and death in a disaster.
Echo Sigma Bug Out Bag
The Echo Sigma Bug Out Bag is a premium survival kit built for one to two people. It comes in a military style MOLLE compatible bag and includes some of the best survival gear we've seen in a premade bug out bag.
Rather than going for generic gear and supplies many big-ticket items in the Echo Sigma are name brand. You get a Fenix LD12 LED flashlight, a SOG S62 PowerAssist multitool, Midland Emergency radio, LifeStraw, and a zero degree rated Suisse Sport Synthetic fill sleeping bag.
It offers food for 3-10 days depending on your consumption and a 2.5 liter hydration bladder. This gives you a good supply of food and water for 72 hours and the ability to stretch it if you need to.
The first aid kit, PPE, and other basic gear is much the same as what we've seen in similar bags. That's not a bad thing though, as this is pretty much bedrock gear that it's hard to improve upon.
It does include things like zip ties and a trowel that we don't see in many other kits. One glaring oversight though was the lack of any hygiene supplies. If you decide to go with this kit, make sure to throw some hand wipes and TP in the bag.
If you're looking for high-quality survival gear in a sturdy rucksack the Echo Sigma Complete Emergency Kit isn't a bad option. The only real downside is its high price, well over $500. At that price, and with this level of gear quality, you might be better off putting together a custom kit yourself.
Sustain Supply Co. Comfort4 Emergency Survival Bag
The Sustain Supply Co. Comfort4 is a 72 hour premade bug out bag designed to support a family of 4. It comes in a large hiking style pack with significant ergonomic features.
It packs in 24 servings of camping food, including favorites like mac 'n cheese, teriyaki chicken, and taco mac, plus a liter of water per person. It also provides you with a Sawyer Squeeze water filter perfect for getting more.
Gear wise it has a good mix of basic survival gear like mylar blankets with premium touches like a Mora knife, and collapsible stoves and eating utensils. The first aid kit is adequate for small bumps and scrapes while the included extra thick bathing wipes go a long way towards improving comfort and morale.
There are lanterns, flashlights, glowsticks, and several different ways to make fire included. All in all the Comfort4 is a premium bug out bag as a premium price.
If you're looking for a comprehensive kit that will help you get through disasters natural and manmade the Sustain Supply Co. Comfort4 is a good option.
Redfora Bug Out Bag for Earthquakes, Hurricanes & Floods
The Redfora Complete Earthquake Bug Out Bag is specifically designed with natural disasters in mind. It's not just a single bag, but a set of different survival kits that adapt to how many people you need supplies for and how long you want it to sustain you.
The basic kit is a single person, single day bug out bag that includes food, water, shelter, first aid, PPE, and accessory options in a bright red school style backpack. It offers a good kit and several different light sources.
You can expand this all the way up to a rolling duffel bag designed to support six people for three days. This kit is made up of the same type of gear, just more of it and more food. It also includes the bright red backpack, allowing you to split your gear up into two places.
Overall the Redfora Complete Earthquake bag kits are well designed and comprehensively stocked emergency kits. They're reasonably priced for the amount of gear they provide and include all the basics you'd need to make it for a set period of time plus some useful extras.
Best Premade Bug Out Bag Comparison Table
Buyer's Guide for Buying the Best Premade Bug Out Bag
Picking out the best premade bug out bag really depends on what your goal is. Survival, obviously, is the end goal, but you need to consider your budget, how many people you have in your group, and what type of bug out bag you're looking for.
Price
There's a pretty big range in the price of premade bug out bags. They start around the $50 mark for basic kits with very minimal gear and can go up to several hundred for comprehensive family kits.
These include all the bells and whistles as well as a substantial amount of shelf-stable food and water.
Bug Out Bag Essentials
While there's going to be a lot of differences in the actual brands and pieces of gear included in different premade bug out bags, the actual types of gear are pretty standardized.
Food and Water – Probably the most important part of a premade bug out bag is the food and water it provides. The food is usually lifeboat rations, camping food or other shelf stable sustenance.
LIfeboat rations you commonly see include Datrex, SOS, and New Millenium, while camping food is often made by a company like Mountain House. Make sure you size your kit with all the members of your family in mind.
You want to have enough calories to comfortably sustain them for the length of time you expect to be on the move. A good rule of thumb is around 1,000-1,200 calories per person per day, though many kits will hover around the 800 calorie mark.
Check and make sure there's a way to quickly prepare any food included in the kit. If your bug out bag contains dehydrated camping food you'll need to be able to at least boil water to prepare them.
Water comes in two forms. The majority of premade bug out bags include pouched or boxed water sealed and prepared for long term storage.
Some also include a portable water filter like the Sawyer Mini or wildly popular Lifestraw. If the kit you choose doesn't contain one it's a really good idea to add one. Modern water filters weigh next to nothing and can effectively remove the majority of potential pathogens.
Shelter and Weather Protection – Bug out bags aren't intended to be used for more than a few days. Very few include actual tents or other deployable shelters, but almost all will have emergency mylar blankets and other gear for staying warm and dry included.
A popular option are multiple-use 'bivy sack' style emergency shelters built like a sleeping bag to enclose your entire body. Since weather emergencies often include rain, many bug out bags include ponchos and similar rain protection gear.
Fire and Lighting – It's hard to overestimate the importance of fire and lighting in an emergency situation. A fire can keep a group of people warm and safe on even the coldest of nights. It can be used to cook food, boil water, and clean other gear.
Completely beside the practical benefits are the psychological ones. Humans are hardwired to take comfort from a fire. There's something primal about it.
Any good premade bug out bag will include several methods to make fire as well as instant light tinder. From a lighting perspective you should always try to double or triple down.
Look for a kit with a flashlight, headlamp, glow sticks, and things like candles. A hand crank flashlight or lantern is a great example of bug out gear that can be packed for the long term and still provide a lot of use.
First Aid – Every premade bug out bag will include at least basic first aid supplies and equipment. Think things like sterile gauze, bandages, ibuprofen/acetaminophen, alcohol wipes, antibacterial ointment.
As your bug out bag grows larger you may begin to see something like a true IFAK trauma kit included. This will give you the ability to perform emergency first aid for broken bones, serious bleeding, and prepare disaster victims for medical services.
Tools – There are a few basic hand tools that really come in hand during a disaster situation. A medium to large pry bar, hammer, window breaker, axe, and others give you the ability to remove obstacles and escape through broken buildings or other dangerous situations.
You won't see many of these included in premade bug out bags, but they're definitely worth considering as an add on.
The majority of bug out bags will also include a knife, a multi tool or swiss army knife, and other small pocket tools. These provide you with a lot of different benefits and are one of the easiest tools to slip into a pocket.
Personal Protection – One of the most commonly overlooked elements of disaster preparedness is personal protection equipment. Depending on what kind of emergency you're in there may be broken glass on the roads, downed power lines or hazards like dust or smoke in the air.
Many bug out bags provide basic gear like leather work gloves or N95 masks to help protect you and your family from these hazards.
Communication – Staying informed of events and keeping in touch with your family is critical in an emergency. Many bug out bags include hand crank emergency radios able to listen in on NOAA emergency frequencies.
These allow you to stay informed of local conditions and important announcements from disaster relief agencies. Larger and more comprehensive premade bug out bags sometimes include hand held walkie talkies as well, though with the prevalence of cell phones, this is becoming less common.
Hygiene and Sanitation – Something a lot of people overlook when planning for a disaster is basic hygiene and sanitation supplies. Premade bug out bags almost always include toilet paper at the very least, but it's a good idea to look for ones that go past the basics.
Think wet wipes, hand sanitizer, toothbrushes/toothpaste, soap, and things like feminine hygiene products or diapers. Not all kits will offer these as an option so make sure and check the packing list of your kit and add them in accordingly.
Survival Hours: 3-Day or 5-Day Pack
The vast majority of premade bug out bags are designed to get a specific number of people through a specific length of time. The most common are 3-day or 72 hour kits, and 5-day bug out bags.
Where this really applies is food and water supplies. The human body needs a minimum amount of calories everyday in order to work efficiently. When you're in a high-stress disaster situation it's never a bad idea to have extra calories on hand.
Whether you choose to go for a 72 hour kit or 5-day bug out bag depends on your location and the types of emergencies you're preparing for.
Types of Emergencies You Might Face
Preparedness is way less about so-called 'doomsday prepping' and a lot more about being ready for the normal knocks of life. Spend a little time and think about what kinds of emergencies and disasters your hometown could face.
If you live on the shore hurricanes, flooding, and other weather events will probably play a big role in your preparedness. If you're in the great plains region make sure you know what to do in case of a tornado or flash flood.
One of the best resources for figuring out what kind of premade bug out bag you should get is the FEMA website. They offer comprehensive information about the most common types of emergency events in your region and give tips on how to prepare your family.
Size and Weight
Bug out bags are designed to be carried under high-stress situations for potentially long distances. It's absolutely crucial that you be able to carry your bug out bag without wearing yourself out.
It's a balancing act between having the correct gear for your situation without overburdening yourself.
We highly recommend you look at the listed weight for any premade bug out bag and try carrying that around on your back. Take a walk around your neighborhood to start with and see how it feels.
Once you order your kit it's a very good idea to wear it out places to get yourself used to it. Take your bug out bag for a hike and figure out exactly what it will feel like to travel over rough terrain wearing it.
This gives you the best indication of whether it's going to be too heavy.
Number of People You'll be Caring for
Probably the most critical factor when deciding on a premade bug out bag is how many people you have to provide for. Most bug out bags are designed for a single person and their 3- or 5-day rating is based on a single person's consumption.
If you have small children you'll need a larger kit designed for a family. If you have older kids it's probably a better idea to buy them their own kit so you aren't carrying the entire load yourself.
Bag Type
Bug out bags lean heavily to the backpack carry option. It gives you the most flexibility in where you can go and is a lot easier to carry on foot.
Many larger bug out bags come in duffel bags or even rolling suitcases. These are usually intended more for use when bugging out in a vehicle than on foot.
They provide you with more gear and potentially longer duration support, but aren't nearly as easy to carry on your own two feet.
What You Should Add to Your Bug Out Bag
Premade bug out bags are a great place to start, but they don't give you everything you need. The most obvious thing to add to a basic kit is any prescription medication you or your family needs on a daily basis.
Diabetics especially should do their very best to include test strips, and other essential gear.
You should also add in important documents or at the very least copies of important documents. A great way to do this is to scan things like your driver's license, passport, birth certificate, and other essential documents and store them on a small sd card or flash drive you keep in your bug out bag.
If the worst should happen and your home gets destroyed this will make it much, much easier to pick up the pieces of your identity.
One last thing we always recommend you add to any emergency kit is cash. Having $100 or so dollars in small bills may not seem like much, but if the electronic payment system should go down you'll be a lot better off than most people.
Top Premade Bug-Out Bags Video
FAQs – Best Premade Bug Out Bags
In this section, we address some of the most commonly asked questions about premade bug out bags. Whether you're new to the concept of bug out bags or considering purchasing one for the first time, these frequently asked questions will provide valuable insights and help you make informed decisions. From understanding what a bug out bag is to exploring the customization options, duration of sustainability, and maintenance requirements, we've got you covered. So, let's dive into these frequently asked questions and equip yourself with the knowledge needed to choose the best premade bug out bag for your emergency preparedness needs.
What is a bug out bag?
A bug out bag is a portable kit or backpack that contains essential items necessary to sustain an individual or a family during an emergency or disaster situation. It is designed to provide survival essentials and allow for quick evacuation in case of emergencies like natural disasters, civil unrest, or other unforeseen events.
Why should I consider buying a premade bug out bag?
Premade bug out bags offer convenience and peace of mind. They are carefully curated and assembled by experts who consider essential factors like durability, weight, and functionality. By purchasing a premade bag, you can save time and ensure that you have a well-equipped emergency kit ready to go at a moment's notice.
What items should be included in a high-quality premade bug out bag?
A high-quality premade bug out bag should include a range of essential items such as emergency food rations, water purification tablets or a filtration system, a first aid kit, a multitool, a flashlight, extra batteries, a fire starter, a map and compass, a whistle, a communication device, a lightweight shelter, extra clothing, and personal hygiene items. It's important to choose a bag that covers these key areas.
Can I customize a premade bug out bag?
Yes, many premade bug out bags allow for customization. While the core items are pre-selected, you can often add or remove certain items to suit your specific needs and preferences. For example, you might want to include specific medications, additional personal documents, or extra supplies based on your location or climate.
How long can a bug out bag sustain me in an emergency situation?
The duration a bug out bag can sustain you depends on the bag's contents and the number of people it is designed to support. Most premade bug out bags are designed to sustain an individual for 72 hours, which is typically considered the minimum period for emergency preparedness. However, you can also find bug out bags designed for longer durations, such as 5 or 7 days.
Are premade bug out bags waterproof?
Not all premade bug out bags are fully waterproof. However, many of them come with waterproof or water-resistant compartments and materials to protect the contents from moisture. It's essential to check the bag's specifications and consider purchasing additional waterproof bags or covers for added protection in wet conditions.
How often should I update or replace the items in my bug out bag?
It's important to regularly check and update the items in your bug out bag. As a general rule, review and replace items like food, water, and batteries every six months to ensure they remain fresh and functional. Inspect other items like clothing, first aid supplies, and tools periodically to ensure they are in good condition and replace them as needed.
Can I use a bug out bag for camping or hiking trips?
Absolutely! Bug out bags are designed to be versatile and can certainly be used for camping or hiking trips. They contain many essential items that are useful for outdoor adventures, such as food, water, first aid supplies, and navigation tools. However, if you plan to use your bug out bag for recreational purposes, consider adding items specific to camping or hiking, such as a tent, sleeping bag, cooking utensils, and appropriate clothing.
Remember, each bug out bag and its contents should be tailored to your individual needs, the environment you live in, and the potential emergencies you may face.
Best Premade Bug Out Bags Recap
Final Thoughts
When it comes to choosing the best premade bug out bag you really need to look at your specific situation.
The amount of food, water, and gear you need is heavily dependent on the size of your family and how long you wish to be prepared for.
As long as you know those two things it's easy to pick out the best premade bug out bag.