Outdoorsman Toolkit is reader-supported. When you buy through links on our site, we may earn an affiliate commission.
Learn more
Putting together the perfect everyday carry is a never ending adventure. Just when you think you've finally got your gear perfectly kitted out you find some new little tool or gadget that you have to have. One of the things we've come across that we didn't know was a necessity were EDC pry bars. Today we're exploring what makes for the best EDC pry bar and reviewing some excellent options.
EDC pry bars are pretty focused little multi tools. They have a pry bar and usually at least one or two other tools or functions. They're made from a variety of different materials and come in a range of shapes and styles.
The best EDC pry bars are lightweight yet sturdy, with tools that can actually carry out the task they're designed for.
We've picked out some of the best EDC pry bars across a range of prices, styles, and materials. With any luck there'll be one or two that catch your eye.
Griffin Pocket Pry Bar Tool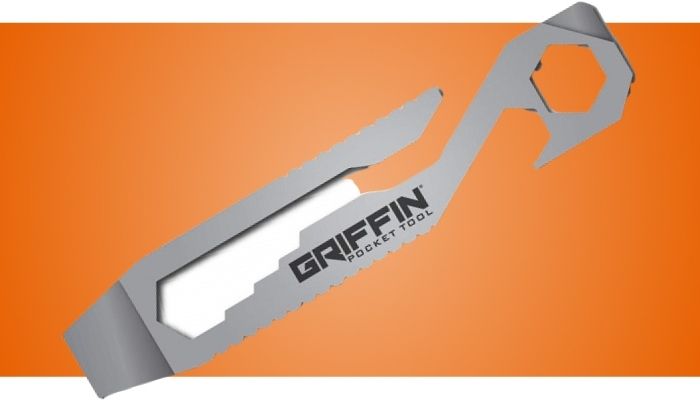 Having a penchant for hiking, camping, and embracing the wilderness, I've always been on the hunt for a tool that is as rugged as it is functional. The Griffin Pocket Tool has proven to be a stellar companion on my outdoor escapades. Crafted from classic stainless steel, its sleek design isn't just about aesthetics—it's a testament to its durability which is indispensable while on the trails or setting up camp.
With its compact size of just 3" x 0.6" x 0.2", it's astonishing how this tool packs over a dozen functionalities into its frame. It securely latches onto my keychain, always ready for action, and clips effortlessly to my belt loop, staying within arm's reach whenever I need it.
The pry bar feature came in exceptionally handy during a recent RVing adventure where a stubborn door on the camper refused to budge. The Griffin Pocket Tool not only pried it open in a jiffy but also left no marks, showcasing its finesse. And the screwdriver? It tightened up some loose screws on the RV's exterior, proving its worth.
The deep pocket clip is more of a pocket channel that ensures it stays put, half in and half out, giving a sense of security knowing it's there when needed. This feature keeps my keys neatly organized and easily accessible, which is a boon in the wild where every minute counts.
As someone who loves to tinker around, the multiple hex wrenches and the ¼" bit holder were a godsend in fixing a minor issue with my camping stove. Moreover, the scoring tool aided in opening packages, making meal prep less of a chore.
The choice of finishes allowed me to pick one that matched my rugged outdoorsy style. I went for the Original stainless steel version, but was tempted by the camo and black coated versions which also looked robust and ready for adventure.
But the cherry on top? It's TSA compliant. Now, whether I am catching a flight to a distant trail or driving down to the local campsite, I have a toolbox right on my keys. Plus, the lifetime warranty gives that extra bit of confidence in its longevity.
During a recent weekend getaway to a secluded mountain trail, the Griffin Pocket Tool had a chance to showcase its mettle. While setting up camp at dusk, I realized one of the ground stakes for my tent was wedged between two rocks. I tried to yank it free but to no avail. As the sky darkened, I remembered the Griffin Pocket Tool snug in my pocket.
I swiftly pulled it out and used the pry bar to maneuver around the stubborn stake. With a bit of finessing, the pry bar got between the rocks and freed the stake, allowing me to secure my tent just as the first stars began to twinkle. The sense of relief and the timely help the tool provided was immeasurable. It wasn't just about the functionality but the assurance that I had a reliable companion in my pocket, ready to tackle the unforeseen challenges that the great outdoors often throws one's way.
In a nutshell, the Griffin Pocket Tool isn't just a tool, it's an extension of my outdoor lifestyle, compact yet capable, stylish yet practical. This is one investment I am truly satisfied with, as it blends seamlessly with my love for the outdoors, always ready to tackle the little hurdles that come my way.
Pros:
Compact Size: At only 3" x 0.6" x 0.2", it's exceptionally portable and easy to carry around.
Multi-Functionality: Over a dozen tools packed into one sleek design, including a pry bar, screwdriver, scoring tool, and multiple hex wrenches.
Durable Material: The stainless steel construction ensures it withstands the rough and tumble of outdoor adventures.
TSA Compliant: Travel-friendly design makes it a hassle-free companion on flights.
Lifetime Warranty: Offers peace of mind regarding its longevity and durability.
Variety of Finishes: Allows for personalization to match individual style preferences.
Secure Attachment: Clips securely to keys, belt loops, or pockets, ensuring it's always within reach when needed.
Cons:
Pocket Clip Design: Some might find the pocket channel clip less traditional and may need getting used to.
Pry Bar and Screwdriver Combination: The combination of the pry bar and screwdriver into one tool might limit functionality in some scenarios.
Weight: At 0.85oz, it's lightweight but might add a bit of heft to a keychain over time.
Size of Wrenches: The wrench sizes are limited, which might not suit all tasks, especially more specialized or larger-scale repairs.
Gerber Shard Keychain Pry Bar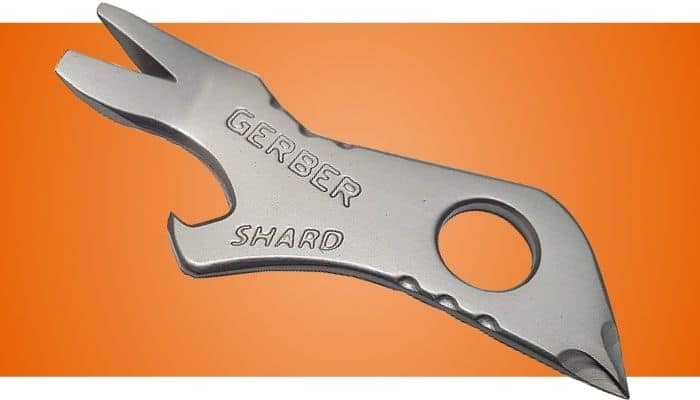 The Gerber Shard is one of the original EDC pry bar tools out there. It's been on the market for over a decade and offers a bunch of useful features in a compact and robust frame.
It provides you with 7 different functions/tools that cover a lot of life's little emergencies. These include a pry bar of course, a wire stripper, a small and large flathead, a bottle opener, lanyard hole, and a cross driver.
This gives you pretty much everything you need to tighten up flat or phillips head screws while still being able to crack open a cold one. The cross driver isn't going to be breaking free stuck screws but it does a good job opening up remotes, battery compartments, and other basic screws.
The pry bar has a split end that does double duty as both a nail puller and a wire stripping tool. Like the screwdrivers you won't be pulling up framing nails but it's great for popping picture nails out of drywall and other moderate tasks.
One of the best features of the shard is its price: It's been consistently under $10 since it was first introduced. It's marketed as TSA compliant, but as we cover in our buying guide below, you should take that with a grain of salt.
If you're looking for a well made pocket pry bar from a respected manufacturer, the Gerber Shard is a really good choice.
SOG MacV Pry Bar Tool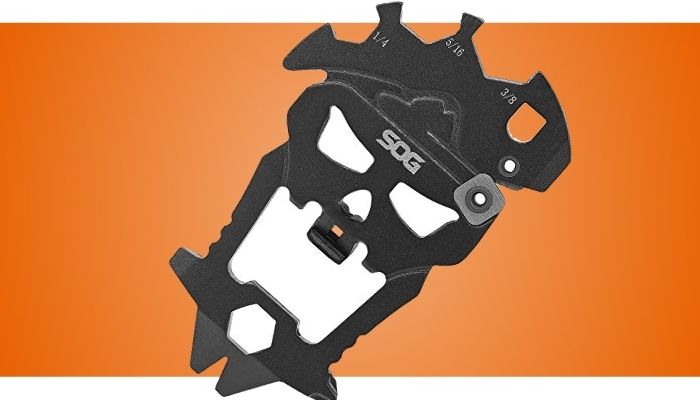 The SOG MacV is a tactically focused pry bar tool with a design based on the original skull symbol of the famous MACV SOG. It's made from 3Cr13 stainless steel, is just 2.5 inches long, and has a corrosion-resistant black coating.
The MacV gives you 12 different tools in one, including some you don't often see on pry bar tools. These include a small flathead and large flathead driver, a small Phillips driver, a line cutter, carbide blade sharpener, pry bar, bottle opener, and 4 different sized hex wrenches.
They also count a lanyard hole as a tool, which we always find kind of iffy. It's definitely useful, but a tool? Don't know about that.
We love the bottle opener and actual pry bar on the MacV. It's a bit larger than many similar pocket pry bars and gives you a more secure grip. This lets you more easily pop a top or open up a small box.
If you're looking for a statement piece EDC pry bar the SOG MacV might be the one for you.
Leatherman Brewzer EDC Pry Bar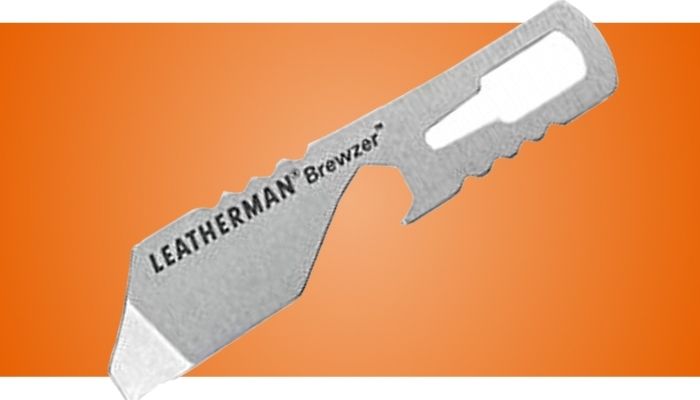 The Leatherman Brewzer is an EDC pry bar tool from the legendary multi tool manufacturer. It's made from stainless steel and measures just 2.45 inches long. It's got kind of a funny shape the first time you look at it but overall we really like the appearance of the Brewzer.
Unlike some other pocket pry bars, the Brewzer offers just two functions, pry bar and a bottle opener. The name itself is a tongue in cheek reference to cracking open some ice-cold brews.
The good news is it excels at those two functions. It has a really nicely shaped pry bar with a tapered edge. This allows you to find the perfect fit under just about anything. It easily levered up the lid of paint cans and small boxes. It was even narrow enough to work well at opening shipping boxes.
It's completely TSA compliant and is extremely affordable. Is it the best EDC pry bar? Probably not. It doesn't provide the same features as some similarly priced tools and lacks extra bells and whistles.
If you're a Leatherman enthusiast through and through it can be a nice addition to your EDC.
Boker Minibar Blade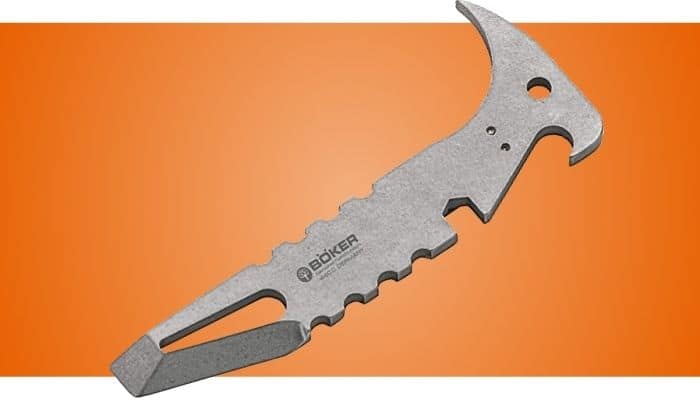 The Boker Minibar Blade is honestly one of the coolest looking EDC pry bars out there. It's made from 440C forged stainless steel in Solingen, world-renowned as the 'City of Blades'.
In keeping with its namesake city, the Minibar is a lot sharper looking than many of its competitors. It actually has two lever tools built-in, one on the bottom that doubles as a screwdriver, and a beak shaped one on the other end. This gives you a lot of flexibility in where and how you use the Minibar.
Other cool tools include a shackle/bottle opener and a screwdriver bit compatible hex wrench. The whole thing is designed to attach to your keychain or slip into your pocket. One thing to keep in mind is that it's a lot less TSA friendly than many other pry bar tools. Definitely use caution when traveling with it.
There is one downside to the Minibar: Price. It's honestly 10x the price of many other pry bar tools on this list. You get a lot of tool for your money but it's definitely not for everyone.
Keyport MOCA Keychain Multi-Tool Pry Bar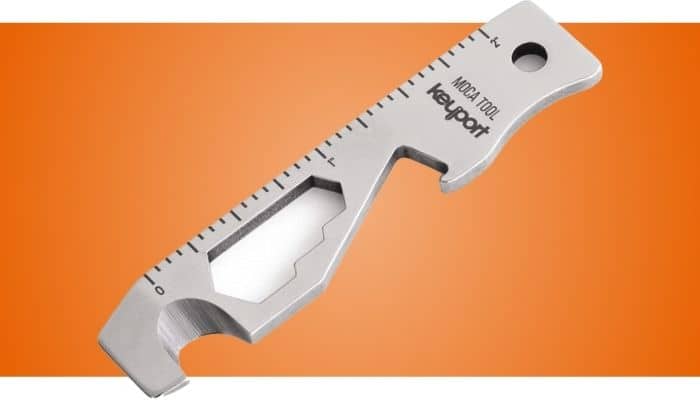 The Keyport MOCA is a keychain mini multi tool with a built-in pry bar. It's made from 420 stainless steel and packs 10 different tools into a 2.7 inch long body.
These include a flathead screwdriver, ruler, bottle opener, cord cutter, box opener, scoring tool, 3 hex wrenches, and the pry bar itself. As with most pry bar tools these are mainly the functions of just 2-4 different tools.
The MOCA is decidedly not TSA compliant. The box/cord cutter is quite sharp and can be used for other tasks like opening letters, slicing packaging, etc. Definitely don't try to fly with this one unless you're a fan of enhanced pat downs.
All of the tools on the MOCA work pretty well for their size. We really loved how well the cord cutter sliced through various items. It made short work of zip ties, packing twine, and anything else we could find laying around.
The Keyport MOCA is an interesting little pry bar tool with a lot to offer. It has a few tools that are noticeably different from many comparable models.
Kershaw PT-2 Compact Keychain Pry Tool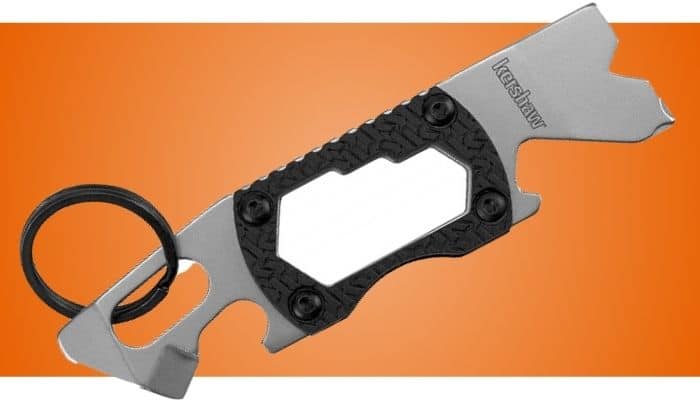 The Kershaw PT-2 is a compact pry bar multi tool that's packed full of features. It's made from 8Cr13MoV stainless steel with a bead blasted finish. This gives it a really nice matte look to it and helps protect it from scratches and dings.
It offers 8 different tools including both flathead and Phillips head screwdrivers, a wire scraper, a pry bar, and three hex drivers. The PT-2 has a noticeably different look to most similar EDC tools.
Rather than a continuous piece of metal it actually has a glass filled nylon grip in its center. This provides a non-slip grip and makes it stand out among your keys.
The individual tools on the PT-2 are quite small but still function fairly well. Overall we'd say this is a good companion piece to your existing EDC.
Schrade Pry Bar with Paracord Handle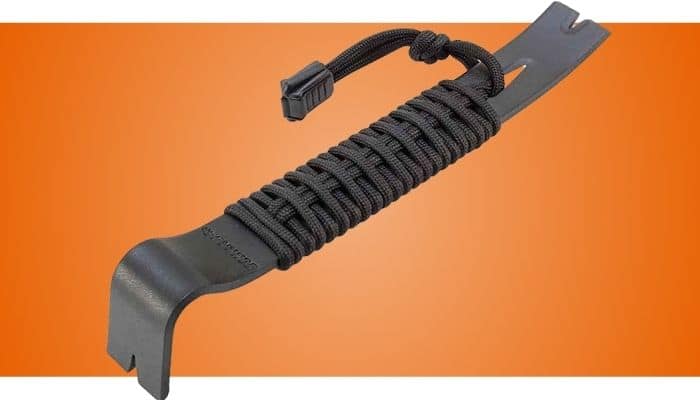 The Schrade Pry Bar is a serious EDC tool. It's made from powder coated SK-5 carbon steel and measures 7.5 inches long. That's honestly longer than a lot of fixed blade knives we've carried into the backcountry, but hear us out.
It's a true pry bar, with the capability to open crates and even fight your way out of a locked room in a pinch. It's definitely larger than the other tools on our list, but it provides you with a lot of value and could save your life in an emergency.
Some of the features we loved most were the paracord wrap around the handle and the pair of nail pullers. I'm guessing you're already familiar with 550 paracord, but if not suffice it to say that it's basically a survival miracle tool.
This is less of an EDC tool and more of a go bag tool. If you're the kind of person who likes to keep a few larger essentials in a bag or your vehicle this definitely deserves a place in it.
BANG TI Titanium Punisher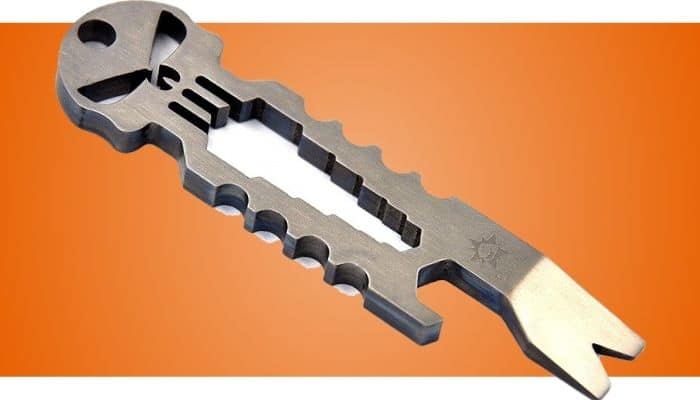 The BANG TI Titanium Punisher is a nice little pry bar with a really sleek design. It's made from lightweight yet ultra strong titanium and is shaped like a standard rectangular pry bar except with a stylized Punisher skull at the top.
It measures 2.95 inches long and offers 8 different tools. These include a pry bar/nail puller, bottle opener, and 6 different sized hex wrenches. It gives you a pretty good mix of tools and is sturdy enough to actually be useful for a lot of minor to moderate tasks.
The pry bar has a split tip that allows it to be used for things like pulling nails or stripping wires. It's also fine enough at the tip to work well at slicing open boxes.
All in all the BANG TI Titanium Punisher is a very nice titanium pry bar tool at a reasonable price.
Schrade SCTPT Key Chain Pry Tool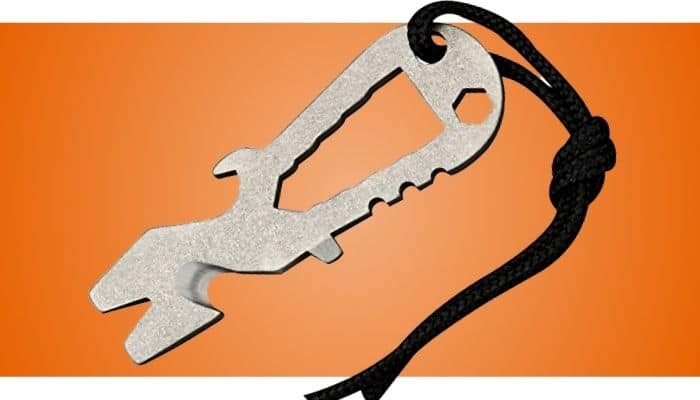 The Schrade SCTPT is a keychain pry bar tool designed for EDC. It's made from stonewashed titanium and features a number of useful tools/functions.
These include a pry bar, strap cutter, flathead screwdriver, bottle opener, 6 hex wrenches, and a small lanyard hole. It covers most of the things you would find yourself needing a small pry bar for.
The strap cutter was one of the most surprisingly useful parts of this tool. It was just sharp enough to easily cut through cords, straps, zip ties, etc, but didn't snag in our pockets much at all.
The bottle opener worked very well indeed and the pry bar itself was perfectly adequate for small tasks. Overall we really liked the Schrade SCTPT.
Swiss+Tech Micro Pry Bar
The Swiss+Tech Micro Slim Flat Wrench is a lightweight pry bar multi tool. It's made from stainless steel and precision-crafted to provide excellent edges and corners.
It gives you a ton of different tools/functions, including 10 different hex wrenches, a metric ruler, a pry bar, a pair of spoke wrenches, a bottle opener, flathead screwdriver, and many more.
This makes it pretty easy to quickly carry out basic tasks without having to break out your full multi tool. The pry bar itself has a split tip so it's capable of pulling nails and even stripping wires.
Overall the Swiss+Tech Micro Slim pry bar is a quality tool with a lot to offer.
Best EDC Pry Bar Comparison Chart
Buyers Guide to Buying the Best EDC Pry Bar
EDC pry bars are pretty straightforward. They contain a pry bar and occasionally a few other useful tools. Picking out the best EDC pry bar really comes down to the material you want and any specific features/tools you need.
Price
As companion pieces to your EDC, pry bars are generally quite affordable. Most are priced under $10 and provide an excellent mix of features.
If you want something a little out of the ordinary or choose to go with a premium material like titanium you can spend considerably more.
Material
When it comes to EDC tools it's no surprise that you have a ton of choices as far as materials go. Common ones include stainless steel, anodized aluminum, titanium, and hammered copper, but you can choose a bunch more.
If you're willing to spend a bit more or order something custom you can get some really exotic ones. Things like damascus steel, carbon fiber, tungsten, and even gold/silver if you're looking for less function and more bling.
Additional Tools
Other than the pry bar itself there are a number of other tools commonly found on EDC tools. Things like bottle openers, nail pulls, hex wrenches, rulers, and keychain slots are common.
You can also find removable screwdriver bits, small blades, and even really weird things like a mini axe head.
Size
Like all edc items, pry bars need to be compact and easy to carry everyday. Most are no more than a few inches long and generally quite narrow.
This doesn't give you a lot of space to work with, but it's plenty for a pocket pry bar. You aren't going to be prying crates open or breaking down doors but you shouldn't have a problem with smaller tasks you're more likely to encounter in your day to day.
Split End or Not
The first functionality choice you have to make is whether you want a split tip pry bar or solid. A split tip makes it a bit harder to get under wider things but does allow you to pry up nails and other small objects.
You can also use it to strip wires in a pinch.
Durability
Pry bars are intended to be used for direct tasks like prying and opening. This naturally leads to more wear and tear when used.
The most important factor in durability is material. Better materials can stand up to frequent use a lot better than cheater or softer ones.
TSA Friendly
Most EDC pry bars are TSA friendly. The vast majority don't contain knives or sharpened points that would disqualify them. Check our TSA friendly multi-tools guide for more great ideas.
One thing to keep in mind though is that any TSA agent may choose to make an issue out of it. If you travel frequently you should keep a self-addressed stamped envelope with you. That way you can drop it in a mailbox at the airport and save it from being confiscated.
Top EDC Pry Bars Video
Frequently Asked Questions (FAQ)
As you embark on your camping and hiking adventures, having the right tools at your disposal is essential. Among the essential gear to consider is an Everyday Carry (EDC) pry bar. This compact and versatile tool is designed to handle various tasks, making it a valuable addition to your outdoor toolkit. To help you understand more about EDC pry bars and make an informed decision, we've compiled a list of frequently asked questions. Whether you're curious about their functionality, safety considerations, or maintenance tips, this FAQ section will provide the answers you need. Read on to explore the world of EDC pry bars and discover why they are an indispensable tool for camping and hiking enthusiasts.
What is an EDC pry bar?
An EDC pry bar, also known as an Everyday Carry pry bar, is a compact and versatile tool designed to aid in prying, opening, and leveraging tasks. It is often used in camping, hiking, and other outdoor activities to handle various tasks, such as opening cans, removing nails, splitting wood, and more.
Why should I carry an EDC pry bar?
Carrying an EDC pry bar provides several benefits. It serves as a handy tool for everyday tasks, emergency situations, and outdoor adventures. With its compact size, durability, and versatility, an EDC pry bar can assist you in performing a range of activities, making it a valuable addition to your camping and hiking gear.
What are the key features to consider when choosing an EDC pry bar?
When selecting an EDC pry bar, keep the following features in mind:
Size and weight: Opt for a pry bar that is compact and lightweight for easy portability.
Material: Look for pry bars made of sturdy materials such as stainless steel or titanium for durability.
Design: Consider the design and shape of the pry bar, as it can affect its versatility and functionality.
Additional tools: Some pry bars may include additional features like bottle openers, screwdriver tips, or wrenches, providing added convenience.
How should I use an EDC pry bar safely?
To use an EDC pry bar safely, follow these guidelines:
Maintain a firm grip: Ensure you have a secure grip on the pry bar to prevent it from slipping.
Use protective gear: When performing tasks that may cause debris or sparks, wear gloves and eye protection.
Avoid excessive force: Apply controlled force and avoid excessive pressure to prevent accidental damage or injury.
Use proper leverage: Position the pry bar correctly to maximize its leverage and effectiveness.
Be cautious with sharp edges: Some pry bars may have sharp edges or tips, so handle them with care to avoid accidental cuts.
Can an EDC pry bar replace other tools in my camping and hiking gear?
While an EDC pry bar is a versatile tool, it may not entirely replace other specialized tools in your camping and hiking gear. It can serve as a useful multitool for many tasks, but for specific functions like cutting, sawing, or drilling, you may still need dedicated tools. Consider the specific needs of your outdoor activities and pack accordingly.
Are there any maintenance tips for an EDC pry bar?
Yes, here are some maintenance tips for an EDC pry bar:
Keep it clean and dry: After each use, wipe down the pry bar with a clean cloth and store it in a dry place to prevent rust and corrosion.
Lubrication: Periodically apply a small amount of lubricant to the moving parts of the pry bar to ensure smooth operation.
Inspect for damage: Regularly inspect your pry bar for any signs of wear, such as cracks or bends. If you notice any damage, consider replacing it to maintain optimal performance and safety.
Remember, always refer to the manufacturer's instructions and guidelines for specific care and maintenance instructions for your EDC pry bar.
Final Thoughts
With EDC pry bars less is often more. It's nice to have a two inch tool that gives you 10 different functions, but only if those functions are actually useful.
Way too many pry bar tools we considered for this list offered seemingly endless value but weren't actually usable for the functions they offered.
So long as you have a good idea of what features you value it's a cinch to pick out the best EDC pry bar for your needs.