Outdoorsman Toolkit is reader-supported. When you buy through links on our site, we may earn an affiliate commission.
Learn more
Packs have been used to carry gear for as long as humans have existed. Modern backpacks are wonders of comfort and load bearing technology and allow people to travel to places we never could have imagined. Picking out the best backpack isn't easy to do given just how many are out there. Today we'll cover key types of backpacks available and give you a basic overview of what they are and some examples of great packs.
There are nearly endless brands and types of backpacks out there. Picking a single best pack is impossible. Before you even think about buying a backpack you have to sit down and figure out what you intend to do with it.
A serious hiking pack is going to be substantially different from your average laptop backpack. You want to get the features you need without a lot of extras you don't.

Daypack – Different Types of Backpacks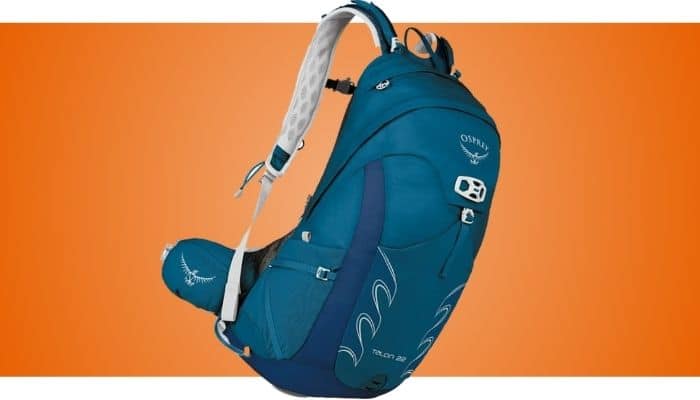 Daypacks are perfect for use on day hikes or as a daily commuter bag. They range between school backpack style computer backpacks all the way to pure hiking bags.
Most are around the 20L mark and offer good features at a lightweight. If you mostly go on short hikes in a single day, it's a good idea to invest in a quality daypack. Their compact size helps prevent you from overpacking.
The Osprey Talon 22 is a 22L lightweight hiking pack designed for day hikes. It's loaded down with useful features for hiking, cycling, and other outdoor activities.
The main body is made from 70D nylon mini shadow brick and weighs just under 2 lbs. It has both a chest strap with emergency whistle and an integrated hip belt. The hip belt is made using Osprey's Biostretch harness material for maximum breathability, comfort, and durability.
It uses an AirScape backpanel made of precision cut foam covered with a breathable mesh. This gives you maximum comfort from both the weight of the pack and the heat of the day.
The main pocket can be accessed with a dual zipper panel and double mesh side pockets give you plenty of space for water bottles and other gear you need to access fast. There are a pair of pockets built into the hip belt for snacks, chapstick, and other supplies, plus an external hydration sleeve.
Finishing out the Talon 22's features is a LidLock helmet attachment point for bicycle helmets and a pair of hidden compression straps to help keep the weight of your stuff close to your spine.
All in all the Osprey Talon 22 is an excellent daypack from a respected manufacturer.

Hydration Pack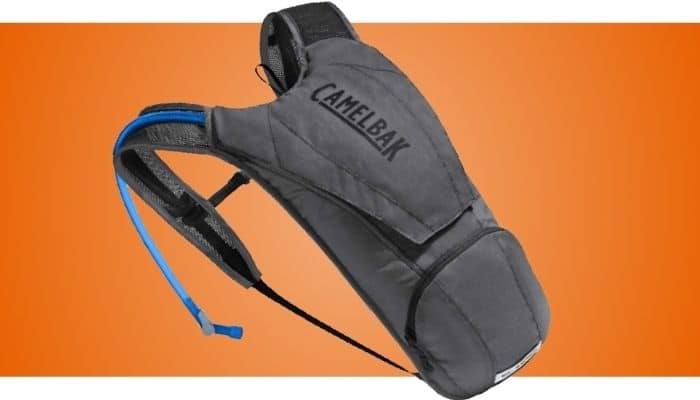 Hydration reservoirs have become one of the most popular ways to carry water while hiking, camping, hunting or working in the field. They're convenient, easy to drink from, and can hold a lot of water.
Hydration packs are designed specifically to hold a hydration reservoir. They range in size from pure hydration packs with minimal storage space all the way up to expedition level hiking packs with hydration sleeve.
When it comes to pure hydration packs, it's hard to beat the Camelbak Classic. It's the original hydration pack loved by cyclists, climbers, and hikers for decades.
It doesn't offer all the fancy features and extensive storage space of some more expensive hydration packs but it does provide you with excellent access to water at a very low weight and affordable price.
It weighs just 5 oz empty yet is capable of holding 2.5L of water. It uses Camelbak's improved Crux hydration reservoir that offers 20% increased water with every sip plus an ergonomic fill handle and easy on/off toggle.
It has a breathable air mesh back panel to help keep you cool during heavy activity and has reflective accent strips to make you as visible as possible. Other than water it only has space for a few essentials in a small zippered pocket.
If you're looking for a great hydration pack at a reasonable price it's hard to beat the Camelbak Classic.

Wheeled Backpacks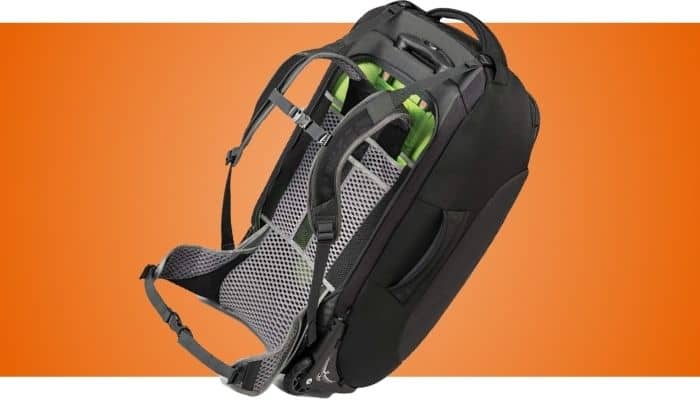 Wheeled backpacks offer a great combination of a large backpack and a wheeled suitcase. It has the flexibility to be carried as a backpack when out and about or rolled as a suitcase for travel.
A great example of the wheeled backpack category is the Osprey Sojourn. It's an 80L wheeled backpack made from ballistic nylon with a light weight aluminum frame. It's 28 inches tall with a 14 inch depth and width.
It has a straight jacket style compression system that allows you to achieve a compact fit at any level of fill. It has grab handles on the top and bottom of the bag, allowing you to easily move it from cars, buses, and into the overhead bins on planes.
The wheels are designed to give you substantial clearance without impacting the function as a backpack. It's fitted out with a technical suspension system including a mesh back panel, chest and hip straps, plus strap padding and venting.
The Osprey Sojourn is a great option for the frequent traveler who want to be able to move effectively over any terrain.

Sling Backpack – Single Strap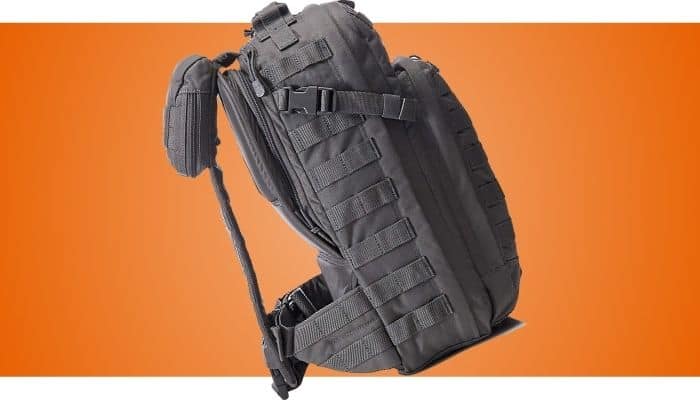 Sling backpacks are small-capacity packs with a single strap designed to be worn across the shoulders. They're much smaller than larger packs and are designed for everyday use carrying items like sunglasses, a phone, or EDC items such as spare magazines, first aid gear, and other items.
You can get sling backpacks in a variety of styles, with tactical bags being extremely popular.
The 5.11 Tactical Rush MOAB 10 is an 18L single strap bag designed as the perfect EDC bag. It has a large enough capacity to hold everything you need in the course of a regular day and features perfect for the EDC minded individual.
It's made from water resistant 1050 nylon and is covered on all sides but the back panel with MOLLE compatible webbing. It has tons of really useful features such as a CCW optimized hidden compartment for a handgun, hydration reservoir slot, fleece lined sunglasses pocket, and a variety of internal organizational pouches and slots.
It definitely has a tactical look to it, but it's one of the sturdiest and most useful single strap sling backpacks available.

Dry Bag Backpack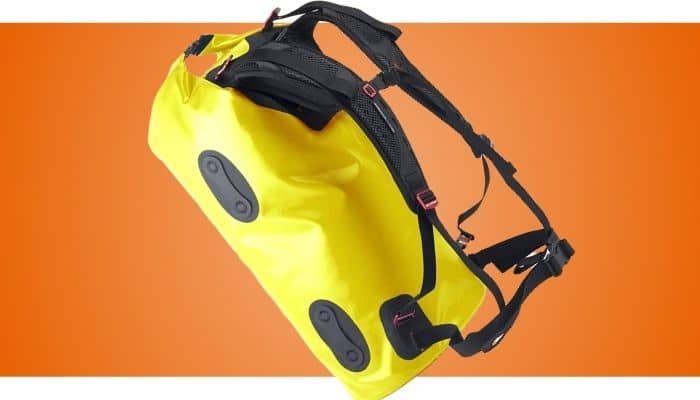 Dry bags have been used by watersports enthusiasts for decades to keep their gear dry in extremely wet conditions. More recently large capacity dry bags have begun to include backpack straps to make them more portable.
They combine the best features of dry bags with the convenience and portability of a backpack.
The Sea to Summit Hydraulic Dry Pack is a great example of this category. It's a waterproof dry bag made from 600D TPU laminated fabric with a roll top closure. This makes it extremely resistant to scratches, tears, and damage from the sun.
It can be used as both a traditional dry bag or a comfortable and ergonomically designed backpack. The straps are padded for comfort and designed with load-bearing in mind. They're fully removable when not in use.
The Hydraulic Dry Pack is available in a variety of capacities starting at 35L and going up to 120L. It has a large waterproof main pocket and slots that allow for compression straps to be wrapped around it.

External Frame Backpack – Different Types of Backpacks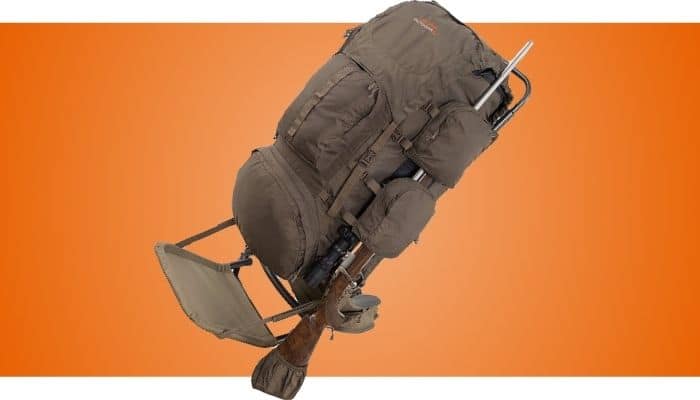 External frame backpacks have been used by military units, hikers, campers, and hunters for over a century. They offer significant load bearing capability and plenty of places to tie gear down externally.
They aren't quite as popular as they once were, but are still a viable option for a large capacity pack.
The ALPS OutdoorZ Commander is a large external frame hiking and hunting pack designed for carrying heavy loads. It's made up of both a pack bag and the Commander frame.
The pack has several large pockets plus a main cargo carrying pocket designed to hold the majority of your gear. Along one side is a sleeve designed to secure your rifle or shotgun while moving through the country.
Despite its hunting focus it still has all the features we've come to expect from modern hiking packs. Things like a hydration reservoir pouch, hip and chest straps, padded mesh, and a multi access main pocket.
One really cool feature for hunters is the detachable pack. It can be removed from the frame to allow you to carry meat out of the backcountry.
The ALPS OutdoorZ Commander is a large and heavy pack, but it provides a lot of value to hunters.

Internal Frame Backpack – Types of Backpacks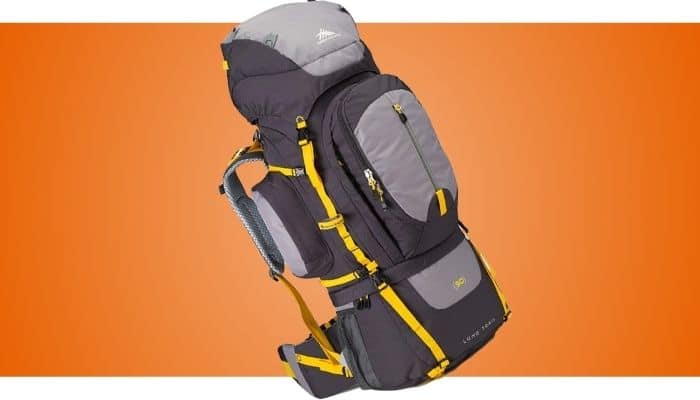 Internal frame backpacks have been the gold standard of hiking packs for the last few decades. They're more comfortable and lighter than external frame packs and allow you to carry the weight of your load close to your body.
This reduces the strain of a heavy load and allows you to more effectively cover ground.
The High Sierra Long Trail 90 is a good example of a modern internal frame backpack. It offers 90L of storage space across several pockets, with the main pocket providing the majority of space.
The various pockets are each optimized for carrying different pieces of gear, with a drop bottom compartment at the base of the pack perfect for your compressed sleeping bag. It has a molded foam back panel with air flow channels built in to help keep your back cool and comfortable.
The Long Trail 90 also includes a rain cover and attachment points for an ice axe, trekking poles, and water bottles. Overall it's a great internal frame backpack for long hikes.

Bug Out Bag – Different Types of Backpacks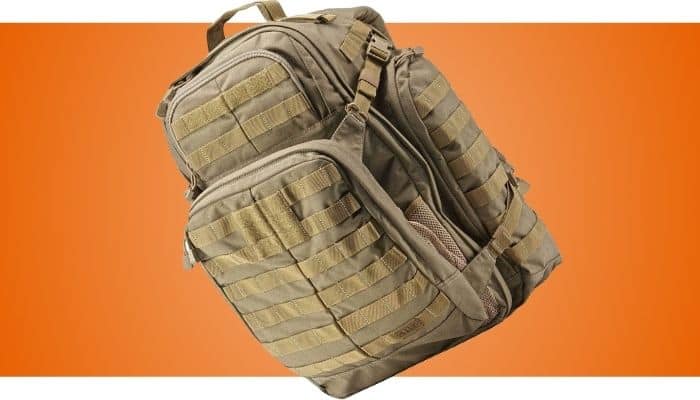 Bug Out Bags are designed to provide you and your loved ones with everything you need to survive for a set amount of time. High-quality bug out bags need to be durable, comfortable to carry over potentially long distances, and large enough to hold the gear you need.
We've previously covered both premade bug out bags and the types of gear you should include in one you build yourself. If you're looking for a quality bug out bag backpack we recommend the 5.11 Tactical Day Rush.
It's a water resistant rucksack style pack made from 1000D nylon. It provides you with 55L of capacity, perfect for carrying essential gear without overloading you.
All external surfaces are covered with MOLLE webbing, allowing you to attach additional gear to the outside. The main pocket is roomy and easy to access, with side pockets available for fast access gear and a front pocket integrates with compression straps to give you a great place to put a windbreaker or other jacket.
Each pocket has tons of useful organizational pouches, slots, and small compartments to help you keep your gear ready to go. It also has a hydration reservoir pouch for keeping you hydrated as you go.

Large Hiking Backpack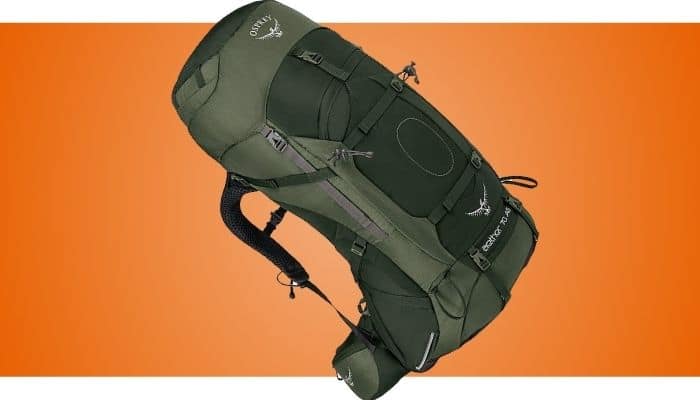 Large hiking backpacks above 50L are designed for multi day hikes and long trips. They're capable of carrying everything you need to survive and thrive in the great outdoors or pack all the goodies for a long trip around the world.
They have tons of features to maximize comfort, durability, and ease of use.
The Osprey Aether AG 70 is one example of the large hiking backpack category. It's a 70L hiking pack with a ton of flexibility built right in.
It has an internal frame for comfort and uses Osprey's Anti-Gravity suspension system. This allows you to customize the fit of your straps and back panel to perfectly match your back. It helps prevent strain and pain when carrying heavy loads over long distances.
The Aether AG 70 has internal and external compression straps plus excellent organizational pockets for things like sleeping bags, water bottles, and hydration reservoirs. One feature we really like is the removable Daylid.
The top portion of the pack is designed to pop off with just a few clicks and converts into an awesome little daypack for short duration hikes away from basecamp.
The Osprey Aether AG 70 has all the bells and whistles needed for even the most demanding long-distance hikers.

Laptop Backpack
Laptop backpacks have grown organically out of the traditional school and work backpacks used for years. They have integrated storage compartments for a laptop and all the accessories you're likely to need.
They aren't designed for use as heavy gear bags but do have the capacity for everything you would need in the average day.
The Swissgear SA9769 is a maxed out laptop backpack designed for daily commuters. It has an integrated laptop sleeve, media pocket, tablet storage, and so much more.
It has three main compartments with a variety of internal organization tools to help you keep all your cords, pens, and drives securely in place. The backpack itself is durable and lightweight, with contoured shoulder straps and an airflow back panel for maximum comfort.
It has a pair of compression straps to help you keep bulge under control and a really neat elastic strap on the shoulder to hold your sunglasses while indoors.

Camera Backpack – Types of Backpacks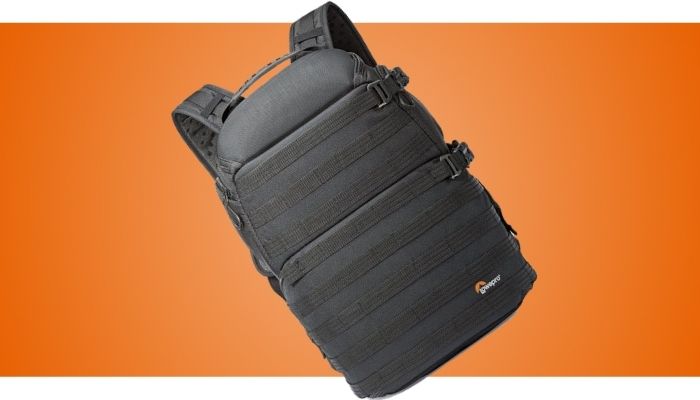 Camera backpacks are one of the best ways for the photographer on the go to protect their equipment and their back. They're designed with additional padding as compared to a standard backpack but still include features designed for comfort and packability.
The Lowepro ProTactic 450 is one such camera bag made to keep your gear safe and snug through a hard trail. It's a multi use pack, configurable to safely store both DSLR cameras, lens or a DJI Mavic Pro.
It does this through the MaxFit divider system. This allows you to quickly create semi-rigid storage spots for various pieces of kit.
It also has several modular accessory pouches and straps that can be used to hold a water bottle, accessories, a tripod or as cinch straps for larger gear. Its ActivZone system is designed to provide excellent back and lumbar support without causing you to overheat.
Camera gear is very sensitive to water damage, not to mention expensive. To help keep your gear safe the ProTactic 450 includes a waterproof rain cover.

Waterproof Backpack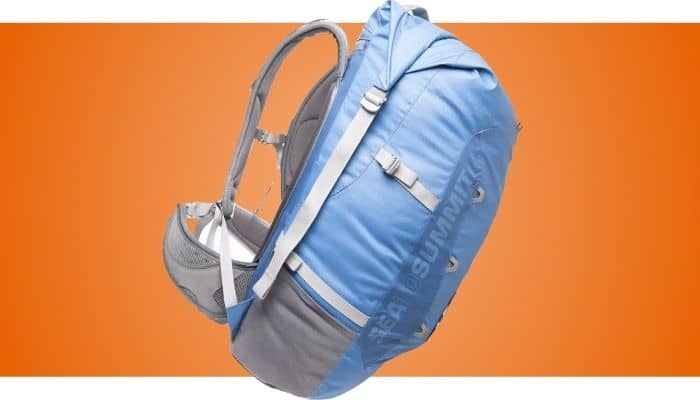 Waterproof backpacks are related to dry bags, but even more specialized. Instead of a round sack, they're standard backpacks made from waterproof materials.
They offer many of the same features as daypacks or larger backpacks but can stand up to significant splashes and potentially even short duration immersion.
The Sea to Summit Flow 35L is one of the most popular waterproof backpacks on the market today. It's made from 420D TPU laminated nylon with sealed seams to protect from leaks. All hardware is made from aircraft grade aluminum and it uses a roll top closure to seal out any water.
It has a large waterproof main pocket as well as a pair of mesh pockets on either side and a zippered back pocket. There's also a set of exterior straps for use as tie down points. They're really strong and can hold everything from trekking poles and ice axes all the way up to skis.
It also has a hydration compartment and an internal zippered pocket for small items. The straps and waist belt are padded for comfort and designed to add ergonomic support for heavier loads.
If you're looking for a stylish pack that offers excellent waterproofing, the Sea to Summit Flow is a great option.
Check out our full waterproof backpack review to find other great packs on the market today.

Biking Backpack – Different Types of Backpacks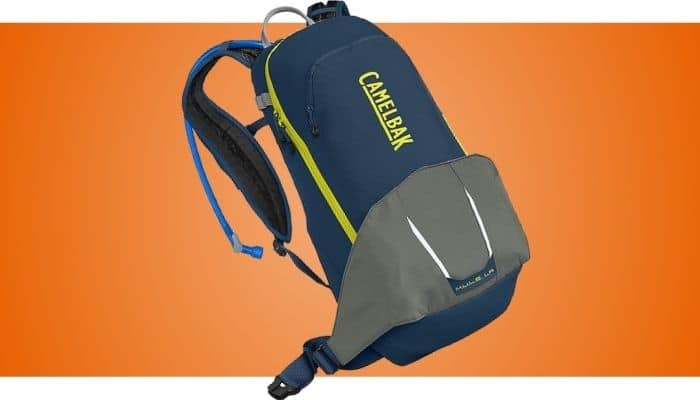 Biking backpacks are designed with the needs of cyclists in mind. They're smaller than traditional daypacks and fit more closely to the body to prevent changing your center of gravity.
The vast majority are designed around a hydration reservoir, with storage being a secondary consideration.
The CamelBak M.U.L.E. 15 does a great job combining these two roles together. It's built around the CamelBak Crux 100 oz/3L hydration reservoir yet still offers about 15L of usable storage space.
It uses CamelBak's airfoil back panel system to prevent you from overheating and has both chest and hip straps to hold the bag close to your body. There are reflective strips sewn all along the body of the bag, plus several different zipper pockets for different pieces of gear.
It also has a built in slot for a basic tool roll and additional lumbar support for added comfort.
One thing we really love is the included rain cover. This allows you to protect your phone and other gear even when mother nature decides to open up on you.

Climbing Backpack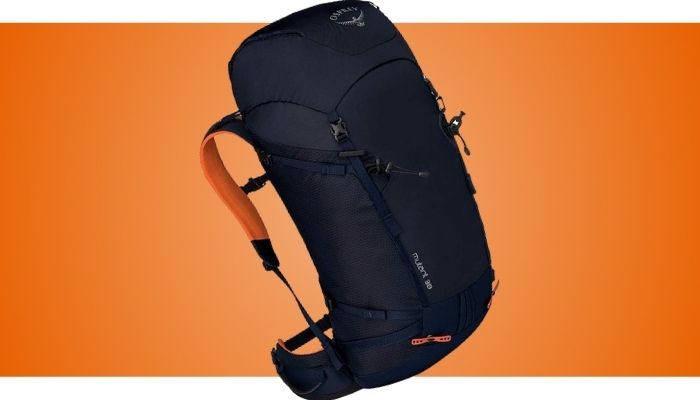 Climbing backpacks are a special breed of outdoor bags designed with the needs of the climber. Bags need to be durable, lightweight, extremely comfortable, and easy to access even if you're 100 ft up a cliff face.
There's a lot of carryover from hiking backpacks, but there are noticeable differences.
The Osprey Mutant 38 is a climbing and mountaineering backpack made from 210D nylon. It was built from the ground up to be the perfect bag for the serious climber.
Every part of the bag was optimized for climbing, from the glove friendly buckles down to the well-designed three-point haul system. It offers ample storage space, effective organization, and lots of climbing specific features like ice axe slots.
You can safely and efficiently attach everything from trekking poles, skis, ice axes, and climbing helmets with a variety of made-to-order systems. The bag itself is roomy, comfortable, and stays close to the body when properly secured.

Snow Sports Backpack – Different Types of Backpacks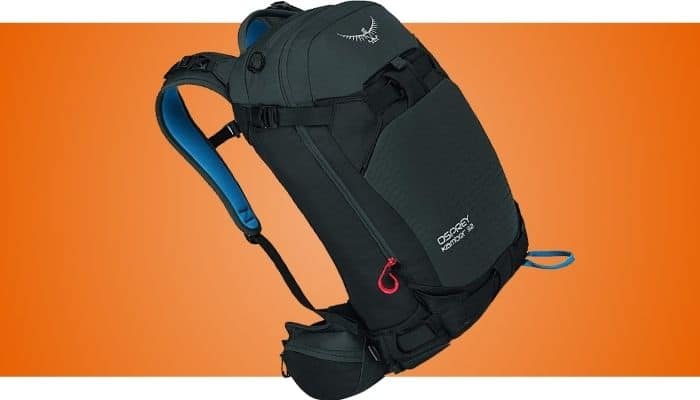 Snow sports backpacks are made for serious cross-country skiers, winter hikers, and other winter sports enthusiasts. They share a lot in common with traditional hiking packs but are optimized for a winter environment.
The Osprey Kamber 32 is a 32L ski pack designed for winter use. It's made from 420HD nylon with a snow-repelling coating that's durable and effective at preventing moisture intrusion.
It uses a Lightwire internal frame for lightweight support and has a variety of features designed specifically for backcountry exploring over snow and ice. The outermost pockets give you quick access to essentials like probes, shovels, and ice tools.
It has an insulated hydration sleeve to keep your water from freezing and several different attachment points for skis, snowboards, and helmets. This allows you to carry everything you need for a day of fun on the slopes no matter how deep in the backcountry you are.

Fishing Backpack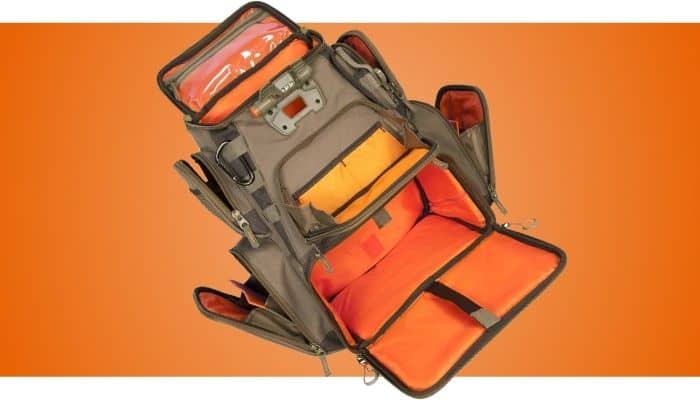 Fishing backpacks are an excellent way to carry your tackle and other fishing gear into the backcountry with you. They're shaped like backpacks but are basically soft-cover tackle boxes with backpack straps.
The Custom LeatherCraft Wild River is a lighted fishing backpack with pockets and attachment points for all the essential fishing gear. One really cool feature is the integrated LED system that allows you to fish all night long.
The main compartment opens outwards and is built to hold 6 medium number 3600 and 4 number 3500 tackle trays. There are smaller pockets for everything from pliers to sunglasses, plus easy access outer mesh pockets.
The straps are mesh vented and fully adjustable for comfort. It also includes a removable rain cover to keep your gear dry no matter what the weather.

Tactical & Military Backpack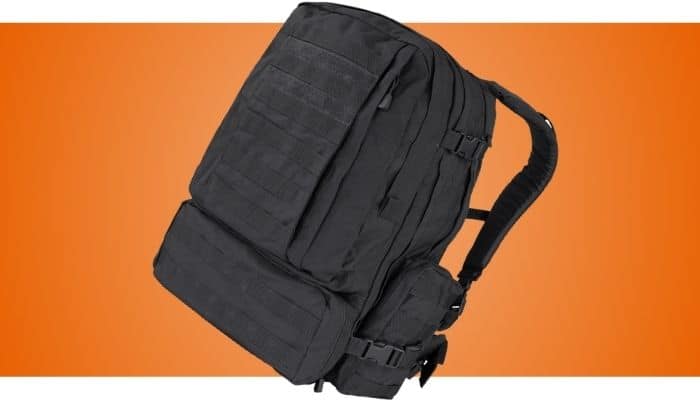 Tactical and military backpacks and rucksacks are designed with the needs of the modern soldier, sailor, Marine, and Airman in mind. They're capable of carrying heavy loads, have tons of MOLLE and other attachment points, and numerous specialized pockets to carry fast access gear.
The Condor 3-Day Assault Pack is one such military style backpack. It's a 50L pack made from heavy duty materials with a large main pocket and several smaller pouches and pockets.
It has two separate hydration reservoir sleeves, each capable of holding a 3L hydration reservoir. There are gear retention straps, pouches, and mesh containers within the main compartment plus document pockets, radio pockets, pen holsters, and much more.
This gives you plenty of room for all your gear and effective ways to keep it organized.

Anti-Theft Backpack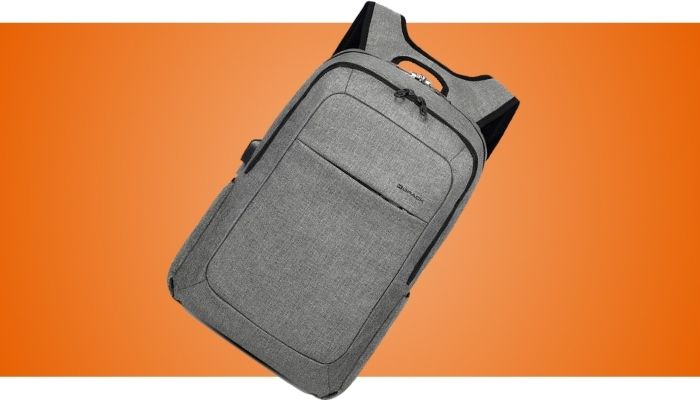 Anti-theft backpacks are an emerging part of the backpack world that focuses on protecting your things from theft. Hidden compartments, lockable zippers, and other features provide you with lots of ways to protect your laptop, smartphone or any other valuables while out and about.
The Kopack Anti-Theft Laptop Backpack is designed to keep your personal belongings hidden and secure. It used double layered zippers with lockable toggles on the main compartment and hidden zippers on smaller pockets.
Your laptop is safely kept in a separate hidden sleeve that allows you to access it without showing what else is in the backpack. It's made from a three-layer tear and puncture resistant fabric designed to protect your possessions from a slash-and-grab attack.
Internally there are tons of organizational features like mesh pouches, file slots, mouse storage, and tons more. It has a double-stitched back panel and straps that give you significant strength and comfort when carrying it.

Duffel Backpack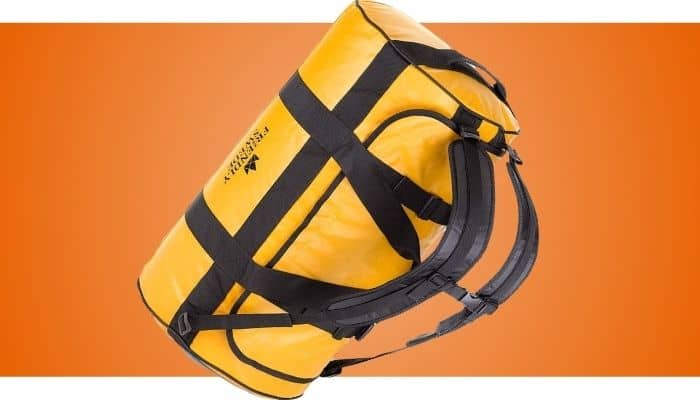 Duffel bags have long been a favorite way to carry large amounts of clothing and gear when traveling. They're high capacity, durable, and pack well.
More recently innovative companies have begun adding backpack straps to their duffel bags to make them easier to carry. It started with basic carry handles but has progressed to duffel bags with comfortable and ergonomically designed straps capable of supporting significant weight.
One backpack duffel bag we love is The Friendly Swede Duffle. It's a spacious duffel bag made from water resistant 500D PVC with a pair of comfortable backpack straps across the back.
It has three different ways to carry it. There are handles on either end of the bag, a padded central handle, and removable backpack straps. This gives you significant flexibility in how you move it.
It's available in three sizes, 30L, 60L, and 90L, and tons of different colors.

Picnic Backpack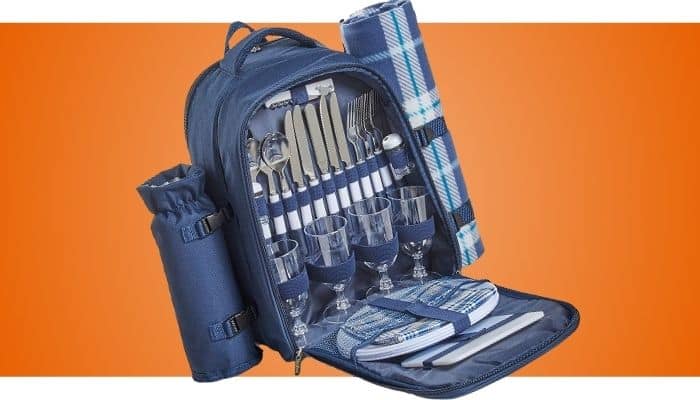 A very niche type of backpack, picnic backpacks are perfect if you frequently find yourself in need of a full set of cutlery and plates in the great outdoors. They contain everything you need to set up a classic picnic in an easy to store and carry package.
The VonShef Outdoor Picnic Backpack Set is designed to carry a picnic for four comfortably. It includes plates, forks, spoons, knives, wine glasses, and a salt/pepper shaker.
The main compartment of the backpack is an insulated cooler, with a thermos slot and picnic blanket on either end. This definitely isn't an essential backpack type, but it's really cool to have when you need it.

Drawstring Backpacks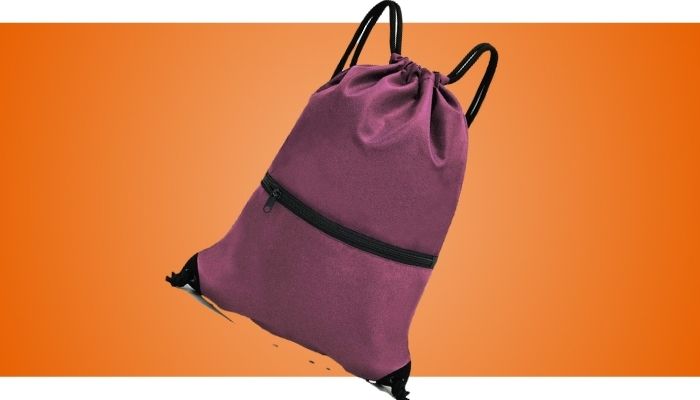 Drawstring backpacks are some of the smallest yet most versatile backpacks available. Nothing more than cloth pouches with a pair of drawstring cords in most cases, they can be used for everything from carrying gym clothes to substituting as packing cubes or day packs in a larger pack.
They're frequently given away as branded promotional items by tons of different companies, but you can also buy higher quality ones.
One drawstring bag we really like is the HolyLuck Drawstring SackPack. It's made from thick polyester with soft yet sturdy cloth drawstrings.
It has a main pouch pocket and a small zipper pocket on the front. It's extremely lightweight, machine washable, and very affordable.
It's the perfect backup pack to keep in your car or bring with you on a hike.

Carry On Backpacks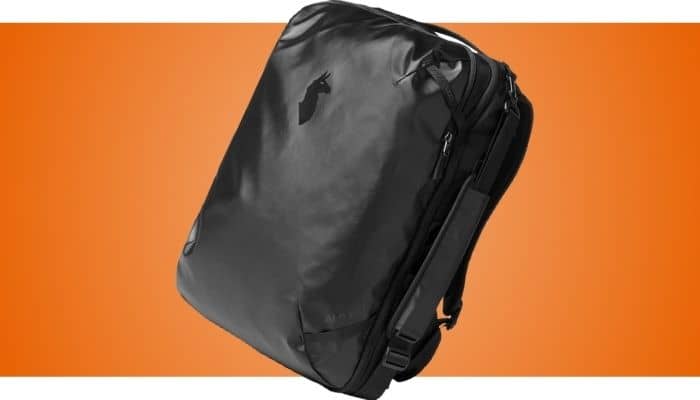 Carry on backpacks are built with the frequent traveler in mind. They have integrated pockets for laptops, tablets, and other gear plus useful ways to pack clothes and other essentials.
With the growth of the One Bag travel community the carry on backpack has been taken to a new level of excellence.
One standout example from a groundbreaking company is the Cotopaxi Allpa. It's a clamshell travel pack made from 1000D polyester with ballistic nylon paneling.
It folds out flat like a rolling suitcase for easy access to your clothes and other gear, yet is designed to pack down as slender and compressed as possible. It has a padded laptop, tablet, and smartphone sleeve to keep your electronics safe.
The Allpa uses a tuck away strap system that allows you to carry it just like a traditional suitcase. It's available in 28L, 35L, and 42L sizes.
Most important of all for a carry on backpack, the Allpa line is designed to fit within the carry on bag limits of the vast majority of airlines. This allows you to travel just about anywhere in the world without paying additional baggage fees.

Packable Daypack Backpack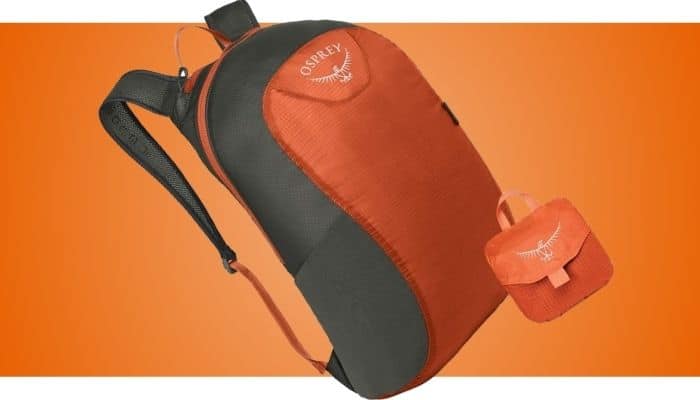 The packable daypack is a relatively new entrant in the backpacking world. It's basically a daypack that's designed to stuff down to about the size of a deck of cards.
It lacks real structure but is capable of holding around 20L of gear, perfect for a short hike that you don't want to carry your full expedition pack on. The downside is that they have basic straps and almost no padding.
The Osprey Ultralight Stuff Pack is one of the best examples of the packable daypack available. It's made from ripstop nylon and has an 18L capacity.
Despite this impressive amount of storage space the Stuff pack can shrink down to fit into a small integral pouch. This allows you to carry a useful daypack in your larger hiking bag or suitcase.
We wouldn't recommend you load it down as the straps are made from thin cloth and don't provide a lot of comfort, but for short hikes it's perfect to carry snacks and drinks.

Hunting Backpacks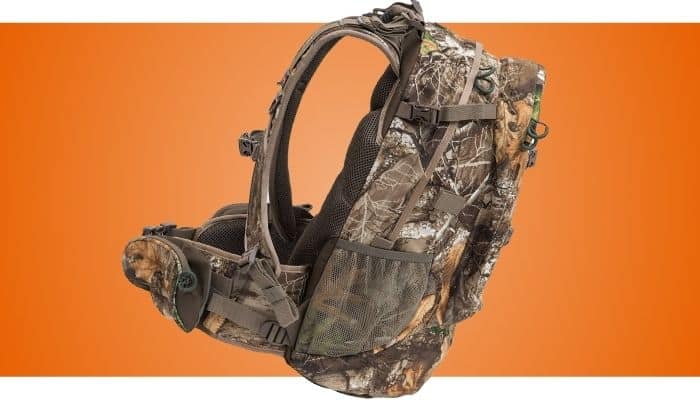 Hunting backpacks combine the features of modern hiking packs with specific tools hunters require. These include integrated rifle/bow storage, game bags, and multiple attachment points for extra gear like binoculars.
They usually come in popular hunting colors or blaze orange for safety.
The ALPS OutdoorZ Pursuit Hunting Pack is one of the best on the market today. It's an internal frame pack that offers 44L of storage capacity and lots of hunting specific features.
It has a drop down gun/bow holder, quiver holder for arrows, and a front shelf organizational pocket. There's a built in hydration reservoir pouch and tons of attachment points on the outside of the pack.
The straps, back panel, and hip belt provide an ergonomic fit that's comfortable for long weartimes and heavy loads.
Buyer's Guide to Buying the Right Type of Backpack
Given how many different types of backpacks there are in the world, picking out the best one for your needs depends on what you want to do. You need to consider a lot of factors, but most importantly your intended use.
Price
There's a huge range of prices depending on the type of backpack you're looking at and the manufacturer. You can get basic school-backpack style laptop bags for $20-$30, or spend hundreds of dollars on a highly technical mountaineering pack from a major manufacturer.
Intended Use – Most Important
How you plan to use your backpack is the biggest factor in what you should look for. An urban commuting bag is going to look wildly different than a multi-day hiking pack.
The first place to start is how you intend to use your backpack. Once you know that you're ready to dig deeper into the specific features you need and the manufacturers who can provide it.
Internal Frame, External Frame or Frameless
For hiking packs one of the first things you need to decide is whether you want a frame or not. Frameless hiking packs generally run up to about 35L. That's enough space for a day trip or a basic overnighter, but not enough for a multi day trip.
External frame hiking packs originated in military style packs like the ALICE pack. The rigid external frame provided significant stability and structure to the load, allowing you to carry greater weight more efficiently.
Most external frame hiking packs have multiple smaller pockets that allow you to easily organize your gear. They also provide tons of useful tie points for things like sleeping bags, water bottles, and other gear.
The downsides to this are there large size and relatively heavy weight. External frame packs are wider than internal frame packs and hold the load farther from your body.
Until relatively recently all hiking packs were external frame. Now though, the vast majority are internal frame packs. Internal frame packs have the advantage of being lighter and more compact than external frame packs.
They hold the load closer to your body and are generally more comfortable to wear for long periods of time. Just about all high-quality hiking packs these days are internal frame.
Capacity of Different Types of Backpacks
Backpack capacity is measured in liters. There's a generally accepted range of capacity for each type of backpack.
Backpacks up to 20L aren't for heavy use. Thing things like sling bags, day carry drawstrings, and small school backpacks.
For daily use backpacks anywhere from 20L to 35L is plenty. This is enough space for your laptop, headphones, a few books/binders, and any other basic stuff you need to carry around.
30L to about 50L is where the vast majority of outdoor day and weekend backpacks fall. This is enough space for the basics of a hike plus food, water, and backup gear in case of an emergency.
50L+ is when you get into true multi-day hiking packs and expedition backpacks. These bags are designed to give you the most comfortable fit while still carrying tons of gear. Think enough food and equipment to stay out in the backcountry for up to a week at a time.
Best Brands of Different Types of Backpacks
There are literally hundreds of different brands offering backpacks of various types. For outdoor and hiking packs there are a few brands that you'll be able to find in just about any hiking shop or website.
These include:
Kelty
Gregory
The North Face
Patagonia
Fjallraven
Osprey
Deuter
For travel, commuting, and other tasks there are other great brands available.
Comfort of Different Types of Backpacks
Comfort is one of the most important factors to consider when purchasing a backpack. It's a tool that you'll likely wear for hours at a time with a potentially heavy load. There are a few universal features that will enhance the comfort of any backpack.
These include vented backs, padded straps, waist and chest straps for hiking packs, and ergonomic features designed to place the load at the most optimal location.
Level of Waterproofing
The vast majority of backpacks on the market don't have significant waterproofing. Many offer basic water resistance through things like DWR coatings and covered zippers, but unless you're using a true waterproof backpack they won't stand up to much more than a light drizzle.
Many hiking packs come with a rain cover to deal with this. These are made from waterproof materials and slip over your backpack to keep your gear nice and dry.
Different Types of Backpacks Video
Frequently Asked Questions about Types of Backpacks
Whether you're planning a weekend camping trip, embarking on a challenging hiking expedition, or simply heading out for a day of exploration, choosing the right backpack is essential. With the vast array of options available, it's natural to have questions about the different types of backpacks and their suitability for various outdoor activities. In this FAQ section, we aim to provide answers to some of the most common queries regarding backpacks for camping and hiking. From understanding the different types of backpacks to finding the right size and features, we've got you covered. Read on to gain insights and make an informed decision when selecting the perfect backpack for your next outdoor adventure.
What are the different types of backpacks suitable for camping and hiking?
There are several types of backpacks designed specifically for camping and hiking. Some common options include daypacks, overnight packs, weekend packs, and expedition packs. Each type varies in size, capacity, and features to cater to different trip durations and load requirements.
What is a daypack, and when should I use one?
A daypack is a smaller backpack typically used for day trips or short hikes. It is lightweight, compact, and has a capacity of around 10 to 30 liters. Daypacks are perfect for carrying essentials such as water, snacks, a jacket, and other personal items when you don't need to bring a lot of gear.
What is an overnight pack, and what can it hold?
An overnight pack, also known as an ultralight pack or a weekend pack, is suitable for short camping trips lasting up to two nights. It generally has a capacity of 30 to 50 liters and can hold a sleeping bag, tent, cooking gear, clothing, and other necessary supplies for a brief stay in the wilderness.
When would I need a weekend pack?
If you're planning a weekend getaway or a two- to three-day hiking trip, a weekend pack is an ideal choice. It provides enough space for additional gear, extra clothing, food, and other essentials required for a slightly longer adventure.
What is an expedition pack, and who should use one?
An expedition pack, also known as a multi-day or extended trip pack, is designed for longer and more demanding excursions lasting several days or even weeks. These packs typically have a capacity of 60 liters or more, offering ample room for all the gear, clothing, food, and equipment necessary for extended stays in remote areas. Expedition packs are commonly used by serious backpackers, mountaineers, and explorers.
Are there any specialized backpacks available for specific activities?
Yes, there are specialized backpacks tailored to specific outdoor activities. For example, there are backpacks designed specifically for rock climbing, ski touring, and cycling, among others. These packs come with specialized features such as attachment points for gear, ice axe loops, hydration compatibility, and helmet carriers to cater to the specific needs of each activity.
How do I choose the right backpack size?
Choosing the right backpack size depends on the duration and type of trip, as well as your personal preferences. Consider the amount of gear you typically carry, the duration of your trips, and the level of comfort you desire. It's important to try on backpacks and assess their fit before making a decision. Additionally, consult the manufacturer's sizing guide for specific recommendations.
Are there any features I should look for in a camping or hiking backpack?
Yes, certain features can enhance your experience with a camping or hiking backpack. Look for features such as adjustable suspension systems, padded hip belts, ventilation channels, multiple compartments and pockets for organization, hydration bladder compatibility, and external attachment points for gear like trekking poles or ice axes. Additionally, consider the overall durability, weight, and weather resistance of the backpack.
Final Thoughts on Types of Backpacks
As long as you know what you need your backpack to do it's easy to pick between the different types of backpacks.
There are several basic types of backpacks that are highly flexible in what they can do, but for really specific tasks you need really customized equipment.