Outdoorsman Toolkit is reader-supported. When you buy through links on our site, we may earn an affiliate commission.
Learn more
When you're out hiking and camping you always have to be wary of the weather. A beautiful sunny sky can turn into a pouring rain with very little notice. For those of us who like to go boating, fishing or kayaking dealing with water is even more important. In these situations a quality dry bag can be the difference between a fun time and a miserable ordeal. Today we'll be covering the features and qualities you should look for in a dry bag and reviewing several great examples to help you find the best dry bag possible.
Dry bags have been around ever since humans have been on boats. In the past you were lucky to get an oiled canvas bag that might keep your stuff only a little bit damp.
Thankfully modern materials and craftsmanship have created bags that can stand up to serious soaking and even accidental immersion.
We've picked out some of the best dry bags at a range of price points to help you find the one that works best for your situation.
Sea to Summit Hydraulic Best Dry Bag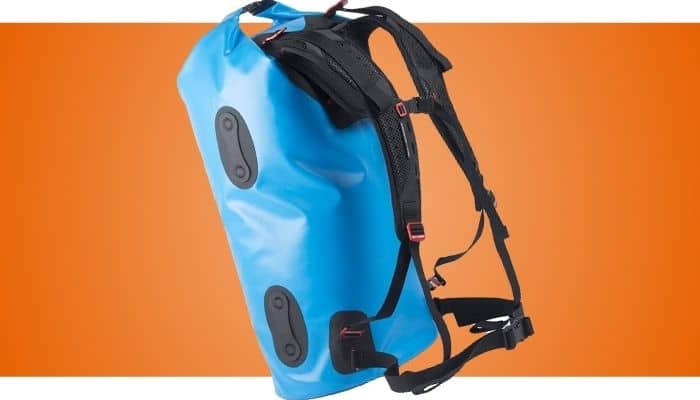 I recently embarked on a wilderness adventure in the rugged terrains of the Boundary Waters, armed with the Sea to Summit Hydraulic Dry Pack. The first thing that caught my eye was its craftsmanship, a blend of robustness and elegance, carved out of 600 denier TPU laminated ripstop PVC free fabric. Its waterproofing claim isn't just a marketing gimmick – the pack shielded my gear through a hailstorm, leaving everything untouched and dry.
Its versatility is what sets it apart from the myriad of dry bags I've come across. The innovative harness system, which is a breeze to remove, allows a seamless transition from a backpack to a standard dry bag. The aluminum buckles, albeit a little prone to detaching, provide a sturdy attachment, guarding against the corrosive grasp of water.
The comfort the straps provide is unparalleled, especially when the journey demands a long haul through uneven trails. I packed it to the brim with my camping essentials, a 4-person tent, a pair of camp chairs, and a tarp among other things. Even with a load surpassing 25 lbs, the pack sat well on my back, its balance making the hike less daunting. The straps, thick and comforting, hugged my torso, distributing the weight evenly. I strategically placed my sleeping bag to cushion my back, a move that paid off during my hike on the sandy, rocky paths.
During one of my daring cave explorations, I took a tumble, submerging the pack in a shallow waterbed. My heart skipped a beat, but to my amazement, everything inside was as dry as the desert. The real test came when I had to traverse through a cave with water levels reaching up to 3 feet. Despite the light surf crashing against it, the pack held its ground, keeping all my gear dry.
On another occasion, I decided to test the pack's capacity and versatility on a weekend hiking trip through a densely wooded area. With the 65L size, I managed to fit in my compact sleeping tent, cooking gear, and enough provisions. The journey through the winding trails was made comfortable by the well-designed straps. At one point, I had to cross a swiftly flowing stream. The anxiety of water seeping into the pack and ruining my supplies was looming, but the Sea to Summit Hydraulic Dry Pack lived up to its name, keeping everything bone dry. It was a reassuring testament to its stellar performance even in the face of unexpected challenges.
The Hydraulic Dry Pack comes in a variety of sizes, I went for the 65L, which turned out to be true to its claim, unlike many packs that fall short. Though a tad hefty on the price, every dollar spent resonates with its quality and functionality. It's a bit of an overkill for casual outings, but for someone like me who thrives in the heart of nature, it's a worthy companion. The minor hiccup with the safety straps disconnecting when the bag isn't full is something I noticed, but it's a small trade-off for the peace of mind this pack brings.
The Sea to Summit Hydraulic Dry Pack isn't just a purchase; it's an investment for the outdoor enthusiast. Whether it's a casual hike or an intense camping expedition, this pack has proven to be a reliable companion against the whims of Mother Nature.
Pros:
Premium Construction: Made from 600 denier TPU laminated ripstop PVC free fabric, ensuring excellent waterproofing and durability.
Versatile Design: Easily converts from a backpack to a standard dry bag with a removable harness system, adapting to different outdoor needs.
Comfortable Straps: Thick and well-designed straps provide good support and comfort, even under heavy loads.
True to Size: The available sizes (35l, 64l, 95l, and 120l) accurately represent the carrying capacity, unlike some other packs that fall short.
Effective Waterproofing: Proven to keep contents dry even when submerged or exposed to rain and hail.
Various Sizes: Availability in 4 sizes caters to different storage needs and preferences.
Cons:
Pricey: Falls on the expensive end of the market, which might deter budget-conscious buyers.
Aluminum Buckles: Prone to detaching, especially when the bag is not fully packed.
Slightly Heavy: A bit on the heavier side, which could be a concern for long-distance hiking.
Potential Overkill for Casual Use: The larger sizes may be excessive for around-town use or shorter outings.
Big Agnes Pumphouse Ultra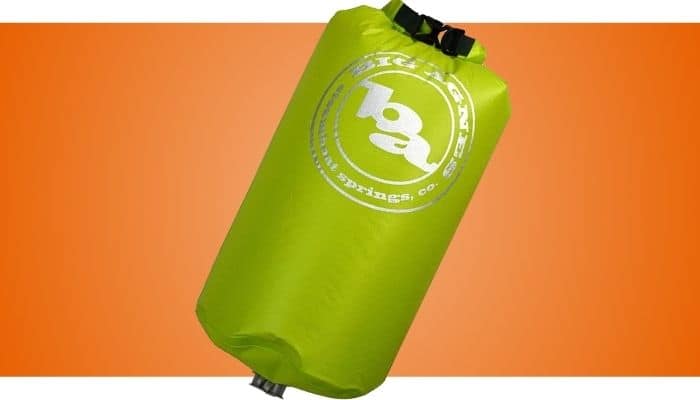 The Big Agnes Pumphouse Ultra is a multipurpose piece of gear designed for ultra light hikers. It weighs just 2.9 oz yet fills tons of different essential roles out in the wild, including:
Stuff Sack
Dry Bag
Sleeping Pad Inflation Pump
Inflatable Pillow
Backcountry Shower
Big Agnes is a giant in the hiking and outdoor world. Their well-regarded sleep systems are consistently praised for their quality and value. The Pumphouse Ultra is first and foremost an ultralight air pump for filling up their sleeping pads.
It saves your cheeks from blowing up your sleeping pad and gives you a lot of additional uses. It's made from aviation-grade lightweight nylon and uses a roll-top closure.
Because it's designed primarily as a pump waterproofing plays second fiddle to some of the other features. That's not to say it's useless as a drybag.
We've used it successfully as a shower after all, so it can definitely stand up to water. Just don't expect it to be as waterproof as a single purpose product.
If you already own a Big Agnes sleeping pad and are considering dry bags you should make sure at least one of them is a Pumphouse Ultra.
Sea to Summit Big River Dry Bag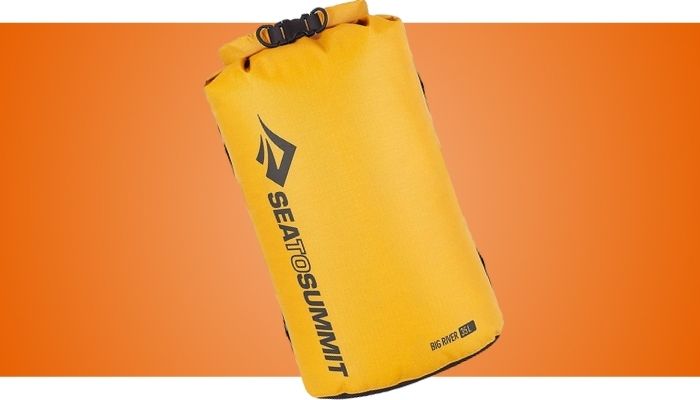 The Sea to Summit Big River line are some of the company's most popular dry bags. They're made from abrasion resistant TPU laminated nylon with an oval base to help resist rolling.
The Big River bags have double stitched seams that are taped and sealed to prevent any water from getting in. The TPU nylon is rated to 10,000 mm hydrostatic head. This makes these bags suitable for any water sport activity so long as they aren't immersed.
Depending on the size bag you go for there are numerous d-rings and other attachment points to help secure the bag.
Big River dry bags are available in a wide range of sizes starting at 3l and going all the way up to 65l. This gives you considerable ability to find the perfect bag to meet your needs.
Sea to Summit Event Compression Dry Sack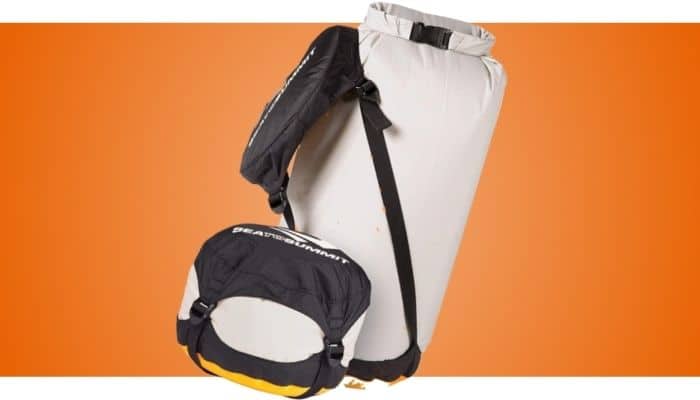 The Sea to Summit Event dry sack is a compression stuff sack made using innovative waterproof material. The body and lid of the Event is made from 70 denier waterproof nylon with an eVent air permeable base that allows you to compress your sack without allowing water in.
It's designed with a hypalon roll top closure and 4 reinforced straps to help really ratchet down the size. The bags are rated to 10,000 mm hydrostatic head, plenty for any marine or boating use.
They're made using taped and double-stitched seams for maximum durability and waterproofing. Because of this durability it's possible to compress your goods down to about ⅓ of their original size.
If you're looking for an effective compression sack rated for any kind of water use it's hard to go wrong with the Sea to Summit Event line.
Skog A Kust DrySak Waterproof Dry Bag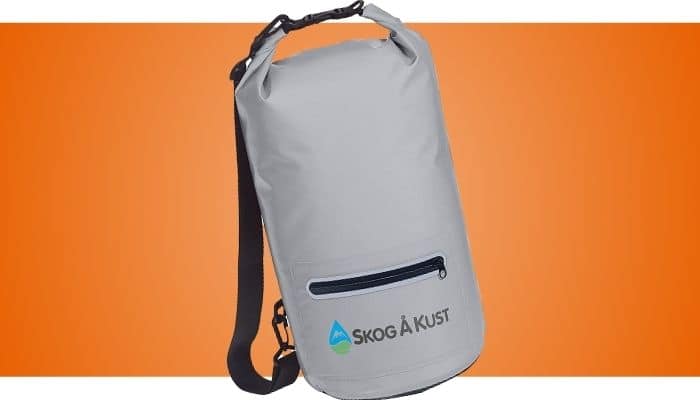 The Skog a Kust DrySak is a lightweight waterproof dry bag designed for mid-intensity activities. It's made from 500 denier PVC using a roll-top closure and welded seams.
It's available in both a 10l and 20l version and comes with a removable shoulder strap for easy carry. It has a small zipper pocket on the front of the bag for things like cash, credit cards, and other items that don't mind getting a little wet.
One thing to keep in mind is that PVC will break down when exposed to heavy UV from sunlight. The DrySak is a good value priced bag with most of the features casual users will need.
If you're just looking for a way to keep your outfit dry while out tubing or on a pontoon boat it's a great option. If you're participating in extreme sports or activities where dry clothes and equipment are essential you might want to spend a little more on a different bag.
Piscifun Waterproof Dry Bag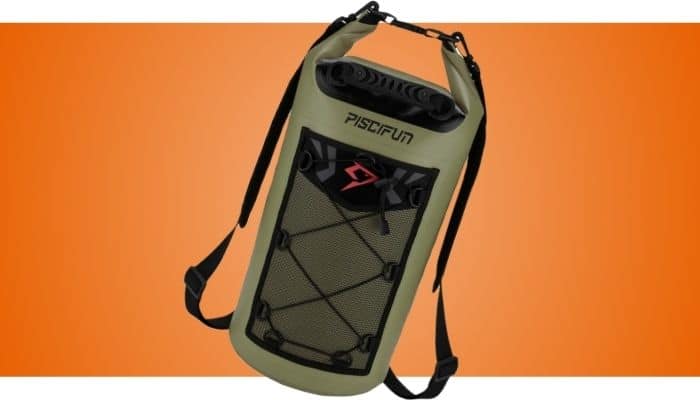 This Piscifun Waterproof Dry Bag is an inexpensive entry-level bag with a lot of useful features. It's made from 500 denier PVC and includes a free IPX8 waterproof phone pouch.
It uses a roll-top closure and has fully welded seams. It offers a lot of nice features not usually seen on a dry bag at this price point.
The Piscifun includes clip-on straps for use as either a shoulder bag or a backpack. It also has a really nice mesh storage compartment on the front for slipping things like flip flops, sealed snacks, and anything else you don't mind getting a little wet.
It's available in 4 sizes, 10l, 20l, 30l, and 40l, and in a huge variety of colors.
The Piscifun Waterproof Dry Bag is a great product for use by casual boaters and folks out having a good time on the river or at the beach. It's inexpensive and includes useful features but doesn't have the level of durability needed for high intensity activities.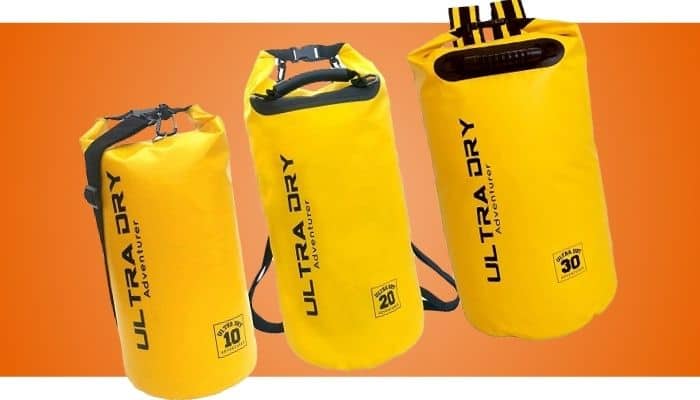 The Ultra Dry Waterproof Dry Bag is a sturdy dry bag designed for outdoor and boating use. It's made from 500 denier PVC and includes a free waterproof phone case.
It's built with a removable shoulder strap and a roll-top closure. The larger sized bags also have a sturdy carry handle to reduce the stress placed on the top buckle.
You can get Ultra Dry bags in 10l, 20l, and 30l sizes as well as a variety of colors and patterns.
The Ultra Dry Waterproof Dry bag is inexpensive, reasonably durable, and does what it's supposed to. It isn't quite as long lasting or dependable as top of the line models but most people will find it perfect for casual use.
NRS Tuff Sack Dry Bag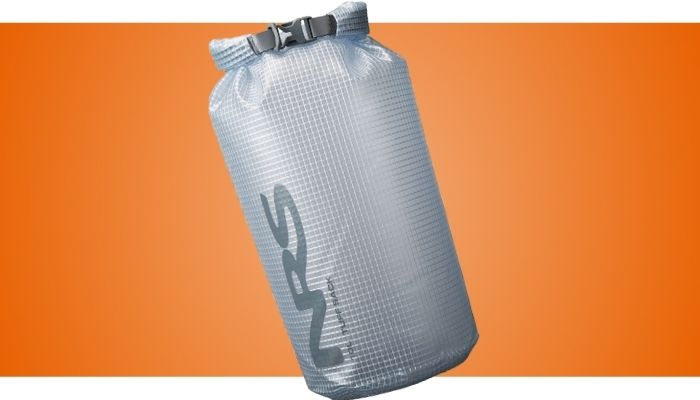 The NRS Tuff Sack is a dry bag made to stand up to the toughest conditions. It's made from TobaTex PVS polymer with welded seams.
It uses a roll top closure system and has a rugged plastic d-ring built right in. The Tuff Sack is available in everything from 5l all the way up to 55l sizes. This gives you considerable flexibility in what you store in your bag and where you take it.
It's definitely on the pricey side for a basic dry bag but it comes from a manufacturer well known for their commitment to quality.
If you're looking for a no frills dry bag that keeps your things dry under wet conditions the NRS Tuff Sack won't let you down.
SealLine Baja Dry Bag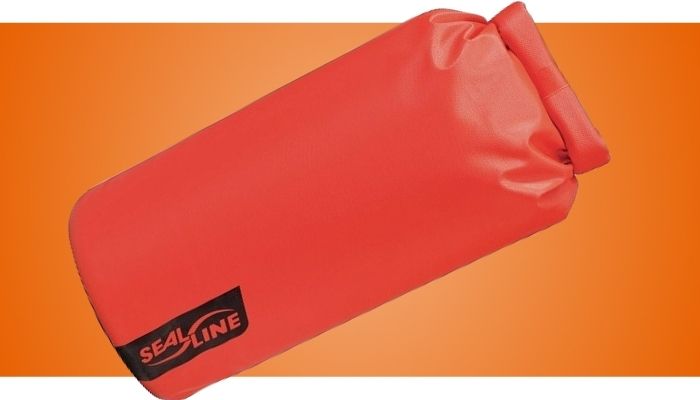 The SealLine Baja is one of the most well known dry bags in the world. It's been on the market since the 1980's with continual small improvements made to materials and design.
The Baja dry bag is made from 1,000 denier vinyl coated polyester with a rigid bottom. This gives you excellent waterproofing and a very sturdy bag.
It uses a dual strip roll top closure with a sturdy plastic buckle. It doesn't offer the extras and addon's many other dry bags do because it doesn't have to.
The Baja is designed to keep your stuff dry when it counts. It's available in a range of sizes and colors and is actually priced extremely well for the value it provides.
If you're looking for an excellent dry bag from a reputable company you should definitely check out the SealLine Baja.
Best Dry Bag Comparison Table
Buyers Guide to Buying the Best Dry Bag
When you're comparing different dry bags the biggest things to keep in mind are material, price, waterproof rating, and features.
Each of these will encompass a lot of other subcategories but as long as you know how much you're willing to spend, how you intend to use the bag, and what you need it to do you shouldn't have a problem finding the perfect one.
Price of the Best Dry Bag
With dry bags the price really comes down to quality and size. Smaller dry bags are naturally less expensive than larger ones and pretty easy to figure out. Quality though is a bit harder to measure objectively when looking at pricing.
For a 20l dry bag you can spend up to about $40-$50. There are value-priced products available for as low as $10 but for a really nice one you'll need to spend a bit more. As size and quality goes up the price rises as well, with top-of-the-line models running well over $100.
Level of Waterproofing
When dealing with fabrics waterproofing is measured in hydrostatic head, commonly called waterhead. Waterhead tells you the vertical load of water that can press against a fabric before it begins to leak.
Hydrostatic head is measured in millimeters. A dry bag with a waterhead of 10,000 mm can stand up to 10 meters or around 33 feet of water pressure and is good for any use including boating.
Depending on the manufacturer you may also see references to the IPX system of waterproof rankings. Most dry bags that use this system will have a ranking between IPX6 and IPX8. IPX6 means that they'll stand up to heavy splashing but not immersion. IPX7 and IPX8 give you limited immersion resistance up to 1 meter in depth.
A good thing to keep in mind is that no dry bag is truly designed for long-term immersion. The roll top closure is great for keeping water out but will eventually fail and allow water in. It will survive a dunk in water or even a few minutes under but will usually start to leak after much longer.
Pockets – Internal and External
Smaller dry bags up to about 10-15 liters generally only have a single pocket. Once you get above that size you get a lot more options. Many offer internal organizers, outer zipper pockets to hold things you need easy access to, and some even offer removable internal packs.
A good thing to keep in mind with external pockets is that they will rarely be as waterproof as the internal ones. The roll top closure is what makes a dry bag as water resistant as it is. Even the best waterproof zippers can't compare.
Straps for Best Dry Bag
Smaller dry bags usually rely on the roll top closure as the handle. As you move up in size though more and more straps begin to appear. If you're using your dry bag strictly as a storage space on a deck or in another bag straps aren't really necessary.
For bags you intend to carry or larger dry bags it's a good idea to have handles and shoulder straps available. Newer products even offer full backpack harnesses for maximum comfort and portability.
Closure
If you want an actual functional dry bag it has to have a roll top closure. Waterproof zippers are fine for things like rainy or misty conditions but can't hold up to any serious splashing or immersion.
A roll top closure allows you to fold the material down 3-4 times to help seal out any water. Once it's rolled down you can buckle or velcro it sealed.
D-Ring
D-rings on dry bags add a lot of functionality and are pretty much essential for any marine use. If you're just out hiking in wet conditions you can get away without a d-ring. If you're on any kind of watercraft though they're basically required.
They allow you to securely attach your dry bag to your vessel or other gear. This prevents it from getting lost if it gets knocked or dumped out of your watercraft.
Material
Modern dry bags are made of synthetic polymers and fabrics with a waterproofing treatment. The vast majority of bags use either nylon, PVC or vinyl with nylon making up the bulk of the market. These materials aren't naturally waterproof on their own so they also have a waterproof treatment.
One of the most common treatments is siliconized CORDURA nylon. This offers excellent water resistance in a variety of levels. You'll also commonly see TPU coated nylon.
Size of Best Dry Bag
Dry bags are available in everything from small waterproof phone pouches up to very large 100-120 liter waterproof duffels. For most uses though a 20-30 liter bag will hold the essentials and not take up too much space on a small watercraft.
Intended Use
Because there are so many different sizes and types of dry bags you can find one for just about any use you can imagine. Some of the most common places and uses people purchase dry bags for include:
Kayaking
Fishing
Boating
Beach Trips
Tubing
Wet Weather Hiking
Scuba Diving
General Watersports
It's important that you consider the intensity of your activity when picking a dry bag. Many bags will be perfectly fine for use in wet or rainy conditions but unsuitable for marine or boating use.
Because dry bags are so versatile they're often used as organizers even when you aren't overly concerned with wetness.
Welded Seams
One of the most fascinating and effective parts of dry bag construction is seam welding. Using radio-frequency welding quality dry bags actually have their seams welded together to create a perfect seal.
This means that every stitch and fold of the bag is connected with a single piece of material. Because of this it's very uncommon for seam leaks to take place.
If you're choosing between two dry bags and one has welded seams and the other doesn't go for the seam welds.
Other Styles of Waterproof Bags
Dry bags are the most basic of the waterproof bags available. They're usually designed a lot like stuff sacks, just with heavier and more water resistant closures. There are also a bunch of other waterproof bags with specific roles.
Waterproof Phone Pouches – We take out smartphones with us everywhere these days. Even to places we really shouldn't. A waterproof phone pouch is designed to keep your phone totally protected from splashes and sudden immersions while still leaving it mostly accessible and usable.
These are generally made from PVC and other clear plastic/fabrics and have either a roll top or a zip top closure.
Waterproof Backpack – Waterproof backpacks are an emerging product field with a lot of good offerings coming onto the market. They range from basic dry bags with backpack style straps all the way up to purpose built and extremely comfortable backpacks built from the best waterproof materials available.
Check out our waterproof backpack review here to learn more about them and see some of the best available today.
Waterproof Duffel Bag – waterproof duffel bags are one of the most popular waterproof bag categories on the market. Just about every major outdoor brand offers their own version.
They're great for transporting any kind of gear through the backcountry or on a vessel.
Check out our waterproof duffel bag review here to learn more about them and see some of the best available today.
Waterproof Camera Bags – Taking pictures of nature is one of the most enjoyable pastimes available. Unfortunately camera equipment is delicate and expensive. A waterproof camera back is designed to protect your photo gear from the elements as well as shield it from basic drops and impacts.
Check out our waterproof camera bag review here to learn more about them and see some of the best available today.
Top Dry Bags Video
Frequently Asked Questions (FAQ) – Best Dry Bag
When it comes to outdoor adventures, protecting your belongings from the elements is crucial. Whether you're embarking on a camping trip, setting off on a kayaking expedition, or simply braving unpredictable weather conditions, having a reliable way to keep your gear dry and secure is essential. This is where the humble dry bag steps in.
In this FAQ section, we aim to answer some of the most commonly asked questions about dry bags, helping you make an informed decision when choosing the best one for your needs. From understanding the purpose of a dry bag to finding the right size, waterproofing, and additional features, we'll cover the key aspects to consider.
So, whether you're a seasoned outdoor enthusiast or new to the world of camping and adventure sports, read on to get the answers to your burning questions about dry bags. Let's dive in and ensure your gear stays protected, organized, and ready for your next wilderness excursion.
What is a dry bag?
A dry bag is a waterproof bag designed to keep your belongings dry and protected from water, moisture, and dust during outdoor activities such as camping, hiking, kayaking, or boating. It typically features a roll-top closure that creates a watertight seal.
Why do I need a dry bag?
A dry bag is essential for any outdoor enthusiast as it provides a reliable way to keep your gear and valuables safe from water damage. Whether you're crossing a river, caught in a downpour, or simply want to keep your items organized and dry, a dry bag is a must-have item.
What should I look for when choosing a dry bag?
When selecting a dry bag, consider the following factors:
Size and capacity: Choose a size that can accommodate your belongings while leaving room for easy packing and access.
Waterproofing: Look for bags made from high-quality waterproof materials such as PVC, nylon, or TPU (Thermoplastic Polyurethane).
Closure system: Opt for a roll-top closure or a reliable sealing mechanism to ensure a watertight seal.
Durability: Check for reinforced seams, sturdy construction, and abrasion-resistant materials to withstand rugged outdoor conditions.
Straps and carrying options: Consider adjustable and comfortable straps for easy transport.
Additional features: Some dry bags may offer extra pockets, attachment points, or reflective elements for improved functionality.
Are dry bags submersible?
Most dry bags are designed to be water-resistant or water repellent, meaning they can withstand splashes, rain, or brief submersion. However, not all dry bags are fully submersible. If you need a dry bag for activities like kayaking or snorkeling, look for options specifically labeled as submersible, which provide a higher level of waterproof protection.
Can I use a dry bag for electronics?
Yes, dry bags are excellent for protecting electronics such as smartphones, cameras, and tablets from water damage. It's important to check the specifications of the dry bag to ensure it offers adequate protection for your specific device. Some dry bags even feature clear windows or touch-sensitive materials, allowing you to use your devices while they remain protected.
How do I properly close a dry bag?
To close a dry bag effectively, follow these steps:
Ensure your items are inside the bag and the top is rolled down.
Roll the top of the bag at least three times, starting from the end closest to you.
Fold the remaining section of the roll-down closure towards the bag, creating a loop.
Fasten the loop securely using the buckle or clip provided.
Test the closure by pressing down on the bag and checking for any air escaping. If done correctly, the bag should be airtight.
Can I clean a dry bag?
Yes, you can clean a dry bag to maintain its performance and extend its lifespan. Most dry bags can be cleaned by simply rinsing them with fresh water and wiping them down with a soft cloth. Avoid using harsh chemicals, abrasive materials, or machine washing, as these can damage the waterproof coating or seams.
How long will a dry bag last?
The lifespan of a dry bag depends on several factors, including its quality, frequency of use, and maintenance. With proper care and regular use, a high-quality dry bag can last for many years. It's important to inspect the bag for any signs of wear and tear, such as frayed seams or punctures, and repair or replace it as necessary.
Can I use a dry bag for other activities besides camping?
Absolutely! While dry bags are commonly associated with camping and outdoor adventures, they are versatile and can be used for various activities. You can use them for kayaking, boating, fishing, beach trips, snow sports, or even as a protective bag for your gym or travel essentials.
Remember, selecting the best dry bag depends on your specific needs, so consider the intended use, the size you require, and the level of waterproofing necessary for your adventures.
Final Thoughts on the Best Dry Bag
So there you have it.
Picking out the best dry bags comes down to what level of capability you need and how much you're willing to spend. There are tons of great options available for everyone from the casual hiker to the serious distance kayaker.
As long as you keep the features and points we've discussed above in mind it's easy to pick out the best bag for your needs.