Outdoorsman Toolkit is reader-supported. When you buy through links on our site, we may earn an affiliate commission.
Learn more
Hip packs, lumbar packs, waist packs, whatever you call them, fanny packs are back in a big way in the hiking community. Usually not a hiker's primary bag, the hiking fanny pack is a great way to carry basic snacks on a short hike or keep the essentials close at hand while traveling. Even better, fanny packs are in, so you won't look like a total goober wearing one. We put together a list with some of the best fanny packs for hiking to help you better understand what's out there.
Best Fanny Pack for Hiking
With hiking fanny packs, less isn't always more. Fanny packs are a portable storage solution the same as backpacks, but they fulfill a very different niche.
Picking out the best fanny pack for hiking really depends on where you're hiking and how you're doing it. There are some excellent minimalist hiking hip packs as well as incredible lumbar packs.
Today we'll be exploring some of the best options available across the range of price, style, capacity, and feature set.
Osprey Packs Talon 6 or Tempest 6 Lumbar Hiking Pack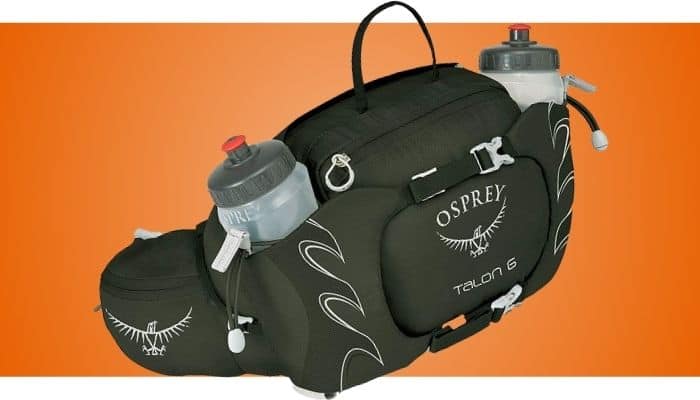 Osprey is well known for the quality of their hiking packs and other gear. The Talon 6 and Tempest 6 are great examples of why.
A men's and women's hiking fanny pack, respectively, they're made from durable 70D and 100D nylon and each provide 6L of storage capacity. They're designed as lumber packs and use Osprey's body hugging BioStretch hip belt to keep the load as close to your body as possible. This makes it much easier and more comfortable to wear them over long distances.
Other than the main pocket they each have a pair of small pockets on the hip belt. There's a zippered slash pocket across the front for things you need to access quickly.
One thing we really loved was the included pair of 570ml PackBottles that fit snugly on either side of the main pocket. When added to the large main pocket and considerable comfort enhancing features you end up with a well rounded camping fanny pack that's perfect for day trips.
Evoc Hip Pack Pro Hydration Bag 3L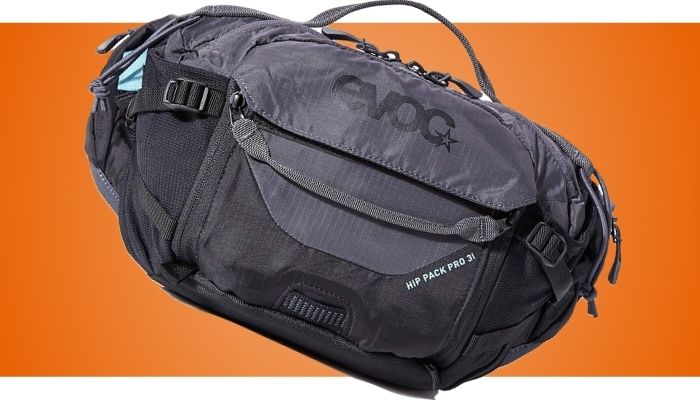 The Evoc Hip Pack Pro is a cycling focused fanny pack built around a hydration bladder. It has a total of 3L available storage capacity and includes a 1.5L hydration bladder incorporated into the structure of the bag.
It's designed mainly for cyclists as an alternative to traditional hydration packs. The location on your lower back is a lot more comfortable for many cyclists than having straps across their shoulders.
Evoc built multiple comfort enhancing features into the Hip Pack Pro, including breathable mesh pads, an adjustable hip belt, and a specially designed air flow contact system on the back of the bag.
Other than the included 1.5L hydration bladder there are also pockets for a pair of Evoc water bottles. The actual storage space is quite small, just enough for a few tools and other essentials like a wallet, but adequate for its intended purpose.
Overall the Evoc Hip Pack Pro is a well built cycling fanny pack that provides a reasonable amount of storage and ample water carry options.
Mountainsmith Dry Tour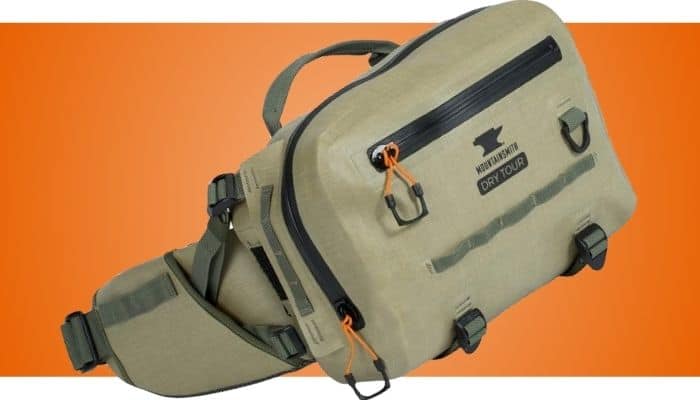 The Mountainsmith Dry Tour is a specialized version of their iconic tour hip pack, the very first lumbar hiking pack introduced. It's a fully waterproof lumbar pack made from 500d TPU coated nylon with RF welded seams and waterproof zippers.
This makes it perfect to take on rainy hikes, beach trips or as a fishing bag. It's quite roomy at 7L and offers a number of really nice comfort enhancing features.
These include a Delta Compression System load adjustment on the hipbelt that allows you to change the positioning and distribution of the weight along your waist. It also offers a haul handle for easy carrying when off your waist and a removable shoulder strap for extra heavy loads.
The Dry Tour has an IPX7 water resistance rating, making it safe for quick immersion and all but immune to splashes and rainfall. It has a large main pocket with an interior zippered mesh pocket plus a pair of waterproof hipbelt pockets and a waterproof zippered front panel pocket.
It also comes with a detachable water bottle holster large enough to hold a one liter bottle of water. Finishing off the bag is the variety of D-rings, webbing loops, and other attachment points for various bits of gear.
All in all the Mountainsmith Dry Tour is one of the best small waterproof hiking fanny packs available on the market today. It's noticeably more expensive than many similarly sized packs but we think its high level of water resistance and extremely comfortable design make it well worth it.
Waterfly Hiking Waist Bag Fanny Pack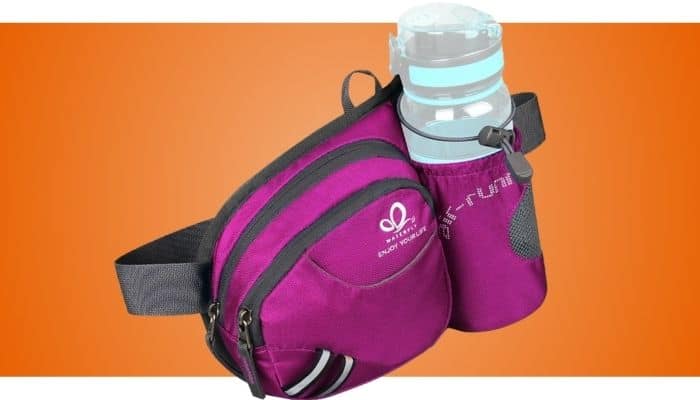 The Waterfly Hiking Waist Bag is a minimalist hip pack designed for hiking, running, and cycling. It's made from a water resistant polyester and available in a vast array of colors and patterns.
It provides you with a pair of zippered storage pockets plus an open front slip pocket for things like your phone or a snack. On one side sits a water bottle pouch large enough for most mid-sized water bottles and a pair of reflective loops.
The waist belt is fully adjustable for a comfortable fit. It lacks some of the breathability and customizability of other hiking bags but is a great little hiking fanny pack for the price.
CamelBak Repack LR 4 Hydration Belt Bag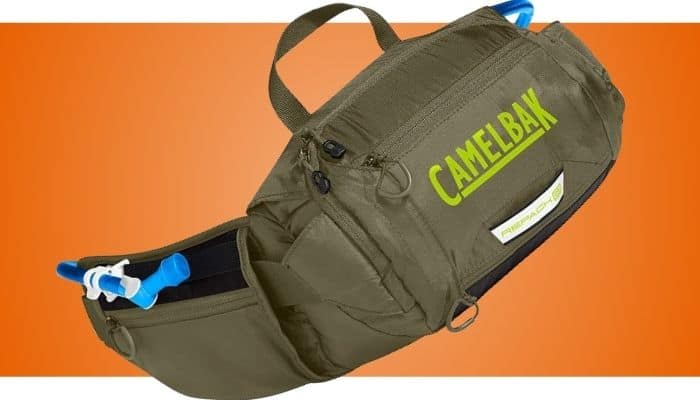 Camelbak all but invented the modern hydration reservoir and their line of hydration packs, bladders, and accessories are still some of the best in the world. The Camelbak Repack LR4 is a hydration belt bag packs a 1.5L hydration bladder into a tiny little hip bag.
It's ergonomically designed to be as comfortable as possible while you wear it. You can customize the fit of the hipbelt and position the extra wide straps in the perfect place for you. The included Crux reservoir is made to provide the fastest flow rate and uses a magnetic tube system that keeps it ready at hand but always secure.
The hipbelt has a pair of small zipper pockets that combine with the main pocket to provide just the right amount of space for the essentials while out on the trail. There are reflective strips stitched strategically around the bag and a set of reservoir compression straps to keep it as close to your body as possible.
The Camelbak Repack is a highly optimized mountain biking fanny pack. It offers the basic storage space needed for essential goods and a good amount of water for a hard ride.
FlipBelt Zipper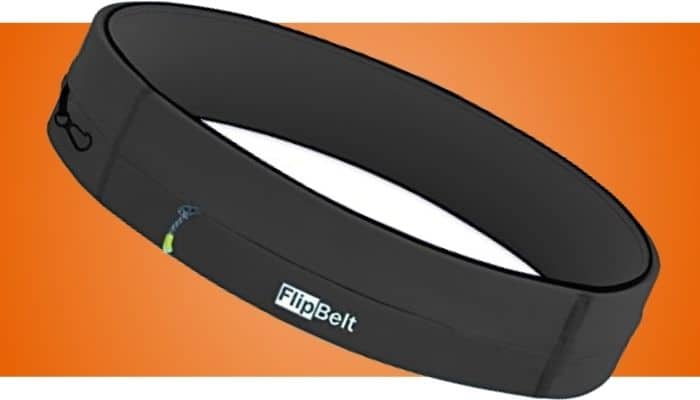 The FlipBelt Zipper is the minimalist hiker or trail runners dream piece of kit. It's basically an extra wide belt that's designed to hold the bare minimum items you need when hitting the trails.
It fits comfortably across your waist and weighs just a few ounces. Despite this diminutive design it has enough space to comfortably hold your phone, keys, wallet, and other essential items.
There are three access points spread equally around the edge of the FlipBelt, each of which opens up into the single main pocket. You'd think this design would make it difficult to organize and uncomfortably heavy but you'd be surprised.
We found the FlipBelt to really live up to the hike. It's definitely not the kind of hiking fanny pack you can take on long trips but for short hikes or as a travel bag it's a really useful tool.
Everest Dual Squeeze Hydration Pack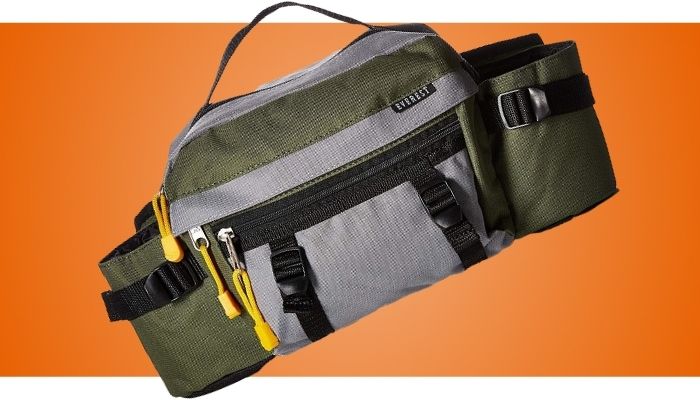 The Everest Dual Squeeze Hydration Pack is a lightweight hiking fanny pack designed for those with a powerful thirst. It's made from water resistant polyester and offers several useful pockets and other storage options.
It has three zippered pockets placed one on top of the other in the main part of the bag. These combined offer 3.4L of storage capacity, plenty for snacks and other essentials on a hike. These are framed by a pair of water bottle pouches that push up against the padded hip belt.
It uses a buckle closure system and can be adjusted with a slider clip. You can also loosen or tighten the water bottle pouches so they can accommodate almost any water bottle.
When you add its features together with its low price, the Everest Dual Squeeze Hydration pack is a workable hip pack and a really nice value.
Huntvp Tactical Waist Pack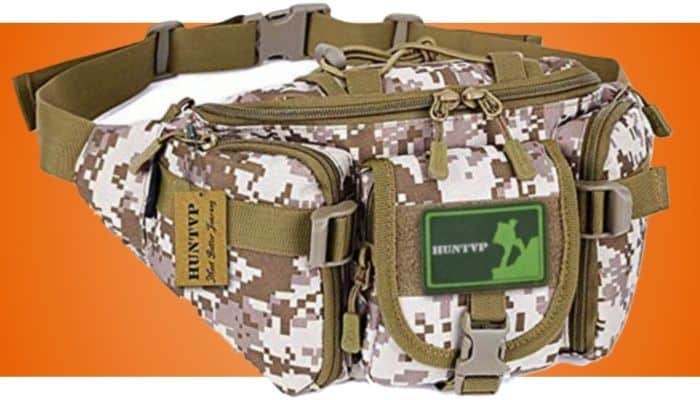 The Huntvp Tactical Waist Pack is a lightweight hiking fanny pack with a more hunting/tactical focus. It's made from abrasion resistant nylon with an adjustable nylon waistband.
It has four pockets plus a MOLLE compatible expansion system. The main zipper pocket runs across the body of the bag and serves as the base for the other three pockets.
One has a buckle closure much like milspec tactical carrier pouches while the other two zip open and closed. The MOLLE strap runs across the front of these and is capable of holding a wide variety of additional pouches and containers.
The waistbelt isn't the most comfortable we've seen but it's wide enough to help prevent pressure points from forming and fully adjustable in length. You can choose from a variety of different tactical colors and patterns, with a focus on modern camo.
The Huntvp Tactical Waist pack is a quality product at a very reasonable price. It's not the best hiking fanny pack on the market to be sure, but it is a serviceable product that' won't let you down when it counts.
Deuter Pulse 3 Hydration Pack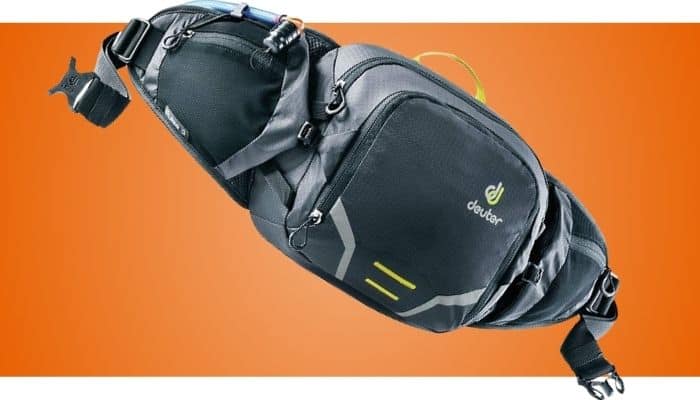 The Deuter Pulse 3 is a lightweight hiking hip bag with a built in hydration reservoir. It offers 5L of storage space, with a good chunk of that taken up by an included 1.5L hydration bladder.
The Pulse 3 is made from 100D ripstop nylon and has a PU coating that makes it capable of standing up to 1500mm water immersion.
It includes some of the best ergonomics and comfort enhancing features on the market, including a vented back panel and hip belt, padded sections for comfort, and nearly endless customization options.
Other than the main pocket that holds the hydration bladder there are three small storage points. Each is large enough to hold a few small objects like a phone, wallet or snack.
Overall the Pulse 3 is an excellent cycling, running, and hiking fanny pack with just enough space for the essentials.
SealLine Seal Pak Fanny Pack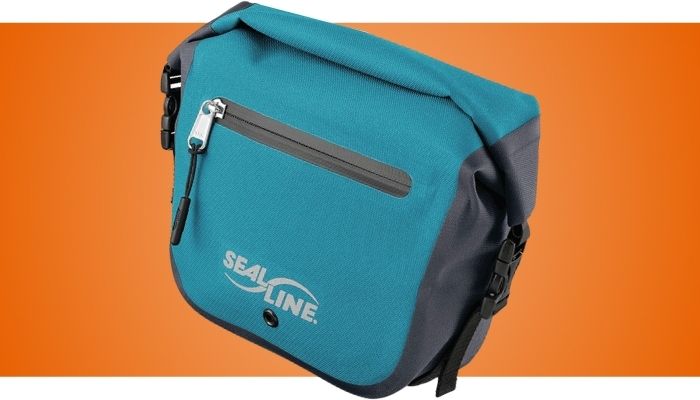 The SealLine Seal Pak is a waterproof hiking fanny pack. It's made from 600D PU coated polyester and gives you 4L of storage capacity.
It uses a roll top closure for its main pocket and offers several carry options. You can use it solely as a dry bag or add on either a waist belt or a shoulder strap. It also has a small water resistant zipper pocket in the front of the bag.
The Seal Pak is a little different from most of the other fanny packs on our list. Its primary purpose and focus is as a dry bag. Because of this it sacrifices many of the comfort enhancing features in favor of greater durability and water resistance.
It's not the most comfortable bag for a long hike over rough terrain. If you're boating, fishing, kayak camping or otherwise participating in water sports though it's an excellent hip bag to take with you.
Hiking Fanny Pack Comparison Table
Image
Title
Price
Prime
Buy

Top

Top

Top

Osprey Tempest 6 Women's Lumbar Hiking Pack

Prime

Buy on Amazon

Top

Top

EVOC, Hip Pack Pro, Hydro Bag, Volume: 3L, Bladder: Incl (1.5L), BLK/Carbon Grey

Prime

Buy on Amazon

Top

Top

Mountainsmith Dry Tour Waistpack (Moss Green)

Prime

Buy on Amazon

Top

Top

WATERFLY Hiking Waist Bag Fanny pack with Water Bottle Holder for Men Women Running & Dog Walking Can Hold iPhone8 Plus Screen Size 6.5inch

Prime

Eligible

Buy on Amazon

Top

Top

CamelBak Repack LR 4 Hydration Pack, 50oz

Prime

Eligible

Buy on Amazon

Top

Top

FlipBelt Zipper, Carbon, XXS

Prime

Eligible

Buy on Amazon

Top

Top

EVEREST Dual Hydration Waist Pack Moss

Prime

Eligible

Buy on Amazon

Top

Top

Huntvp Military Fanny Pack Tactical Waist Bag Pack WR Hip Belt Bag Pouch for Hiking Climbing Outdoor Bumbag-Coyote Brown

Prime

Eligible

Buy on Amazon

Top

Top

Deuter Pulse 3 5L Hydration Pack Cranberry, One Size

Prime

Buy on Amazon
Product prices and availability are accurate as of the date/time indicated and are subject to change. Any price and availability information displayed on [relevant Amazon Site(s), as applicable] at the time of purchase will apply to the purchase of this product.
Prices pulled from the Amazon Product Advertising API on:
Buyers Guide to Buying the Best Hiking Fanny Pack
Choosing the best hiking fanny pack has a lot more to do with your own personal outdoor style than pure features. Mountain bikers and trail runners need a different feature set than pure hikers do, with more of a focus on weight reduction and securing the pouch during rapid motion.
Keep reading to find out some of the most important things to consider when picking out the best hiking hip bag for your needs.
Price
There's a pretty big range of prices on hiking fanny packs. You can get basic fanny packs with a few hiking features for just over $10 or drop north of $100 for a highly specialized hip bag from a well known manufacturer.
Storage Capacity
Hiking fanny packs and hip packs generally don't have a lot of storage space. They're designed to be used as an accessory bag alongside a larger hiking pack or as a day bag to hold a few snacks and small items.
Generally hiking fanny packs have a 10L or smaller capacity. Some hiking lumbar packs are larger but for most people a backpack works better than a larger fanny pack.
Water Holders
Because fanny packs are designed to be worn around the waist rather than on the back it's pretty difficult to hold a hydration bladder in one. Many do have a place to hold a water bottle.
Hiking specific hip packs usually have one or even two slots for larger water bottles like Nalgene or Camelbak bottles. Others though completely lack any dedicated water storage.
If you have a favorite water bottle, make sure it will fit in your hiking fanny pack.
Pockets
Truly minimalist hiking fanny packs often only have one or two pockets. This gives you space for a few snacks, your keys, and maybe a phone. They're great if you're going on a short hike or when taking a short trip away from your main basecamp.
Other hip packs have far more pockets. Some of the largest are basically small backpacks designed to fit on your hip and have as many as half a dozen dedicated pockets.
Water Resistance
Most hiking fanny packs, like hiking packs in general, aren't usually water resistant by themselves. It really comes down to the types of materials used.
Naturally waterproof and water resistant materials aren't as breathable and comfortable as other hiking pack materials. Many hiking fanny packs can stand up to a light rain without the contents getting wet but anything more than this will quickly overwhelm them.
You can improve their water resistance by treating them with a waterproofing spray/wash. For some of the larger hiking hip packs you can also find rain covers similar to those used on full size hiking packs.
There are of course exceptions to this. Hiking hip packs designed for fishing or other water sports activities often have PU coatings. These can offer substantial water resistance.
Belt Length
Most hiking fanny packs will fit on most people. If you're on the larger or smaller size you should double check what their maximum and minimum length is.
You want to have at least an inch or two of extra space to adjust for layers of clothing or changes in your body. This makes your hiking fanny pack much more adjustable for comfort and longevity.
Consider as well how your belt adjusts. Basic fanny packs will have a simple sliding buckle. This is a fine way to change the length when it's off your body but makes it harder to adjust under a load.
We prefer hiking fanny packs with dual adjustment points on either end. This allows you to quickly adjust the tightness and balance of the fanny pack based on how much stuff you have inside.
Security
Hiking hip packs aren't just for taking into the backcountry. They're an excellent option for travel as well. If you plan to travel with your fanny pack there are a few features you should look for.
The most important are things like RFID blocking, hidden pockets, and security features like locks and specialty zips. The hidden pocket is pretty self-explanatory, it's good for hiding your passport, some extra cash, and things like travel documents and tickets.
RFID blocking is important if you have contactless credit cards. These prevent thieves from scanning them in passing and stealing your information. The security zipper helps protect from pickpockets and other opportunistic thieves.
Molle Webbing / Modular Pack
The type and focus of the hiking fanny pack you choose affects the exterior webbing choices available. More tactically focused fanny packs often have MOLLE webbing patches that allow you to attach all kinds of tactical gear.
A recent exciting development in hip packs is the creation of modular packs. These are full size hiking packs with added features and removable parts that allow different types of hiking.
Many have a removable top section that can be used as a day pack/fanny pack. It's important to remember the limitations of this design though.
Modular packs are designed to fulfill multiple purposes. Because of this they aren't quite as comfortable and functional as purpose built hiking fanny packs.
Comfort
Fanny packs have come a long way since the days of nylon straps and rigidly poking canvas bags. Modern hiking fanny packs are designed to be worn comfortably all day long.
They incorporate ergonomic strap and body designs, added padding, adjustable weight and wear points, and other really cool features. This makes it much easier to customize the fit and weight distribution of your hip pack.
A really popular feature that's popped up over the last decade or so are wing pads. These provide extra contact with your body and help spread the weight out more evenly.
Material and Durability
Hiking fanny packs, like hiking packs in general, need to be made from lightweight yet durable materials. Because they're made to be used in the outdoors, they need to have basic weather protection and the ability to stand up to drops, scrapes, and tears.
Weight
Weight is a really important consideration when it comes to hiking fanny packs. In the past, the rule was to get one that was as light as possible, but with modern developments in comfort and ergonomics features this isn't always the best approach.
You can get a stripped down fanny pack that's basically a bag on a strap and weighs just a few ounces. That's fine if you're just carrying some crackers and maybe a pair of sunglasses, but rapidly becomes uncomfortable as you add more things into it.
If a few extra ounces noticeably improves your comfort and ability to carry things it's usually worth it.
Extras
The hiking fanny pack market has expanded rapidly, to the point where you can choose from a huge array of features, add-ons, and customization options.
Some of the most popular include things like key clips, reflective strips, security features, zipped/drawstring inner pockets, and so many more. If you're planning to do serious hiking with your hip pack we really recommend a few extras.
Shoulder straps, compression straps, and drain holes. It sounds like of ridiculous on the face of it but you can get shoulder straps for your fanny pack.
These act a lot more like suspenders than backpack straps and help distribute the weight of your hip pack more evenly. If you're using a large hiking fanny pack as your primary bag they're invaluable.
Compression straps allow you to reduce the size of a larger hip pack for a smaller load. It's great if you want to get a fanny pack capable of longer hikes and still be able to use them on shorter ones.
Drain holes are pretty self explanatory. Because the majority of hiking fanny packs aren't waterproof it's important that any water that gets in has a way to get out.
Top Hiking Fanny Packs Video
FAQ on the Best Fanny Packs for Hiking
Have some burning questions about fanny packs for hiking? Look no further! In this FAQ section, we've compiled answers to some of the most commonly asked questions about hiking fanny packs. Whether you're a seasoned hiker or new to the trails, these questions will help you understand the benefits, features, and considerations when choosing the perfect fanny pack for your outdoor adventures. So, let's dive in and address any uncertainties you may have before embarking on your next hiking excursion!
What is a fanny pack?
A fanny pack, also known as a waist pack or a hip pack, is a small bag that is worn around the waist. It typically features a zippered compartment and an adjustable strap to secure it in place.
Why should I use a fanny pack for hiking?
Fanny packs are an excellent choice for hiking because they offer a convenient way to carry essentials such as snacks, water bottles, maps, compasses, and other small items. They keep your hands and pockets free, allowing for easy access to important items while on the trail.
Are fanny packs comfortable to wear during hikes?
Yes, fanny packs are designed to be comfortable during outdoor activities. Most models come with adjustable straps that can be customized to fit your waist or hips securely. Additionally, they are typically made with lightweight and breathable materials to enhance comfort.
What features should I look for in a hiking fanny pack?
When choosing a fanny pack for hiking, consider the following features:
Capacity: Ensure the pack is large enough to hold your essentials.
Durability: Look for packs made from rugged materials that can withstand outdoor conditions.
Water-resistance: Opt for packs that offer some level of water resistance to protect your belongings.
Pockets and compartments: Multiple pockets and compartments allow for better organization.
Waist strap and buckle: Look for adjustable and secure straps to keep the pack in place during hikes.
Breathability: Choose packs with breathable materials and padding for added comfort during physical activity.
Can I use a regular fanny pack for hiking?
While regular fanny packs may work for short and easy hikes, it is generally recommended to use hiking-specific fanny packs. Hiking fanny packs often offer features such as water bottle holders, additional padding, and more durable construction to withstand the rigors of outdoor activities.
How do I clean a hiking fanny pack?
The cleaning instructions may vary depending on the materials used in your fanny pack. In general, most packs can be cleaned by wiping them with a damp cloth and mild soap. Check the manufacturer's instructions for specific cleaning recommendations.
Can I wear a hiking fanny pack with a backpack?
Yes, you can wear a hiking fanny pack along with a backpack. The fanny pack can be used to carry frequently accessed items, such as snacks or a camera, while the backpack can hold larger gear and supplies.
Are fanny packs suitable for overnight hikes?
Fanny packs are primarily designed for day hikes or shorter outings. For overnight hikes or extended trips, it is recommended to use a larger backpack or a hiking-specific pack that can accommodate the additional gear and supplies required.
Can fanny packs be used for other outdoor activities besides hiking?
Absolutely! Fanny packs are versatile and can be used for various outdoor activities such as camping, trail running, biking, fishing, and more. They provide a hands-free solution to carry essentials, making them convenient for a wide range of outdoor pursuits.
Where can I purchase hiking fanny packs?
Hiking fanny packs are available at outdoor retailers, sporting goods stores, and online marketplaces. Check your local outdoor gear stores or browse reputable online retailers for a wide selection of options.
Final Thoughts
With hiking fanny packs the type of outdoor enthusiast you are really plays into your choice.
A hip bag that can fulfill multiple roles can save you money and help keep your house uncluttered, but it may not do as good a job at each different task than a purpose built bag.
Just make sure you know the features you need to the most. As long as you do that it's easy to find the best fanny pack for hiking.