Top 3 Best Waterproof Duffel Bags
Sak Gear DuffelSak Waterproof Duffel Bag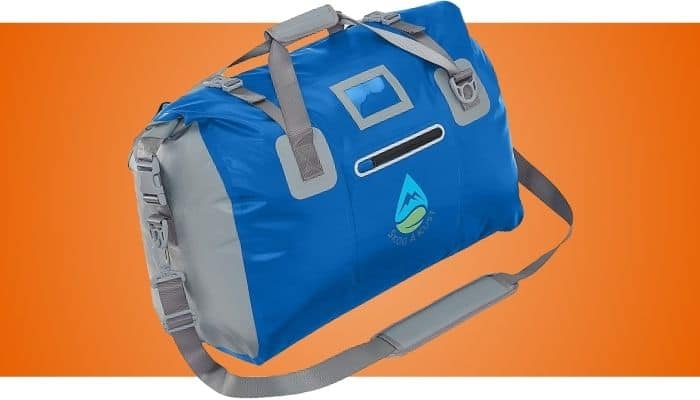 Rugged 500D PVC construction with welded seams ensuring durability.
Roll-top closure system, providing excellent waterproofing.
Duraflex composite buckles and D-rings, aiding in securing the bag.
Internal compartments for organized storage, although slightly small.
Unique floating capability with cinch straps for compression.
YETI Panga Waterproof and Submersible Duffel Bag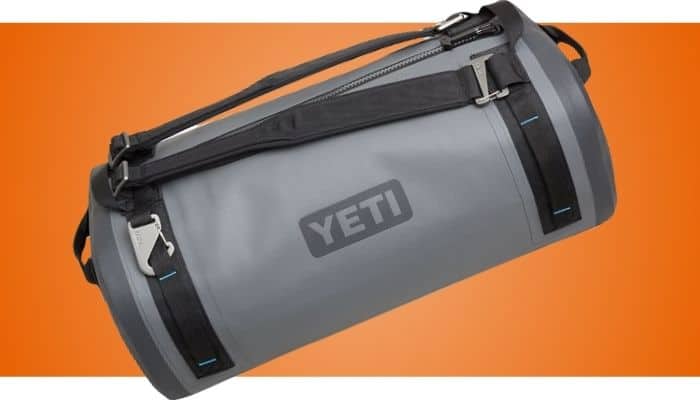 Made from puncture- and tear-resistant nylon with a thick TPU coating.
Specialized HydroLok zipper system for water sealing.
MetalLock hardware for durability and adjustable exterior webbing for comfort.
Available in 50l, 75l, and 100l versions, catering to different storage needs.
Watershed Colorado Duffel Bag
Constructed from 420D ripstop Cordura nylon for puncture and abrasion resistance.
Patented ZipDry closure system, capable of withstanding 300 ft of underwater pressure.
Features handles, compression straps, and D-rings for carrying and securing the bag.
Outdoorsman Toolkit is reader-supported. When you buy through links on our site, we may earn an affiliate commission.
Learn more
When you're out in the backcountry or shooting serious rapids wet gear can become a problem quickly. Warm clothes and functioning electronics can be the difference between an amazing time and a harrowing experience. Waterproof duffel bags are one of the best ways to keep all your gear warm and dry no matter how hard the trail gets. Today we'll be reviewing lots of great duffel bags to try and find the best waterproof duffel bag.
Best Waterproof Duffel Bag Reviews
Waterproof duffel bags need to be durable, comfortable to carry, and above all able to keep out water. There are tons of bags on the market today that advertise themselves as being waterproof when really they're just water-resistant.
We've put together a list of the best waterproof duffel bags on the market plus a few really nice water-resistant bags for hikers and campers who need weatherproofing but aren't worried about dropping their gear bag in the ocean.
Sak Gear DuffelSak Waterproof Duffel Bag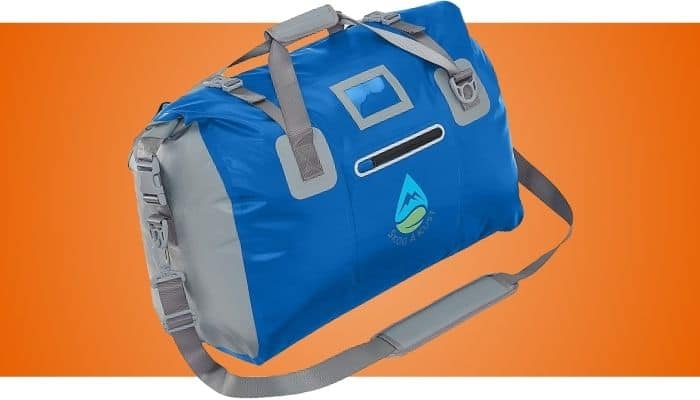 As an enthusiast of the great outdoors, I am always on the prowl for gear that can endure the challenges that come with hiking, camping, and other outdoor exploits. The Sak Gear DuffelSak Waterproof Duffel Bag caught my eye, promising a rugged design capable of braving the elements. Eagerly, I snagged the 60l variant, a size that proved more than ample for my various gears.
The DuffelSak feels tough to the touch, thanks to its 500D PVC construction with welded seams. I've always had a liking for the roll-top closure system, and this bag implements it perfectly. The closure, along with the robust material, forms a fortress against water – a claim I put to the test during a weekend getaway in a rainy woodland retreat. Amidst a downpour, the DuffelSak sat unbothered, its interior remaining as dry as a bone. It's not just the rain; during a kayaking escapade, it was submerged a couple of times, yet everything inside stayed dry.
The Duraflex composite buckles and hardware including the D-rings are a thoughtful addition, making it easy to secure the bag in my jeep and kayak. However, I found myself wishing for more than just two D-rings. A couple more would offer more flexibility in how I secure the bag or attach additional gear.
The internal compartments are a neat touch for someone like me who appreciates organization. Yet, I found the pockets a tad small, especially when I tried squeezing in some of my larger items. A Velcro closure on the top would have been a cherry on top for ensuring a tighter seal, although the current design holds up well.
One unique feature that tickled my fancy was the bag's ability to float. Accidentally, it slipped into a river during a hiking trip, and I watched it float calmly on the surface as I hurried to retrieve it. The cinch straps are another feature that demonstrates the thoughtfulness in design, helping compress the bag when it's not filled to capacity.
The only wrinkle in this nearly perfect bag is the clear ID card slot which felt like a potential weak point for water to seep in. Though it didn't cause any trouble during my adventures, I could do without it or perhaps have a detachable ID card pouch instead. I also echo a previous user's suggestion of having an air release valve to expel trapped air while compressing the bag.
During a recent expedition to the Rocky Mountains, the DuffelSak was put through a rigorous test. I had packed it to the brim – camping gear, clothes, food supplies, and a compact tent. As fate would have it, our group encountered an unexpected storm on the second day. Amidst gusty winds and torrential rain, we hurriedly set up our camp. Through the chaos, my DuffelSak was tossed around, left to face the fury of the storm. When the skies finally cleared, I approached it with a mix of hope and dread.
To my relief, every item inside was bone dry, the interior unyielding to the onslaught of rain. It wasn't just the waterproofing that impressed me, but the ease of access to my gear even in such adverse conditions. The horizontal access design is a game-changer, making it quick and hassle-free to fetch whatever I needed without having to unload everything. It's moments like these that affirm my choice, making the DuffelSak an indispensable companion in my outdoor adventures. The sheer reliability and practical design have earned my trust, making every adventure a bit less daunting.
In a market flooded with overpriced gear, the DuffelSak shines bright, offering an exceptional balance of price and quality. It's become a staple in my outdoor escapades, holding its own against the wrath of nature. Even amidst my referee duties on muddy fields, a quick wipe down is all it needs to look brand new. Every time I see others struggling to keep their gear dry, I can't help but feel a sense of satisfaction with the DuffelSak by my side. It's a purchase I'd recommend to any outdoor enthusiast, looking for a reliable, waterproof duffel bag without burning a hole in the pocket.
Pros:
Waterproof Design: The roll-top closure system and 500D PVC construction with welded seams keep the contents dry, even when submerged.
Durability: The material and build quality are designed for strenuous use under challenging conditions.
Ample Storage: Available in 40l and 60l versions, providing enough space for all essential gear and more.
Easy Access: The duffel design allows for horizontal access to gear, making it easier to fetch items without unloading everything.
Floats on Water: A reassuring feature for water-bound adventures, helping to prevent loss of gear.
Compression Straps: Useful for minimizing the profile of the bag when it's not fully packed.
Affordable: High-quality waterproofing and durability at a competitive price point.
Cons:
Small Pockets: Internal and external pockets could be larger for better organization.
Limited D-Rings: Only two D-rings may limit the attachment and securing options.
ID Card Slot Concern: The clear ID card slot could potentially be a weak point for water intrusion, though not proven to be problematic.
Absence of Air Release Valve: An air release valve would be beneficial for compressing the bag and removing trapped air.
Potential for Improved Closure: Addition of Velcro on the roll-top closure could enhance sealing and ease of use.
YETI Panga Waterproof and Submersible Duffel Bag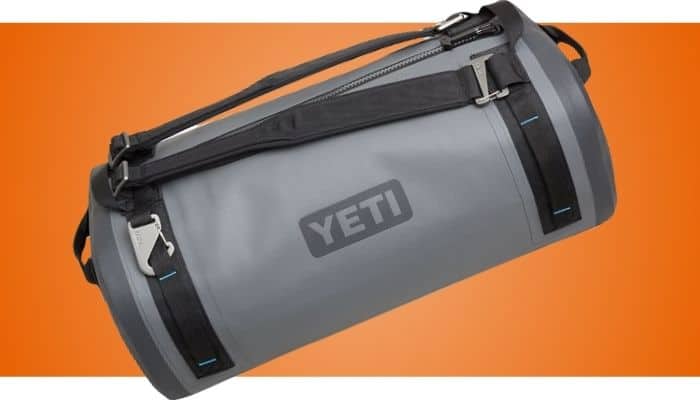 YETI is famous for its nigh-indestructible coolers that hold ice for weeks at a time. Their Panga duffel bag was designed to make as big a splash in the dry bag world as their cooler did in the world of refreshment and sport fishing.
The Panga is made from a puncture- and tear-resistant nylon with a thick TPU coating. It relies on a specialized HydroLok zipper system to seal out any water for a waterproof and fully submersible duffel bag.
YETI used MetalLock hardware for maximum durability and versatility. You can adjust the positioning of the metal clips to a range of positions along the exterior webbing to find the most comfortable spot for you. It also has a pair of heavy-duty webbed nylon handles with reinforced attachment points on either end of the bag
It's available in a 50l, 75l, and 100l version, making it easy to find the perfect size for your gear needs. The only real downside to the Panga is its price. YETI is well known for making top of the line gear at top of the line prices—the Panga is no exception.
If you're looking for one of the best fully waterproof duffel bags on the market and are willing to pay to get it, the YETI Panga submersible duffel bag is a great choice.
Watershed Colorado Duffel Bag
The Watershed Colorado duffel bag is a high-end waterproof duffel designed for the outdoor and military market. It's been used as the gear bag of choice for Navy SEALs and US SOCOM since the early 2000s.
The Colorado is made from 420D ripstop Cordura nylon for maximum puncture and abrasion resistance. It's then coated with an industry-leading polyurethane that seals out any water penetration. Every seam is radio welded shut and designed to prevent any water from seeping in.
Where the Colorado really shines is in the advanced design of its closure system. Unlike many similar waterproof duffel bags, it uses a patented ZipDry closure system. It works a lot like a standard resealable freezer bag seal, just a lot tougher and a lot more effective.
The closure is capable of standing up to 300 ft of underwater pressure. That takes the closure, usually the most common point of failure on a waterproof duffel, and turns it into the strongest part of the bag.
The Colorado offers a pair of handles that can be joined together to use as a shoulder strap. It also has a range of compression straps and D-rings to minimize the size of the bag and secure it.
Overall the Watershed Colorado is one of the best waterproof duffel bags available. It's definitely priced on the high end of the market but we think it's worth every penny.
Aqua Quest White Water 100% Waterproof Duffel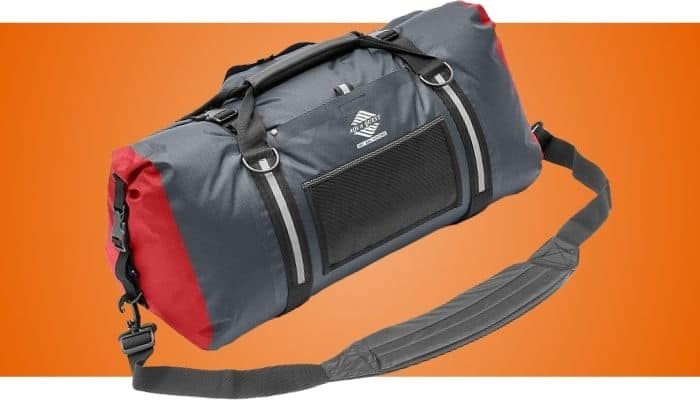 The Aqua Quest White Water is a waterproof duffel bag incorporating a range of very nice features. It's designed for use on kayaks or rafts while out shooting the rapids.
The White Water is made from 420D ripstop nylon with a double TPU and DWR coating. This, combined with the welded seams and double bar-tacked stress points, offers superior waterproofing for challenging conditions.
It offers two external mesh pockets for easy access to gear not bothered by a little water and either a 50l, 75l or 100l interior compartment. It has several different webbing and D-ring attachment points, making it easy to strap it down to any carry system or car roof rack.
You have the choice between a shoulder strap or reinforced handles when it comes to carrying your gear around. The White Water uses a roll-top closure system with a velcro seal and buckles. This gives it excellent water resistance, though we don't recommend you fully submerge it.
The Aqua Crest White Water duffel is designed with rafting and river travel in mind. It offers excellent waterproofing in a rugged and affordable design.
NRS Expedition DriDuffel Waterproof Bag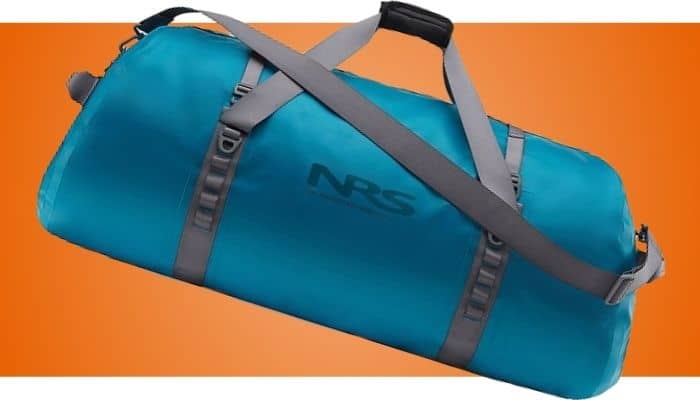 NRS is one of the best-known names in the outdoor and watersports world. They manufacture a range of high-quality dry bags, stuff sacks, and other outdoor gear.
Their Expedition DriDuffel has been the gold standard in waterproof duffel bags since its introduction. It's made from TobaTex with a TIZIP MasterSeal zipper system. This makes it highly abrasion- and puncture-resistant without noticeably increasing its weight.
You can carry it using either the adjustable hand straps or the shoulder strap. It uses a combination of durable aluminum clips and reinforced nylon webbing to help you find the best and most comfortable carry option possible.
This same nylon webbing is great for securing it to your boat, attaching it to other bags or strapping it down to the roof of your car. It's available in a 35l, 50l, 75l or 100l capacity.
The NRS Expedition DriDuffel is a premium waterproof duffel bag at a premium price. It offers great protection for your gear and is made from durable and long-lasting materials.
Patagonia Black Hole Duffel Bag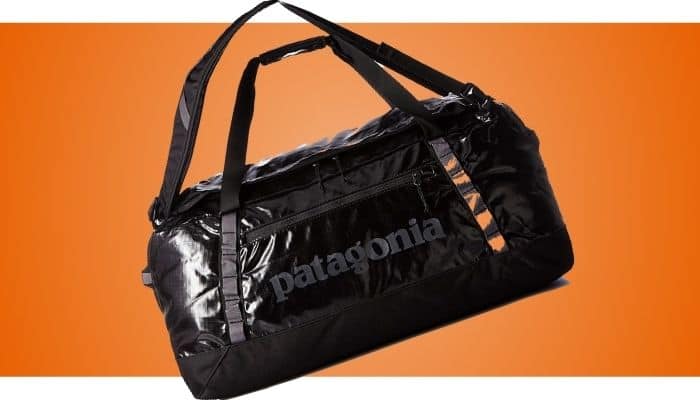 Patagonia is one of the most respected and environmentally conscious outdoor brands in the world. Their Black Hole duffel bag is a water-resistant duffel bag perfect for hiking, camping, and other non-watersport activities.
It's made from 100% recycled 900D ripstop polyester with a TPU laminate and a DWR finish. This gives your gear a double layer of protection that prevents rain and other splashed water from penetrating.
The body of the bag is Bluesign certified to be made from sustainable recycled sources. This means that the raw materials of the fabric were ethically sourced and every worker along the manufacturing line was well-treated and reasonably compensated.
It uses a simple overlap system to prevent water from getting at the zipper. Because of this, it isn't suitable for boating or other high splash activities.
Despite this, the Black Hole is without a doubt one of the best outdoor and hiking gear bags on the market. It offers both a padded shoulder strap and a removable backpack system that gives you tons of different ways to carry your bag.
It has a daisy chain of nylon webbing to better tie it down and includes both an external zipper pocket and an inner mesh lid compartment. Once you're done carrying your gear around the whole duffel packs down into a small internal pocket about the size of a loaf of bread.
It's available in 40l, 55l, 70l, 90l or 100l capacities plus a huge range of patterns and colors.
The Patagonia Black Hole may not be a 100% waterproof duffel bag but it's still one of the best outdoor gear bags available. It has enough water-resistant design features to protect your gear from the elements.
Overboard Waterproof Pro-Vis Duffel Bag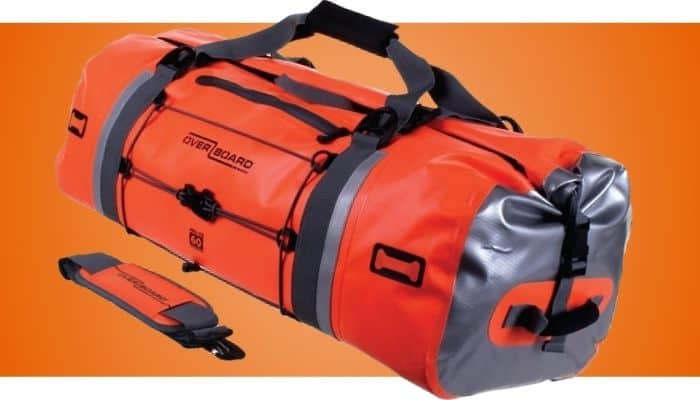 The Overboard Waterproof Pro-Vis was designed to be the most identifiable duffel bag on the beach. It's available in hi-vis orange and an equally bright yellow that makes it easy to spot no matter where it gets dropped.
The Pro-Vis is made from waterproof PVC with HF welded seams. It uses a roll-top closure system and offers a variety of tie-down and carry options.
You can choose between the padded shoulder strap, top carry handle or the haul handles located at each end of the bag. On top of these many carry options, you have 4 D-rings and elastic webbing to secure the bag with.
Once you've got the bag all packed up you simply seal the roll-top closure and use the many compression straps to minimize the size of your load. It even has attachment loops for LED lights to really make it impossible to overlook.
The Overboard Pro-Vis is an extremely bright and well designed waterproof duffel bag with a lot of great features. It's reasonably priced but will honestly be a bit too noticeable for some people's taste.
Wolfman Expedition Dry Duffel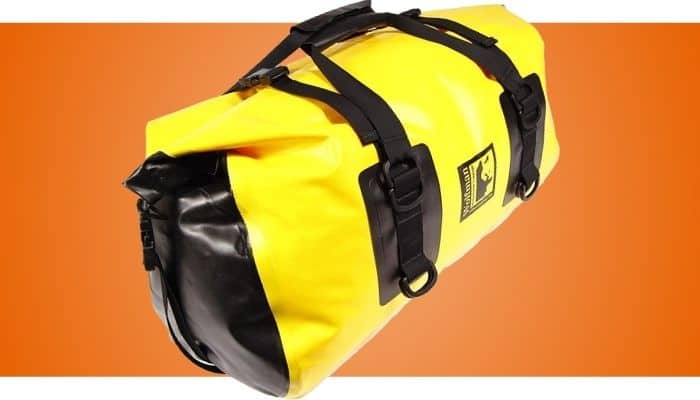 The Wolfman Expedition is a fully waterproof duffel bag designed for use as a motorcycle touring bag. It's built to ride with you through a major storm and come out the other side with your gear as dry as when you packed it.
The Expedition is made from ripstop vinyl with radio-frequency welded seams. It uses a highly effective roll-top closure system that's meant to keep mud and dust out just as well as it does water.
It has a removable shoulder strap as well as two permanent carry handles. As a motorcycle touring bag it includes both comprehensive compression straps and 2 mounting straps to effectively strap it onto your bike.
The Expedition is available in a range of colors and comes in small, medium, and large sizes for different length trips.
The Wolfman Expedition Dry Duffel is a high-quality waterproof duffel bag made from durable materials. It's perfect for its intended role as a motorcycle touring bag and does a great job at keeping the elements away from your clothes and gear.
COR Surf Waterproof Duffel Bag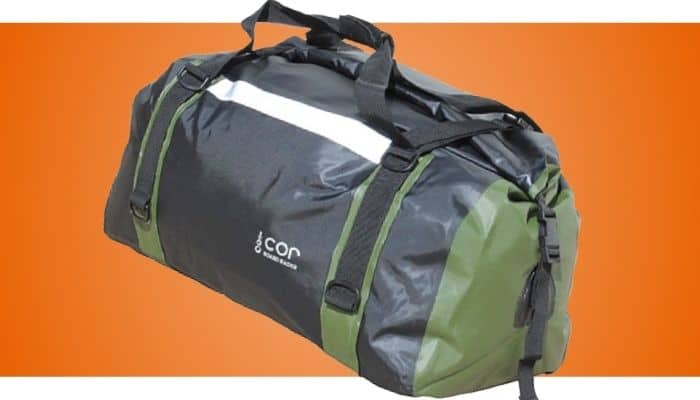 COR Surf is a respected name in the surfing and boarding community. Their 60l waterproof duffel bag uses a roll-top design to create a 100% waterproof gear bag perfect for use on the beach or shooting the rapids.
It's made from ripstop fabric treated with a waterproofing coating. It has welded seams and offers a variety of carrying and tie-down options.
You can choose between a removable shoulder strap and carry handles to find the most comfortable way for you to carry it. It offers a total of 8 D-rings plus nylon webbing for endless ways to secure it to your car, truck or board.
It has a large main pocket plus a smaller area designed to hold toiletry items. It's available in either black or green and black and is extremely reasonably priced.
If you're looking for a great waterproof duffel bag that will keep your gear clean and sand-free but won't break the bank, the COR 60l Waterproof Duffel Bag could be the one for you.
Buyer's Guide to Buying the Best Waterproof Duffel Bag
There are a surprising amount of features you have to consider when comparing waterproof duffel bags. Size, material, level of waterproofing, and closure type are the most important, with price, of course, playing a major role.
Keep reading to find out what you should look for when picking out the best waterproof duffel bag.
Price
Waterproof duffel bags are available across a range of price points. You can get small basic splash and spray resistant bags for under $100. As capability and size increase so too does price.
For a large fully waterproof duffel bag you should expect to spend around $100. Higher-end versions or especially large bags can break $200 or even $300.
Level of Waterproofing
The vast majority of 'waterproof' duffel bags are actually just water-resistant. They're made with water-repellant fabrics but often lack waterproof zippers or welded seams. They're able to stand up to light splashing or being set in a puddle but can't handle a downpour or even momentary immersion.
There's no set standard for waterproofing on duffel bags and dry bags. This leads to a potentially confusing range of certifications and standards listed by different manufacturers.
To know how waterproof your duffel bag really is you have to look at the listed features. Unless you have a full combination of waterproof materials, welded seams, and waterproof zippers/roll-top closure your duffel bag can't be more than water-resistant.
That's not to say that water-resistant duffel bags don't have their place. If you're just out hiking or camping a water-resistant duffel bag may offer all the protection you need.
Straps and Carry Options
In the past, you had basically no choices when it came to duffel bag carry options. There were handles on either end and maybe a shoulder strap if you were lucky.
Nowadays though you have your pick of a range of options. Our personal favorite is the backpack style straps that let you distribute the weight evenly between both shoulders. They're extremely comfortable, allow you to carry more weight over longer distances, and make your duffel bag a lot more portable with a heavy gear load.
Pockets – Internal and External
Some waterproof duffel bags have a single large storage space with external access pockets for keeping quick access items. Others offer a variety of zippered off or otherwise segmented pockets designed to better organize your gear.
If you're interested in a more organized internal storage space you can use packing cubes or other organizers.
D-rings and Webbing
True waterproof duffel bags are designed for use in seriously wet conditions. These include places like sailboats, rafts, dive boats, and wet weather conditions. D-rings on your duffel bag allow you to tie the bag down to just about any surface and prevent it from getting lost if you capsize or hit rough conditions.
Another great value-add on a waterproof duffel is external webbing loops. They give you lots of options for strapping it to your motorcycle, boat or attaching it to other bags.
Intended Use
There's a big difference in capability between different waterproof duffel bags. Some are designed to stand up to splashes and sprinkles of water while others can even put up with short duration immersion.
If you're just looking for a sturdy way to pack and transport your gear splash resistance is usually enough. For boating or other watersport use, you're going to need a lot more waterproofing and tie-down capability.
One really common use for waterproof duffel bags is motorcycle camping and touring. If you get caught in a sudden shower the last thing you want is to end up with soaked clothes and gear.
Materials & Durability
A waterproof duffel bag is only as good as the materials and craftsmanship used to make it. Look for thick nylon, vinyl or PVC material sealed and laminated with a plastic coating, usually TPU. A DWR, or durable water-resistant finish, is also nice to have.
Waterproofing itself is just one part of the equation. The best waterproof duffel bags have welded seams and properly treated and sealed zippers or roll-top closures. This allows them to handle frequent splashes and even short duration immersions.
Check the stitches and carry points as well. You want to see sturdy stitching sealed against water incursion. That allows you to lift heavy loads without worrying about the stitching giving way.
Weight & Bag Capacity
The weight of a waterproof duffel bag isn't a major factor in its usefulness. Heavier bags are generally made from heavier and more durable materials with more extensive waterproofing. As far as carrying your bag goes a few extra ounces or even a pound isn't going to make a big difference when compared to the weight of your gear.
Bag capacity is a much bigger consideration. You want a bag large enough to hold all your gear but not so large that you overburden yourself. Most manufacturers offer their flagship waterproof duffel bags in a variety of capacities, measured in liters.
15-30 liters is the most common entry-level bag size while 90 to about 110 liters is where they usually top out. Any larger than that and they become difficult for a single person to carry.
Zipper / Type of Closure
By far the most common closure system used with waterproof duffel bags is sealed zippers. These rely on the pulling force of the zipper teeth to hold two rubberized surfaces tight together and block out water.
For the most effective level of waterproofing a roll-top closure is the way to go. It copies the tech from traditional dry bags and uses a long sleeve of waterproof fabric rolled over several times to seal water out.
The majority then buckle tight with plastic or metal clips to hold the seal tight. These type of waterproof duffel bags are best for boating or other situations where splashing and potential immersion is likely.
Other Styles of Waterproof Bags
The waterproof duffel bag is only one type of waterproof bag available to the modern outdoorsman. Other varieties include:
Waterproof Phone Pouches – These are small resealable pouches made from clear plastics that protect your phone or tablet at the beach, on the lake or when out on the river. They usually have a belt loop or lanyard attached to make it easy to hold onto your phone and allow limited use of your device without removing it from the pouch.
Waterproof Dry Bag – Dry bags have been available in one form or another for centuries. Early models used oiled sailcloth or leather while modern examples are made from the same materials as waterproof duffel bags.
Waterproof duffel bags are basically just a more specialized and differently shaped version of waterproof dry bags.
If you'd like to learn more about waterproof dry bags, check out our full review of the best waterproof dry bags.
Waterproof Backpack – Waterproof backpacks use the same technology as dry bags and waterproof duffel bags, just in a more portable form. They're usually smaller and offer more internal organization than dry bags or a waterproof duffel bag.
The line between waterproof backpacks and duffel bags has begun to blur as many bags now come as waterproof duffel bag backpacks.
If you'd like to learn more about waterproof backpacks, check out our full review of the best waterproof backpacks of 2019.
Waterproof Camera Bags – When you're carrying camera gear into the backcountry or out on the water, keeping it safe is always your first priority. Waterproof camera bags are held to a higher standard of performance than other waterproof bags because of the high value of the gear they protect.
Top Waterproof Duffel Bags Video
FAQ: Best Waterproof Duffel Bag
When it comes to outdoor activities like camping, hiking, and survival adventures, having the right gear is essential. One item that often gets overlooked but can make a world of difference is a waterproof duffel bag. Designed to keep your belongings dry and protected in wet and challenging conditions, a waterproof duffel bag is a must-have for any outdoor enthusiast.
In this section, we have compiled a list of frequently asked questions to help you navigate the world of waterproof duffel bags. Whether you're planning a camping trip, embarking on a hiking expedition, or simply looking for a reliable bag for your outdoor pursuits, these questions will provide you with the information you need to make an informed decision.
From understanding the features and benefits of a waterproof duffel bag to choosing the right size and assessing its suitability for various activities, we've got you covered. We'll also address common concerns such as care and maintenance, submersibility, and even using a waterproof duffel bag for air travel.
Please note that the information provided in this section is for guidance purposes only. It's important to conduct thorough research and consider your specific needs before making a purchase. Now, let's dive into the frequently asked questions about the best waterproof duffel bags and find the perfect one for your outdoor adventures.
What is a waterproof duffel bag?
A waterproof duffel bag is a versatile and durable bag designed to keep your belongings safe and dry in wet conditions. It is typically made from waterproof materials such as nylon or PVC and features sealed seams to prevent water from seeping in.
Why should I choose a waterproof duffel bag for camping, hiking, and survival activities?
Camping, hiking, and survival activities often involve exposure to water, whether it's rain, rivers, or other water bodies. A waterproof duffel bag provides the peace of mind that your gear, clothing, and supplies will remain dry and protected, even in challenging weather conditions.
Can I use a waterproof duffel bag for other outdoor activities besides camping and hiking?
Absolutely! Waterproof duffel bags are incredibly versatile and can be used for various outdoor activities such as kayaking, canoeing, boating, fishing, and even as a general-purpose travel bag. They are designed to withstand rugged conditions and keep your belongings safe from water damage.
What should I look for when choosing a waterproof duffel bag?
When selecting the best waterproof duffel bag, consider the following factors:
Waterproof materials: Look for bags made from high-quality, waterproof materials like PVC or heavy-duty nylon.
Sealed seams: Ensure that the seams are welded or taped to prevent water leakage.
Capacity and size: Choose a bag that suits your needs in terms of storage space and dimensions.
Carrying options: Check for comfortable handles, shoulder straps, and additional features like backpack straps.
Durability: Look for a bag that can withstand rough handling and is resistant to punctures and abrasions.
Are all waterproof duffel bags submersible?
Not all waterproof duffel bags are designed to be fully submersible. Some bags offer water resistance and can withstand heavy rain or splashes, while others are built to be fully waterproof and can be submerged underwater for a certain period. Check the manufacturer's specifications to determine the bag's submersible capabilities.
How should I care for my waterproof duffel bag?
To maximize the lifespan of your waterproof duffel bag, rinse it with clean water after each use, especially if it has been exposed to saltwater or other contaminants. Avoid storing the bag in direct sunlight for prolonged periods, as this can deteriorate the waterproof materials. Regularly inspect the seams and zippers for any signs of wear or damage, and repair them promptly if necessary.
Can I use a waterproof duffel bag as my primary luggage for air travel?
While a waterproof duffel bag can be used as your main travel bag, it's important to consider airline restrictions regarding size and weight. Check with your airline to ensure the bag meets their requirements. Additionally, keep in mind that the cylindrical shape of duffel bags may make them less space-efficient when packing in overhead compartments.
Are waterproof duffel bags expensive?
The price of a waterproof duffel bag can vary depending on the brand, size, and features. Generally, higher-quality and larger-capacity bags tend to be more expensive. However, there are affordable options available that still offer excellent waterproofing and durability. It's essential to consider your specific needs and budget when making a purchase.
Best Waterproof Duffel Bag Recap
Final Thoughts
Choosing the best waterproof duffel bag for your needs doesn't need to be a difficult decision.
As long as you carefully consider how you plan to use your duffel bag and what features are most important to you it's easy to find a high-quality product at a great price.