Top 3 Best Baby Carriers for Hiking
Osprey Poco AG Plus Baby Carrier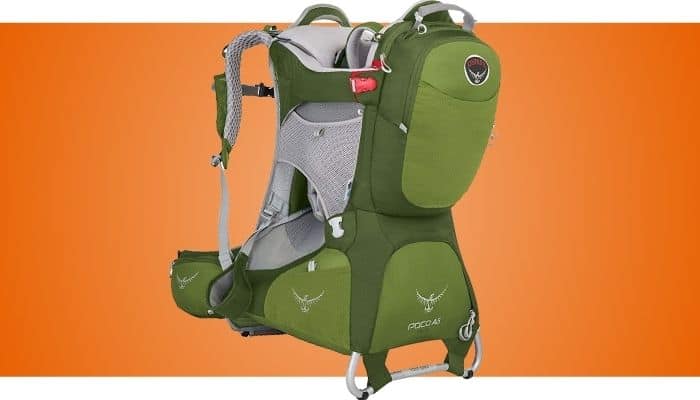 Exceptional ventilation with a mesh back panel.
AntiGravity 3D suspension system for even weight distribution.
26-liter storage capacity for essentials like snacks and diapers.
Deuter Kid Comfort Active Baby Carrier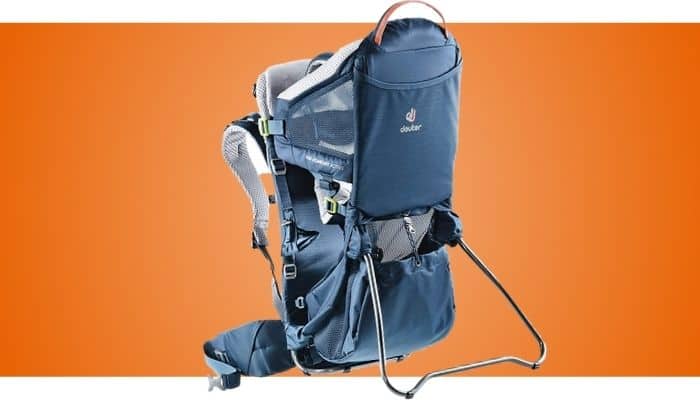 Lightweight design, weighing less than 6 pounds.
12-liter capacity with adjustable hip belt and Vari-Quick adjust system.
Aircontact Lite back system to prevent perspiration build-up.
Kelty Journey PerfectFIT Elite Baby Carrier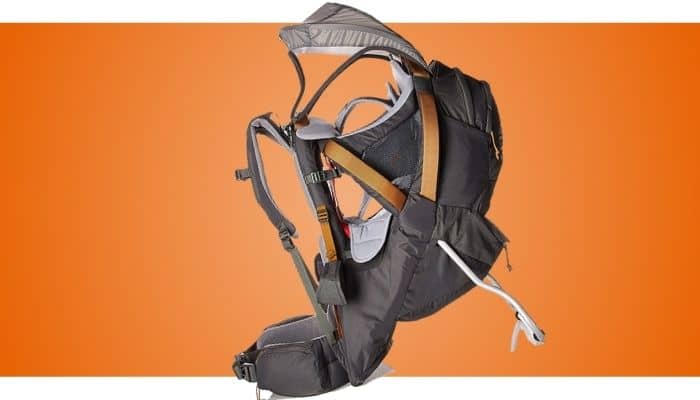 Wide base seat and adjustable foot stirrups for child comfort.
26-liter capacity with seven exterior pockets for storage.
Secure five-point safety harness and padded aluminum roll cage for added safety.
Outdoorsman Toolkit is reader-supported. When you buy through links on our site, we may earn an affiliate commission.
Learn more
Hiking is a great way to stay fit, feel good and reconnect with nature. So, why not take your baby along to improve your child-parent bond, as well as inspiring a love for the great outdoors and a healthy lifestyle? Choosing the best baby carrier for hiking will enable you to tackle the trail with agility, while effectively distributing your child's weight for a comfortable and enjoyable hike.
With such a wide range of carriers available, we've reviewed the top baby carriers on the market and included a handy buying guide to help you choose the right one for your needs.
Best Baby Carriers for Hiking Reviews
To ensure that you find the perfect model for your particular requirements, we took care to select a variety of designs and styles, each offering a wide range of features.
So, read on to find the ideal baby carrier for your next hiking adventure!
Osprey Poco AG Plus Best Baby Carrier for Hiking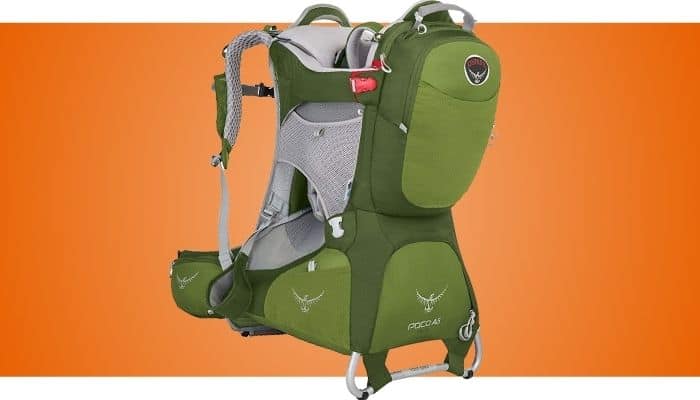 Embarking on a new adventure, I found myself enchanted by the Osprey Poco AG Plus, a hiking child carrier that promised not only comfort but also pragmatic design for both parent and child. After plenty of research and field-testing with borrowed models of both this carrier and its close competitor, the Deuter Kid Comfort iii, I took the plunge and opted for the Osprey.
As an enthusiast for hiking, camping, and general outdoor activities, the critical aspect for me was how the Poco AG Plus would handle on the trails. Armed with a mesh back panel, which offered unparalleled ventilation especially in warmer climates, and an AntiGravity 3D suspension system for even weight distribution, my 20-pound daughter seemingly disappeared on my back during our explorations.
The 26-liter capacity, although not the lightest on the market, was impressive and seemingly indispensable on longer excursions. We carried snacks, diapers, sunscreen, towels, and more, without feeling weighed down. The side mesh pockets and zippered hip belt pockets came in particularly handy for stowing away essentials like my phone and keys on the move.
Adjusting the carrier between myself and my partner, who towers at 6'1" to my 5'7", was a cinch thanks to its patented Fit-on-the-Fly adjustment system. However, initially achieving that perfect fit for myself took a few tries. While it's true that I had to battle a few instances of the torso slide from XS to S settings, and re-adjust my posture during walks to avoid leaning too forward, the overall comfort, even with a history of back pain, remained strikingly notable.
One remarkable feature that resonated with me was the washable drool pad, making clean-ups post-hike a breeze. Additionally, the quick deploy UPF 22-rated sunshade and integrated rain cover offered assurance that my daughter would remain shielded from the ever-so-changeable weather elements.
While the Poco AG Plus was indeed a pricier investment, the allure of Osprey's All Mighty lifetime guarantee combined with the intricate, user-friendly design couldn't be dismissed. It's also not without its minor shortcomings, such as the slightly bulky design in tighter spaces and my persistent struggle to keep the hydration bladder from slumping.
The additional features like the foot straps which my daughter delightfully utilized to reposition herself, and the spacious area for my 2-liter camel pack, proved to be more than just functional, but vital for our hikes extending up to 12 miles. Not to forget the aesthetic appeal of the Poco AG Plus – it's a sleek, outdoor-enthusiast's dream.
During a particularly memorable autumn hike through a densely wooded trail, the Osprey Poco AG Plus was nothing short of a godsend. The colors of the leaves were changing, offering a vibrant tapestry that was enchanting to both my daughter and myself. As we traversed a slightly more challenging incline, her little giggles and points towards the bustling squirrels provided not only a sweet distraction but also an enlightening view into her burgeoning appreciation for nature. I noticed she started to doze off, her small head gently tilting to the side, and I silently thanked the thoughtful design of the carrier that allowed her to rest comfortably.
At our peak, as we overlooked a sprawling vista of multicolored treetops, the convenience of accessing our snacks and water without having to disturb her slumber was remarkably invaluable. We shared a peaceful moment, suspended in the crisp air, high above the world, where I felt a heartening bond strengthening over our shared adventures, all the while knowing she was safely snuggled up behind me, securely nestled in the Osprey Poco AG Plus. This memory, vivid and cherished, is one that will stay with me, and it was made all the more possible with the thoughtful engineering of our chosen child carrier.
Concluding our adventures, from sunny trails to visiting museums, the Osprey Poco AG Plus has triumphantly withstood the tests and trials I've thrown its way. It has smoothly integrated into our family's excursions and continues to serve as a reliable gear piece that accommodates our dynamic outdoor lifestyle with aplomb. We are looking forward to many more years of explorations with our little one snugly in tow.
Pros:
Versatile Adjustability: Easy to switch between different carriers with varied heights and builds.
Comfort for Carrier and Child: Notable even weight distribution and adjustable foot straps for child repositioning.
Spacious Storage: 26-liter capacity, with convenient on-the-go accessible pockets.
Weather-Ready Design: Integrated UPF 22-rated sunshade and rain cover.
Durable and Reliable: Osprey's All Mighty lifetime guarantee ensures long-term use.
Ventilation: A mesh back panel provides substantial airflow, keeping the carrier cool.
Safety Features: Includes a sternum strap with an emergency whistle and a protective side "cage".
Cons:
Fit Adjustments: Can take several tries to secure a fully comfortable fit, with some experiencing unintended sliding between size settings.
Bulky in Some Contexts: Its size can be cumbersome in more confined spaces like museums or historic buildings.
Hip Belt Rigidness: Some may find the hip belt somewhat rigid or uncomfortable.
Phone Storage: Front hip pockets may be too small to accommodate larger smartphones.
Hydration Bladder Management: Positioning the bladder to avoid slumping can be tricky.
Weight: Despite the comfort, the overall weight can still be perceptible during longer excursions, especially when fully loaded.
Price: This model comes with a notable financial investment, potentially a con for budget-conscious consumers.
Deuter Kid Comfort Active Good Baby Carrier for Hiking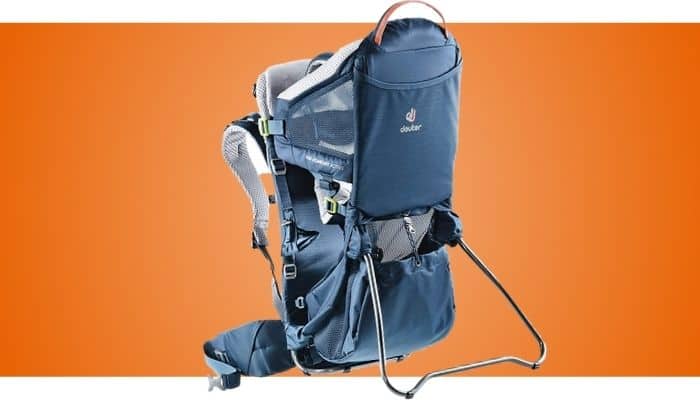 Minimalistic, lightweight and practical, the Deuter Kid Comfort Active child carrier is ideal for shorter or faster-paced hikes or if you don't need to carry much gear. Its tight-weave, elastic 210D polyamide fabric is highly water and dirt resistant and thanks to its strong, lightweight aluminum x-frame, this carrier weighs less than 6 pounds.
While it only has a 12-liter capacity, its padded, adjustable hip belt with pull-forward fins and Vari-Quick adjust system make it easy-to-fit a wide variety of torsos. The Aircontact Lite back system ensures that you won't experience a build-up of perspiration between your back and the carrier, thanks to its improved air circulatory properties.
For your little one, there are also mesh ventilation panels in the seating area to prevent them from getting all hot and sticky in humid weather. Just bear in mind that this model does not come with an included sunshade or rain cover.
Aside from its lightweight design and portability, one of the main advantages of this model is its side entry system and unique child harness design with color-coded buckles. This makes loading your baby safer and easier. The seating area is fully adjustable including the footrests, so you can be sure that your child will be secure and comfortable when out on the trail.
Extra features include a machine-washable plush chin rest, an integrated key holder and zippered belt pockets for all your valuables. However, note that there is no sleeve for your hydration bladder with this model, so you'll need to carry water separately.
Ideal for short hikes or when you've got a companion to carry your gear, the Kid Comfort Active child carrier is a top lightweight choice.
Kelty Journey PerfectFIT Elite Baby Carrier for Hiking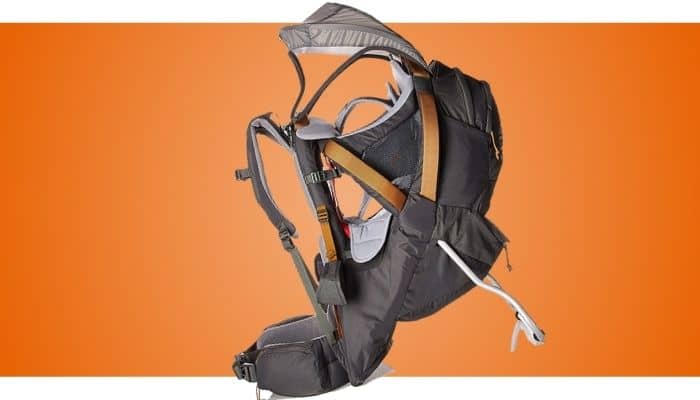 The Kelty Journey PerfectFit Elite child carrier comes with an impressive array of features, including an easily adaptable suspension system that makes it easy to get comfortable on-the-go. Made from durable nylon and poly-blend fabrics with a strong aluminum frame, this model weighs just 7 pounds and 4 ounces.
Its wide base seat and adjustable foot stirrups make it a comfortable choice for your child, especially on long treks. There is also a hydration bladder sleeve to keep you and your child refreshed without having to take a pit stop, as well as an integrated sunshade for added summer protection. With seven exterior pockets and a 26-liter capacity, there's plenty of space for all of your child's essentials, plus your own gear.
One of the best things about this model is its secure five-point safety harness and padded aluminum roll cage for worry-free hiking, even if the trail becomes tricky unexpectedly. The plush, adjustable seat has been designed with your child's comfort in mind and even features a removable, washable drool pad. There is also a handy zippered compartment that wipes clean, perfect for storing any little messes without dirtying the rest of your gear.
Complete with multiple grab handles to securely set down and lift up the carrier, this model has clearly been created with the highest of safety standards in mind. It is also highly practical and makes a great choice for any baby or young child, especially for longer hikes where the extra comfort and space will certainly be appreciated.
Phil & Teds Parade Child Carrier Frame Backpack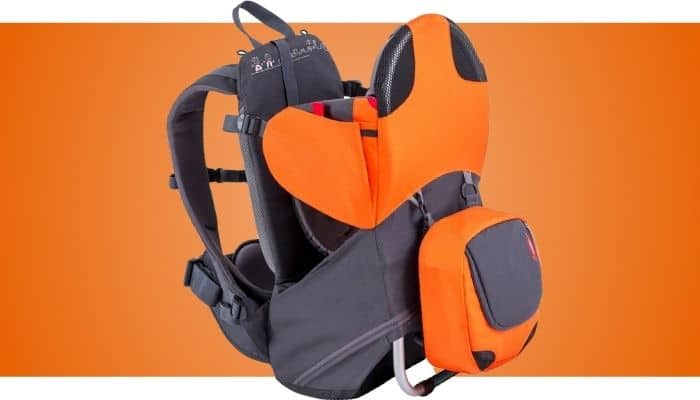 If you are looking for a compact, lightweight baby hiking carrier, then the Parade model by Phil & Teds could be just what you're looking for.
Weighing in at just 4 pounds 4 ounces, this carrier is great for short hiking excursions as well as doubling up as a handy carrier for trips around town. Its aluminum frame folds for space-saving storage, making it easy to transport when it's not in use.
While this model may lack some of the comfort of big-name hiking backpack brands, thanks to its active-ergo fit harness, it is still fairly comfortable on short trips over easy terrain. The air mesh back panel provides extra ventilation to prevent a build-up of perspiration, while the padded shoulder straps and hip belt lend a secure feel. Unfortunately, though, this model doesn't have quite the same load-bearing weight distribution as some of the top-end versions.
Disappointingly, the Parade doesn't come with a sun-shade, so it's less suitable for long summer hikes. Likewise, there is no hydration reservoir sleeve, but there are two side pockets that can accommodate water bottles. There is also a mini detachable bag included for your child, which offers additional storage space.
With double-sided entry, it's easy to get your little one in and out and the child harness is adjustable for a secure fit. It is also freestanding with a sturdy kickstand, so you can load and unload your cargo with ease.
On the whole this is a great, compact choice. While it may not be the best model for regular, long hikes; its folding design makes it a great choice for traveling and easy storage.
ClevrPlus Deluxe Baby Backpack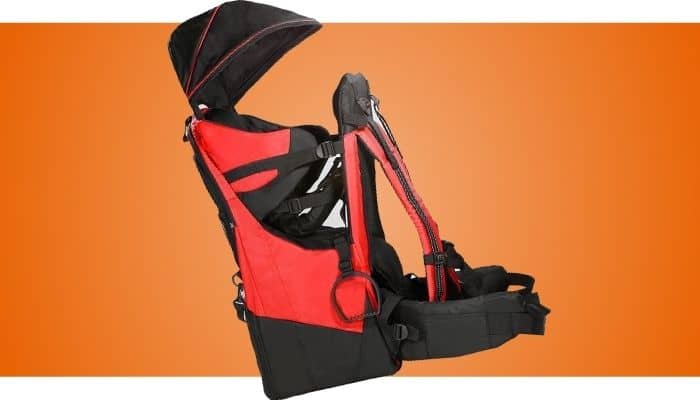 The Deluxe child carrier by ClevrPlus is an easily compactable, lightweight model that folds flat when not in use for easy transportation and storage.
Although it only weighs 5.2 pounds, it has plenty of useful features including multiple pockets with an extra-large zippered section complete with changing pad to accommodate your baby's diapers and other essentials. There is no hydration bladder sleeve; however, the two side pockets have been designed for on-the-go access to water bottles.
With its thick, padded shoulder straps and hip belt, the Deluxe is comfortable to wear, although lacking the support of some of the bigger brand suspension systems. It is easy to adjust while you've got it on and loaded, making it easy to take turns carrying baby while you're out on the trail. Unfortunately, the child's harness itself is not padded, so you'll need to be careful if you're using this model without fully wrapping up your child.
Aside from its lightweight and folding design, the main advantage of this model is its detachable sun-shade and rain-screen canopy that will keep your baby protected whatever the weather. There is also an additional mini daypack that is fully removable for useful extra storage. The washable drool pad helps to keep your carrier hygienically clean and gives your little one a soft place to rest their head on the journey.
While the Deluxe lacks some of the support and comfort of some higher-end baby carriers, it is nonetheless a good budget choice. Its compatibility and lightweight design make it suitable for use around town as well as out on the trail.
Mia Mily Hipster Plus 3D Child & Baby Carrier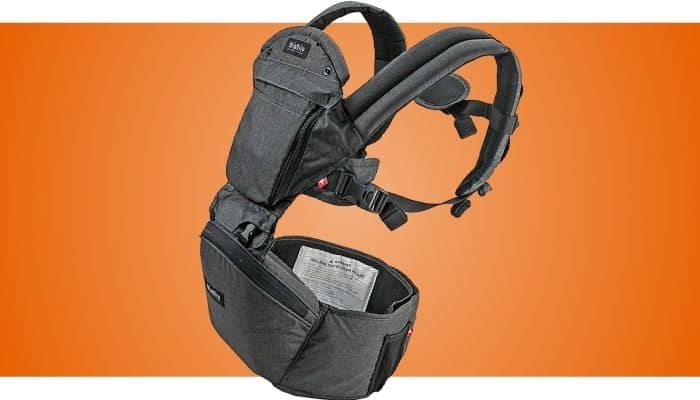 If you are looking for a soft baby carrier and aren't intending on hiking far away from civilization, then the Hipster Plus 3D carrier by Mia Mily makes a good choice.
This style of carrier allows you to carry your child in nine different ways, including on your hip, front and back. It is recommended for use from three months onwards, making it suitable for very young, adventurous babies.
Bear in mind that soft baby carriers tend to offer much less protection than framed models, both from falls and the elements. Therefore, if you hike through areas with a lot of dense vegetation or live in a hot climate, then this model may not offer suitable protection.
Easy to adjust and extremely comfortable, the Hipster Plus 3D has been designed to provide full lumbar support for you while your baby's hips are braced and kept in a natural position thanks to the 3D seat. The mesh panels situated under the seat help to keep your child cool and perspiration-free, even on hot days.
This baby carrier doesn't provide a lot of storage, just enough for the bare essentials. So, you wouldn't want to set out for a long hike into the wilderness with it unless you have someone else carrying your hiking gear. However, there is a small storage pocket under the hip seat, an easily accessible smartphone pocket and a larger back pocket for maps and baby wipes.
All in all, the Hipster Plus 3D is a very comfortable, highly adjustable baby carrier for short hikes that don't require a lot of gear or protection from the elements.
Thule Sapling Child Carrier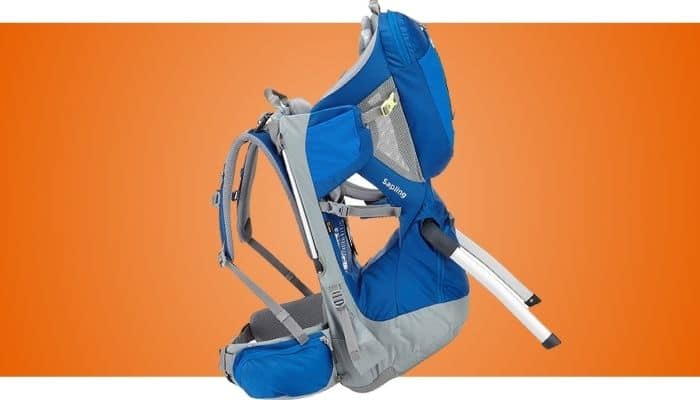 Combining comfort, safety and functionality, the Thule Sapling Child Carrier is an excellent choice for hiking with your baby. Weighing in at 7.5 pounds, it is not the lightest of carriers, but this is compensated by its excellent level of support and many features.
The Sapling has a fully adjustable back panel and hip belt, making it quick and easy to get a comfortable fit, even when swapping baby-carrying duty on the trail. Thanks to its extra padding at critical contact points, the back panel won't cause your back to ache as the miles pass by.
One of this model's most practical features is its load stabilizer straps, enabling you to adjust the center of gravity of your load by moving your child closer to your back for more comfortable, personalized weight distribution. It is also breathable for improved air circulation.
This baby carrier has plenty of storage, making it a perfect choice for a day out on your favorite trail. There is a large zippered compartment, a hydration reservoir sleeve and two zippered pockets on the hip belt for easy access to snacks and valuables. The useful integrated sunshade is fast and easy to deploy, keeping your baby cool and defended from damaging rays.
The cockpit is comfortable with its plush lining and inner thigh support, while the seat is height adjustable for a secure fit. There are also foot stirrups for added comfort on long hiking trips. Thanks to the kickstand and dual entry points, getting your child in and ready to go is hassle-free.
While the Sapling is on the expensive side, we think its wealth of features make it an excellent choice for the serious hiker.
Baby Bjӧrn New One Air Baby Carrier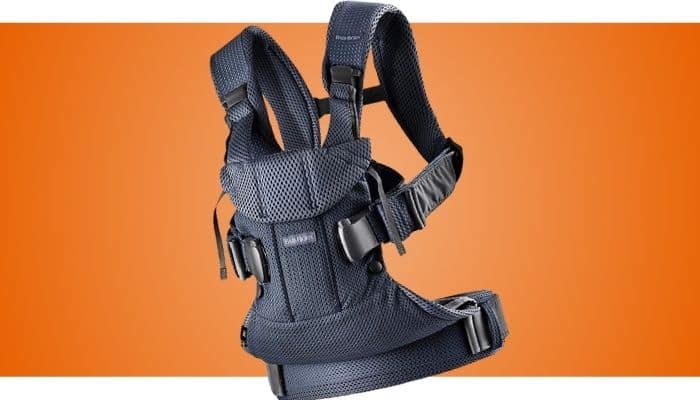 If you are looking for a soft baby carrier for hiking with your little one, check out the One Air by Baby Bjӧrn.
With four different carrying positions, you can adapt how you carry your baby to suit your hike and their preferences. Its soft flexible straps and padded hip belt are adjustable for a close, comfortable fit, and the side seat area is designed to protect your baby's hips whichever position you choose to carry them in. Complete with an infant insert and adjustable head support, this baby carrier can be used for newborns.
Made from a super-soft, fast-drying mesh fabric, it will keep both you and your baby cool, even in humid weather. However, if you are using this carrier for hiking in summer, note that it does not have a sunshade. For fall or winter hiking, you can purchase a separate windproof cover for added warmth and protection from the elements.
The main advantage of the One Air, aside from its comfortable fit and fast-drying mesh fabric, is that it is machine washable. So, if your baby brings up their lunch out on the trail, you won't have to worry about cleaning it when you get home, simply put it in the wash. On the downside, this baby carrier doesn't offer any storage. Therefore, you would need a companion to carry all the essential gear on your journey.
All in all, this baby carrier is a good choice for hiking with a young baby, so long as you are accompanied by someone willing to carry all your gear and supplies. However, as it offers limited protection for older, larger babies, you may be better off selecting a model that includes a sunshade and some storage.
Buyers' Guide to Buying the Best Baby Carrier for Hiking
In many respects, what makes a good baby carrier is very similar to what you need to look out for when buying a new backpack – such as ventilation, support and weight transfer.
But that's not all. You'll also need to consider your baby's comfort, as well as a handful of both essential and useful features such as sunshades, pockets and kickstands.
Struggling to decide? Check out our guide to what to look out for when choosing the best baby carrier for hiking.
Price of the Best Baby Carrier for Hiking
While you do tend to get what you pay for and an expensive big-name baby carrier is more likely to be better designed, more durable and more comfortable, there are also plenty of moderately priced models that may actually be more suitable for your needs.
So, with that in mind, don't be afraid to look at different models at different ends of your budget.
Types of Baby Carrier
While there are plenty of differently designed baby carriers out there, they all fall into one of two main types: soft carriers and backpack style carriers with frames.
Soft Baby Carriers
Soft baby carriers do not have a frame, although they may have reinforced sections that provide some structure. They can generally be used from birth and if you are looking to go hiking with a very young baby, then your only option will be a soft carrier.
Soft carriers are highly adjustable and generally very comfortable. Your child is held close to your body with their weight closer to your center of gravity, making it easier for you to support their weight and to enjoy your hike. They also tend to provide a more natural hip position for young infants. Compact and easy to store, they are also popular for traveling.
On the downside, in the event of a slip, soft carriers tend to provide less protection from the elements and vegetation than framed ones. As they are smaller and less structured, they also provide less storage.
While soft baby carriers are a great choice for getting outdoors for short trips with your little one. However, for long hikes or those that take you off the beaten track far from civilization, we recommend opting for a backpack style of baby carrier.
Backpack Baby Carriers
Backpack baby carriers often have internal frames to help to better distribute your child's weight and to provide them with a secure and stable cockpit. Having a frame structure also allows for better storage and an airflow channel down the back panel that improves ventilation.
Often designed specifically for hikers by big-name outdoor specialist brands, you're more likely to find a backpack baby carrier with hiking specific features such as a hydration reservoir sleeve. Such brands build on their backpack design know-how to create backpack baby carriers that are robust, with good weight distribution to your center of gravity.
For older babies and young children, backpack-style baby carriers make an excellent choice for hiking, especially on long day trips. However, they are naturally larger and tend to take up more space when traveling and storing.
Size of Your Baby
Always check that your carrier is the correct size for your baby.
Some soft carriers can be used from birth while most backpack style carriers are only suitable for use from several months old. Your child's weight is also a factor, as well as how well and for how long they can hold their head up. As all carriers vary, we recommend that you carefully read through all of the manufacturer's usage directions.
It is worth noting that some baby carriers are top entry only, while others also allow you to open the side for easy access. Depending upon how easy it is to get your baby in and settled, you may have a distinct preference for one style or the other.
Comfort and Weight
When choosing a baby carrier for hiking, comfort is crucial. At the least, you'll want to see good quality padding for you and a cozy cockpit for your child with a wide seat and a sturdy footrest.
However, comfort when hiking really comes down to a good fit and effective weight distribution. No matter how well padded the straps are, if your baby carrier is not correctly fitted to your body then it will feel uncomfortable.
Therefore, to make sure you make the right choice, you will need to consider the straps, adjustability and suspension system of a baby carrier, as well as the back panel and method of ventilation.
With regard to weight, obviously, the heavier the carrier, the heavier your overall load will be. If you're not a serious hiker and are only looking to go for short leisurely hikes with your baby, then it makes sense to opt for a lightweight model. If you opt for a framed baby carrier for hiking, it is important to make sure that it is durable and lightweight.
Tubular aluminum is a popular choice for its strength and low weight. The structure provided by a frame will help you to support the weight of your child over long distances by transferring the weight from the carrier to your hip area.
On the other hand, if you are planning on hiking long distances or in more remote terrain with your baby, you will likely require the extra features and storage that make models a little heavier.
Sun and Rain Protection
When you're out on the trail, the weather can change rapidly.
Clouds can quickly appear or disappear and even if your baby has sunscreen on, it is important to have an integrated sunshade if you're out on hot summer days. Some baby carriers also offer integrated rain protection, which is advisable if you are likely to be hitting the trail in potentially inclement weather.
Durability
Nylon is a popular choice for its durability and strength. Polyamide is another extensively used material thanks to its strength and elastic properties.
Some carriers will feature a range of different materials with higher denier, rip-stop nylon used at the bottom to improve durability. Note that higher denier fabrics are heavier and will affect the weight of your carrier, especially if used all over.
Design is also key, as a well-designed baby carrier will last longer than a poorly designed one. Look for sturdy construction materials, quality stitching and a manufacturer's guarantee to get a good indication of whether or not it is a product that will last.
Pockets and Storage Capacity
You'll need enough storage space to pack the contents of your baby's day bag into your carrier, unless your hiking partner can take that and your gear too. In any case, at the very least you will need some storage pockets for the essentials.
Hydration reservoir sleeves are a good choice if you usually use a water bladder or fancy trying one out for hydration on-the-go. If not, look for a model with extensible side pockets for your water bottles.
A large storage pocket will give you the capacity you need for larger items such as diapers or some of your hiking gear. Small zippered pockets on the hip belt are useful for your valuables, while mesh pockets can be great for stashing extra layers or keeping wet or dirty items separate.
Straps and Adjustability
Check that all straps can be fully adjusted to obtain a correct fit. It is also important to consider the style of harness and fastenings for your baby in the cockpit. Padding both for your child's straps and yours is essential for improved comfort, especially when the weather is warmer and you're both wearing fewer layers.
On-the-go adjustment systems are a good choice to opt for, as these allow you to easily adjust your carrier's fit while on the trail. This will make changeovers quick and easy when it's your hiking partner's turn for baby-carrying duties.
Freestanding
A kickstand makes loading and unloading your baby into the carrier much easier and safer. It also allows you to place them down in safety, whether it's just for a quick break or to get them out at the end of your hike.
Ventilation
Check the design of your carrier's back panel. Mesh fabric will improve air circulation, helping to prevent a build-up of perspiration between your back and your carrier for a more comfortable hike.
Folding
Some carriers feature a fold up design. This makes them easy to store and transport, especially when flying.
Large backpack baby carriers with extra features are less likely to fold up but may offer superior carrying comfort. Some parents prefer to purchase a more compact, light folding style for frequent use and short hikes, alongside a large comfortable model for longer hiking trips.
Safety Certificate
Before purchasing your new baby carrier, be sure to check out any safety certificates. It is also important to check the materials used and ensure that they don't contain any harmful substances, especially when your baby is very young.
Extra Features
There are plenty of extra features that may or may not be important to you, here's a selection of some of the most common and useful ones:
Mirror – useful for keeping an eye on your baby without having to stop and take off your carrier.
Toy clip – you don't want to have to turn back for miles looking for the toy your child dropped and is now screaming for.
Drool pad – keep your carrier clean and protect your little one's delicate face with a washable drool pad.
Whistle – just in case you get lost or injured, a whistle can alert others to your presence.
Top Baby Backpack Carriers for Hiking Video
FAQ: Best Baby Carriers for Hiking
When it comes to hiking with your little one, ensuring their safety, comfort, and your convenience is of utmost importance. Choosing the right baby carrier designed specifically for hiking can make a world of difference in your outdoor adventures. However, you may have several questions about these specialized carriers and how to make the best choice for you and your baby.
To help you navigate through the essential aspects of baby carriers for hiking, we have compiled a list of frequently asked questions. Whether you're a first-time parent or an experienced hiker, this FAQ section aims to provide you with valuable insights and guidance. From the appropriate age to start using a hiking carrier to the safety measures you should consider, we address common queries that will help you make an informed decision.
Explore the following FAQs to gain a deeper understanding of the features, benefits, and considerations associated with hiking baby carriers. We hope this information will equip you with the knowledge you need to embark on memorable hiking adventures with your little one, all while ensuring their comfort and your peace of mind.
Why do I need a specific baby carrier for hiking?
Hiking requires specialized gear to ensure both the safety and comfort of your baby. A dedicated hiking baby carrier offers better stability, support, and ventilation, making it suitable for longer walks on uneven terrains.
At what age can I start using a baby carrier for hiking?
Most baby carrier manufacturers recommend waiting until your baby has sufficient neck and head control, typically around 6 months old. However, consult with your pediatrician to determine when your baby is ready for hiking adventures.
What features should I look for in a hiking baby carrier?
When choosing a baby carrier for hiking, consider features such as a sturdy frame, adjustable straps, padded waist and shoulder straps, supportive back panel, sunshade or rain cover, storage compartments, and easy-to-use buckles and adjustments.
How long can I hike with my baby in a carrier?
The duration of your hikes with a baby carrier depends on various factors, including your baby's age, comfort level, and overall health. Start with shorter hikes and gradually increase the duration as your baby gets accustomed to being in the carrier. Monitor your baby's cues for signs of fatigue or discomfort and take breaks accordingly.
Can I breastfeed while using a baby carrier for hiking?
Yes, some baby carriers are designed to facilitate breastfeeding on the go. Look for carriers with discreet nursing openings or adjustable panels that allow you to breastfeed comfortably while maintaining support and safety.
How do I ensure my baby's safety in a hiking baby carrier?
Safety should be a top priority when using a hiking baby carrier. Make sure to follow the manufacturer's instructions for proper usage, secure all buckles and straps correctly, and check for any signs of wear or damage before each hike. Additionally, ensure your baby is positioned ergonomically, with proper support for their head, neck, and spine.
Can both parents use the same baby carrier for hiking?
Most hiking baby carriers are adjustable and designed to fit different body types, allowing both parents to use the same carrier. However, it's important to check the specifications and adjustability options of the carrier to ensure a proper and comfortable fit for each parent.
Are hiking baby carriers suitable for all weather conditions?
Many hiking baby carriers come with weather-resistant features such as sunshades, rain covers, and breathable fabrics. However, it's still important to consider the weather conditions and dress your baby accordingly to ensure their comfort and protection from the elements.
Can I use a hiking baby carrier for everyday activities?
While hiking baby carriers are primarily designed for outdoor adventures, they can also be used for everyday activities such as walking in parks or running errands. However, keep in mind that the additional features and bulkiness of hiking carriers might not be as convenient for everyday use as compared to regular baby carriers.
How do I clean a hiking baby carrier?
Refer to the manufacturer's instructions for specific cleaning guidelines as they can vary. In general, most hiking baby carriers can be spot cleaned with a damp cloth or sponge. Some carriers may also have removable and machine-washable parts. Avoid using harsh chemicals and ensure the carrier is completely dry before storing it.
Remember, always prioritize your baby's comfort, safety, and well-being when selecting and using a baby carrier for hiking.
Best Baby Carriers for Hiking Recap
Final Thoughts on the Best Baby Carrier for Hiking
Hiking is a great way to stay fit and to disconnect from the busy modern world. Enjoying hiking with your baby or young child is an excellent way to deepen your special bond, get some fresh air and improve your family's well being.
As we have seen, it doesn't matter if you're a serious trail-stomper or a weekend adventurer, there are plenty of excellent baby carriers for hiking on the market to choose from.
Whether you're looking for a soft model for a young baby on short trips, or a full-on hiking specific model for longer forays, you're sure to find the best baby carrier for hiking in our selection.