Top 3 Best Day Hiking Backpacks
Osprey Talon 22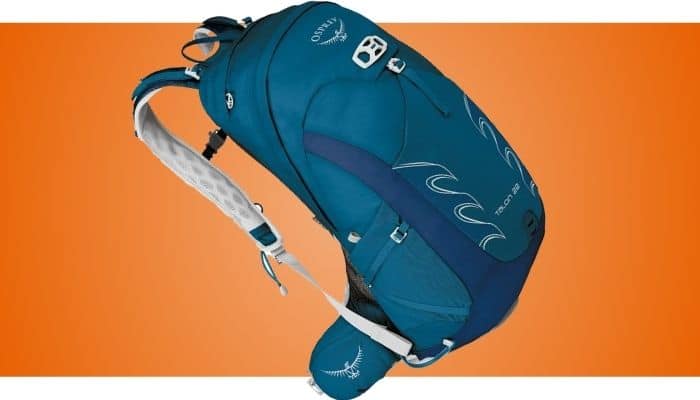 Versatile Usage: Ideal for hiking, biking, and various outdoor activities.
Lightweight Build: Comfortable for day trips.
Comfortable Fit: Features Biostretch harness and continuous wrap hip belt.
Ventilation: AirScape back panel for airflow.
Multi-Sport Features: Includes trekking pole carry system, bike helmet tab, and ice tool loop.
Sustainability: Uses PFC-free DWR coatings and recycled fabrics.
Functional Organization: Several pockets and compartments.
Deuter Speed Lite 20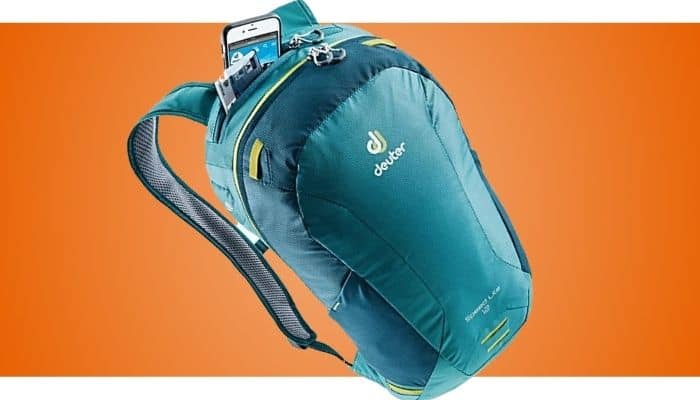 Ultra Lightweight: Designed for hiking, trail running, and climbing.
Capacity: Offers 20L space.
Pocket Design: Main pocket with zipper, inner compartment, and outer mesh pockets.
Hydration System Compatible: Includes a place to clip a hydration bladder.
Adjustable Straps: Features an adjustable sternum strap and a removable hip belt.
Safety Feature: Comes with an SOS label for emergencies.
Osprey Stratos 34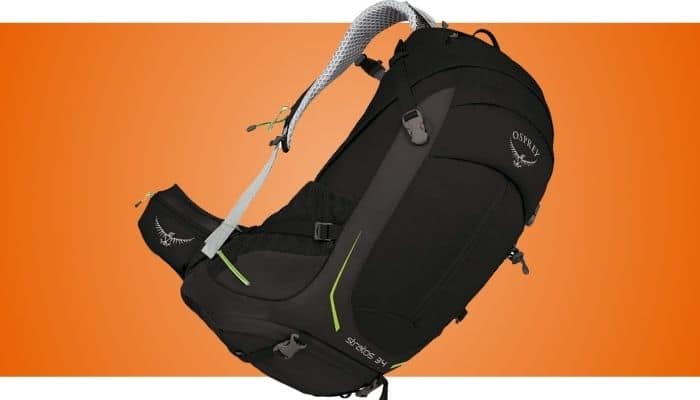 Versatile Capacity: Straddles between a day hiking backpack and an overnight pack with 34L capacity.
Extensive Storage Options: Multiple pockets and compartments for gear.
Adjustable and Comfortable Fit: Adjustable torso and continuous back panel and hip belt system.
Ventilation: Vented and padded fabric for comfort without compromising ventilation.
Additional Features: Dual compression straps, gear loops, and comes with a rain cover​.
Outdoorsman Toolkit is reader-supported. When you buy through links on our site, we may earn an affiliate commission.
Learn more
Being out in nature is one of the most refreshing and energizing experiences there is. Overnight camping trips are wonderful, but sometimes you just have a day or even just an afternoon. For those short duration hikes you don't want to break out a honking big multi day hiking pack. Day hiking packs are designed to provide just the right amount of space for these kinds of trips. Today we're looking for the best day hiking backpack we can find, and hopefully helping you pick out one that suits your needs.
Best Day Hiking Backpack Reviews
There are so many day hiking backpacks available nowadays it can be really hard to narrow the field. There's a small range of capacities and functions that are widely accepted as the norm but beyond that the skies the limit.
We picked out several great hiking daypacks across a range of capacities, focus functions, and price points to help you find the best one for your specific hiking style.
Osprey Packs Talon 22 Best Day Hiking Backpack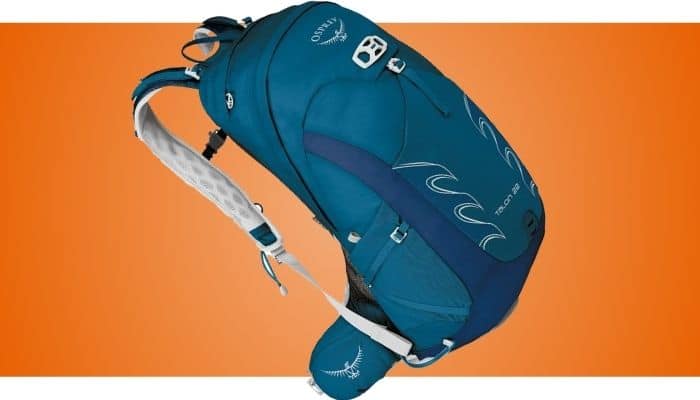 After hearing rave reviews about the Osprey Talon 22 from my hiking buddies, I decided to retire my old faithful backpack and give this one a shot. Upon unboxing, the first thing that caught my eye was its sleek design, coupled with the promise of being a lightweight companion for my day hikes. The Osprey Talon 22 isn't just a looker; it's a performer too. With a 22L capacity, it's the perfect size for day trips, carrying my essentials without making me feel like a pack mule.
The Talon 22 boasts a Biostretch harness and continuous wrap hip belt that hugs close to my body, making the load feel lighter than it is. The AirScape back panel was a delight, providing much-needed airflow during those sweaty hikes up steep trails. The pack conforms nicely to my back, whether I'm scrambling over rocks or navigating through dense woodland. However, I did notice that when loaded with more than its fair share of water and gear, the comfort did wane a tad.
What I found thrilling about the Talon 22 was its multi-sport readiness. The Stow-on-the-Go trekking pole carry system, Lidlock bike helmet carry tab, and ice tool loop were thoughtful additions, making this pack a versatile choice not just for hiking, but for biking and other outdoor pursuits too. I appreciated the external hydration sleeve, which made refilling my water reservoir a breeze, especially during longer hikes.
The internal organization was fairly straightforward, yet functional. The main zippered pocket, stretch mesh front pocket, and other smaller compartments made gear management hassle-free. I was able to stow away my essentials securely and access them with ease when needed. Although, I did find myself wishing for a rigid frame when the pack was heavily loaded, as it tended to droop slightly.
Durability seems to be a strong suit of the Talon 22, thanks to the 420-denier nylon at the bottom. Although the lightweight mesh along the exterior seemed a bit susceptible to wear and tear, it held up well during my escapades through rugged terrain. I must say, being able to move fast and light without worrying too much about the pack's durability was a relief.
A standout feature was the pack's focus on sustainability, incorporating PFC-free DWR coatings and recycled fabrics. It's heartening to see Osprey taking steps towards eco-friendliness, aligning with my own values towards outdoor gear.
The Osprey Talon 22 has become a steadfast companion for my day hikes, bike commutes, and the occasional travel adventure. While it may not be the most feature-rich or the most comfortable under heavy loads, its intelligent design, multi-sport readiness, and lightweight build make it a valuable addition to my outdoor gear collection. I've found it to be a well-balanced blend of comfort, features, and packability, catering well to my lightweight adventures.
On a recent weekend escape to the trails of the Smoky Mountains, the Talon 22 was put to a real test. The day began with a dense fog covering the landscape, making the trails mystical yet a bit eerie. I packed the Talon 22 with my essentials: a rain shell, some snacks, a hydration bladder full of water, a map, and my trusty compass. As the day progressed, the sky cleared, revealing the majestic panorama of the mountains. The backpack sat comfortably on my back as I navigated through the winding trails, its Biostretch harness system distributing the load evenly, making the 10-mile hike feel like a breeze. When I reached the summit, the Stow-on-the-Go trekking pole carry system came in handy as I stashed away my poles to free my hands, allowing me to capture some breathtaking photos. As I made my way back down, a sudden downpour greeted me, but the Talon 22 kept my gear dry until I reached shelter. The experience reinforced my appreciation for the Talon 22, proving its mettle in the great outdoors, under the capricious mountain weather. The Osprey Talon 22 has not just been a backpack; it's been a reliable companion that complements my outdoor adventures seamlessly.
Overall, the Osprey Talon 22 has lived up to the hype, delivering a satisfying experience that has encouraged me to venture out more, exploring the great outdoors with a reliable pack at my back.
Pros:
Versatile Usage: Well-suited for hiking, biking, and other outdoor activities.
Lightweight Build: Makes it easy to carry on day trips without feeling burdened.
Comfortable Fit: The Biostretch harness and continuous wrap hip belt offer a snug fit, distributing load effectively.
Ventilation: AirScape back panel provides decent airflow, keeping the back relatively cool.
Multi-Sport Features: Stow-on-the-Go trekking pole carry system, Lidlock bike helmet carry tab, and ice tool loop add to its versatility.
Sustainability Measures: Incorporation of PFC-free DWR coatings and recycled fabrics.
Functional Organization: Ample pockets and compartments for effective gear management.
Cons:
Lacks a Rigid Frame: The pack tends to droop when heavily loaded, affecting comfort.
Mesh Durability: Exterior lightweight mesh could be susceptible to wear and tear in rugged conditions.
Limited Ventilation in Warm Weather: Falls short of the ventilation provided by Osprey's Stratos, especially in hotter conditions.
Size Discrepancy: The actual liter capacity varies slightly between the S-M and M-L sizes.
Missing Rain Cover: A rain cover has to be purchased separately for added protection during downpours.
Deuter Speed Lite 20 Athletic Daypack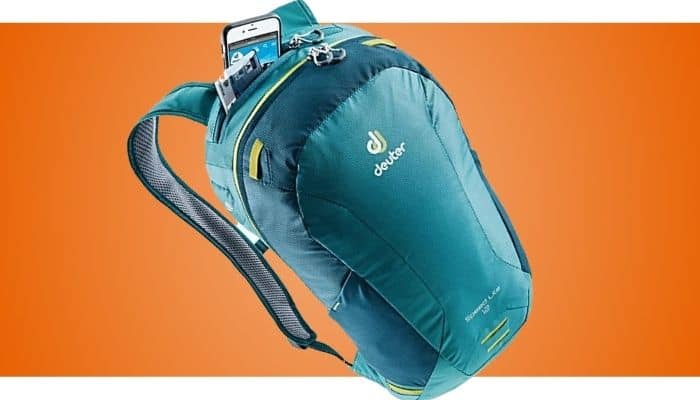 The Deuter Speed Lite 20 is an ultra lightweight daypack designed for hiking, trail running, and climbing. It offers 20L of capacity and is a good choice for a focused hiking daypack.
The Speed Lite has a single elasticized main pocket accessible through a zipper opening. There's also a small inner compartment for things like your keys, wallet, or smartphone. This makes it really easy to stow all kinds of essential gear.
There's also a pair of outer mesh pockets on either side and a place to clip your hydration bladder. If you're planning some mountain biking it also has a set of straps that allow you to attach a Deuter helmet holder.
It has both an adjustable sternum strap and a removable hip belt. The hip belt is definitely on the barebones side of things but it gets the job done when needed.
One of our favorite features about the Speed Lite is the included SOS label. It gives you basic information on how to signal for help in the mountains. It's one of those things you hope you never have to use, but are really thankful you have it if you do need it.
Overall the Deuter Speed Lite 20 is a high quality day hiking backpack with a lot of useful features. It works well for hikers, trail runners, mountain bikers, and other outdoor sport enthusiasts.
Osprey Packs Stratos 34 Hiking Backpack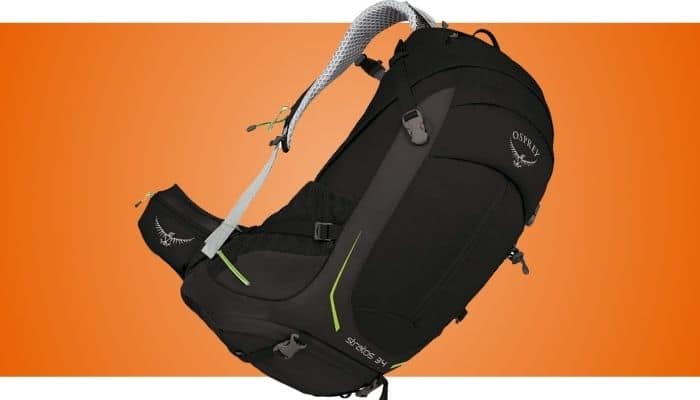 The Osprey Stratos 34 is a hiking pack that straddles the line between a day hiking backpack and an overnight pack. It provides you with 34L of capacity and offers one of the most extensive feature lists found on a day hiking bag.
These include a front zipper pocket, front panel storage pocket, vertical zip quick access front pocket, zippered hip belt pockets, dedicated sleeping bag pocket, and a spacious main compartment. That's a whole lot of pocket, pouch, and stash options for you to distribute your gear amongst.
That's not all though, the Stratos 34 includes many of the comfort and adjustability features we usually only see on larger overnight bags. The torso of the pack is adjustable to better fit your body and uses Osprey's comfort enhancing continuous back panel and hip belt system.
This conforms to your body with vented and padded fabric that gives you an excellent fit without sacrificing venting. The Stratos 34 uses dual compression straps on either side. When combined with the side pockets these give you an excellent place to stow tent poles, trekking poles, and other gear. It has numerous tie points, gear loops, and other attachment features and comes standard with a rain cover.
The Osprey Stratos 34 is right on the edge of a daypack and an overnight pack. If you frequently go on both day hikes and single night camping trips this is an excellent choice.
Sea to Summit Ultra-Sil Day Pack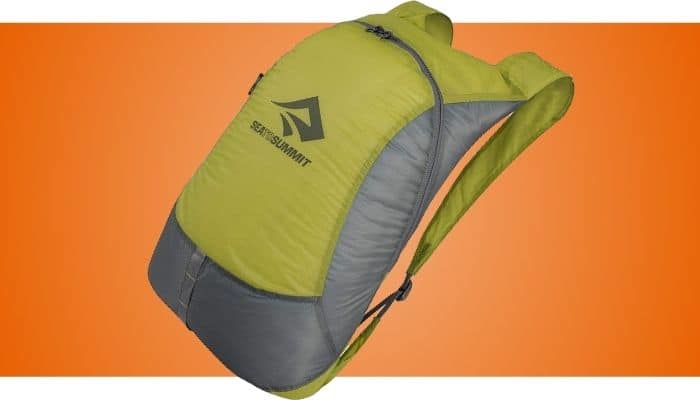 The Sea to Summit Ultra-Sil is an ultralight hiking and travel pack. It offers 20L of capacity and is designed to pack down into a neat little stuff sack when not in use.
It's made from siliconized CORDURA fabric for improved strength and durability. This also makes it one of the most water resistant hiking day packs available.
The Ultra-Sil has just a single pocket and lacks most of the comfort enhancing features many larger day packs provide. Despite that, it's actually one of our favorite packs.
It's incredibly small yet shockingly durable. We loaded it up with pullovers, snacks, books, phones, and even a tablet yet were never able to put a scratch on it. It was easily able to carry many times its own weight in gear.
We loved how portable the Ultra-Sil was. You can clip it to your belt or stick it into a pocket once you pack it down into its included stuff sack. This makes it the perfect bag to keep with you when traveling or to leave in your car for impromptu hikes.
Gregory Mountain Products Inertia Day Hiking Backpack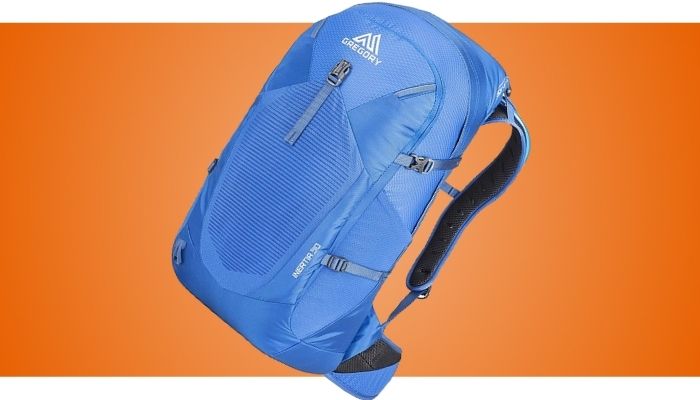 The Gregory Inertia is a large capacity hydration capable day hiking pack. It gives you 30L of capacity and includes a 3D hydro reservoir to keep you hydrated on your hikes.
The Inertia features multiple pockets both in and on the body of the pack, including front and side stretch mesh pockets, a top zip pocket with key loop, and a soft touch lined pocket for things like your phone. The main pocket is spacious and easy to access, perfect for holding extra clothes, snacks, a first aid kit, lights, and anything else you need on a day hike.
It features a 3D foam breathable back panel that extends down to the hip belt as well. This makes it much cooler and more comfortable on hot days. Some really cool extra features include a sunglass QuickStow system on the shoulder harness for easy access to your sunglasses and a magnetic sternum buckle to attach your hydration bite valve to.
The Inertia has dual compression straps on either side and loops to attach other gear to. These are perfect for holding things like trekking poles or ice axes.
Overall the Gregory Inertia is a good day hiking backpack for someone who likes all the comforts when they're out in the wilds. It has plenty of room for snacks, gear, and spare clothes plus all the best comfort enhancing features built right in.
CamelBak Fourteener 24 Hydration Pack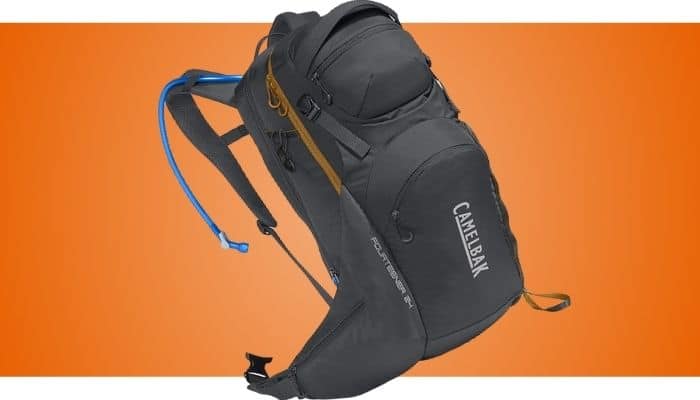 The CamelBak Fourteener 24 is a technical hydration pack designed for hiking, trail running, and cycling. As befits a CamelBak product it's focused around the included 3L Crux reservoir.
It's designed to provide faster water flow rates for more rapid hydration on the trail. It offers 21L of capacity and has a variety of different pockets and stowage options. The main pocket is a good size for some spare clothes, food, and other gear, while two outside access pockets and a hip belt pocket give you plenty of storage options for things you need to get to on the go.
The main pocket has a small inner zip pocket for storing valuables like your phone and keys. One side of the hip belt features a stretch pouch, perfect for storing a water bottle or sticking the end of some trekking poles into.
Comfort wise CamelBak offers an Air Support padded back panel with dual wing hip belts and a sternum strap. This makes even heavier loads much more comfortable to carry.
The CamelBak Fourteener 24 is a well balanced and comfortable hiking day pack. It offers a great hydration solution with plenty of space left over for other essentials.
Fjallraven High Coast Trail 26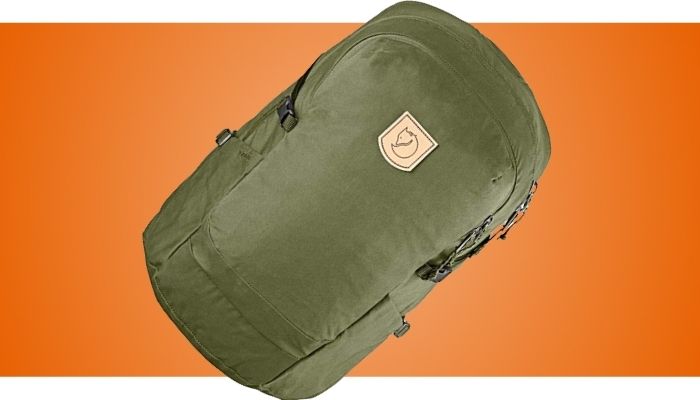 The Fjallraven High Coast Trail 26 is an eco friendly day hiking backpack from one of the most beloved outdoor gear manufacturers in the world. It provides 26L of capacity and is made using recycled and organic materials.
It has a zippered main pocket with an inner security pocket with a key clip. There's an open pocket with enough space for either a hydration bladder or a 15-inch laptop. There are stretch pockets on either side of the bag and a front zip pocket for stowing smaller items.
This gives you plenty of space for your average day hike and offers a lot of flexibility in how you carry it. It features all the most in-demand comfort enhancing features for daypacks. These include compression straps, a vented mesh back panel with padding, and both a sternum strap and hip belt.
The bag is waxed to make it repel moisture and comes standard with a raincover. This is a really nice feature if you plan to do any hiking in winter weather or in an area with persistent wet conditions.
Fjallraven has been making high-end hiking, camping, and outdoor gear for nearly 100 years. They have a well deserved reputation for quality, and the High Coast Trail 26 clearly shows that.
Arc'teryx Brize 25 Backpack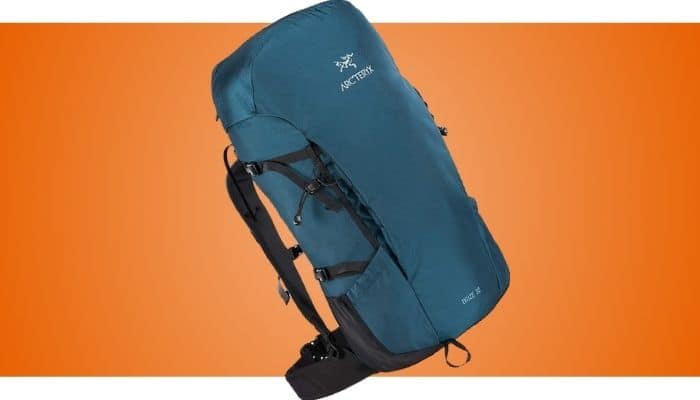 The Arc'teryx Brize 25 is a technical hiking pack with an excellent mix of features. It offers 25L of capacity and is made to be as versatile as possible.
It has a top panel style zippered main compartment with an inner organizer pocket for things like your passport, keys, or wallet. There are also stretch side pockets and a top pocket for stowing small items you need to access quickly.
The Brize has dual compression straps plus a pair of bungee clips on either side of the main body. This allows you to securely attach things like trekking poles, ice axes, or even tent poles. They also make it easy to cinch down the size of the bag when only carrying a partial load.
It has an Aeroform thermoformed back panel designed to provide ample ventilation and a comfortable fit even under load. The shoulder straps are padded and clip together with a sternum strap. All in all the Brize has an excellent range of comfort enhancing features.
It's hydration capable and can even carry a laptop for around town use. If you're looking for a small bag that will serve you as well on the trail as it does downtown, the Arc'teryx Brize 25 is a great option.
Mardingtop Tactical Backpacks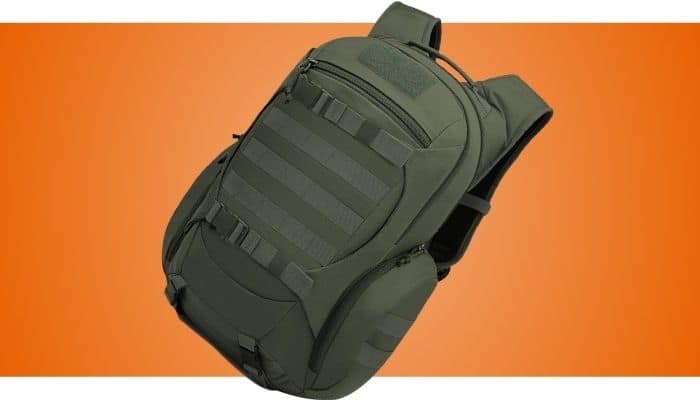 The Mardingtop tactical backpack is part of a series of backpacks with a more tactical focus than other bags on this list. It's available in either 25L, 28L, or 35L capacities and offers features geared more towards tactical operators than your average hiker.
They're great though for hunters, private military contractors, and others who need the features of a day hiking backpack with some specialized features included. The Mardingtop offers a zippered main pocket, a secondary pocket, a pair of zippered side pockets, and a quick access front pocket for storing things you need in a hurry.
It has MOLLE webbing across the front and sides of the bag plus compression straps on the front and bottom. These double as gear attachment points and give you a lot of flexibility in how you use the pack.
The Mardingtop is hydration reservoir compatible and includes a number of internal organization pouches, pockets, and sleeves.
If you're looking for something closer to an assault pack than a standard hiking pack the Mardingtop line offers some great options.
Best Day Hiking Backpack Comparison Table
Buyers Guide to Buying the Best Day Hiking Backpack
Picking out the best day hiking backpack really comes down to what kind of use you intend to put it to. If you're looking for a purely hiking bag you'll have different needs than someone who also wants a daypack to use around town.
Price of the Best Day Hiking Backpack
There's a pretty big range of prices when looking for hiking daypacks. You can get a decent bag for around $20-$30, or drop well over $100 for a high end model.
Generally as price goes up so does versatility, material quality, and advanced comfort features.
Intended Use and Versatility
Once you get into really technical hiking packs the specific use it's designed for really comes into play. You can find climbing day packs, trail running day packs, ultralight daypacks, and military-style tactical daypacks.
Matching your activity to a specific type of day pack can really improve your comfort. That being said, most hiking day packs will work reasonably well for most activities.
Depending on how demanding your hike is you may want something with more purpose specific features. Trailrunners, mountain bikers, and others on hiking trails but moving differently should consider the same.
Capacity
For day hiking backpacks less is usually more. You aren't carrying around much of the gear you would need for an overnight hike so you basically just need food, water, and other basic items like a change of clothes and rain gear.
Most day hiking backpacks offer less than 30L of capacity. They can be as small as 15L-20L for those who just want a few snacks, water, and other small items.
Pockets and Organization
Day hiking backpacks come with a huge variety of pockets, organizers, and pouches. The smallest and lightest will often have just a single main pocket with maybe a water bottle pouch on the side.
As size increases so does complexity. There are daypacks with two or even three different significant pockets plus internal organization devices like mesh pouches, zippered areas, and tie down points.
Some of the most useful include side pouches that can hold water bottles or other quick access gear, outer mesh pockets for things like snacks, and hydration bladder pouch.
Frame
A frame usually isn't necessary for a day hiking backpack. You aren't carrying things like tents, sleeping bags, and cookware so the weight of the back is generally quite low.
Some multi purpose day hiking bags on the larger end of the scale will still have a frame, usually an internal frame. This allows you to carry enough for a single night of camping if you're using ultralight gear.
Hip Belt
A hip belt is one of the comfort enhancement items we can't recommend enough. It helps distribute the weight of your pack a lot more evenly and prevents the bag from jostling around on your back.
Most day hiking backpacks won't have a padded/contoured hip belt like those found on larger packs. You're more likely to find one that's just a simple strap with a plastic buckle on it.
Sternum Strap
A sternum strap, also known as a chest or breast strap, is a small strap that crosses your sternum. It helps keep your pack tight against your body and helps reduce overall effort by preventing the bag from jostling or shaking as you walk.
Most importantly it keeps the shoulder straps properly positioned on your shoulders. This helps prevent them from slipping while moving and reduces overall soreness in your shoulders.
Most day hiking backpacks will come with a sternum strap.
Hydration Pouch, Sleeve or Holster
Larger day hiking backpacks will often have a sleep or holster for a hydration pouch. Some even come with one built right in. Even smaller hiking packs down to about 15L can usually be fitted with a hydration pouch though.
We definitely recommend you look for this in your pack. Hydration pouches are a much more efficient way to carry water than water bottles.
Back Panels, Ventilation, and Comfort
The best day hiking backpacks offer excellent comfort even under a considerable load. They do this through features like padded back panels, mesh ventilation, and air flow channels.
On larger day hiking backpacks lumbar support is much more common, as are things like a semirigid back panel. These are usually combined with padded mesh venting to prevent sweat from building up on your back.
Closure Systems and Access
There are several major types of closure systems available for day hiking backpacks. The two most common are the classic knapsack style and the standard zipper.
You can also choose from daypacks with closures such as:
Clamshell
Rolltop
Drawstring and Lid
Central/Front Zip
Choosing between these styles comes down to how you intend to use your hiking pack. For example, a clamshell style opening is great if you intend to use it as a general daypack and laptop bag.
Waterproofing and Rain Cover
The vast majority of day hiking backpacks aren't waterproof and don't come standard with a rain cover. You can also pick up a rain cover that will fit just about any hiking pack.
There are also some waterproof backpacks available if you plan to participate in watersports or hike in very rainy conditions. Generally these have different features than a standard day hiking backpack and are made from very different materials.
Best Day Hiking Backpack Trusted Brands
As with most hiking and camping gear there are dozens and dozens of high quality manufacturers for you to choose from. A few of our favorites include:
Osprey
Deuter
Mountain Hardwear
Arc'teryx
Kelty
Gregory
Camelbak
Patagonia
Fjallraven
Sea to Summit
They all have excellent designs made from quality materials. They aren't all incredibly expensive either. Just about all of them will have a very high end daypack available, but most also offer a much more affordable pack.
Top Hiking Daypacks Video
FAQ: Best Day Hiking Backpacks
As outdoor enthusiasts, we understand that choosing the right day hiking backpack is crucial for a comfortable and enjoyable hiking experience. With a multitude of options available, it's common to have questions about the features, capacity, and suitability of these backpacks. In this section, we have compiled a list of frequently asked questions to help address any concerns you may have. From understanding the key differences between day hiking backpacks and regular backpacks to finding the perfect fit and exploring their versatility, we aim to provide you with the essential information to make an informed decision. So, let's dive into the frequently asked questions about the best day hiking backpacks and equip ourselves with the knowledge needed for unforgettable hiking adventures.
What is a day hiking backpack?
A day hiking backpack is a smaller-sized backpack designed specifically for day hikes. It is designed to carry essential items like water, snacks, extra clothing layers, and other hiking essentials.
How is a day hiking backpack different from a regular backpack?
Day hiking backpacks are specifically designed for outdoor activities and offer features such as hydration compatibility, breathable materials, and specialized compartments for organizing gear. They are typically smaller in size and have a lighter weight compared to regular backpacks.
What should I consider when choosing a day hiking backpack?
When choosing a day hiking backpack, consider factors such as capacity (how much gear it can hold), comfort, durability, weight, organizational features, hydration compatibility, and ease of access to your gear.
What is the ideal capacity for a day hiking backpack?
The ideal capacity for a day hiking backpack is typically between 20 and 35 liters. This provides enough space to carry your essentials without being overly bulky or heavy.
Are there any specific features I should look for in a day hiking backpack?
Yes, some features to consider are padded shoulder straps, a waist belt for weight distribution, adjustable suspension systems, ventilation channels for breathability, external attachment points for gear, water bottle pockets, and a dedicated hydration reservoir compartment.
Can I use a day hiking backpack for overnight trips?
Day hiking backpacks are not specifically designed for overnight trips, as they lack the capacity to carry camping gear such as a tent, sleeping bag, and cooking equipment. However, some larger day hiking backpacks may be suitable for an overnight trip if you pack light.
What are the advantages of using a day hiking backpack?
Day hiking backpacks are lightweight and offer a comfortable fit, making them ideal for shorter hikes. They provide ample space for carrying essentials and often have useful features like hydration compatibility and organizational pockets.
Are day hiking backpacks waterproof?
Day hiking backpacks may come with water-resistant coatings or materials, but they are not usually completely waterproof. It is recommended to use a rain cover or pack your belongings in waterproof bags or dry sacks to protect them from rain or water exposure.
How do I properly fit a day hiking backpack?
To ensure a proper fit, adjust the shoulder straps so they sit comfortably on your shoulders, tighten the waist belt to distribute weight to your hips, and adjust the sternum strap for added stability. The backpack should feel snug and balanced on your back without causing any discomfort.
Can I use a day hiking backpack for other activities besides hiking?
Yes, day hiking backpacks can be versatile and suitable for other activities such as sightseeing, cycling, short trips, or as a carry-on bag for flights. They offer convenience and functionality for various outdoor pursuits.
Best Day Hiking Backpacks Recap
Final Thoughts on the Best Day Hiking Backpack
As long as you know what activities you intend to use it with you shouldn't have any problem picking out the best day hiking backpack.
Make sure you balance versatility with the specific needs and activities you wish to carry out.