Top 3 Best Waterproof Backpacks
Skog Å Kust BackSak Waterproof Backpack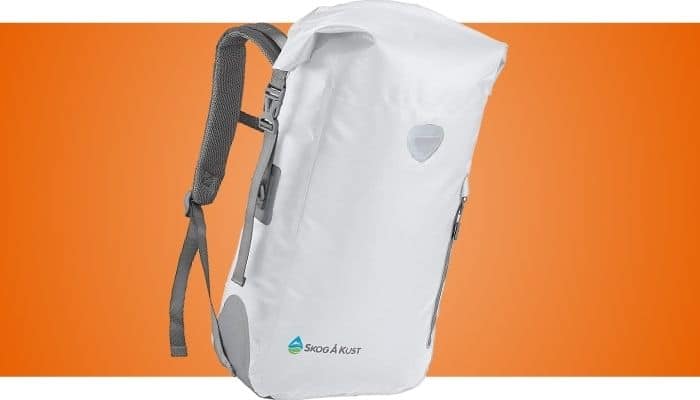 Crafted from robust 500 denier PVC.
Effective roll-top closure and fully welded seams for superior waterproofing.
Comfortable wear with padded backpack straps and back panel.
Available in 25-liter and 35-liter options for varying needs.
Handy internal compartments for organizing gear.
Overboard Waterproof Pro-Sports Backpack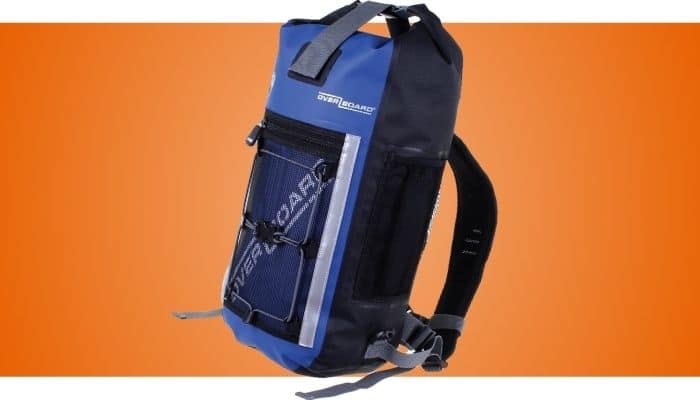 Made from durable 600D PVC with fully welded seams.
Roll top closure with a clip seal ensures excellent waterproofing.
Multiple outside access mesh pockets for additional storage.
Comfortable padded shoulder straps and lumbar support.
Reflective coating on straps for enhanced visibility at night.
Sea to Summit Flow 35L DryPack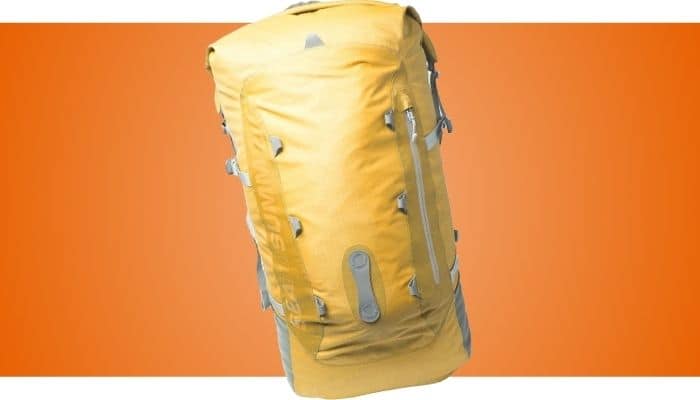 Made from water-resistant 420D TPU laminated nylon with fully sealed seams.
Roll-top closure secured with robust aircraft grade alloy buckles.
Main waterproof pocket, mesh side pockets, zippered back pocket, and exterior straps for versatile storage.
Padded backpack straps, back panel, and waist belt for comfortable wear.
Ideal for serious hiking, skiing or snowboarding with its ergonomic design.
Outdoorsman Toolkit is reader-supported. When you buy through links on our site, we may earn an affiliate commission.
Learn more
There's nothing quite as disheartening as opening up your bag after a long day of fun in the sun and discovering your clean clothes are soaking wet. Dry bags have been used to prevent this for decades, but they're not exactly the easiest things to carry around with you. Waterproof backpacks have been taking the outdoor world by storm to fill this niche and help outdoor enthusiasts keep their gear nice and dry. Keep reading to learn more about the best waterproof backpack available.
Best Waterproof Backpack Reviews
Originally waterproof backpacks were little more than standard dry bags with basic backpack straps. Over the years they've become so much more than that.
Now you can get a very comfortable all day pack that has the same submersible capabilities as the best dry bags.
We've put together a list of some of the best waterproof backpacks across the spectrum of price, capacity, and capability to help you narrow down your search.
Skog Å Kust BackSak Waterproof Backpack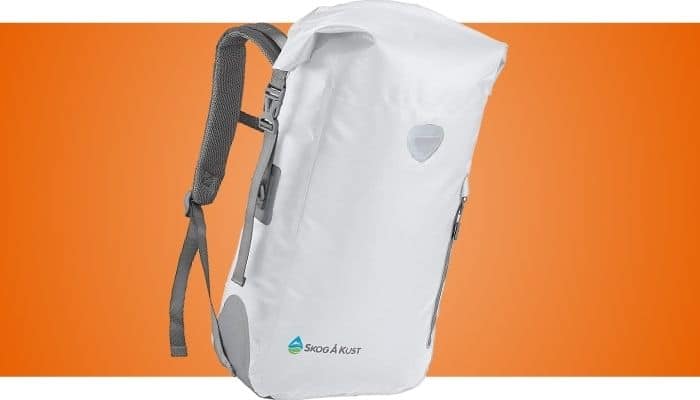 Diving into the essence of the Skog Å Kust BackSak, it's clear that this waterproof backpack was designed with the outdoor enthusiast in mind. Being someone who thrives amidst nature, engaging in hiking, camping, and the occasional water-centric activities, having a reliable backpack to safeguard my gear is crucial. The BackSak, crafted meticulously from 500 denier PVC, proved to be a steadfast companion against the whims of weather.
Upon the first encounter, the robust construction of the BackSak exuded a promise of durability, a promise that was upheld through numerous outings. The roll top closure and fully welded seams are the unsung heroes, ensuring my belongings remain dry even during those unforeseen rain showers or when my kayak decides to tip over. The waterproofing prowess of the BackSak didn't falter, whether it was enduring splashes during a lively river crossing or being momentarily submerged.
The comfort facet was not overshadowed by its utilitarian aspect. The backpack straps, padded with a cushion of soft yet sturdy EVA foam, hugged my shoulders tenderly through hours of trekking. The additional padding on the back provided a comfy barrier, alleviating the usual strain of a loaded backpack during those longer escapades into the wild.
Now, venturing into the practicality of the BackSak, the choice between a 25-liter and a 35-liter variant catered well to the demands of a day-trip or a weekend getaway. My 35-liter companion capably housed the essentials for a brief camping retreat, with some room to spare. The interior compartments played a vital role in keeping my gear organized, a feature that resonated well especially when the adventure spirit kicked in on a whim.
However, it wasn't all sunshine and rainbows. The exterior zipper pocket, although handy for quick access to smaller items, betrayed the waterproof ethos of the BackSak as it allowed water to sneak in. This was a letdown, particularly when the idea was to keep everything dry. Additionally, while the BackSak was being lauded by fellow adventurers for its longevity, I noticed a hint of fraying at the hemming. It's something that time will reveal the impact of, on the backpack's integrity.
The BackSak now comes in an array of colors, a fact I discovered a tad late having owned a black one. Yet, the aesthetics of it blended well with the rugged outdoor milieu, keeping the spirit of adventure alive.
One aspect that did weigh down on the experience, quite literally, was the heft of the BackSak. It's a trade-off between robustness and weight that one needs to consider. Despite this, the BackSak proved to be a faithful companion in my escapades, meeting the core need of keeping my gear dry and safe.
On a recent weekend expedition to the nearby lake, the Skog Å Kust BackSak was put to a real test. As someone who cherishes every moment under the open sky, I packed up my BackSak with camping essentials and set forth. The skies decided to pour midway, yet, the BackSak stood resilient, keeping my gear bone dry. Upon reaching the campsite, the convenience of the roll top closure was a boon, enabling quick access to my gear as the skies cleared.
The following day invited a kayaking endeavor where the BackSak was tossed around, splashed, and at one point, took a short dive into the lake. To my astonishment, the interior remained dry, safeguarding my camera and food supplies. As I paddled through the calm waters with the BackSak snugly resting on the kayak, the serenity of nature intertwined with the reassurance provided by this rugged backpack, making it an adventure to reminisce. The BackSak didn't just carry my gear, it carried the spirit of exploration, undeterred by the whims of weather.
The Skog Å Kust BackSak is more than just a waterproof backpack; it's a testament to thoughtful design meeting the rugged demands of outdoor exploits. The little quirks here and there do call for some fine-tuning, but as someone who's seen the sun set from the peak and heard the river's song at dawn, having the BackSak along made the journey a bit more reassuring. The call of the wild is relentless and with the BackSak on my back, I am ready to answer it, come rain or river.
Pros:
Robust Construction: Made from 500 denier PVC with fully welded seams ensuring longevity and durability.
Excellent Waterproofing: Proven to keep gear dry during heavy rain, splashes, and short-duration submersions.
Comfortable Wear: Padded backpack straps and back panel provide comfort during extended wear.
Versatile Size Options: Available in 25-liter and 35-liter options catering to varying needs.
Interior Organization: Handy internal compartments help keep valuables and gear organized.
Wide Range of Colors: Offers a variety to choose from to suit personal style preferences.
Cons:
Exterior Zipper Pocket: Not waterproof, which can be a letdown when complete waterproofing is expected.
Noticed Hemming Fray: A bit of fraying observed, raising slight concerns on long-term durability.
Weight: The backpack is on the heavier side, which might be a consideration for some.
Exterior Design Oversight: Could have benefited from a secondary carrying option besides the backpack straps.
Overboard Waterproof Pro-Sports Backpack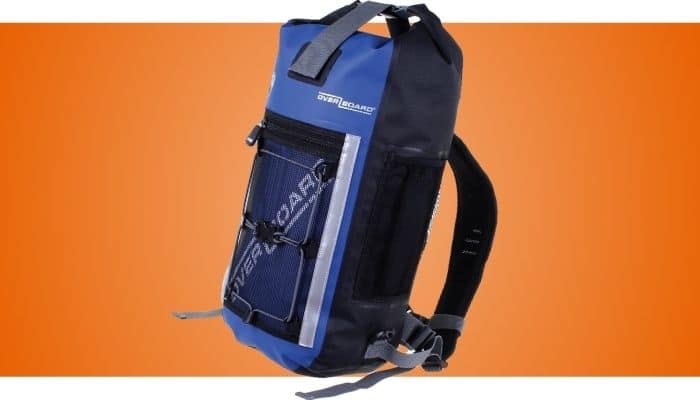 The Overboard Pro-Sports Backpack is a dust-, dirt-, and water-proof backpack designed for use on the open ocean. It's a fully waterproof backpack with a lot of extra features.
It's made from 600D PVC with fully welded seams and a lot of comfort enhancing extras. It has a roll top closure with a clip seal and a reinforcing hook and loop strap. This gives it an excellent seal, enough so that it can stand short duration submersion and float when it lands on water.
There are several outside access mesh pockets on the back and sides of the bag. These aren't protected from the water but they do give you a great place to store waterproof things like water bottles and snacks.
The thing that really helps set the Overboard Pro-Sports backpack apart is the carry options. It has padded shoulder straps and lumbar support that makes it very comfortable to wear. Each strap also has a reflective coating to make it more visible at night.
Overall the Overboard Pro-Sports backpack is a comfortable and high-quality waterproof backpack that can stand up to frequent use.
Sea to Summit Flow 35L DryPack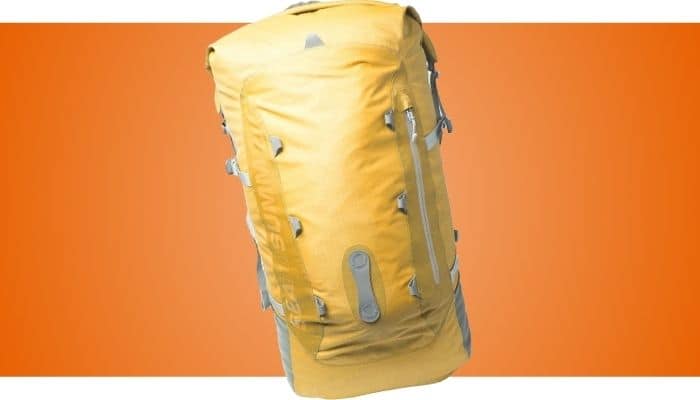 Sea to Summit makes some of the best dry bags, travel gear, and outdoor equipment available. The Sea to Summit Flow DryPack is a 35l waterproof backpack designed for the true outdoorsman.
It's made from highly water resistant 420D TPU laminated nylon with fully sealed seams. It uses a roll top closure and has buckles and strap holds made from aircraft grade alloys. This gives the DryPack substantial strength and durability wherever life takes you.
It has a main waterproof pocket plus a pair of mesh side pockets, a zippered back pocket, and a set of exterior straps designed for use as tie downs. They're seriously sturdy, easily strong enough to hold trekking poles or even skis when properly balanced.
Inside the pack there's a hydration compartment and a small zippered pocket for loose items. The backpack straps are padded as is the back of the pack. There's also a very useful waist belt to provide added stability.
It honestly looks a lot more like a weekend hiking pack than a standard roll top dry bag. The only real downside to the DryPack is its price, frequently well over $200.
If you're planning to do some serious hiking, skiing or snowboarding the Sea to Summit Flow DryPack is a great option. It's fully waterproof and ergonomically fitted to be comfortable for all day wear.
FE Active 30L Eco Friendly Waterproof Backpack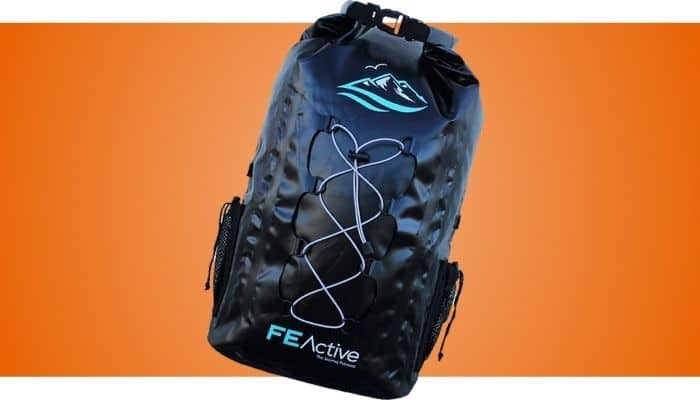 The FE Active is an eco friendly waterproof backpack with a 30l capacity. It's made from 5mm PVC from eco friendly sources.
It has a padded back and breathable straps for all day comfort and provides you with several storage options. There's the waterproof main pocket with a roll top closure of course, but there are also a few other outside access pouches.
The front of the pack has a set of adjustable bungee cords that allow you to strap down jackets, hats, and other items you don't mind getting wet. On either side is a mesh pocket great for holding water bottles and similar items.
We really liked the inclusion of a chest strap. It makes sure the bag isn't going anywhere, even over rough terrain.
The FE Active Eco Friendly 30l isn't the best waterproof backpack out there. Given it's very affordable price and good range of features though, it's not a bad choice if you're looking for a value waterproof backpack.
Sea to Summit Rapid 26L DayPack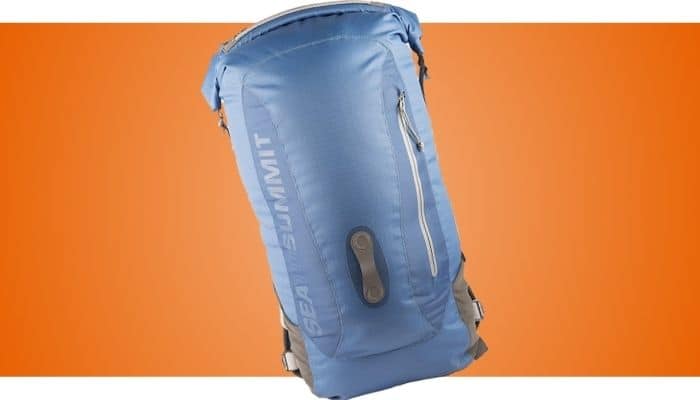 The Sea to Summit Rapid DayPack is a 26l waterproof backpack made for everyday use. It's designed to be the ultimate in weather resistant day pack.
It's made from 420D TPU laminated nylon and uses aircraft alloy buckles and clips. It has a roll top closure and is fully waterproof up to brief submersions. The Rapid 26l has fully sealed seams and an ergonomic design.
The straps and back of the pack are padded and designed to be breathable for comfortable wear. It includes a removable chest and waist strap for added support.
The Rapid 26l has a large top handle and a pair of mesh side pockets. The central pocket is fully waterproof, but it also provides a water resistant zippered pocket on the front.
It's a comfortable fit and has enough space for your daily commute or the personal gear you'll need out shooting the rapids. It's definitely on the expensive side, but we think its combination of durability, excellent performance, and attractive styling make the Sea to Summit Rapid 26l DayPack one of the best options available.
Earth Pak Waterproof Backpack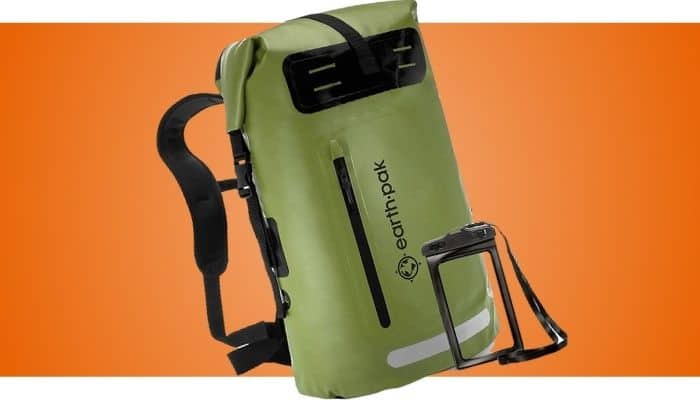 The Earth Pak is a medium to large capacity waterproof backpack intended for multisport use. It's made from 500D PVC and includes a free smartphone waterproof pouch as a bonus.
The Earth Pak comes in either a 35l weekend pack or 55l multi day pack. This gives you a good bit of flexibility in how much capacity you need and what amount of weight you're willing to carry.
They both use a roll top closure system and have an exterior access zippered pocket for things you aren't afraid of getting a little damp. The Earth Pak has fully padded straps plus an ergonomically designed back panel.
This, combined with the adjustable waist belt, makes it much more comfortable to wear for multiple hours or while hiking across rougher terrain. There are also several MOLLE compatible attachment points on the exterior of the bag to increase your storage potential even more.
The Earth Pak Waterproof Backpack is a well made and reasonably priced waterproof bag. It offers good features and reliable protection for your gear.
Adamant X-Core Waterproof Backpack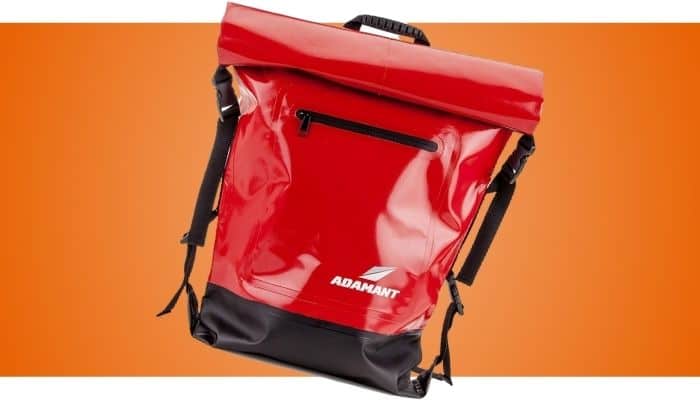 The Adamant X-Core is a classically designed waterproof backpack made from high-quality materials. It's available in a variety of color choices at a premium price.
It's made from 500D PVC tarpaulin with a PVC coating added for good measure. It has fully sealed seams and a roll top closure for full fledged waterproofing for seriously wet conditions.
It has a single large internal pocket plus a small zip pocket on the front for water safe items. It has a set of adjustable straps on both sides of the bag that allow you to cinch it down when it isn't completely full.
The backpack straps are fully padded but the actual back of the bag is plain PVC. This makes it more comfortable to carry than a standard dry bag but not quite as easy on your back as a more adjustable backpack.
The Adamant X-Core Is a waterproof backpack that provides excellent performance. It will definitely keep your gear dry while out hiking, boating or skiing, but it isn't the most comfortable waterproof backpack to wear.
Geckobrands Waterproof 30l Dry Bag Backpack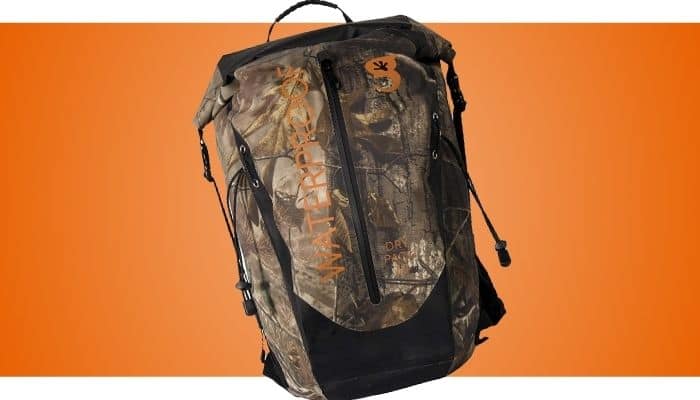 The Geckobrands 30l Dry Bag Backpack is a large capacity backpack with a lot of nice features. It has enough capacity for a weekend's worth of clothes and snacks and is available in several different color choices.
It uses a roll top closure system that helps make it highly resistant to water intrusion, though not fully submersible. It has a large central storage pocket plus an external zipper pocket. This pocket isn't fully waterproof but it's great for putting things you need to access throughout the day.
There are also a pair of adjustable bungee cords that allow you to strap down additional gear like fins, trekking poles or other water safe gear. The backpack straps are padded and ventilated. When paired with the two part padding system on the pack itself it makes it comfortable for multi hours of wear.
Best of all is the price, well under $100.
Overall the Geckobrands 30l Dry Bag Backpack is a workable though uninspired waterproof backpack. It offers good protection from splashing water or quick dunks but isn't quite as capable as some other bags we reviewed.
SealLine Pro Portage Waterproof Expedition Backpack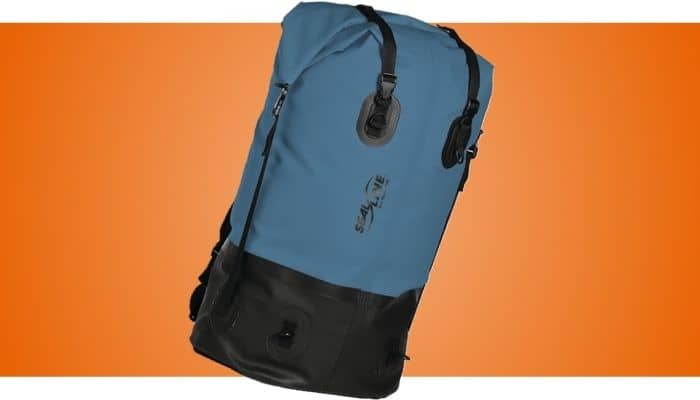 The SealLine Pro Portage is a large capacity line of waterproof backpacks intended for use in the most trying conditions. They're made from 100% waterproof materials with fully welded seams throughout.
Forget day trips, the Pro Dry Pack is there for the long haul. The smallest size is 70l, and you can get one as large as 120l. That's the kind of gear capacity you need for week long rafting trips and excursions cruising around a large body of water.
The construction of the bag itself is excellent. It uses a roll top closure system and has some of the best ergonomics features we've seen on a waterproof backpack.
It has well designed lumbar support, a fully padded back, and straps that are both ventilated and padded. Even better, it has a large adjustable waist strap to help you properly distribute the weight of the bag.
If you're looking for a large and extremely comfortable waterproof backpack the SealLine Pro Portage Dry Pack definitely bears a second look.
Buyer's Guide to Buying the Best Waterproof Backpack
There are a lot of factors to consider when picking out the best waterproof backpack. The most important ones are price, waterproofing, closure type, and ergonomic features.
As long as you find the right mix of these features you'll end up with a bag that fills your needs and won't let you down.
Price
There's a big range of prices in the waterproof backpack field. They start at around $40 and can go up to several hundred for a feature packed bag from a well known brand.
Price doesn't always equal quality of course, but for the most part the best waterproof backpacks will run above $100.
Level of Waterproofing
Waterproof fabrics are measured using hydrostatic head. This measures how many mm of water pressure a specific fabric can withstand before water starts to seep through. Unfortunately it isn't as useful a measure as we might like.
Not all waterproof backpack manufacturers provide the hydrostatic head of their products, and even when they do it doesn't always take into account things like seams, stitches, and the type of closure they use.
Type of Closure
In just about every waterproof backpack the closure is going to be the point of failure. If you need a really waterproof bag a roll top closure is the most commonly used.
This works with a rigid strip of plastic embedded inside the rim of the opening. There's an internal space you can fill plus several inches of extra closure material.
To seal your bag you roll the top several times into itself then clip it securely closed on the ends. This type of seal helps prevent water from entering when splashed or with a quick dunk.
Bag Capacity
Waterproof backpacks have a pretty consistent range of sizes. 20l up to about 35l is the norm, about the size of a large daypack or weekend hiking bag. You can definitely get waterproof backpacks that are bigger than this, all the way up to large waterproof duffel bags with backpack straps.
Straps
Waterproof backpacks all have at least a pair of back straps and a carry handle near the top. Roll top backpacks and other similar
Additional Storage And Pocket Options
Some waterproof backpacks are little more than dry bags with a pair of shoulder straps. They offer a single large compartment to store clothes and other items you want to keep dry, but not much else.
As you move up the quality and price scale more features begin to pop up. Some of the best waterproof backpacks have multiple interior zipper compartments, outside access sleeves/pockets, and things like camelbak reservoir slots.
Weight
As with any piece of gear designed to be carried around for long periods less is more when it comes to weight. Try to balance out the weight of your bag with the features you need.
Generally speaking, the more options and capabilities a bag has the more it will weigh. If you're willing to spend more though you can get highly capable bags that are lighter than you'd believe.
Reinforced/Welded Seams
One of the most common failure points for any bag is the seams. With waterproof backpacks the gold standard is laser welded seams. These create a perfect seal between pieces of fabric that prevent any water from penetrating.
A good alternative commonly seen in value priced waterproof backpacks are taped seams. These provide good waterproofing but aren't quite as durable or effective as welded seams.
Material
The material used to make a waterproof backpack depends on what level of protection you need. If you're going white water rafting or want to take your backpack out on the open seas, PVC and TPU laminated nylon are the materials of choice.
These are totally waterproof and can actually provide submersible protection when paired with the right type of closure. If you're just out hiking in wet conditions or want a day pack that can stand up to the occasional rain shower something like DWR coated nylon or polyester will work just fine.
Durability
One of the most important factors to keep in mind is how long your waterproof backpack will last. Material and workmanship will place the biggest role here, with material affecting overall durability the most.
PVC is a very sturdy material that has excellent waterproof properties. Unfortunately, it's also susceptible to damage from UV exposure of the sun. Over time it becomes less impact resistant and overall more likely to tear.
Workmanship also plays a big role. Stitching, welded seams, and the types of hardware used for straps will affect how well it holds up.
Intended Use
Probably the biggest factor in picking out the type of waterproof backpack you need is how you intend to use it. If you're participating in water sports like surfing, rafting or boating you'll need a lot more protection than if you're out hiking in wet conditions.
Fully waterproof bags are available, but they often lack the external attachment points, multiple access pockets, and overall style of water resistant backpacks. They can also be less comfortable on your back because they lack things like foam padding on the straps and back.
Other Styles of Waterproof Bags
Waterproof backpacks are just one type of waterproof bag available to you. Depending on what you're carrying and where you're going there may be a better option available.
Waterproof Phone Pouches – Waterproof phone pouches are small resealable pouches made from transparent plastic with a water tight seal. They're designed to protect your phone or tablet from the water and usually come with a lanyard or other attachment point so you don't drop it.
Waterproof Dry Bag – A dry bag is basically a catchall term for any bag designed to keep goods safe from the water. In the past this included things like oilcloth and leather pouches, but now usually refers to a small (up to about 50ish liters) bag with a roll top closure made from PVC or TPU laminated nylon.
Waterproof backpacks have a lot of similarities with dry bags, with several basically being high-quality dry bags with backpack straps.
If you'd like to learn more about waterproof dry bags, check out our full review here.
Waterproof Duffel Bag – Waterproof duffel bags are the largest type of waterproof bag available. They're made in much the same way as waterproof backpacks, just to a larger scale.
You can find bags that are well over a 100 liters in capacity, plenty of space for a weeks gear on a rafting trip. Some waterproof duffel bags will have backpack straps, blurring the line between the two categories.
You can find out more about waterproof duffel bags by checking out our full review here.
Waterproof Camera Bags – Cameras are some of the most expensive and delicate pieces of gear you'll take with you into the backcountry. Because of this waterproof camera bags have to provide reliable and comprehensive protection.
Top Waterproof Backpacks Video
Frequently Asked Questions (FAQ)
As outdoor enthusiasts, we understand that choosing the right waterproof backpack for your hiking adventures can be a daunting task. To help you make an informed decision, we've compiled a list of frequently asked questions about waterproof backpacks for hiking. Whether you're a seasoned hiker or just starting your outdoor journey, these answers will provide valuable insights into the features, benefits, and maintenance of these essential gear companions. Read on to find answers to some of the most common queries and gain the knowledge you need to select the best waterproof backpack for your next hiking expedition.
Why do I need a waterproof backpack for hiking?
A waterproof backpack is essential for hiking because it keeps your gear dry and protected in wet weather conditions. Whether you encounter rain, snow, or water crossings, a waterproof backpack ensures that your clothes, food, electronics, and other essentials remain safe and dry throughout your hiking trip.
How does a waterproof backpack differ from a regular backpack?
A waterproof backpack is designed with specialized materials and construction techniques to provide a high level of water resistance or even complete waterproofing. Regular backpacks may offer some degree of water resistance but are not specifically designed to keep your belongings dry in extreme conditions.
Are all waterproof backpacks completely waterproof?
While most waterproof backpacks provide a high level of water resistance, it's important to note that not all backpacks are completely waterproof. Some backpacks may have limitations in terms of the amount of water they can withstand or the duration they can remain submerged. It's crucial to check the waterproof rating and features of a backpack before purchasing to ensure it meets your needs.
What are the key features to look for in a waterproof backpack for hiking?
When choosing a waterproof backpack for hiking, consider the following features:
Waterproof materials such as high-density nylon or specialized waterproof fabrics.
Taped seams or welded construction to prevent water from seeping in through the stitching.
Roll-top or zip-lock closures that provide an additional layer of protection against water.
Waterproof zippers that keep water from entering through the main compartments.
Reinforced bottom or durable materials that can withstand rough terrain and protect against moisture.
Can I submerge a waterproof backpack in water?
It depends on the specific backpack and its waterproof rating. Some backpacks are designed to withstand brief submersion, while others are only meant to resist rain and splashes. Always check the manufacturer's specifications and guidelines to understand the backpack's waterproof capabilities and limitations.
Can I use a waterproof backpack for activities other than hiking?
Absolutely! Waterproof backpacks are versatile and can be used for various outdoor activities such as camping, kayaking, canoeing, biking, or any other adventure where keeping your gear dry is essential. They are also useful for everyday activities in wet environments or during rainy seasons.
How do I maintain and care for a waterproof backpack?
To extend the lifespan and maintain the waterproof capabilities of your backpack, follow these tips:
Clean your backpack regularly by wiping it with a damp cloth and mild soap. Avoid using harsh chemicals or abrasive materials.
Dry your backpack thoroughly before storing it to prevent mold or mildew growth.
Avoid exposing the backpack to excessive heat or prolonged sunlight, as this can degrade the waterproof materials.
Follow the manufacturer's instructions for any specific care recommendations.
Are waterproof backpacks more expensive than regular backpacks?
Waterproof backpacks tend to be slightly more expensive than regular backpacks due to the specialized materials and construction required to provide waterproofing. However, the added protection and durability they offer make them a worthwhile investment for outdoor enthusiasts who frequently encounter wet conditions.
Best Waterproof Backpack Recap
Final Thoughts
The waterproof backpack field is getting more and more crowded as the days go by.
So long as you keep the features you need in mind it's easy to find the best waterproof backpack at your preferred price range.