Top 3 Best Camping Cots
Coleman Pack-Away Camping Cot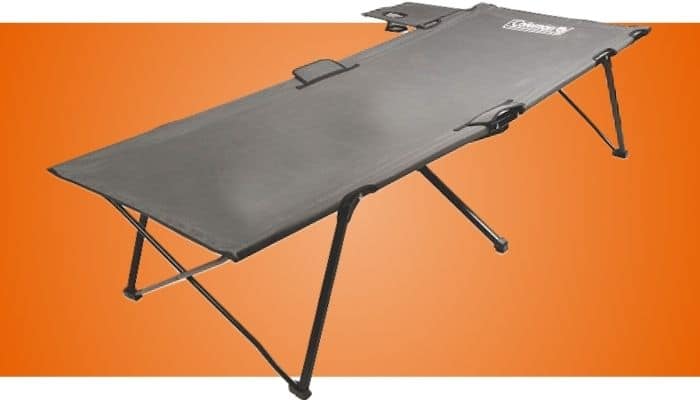 Sturdy Construction: Features a folding steel frame and cloth sleep surface, offering durability and comfort.
Size and Weight Support: Adequately accommodates a height of 6'2″ with a 32" width, and supports up to 300lbs.
Convenience Features: Includes a removable side table, which can be attached to either side of the cot.
Comfort in Use: Provides a comfortable sleep, similar to a bed at home, especially with an added insulated pad for warmth.
Ease of Setup: Simple to set up, though a bit heavy at around 23lbs, making it more suitable for camping near a vehicle.
Portability: Foldable design for easy packing, but requires caution to avoid finger pinching.
Suitability for Side Sleepers: May require an extra pad for side sleepers and insulated pad for cold climates.
Durability Concerns: Minor wear noted along the seam after a few weeks of use.
KingCamp Ultralight Camping Cot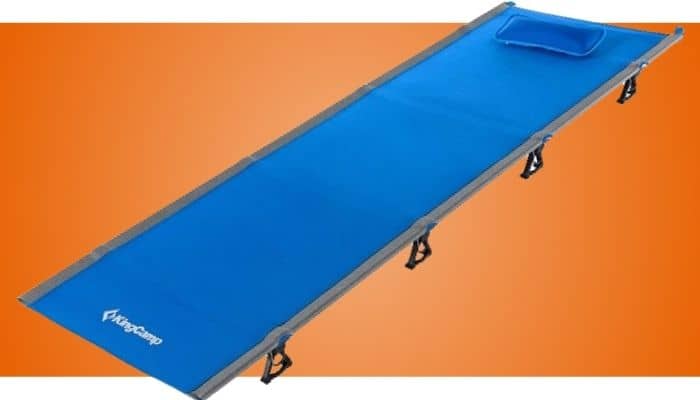 Lightweight Design: Weighs only 4.9 lbs while supporting up to 220 lbs.
Material and Structure: Utilizes aluminum rods with small triangular feet.
Comfort Consideration: Advisable to use a sleep pad or inflatable mattress for added comfort due to pressure points.
Portability and Strength: Ideal for packing into campsites due to its low weight and surprising strength.
Byer of Maine Easy Cot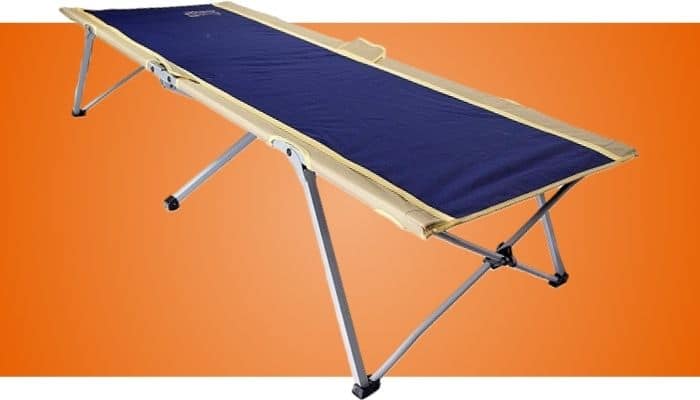 Robust Build: Made with welded stainless steel supports and 600D polyester panels.
Dimensions and Capacity: Measures 78" long and 31" wide, holding up to 330lbs.
Elevated Design: Stands 18" above ground, allowing storage space underneath.
Easy Setup and Storage: Quick to set up and folds down into a carry bag for convenience.
Ideal for Restless Sleepers: Offers a large and sturdy sleep surface, suitable for restless sleepers or those needing extra space.
Outdoorsman Toolkit is reader-supported. When you buy through links on our site, we may earn an affiliate commission.
Learn more
Camping is one of the most affordable and enjoyable ways to spend a weekend with the family. If you're a car camper you can explore the great outdoors with all the comforts of home right at hand. For a lot of people, especially folks getting up there in years, sleeping on the ground holds little appeal. Camping cots offer one of the best ways to sleep in comfort no matter where you're camping. Today we're going to explore some of the best camping cots on the market to help you pick out the best one for your needs.
Best Camping Cots Reviewed
Camping cots have been used by explorers and campers for centuries. They've evolved from basic wooden frames supporting cloth sleep surfaces all the way up to luxurious sleep systems including inflatable mattresses and even bunk beds.
They definitely aren't for most hikers or others who want to pack their gear in. They're heavy, they're bulky, and they don't pack well in most hiking bags.
If you're camping near your car though they offer unbeatable comfort at a very affordable price. Let's find out what kind of camping cots there are on the market.
Coleman Pack-Away Camping Cot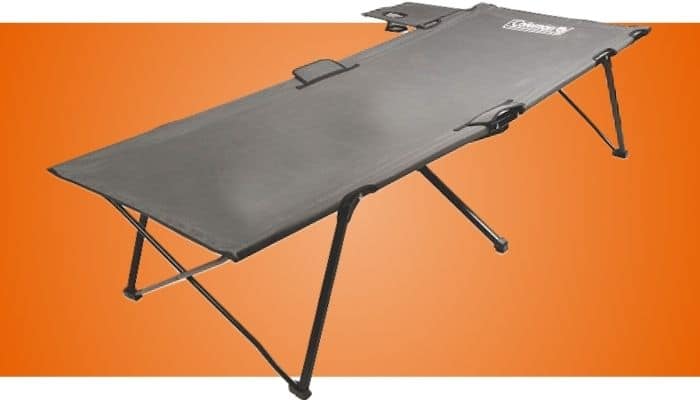 I recently invested in a Coleman Pack-Away Camping Cot for my outdoor adventures which usually comprise hiking, camping, and enjoying the serene wilderness. Being an enthusiast of reputable outdoor brands, Coleman was naturally my first choice. The Pack-Away Camping Cot is indeed a testament to Coleman's reputation, offering a reliable and sturdy sleep surface for the weary camper.
The cot's folding steel frame coupled with a cloth sleep surface isn't just durable but also comfortable enough for a good night's rest under the stars. Being a guy standing at 6'2″, I found the length and the 32" width of the cot adequately accommodating. The cot's capability to support up to 300lbs is a plus, ensuring it withstands my weight with ease.
One of my favorite features has to be the removable side table. It's a thoughtful addition, providing a convenient spot for my water bottle, flashlight, or even a good book. The versatility of being able to attach it on either side of the cot is a nice touch, catering to different camper preferences.
On one occasion, during a weekend getaway to the Rockies, I found the cot to be a lifesaver. After a strenuous day of hiking and exploring, getting a comfortable sleep was crucial. The cot provided a much-needed lift from the cold ground and offered a level of comfort that was close to my bed at home. The night was chilly, but with an added insulated pad, I stayed warm and snug. The side table was handy for keeping my essentials close by, and the morning views were breathtaking as I lay comfortably on my cot, sipping coffee with the early sunrise.
Setting up the cot was fairly straightforward, which is something I value especially after a long day of hiking. However, I did notice the cot's weight to be on the heavier side, around 23lbs, making it more suitable for camping spots close to the vehicle. Carrying it further into the wilderness can be a bit of a task, but the comfort it provides somewhat compensates for this minor inconvenience.
The cot's foldable design is a boon when it comes to packing it away. It collapses into a compact form, easily slipping into the provided carrying case. Though a word to the wise, the folding mechanism does demand a level of caution to avoid any finger pinching, a lesson I learned albeit with a minor pinch.
While I did enjoy the comfort it provided initially, as a side sleeper, I felt some pressure on my hips over consecutive nights which nudged me to use an extra pad for better comfort. Also, camping in colder climates necessitated an insulated sleep pad to ward off the cold seeping through.
The durability of the cot is decent, though I spotted some minor wear along the seam after a couple of weeks of use. It's not a deal-breaker as of now, but it's something that lingers in the back of my mind regarding the cot's long-term durability.
All in all, the Coleman Pack-Away Camping Cot is a solid choice for anyone who appreciates a comfortable sleep after a day of outdoor activities. The minor hitches are there, but they don't overshadow the benefits it brings to the campsite. It's a piece of gear I see myself using on many more outdoor escapades, appreciating the good night's sleep it provides amidst the great outdoors.
Pros:
Sturdy and durable construction, thanks to the folding steel frame and cloth sleep surface.
Accommodates taller individuals comfortably with its length and a 32" width.
Supports up to 300lbs, making it suitable for bigger campers.
The removable side table is a handy addition for placing essentials.
Foldable design makes it relatively easy to pack and transport.
Decent level of comfort, especially with an added sleep pad in colder climates.
Easy setup allows for more relaxation time at the campsite.
Cons:
Weighs around 23lbs, which can be cumbersome to carry to distant campsites.
Side sleepers might experience some discomfort, particularly pressure on the hips.
Some minor wear along the seams observed after a few weeks of use, raising long-term durability concerns.
Folding mechanism can potentially pinch fingers if not handled with care.
An insulated sleep pad is necessary for colder climates to maintain warmth.
The material of the sleep surface can be slick, possibly requiring straps to keep a sleep pad in place.
KingCamp Ultralight Compact Folding Camping Tent Cot Bed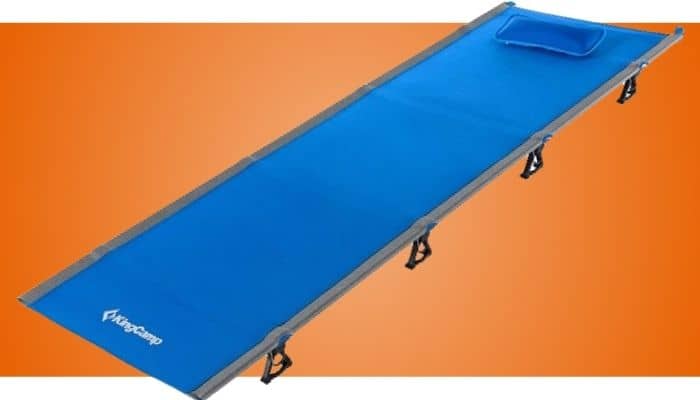 The KingCamp Ultralight Camping Cot is a folding camp bed designed to be as light and packable as possible. It weighs just 4.9 lbs yet is capable of comfortably supporting up to 220 lbs of weight.
It uses a series of aluminum rods supported by small triangular feet. This design saves on weight but does leave several pressure points across the body of the cot. You pretty much have to place a sleep pad or inflatable mattress on the KingCamp for comfort.
Given its low weight and surprising strength, the KingCamp camping cot is an excellent choice if you need to pack your cot into your campsite.
Byer of Maine Easy Cot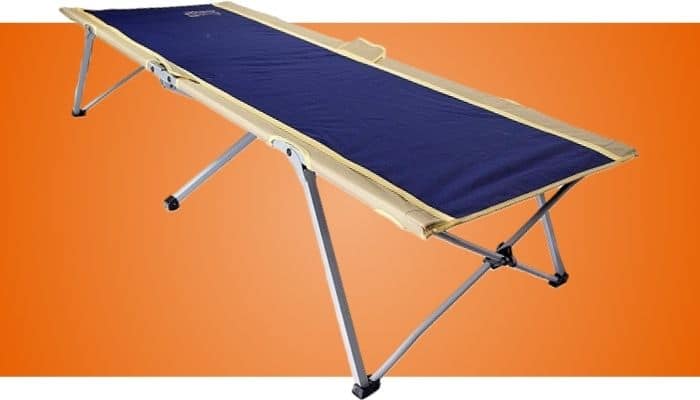 The Byer of Maine Easy Cot is an extra-strong camping cot designed for larger adults. It's made with welded stainless steel supports and 600D polyester panels.
The Easy Cot measures 78" long and 31" wide, plenty for most adults, and is rated to hold up to 330lbs. That gives you a large and sturdy sleep surface perfect for those who like a little extra space.
It stands 18" above the ground and leaves you lots of space to store your gear under the cot. Setting it up takes just minutes and when you're finished it folds down and fits into a convenient carry bag.
The Byers of Maine Easy Cot is a comfortable and sturdy cot perfect for restless sleepers or those who like a little extra space.
Kamp-Rite Oversize Tent Cot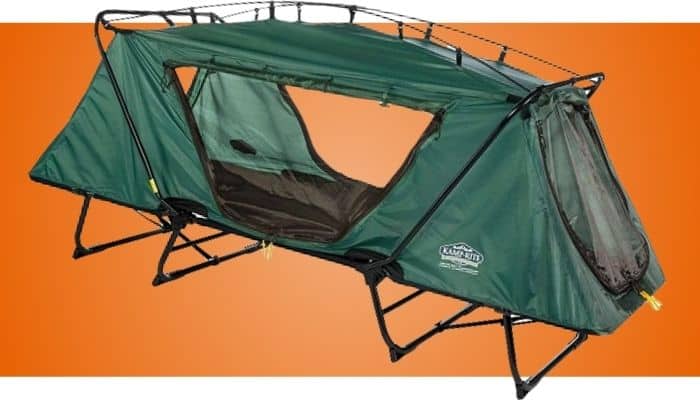 The Kamp-Rite Oversize Tent Cot is an extra-large camping cot designed for bigger adults. It's made from powder-coated aluminum with a 600D polyester paneling system.
The sleep surface is 32" wide, a roomy 90" long, and rated to hold up to 350 lbs. That gives you plenty of space for even the tallest campers. What really sets the Kamp-Rite apart from the competition is how many extra features it has.
The cot itself is designed to fold into a lounge-style chair for daylight use. It has a built-in tent and bug enclosure that comes with a rainfly and multiple storage pouches.
This allows you to use the Kamp-Rite Oversize Tent Cot as a single person tent, a cot, and a lounge chair. That's a lot of functionality for a single piece of gear. Even better, the Tent Cot folds up in minutes to fit into an included carry bag.
If you're looking for a combination tent and camping cot, the Kamp-Rite Oversize Tent Cot is a great option.
Disc-O-Bed Youth Kid-O-Bunk with Organizers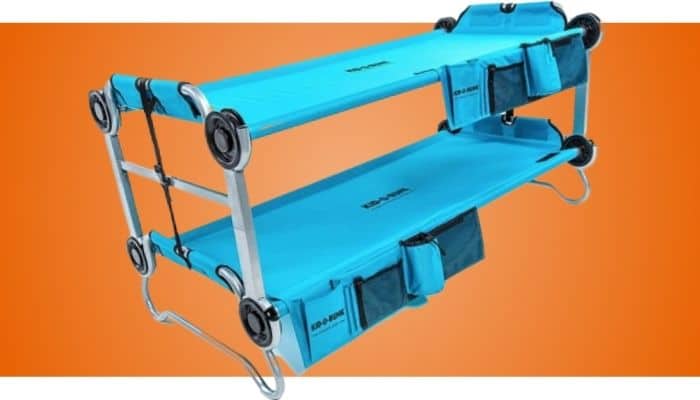 The Disc-O-Bed Kid-O-Bunk is a truly unique camping cot that's designed to sleep two. It's a fold-out camping cot built the same way as a pair of kids bunk beds.
The supports are made from powder-coated stainless steel and rated to hold 200 lbs per cot. They're sized with kids in mind and are only 5'2" long and 28" wide. This gives a roomy sleep surface for younger kids, especially considering there are two cots in the same floor space.
One thing to keep in mind is that the Kid-O-Bunk isn't very portable. The whole system weighs 36.5 lbs and requires two different carry bags to hold the whole thing. It's also more complicated to assemble than smaller and lighter camping cots.
If you're looking for a great way to save some space and give your kids an extra fun camping experience the Disc-O- Bed Youth Kid-O-Bunk may be just the ticket.
Therm-a-Rest Mesh Cot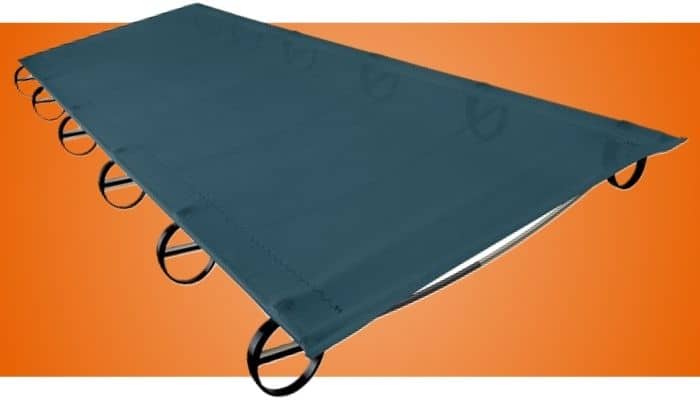 The Therm-a-Rest Mesh Cot is an ultra lightweight summer camping cot designed for car campers and backpackers alike. It uses Therm-a-Rest's patented Bow Frame supports that reduce the overall weight and enhance comfort.
The Mesh Cot weighs just under four pounds yet has a 350 lb capacity. Four pounds is still a bit too heavy for distance hiking, but within the realm of acceptable weights for a short duration hike to a single campsite.
The sleep surface measures 77" x 26", enough for basic comfort but definitely on the small side. The whole thing can be assembled in under a minute through the use of shock corded aluminum poles connected to a 500D scrim with a vinyl coating.
It can be used on its own during the warmer summer months or paired with a sleep pad during the winter for insulation.
The Therm-a-Rest Mesh Cot is a lightweight and well-designed camping cot. It's great as a car camping cot and just light enough to bear serious consideration as a short duration hike tool.
Coleman Airbed Cot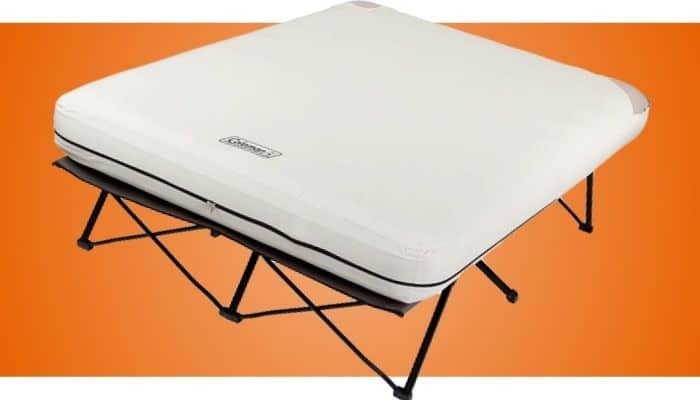 The Coleman Airbed Cot is a luxurious sleep system designed for camping and glamping. It's built around a folding steel frame with camping style air mattresses available in both twin and queen size.
The frame and fabric support of the cot are designed to firmly hold the air mattress in place with a zip-in system. This has the added benefit of protecting the mattress from tears, rips or punctures.
The queen size Airbed Cot can support up to 600 lbs and is 78 inches long, perfect for campers up to about 6'2". It includes a D-cell powered air pump to quickly inflate the mattress and has a pair of cupholders/side tables on either side of the frame.
If you're looking for the ultimate in glamping comfort the Coleman Airbed Cot is the way to go.
Teton Sports Outfitter XXL Camp Cot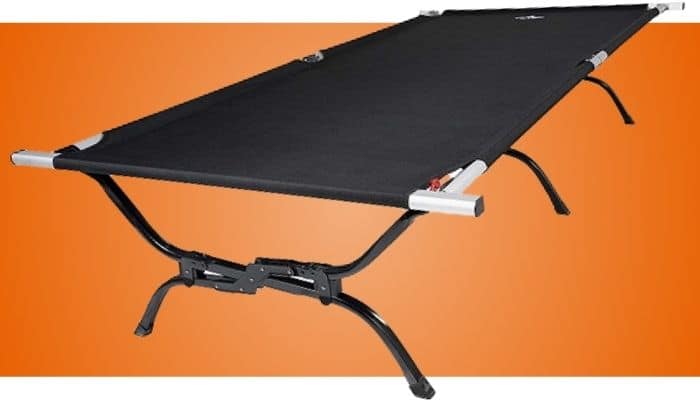 The Teton Sports Outfitter XXL Camp Cot is a large and comfortable camping cot designed for people who prioritize the quality of their sleep. It's made using a hybrid aluminum/stainless steel frame and support system that helps absorb movement on the cot and provide extra stability.
The sleep surface measures 86" by 40", significantly larger than similar one person camping cots, and can support up to 600 lbs. That's a serious testament to the strength of their frame and 600D canvas bed surface.
All this strength does come at a cost though: weight. The Outfitter XXL weighs 26 lbs, one of the highest weights for single person cots. It does fold down into a very portable carry pouch but isn't suitable for anything other than car camping.
If you're looking for a heavy duty camping cot that anyone can sleep comfortably on the Teton Sports Outfitter XXL Camp Cot is a strong contender.
Coleman ComfortSmart Cot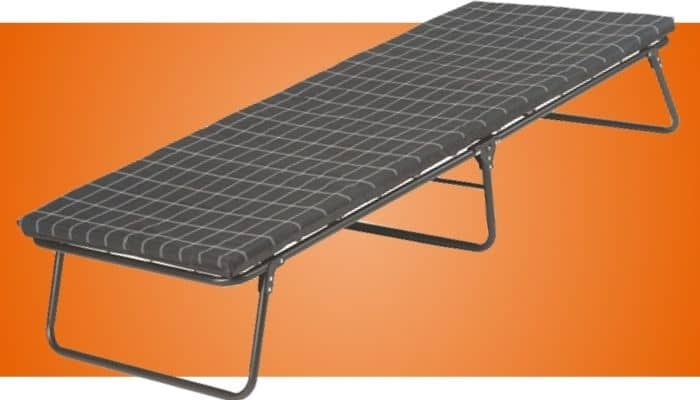 The Coleman ComfortSmart Cot is an inexpensive camping cot designed with comfort in mind. It uses a strong tubular steel frame and has a built-in thick foam mattress for added comfort.
The sleep surface is pretty small, measuring just 69" by 22" but can support up to 275 lbs. At that size it only really works for people up to about 5'7".
Unlike many similar camping cots, the ComfortSmart uses a spring coil support system for its sleep surface. When paired with the included foam mattress this makes it noticeably more 'bed like' than similar camping cots.
Overall the Coleman ComfortSmart Cot is an affordable and comfortable camping cot designed much like a traditional bed.
Earth Products Store Military Style Camping Cot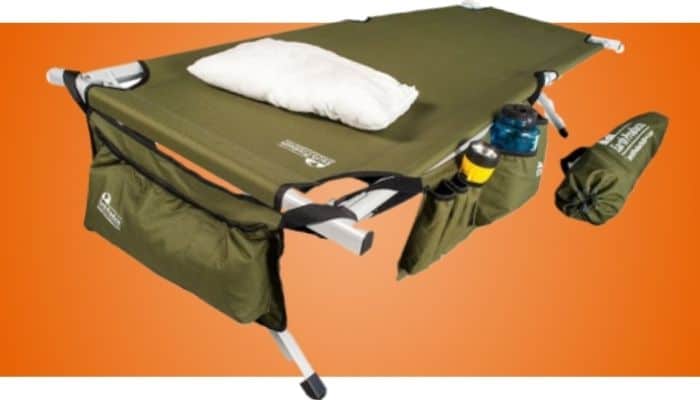 The Earth Products Store Ultra Military Style Camping Cot is a feature packed camping sleep system. It uses a tubular stainless steel system of supports and a 600D nylon fabric sleep surface.
The sleep surface measures 77" by 25", long enough to fit most people, and can support up to 450 lbs. It has a system of hook and loop fasteners that allow you to adjust the tension of the sleep surface to your own preference.
Extra features include an included carry sack along with several different pouches, storage areas, and bottle holders along the top and edge of the camping cot. This gives you plenty of space to put your water, phone, glasses, and anything else you need close at hand.
The Earth Products Store Military Style Camping Cot is a fully loaded camping cot that can comfortably support just about anyone.
Buyers Guide to Buying the Best Camping Cot
Picking out the best camping cot really depends on your size, weight, and how you intend to use it. There are plenty of great cots out there with a variety of extra features you might also be interested in.
Price
Camping cots have a fairly small range of prices. The vast majority fall somewhere between $50 and $100, with a few extra special ones going above $100 up to $200-$300.
Size, Weight, and Portability
Probably the most important set of factors to consider when looking for the best camping cot are size, weight, and portability. By design camping cots have a lot more parts and pieces than other camping gear, adding significant weight and size to them.
There really aren't any camping cots not intended for car camping, but where you're setting up camp in relation to your car does affect how heavy your cot can be.
If you're just planning to camp next to your car this isn't a big deal at all. You can buy the biggest, heaviest, and least portable camping cot you like.
If your campsite is more than a hundred or so feet away from your car the weight and size of your camping cot becomes a big issue. You should look for a camping cot that's lighter and more portable.
Look for features like easy fold systems, bagged poles, and built in handles.
Strength
The strength of your camping cot determines just who can sleep on it. You want to find one that has at least 50 lbs of additional strength above your body weight.
Shifts in the night can put additional strain on different parts of the frame. That can lead to issues and even failure of the support system if it doesn't have enough extra strength.
Comfort
The whole point of a camping cot is to provide a more comfortable camping experience. For a camping cot to justify its additional weight it needs to be noticeably more comfortable.
Things that affect this include the type and size of the supports, the type of frame material used, the cover on the frame, and the presence of a mattress pad. The most basic camping cots are little more than fabric stretched between metal or wooden poles on legs.
They do a good job getting you up off the ground but don't provide much additional comfort. From there you move into camping cots with mattresses, camping cots with built in pillows and even camping cots built into a tent.
Material
There are three main materials used in the manufacture of camping cots: Stainless steel, aluminum, and wood. Wood was the earliest material used but has since been almost entirely replaced by steel and aluminum.
You can still find heritage style camping cots made from wood but they'll be both heavier and less comfortable than metal ones. Aluminum is lighter than steel but many manufacturers still prefer the strength provided by steel.
Frame
The frame of a camping cot plays a major role in its size, weight, and comfort. It needs to be strong, lightweight, durable, and easy to assemble. That's a pretty long list of features for a basic frame to accomplish.
The type of material used really determines the frame of a camping cot. Leg designs include X style, C style, and vertical legs. These don't have a huge impact on comfort but do affect the overall weight and ease of assembly.
Assembly
How your camping cot goes together should be a serious consideration. Some are designed a lot like tents, with poles and legs that break apart and fit into a carry sack plus fabric to be attached to it.
Other's are permanently put together and just need to be folded out into the proper shape. Some are a hybrid of these two designs.
Extra Features
For car camping comfort and convenience are the most important factors. Many camping cots now offer extra features such as a built in side table, storage pockets for phones and other ready access gear, and many more things.
Comfort specific extras include foam or inflatable mattresses and rubber feet. The feet provide some shock absorption and prevent the cot from moving.
Some really cool extras on higher-end camping cots include things like a built in bug protection net, full tent enclosure, and an attached carrying case.
Camping Cot Vs Air Mattress Vs Hammock
When it comes to comfort while camping there are three main systems that you can choose from. These are a camping cot, an air mattress, and a hammock.
Camping cots have the benefit of elevating you off the ground. This can protect you from rocks and other debris on the ground and helps keep water off you in case of a leak in your tent. The downside to a camping cot is its weight and limited portability.
Air mattresses are another great option for car campers. They're available in standard bed sizes and provide the most comfortable portable sleep system available.
There are significant downsides to an air mattress. You'll need either a hand or electric pump to inflate them. Hand pumps take a long time and electric pumps need either a plug or large batteries.
The biggest downside to an air mattress is its lack of durability. Anyone who's used one knows they puncture with just about anything. In a camping setting, it's almost impossible to get all the little rocks, twigs, and other sharp objects out from underneath your air mattress.
Hammocks offer great comfort, elevation, and are extremely lightweight. They take some getting used to in order to sleep comfortably but are still better than most sleep pads on the ground.
The only real downside to a hammock is how it has to be set up. You need two points of attachment set at a good distance from one another. If you're camping in a forest this isn't difficult to find, but anywhere else it can be a real issue.
Building a Cot Sleep System
A camping cot by itself isn't particularly comfortable to sleep on. You'll need to add several other bits of gear in order to have a true camping cot sleep system.
Cot – The first thing to consider is the cot itself. Pick out the one that best matches your style of camping.
Sleep Pad/Air Mattress – Once you have a camping cot you need to put your actual sleep surface on it. Most camping cots are just fabric suspended between metal poles.
Not very comfortable to sleep on.
A quality sleep pad is a great way to use hiking gear you already have to create a comfortable basic mattress. If you really want to take it to the next level you can usually find an air mattress that fits your camping cot.
Camping Pillow – A quality camping pillow is the next part of your sleep system. You can use a standard bed pillow if you only occasionally camp but we recommend you invest in a quality inflatable camping pillow.
They're comfortable, ultra lightweight, and easy to set up.
Sleeping Bag – You have two choices for keeping warm on your camping cot. The first is a standard sleeping bag. They provide excellent warmth to weight and are designed to pack down into a very portable form.
You can pick between a synthetic or down sleeping bag, with synthetic being cheaper but heavier, and down being more expensive but lighter.
Camping Blanket – The other way to stay warm is with a standard blanket. If you only camp once or twice a year you'll be fine using the comforter off your bed or a similar blanket.
If you go more often we recommend you invest in a quality camping blanket. They're lighter than home blankets and designed to stand up to the elements better while still providing excellent warmth.
Mosquito Netting – Depending on where and when you're camping it could be a good idea to invest in a mosquito net. This prevents flying insects from creepy crawling on you while you're sleeping and can help protect you against insect-borne diseases if you're in tropical regions.
Can Camping Cots Damage the Floor of a Tent?
There have been lots of reports of people damaging their tents with a camping cot. We're here to tell you that it can happen, but you really have to work at it.
A cheap camping cot with metal legs placed directly on the floor of your tent that doesn't have a ground cover under it is the most likely scenario. There's a good chance it will press up against a rock or other piece of debris on the ground below. If you move your camping cot suddenly without lifting it fully off the floor that can cause a rip or tear.
If you use a rubber footed camping cot on a tent floor that's been properly placed on a groundcover and are careful about how you move it you'll have no problems with tent floor damage.
Top Camping Cots Video
FAQ: Best Camping Cots
As you explore the world of camping and outdoor adventures, choosing the right camping cot can significantly enhance your sleeping comfort and overall camping experience. However, with numerous options available, it's common to have questions about camping cots and their features. In this FAQ section, we address some of the most commonly asked questions to help you make an informed decision when selecting the best camping cot for your needs. From understanding the benefits of camping cots to choosing the right one based on your preferences and requirements, we've got you covered. So, let's dive into the frequently asked questions and find the answers you need to make your camping nights as comfortable as possible.
What is a camping cot?
A camping cot is a portable bed designed for outdoor use. It typically consists of a sturdy frame and a fabric sleeping surface that provides elevated support and comfort while camping.
Why should I use a camping cot instead of a sleeping bag or air mattress?
Camping cots offer several advantages over sleeping bags or air mattresses. They provide better insulation from the cold ground, offer elevated comfort and support, and are easier to get in and out of, especially for individuals with mobility issues. Camping cots also help keep you away from bugs, rocks, and uneven ground.
How do I choose the right camping cot?
When choosing a camping cot, consider factors such as weight capacity, size, portability, durability, comfort features, and ease of setup. Additionally, think about your specific needs, such as whether you require extra support, prefer a lightweight design, or need a cot suitable for tall individuals.
What are the weight capacity considerations for camping cots?
Camping cots typically have weight capacity limits ranging from 200 to 600 pounds. It's crucial to choose a cot that can comfortably support your weight, factoring in any additional gear or accessories you may have on the cot.
Are camping cots easy to transport and store?
Yes, most camping cots are designed to be lightweight and foldable, making them easy to transport and store. They often come with carrying bags or straps for convenient portability.
Can camping cots be used in all seasons?
Yes, camping cots can be used in various seasons. However, it's essential to consider the cot's insulation properties and the weather conditions you'll encounter. Some cots come with additional insulation or padding for colder temperatures, while others offer mesh panels for increased airflow in hot weather.
Are camping cots suitable for tall individuals?
Yes, many camping cots are designed to accommodate taller individuals. Look for cots with extended length dimensions to ensure sufficient space for comfortable sleep.
How do I clean and maintain a camping cot?
Cleaning and maintenance instructions may vary based on the cot's material. In general, it's advisable to follow the manufacturer's guidelines. Most camping cots can be cleaned by wiping them with a damp cloth or mild soap. Ensure the cot is completely dry before storing it to prevent mold or mildew growth.
Can I use a camping cot indoors?
Yes, camping cots can be used indoors as well. They can provide an extra bed for guests or serve as a convenient sleeping option during home renovations or other temporary situations.
Are camping cots suitable for backpacking?
Camping cots tend to be bulkier and heavier compared to other lightweight sleeping options like sleeping pads or hammocks, making them less ideal for backpacking. However, there are lightweight and compact camping cots available that can be suitable for backpacking if weight and size are not a significant concern.
Final Thoughts
Picking out the best camping cot really comes down to your size and how you intend to use it. If you prioritize comfort you should go for heavier and more feature packed models.
If you want something that's as light and easy to move around as possible a more bare bones camping cot may be the way to go.