Top 3 Best Tent Waterproofing Sprays
Scotchgard Heavy Duty Water Shield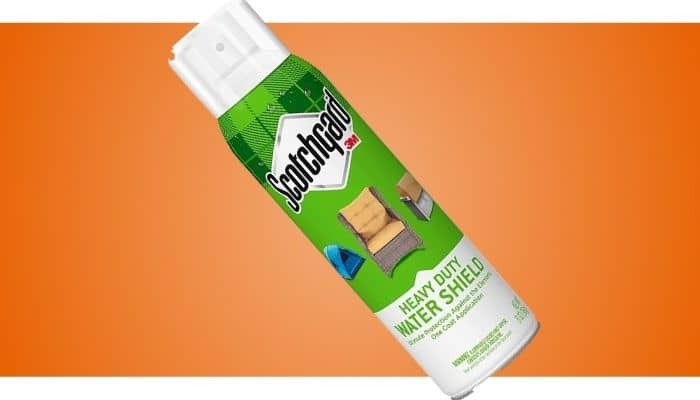 Versatile Waterproofing: Effective on materials like nylon, polyester, and cotton.
Easy Application: Spray and let dry for a couple of hours.
Sturdy Protection: Withstood torrential downpour and high winds without water seepage.
Seasonal Reapplication: Necessary for continuous outdoor use.
Maintains Fabric Quality: No discoloration or staining post-application.
Outdoor Reliability: Proven effectiveness during camping expeditions.
Comfort Assurance: Keeps gear dry, enhancing outdoor enjoyment despite rain.
Kiwi Camp Dry Heavy Duty Water Repellent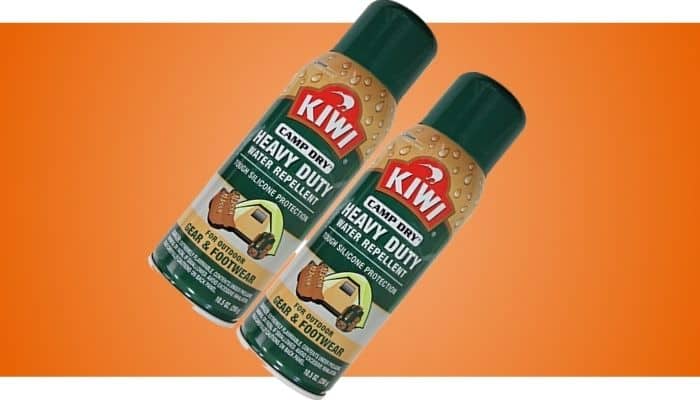 Silicone-based aerosol spray suitable for tents and other outdoor gear.
Comes in 10.5 oz bottles, providing ample coverage for tent waterproofing.
Safe on various fabric types and materials like leather and Gore-Tex.
Creates a breathable water-repellent layer.
Effective against rain and water spray but not machine washable.
Affordably priced with multi-fabric capability.
Atsko Silicone Water-Guard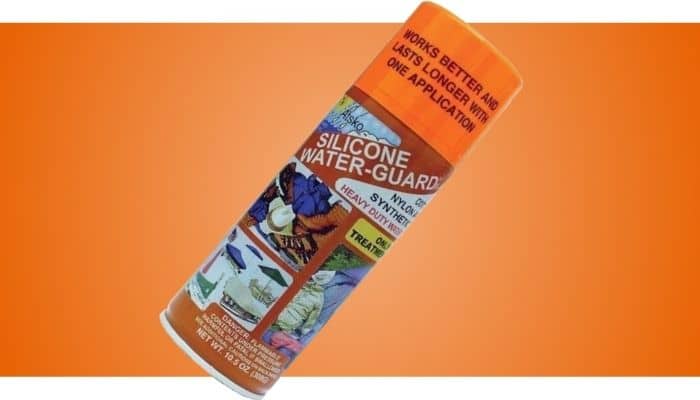 Aerosol spray designed for multiple fabric types, best for silicone-coated fabrics.
Provides superior water repellency with a single application.
Comes in a 10.5 oz can, priced at the higher end.
Requires 24-hour drying and 72-hour curing time for optimal effectiveness.
Durable, long-lasting coating ideal for all tent types.
Outdoorsman Toolkit is reader-supported. When you buy through links on our site, we may earn an affiliate commission.
Learn more
Modern tents are wonders of technical innovation and performance. They're lighter, stronger, and more effective than ever before, but still require some basic maintenance to stay at their best. One of the worst things that can happen while out camping is to feel the drop, drop, drop of leaky seams and bad waterproofing in your tent. Today we'll be covering the best tent waterproofing spray to help you find out how to effectively.
Best Tent Waterproofing Spray Reviews
Tent waterproofing sprays are designed to replenish the natural waterproofing of your tent. The vast majority of modern tents are made up of a ground cover, mesh tent body, and a waterproof raincover.
Over time though the waterproofing material starts to wear away. Regular maintenance on your tent includes periodically replacing the waterproofing.
Tent waterproofing sprays offer an effective and easy to apply barrier that protects from leaks and stains.
Below we've reviewed several of the best tent waterproofing sprays to help you pick out the best one for your needs.
Kiwi Camp Dry Heavy Duty Water Repellent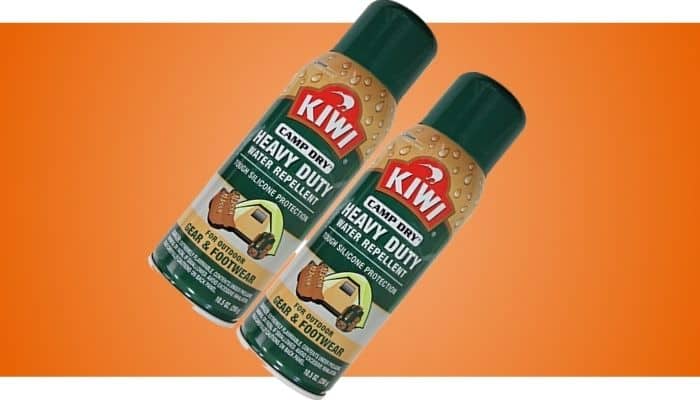 Kiwi Camp Dry is a heavy duty water repellent aerosol. It's a silicone based spray designed for use on tents and other outdoor gear.
It's reasonably priced and comes in 10.5 oz bottles, large enough to provide total tent waterproofing. As a silicone spray it's safe on multiple fabric types or other outdoor gear like leather for boots and Gore-Tex for rain coats.
It creates a water repellent layer that's still breathable. It does a good job at protecting against rain and water spray ingress but isn't machine washable, so keep that in mind when applying it to gear other than your tent.
Overall, Kiwi Camp Dry is an affordably priced silicone tent waterproofing spray with multi fabric capability.
Scotchgard Heavy Duty Water Shield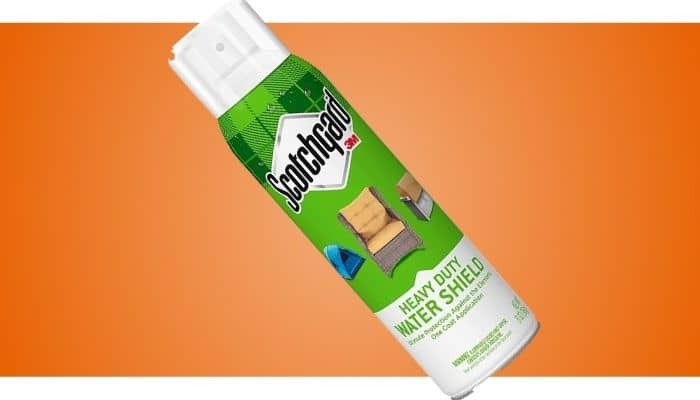 let's dive into the world of waterproofing with the Scotchgard Heavy Duty Water Shield. This little wonder comes in a 13 oz aerosol can, ready to wage war against water seepage on a variety of materials. Being an enthusiast of hiking, camping, and practically anything that gets me outside, I've had my fair share of battles against the elements. And oh boy, Scotchgard has proven to be a trusty shield in my armory.
Having heard of Scotchgard's renown in the fabric protection realm, my expectations were high when I got hold of their Heavy Duty Water Shield. Its promise to waterproof materials like nylon, polyester, and even heavier fabrics like cotton, made it an appealing choice for my tent and outdoor gear. Armed with a few cans, I set out to fortify my 6-person tent and a beloved rain jacket that had lost its water-repelling mojo over the years.
The application was a breeze. I generously sprayed my gear, and within an hour or two, they were dry to the touch. I must say, the slight odor resembled a blend of WD-40, a hint of oily residue mixed with a dash of rugged manliness, but nothing too overpowering. The odor dispersed after a few hours, leaving no trace behind.
Mother Nature decided to put Scotchgard to the test sooner than I expected. A torrential downpour accompanied by gusts reaching 50 mph and a smattering of hail, decided to grace my camping trip. It was a scene right out of an apocalypse, but Scotchgard held its ground. Not a single drop of water made its way into my tent, and my jacket repelled water like a charm, all without a hint of discoloration or staining from the product.
Now, while Scotchgard performed admirably, it does ask for a seasonal tribute. A reapplication is required if you, like me, are always on the trail exploring the great outdoors. But let's be real, expecting eternal protection from a single application is a bit of a stretch.
Moreover, while the product didn't transform my absorbent materials into waterproof wonders, it wasn't designed to. It's essential to have realistic expectations, or you might find yourself trying to waterproof a pillowcase and facing disappointment.
Last summer, I embarked on a week-long camping expedition to the Rockies. The weather forecast hinted at rain, so before setting off, I treated my tent and boots with Scotchgard. As fate would have it, we were welcomed by a downpour on the very first evening. While the rain created a rhythmic melody on the tent fabric, inside, it was as dry as the Sahara. Even my boots, which had seen better days, shrugged off the water like a duck's back, keeping my feet cozy and dry.
It was not just about staying dry; it was the comfort and assurance that even in the wild unpredictability of nature, there was a layer of reliable protection. That night, amidst the relentless rain, I enjoyed a warm cup of cocoa, utterly content and marveling at the invisible shield Scotchgard had created. It's moments like these that amplify the joy of outdoor adventures, and I have Scotchgard to thank for this unhampered experience.
In conclusion, Scotchgard Heavy Duty Water Shield is a gallant guardian against the relentless pursuit of water, aiming to dampen your outdoor spirits. The minor cons, such as the need for reapplication and the initial odor, are but small tributes to pay for the comfort and dryness it delivers. When used as intended, it surely makes the great outdoors a lot more enjoyable, keeping the wet misery at bay. So, if staying dry amidst nature's whims is your goal, Scotchgard is indeed a worthy companion.
Pros:
Versatile: Effective on a variety of materials including nylon, polyester, cotton, and more.
Easy Application: Aerosol spray makes application straightforward and covers a good amount of area.
Reliable Protection: Offers robust water resistance, keeping gear dry in heavy rain.
Odorless: Unlike some other waterproofing products, it dries odorless.
Breathable: Does not impede the fabric's breathability, maintaining comfort.
Value for Money: Given its effectiveness, the cost is reasonable for the protection it provides.
Cons:
Seasonal Reapplication: Needs to be reapplied at least once a year or seasonally, especially on regularly used gear.
Initial Odor: Has a slight odor during application, although it dissipates fairly quickly.
Limited Effectiveness on Porous Materials: Does not transform inherently absorbent materials into waterproof ones.
Quantity Required: May require multiple cans for larger projects such as a 6-person tent.
Atsko Silicone Water-Guard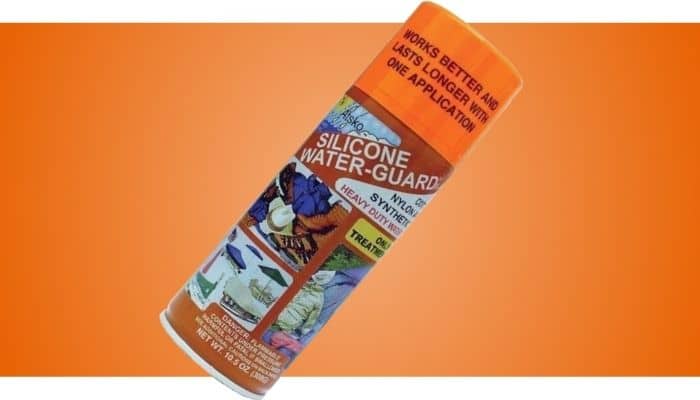 Atsko Silicone Water-Guard is an aerosol based tent waterproofing spray designed for use on multiple fabrics. It's formulated to provide the best water repellency with a single application.
It's suitable for use on all types of tent fabric but works best on those with an existing silicone-coating. It comes in a 10.5 oz aerosol can and is priced on the higher end of the market
One thing to keep in mind is that Atsko requires a full 24 hour dry time and a minimum of a 72 hour curing time under ideal conditions. This isn't an instant on product, but a durable and long lasting coating.
If you're looking for an excellent silicone waterproofing spray suitable for use on all tent types he Atsko Silicone Water-Guard won't let you down.
Grangers Tent + Gear Repel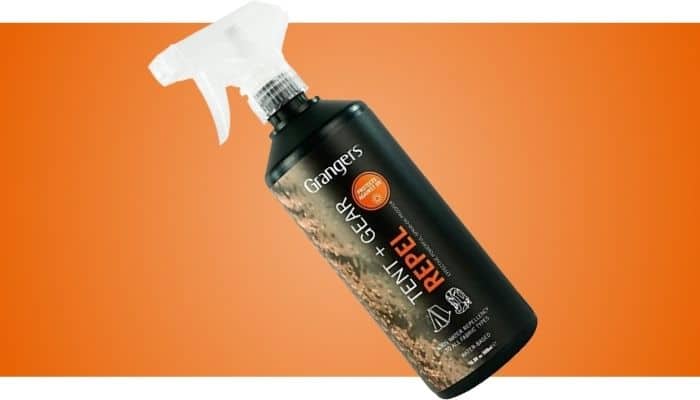 Grangers Tent + Gear Repel is a spray bottle style waterproofing coating. It's designed to be used on any type of outdoor gear and can help refresh your tent's DWR for the upcoming season.
As a pump spray style bottle it contains no VOCs or other potentially harmful chemicals. This also allows you to control the size and density of the spray more closely.
It goes on quickly and dries within just a few hours. It's formulated to help prevent stains from sticking while still allowing your tent or rain gear to breathe.
Word to the wise though, be very careful as you're pumping it on. It's easy to miss a spot with a hand pump bottle so you want to make sure every part of your tent is thoroughly covered.
If you're looking for a high quality tent waterproofing spray in a hand pump style bottle Grangers Tent + Gear Repel should be high on your list.
Atsko Water-Guard Extreme Repellent Aerosol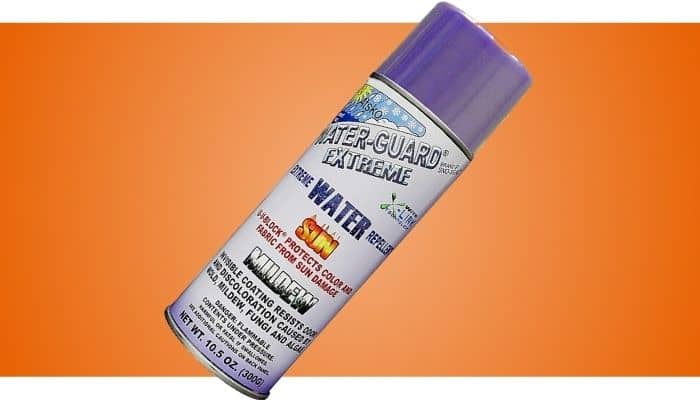 http://www.atsko.com/water-guard-extreme-12-oz-aerosol/ is a more specialized version of their standard Water-Guard spray. It still comes in an aerosol can but is designed with high-performance fabrics in mind.
It's safe for use on tent and outdoor gear fabrics such as Gore-Tex. It provides a breathable water repellent layer that doubles as a UV protectant.
This helps prevent your tent and other gear from fading over years of use in the hot sun. It also keeps rain and other water from penetrating to the interior.
Another added bonus is the inclusion of a fungicide. If you're getting ready to put your tent away till next season it's not a bad idea to refresh the waterproofing. The fungicide helps prevent mold or mildew from forming if there was a little water trapped inside.
Overall Atsko Water-Guard Extreme is an excellent tent waterproofing spray that's safe to use on just about any performance fabric.
Nikwax Tent and Gear SolarProof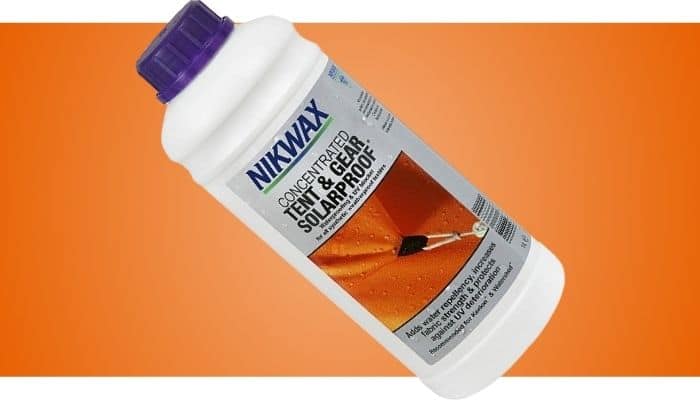 Nikwax has a well deserved reputation for making some of the best cleaning and maintenance supplies available for hiking and outdoor gear. Their Tent and Gear SolarProof spray is a combination waterproofing and UV protection spray.
One of the best things about Nikwax is how versatile it is. Unlike many tent waterproofing sprays it can go on to wet or dry fabric. It has a water based formula and contains no VOCs or PFCs. Nikwax is made to be as environmentally friendly as possible, something really important to hikers and campers everywhere.
It acts as a DWR coating and can greatly reduce water infiltration when combined with a quality silicone or polyurethane interior coating. Even better, it's reasonably priced and widely available.
Nikwax Tent and Gear SolarProof is one of the best DWR coatings on the market. If you're looking for a tent spray that combines waterproofing and UV protection Nikwax is a great choice.
303 Marine & Recreation Fabric Guard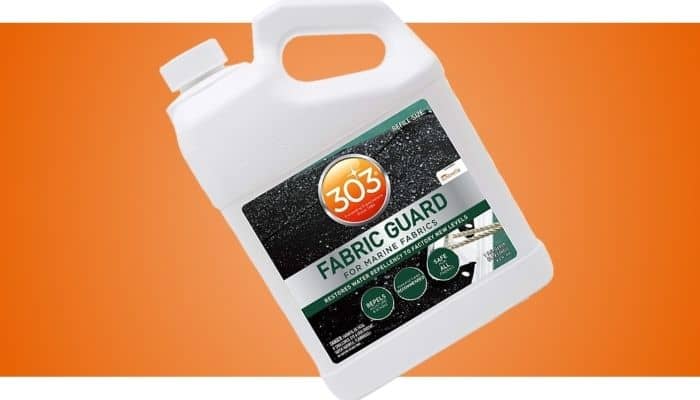 303 Marine & Recreation Fabric Guard is specifically designed with marine applications in mind but does a good job on tents and other outdoor gear. It's capable of protecting against both fresh and salt water while also giving you strong UV protection.
It can even provide effective seam sealing alongside fabric waterproofing. It comes in a hand pump spray bottle or concentrate for extensive use. The formulation is effective on all fabric types including high performance fabrics or traditional materials like cotton and canvas.
For tents that you expect to take into serious downpours or along the coast 303 Marine & Recreation Fabric Guard offers comprehensive protection.
Star Brite Waterproofing Spray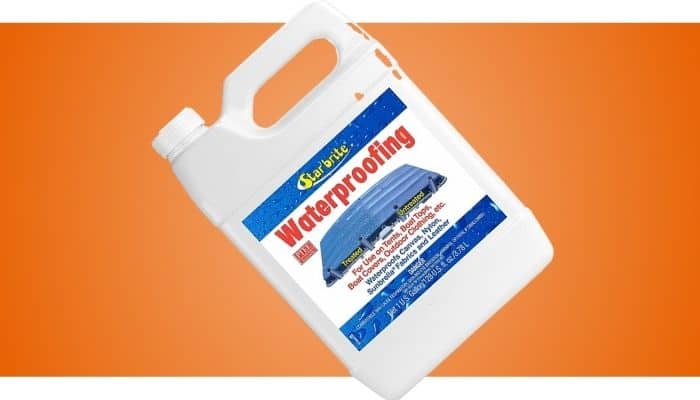 Star Brite Waterproofing Spray is a pump style spray suitable for use on all fabrics. It provides effective protection from water, stains, and UV radiation.
It's available in either a gallon jug or a 22 oz spray bottle. The bottle can protect up to 80 sq ft of fabric. It's suitable for use on a variety of different fabric types including nylon, polyester, and cotton canvas.
Star Brite won't affect the color, breathability or flammability of the material being treated. This makes it effective on tents, boots, and other rain gear.
If you're looking for an affordable and effective tent waterproofing spray that treats a large amount of fabric Star Brite should bear consideration.
Buyer's Guide to Buying the Best Tent Waterproofing Spray
Picking between different tent waterproofing sprays can seem a bit difficult. At first glance there isn't a whole lot to separate one product from another. Once you dig a little deeper though you'll see that there are actually several key factors to keep in mind.
Price and Capacity
The good news with tent waterproofing sprays is that they aren't that expensive. You can get a high-quality spray in a good sized bottle for between $10 to $20.
Depending on the size of your tent you'll probably need about a 12 to 16 oz bottle to properly coat the rain cover.
Aerosol or Spray Bottles
You have two applicator options when picking out the best tent waterproofing spray, aerosol or hand spray bottles. Aerosol sprays come in metal cans, a lot like hair or bug spray.
They're great for producing a really fine, consistent mist pattern and give you a very smooth application process. The problem comes with how they work. They contain both the waterproofing agent and a propellant.
This gives you a pressurized system that produces the fine aerosol mist. Some of these propellants are less than stellar for your health and the environment. If you're looking for a more natural method you might consider a hand spray waterproofing agent.
These come in bottles a lot like your standard window cleaner. They have a small hand pump that produces the mist or directed stream. They require no propellent and so are additive free, but they don't produce quite as consistent or fine a mist.
PFC and VOC free
When you're considering any tent waterproofing spray you need to look at what chemicals it contains. Perfluorinated Compounds (PFCs) and Volatile Organic Compounds (VOCs) are the two most important to keep your eye out for.
These are chemicals that were once common in solvents and other industrial applications but that have now been discovered to have potentially harmful effects. VOCs in particular have been found to cause skin and eye irritation, headaches, nausea, and potentially long-term damage to the renal system and liver.
PFCs have been used for decades as a highly effective waterproofing agent. Unfortunately, the same properties that make them so useful for protecting against water and oil can lead to potentially nasty human effects.
Check the labeling of your tent waterproofing spray to be sure it doesn't contain either of these substances.
Choosing the Correct Spray for Your Tent's Fabric
Before you purchase a tent waterproofing spray make sure that you find out what type of material your tent is made of. The two most common are silicone-coated fabrics and polyurethane-coated fabrics.
These act as a physical barrier to prevent water from penetrating into the tent.
Most tents also have what's known as a Durable Water Repellent (DWR) coating. This causes water to bead up on the outside layer of the tent or rain cover and prevent it from saturating the fabric.
Check your tents manual to find out what kind of coating it has and what you'll need to refresh it.
UV Protection
Depending on where in the world you're camping it can be a good idea to add UV protection alongside waterproofing. If you're frequently out in the sun your bright and beautiful tent will start to fade over the years.
Depending on the type of material your tent is made from it can also weaken the structure. Choosing a tent waterproofing spray that also offers UV protection can help slow this process and protect your gear from wearing out prematurely.
Top Tent Waterproofing Spray Video
Frequently Asked Questions
When it comes to camping and hiking, having a reliable and waterproof tent is essential for a comfortable and enjoyable outdoor experience. To help you make the most of your camping adventures, we've compiled a list of frequently asked questions about tent waterproofing sprays. Whether you're a seasoned camper or new to the world of outdoor exploration, this FAQ section will provide you with valuable insights and guidance on how to choose and use the best tent waterproofing spray. From understanding the benefits of these sprays to learning about application techniques and maintenance tips, we've got you covered. So, let's dive in and find answers to some common queries about tent waterproofing sprays!
Why should I use a tent waterproofing spray?
Tent waterproofing sprays are specifically designed to enhance the water resistance of your tent. They create a protective barrier on the fabric, preventing water from seeping through and keeping you dry during rainy conditions. Waterproofing sprays also help extend the lifespan of your tent by shielding it from moisture-related damage.
How does tent waterproofing spray work?
Tent waterproofing sprays typically contain specialized chemicals that adhere to the fabric of the tent. When applied, these chemicals create a hydrophobic layer, causing water to bead up and roll off the surface instead of soaking into the fabric. This helps to maintain the tent's breathability while providing effective waterproofing.
Can I use any waterproofing spray on my tent?
While some general-purpose waterproofing sprays may offer limited water repellency, it is highly recommended to use a product specifically formulated for tents. These sprays are designed to work with the unique materials and coatings commonly found in tents. Using the wrong type of spray may not provide adequate protection or could even damage the fabric.
How often should I apply tent waterproofing spray?
The frequency of applying tent waterproofing spray depends on several factors, including the type of spray used, the quality of your tent's existing waterproofing, and the conditions you camp in. As a general guideline, it's a good practice to reapply the spray annually or after significant wear and tear, or whenever you notice a decline in the tent's water repellency.
How do I apply tent waterproofing spray?
The specific application instructions may vary depending on the brand and type of spray. However, in most cases, you'll need to clean your tent thoroughly, remove any dirt or debris, and ensure it is completely dry before applying the spray. Shake the can well and spray an even layer onto the tent fabric, paying attention to high-stress areas like seams and corners. Allow sufficient drying time as instructed before packing or using the tent.
Can I use tent waterproofing spray on other outdoor gear?
Yes, tent waterproofing sprays can be used on a variety of outdoor gear, such as backpacks, rain jackets, tarps, and footwear. They can help enhance the water resistance of these items, keeping them dry and extending their lifespan. Always check the manufacturer's recommendations and suitability for specific materials before applying the spray.
Are tent waterproofing sprays safe for the environment?
Many tent waterproofing sprays are formulated to be environmentally friendly and biodegradable. However, it's important to check the product labels and choose sprays that are explicitly labeled as eco-friendly. Additionally, when applying the spray, follow the instructions to prevent overspray and minimize environmental impact.
Can tent waterproofing sprays fix existing leaks?
Tent waterproofing sprays are primarily designed to enhance the water resistance of your tent, but they may offer some temporary relief for minor leaks. However, it's important to note that they are not a permanent solution for significant damage. Repairing any major leaks or tears should be done using appropriate tent repair methods or patches.
Are there any additional tips for maintaining a waterproof tent?
In addition to using a tent waterproofing spray, there are a few other steps you can take to maintain a waterproof tent. Avoid pitching your tent in low-lying areas prone to pooling water, use a groundsheet or footprint to prevent ground moisture from seeping through, and regularly inspect your tent for any signs of wear or damage that may compromise its waterproofing.
Remember, proper care and maintenance are crucial for ensuring the long-term performance of your tent in wet conditions.
Please note that the information provided here is general in nature, and it's always advisable to refer to the manufacturer's instructions and recommendations specific to the tent waterproofing spray you choose.
Best Tent Waterproofing Sprays Recap
Final Thoughts
Tents are only effective when they can keep the elements out.
Once your tent starts to leak you need an effective tent waterproofing spray to reseal it and keep you and your gear dry.
As long as you carefully consider the type of tent you have and what conditions you're camping in it's easy to find the best tent waterproofing spray for your needs.