Top 3 Best Hiking Poles
Leki Micro Vario Carbon Black Series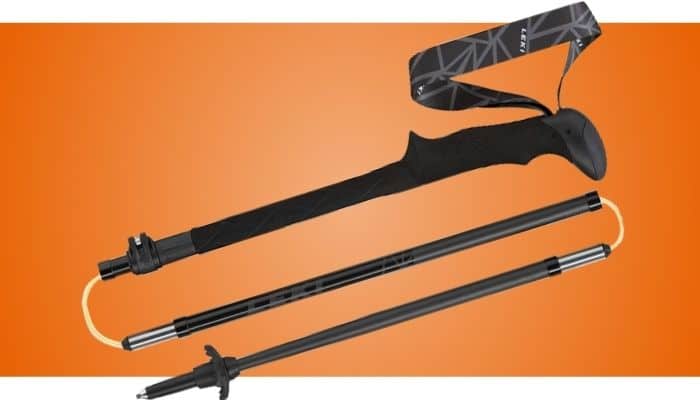 Lightweight and compact, weighing 7.3 oz per pole.
Speed Lock 2 Adjustment System for quick height adjustments.
Aergon Thermo Long Grip for a comfortable and secure grip.
Black Diamond Alpine Carbon Cork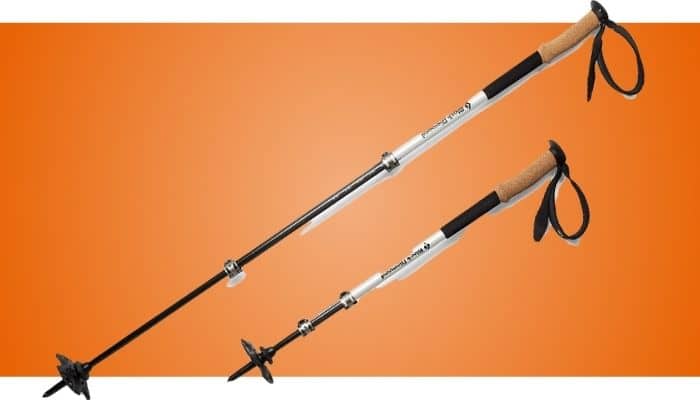 Three-section 100% carbon fiber shaft, weighing 16.7 oz per pair.
Dual FlickLock Pro adjustment system for easy length adjustment.
Ergonomic cork handles with a 15-degree corrective angle.
Black Diamond Distance Carbon Z Trekking Poles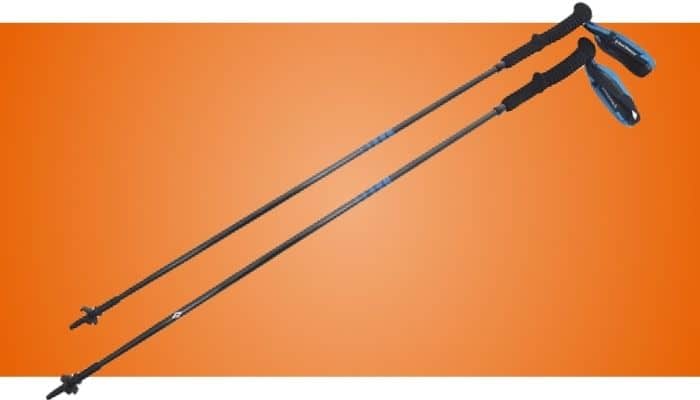 Lightweight and highly compactable, weighing between 9.6-11 ounces per pair.
Non-height adjustable with a durable and improved locking mechanism.
Comfortable lightweight EVA foam grip and breathable wrist straps.
Outdoorsman Toolkit is reader-supported. When you buy through links on our site, we may earn an affiliate commission.
Learn more
Want to improve your stamina, hike off the beaten track or need a little extra help on those steep descents? You need to invest in a pair of the best hiking poles!
Also useful for creating impromptu or ultralight shelters, taking the stress off your knees and crossing creeks, meadows and mud; hiking poles have a seemingly limitless array of uses in the great outdoors.
To help you make the right choice for your next expedition, be it near or far, long or short – read through our best hiking pole reviews and find your ideal model.
Best Hiking Poles Reviewed
To help you to decide which hiking poles are best for your needs, we've reviewed some of the most popular models on the market. We've also selected a wide variety of different types of hiking poles covering a large price range, so you're sure to find the perfect pair for your lifestyle and budget.
Leki Micro Vario Carbon Black Series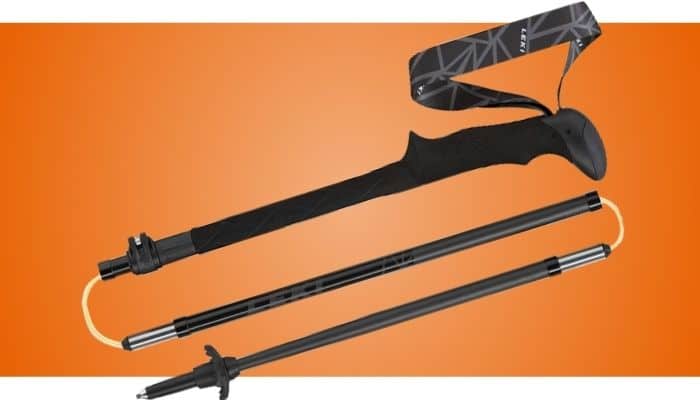 After years of being an avid outdoorsman, engaging in activities like hiking, camping, and occasionally skiing, I've used various trekking poles to aid my adventures. But when I came across the Leki Micro Vario Carbon Black Series, it felt like a game-changer. These poles are undeniably a premium purchase, but their strength, lightweight nature, and ergonomic design make them worth every penny. Weighing just 7.3 oz per pole, they fold down compactly, making them extremely portable for all my trips. Their Speed Lock 2 Adjustment System is a blessing, allowing for quick and on-the-go height adjustments.
The Aergon Thermo Long Grip ensures I always have a comfortable and secure grip, even on the most challenging terrains. The Skin Lock Security Strap is a thoughtful addition, wicking away moisture and drying quickly. The Leki's Trekking Basket 2.0, along with the Flex Tip Shorts, ensures my poles never sink into the ground, making my hikes smoother.
Previously, I owned Black Diamond aluminum poles, which were robust but noticeably heavy. The Leki Carbon poles, on the other hand, are impressively lightweight without compromising on strength. The aluminum reinforcements at each joint segment are a testament to their robust build. Another feature I've grown fond of is the field-adjustable Speed Lock 2 system that doesn't require any tools.
However, the one-year warranty on the carbon poles does give me a moment of pause, especially when compared to the lifetime warranty on their aluminum counterparts. But given the outstanding build quality and my personal experience so far, I'm optimistic about their longevity.
During a recent multi-day camping trip in the Rockies, I had the chance to truly test the Leki Micro Vario Carbon Black Series. On the second day, our group decided to tackle a steep, rocky ascent to get a panoramic view of the valleys below. Halfway up, the terrain became challenging with loose gravel and patches of snow. As I navigated through, I felt an immediate difference in stability with the Leki poles. There was a particular stretch where a slight misstep could have resulted in a nasty fall. But with the Leki poles, I felt anchored and secure, their grip holding firm on the uneven ground. That night, around the campfire, we shared our day's experiences. Many in the group praised the equipment they had brought along, and I couldn't help but share how my Leki poles had been my savior. It wasn't just about the physical support; it was the confidence they instilled in me, making me feel like no trail was too challenging.
Incorporating these poles into my outdoor routine has significantly enriched my hiking experiences. Their impeccable design and comfort remind me of a fellow hiker who, despite facing physical challenges, found solace and improved health through these very poles. It's heartwarming to think that a product can impact someone's life so profoundly, and it makes me appreciate my Leki poles even more. With these poles in hand, I feel like I'm ready to conquer any trail with confidence and ease.
Pros:
Lightweight: Weighs only 7.3 oz per pole, making it easy to carry during hikes.
Compact: Folds down to a small size, enhancing portability.
Strong Build: Made from 100% carbon, reinforced with aluminum at joint segments.
Ergonomic Design: Features an Aergon Thermo Long Grip for a comfortable and secure hold.
Quick Adjustment: Speed Lock 2 Adjustment System allows for fast height modifications.
Moisture Management: The Skin Lock Security Strap is air-textured for maximum wicking and quick drying.
Durable Tips: Comes with Leki's Trekking Basket 2.0 and Flex Tip Shorts suitable for various terrains.
Cons:
Warranty Limitation: Only a one-year warranty on carbon poles compared to a lifetime warranty on aluminum variants.
Price: Premium pricing might be a deterrent for some.
Occasional Malfunction: Some users reported issues like the pole not retracting completely, though replacements are promptly provided.
Black Diamond Alpine Carbon Cork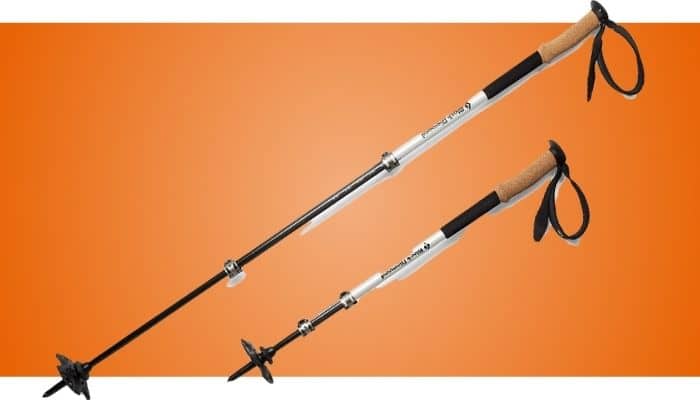 If you are looking for sturdy hiking poles for year-round use, then you should check out the Alpine Carbon Cork by Black Diamond.
The three-section 100% carbon fiber shaft is slender and agile, without any loss of strength or durability. At just 16.7 oz a pair, these poles will help you go the extra mile without weighing you down. They are also highly adjustable with a useable length of between 24.8 and 51 inches, complete with the Dual FlickLock Pro adjustment system.
With a collapsed length of 24.8 inches, this model is not the most compactable. They are, however, very comfortable thanks to their ergonomic cork handles featuring a 15-degree corrective angle for optimal handling. The wicking properties of the cork complement the EVA foam extension grip and 360-degree padded wrist straps. The included carbide tips are interchangeable and suitable for most terrains, while the included trekking and powder baskets ensure four-season compatibility.
In spite of the fairly high price tag, the Alpine Carbon Cork represents good value for money. It is a sturdy, high-quality model that is suitable for use all year round. While other models may be slightly easier to transport, if you need solid, reliable performance even in the thick of winter, then this model makes an excellent choice.
Black Diamond Distance Carbon Z Trekking Poles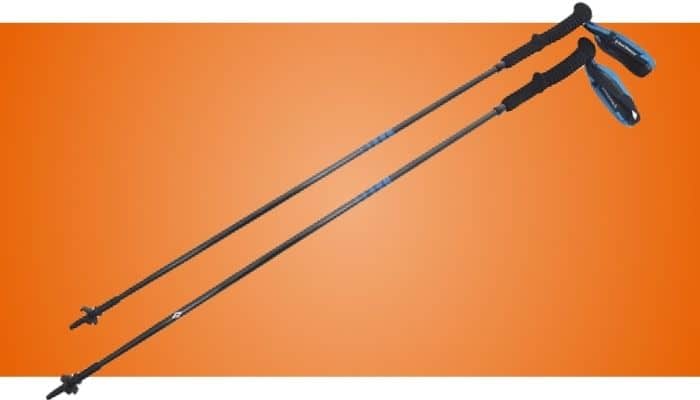 Whether you're a trail runner, a fast packer, or just like to hike at speed, the Distance Carbon Z Trekking Poles have been designed for fast-paced action.
These lightweight, highly compactable z-poles weigh between 9.6-11 ounces per pair depending on the length. Available in four heights between 39-51 inches, this model is non-height adjustable, making it less suitable for slower hiking styles. Complete with a durable and improved locking mechanism, they rapidly flip out for use thanks to their speed deployment system.
In spite of their pared-back appearance, these poles are surprisingly comfortable with a lightweight EVA foam grip and mini grip extension. The wrist straps are both breathable and wicking to minimize chafing when moving at speed. The stopper baskets prevent sinking and also work as clever shaft catchers, ensuring that your poles remain securely folded when not in use. Complete with both non-scarring Tech Tips and carbide Tech Tips, the Distance Carbon Z Trekking Poles are ready to go wherever adventure takes you.
While these poles certainly aren't cheap, there are plenty more expensive models out there. If you are looking for a durable, lightweight fixed pole that you depend upon over harsh terrain at speed, then this model makes an excellent choice.
However, for slower-paced mountaineering and hiking, you may well prefer a height-adjustable model.
Montem Ultralight Carbon Fiber Hiking Pole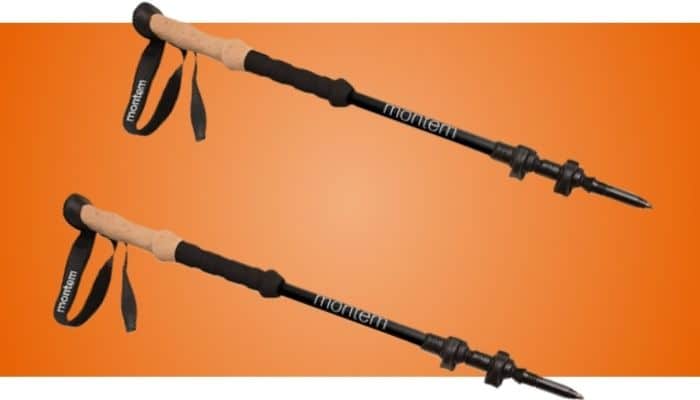 These telescoping hiking poles from Montem are 100% carbon fiber. They weigh in at 7.5 oz per pole, which is fairly lightweight, although not the very lightest in our selection.
Featuring flick locks, you can quickly and easily adjust your poles to anywhere between 24-53 inches, making them a good choice if your height is a little above or below average. With a collapsed length a touch over 23 inches, these hiking poles are fairly compact and easy to pack away for travel.
The EVA foam grips will keep your hands warm and moisture-free, while the padded wrist straps are comfortable even after hours of use. These poles come with Tungsten carbide tips that are suitable for most terrains and conditions. There are also rubber tip protectors and a pair of baskets included with the poles, making them suitable for almost any destination.
All in all, while these hiking poles may not be the most compactable, nor as ultralight as they claim to be, they are a highly affordable 100% carbon fiber model. They would make a great purchase if you are looking for an inexpensive pair of lightweight poles, for hiking, Nordic walking or to help relieve your knee joints with extra stability and balance.
However, experienced hikers looking for high-performance poles for extreme terrain may be better checking out some of the big-name, tried-and-tested brands.
Hiker Hunger Carbon Fiber Trekking Pole 2.0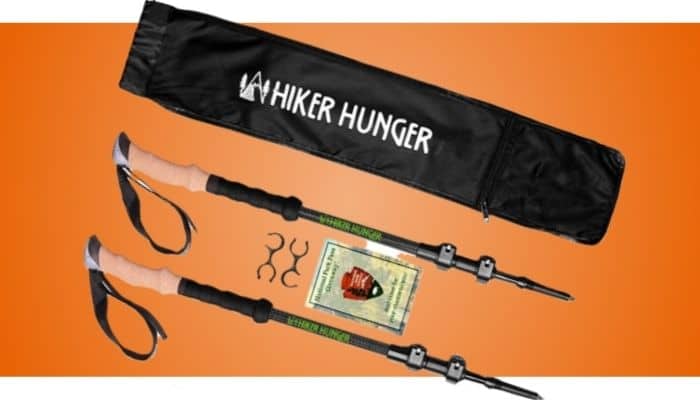 The Hiker Hunger Carbon Fiber Trekking Poles are highly affordable, lightweight hiking poles that are suitable for a large range of heights. The 100% carbon fiber poles weigh just 7.5 ounces per pole and extend for use to any height between 24-54 inches. Thanks to their quick-lock technology, it is easy to adjust them on the go. They are also fairly compact, breaking down to just under 21 inches in length.
Unlike many other low price models, these poles benefit from moisture-wicking cork handles to keep your hands dry and cool even in hotter months. The ribbed, EVA foam grip extension is extremely useful for extra grip and stability when tackling steep ascents, as is the padded wrist strap.
Complete with heavy-duty Tungsten carbide tips, rubber tips, and both snow and mud baskets, you won't need to spend extra money on any further accessories. These hiking poles also come with a carry bag for convenient storage and transportation, as well as a one-year warranty for your peace of mind.
While these hiking poles may not be quite as high performing as some of the big brands, they certainly are affordable and can accommodate a wide range of heights. Thanks to their comfortable grips and range of accessories, they make a great budget pair of carbon fiber hiking poles for men, women and older children.
TrailBuddy Trekking Poles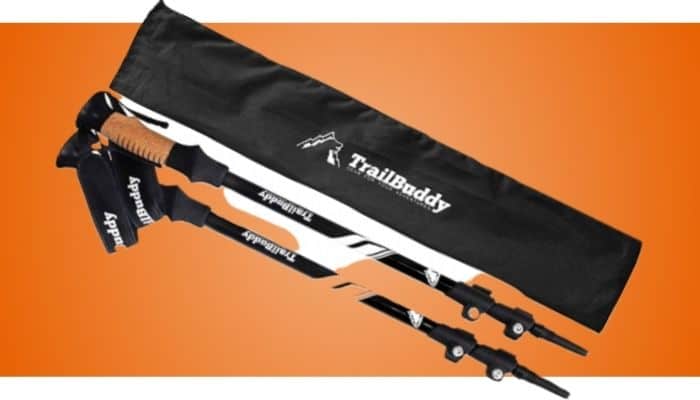 With their aluminum shafts, TrailBuddy Trekking Poles are strong and durable, designed specifically for use over rocky terrain and to support heavier weights.
Made from aluminum 7075, this model weighs in at 9.7 oz per pole, considerably lighter than poles made with your average 6061 aluminum. These telescoping poles support a wide range of heights, adjusting from 24.4-54 inches with ease thanks to the quick lever flip locks. Collapsible, these poles can also be broken down when not in use to a little under 21 inches for easy transportation in your luggage.
Comfort-wise, the combination of the moisture-wicking cork grip and the padded wrist strap ensures that your hands remain comfortable and dry whether you're on your first or 21st mile of the day. Over time the cork grips will also mold to the contours of your hands for truly personalized hiking poles. This model also comes complete with a handy storage bag, both mud and snow baskets, as well as two pairs of rubber tips.
Ideal for use over rough terrain, for traversing creeks and steep ascents and descents, these inexpensive hiking poles are durable and sturdy. While they are considerably heavier than some of the lightest carbon fiber models, they are an invaluable aid to any trek over rocky, hard terrain where lighter models risk snapping.
Komperdell C3 Carbon PRO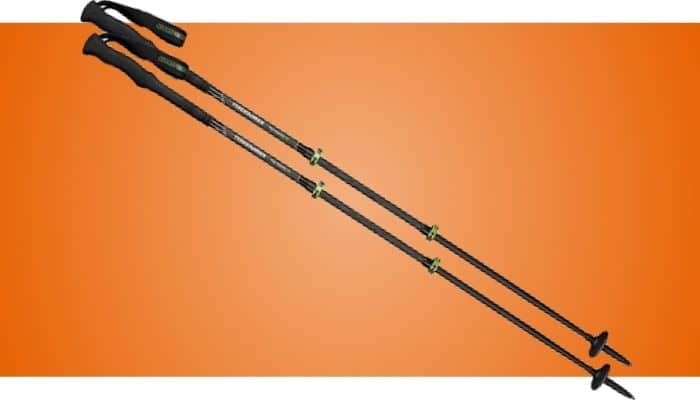 The C3 Carbon Pro Trekking Poles by Komperdell combine the best of carbon fiber and aluminum for lightweight and strength combined.
The three-section shaft consists of two upper carbon fiber sections with a lower Tatana section that protects your poles against rocks and other sharp edges for added durability. At just 7.5 oz per pole with a packed size of 26 inches, these hiking poles are both lightweight and portable. With an adjustable height range between 41-55 inches, the Powerlock 3.0 mechanism allows for fast adjustments on the go.
The foam 280 grips are comfortable and feel secure, for a good grip in all weather conditions. Soft and highly breathable, the padded straps eliminate chafing for increased comfort even over long distances. The C3 Carbon Pros come complete with carbide flex tips as well as Vario trekking baskets. They also have a three-year repair service that comes as standard, proof of the manufacturer's confidence in their product.
While there are plenty of cheaper options available, if you are looking for a lightweight yet sturdy pair of hiking poles, the C3 Pro by Komperdell makes a good, solid choice. Especially recommended for use over rocky terrain, its three-year repair warranty makes this product exceptional value for money.
Mountainsmith Halite 7075 Trekking Poles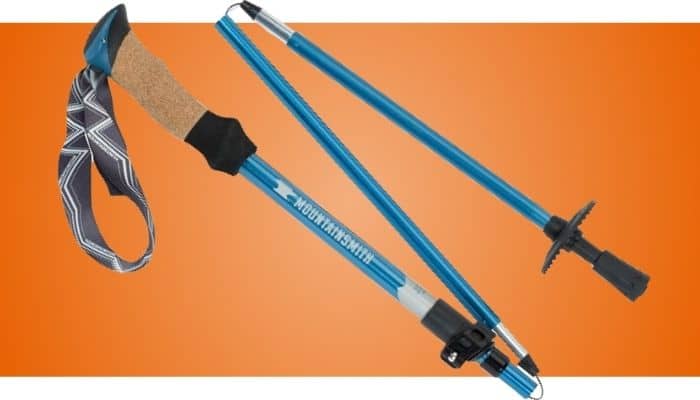 The Halite 7075 Trekking Poles by Moutainsmith have a four-section shaft made from aluminum 7075 for strength and durability.
They are height adjustable between 47- 54 inches with Outerlock levers for ease and simplicity. Collapsible down to just under 16 inches, these hiking poles are highly packable, ideal for sticking in your luggage for far afield trips. However, with a combined weight of 21 ounces, they are the heaviest in our selection, making them slightly less suited to long hikes.
The comfortable cork and EVA handles provide the best of both worlds with excellent moisture wicking properties and good grip. Completed with soft-touch, adjustable webbing straps, these hiking poles prevent chafing and pressure points. Complete with carbide tips for use over almost all terrains, a pair of rubber tips as well as snow and hiking baskets, this model has everything you will need.
Complete with a lifetime manufacturer's guarantee against any defects, you can be confident that these hiking poles are a high-quality product. For short to medium hikes over rocky terrain, they make an excellent choice, thanks to their highly durable aluminum construction.
However, they are fairly heavy and over longer hikes, you may find your arms tire quicker than with a lightweight model.
Best Hiking Poles Comparison Table
Buyers Guide to the Best Hiking Poles
Do you need a helping hand finding the best hiking poles for your trekking needs? Here are some of the main factors that you will need to consider when making your choice.
Price
While you do tend to get what you pay for, if you're not a serious hiker or simply want a little extra support on steep ascents and descents, then paying big bucks for a pair of hiking poles is simply not necessary.
However, if you intend to be using your poles over long distances and unforgiving terrain, we recommend spending more to ensure they are long-lasting and lightweight. Materials, design and brand names will all affect the price of your poles, so carefully consider which factors are your priorities when making your choice.
Design
There are three main types of hiking pole; telescopic, folding and fixed.
Telescopic – Telescopic hiking poles feature sections of varying widths that collapse inside one another, just like a telescope. They are extremely practical as they are quick and easy to collapse and tend to be highly compactable. Telescopic poles are also easy to adjust and tend to be fairly durable.
Folding – Folding hiking poles, or z-poles as they are often known, are poles that are split into sections linked by an internal cord. When this cord is relaxed the pole sections fold, when it is under tension they interlock. While folding poles are highly compactable, they can have some durability issues if their internal workings are not correctly protected. Quick to deploy and easy to adjust, folding hiking poles are easy to set up and put away.
Fixed – Fixed hiking poles, as their name suggests are non-adjustable and non-compactable. They are, however, highly durable. They are sold in a range of different heights. If you are thinking of purchasing fixed hiking poles, be sure to carefully measure which length pole corresponds best to your height for comfort and stability.
Locking System
All adjustable and collapsible poles come with a locking system to ensure that they remain upright and rigid when in use. Take a few moments to check out the locking system featured on your favorite hiking pole picks before buying.
Some poles offer simple-to-use, rapid action locking levers or push-button mechanisms, while others employ screw-lock systems. Be sure to consider how easy the locking mechanism will be to use in cold temperatures or when wearing gloves.
Anti-Shock
Some hiking poles feature anti-shock suspension systems. These can be somewhat of a mixed blessing.
Useful on steep descents, shock absorbers help to ease the impact. However, on uphill sections, they can make it harder to propel yourself upwards. For this reason, if you are planning to be doing a lot of hill walking or mountaineering, you may prefer poles without shock absorbers, or ones that can be disabled when not required.
Grips
Grips really make all the difference to your comfort levels on a hike. Ideally, you should look out for ergonomically shaped grips that will fit your hands, reducing the likelihood of painful pressure points.
Grips come in a variety of different materials, here are some of the most popular:
EVA Foam – Insulating and lightweight, foam grips are also excellent at wicking moisture away from your hands for improved grip and stability. The main downside of foam handles is their lack of durability. If you opt for a model with foam, pay a little extra attention to how you transport and store it to prevent any avoidable damage.
Rubber – Rubber handles are inexpensive and highly insulating, making them a good choice for winter. However, they do not wick moisture so they may become slippery which can be dangerous if you lose your grip over rough terrain.
Cork – Natural, durable and soft to the touch, cork is an extremely popular trekking grip material, although it can be a little expensive. Cork grips will mold with time and use to the shape of your hands for incomparable comfort. They also wick moisture for an improved grip.
Straps
You'll want to look out for breathable, soft-touch straps that won't chafe your wrists. Wide, padded straps make an excellent choice helping to spread the weight of your poles around your wrists, without digging in or rubbing the surface of your skin.
Baskets
The majority of hiking poles will come complete with a set of hiking baskets and possibly another set of powder baskets. Powder baskets are designed to stop your poles from sinking too deep into the snow, while smaller hiking baskets are designed to help you over patches of vegetation, branches and mud. Most baskets are available to purchase separately and are often interchangeable across same-brand poles.
Pole Tips
Most hiking poles include carbide tips that are suitable for the vast majority of terrain, providing good traction. Rubber tip covers may or may not be provided with your poles. They defend against wear when used over concrete and other hard surfaces, as well as preventing damage to fragile surfaces from hiking pole tips.
Compactable
If you're planning to take your poles to far-flung destinations, then purchasing a pair that will fit in your luggage is essential. Out on the trail, if you're not intending upon using your poles for the entirety of your hike, then it also makes sense to buy a pair of hiking poles that you can fold away and attach to your backpack for use as the terrain requires.
Adjustable
Ideal if you are in-between sizes, adjustable poles also allow you to adjust their height to help you over certain types of terrain. You may wish to lengthen them for tricky descents or to cross over swollen creeks. Shortening your poles for uphill treks can help you to propel yourself forward, while contouring hills on uneven paths can be made easier by adjusting one of your poles to a slightly longer length to compensate for the slope.
Weight
For your average, easy day hike, weight may seem fairly insignificant. However, once you start clocking up the miles and begin to tire, the extra difference in weight between models can make a big difference, especially when you think about how many times you'll be raising your poles over one day.
If you are looking to go fastpacking, ultralight packing or trail running then you will want one of the lightest pairs of poles you can get your hands on. For the rest of us, it's important to ensure that our poles are lightweight, but not at the expense of durability.
Materials
Most hiking poles are made from either carbon fiber, aluminum or a combination of the two. While carbon fiber is an extremely popular choice thanks to its low weight, aluminum is often marketed as being stronger and more durable, albeit heavier. Some carbon fiber poles feature a lower aluminum section to provide greater protection from breaking over rocky terrain.
Durability
If you are planning on hiking far and wide over long distances with your poles, then durability is a key consideration.
While all hiking poles risk breaking when stressed enough, especially horizontally or when caught between two rocks, often an aluminum pole will bend rather than snapping, unlike carbon fiber. It is much more difficult to repair a snapped pole miles from home than a bent one, giving aluminum poles the edge when it comes down to reliability.
Gender-Specific
While most hiking poles are unisex, manufacturers are increasing their gender-specific ranges. Some men and women find it more comfortable to use poles that are specially adapted to suit their body type.
Woman-specific hiking poles tend to feature smaller grips and straps, with shorter shafts; however, some women may be equally happy using certain poles designed for men. Likewise, shorter, more slender men may find certain woman-specific poles to be a better fit for their size.
Do I Need a Hiking Pole?
That all depends upon your level of fitness, your preferences and where you are planning on hiking.
In general, no one really needs a hiking pole, unless they have problems with their knees or balance and need extra support and stability. However, hiking poles can be extremely useful for uphill climbs as well as descents. They are also invaluable for crossing over rough terrain, creeks and mud.
If you are looking to increase your tempo or to improve your fitness levels, you will find hiking poles to be an invaluable aid. Besides, they are also essential for certain shelters such as tarp tents, especially if you are going ultralight.
What's more, they can also be useful for self-defense purposes if confronted by wild animals, or for checking leaves or debris ahead on the trail for snakes or small animals.
In short, hiking poles are entirely optional but extremely useful.
What Are the Benefits?
The main benefit of hiking poles is the extra stability that they provide.
Whether you have health problems or a disability, hiking poles can help you to gain confidence and enable you to hike further for longer durations. Hiking poles relieve stress on your knee joints and if you are backpacking they can be invaluable stabilizers and pack load distributors, easing your back and preventing slips and falls.
When you use hiking poles you can descend more safely and are less likely to have an accident. They can also help you to increase your pace and provide a better cardiovascular workout by getting your arms moving with increased circulation and improved respiration.
Are They Bad for the Environment?
Used with discretion and on suitable trails, hiking poles do not represent any problem for the local environment. However, on overused trails or when hikers do not respect the fragility of certain landscapes, then they can cause problems.
When using your hiking poles always pay attention to the terrain underfoot and in areas that are showing visible degradation caused by hiking pole carbide tips, be sure to put on rubber caps or fold away your poles, if possible, for that section of the trail.
Top Hiking Poles Video
FAQ: Best Hiking Poles
As you embark on your hiking adventures, it's natural to have questions about hiking poles and their role in enhancing your outdoor experience. To help you make informed decisions and equip you with essential knowledge, we have compiled a list of frequently asked questions about hiking poles. Whether you're a beginner seeking guidance or a seasoned hiker looking to upgrade your gear, this FAQ section will provide valuable insights into the world of hiking poles.
From understanding the benefits of hiking poles to choosing the right ones for your needs, we address common concerns and offer practical advice. Discover why hiking poles are a vital companion on the trails, how to select the ideal pair, and tips for proper usage and maintenance. We also explore the versatility of hiking poles, exploring their applicability across various outdoor activities.
As you delve into the questions and answers below, you'll gain a deeper understanding of how hiking poles can enhance your hiking experience. So, let's dive in and unravel the mysteries of hiking poles together, empowering you to make informed decisions and enjoy every step of your outdoor journey.
Why do I need hiking poles?
Hiking poles offer numerous benefits to hikers and backpackers. They provide stability and balance, especially on uneven terrain or steep inclines, reducing the risk of slips and falls. Hiking poles also help to alleviate strain on your knees and joints, making them particularly valuable for those with existing knee issues. Additionally, they can improve your overall endurance, as they distribute the workload across your upper body.
What should I look for when choosing hiking poles?
When choosing hiking poles, consider the following factors:
Material: Opt for lightweight yet durable materials such as aluminum or carbon fiber.
Adjustability: Look for poles with adjustable length to accommodate different terrains and personal preferences.
Grip: Ensure the handles have comfortable grips that provide good traction, even when wet.
Wrist straps: Look for adjustable and padded wrist straps that offer support and prevent the poles from dropping.
Tip design: Consider the type of terrain you'll be hiking on. Carbide tips are excellent for rocky surfaces, while rubber tips are suitable for pavement or sensitive environments.
How should I adjust the length of my hiking poles?
To adjust the length of your hiking poles, follow these general steps:
Loosen the locking mechanism (usually a twist lock or lever) near the pole's top.
Extend or retract the sections of the pole to your desired length.
Tighten the locking mechanism firmly to secure the pole in place.
Test the length by gripping the pole with your arm at a 90-degree angle when it's planted on the ground.
How many hiking poles do I need?
While using a single hiking pole can provide some benefits, most hikers prefer to use a pair of poles for better balance and stability. Dual poles can help reduce the strain on both sides of your body and provide more even support during descents and ascents.
Are hiking poles suitable for all types of hikes?
Hiking poles are versatile and can be used for various types of hikes, from leisurely walks to challenging mountain treks. However, their usefulness may vary depending on the terrain and personal preference. They are particularly beneficial for steep ascents or descents, long-distance hikes, and trails with loose or uneven surfaces.
Can I use hiking poles for other activities?
Yes, hiking poles can be useful for other outdoor activities such as backpacking, trekking, trail running, and snowshoeing. They provide stability and support in a range of outdoor pursuits, making them valuable across different disciplines.
How do I maintain my hiking poles?
To maintain your hiking poles:
Clean them after each hike, wiping off dirt, mud, and moisture.
Inspect the poles regularly for any signs of damage or wear.
If your poles have adjustable sections, lubricate the locking mechanisms periodically.
Replace worn-out or damaged tips and baskets as needed.
Store your hiking poles in a cool, dry place away from direct sunlight.
Are there any safety considerations when using hiking poles?
When using hiking poles, keep the following safety tips in mind:
Always adjust the pole length according to the terrain and your comfort.
Avoid excessive force or leaning on the poles, as they are meant to provide support, not carry your entire weight.
Use pole straps correctly, ensuring they are properly adjusted to prevent injuries.
Be mindful of others on the trail and avoid swinging your poles in a way that may cause accidents.
In lightning storms, it's advisable to keep your hiking poles stowed away to avoid attracting lightning strikes.
Final Thoughts
Hiking poles come in a wide variety of designs, weights and materials. From lightweight poles that won't slow you down like the Distance Carbon Z by Black Diamond, or aluminum poles that can take a heavier load over rocky terrains, such as the TrailBuddy Trekking Poles – there's plenty of options on the market to choose from.
So long as you carefully consider your individual requirements and intended environment before purchasing, you're sure to find the ideal pair for your next adventure from our selection.