Top 3 Best Tent Heaters
Mr. Heater Portable Buddy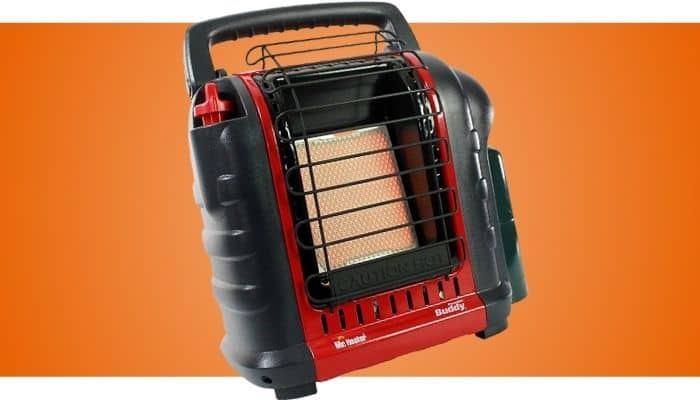 Portable with a compact design.
Heating capacity ranges from 4,000 to 9,000 BTU.
Safety features like accidental tip-over shut-off and Oxygen Depletion Sensor.
Texsport Portable Outdoor Propane Heater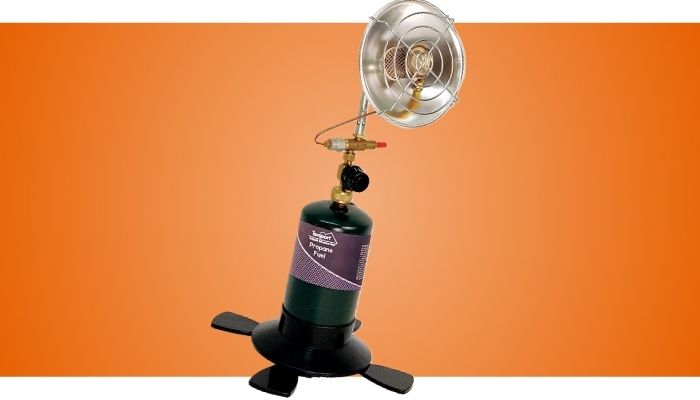 Lightweight and easy to transport.
Outputs a maximum of 2,890 BTU.
Features like steel safety grid and automatic fuel shut-off valve for enhanced safety.
Mr. Heater Little Buddy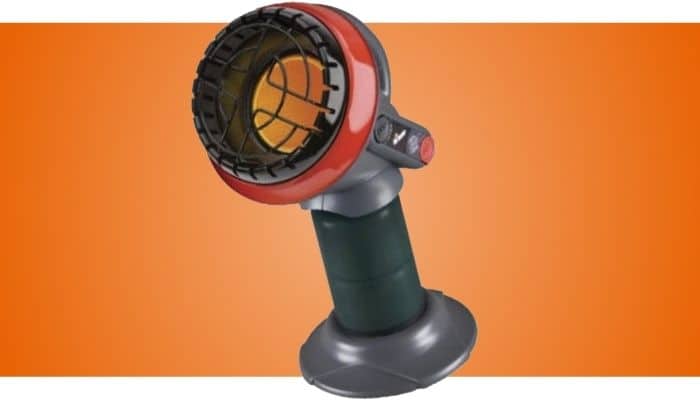 Compact design, ideal for small to medium-sized tents.
Outputs 3,800 BTU per hour.
Equipped with safety features like an automatic low oxygen shut-off and accidental tip-over safety shut-off.
Outdoorsman Toolkit is reader-supported. When you buy through links on our site, we may earn an affiliate commission.
Learn more
Investing in the best tent heaters will allow you to enjoy the best of the Great Outdoors all year round. After a day of exploring, these handy appliances will warm you up on chilly nights, keeping shivers firmly at bay while you relax under the stars.
If you're looking to bring a little more comfort to your camping, but struggling to pick the right tent heater for you, we have the answers! By the time you've finished reading our in-depth tent heater reviews and detailed buying guide, you'll be sure to have found the perfect model for your needs.
Best Tent Heater Reviews
To help you to find the very best tent heater, we've reviewed eight of the top models.
From small, compact units perfect for traveling light, to large, high-performance tent heaters which are great for combatting sub-zero temperatures – we've got all angles covered.
Mr. Heater Portable Buddy Best Tent Heaters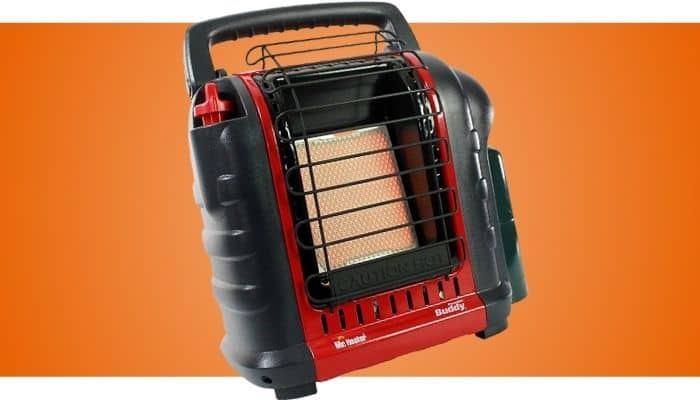 As someone who revels in the allure of the great outdoors, I've always found peace in my solitary hiking trips and camping adventures. But as seasons change, so does the challenge to keep warm during those chilly nights under the stars. This led me on a quest to find a reliable heating solution, which culminated in me purchasing the Mr. Heater Portable Buddy.
The first thing that caught my eye about this heater was its portable design. It's compact yet powerful, boasting a heating capacity of 4,000 to 9,000 BTU, making it a suitable companion for my tent that's around 225 square feet. The beauty of this heater lies in its simple operation; a single-control start knob gets it going, and the built-in Piezo igniter ensures a smooth start, every time. No more fumbling for matches in the cold!
Safety, a paramount concern, is well-addressed by Mr. Heater. The accidental tip-over safety shut-off and the Oxygen Depletion Sensor (ODS) instilled confidence in me to use it inside my tent. These features are crucial as they minimize the risks associated with indoor heating, something I was initially wary of.
I also appreciate the flexibility it offers in terms of fuel usage. Initially, I used 1lb propane cylinders but soon switched to a larger cylinder using a hose and filter, thanks to its swivel regulator. This extended the heater's runtime, which proved to be a boon during those long cold nights.
On one of my camping excursions near the Sequoia National Park, the Portable Buddy was put to a true test. As temperatures plummeted to a biting 27F, this heater quickly became our refuge against the cold. The wide porcelain heating surface radiated ample warmth across the tent, cutting through the cold in a matter of minutes. Although there isn't a built-in thermostat, the two heat settings provided enough control to adjust the warmth to our liking.
The heater's performance really shone when I decided to transition my outdoor adventures to my backyard, converting a greenhouse dome tent into a quaint outdoor office. The Portable Buddy effortlessly raised the interior temperature from a chilling 36F to a cozy 83F within a little over half an hour, despite the tent's lack of insulation and my decision to keep the ventilation windows slightly ajar for fresh air circulation.
However, nothing is without its drawbacks. The absence of a built-in carbon monoxide (CO) alarm necessitates the use of external CO detectors for added safety. Additionally, the grid cage could have been designed with closer gaps to prevent smaller, flammable materials from making contact with the heating elements.
A notable mention is the need for a bit of patience during the initial start-up, especially after changing propane tanks due to the air in the lines, but this is a minor hiccup in an otherwise smooth operation.
On a recent hiking expedition to the Rockies, I was reminded once again why the Mr. Heater Portable Buddy is a gem among portable heaters. As the day waned and temperatures began to dip below freezing, my camping buddies and I decided to call it a night. The cold was piercing, and the dense, chilly air threatened to seep into our bones. As I set up the Portable Buddy in our sizable tent, a sense of anticipation filled the air. With a swift turn of the knob, the heater sprung to life, its warm glow cutting through the darkness and cold.
Within minutes, a comforting warmth enveloped us, pushing the biting cold to the outskirts of our shelter. We huddled around sharing stories and a hot meal, the heater standing guard against the cold winds that howled outside. The ease with which the Portable Buddy transformed our cold encampment into a warm haven was nothing short of magical. The night that could have been a battle against the cold turned into a memorable evening of camaraderie and warmth. This experience etched in my heart the value of having reliable warmth in the wild, and I knew then that wherever my outdoor pursuits would take me, the Mr. Heater Portable Buddy is sure to accompany.
In conclusion, the Mr. Heater Portable Buddy has earned a permanent spot in my camping gear. Its ease of use, safety features, and powerful heating capacity make it a reliable companion in combating the cold. Whether nestled in the wilderness or enjoying a chilly evening in my backyard haven, this heater has proven its worth. The warmth it provides goes beyond just the physical; it's the assurance of comfort in the wild, a silent guard against the biting cold. Hence, for any fellow outdoor enthusiast looking to ward off the chill during their adventures, Mr. Heater Portable Buddy is a worthy investment.
Pros:
Portability: Compact design with a fold-down handle makes it easy to carry and store.
Heating Capacity: Powerful heating with two settings (4,000 and 9,000 BTU) suitable for spaces up to 225 square feet.
Easy Operation: Single-control start knob with a Piezo igniter for hassle-free ignition.
Safety Features: Accidental tip-over safety shut-off and Oxygen Depletion Sensor for secure indoor use.
Fuel Flexibility: Compatible with 1lb propane cylinders directly or larger ones with a hose and filter.
Effective Heating: Proven to significantly raise the temperature in poorly insulated or ventilated spaces swiftly.
Robust Build: Durable and stable design that withstands the rigors of outdoor use.
Cons:
No Built-in CO Alarm: Requires external carbon monoxide detectors for added safety.
Grid Cage Design: Wide gaps in the grid cage could allow small flammable materials to slip through.
Initial Start-up Hiccup: May need a bit of patience to purge air from the propane line during initial start-up, especially after changing propane tanks.
No Thermostat: Lack of a built-in thermostat could be a minor inconvenience for some users.
Altitude Limitation: May not function optimally at altitudes over 7,000 feet due to lower oxygen levels.
Heat Adjustment: Can get too hot even at the lowest setting, requiring careful monitoring.
Texsport Portable Outdoor Propane Tent Heater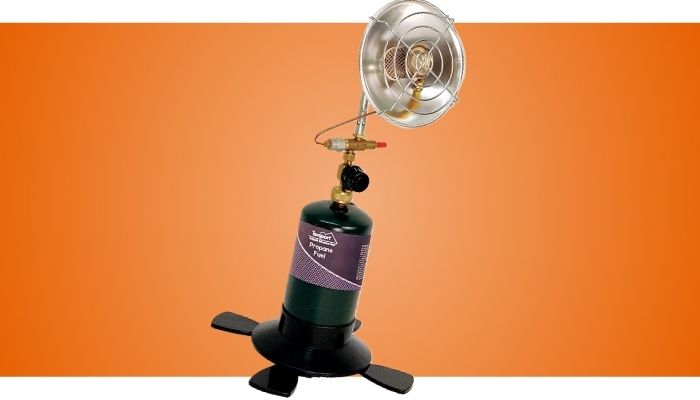 Light and easy to carry, this outdoor propane heater by Texsport takes 14.1 or 16.4 propane cylinders, giving out a maximum of 2,890 BTU.
It is made from durable stainless steel, but is a little fragile in spite of its oversized plastic base. Therefore, it's probably not the best choice if you're sharing your tent with unruly pets or young children. You'll also need a lighter or a match to light it, as there is no automatic ignition.
This heater's reflector comes with a steel safety grid to prevent serious burns. It also features an automatic fuel shut-off valve should its flame go out, making it safe to use in your tent. However, there is no oxygen depletion sensor, so be sure that your tent has more than adequate ventilation before using this model.
Thanks to its individual regulator control knob, you can easily adjust its heat output to suit your requirements. Depending upon your chosen heat output level, you can expect this heater to run for between four to six hours on a one-pound fuel cylinder.
Super-easy to transport and set up; this compact, basic propane heater is lightweight and features an integral carry handle. When not in use, the large paddle foot folds away for added convenience and easy packing.
All in all, a great option for staying warm without the set-up hassle and weight of some of the larger models.
Mr. Heater Little Buddy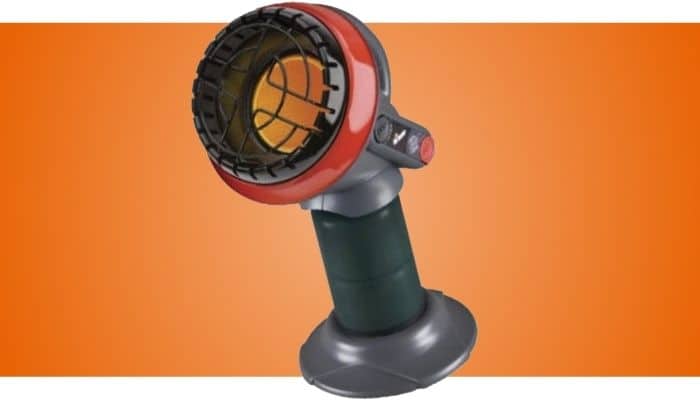 The Little Buddy by Mr Heater is small but mighty, generating enough heat for areas up to 95 square feet – plenty for your average six-person rated tent. It connects directly to one-pound propane cylinders with a functional space-saving design. The eight-inch round stand takes up a minimum of space, making it a great choice if you need to warm up a small or crowded tent.
This model outputs 3,800BTU per hour, which is impressive for its small size. However, note that there are no individual heat settings such as high or low. Even so, its runtime is a respectable 5.6 hours, which is perfect for getting you through the coldest hours of the night. Just be aware that when used at altitudes over 7,000 feet, this heater is liable to cut out, making it less suitable for mountaineering trips.
Safety-wise, this model has an automatic low oxygen shut off (ODS) as well as an accidental tip-over safety shut-off for added peace of mind.
The Little Buddy is also easy to use thanks to its one-button ignition system, with integrated Piezo sparking mechanism. So, you won't need to worry about fumbling with cold fingers for matches or a lighter.
Honeywell Best Tent Heaters Run on Electric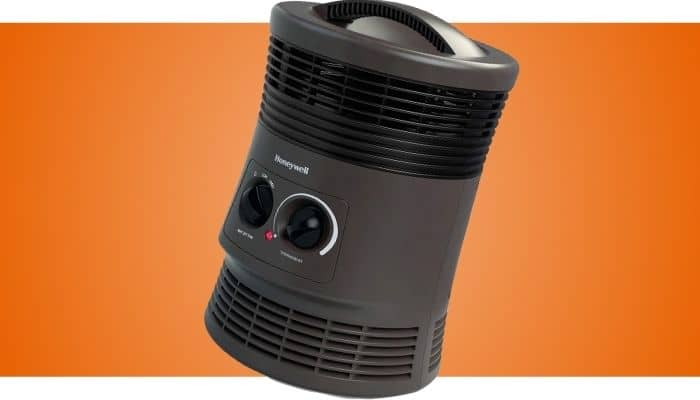 If you're camping with a generator or at a developed campsite, then this electrical heater by Honeywell makes a great choice for keeping your tent toasty warm. Its 1500W heat output makes it suitable for even large tents, while its small footprint ensures that it won't take up too much room in smaller ones.
One of the main advantages of this model is its 360-degree heat output design, for rapid, all-around warmth. This makes it a good choice for groups or families as everyone will be able to warm up simultaneously. The internal fan ensures that you feel the warmth from this unit from the moment you switch it on, but it does mean this model is rather noisy.
This heater is easy to use, with two heat settings and simple manual controls. It also has a built-in thermostat, so you can set it to take the chill off throughout the night without getting too hot. There is also a handy auto-off timer function.
In terms of safety, this model is a great choice and is suitable for use with supervised children and pets. It has a sturdy base to keep it upright, as well as an automatic shut off when tipped in any direction. With its overheat safety protection and cool-touch plastic housing and handle, this model exceeds current safety standards.
All in all, if you have access to power, we think this model is an excellent portable heater for camping with children or small groups.
OPOLAR Adjustable Thermostat Portable Heater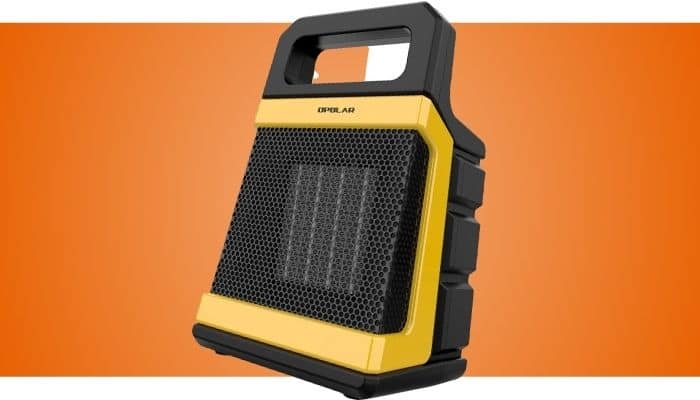 For instant warmth when you've got an electric hookup to your tent, try out this compact portable heater by Opolar. Robust and highly portable, thanks to its integrated carry handle, this model features a fan-assisted ceramic heat plate. You can use the fan alone, or select a low or high heat output at 1,000 and 1,500W respectively.
Thanks to its adjustable thermostat, it's easy to keep your tent at a comfortable temperature over extended periods, especially throughout the night. Simply turn the dial to adjust the thermostat to your personal preference. The red power indicator lets you know when your device is on and working.
One of the main advantages of this portable heater is its robust design. Made from heavy-duty plastic with a hard-wearing metal trim and a thick, flexible power cord, this heater has been built to last. Its sturdy design also makes it less likely to tip over, especially if you're camping with pets or young children.
EFL compliant, this model comes with essential safety features such as an automatic overheat cut off protection, for security and a long product lifespan. There is also tip-over shut off protection, just in case you manage to topple it over. The tip-over switch is underneath the unit and a little sensitive – so be sure to place it on a hard, flat surface as it may cut off unnecessarily.
Mr. Heater Big Buddy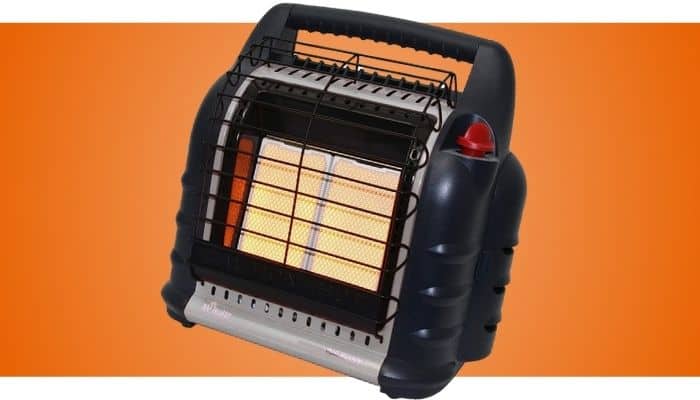 If you really feel the cold or have a large tent to heat without an electric hookup, then the Big Buddy by Mr Heater makes an excellent choice. Suitable for heating areas as large as 450 square feet, this tent heater has a maximum output of 18,000BTU and three heat settings: high, medium and low.
It is easy to get this propane tent heater set up. Simply attach two one-pound cylinders directly to the unit. Thanks to its swivel regulators, with the purchase of an additional hose and filter, you can also attach it to a large 20-pound cylinder if you're on an extended trip or to a remote gas supply for use other than camping.
The Big Buddy is easy to use thanks to its single-knob control with an integral Piezo sparking mechanism. However, note that this unit doesn't feature a thermostat, nor is it suitable for use at altitudes over 7,000 feet as it may cut out.
As with all Mr Heater products, this model has excellent safety features making it suitable for use in confined spaces. Protective safety wire encases the ceramic heat element and the unit features an automatic tip-over cut out. Importantly, this heater also comes with an Oxygen Depletion Sensor that causes it to shut off when oxygen levels are too low.
Robust and hard-wearing, the Big Buddy has been designed to withstand years of use. Combined with its large integrated carry handle and sturdy design, this tent heater is a perfect choice for chilly camping trips.
Camplux Portable Butane Heater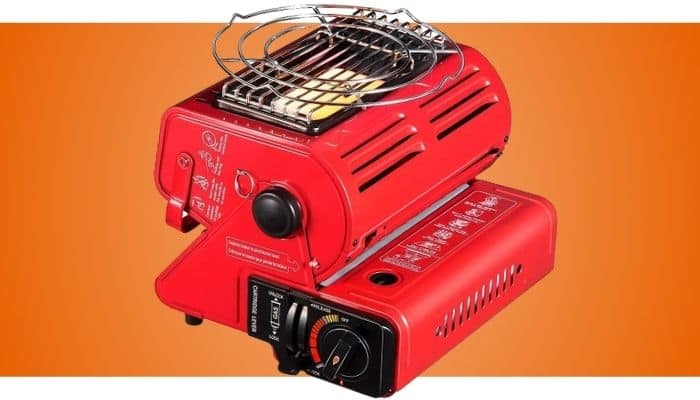 Save space and money with this two-in-one heater and cooking stove by Camplux. With a good heat output of 4,400BTU, this heater is best used for tents up to 100 square feet, or an average sized six-person tent. This heater takes standard 8oz butane gas canisters and runs for approximately five-hours per canister.
Thanks to its adjustable angle design, you can direct the heat to where you need it most for extra comfort. To put the heater into cooking mode, you simply rotate the ceramic burner 90-degrees. This is ideal for making coffee and breakfast to warm you from the inside and out! Simply place the pan rack on the burner and you're ready to cook.
This butane tent heater has a built-in safety pressure sensor, as well as a gas-flow automatic cut off mechanism. Its Piezo ignition system means you don't need to worry about having matches or lighters to hand and makes it quick and easy to warm up in a hurry.
If you want to make simple meals or even just a hot drink when camping over the colder months of the year, then it makes sense to opt for this multifunctional tent heater. It is also portable, thanks to its folding design and fold-down carry handle, making it effortless to pack up and hit the trail.
Lasko Portable Space Heater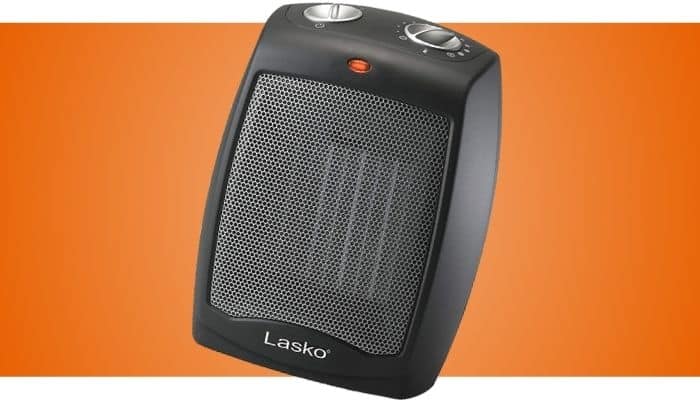 If you're camping on a site that provides electric hookups, using a generator or any other scenario that gives you the opportunity to use electricity to warm your tent, then the Lasko Portable Space Heater could be just what you need. It provides heat quickly thanks to its internal fan, which can also be used without heat during warmer months.
With up to 1500W of warmth, you can choose between two heat settings, low or high. This model also features a built-in adjustable thermostat for added convenience and comfort. Its manual controls are easy to use, while its carry handle makes it simple to transport and pack away when your stay is over.
Safety-wise, this model has a cool-touch exterior, so you can use it on family camping trips without worrying about accidental burns. This portable heater is also ETL listed and features automatic overheat protection for a long lifespan and extra peace of mind.
Its compact size and ease of use make this an excellent portable heater to heat your tent wherever you have an electric supply available. With its fan-assisted ceramic element, your tent will go from zero to cozy in no time and you won't have to worry about keeping a supply of spare gas bottles to hand.
Best Tent Heater Comparison Table
Buyer's Guide for Buying the Best Tent Heaters for Camping
If you're in the market for a new heater for your camping tent, be sure to read through our buyer's guide before making your decision. Packed with useful information on all of the essential features, it'll help you to find the best heater for your next cold-weather adventure.
Best Tent Heaters Price
Think long and hard before purchasing a tent heater based on low price alone. If you are planning on using your tent heater regularly or in harsh conditions, then it's well worth spending a little more for a higher quality, more durable product.
Many portable heaters are similarly priced and while the amount you spend may well be the deciding factor, we recommend that you look at a broad range of products at different price points before making your decision. This will help to ensure that you purchase the safest and most suitable product for your needs at the right price.
Types of Tent Heater
Before you hit buy, one of the most important decisions to make is which type of tent heater to go for. Here are the three main types and their individual advantages.
Electric Heaters
Electric heaters often have the advantage of being fan-assisted for extra fast warmth. They are also quiet, lightweight and you won't need to keep a stock of gas canisters.
You will, however, need an electric hookup or a generator to use them, making them unsuitable for wild camping. If you normally only pitch your tent at developed campsites, then electric heaters make a reliable choice and they are also very safe.
Propane Heaters
With a propane heater you can camp off the beaten track away from the modern world, without having to freeze during colder nights.
On the downside, you'll need to remember to keep a supply of full canisters as they tend to go through a one-pound canister per night on a low heat setting.
Propane heaters radiate heat effectively, usually via a ceramic heat plate or a steel reflector. Propane also produces more heat than butane and is more efficiently combusted, making it a more economical choice.
Butane Heaters
Butane heaters also take canisters, most commonly the standard-sized 8oz ones.
Like propane heaters they radiate heat; however, for very cold climates, propane is often the preferable choice thanks to its lower boiling point. That said, butane canisters are often more readily available and cheaper, especially as it tends to liquify more easily for better containment.
Safety Features for the Best Tent Heaters
While all three types of heater are very safe if used correctly, using a heater in a small, enclosed and often flammable environment requires safety to be top of your list of considerations.
Here are the main safety features that you should keep an eye out for. Remember, only use your heater in accordance with the manufacturer's recommendations and always sufficiently ventilate your tent.
Tipping Protection
Most heaters provide a tip-over cut off feature. Usually, this takes the form of a switch under the heater that completes the circuit. When the heater is tipped up, the switch disconnects and cuts off the energy supply. Tipping protection is a very basic, yet essential safety feature, especially considering the flammability of most tents.
Auto Cut Off
If there's a problem with your heater, you'll want it to cut out to prevent it from malfunctioning or even starting a fire or explosion. Check carefully which cut off functions are supported by your heater. Gas heaters, for example, may feature sensors that measure loss of pressure or excess flow that can automatically shut down your heater in the event of a problem.
Overheating Protection
Typically found on electric heaters, when the internal components get too hot, overheating protection cuts off power supply to your heater and prevents it from being restarted until those parts have cooled down. Not only does this prevent your heater from damage – but it can also prevent a fire from occurring.
Oxygen Depletion Sensors (ODS)
When using a combustion heater in an enclosed space, oxygen depletion sensors are essential to ensure that there is enough oxygen remaining.
Burning a fuel uses up oxygen, and when you do so in an enclosed space, there's a very real danger of injury or death from asphyxiation. Heaters with an ODS will cut out automatically once oxygen levels fall below recommended concentrations.
Alongside an ODS, we recommend always using a carbon monoxide detector when heating an enclosed space such as a tent, cabin or RV with a combustion heater.
Camping Heater Noise
While all tent heaters will produce some level of noise, electric fan-assisted heaters tend to be the noisiest options.
If you are sound-sensitive or using a tent heater when out stalking and hunting, opting for a gas-fuelled tent heater will be the quietest choice.
Size and Weight of Best Tent Heaters
Size is a very important aspect when choosing the best tent heater. Compact designs with small footprints tend to make a better choice, taking up less space. You'll want to place your heater in the center of your tent, away from the walls, and large models can just be too impractical in smaller tents.
With regard to weight, it's certainly true that the lighter the heater, the easier it will be to carry to wherever you decide to set up camp. However, for safety purposes, you'll want it to have some bulk to it to ensure it stays upright. Bear in mind that gas-powered heaters will require the additional weight of a full canister.
Heating Area/Size of Tent
Consider the size of your tent and compare it to the heating area associated with each tent heater before making your purchase. Most portable heaters are capable of heating a 6-person tent on high-output.
If you have a smaller tent or you're going it alone in a one-man pitch, tent heaters that offer a choice of settings will be best. This will allow you to adjust the heat levels to suit your needs, without getting uncomfortably warm.
Heat Output: BTUs and Wattage
Heat output for gas-powered heaters is measured in British Thermal Units (BTUs). Heaters with higher BTU ratings are more powerful and consequently give out more heat than lower-rated ones – making them better for large tents or particularly cold environments.
On the other hand, the output of an electric heater is measured in watts. Most are around 1,500W although you can find lower and higher wattages. If your electric tent heater offers adjustable settings, selecting a lower heat setting will result in a reduced wattage.
To convert watts to BTU, one watt is equal to approximately 3.41BTU, meaning a 1,500W heater gives out around 5,118BTU.
Adjustability
Some tent heaters have a fixed design, while others offer adjustable parts or oscillation that allows you to direct their heat for added comfort. If you tend to go camping in a group, opting for a heater that can direct heat across a wide area is the best way to keep everyone warm and happy.
Durability
For the very occasional camper, durability may seem less important. However, purchasing a durable, high-quality tent heater will ensure that your money is wisely spent, as well as being better for the planet. We recommend opting for robust construction materials and a solid design that can withstand being loaded and unloaded over the course of several years.
Top Tent Heaters Video
Frequently Asked Questions About Tent Heaters
When it comes to camping in chilly weather, having a reliable tent heater can make all the difference between a cozy, enjoyable camping experience and a freezing ordeal. However, choosing the right tent heater and understanding how to use it safely can be a bit overwhelming, especially for those new to cold-weather camping. To help you navigate through the world of tent heaters, we have compiled a list of frequently asked questions to provide you with the essential information you need. Whether you're a seasoned outdoor enthusiast or a beginner looking to stay warm on your next camping trip, this FAQ section will address common concerns and shed light on the best practices for selecting, using, and maintaining tent heaters. So, let's dive in and find answers to the questions you may have about these vital camping companions.
Why do I need a tent heater?
A tent heater is essential for camping in cold weather conditions. It provides warmth and comfort inside your tent, allowing you to sleep comfortably and enjoy your camping experience, even when the temperatures drop.
Are tent heaters safe to use inside a tent?
Tent heaters can be safe to use inside a tent if used properly. However, it's important to follow the manufacturer's instructions and safety guidelines to reduce the risk of accidents. Always ensure proper ventilation, keep the heater away from flammable materials, and never leave it unattended while it's in operation.
What types of tent heaters are available?
There are various types of tent heaters available, including electric tent heaters, propane-powered tent heaters, and battery-operated tent heaters. Each type has its own advantages and considerations, so it's important to choose the one that suits your needs and camping conditions.
Which type of tent heater is the best?
The best type of tent heater depends on your specific requirements. Electric tent heaters are generally safer and easier to use, while propane heaters provide more heat output but require proper ventilation. Battery-operated heaters are portable but may have limited runtime. Consider factors such as fuel availability, portability, and safety features to determine the best option for your camping needs.
How much heat output should I look for in a tent heater?
The heat output required for your tent heater depends on the size of your tent and the expected temperature range. As a general guideline, a heater with around 1,000-3,000 BTUs (British Thermal Units) should be sufficient for small to medium-sized tents, while larger tents may require heaters with higher BTU ratings.
How do I ensure proper ventilation when using a tent heater?
Proper ventilation is crucial when using a tent heater to prevent carbon monoxide buildup and ensure fresh air circulation. It's recommended to crack open a window or use a tent with ventilation ports specifically designed for heater use. Avoid completely sealing the tent to allow for airflow and install a carbon monoxide detector for added safety.
Can I use a tent heater while I sleep?
It's generally safe to use a tent heater while sleeping, but precautions should be taken. Ensure the heater is functioning properly and follow safety guidelines provided by the manufacturer. Avoid placing the heater too close to your sleeping bag or other flammable materials. It's also a good idea to turn off the heater or switch to a lower setting before going to sleep.
Are there any tent heaters specifically designed for high-altitude camping?
Yes, some tent heaters are designed for high-altitude camping where temperatures can be extremely cold. These heaters often have specialized features like high-altitude settings to maintain performance at higher elevations. If you plan to camp at high altitudes, it's recommended to choose a tent heater specifically designed for such conditions.
Can I use a tent heater in a camper or RV?
Yes, tent heaters can be used in campers or RVs, but it's important to choose a model that is suitable for indoor use. Look for heaters that are specifically designed for use in enclosed spaces and have appropriate safety features. Ensure proper ventilation and follow the manufacturer's instructions for safe operation.
What other safety precautions should I consider when using a tent heater?
Besides proper ventilation, there are a few other safety precautions to keep in mind. Never leave the tent heater unattended, especially when children or pets are present. Keep flammable materials away from the heater and avoid touching the hot surfaces. It's also advisable to have a fire extinguisher nearby as an additional safety measure.
Note: This FAQ section provides general information and recommendations. Always refer to the manufacturer's instructions and safety guidelines for specific details about your tent heater model.
Final Thoughts on the Best Tent Heaters
As we have seen, there are plenty of excellent tent heaters available for a variety of different camping styles and tent sizes.
After reading this in-depth guide, whether you're looking for a compact and portable propane model like the Little Buddy or an electric fan-assisted unit such as the Lasko Space Heater, you're sure to find the best tent heater to keep you toasty warm this winter!