Top 3 Best Hiking Watches
Garmin Fenix 5X Plus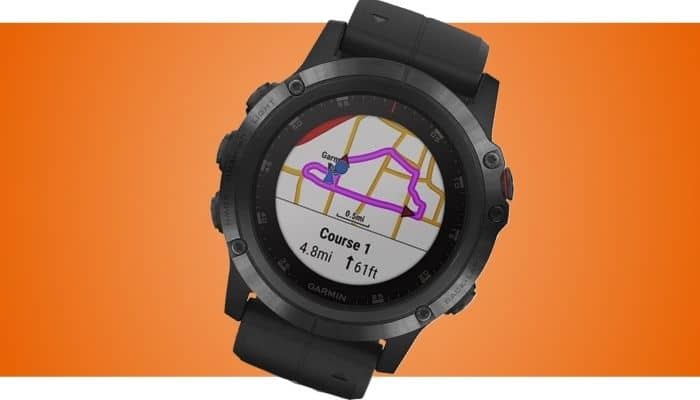 Multisport modes for cycling, running, and more
GPS, GLONASS functionality, and map storage
Fitness tracking with heart rate monitor and Pulse Ox meter
Stellar battery life, lasting for more than 10 days with continuous heart rate monitoring
Smartwatch functionality including music feature
Suunto Ambit3 Peak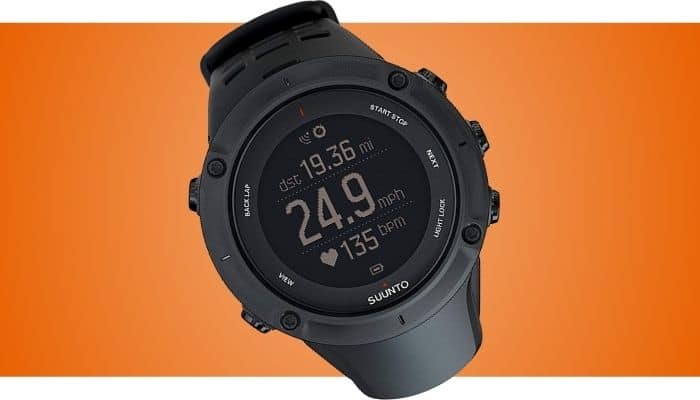 GPS capability with point-to-point routing
Barometer, thermometer, altimeter, and compass functionality
Weather information based on atmospheric data
Optional heart rate monitoring with Suunto app pairing
Limited smartwatch functionality for displaying phone notifications
Suunto 9 Multisport GPS Watch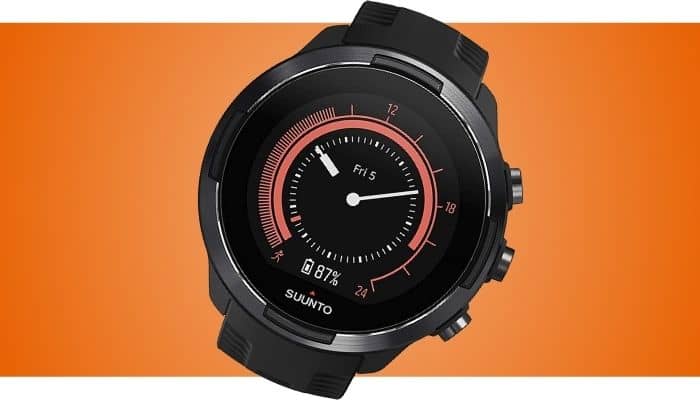 GPS functionality optimized for over 80 different sports and activities
Adaptive battery management system offering up to 120 hours of usage depending on functionality
Barometer, thermometer, compass, altimeter, and built-in storm alarm
Availability of maps with topographic and standard routing options from various sources
Excellent navigational functionality at a reasonable price
Outdoorsman Toolkit is reader-supported. When you buy through links on our site, we may earn an affiliate commission.
Learn more
When you're out in the backcountry getting lost and getting caught in severe weather are two of the worst things that can happen to you. As tech gets smaller and more capable though lots of companies have released high-quality wearable products to help you find your way and monitor the weather. Hiking watches are a prime example of these incredibly useful tools that basically didn't exist just a decade or so ago. Today we'll be reviewing a number of different tools to help you find the best hiking watch available.
Best Hiking Watch Reviews
Hiking watches are one of those tools that some people hate and others swear by. They have very specific uses that are downright essential under the right conditions.
Picking out the right one for your specific needs can get a bit difficult. There's a lot of variables that go into finding the perfect fit for you.
Below we've reviewed some of the best and most useful hiking watches across a range of price points and functionality to aid you in your search.
Garmin Fenix 5X Plus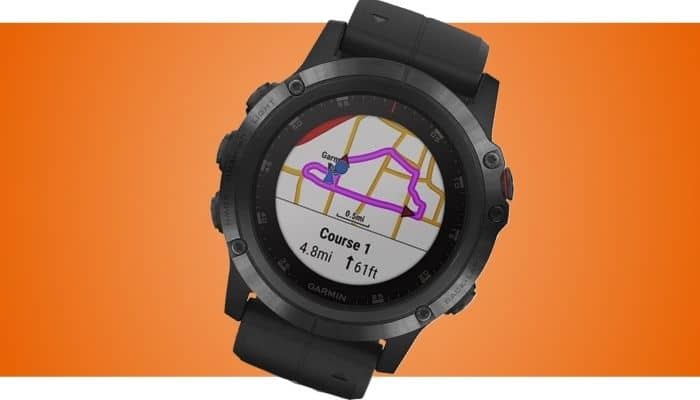 As someone who is constantly drawn to the outdoors, be it hiking, camping, or just a leisurely stroll in the woods, I've always sought a reliable companion to track my adventures. The Garmin Fenix 5X Plus has not only met but exceeded these expectations. It's like having a personal assistant on my wrist wherever I go.
Right from the get-go, the aesthetics of this watch appealed to me. The titanium bezel coupled with a sapphire crystal lens promised durability and a stylish appearance. The hefty price tag of well above $500 did make me flinch, but having used it extensively now, I can vouch for its worth.
The watch snugly fits my average-sized wrist, and the 51mm case doesn't feel too bulky, despite my initial reservations. It's a watch that effortlessly transitions from the rugged trails to casual city wear. I did opt for a Slate Gray stainless steel band, which, in my opinion, elevates the watch's look even further.
Now onto the features that make this watch a powerhouse – the multisport modes are a game changer. Whether I'm cycling through the countryside or just out for a run, the customization and data it provides is incredible. The GPS and GLONASS functionality coupled with the ability to store maps and topographic data proved invaluable during my hikes. The Point to Point Navigation and Return to Start features ensured I never felt lost, even in unfamiliar terrains.
The smartwatch functionality is a nice touch, but what stands out is the fitness tracking. The heart rate monitor and Pulse Ox meter worked flawlessly, providing insightful data that helped me understand my body's response to different altitudes and intensities. However, I must admit, I didn't find much use for the Pulse Ox meter, as most of my hikes are at moderate altitudes.
The battery life is stellar. Even with the 24/7 wrist heart rate monitor on, it lasted for more than 10 days. This is especially reassuring when I'm out camping and don't have ready access to a charging point. The music feature, although had a minor hiccup with syncing playlists when switching between Spotify and iTunes, kept me entertained during long trail runs.
Although the watch interface can initially feel overwhelming due to its multitude of options, once set, it's relatively straightforward. The Garmin Connect app on my phone made tweaking settings a breeze.
One aspect that left room for improvement was the complexity of the watch interface. It required a bit of a learning curve to navigate through the menus, but with the Connect app on my phone, this became less of an issue over time.
During a recent weekend getaway, I decided to test the Fenix 5X Plus on a challenging trail in the Rocky Mountains. As the early morning mist cleared, I geared up and set the watch to hiking mode. The GPS locked in swiftly, and I embarked on the trail. The topo map feature was nothing short of a boon – it provided clear terrain details which helped me navigate through some confusing segments of the trail. Halfway through, a sudden rainstorm hit. While I scrambled to find shelter under the dense canopy, the Fenix 5X Plus sat snugly on my wrist, unbothered by the heavy downpour, living up to its water-resistant claim. The storm alert feature gave me a heads up, but the mountain weather was quicker. However, it's good to know that with time, I can learn to trust this feature for a heads-up in future hikes.
The path was a mixture of steep inclines and rocky descents, and the watch diligently tracked my speed, heart rate, and elevation – data which later helped me analyze my performance. Despite the rugged use, the sapphire crystal lens remained unscathed, attesting to its durability. The battery life hardly took a hit despite the GPS and heart rate monitor running continuously. By the end of the day, as I sat by the campfire reviewing my journey on the watch, the satisfaction of having a reliable gadget that could keep up with the rigors of outdoor adventures brought a sense of contentment. The Garmin Fenix 5X Plus proved to be more than just a watch; it was a companion that added value to my outdoor escapade, promising many more insightful adventures ahead.
The Garmin Fenix 5X Plus is a premium piece of gear designed for someone who, like me, is keen on tracking their outdoor pursuits with precision. Yes, it's pricey, but it's an investment for the avid outdoorsman. The level of customization, durability, and the plethora of features it offers makes every penny spent on it well worth it. This watch has now become an integral part of my outdoor gear, and I look forward to many more adventures with it.
Pros:
Multisport Features: Customizable settings for a variety of activities including hiking, running, cycling, and more.
Durability: Robust build with a titanium bezel and sapphire crystal lens able to withstand rough outdoor use.
Battery Life: Impressive battery longevity, lasting over 10 days with continuous heart rate monitoring.
Navigation Capabilities: In-built GPS and GLONASS, alongside Point to Point Navigation and topo maps, provide reliable guidance on trails.
Fitness Tracking: Comprehensive data collection including heart rate, pulse oximetry, and various performance metrics.
Smartwatch Functionality: Handy smart notifications, music storage, and playback features.
Water Resistance: Holds up well in heavy rain, water-resistant up to 100 meters.
Cons:
Price: A premium gadget with a price tag to match, which might deter budget-conscious buyers.
Interface Complexity: Initial setup and navigation through menus can be a bit cumbersome, although mitigated somewhat via the Connect app.
Music Syncing: Minor hiccups when switching between Spotify and iTunes.
Pulse Ox Feature: May not be very useful at moderate altitudes, more suited for high-altitude adventures.
Size: May feel bulky to some, especially those with smaller wrists or those used to lighter watches.
Map Quality: Map details may vary based on the region, with some areas having rudimentary map data.
Suunto Ambit3 Peak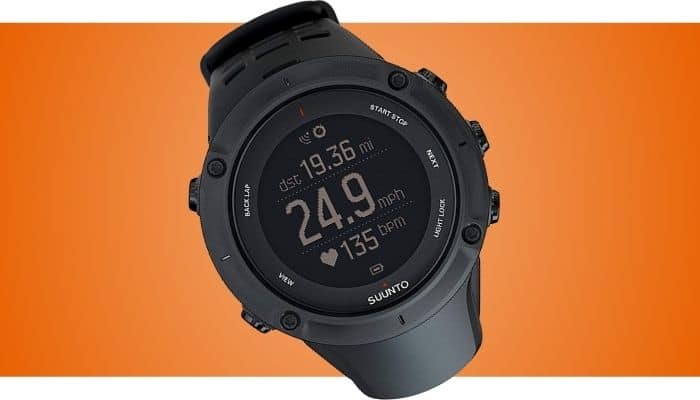 Suunto is one of the most respected names in the outdoor timepiece and navigation field. The Ambit3 Peak is their midrange offering designed to provide GPS capability for a variety of outdoor activities.
It has a stainless steel bezel with a mineral crystal lens and weighs 3.14 oz. It uses a rechargeable lithium ion battery that's capable of providing up to 30 days of use in timepiece mode or 200 hours in basic GPS mode.
This is great if you're planning a longer duration hike and want to make sure you can get your bearings quickly and efficiently.
It's only compatible with GPS but has the ability to show you a point-to-point route. It also includes a barometer, thermometer, altimeter, and compass functionality.
For weather information it can show you predicted trends based on atmospheric data and up to 26 hours of previous hike time. When paired with the optional heart rate belt it can monitor your heart rate for training purposes. If you pair it with the Suunto app you get access to all kinds of useful fitness information like stride distance, distance traveled, etc.
It has limited smartwatch functionality when paired with the Suunto app but can at least display notifications from your phone. It's not as loaded with features as some other watches on our list but it is priced at a very affordable level for a GPS hiking watch.
If you're looking for a durable and fully functional GPS hiking watch with an excellent battery life the Suunto Ambit3 Peak is a great choice.
Suunto 9 Multisport GPS Watch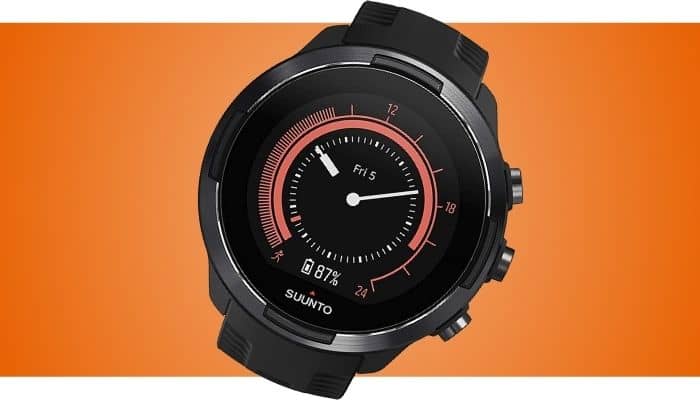 The Suunto 9 is a multisport GPS watch designed to provide meet all your outdoor and fitness tracking needs. It combines GPS functionality with programming optimized for more than 80 different sports and activities.
It's made with a stainless steel bezel with a sapphire crystal lens and weighs just 2.86 oz. It has a 15 day battery life on timepiece mode and uses an adaptive battery management system when the GPS is active.
It runs for either 25, 50 or 120 hours depending on how much functionality you have turned on. If you use it strictly for positioning and route planning while hiking you'll get a longer run time that you will during high intensity sports. This is due to the much greater data collection demands of the other modes.
It includes a barometer, thermometer, compass features, an altimeter, and a built-in storm alarm. One of the best features of the Suunto 9 is the availability of maps. Unlike some manufacturers you don't need to use their proprietary mas. You can put topographic and standard routing maps from a variety of sources onto the Suunto 9. Pricewise it's middle of the pack for GPS enabled hiking watches.
The Suunto 9 multisport is an excellent multisport watch with a lot of useful features. It offers very adaptable navigation functionality at a reasonable price.
Suunto Core Watch with ABC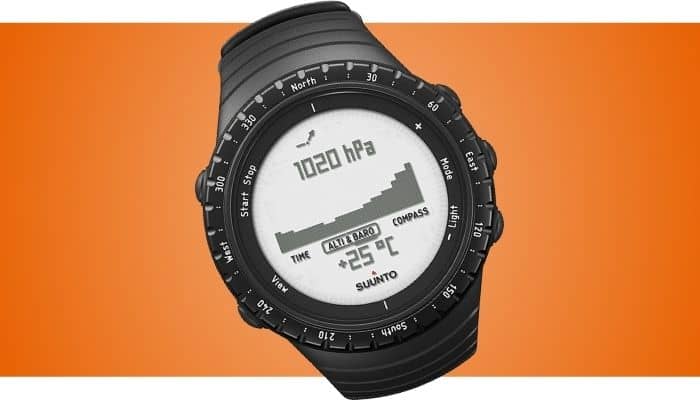 The Suunto Core is a basic hiking watch that offers several very useful features at a great price. It has ABC functionality, those being altimeter, barometer, and compass but doesn't have GPS navigation.
It has an aluminum bezel with a composite case and mineral crystal lens. It weighs 2.26 oz and is water resistant up to 100m and has a built-in depth gauge up to 10m for freediving.
While it lacks the fitness tracking and GPS functionality of many other hiking watches it does provide many useful features. It has a 12 month replaceable battery and is capable of displaying a weather trend chart using up to 7 days of stored data.
When combined with the compass and altimeter this gives you the core functionality needed when out in the wilds. By far its biggest selling point is price—the Core is frequently available at sub $200 pricing.
If you're looking for a sleek and stylish hiking watch with useful features at a reasonable price the Suunto Core should definitely be on your list.
Casio Pro Trek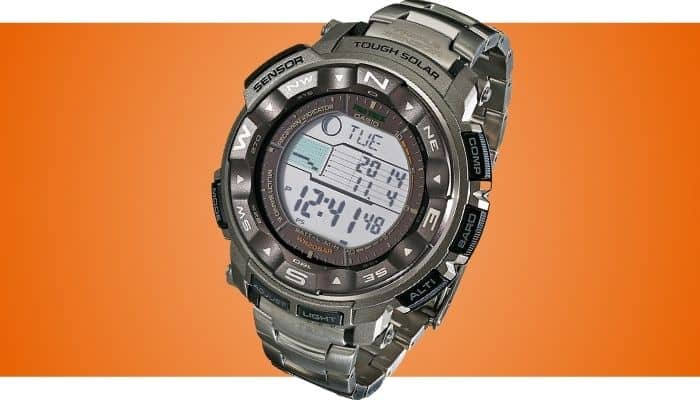 The Casio Pro Trek is a rugged hiking watch built around an altimeter, barometer, and compass. It uses a multi-band atomic timekeeping that links the internal clock to radio signals coming from a highly accurate atomic clock.
It's available in a wide range of different materials and finishes, each with a slightly different weight. We're quite fond of the titanium band and bezel version with built-in tide and moon phase charts.
It uses a solar charged battery that's good for up to 5 months without additional charging. With regular wear it rarely drops in power noticeably. It offers all the standard features of a digital watch including a chronograph, programmable alarms, timers, and stopwatch features.
It doesn't have GPS capabilities but does allow you to monitor barometric pressure with a tendency graph. It's submersible up to 200m and is built to stand up to most drops, bumps, or impacts.
The Casio Pro Trek line of altimeter, barometer, and compass watches are rugged and reliable hiking watches. The basic models don't offer GPS functionality but they have exemplary battery life, excellent features, and look really cool.
Garmin Descent Mk1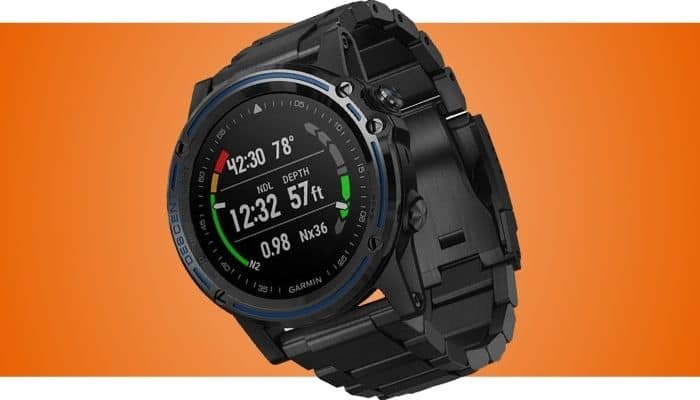 Strictly speaking the Garmin Descent Mk1 isn't a straightforward hiking watch. It's primarily a fully fledged SCUBA diving computer designed to help divers plan and record their dives.
It's available in either stainless steel or titanium and gives you several band options. If you intend to use it for diving we highly recommend you go titanium. It's far more corrosion resistant than even the best stainless steel.
The dive computer itself is excellent. It's fully capable of planning dives using multiple gas blends and can take into account time underwater, activity, and numerous other variables. The GPS functionality makes it easy to track your movement from entry point to exit point and can be used in other sports.
It offers full point-to-point navigation when not being used as a dive computer plus a range of sporting features. Think heart rate monitoring, step tracking, calorie counts, and distance traveled.
As a dive watch it's completely waterproof and certified to comply with EN13319 standard for dive sensors and devices. It can survive in conditions that no soft shell diver could reach.
The Descent Mk1 has a 19 day battery life in watch mode, 40 hours in dive mode, and up to 20 hours with GPS active. This is pretty good for a GPS capable watch, especially one with as many features as the Descent Mk1 possesses.
It isn't all good news though. To start with the Descent Mk1 is heavy, weighing a full 5.11 oz. This doesn't sound like a whole lot until you remember that it's going on your wrist full time.
The biggest downside though is the price—It blows right past the $1,000 mark to sit between $1,200 and $1,500.
We'll be brutally honest here, the Garmin Descent Mk1 has too much functionality for most outdoorsman. Unless you're an active scuba diver you don't need the majority of the features it provides. If you are a hiking diver though it's a great way to combine two major purchases in one and get a very nice diving/hiking watch.
Casio Pathfinder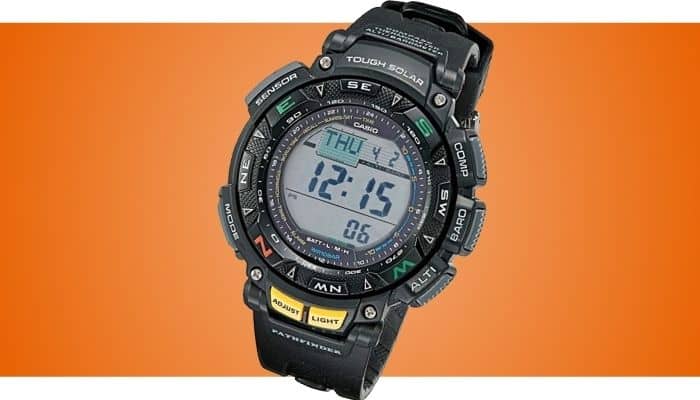 The Casio Pathfinder is an entry level ABC hiking watch that offers triple sensor capabilities in a durable package. It's made from less expensive though still durable materials than many other hiking watches we've reviewed.
The body of the watch is made from stainless steel with a mineral crystal lens. It offers a barometer, altimeter, compass, and thermometer. It doesn't possess GPS capabilities but is priced well below comparable GPS hiking watches.
The Pathfinder is an excellent hiking watch if all you're worried about is keeping a bearing and watching the weather. The barometer can give you instant weather readings whenever you need one.
It includes all the features you expect from a Casio watch such as timers, alarms, world clocks, and sunrise/sunset data. It's a solar powered hiking watch with a battery life of 5 months in between charges.
If you're looking for a bombproof way to keep a bearing and monitor changing weather patterns out in the backcountry the Casio Pathfinder is an excellent and inexpensive hiking watch to do it with.
Suunto Traverse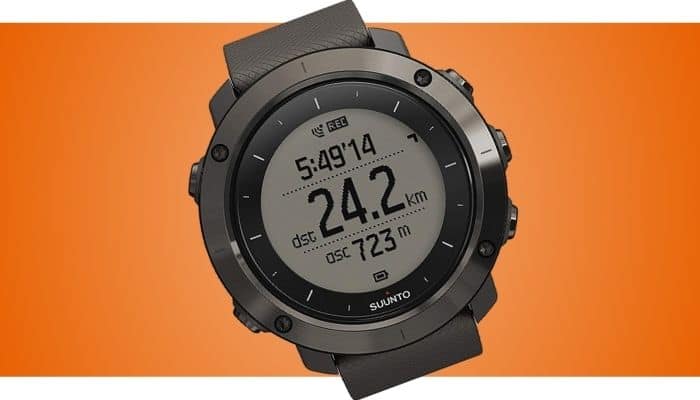 The Suunto Traverse is a GPS capable hiking watch with full smartwatch functionality. It includes in-demand features such as:
GPS and GLONASS Routing and Tracking
Fitness and Activity Tracking
Barometer with Tendency Chart
Sunrise/Sunset Times
It's made from stainless steel and composite components with a mineral crystal bezel and weighs just 2.82 oz. It has a rechargeable lithium ion battery that gives it a 14 day life in timekeeping mode and either a 10, 15 or 100 hour lifespan in GPS and fitness tracking modes.
It pairs with the Suunto app to allow easy updates and loading of new maps and information. This is accomplished through bluetooth connectivity. It also allows you to read notifications from your phone and monitor things like your steps and heart rate.
For hiking it offers a full topographic map setup with built in altimeter and waypoint capable navigation. It allows you to find the most popular routes for a given area quickly and easy with the Suunto heat map feature.
Pricewise the Suunto Traverse sits right in the middle of the pack, due mainly to the less expensive materials used in its construction.
If you're looking for a fully GPS capable hiking watch with a good battery life that won't break the bank the Suunto Traverse is definitely one you should check out.
Garmin Tactix Charlie Multisport GPS Watch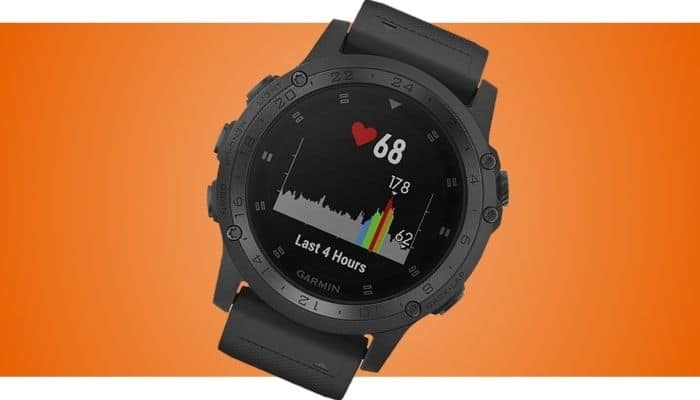 The Garmin Tactix Charlie is a multisport GPS watch built specifically with soldiers in mind. It has a specialized display designed to be easy to read in daylight but still compatible with night vision goggles.
Because of this focus the Tactic Charlie is built to military spec standards out of titanium and stainless steel. It weighs 3.17 oz and is water resistant to 100 m. It runs on a lithium ion battery rated to provide a 12 day lifespan in smartwatch mode and up to 20 hours in full GPS mode.
It has a built-in heart rate monitor as well as other useful fitness and athletic tracking tools. As a high-end GPS hiking watch it includes a barometer, thermometer, altimeter, and compass. It's compatible with GPS, GLONASS, and Galileo navigation systems.
The Tactix Charlie has a storm alert setting that responds to barometric conditions and warns you when a storm is imminent. It can be paired with your smartphone and quickly adjusted using the Garmin app. This also allows you to change the included map packs or adjust the settings.
The Tactix Charlie is a ruggedly built and tactically focused GPS smart watch. It has every feature you could ask for when heading to the backcountry but is definitely on the premium side of the market.
Best Hiking Watch Comparison Table
Buyer's Guide to Buying the Best Hiking Watch
There are two major types of hiking watches to choose from. These are GPS watches and strictly ABC, for altimeter, barometer, and compass, hiking watches.
GPS watches have far more functionality but are substantially more expensive. Once you get into these two categories there are a number of other important features and factors to look at.
Price
There's no getting around this—Hiking watches are expensive. They're precision digital tools with high-quality sensors and lots of features.
Basic models without GPS run well over $100. Once you add in GPS/GLONASS capability you end up with something that's going to cost several hundred dollars all the way up to over a thousand.
Barometer
A barometer is just about the most important tool for your hiking watch to have. GPS is great, don't get us wrong, but a quality barometer can save your life out on the trails.
Weather patterns aren't easy to predict long-term, but there are very clear atmospheric effects that show a short-term change. A drop in barometric pressure signals that bad weather is on the way. Similarly, as barometric pressure goes up you can know that the weather will also start to clear up.
You should only consider a hiking watch that shows you a barometric tendency graph. This gives you information about local barometric pressure recently. It allows you to quickly know when the pressure drops suddenly, signalling that it's time to seek shelter or break out your rain gear.
Altimeter
Knowing your elevation relative to sea level is extremely useful when navigating in the backcountry. There are two ways hiking watches can find the elevation:
Barometer Readings
GPS Data
Using the barometer to find your elevation is less accurate and requires periodic calibrations. It uses the ambient air pressure to figure out your elevation.
GPS based altimeters are far more accurate and rely on GPS data combined with digital topography information.
Compass
There's no need to explain how useful a compass is in the backcountry. While a hiking watch should never be your sole method of navigation, it does give you a convenient way to check your bearings while in motion.
Both GPS and non-GPS hiking watches will almost always include a compass.
Thermometer
Being able to get a reasonably accurate temperature reading is a great way to determine if things are getting a little too cold or hot. To use a hiking watch thermometer you'll need to take it off your wrist.
This eliminates the heat from your body and allows the watch to get a good idea of the ambient temperature.
GPS
GPS capable hiking watches are one of the best and easiest navigation options in the backcountry. They give you your exact coordinates to within a few feet and allow you to quickly plan a route to another location.
Many GPS hiking watches allow you to import maps and routing information to your watch. This lets you just it just as you would a car GPS except deep in the wilderness.
Depending on where you are in the world you should find out what systems your watch can interface with. GPS is the most common and accurate but GLONASS and Galileo are two other widely used navigation networks.
Wi-Fi and Bluetooth Connectivity
If you decide to get a GPS capable hiking watch make sure it also has wifi capabilities. It's so much easier to upload maps and other data to your watch if you can quickly connect to it with wifi.
Bluetooth is also useful to have as it allows you to pair your watch with other devices.
Waterproof
Any hiking watch should basically be totally waterproof. The most common rating you'll see is around 100 meters. At that point your watch can hold up to any water conditions you can throw at it.
Fitness Tracker
With the explosion in popularity of Fitbit's and other fitness tracking tools many hiking watches have started incorporating the same features.
These include things like:
Step Trackers
Heart Rate Monitors
Sleep Monitoring
Distance Monitoring
If you're planning to wear your hiking watch on a daily basis these are excellent features to have. They allow you to use it as both an outdoor tool and a daily exercise aid.
One thing to keep in mind though is that the more features your watch possesses the short its battery life will be.
Weather Alarms
One really useful feature on many modern hiking watches is the weather alarm. It triggers when the barometric pressure begins to drop suddenly.
This is a clear indicator that bad weather is on the way and a great way to know when to take shelter.
Battery Life
The last thing you want when out on a hike is to have your GPS or other navigational tool stop working. Make sure you find out just how long you can use your hiking watch before needing to charge up.
Non-GPS watches have a nearly indefinite battery life. Many use a solar powered design that charges up whenever the watch face is exposed to the sun or bright light.
GPS watches need charging much more frequently. When you're using the full GPS capabilities of the watch you can expect to get 24-48 hours of continuous use before a charge is required.
If GPS and fitness tracking features like heartbeat monitor and step trackers are off you'll probably get at least a week or two of use between charges.
Extra Features
As smart watches have become more widely available, many hiking watches have started to take on smart watch features. Most wifi/bluetooth capable GPS hiking watches have a lot of smartwatch functionality like phone notifications, texting capabilities, and even music storage.
You can do everything from read an email to dictate a text right from your hiking watch. This makes it a lot more likely that you'll want to use it as an EDC tool rather than just an on trail device. It also makes paying the high price of most GPS hiking watches a lot more palatable.
User Interface and Display Quality
With hiking watches rapidly becoming more navigation focused smart watches than strictly outdoor tools interface becomes much more important. You need to be able to efficiently and easily navigate the various settings and screens to use it effectively.
The quality of the display itself is also important. It doesn't need to be HD quality by any means but it should be easy to read, backlit, and designed for all weather conditions.
Comfort, Design and Style
No matter how useful and loaded out with features a hiking watch is you've got to be wearing it to benefit. Comfort and design should be one of your top priorities when comparing different hiking watches.
If possible we recommend you try on any watch you're considering and move your arm through its full range of motion. This allows you to see if there are any snag points on the band or if it's too heavy.
Another consideration relates back to what we like to call the 'goober factor'. Think about that guy we all knew in high school, the one who liked to carry a briefcase to school and wore that big calculator watch.
No one wants to be that guy.
Modern hiking watch manufacturers take this into account and try their very hardest to create sleek and stylish watches that you want to wear on a daily basis. You can find watches made from every high-strength material, including some really nice titanium and chrome ones.
At a Glance: Our Top 9 Best Hiking Watches
Top Hiking Watches Video
Frequently Asked Questions About Hiking Watches
Choosing the right hiking watch can greatly enhance your outdoor adventures. With a plethora of features and options available, it's natural to have questions when trying to find the perfect timepiece for your hiking needs. To help you make an informed decision, we've compiled a list of frequently asked questions about hiking watches. Whether you're a seasoned hiker or a beginner venturing into the great outdoors, this FAQ section will provide you with valuable insights and answers to common queries.
From understanding the essential features to considering accuracy and durability, we'll address key factors to consider when selecting a hiking watch. We'll explore the importance of features like GPS functionality, altimeter, barometer, and compass, and how they can assist you in navigation and monitoring essential outdoor metrics. Additionally, we'll delve into battery life, water resistance, and versatility for other outdoor activities.
We'll also touch upon topics like the reliability of altitude and barometer readings, the suitability of hiking watches for everyday wear, and the availability of smart features. By the end of this FAQ section, you'll have a clearer understanding of what to look for in a hiking watch and be well-equipped to choose the ideal companion for your hiking escapades.
So, let's dive into the frequently asked questions and get ready to find the perfect hiking watch that combines functionality, durability, and style to elevate your outdoor experiences!
Why do I need a hiking watch?
A hiking watch is a valuable tool for outdoor enthusiasts as it offers a range of features specifically designed for hikers. It can provide important information such as altitude, barometric pressure, weather forecasts, compass directions, GPS navigation, and more. It helps you stay on track, monitor your progress, and make informed decisions while exploring the great outdoors.
What features should I look for in a hiking watch?
When choosing a hiking watch, consider features such as GPS functionality, altimeter, barometer, compass, water resistance, battery life, durability, and user-friendly interfaces. GPS functionality is especially useful for navigation, while an altimeter and barometer provide elevation and weather data. A compass is handy for orienting yourself, and water resistance ensures the watch can withstand outdoor conditions.
Can I rely on a hiking watch for navigation?
Hiking watches with built-in GPS functionality can be reliable for navigation, especially if they have preloaded maps or the ability to download maps. However, it's always a good idea to carry a physical map and compass as a backup, as GPS signals may be affected by factors like dense tree cover or poor satellite reception.
How accurate are the altitude and barometer readings on hiking watches?
The accuracy of altitude and barometer readings can vary among hiking watches. Generally, they provide reasonably accurate data, but factors like weather conditions, calibration, and user error can affect accuracy. It's important to calibrate your watch before each hike and use it as a reference rather than solely relying on it for critical decisions.
How long does the battery last on a hiking watch?
Battery life varies depending on the brand, model, and usage of the hiking watch. Some watches can last several weeks in basic timekeeping mode, while others with more features and frequent GPS use may last only a day or two. Consider your expected usage and choose a watch with a battery life that suits your needs. Carrying a portable charger or spare batteries is also recommended for longer hikes.
Are hiking watches waterproof?
Most hiking watches are designed to be water-resistant, but the level of water resistance can vary. Some watches are suitable for swimming or snorkeling, while others can handle submersion in deeper water. It's important to check the watch's water resistance rating and understand its limitations to ensure it meets your requirements.
Can I use a hiking watch for other activities besides hiking?
Absolutely! Hiking watches often come with features that are useful for various outdoor activities such as camping, backpacking, running, cycling, and more. Many models offer activity tracking, heart rate monitoring, and other fitness-related functions, making them versatile for a range of outdoor adventures.
Are hiking watches suitable for everyday wear?
While hiking watches are designed to withstand rugged outdoor conditions, they can also be worn as everyday timepieces. However, keep in mind that some hiking watches may have a bulkier and more rugged appearance compared to traditional watches. Consider your personal style preferences and choose a watch that suits both your outdoor and everyday needs.
Can I receive notifications on a hiking watch?
Some hiking watches offer smart features that allow you to receive notifications from your smartphone, such as text messages, calls, and app alerts. However, these features may drain the battery more quickly. If you value staying connected while hiking, look for watches with smart capabilities, but keep in mind that they may not offer the same extensive features as dedicated smartwatches.
What is the price range for hiking watches?
Hiking watches come in a wide price range, starting from around $100 for basic models and going up to several hundred dollars for high-end, feature-rich watches. The price depends on factors such as brand reputation, build quality, features, and durability. Determine your budget and prioritize the features that are most important to you when making your selection.
Remember to do thorough research, read user reviews, and consider your specific hiking needs before investing in a hiking watch.
Best Hiking Watches Recap
Final Thoughts
A hiking watch can be one of the most important parts of your EDC if you find the right one.
Some people prefer the long battery life and lower pricing of the ABC style watches while others go for the smartwatch style GPS versions.
By comparing the features you need with what you're willing to spend it's easy to find the best hiking watch for your specific requirements.