Top 3 Best Hammock Underquilts
ENO Blaze Hammock Underquilt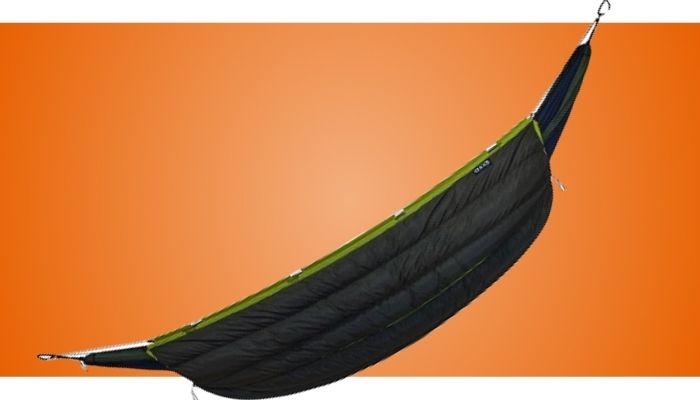 Warmth and Versatility: Filled with Downtek water-repellent down, suitable for 30-40°F. Can wrap around hammock and user for extra warmth, fitting even double hammocks.
Size and Adjustability: Measures 6'6″ x 4', full-length and adjustable, with an easy-to-use shock cord suspension system.
Materials and Performance: Made of sustainably sourced down, ripstop nylon shell, and DWR finish. Performs well even at 39°F without a sleeping bag.
Additional Features: Compatible with various hammock shelter systems and rain tarps.
Storage and Care: Includes a stuff sack and a large cotton bag for long-term storage.
Outdoor Vitals StormLoft Hammock Underquilt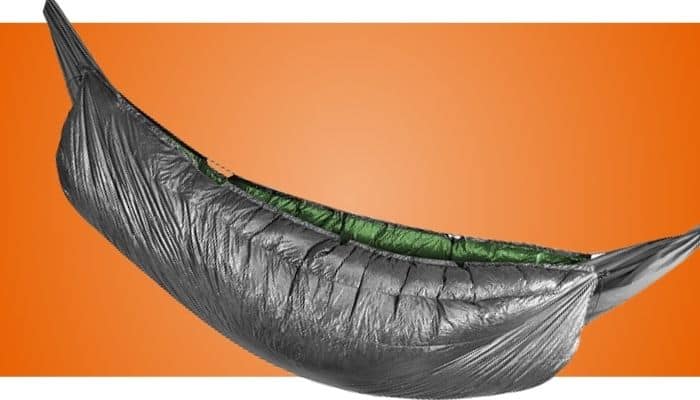 Lightweight and Durable: Made with 10D ripstop nylon and 800 fill StormLoft down, coated with DWR for water resistance.
Temperature Versatility: Available in 30°F, 15°F, and 0°F ratings, suitable for different weather conditions.
Design and Comfort: Contours to the shape of the hammock, with a hybrid baffle system to keep down in place.
Portability: Extremely light (as low as 10 oz) and packs down small for easy transport, ideal for ultralight hikers
ENO Vulcan Hammock Underquilt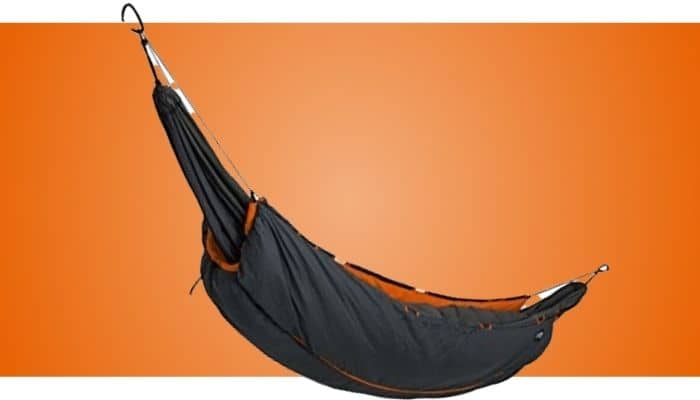 Seasonal Adaptability: Designed for 3-season use, with synthetic Primaloft Silver Hi-Loft insulation. Suitable for 35°F to 45°F temperatures.
Size and Fit: 6'2" long, fits people up to 6' tall. Good for early spring to late fall camping.
Weight and Storage: Weighs 25 oz, packs into a drawstring bag for convenience.
Installation: Features a shock cord suspension for easy attachment and fit adjustment​
Outdoorsman Toolkit is reader-supported. When you buy through links on our site, we may earn an affiliate commission.
Learn more
Hammock camping has been taking the outdoor world by storm. It's a great way to quickly set up a campsite where level ground is scarce. Unfortunately, being suspended in the air is a great way to catch a chill in colder conditions. This is where hammock underquilts come in. Today we're looking for the best hammock underquilt to help you find the perfect sleep system for your climate and needs.
Best Hammock Underquilt Reviews
Picking out a hammock underquilt should warrant just as much consideration as picking out the rest of your sleep system. You want one that will keep your comfortably warm at night without broiling you alive.
With that in mind, we've put together a list of some great hammock underquilts across the spectrum of warmth, material and price.
ENO Blaze Hammock Underquilt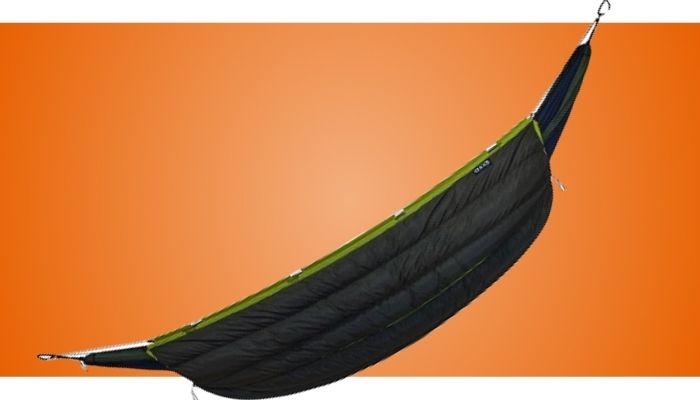 I've had my eye on the ENO Blaze Hammock Underquilt for a while now, and I finally took the plunge. At $275, it's definitely a luxury hammocking item, not a "must-have" unless you're planning some serious winter camping. But let me tell you, it's worth every penny for staying warm and cozy in your hammock during chilly nights.
Warmth and Versatility: This underquilt is a real game-changer. It's filled with Downtek water-repellent down and rated for temperatures between 30-40°F when used with a compatible top quilt or sleeping bag. But what surprised me is its versatility. You can wrap it around your hammock and yourself, creating a snug sleeping bag-like cocoon for extra warmth. It's also big enough to fit double hammocks, perfect for couples or those who like a little extra room.
Size and Adjustability: The ENO Blaze Underquilt is larger than I expected, measuring 6'6″ x 4′. This full-length adjustable quilt can be rigged to wrap around you entirely, providing even more warmth. The shock cord suspension system is a breeze to set up. You can quickly attach it under your hammock using the carabiners on the hammock straps. Fine-tuning the fit is easy, and you can make adjustments even from inside the hammock.
Materials and Performance: Made from sustainably sourced Downtek water-repellent down with a ripstop nylon shell and moisture-repelling DWR finish, this underquilt is built to last. During a test run on a chilly 39°F day, I felt perfectly warm in my hammock for 30 minutes, even without a sleeping bag or top quilt. With the right insulation on top, I'm confident this underquilt will keep me comfortable within its temperature range.
Additional Considerations: If you're concerned about wind or the elements, ENO offers a range of hammock shelter systems and rain tarps to complement your setup. As someone living in Minneapolis, where winter lingers, I'm excited to take this underquilt on hikes and enjoy outdoor activities even during the coldest days.
Storage and Care: The ENO Blaze Underquilt comes with a convenient stuff sack, packing down to the size of a small sleeping bag (7″ x 12″). It also includes a large cotton bag for long-term storage, just like you would with a sleeping bag, to ensure optimal performance and lifespan.
A Memorable Night Under the Stars: I'll never forget the first night I used the ENO Blaze Underquilt. The temperature had dropped to around 35°F, and I was a bit skeptical about how warm I'd stay. I set up my hammock, attached the underquilt, and crawled inside. To my delight, I felt cozy and snug, almost like I was in my own little cocoon. I gazed up at the stars, feeling the gentle sway of the hammock, and realized that this underquilt had transformed my hammock camping experience. I stayed warm throughout the night, and it was one of the most peaceful sleeps I've had outdoors.
In conclusion, the ENO Blaze Hammock Underquilt is a top-notch choice for anyone serious about cold-weather hammock camping. It's a bit of a splurge, but the comfort and warmth it provides make it a valuable addition to my outdoor gear collection. Plus, knowing I can extend my outdoor adventures even in the heart of winter has me looking forward to chilly days.
Pros:
Exceptional warmth: Provides excellent insulation for cold-weather hammock camping.
Versatile: Can be used with single or double hammocks, and it's large enough to create a snug sleeping bag-like enclosure.
Easy setup: The shock cord suspension system allows for quick and hassle-free installation.
High-quality materials: Made from sustainably sourced Downtek water-repellent down with a durable ripstop nylon shell.
Temperature rating: Keeps you comfortable in temperatures ranging from 30-40°F.
Compact storage: Packs down into a small stuff sack for convenient transport.
Longevity: Includes a large cotton storage bag to maximize performance and lifespan.
Cons:
Pricey: It's a luxury item and may not be budget-friendly for all outdoor enthusiasts.
Cord lock issues: Some users have reported difficulties with the cord locks in keeping the underquilt snug without sagging, requiring additional adjustments or knots.
Hammock tarp not included: While the underquilt provides insulation, you may need to purchase a separate hammock tarp for protection against wind, rain, and snow.
Outdoor Vitals StormLoft Hammock Underquilt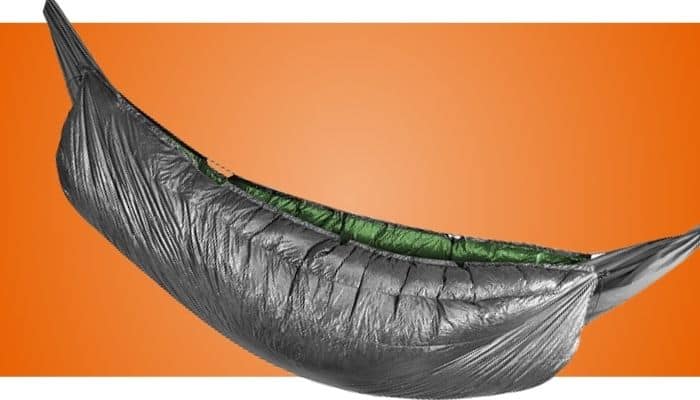 The Outdoor Vitals StormLoft is a lightweight winter hammock underquilt. It uses 800 fill StormLoft down that's coated with DWR for excellent water resistance.
The StormLoft is made with 10D ripstop nylon for a silky smooth yet ruggedly durable design. It's available in 3 different temperature ratings, 30 °F, 15 °F, and 0 °F. This gives you lots of flexibility to pick the best insulation for your needs.
Despite its exceptional insulating properties the StormLoft is featherlight. The 0 °F weighs just over 1 lb, with the 30 °F weighing just 10 oz. It's available in a regular 6' size or a long 6'6". The StormLoft is designed to contour to the shape of your hammock.
This gives you maximum insulation without any unnecessary materials. The down is held in a hybrid baffle system that prevents it from shifting either horizontally or vertically.
The Outdoor Vitals StormLoft is one of the lightest and most insulative hammock underquilts available. It packs down into a tiny pouch for easy transport and is perfect for ultralight hikers.
ENO Vulcan Ultralight Hammock Underquilt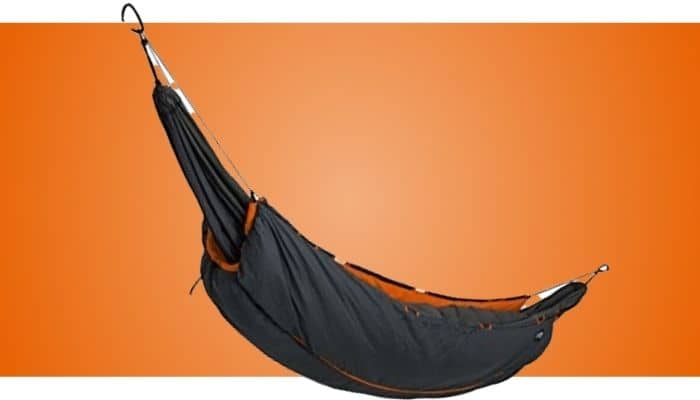 The ENO Vulcan is a lightweight hammock underquilt designed for 3-season use. It uses synthetic Primaloft Silver Hi-Loft insulation and is made with 20D ripstop nylon coated with a water repellent finish.
The body of the Vulcan is 6'2" long and should comfortably fit people up to 6' tall. It's rated for use in 35 °F to 45 °F temperatures. This is perfect for early spring all the way to late fall when paired with an appropriate top cover.
If you're in a warmer climate the Vulcan will serve you well as a full winter underquilt. It weighs just 25 oz and stuffs down into a drawstring bag when not in use. The shock cord suspension makes it easy to attach to your hammock and gives you considerable flexibility in adjusting the fit.
If you're looking for a quality hammock underquilt for 3-season camping the ENO Vulcan is a great choice.
Therm-a-Rest Slacker Down Snuggler Hammock Underquilt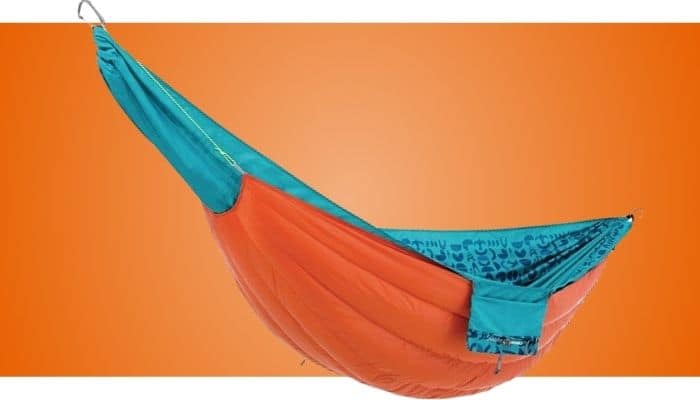 The Therm-a-Rest Slacker Down Snuggler is a lightweight Hammock Underquilt made for 3-season use. It's filled with 650 fill Nikwax hydrophobic down and made using 20D ripstop nylon.
It's 6'8" long and can be adjusted to fit both single or double hammocks. The Slacker Down weighs just 18 oz and is rated to 32 ℉. This makes it perfect for use spring through fall or in all 4 seasons in warmer climates.
When you aren't using the Slacker Down it quickly packs down into a small carry pouch. This makes it easy to fit into a hiking pack or bag.
The Therm-a-Rest Slacker Down Snuggler is a lightweight 3-season hammock underquilt. It works with any hiking hammock and is perfect for chilly nights.
Outdoor Vitals Aerie Down Hammock Underquilt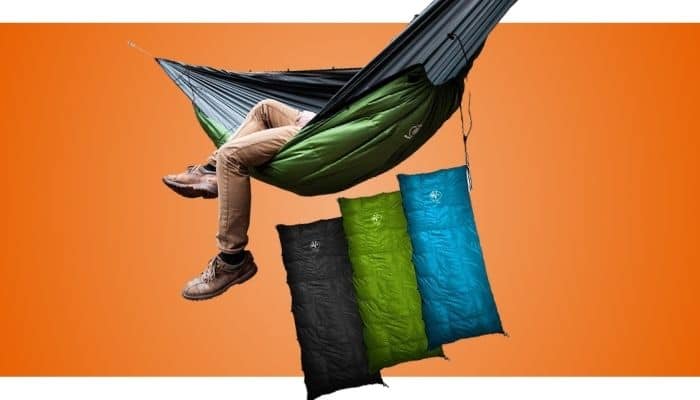 The Outdoor Vitals Aerie is a natural down hammock underquilt rated for 20 °F or 30 °F temperatures. It's made from 20D ripstop polyester and uses IDFL/ RDS Duck Down.
One of the coolest things about the Aerie is how versatile it is. It's not just a hammock underquilt, doing quintuple duty as a hammock sleeping pod, down blanket, single sleeping bag or double sleeping bag when connected with a second Aerie.
It's 6'3" long and weighs either 36.3 oz or 26.7 oz, depending on what temperature rating you choose. It quickly attaches to your hammock and keeps the down comfortably in place with a grid baffle system.
If you're looking for a multi use hammock underquilt and blanket for 4-season use the Outdoor Vitals Aerie bears some serious consideration.
OneTigris Night Protector Hammock Underquilt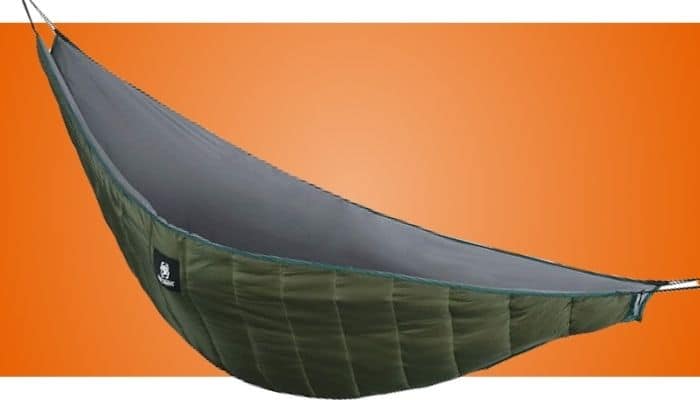 The Night Protector underquilt from OneTigris is a lightweight and value priced hammock underquilt. It's made from 20D ripstop nylon with a DWR coating with a SEE polyester fill.
It's available in either a 3-season or 4-season version, with each measuring a staggering 7.9' long. This makes it suitable for just about anyone to use.
The 3-season bag is rated to 40 °F to 68 °F while the 4-season underquilt can go as low as 23°F to 41°F. They weigh 26 oz and 47.6 oz respectively.
This gives you pretty good performance for a reasonable weight. Even better is the price. The Night Protector is priced at well under $100 for either version.
If you're looking for an inexpensive yet fully functional hammock underquilt you should definitely check out the OneTigris Night Protector.
ENO Ember 2 Hammock Underquilt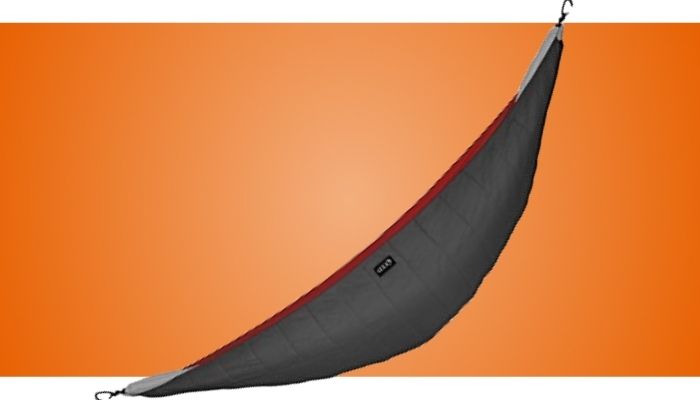 The Ember 2 is the updated version of ENO's wildly popular Ember hammock underquilt. It keeps all the features you love from the first Ember with some excellent improvements.
It's made from 40D ripstop nylon with a high loft polyester fill. This gives it excellent water resistant insulation while still weighing just 25 oz. It's rated for 40°F to 50°F and measures a full 8' long.
This makes the Ember 2 perfect for use as a 3-season hammock underquilt or for winter camping when paired with extra insulation. It uses an adjustable shock cord suspension system that makes attaching and adjusting your underquilt fast and easy.
The ENO Ember 2 is a quality and affordable underquilt from a great company. It's warm enough for most camping needs yet still light and packable enough for easy transport.
Chill Gorilla Hammock Underquilt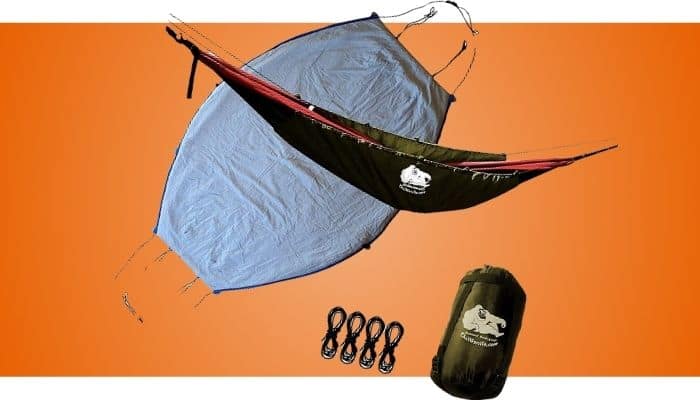 The Chill Gorilla Hammock Underquilt is a 3-season piece of gear rated to 40 ℉. It's made from 20D ripstop nylon and uses a synthetic insulation.
It uses a tapered design that's wider at the shoulders and narrower at your feet. This helps keep it contoured to your body while in your hammock.
It weighs 2.9 lbs and is 6'10" long. This makes it a great option for taller hammock campers. One feature we really love about the Chill Gorilla is how easy it is to care for.
Because it's made using polyester fill it's fully machine washable. When you look at price as well you'll see why the Chill Gorilla is so popular. It's priced substantially lower than many of its competitors, while still providing nearly the same value.
The Chill Gorilla hammock underquilt isn't the lightest or most capable underquilt out there. It's a bit on the heavy side to be honest. But when you consider its basic functionality and exceptionally low price you see that it's definitely got a place on the market.
Winterial Underquilt Camping Hammock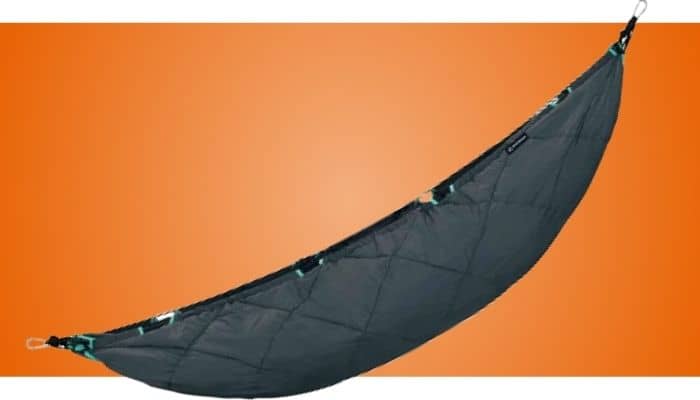 The Winterial Underquilt Camping Hammock is a nearly unique product on the camping hammock market. It combines a lightweight camping hammock with an included underquilt.
It's made with a shell of 20D nylon and is filled with 90% goose down. The hammock itself will support up to 240 lbs and comes with tree straps. The underquilt is stitched into a diamond baffle pattern and easily attaches to the hammock.
It's 6'10" long, suitable for use by taller individuals, and weighs just 2.3 lbs including the hammock. This is a great weight for a winter rated hammock sleep system.
If you're looking to get into hammock camping but are put off by picking out all the different components the Winterial Underquilt Camping Hammock is a great place to start. It includes everything you need to get going with hammock camping.
Buyer's Guide to Buying the Best Hammock Underquilt
When choosing the best hammock underquilt for your needs you really have to look at where and when you intend to use it. If you're a fairweather hammock camper in the summer and spring you won't need nearly as much insulation as a deep woods winter hiker.
Price is always going to go up as quality and especially lightweight features do.
Make sure and keep in mind just how much underquilt you really need for your climate and camping needs.
Price
As with sleeping bags there's a broad range of prices you can pay for a hammock underquilt. They start around $40 to $50 and can go as high as several hundred for high end products from famous brands.
You can get a really good hammock quilt made from solid materials for around $100 to $150 no problem.
Temperature Rating
The temperature rating of an underquilt gives you a range of temps that your underquilt will work well in. The higher number tells you the comfortable sleeping temp while the lower one gives you a lower limit.
This is the same system used when comparing different sleeping bags. Some underquilts will actually list a male and female set of numbers as men and women generally run at different temperatures.
One important caveat to underquilt temperature ratings is that they only work when combined with a suitable top cover or sleeping bag.
Insulating Material
When it comes to insulating material within your underquilt there are two major types with a huge number of different specialty and proprietary subcategories.
Down – Down insulation is made using the plumage and feathers of geese and ducks. Goose down is the lightest and most insulative but duck down still does a good job for a lower price.
Down has the highest r-value by weight of any current insulative material, though synthetics are getting close. One thing to keep in mind is that down quickly absorbs water and loses its insulative properties when wet.
If you'll frequently be camping in wet conditions you should keep this in mind. When comparing different down underquilts you should look at down fill and down weight.
Fill tells you how many cubic inches of loft a single ounce of down has. The higher the number the greater the insulative properties of the down.
Synthetic – Synthetic down is usually made using polyester and is designed to replicate the qualities of natural down without the downsides. It retains its warming properties when wet and is a little bit cheaper on average.
The downside to synthetic down is its weight. Even the best synthetic downs have less insulating abilities on an ounce for ounce basis than down.
Length and Shape
Underquilts come in a variety of sizes and shapes. Some are basically just rectangular blankets with attachment points to connect to your hammock.
Others are designed to conform closely to your body, with a few even able to close up like a sleeping bag around you. Size wise you should look for one that comfortably covers your entire body with at least 6 inches to spare.
Most underquilts will be at least 6' long. Some of the larger ones are as long as 7'6" or even 8'.
Weight
Like most outdoor insulating items underquilts have been dropping in weight as materials advance. The vast majority will weigh from 1 lb up to about 4 lbs. This is affected by the quality of materials as well as how large and insulative it is.
A lightweight summer quilt is naturally going to weigh less than a 4-season on designed for cold weather hammocking. If you're willing to spend a premium you can get sub 1 lb underquilts that are rated for cold weather camping.
Water Repellency
If you're taking your underquilt out in damp or very humid conditions you need to have at least basic water repellency coatings. These help prevent water from infiltrating your underquilt and soaking the fill.
This is especially important with down underquilts as you'll lose your insulation if it gets wet. Synthetics will still keep you warm but they can rapidly increase in weight until they're uncomfortable to carry.
No matter what coating you get make sure you understand their limitations. Even the very best aren't waterproof. If they get caught in the rain for any length of time they'll rapidly soak through.
Durability
Most underquilts have about the same overall construction. They're made from lightweight nylon or polyester with baffle construction to keep the fill from shifting too much.
Things that can help improve overall durability include:
Rip-stop Nylon
Double Stitched Seams
Reinforced Attachment Points
As long as you catch any rips or tears early on it's easy to patch them up. The biggest thing you have to worry about is a major rip or the loss of fill.
3-season or 4-season rating
There's no hard and fast system for 4-season underquilts. Generally speaking these have a temperature rating of at least 10 °F and are designed with winter camping in mind. For the other 3 seasons of the year they have a venting system for warmer conditions.
3-season underquilts usually go down to about 20 °F or 30 °F but lack the ability to vent. It's important to keep your own needs in mind when considering different underquilts.
A 4-season hammock underquilt is definitely going to be too warm and heavy for summer camping. Depending on where you are in the world it may be too warm for late spring or early fall as well.
Consider whether you want a single do it all underquilt or would prefer to buy two or more for different seasons. You'll spend more to be sure, but you won't have to haul around a heavyweight winter underquilt when it's 70 °F at night.
Top Hammock Underquilts Video
FAQ – Best Hammock Underquilt
As you delve into the world of hammock camping, it's natural to have questions about the essential gear that can enhance your outdoor experience. In this Frequently Asked Questions (FAQ) section, we aim to address common queries regarding hammock underquilts—the invaluable companions for a cozy and comfortable night's sleep in your hammock.
Whether you're new to hammock camping or seeking to upgrade your gear, understanding the functionality, benefits, and considerations surrounding hammock underquilts is crucial. We've compiled a range of inquiries that often arise, providing you with informative answers to help you make informed decisions.
From clarifying the purpose and operation of a hammock underquilt to discussing compatibility, maintenance, and usage guidelines, this FAQ section will equip you with the knowledge you need to select the best hammock underquilt for your adventures. So, let's dive in and explore the world of hammock underquilts together, ensuring you stay warm, comfortable, and well-prepared for your next camping expedition!
What is a hammock underquilt?
A hammock underquilt is a specialized insulation layer designed to keep you warm and comfortable while hammock camping. It attaches to the underside of your hammock, providing insulation and preventing heat loss to the surrounding air.
Why do I need a hammock underquilt?
When you sleep in a hammock, your body is exposed to the cold air beneath you, which can result in discomfort and even hypothermia in colder temperatures. A hammock underquilt acts as a barrier, keeping you warm and ensuring a restful night's sleep.
How does a hammock underquilt work?
A hammock underquilt works by trapping warm air between its layers and your hammock, creating an insulating barrier. It effectively blocks cold air from entering the hammock and keeps your body heat from escaping, providing warmth and comfort.
Can I use a sleeping bag instead of a hammock underquilt?
While it's possible to use a sleeping bag inside a hammock, it may not provide optimal insulation or comfort. Sleeping bags compress under your body weight, reducing their insulation value. Hammock underquilts are specifically designed to fit the contours of a hammock and provide efficient insulation without compression.
Are hammock underquilts suitable for all hammocks?
Most hammock underquilts are designed to be compatible with a wide range of hammocks. However, it's essential to check the specifications and dimensions of the underquilt to ensure it will fit your specific hammock properly.
How do I attach a hammock underquilt to my hammock?
Hammock underquilts typically come with suspension systems or attachment points that allow you to secure them to your hammock. These attachment points can be carabiners, hooks, or shock cords. Follow the manufacturer's instructions or refer to the user manual to properly attach the underquilt.
Can I use a hammock underquilt in warm weather?
Hammock underquilts are primarily designed for colder temperatures to provide insulation. In warm weather, using an underquilt may cause you to overheat. It's best to use a hammock underquilt when camping in temperatures below 70°F (21°C) or in areas with unpredictable weather conditions.
How do I clean and maintain a hammock underquilt?
Cleaning and maintenance instructions can vary depending on the materials used in the underquilt. Generally, it's best to follow the manufacturer's recommendations. Most underquilts can be hand-washed using a mild detergent, and some are machine-washable on a gentle cycle. Always allow the underquilt to air dry completely before storing it.
Can I use a hammock underquilt for other outdoor activities?
Hammock underquilts are primarily designed for hammock camping but can also be used for other outdoor activities that involve sleeping in a suspended hammock, such as backpacking and hiking trips. However, they may not be suitable for ground-based camping or activities where a hammock is not involved.
Remember, it's important to thoroughly research and choose the right hammock underquilt based on your specific needs, preferences, and the weather conditions you'll be camping in.
Best Hammock Underquilts Recap
Final Thoughts
Well there you have it.
Picking the best hammock underquilt depends heavily on what you're willing to spend and how you intend to use it.
A winter weight underquilt is probably going to be too much insulation for a summer hiker and a lightweight down one might be too expensive.
Compare your average camping trip to the capabilities of each quilt to find the perfect one for your needs.