Outdoorsman Toolkit is reader-supported. When you buy through links on our site, we may earn an affiliate commission.
Learn more
When you're out enjoying nature there's nothing quite like swinging gently in the wind, your whole body effortlessly supported by the cloth of a hammock. When there are no trees to be found though you have to take matters into your own hands to enjoy your relaxation time.
Portable hammock stands for camping are designed to be easy to assemble, relatively lightweight, and everything you need to take your hammock wherever. Today we're searching for the best portable hammock stand available. We'll also give you a basic buying guide to help you search for the features you need.
Best Portable Hammock Stands
Portable hammock stands have an interesting place in the outdoor world. They aren't actually portable enough to be used while out backcountry camping.
Instead they're intended for parks, beaches, improved campgrounds and other places where trees or other attachment points are either unavailable or off limits.
Generally they require a car to move any distance but are easy to set up and use.
We searched around and found 9 of the best portable hammock stands on the market today. These cover a variety of sizes, use cases and price points.
ENO Nomad Hammock Stand
The ENO Nomad Hammock Stand is a lightweight stand alone hammock stand made from anodized aluminum. It weighs just 15 pounds and is compatible with all ENO brand hammocks.
ENO Nomad portable hammock stand for camping goes up a lot like a tent with the same shock corded design as standard tent poles. It's just under 14 feet long when fully set up and doesn't require any staking or other point of attachment.
It has a 300 lb weight capacity and can be fully closed off from the bugs and elements with the ENO Nomad Shelter System. This gives you a complete setup for hanging your hammock and staying dry.
Overall the ENO Nomad is a lightweight and easy to set up portable hammock stand. It works anywhere there's flat ground but does come with a pretty hefty price tag, especially when you include the Shelter System.
Grand Trunk Hangout Hammock Stand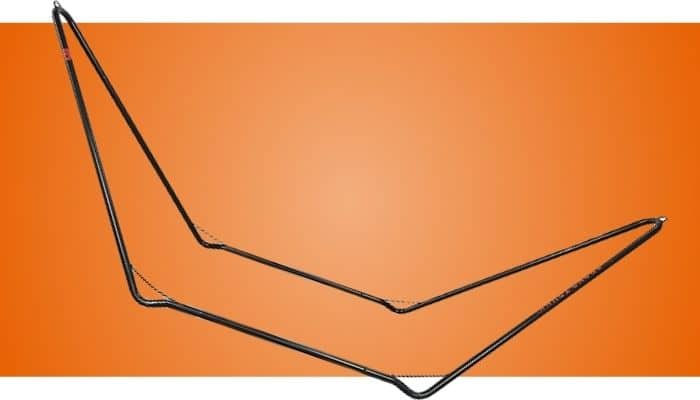 The Grand Trunk Hangout Hammock Stand is a steel tube hammock stand. It can support up to 400 lbs yet weighs just 31 lbs itself.
Grand Trunk's collapsible hammock stand is made up of 8 pieces of powder-coated steel tubing that pop together and latch into place. They're all contained in a compact carry bag. It has two 18 inch trunk straps that allow you to quickly attach your hammock on either end.
The Hangout can hold a single hammock stretched out up to 11.5 feet. With its 400 lb weight limit this allows you to suspend a larger hammock for 2.
The Grand Trunk Hammock is an affordably priced portable hammock stand that's relatively lightweight and highly capable.
AmazonBasics Hammock Stand With Carrying Case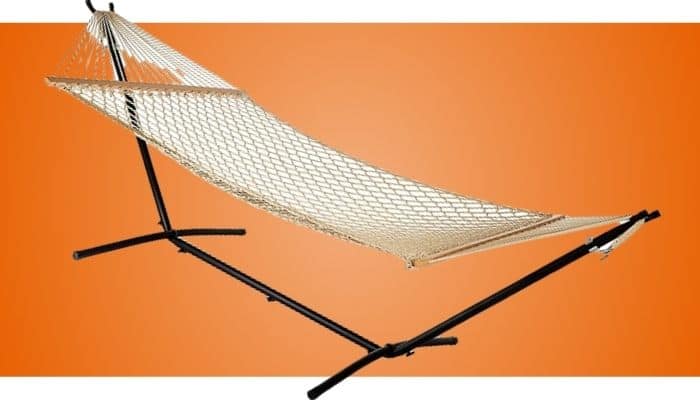 The AmazonBasics Hammock Stand is a value-priced option that gives you reasonable performance at an amazing price. It's part of Amazon's in house brand and has a 400 lb capacity.
It can suspend a hammock up to 9 feet in length on a flat, stable surface. The body is made from powder-coated steel and sets up in minutes. The whole thing breaks down and fits into a compact carry bag for easier storage and packing.
The AmazonBasics Hammock Stand weighs just under 30 lbs and requires no tools for assembly. It's priced significantly lower than other options and still does a pretty good job.
ENO Pod Triple Hammock Stand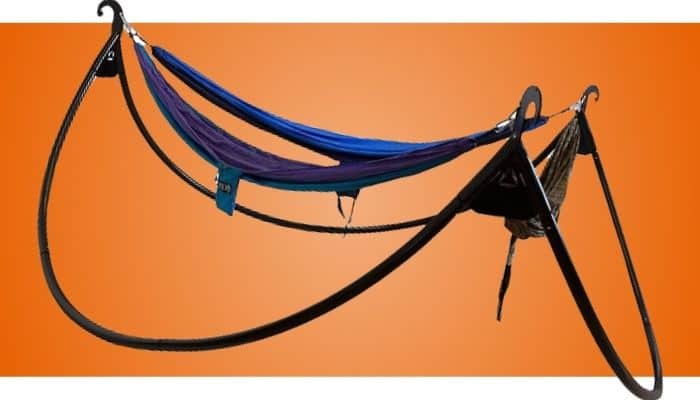 The ENO Pod Triple Hammock Stand pushes the limits of what portable really means. It's a beast of a stand, weighing just over 100 lbs, and can support 3 hammocks with a combined weight capacity of 1,200 lbs.
It uses a circular design made from powder coated steel. Despite its size and weight it's actually pretty easy to assemble. The Pod requires no tools to go together or take apart and can be fully assembled in just a few minutes.
Because of its high weight, it's not easy to take it anywhere you don't intend to be for a while. If you have two friends who also want to hammock the day away at a park, beach or campsite it can be a great option.
Because of its unique circular design it's not compatible with hammock bug net or tarp systems. Another thing to keep in mind is its price:
The Pod frequently retails for around $500.
If you want a social hammock hanging spot that you can pack up into a car the ENO Pod is a great option.
ENO Roadie Car Stand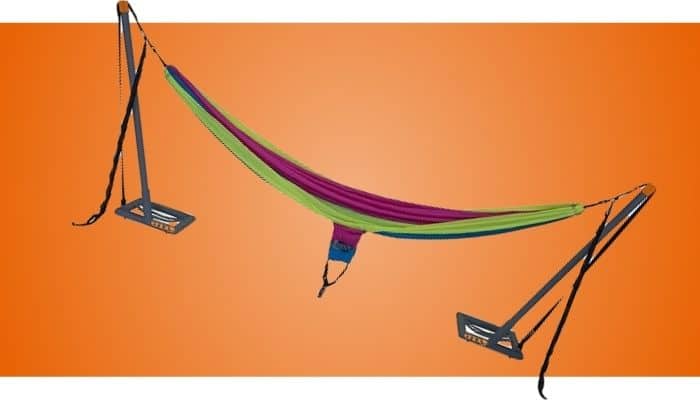 The ENO Roadie Car Hammock Stand is an interesting little device designed to work with your vehicle. It relies on the weight of your car pressing down on it to hold you up in your hammock.
ENO Roadie travel hammock stand weighs 56 lbs and is made from powder-coated steel. It has a weight capacity of 250 lbs and works with just about any hammock.
Some things we like about the Roadie are how easy it is to set up. You don't need to assemble anything, instead placing the base pieces against your tires and pulling forward onto them.
The downside to this is that you can't set up your hammock anywhere your car can't reach. If you're at a campsite or have driven onto a beach that's perfect.
If you're going to a park or somewhere similar you probably won't want to hammock in the parking lot. There's also the fact that you'll only have as much length between posts as you do between wheel wells.
The ENO Roadie is a cool concept but we aren't convinced it's a winning design. If you only thing you'll want to hammock next to your car, you should give it a try.
Byer of Maine Madera Hammock Stand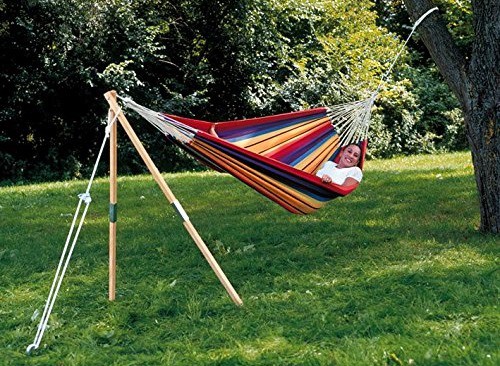 The Madera Hammock Stand from Byers of Maine is a uniquely designed single post hammock suspension system. It relies on the presence of another suspension point and allows you to expand where and how you can hang your hammock.
It's made from hardwood boards connected to a long metal pin designed to be driven into the ground. It weighs just 10 lbs and folds down into a very compact package. Despite this it's capable of supporting up to 250 lbs.
One thing to keep in mind is that the Madera is not a standalone system on its own. If you don't have a hand tree or other attachment point you won't be able to use the Madera. This means beaches and open parks are unfortunately out.
The Madera is one of the lightest hammock stands on the market. It requires a few basic tools to assemble and some knowledge of knots but is a great option if you plan to hammock out by trees or another single hammock attachment point.
Kamp-Rite Kwik Set Hammock
The Kamp-Rite Kwik Set Hammock is actually a stand and hammock in one. It weighs just 33 lbs yet can support up to 300 lbs in its built in hammock.
It's made from aluminum poles and folds out a lot like a collapsible camp chair. This design makes it very easy to set up and break down. The whole thing packs away in the included carry case when not in use for easy storage and transport.
The included hammock actually is of the wooden bar type and has a pillow built right into it. When you consider that the Kwik Set actually includes both a hammock and portable hammock stand you're getting a pretty good bargain.
If you're looking for a full hammock system with both a hammock and stand that won't break the bank the Kamp-Rite Kwik Set bears some serious consideration.
Vivere Space Saving Steel Stand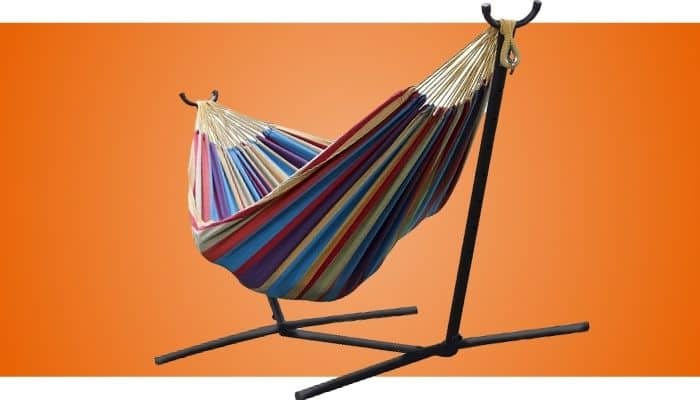 The Vivere Hammock plus stand is a powder coated steel hammock stand with an included cotton hammock. The whole system weighs just over 30 lbs and has a weight capacity of 450 lbs.
The stand itself goes up in just minutes without the use of any tools. One of the nicest things about the Vivere is how many choices you have.
The included hammock is available in a variety of colors and patterns. This lets you pick out your favorite or match it to your backyard decor.
While the Vivere is definitely lightweight and portable it isn't designed for frequent moves. It doesn't come with a carry case or other easily portable touches.
Overall the Vivere Hammock and Space Saving Steel Stand are great for your backyard or at a developed campground. They're sturdy, lightweight and available at a very affordable price.
ENO SoloPod Hammock Stand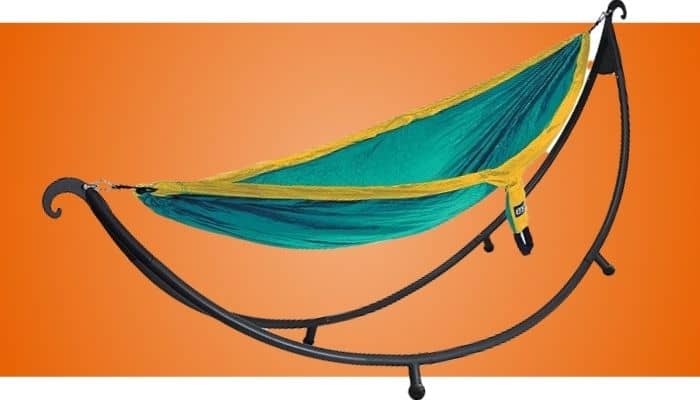 The SoloPod is a full size standalone hammock stand from ENO. It's made from powder coated steel and weighs 63 lbs.
It's designed to work with any of ENO's hammocks and has a weight capacity of 400 lbs. The whole thing goes up quickly without the need for tools and can be assembled and disassembled easily.
The SoloPod has a really nice design, with a curving attachment point on either end reminiscent of a Viking ship. It uses steel carabiners to attach to your hammock and works on any flat surface.
It's noticeably more expensive than some of the other stands on this list but is well made and from a very reputable company.
If you're looking for great portable hammock stand to take on a glamping trip the ENO SoloPod is a great choice.
Best Portable Hammock Stand Comparison Table
Image
Title
Price
Prime
Buy

Top

Top

ENO, Eagles Nest Outfitters Nomad Hammock Stand, Royal

Prime

Buy on Amazon

Top

GRAND TRUNK Hangout Hammock Stand: Black | Perfect Stand for Outdoor Hammocks

Prime

Buy on Amazon

Top

Amazon Basics Hammock Stand With Carrying Case, 9-Foot

Prime

Eligible

Buy on Amazon

Top

ENO, Eagles Nest Outfitters Pod Triple Hammock Stand, Charcoal

Prime

Buy on Amazon

Top

BYER OF MAINE Madera Hammock Stand, Hardwood Support Posts, Easy Assembly, Indoors and Outdoors, One Hanging Point Only, Holds Up to 250lbs.

Prime

Eligible

Buy on Amazon

Top

Vivere Double Cotton Hammock with Space Saving Steel Stand, Tropical (450 lb Capacity - Premium Carry Bag Included)

Prime

Eligible

Buy on Amazon

Top

ENO, Eagles Nest Outfitters SoloPod Hammock Stand, Charcoal

Prime

Buy on Amazon
Product prices and availability are accurate as of the date/time indicated and are subject to change. Any price and availability information displayed on [relevant Amazon Site(s), as applicable] at the time of purchase will apply to the purchase of this product.
Prices pulled from the Amazon Product Advertising API on:
Buyer's Guide to Buying the Best Portable Hammock Stand
There are several major types of portable hammock stands that work best in different situations. The key factors to keep in mind are price, portability, functionality, ease of use, and weight capacity.
Price
Hammock stands are reasonably expensive pieces of gear. The majority will run you well over $100, with many ultra portable or otherwise high end models priced significantly more than $200.
You can sometimes find cheaper versions but you should expect them to be noticeably heavier and less portable than others.
Weight and Portability
We'll level with you: Even the best portable hammock stands aren't what you would call packable. They get quite small but they still weigh upwards of 30 lbs.
Some of the large models designed for multiple hammocks are actually over 100 lbs. That's not something you want to carry any further than from your trunk to your picnic table.
Many models are designed to either come apart or fold down to fit into a very small space. This makes it a lot easier to pack them up and move them around.
Ease of Assembly
Even more than weight what sets a portable hammock stand apart from a standard one is how quickly and easily it goes together. Some of the best models require almost no assembly at all.
They're held in place by the weight of a vehicle or attached to the ground and extend out to your preferred height. Other's comes as multiple poles or planks and need to be screwed together before you get started.
Balance how quickly and easily you want them to go up with how much you're willing to pay.
Number of Hammocks It Holds
The majority of portable hammock stands will only hold a single hammock. Several varieties will hold up to 2 hammocks and a few will even hold 3.
A good thing to remember is that every added hammock increases the weight, complexity and cost of the hammock stand. Run the numbers and see if you want a multi hammock stand or multiple single hammock stands.
Can You Add a Hammock Tarp and Bug Net
Many hammock stands aren't designed to allow the use of a bug net or hammock tarp. They lack the ability to use a ridgeline or the attachment points needed to hold them up.
A few models are designed specifically around a company's hammock tent or tarp system. Check and see if your model is compatible with these products before you buy.
Weight Capacity
The minimum weight capacity you'll see for a quality hammock stand is about 250 lbs. Many will hold up to 400 lbs on a single hammock with some of the largest multi hammock stands holding well over 1,000 lbs.
Make sure you check the weight capacity before getting in with another person.
Does It Have a Carry Case
Many hammock stands will come with a carry case or other container. This makes it a lot easier to store and transport the stand. Some of the largest models aren't designed to be carried all at once and generally don't come with their own case.
Dimensions and Space Required
Make sure you find out both how large the hammock stand is when set up and what size it is when packed away. Some of the most compact versions are actually designed to work with a secondary attachment point.
These have a very small footprint and can be set up easily at most any distance. Others have a rigid frame that takes up the full length of the hammock itself.
Make sure you understand how much space you'll need to properly set your hammock stand up and how it works.
Top Portable Hammock Stands Video
FAQ – Best Portable Hammock Stand
As you explore the world of camping and hiking, you'll soon discover the joy and relaxation that a hammock can bring to your outdoor adventures. However, finding the perfect spot with sturdy trees or suitable anchor points can sometimes be a challenge. That's where portable hammock stands come to the rescue! In this FAQ section, we address common questions and concerns you may have about portable hammock stands, helping you make an informed decision and choose the best option for your needs. From understanding their features and benefits to ensuring compatibility and stability, we've got you covered. So, let's delve into the frequently asked questions about the best portable hammock stands and enhance your outdoor hammocking experience!
What is a portable hammock stand?
A portable hammock stand is a lightweight and collapsible frame designed to hold a hammock securely and provide a freestanding option for hammock enthusiasts. It eliminates the need for trees or other anchor points, allowing users to set up their hammocks anywhere they desire.
Why should I consider using a portable hammock stand?
Portable hammock stands offer flexibility and convenience, especially in outdoor settings where trees or suitable anchor points may be scarce. They are ideal for camping trips, beach outings, backyard relaxation, and other outdoor activities. Additionally, they are easy to transport and assemble, making them a popular choice for travelers and outdoor enthusiasts.
What features should I look for in a portable hammock stand?
When choosing a portable hammock stand, consider the following features:
Weight and portability: Look for lightweight materials like aluminum or steel, as they make transportation easier. Ensure the stand can be disassembled into compact pieces for convenient storage and travel.
Durability: Opt for a stand made from sturdy materials that can withstand different weather conditions and support your weight reliably.
Adjustability: Check if the stand offers adjustable height and length options to accommodate various hammock sizes and preferences.
Ease of assembly: Look for stands that are easy to set up without requiring additional tools or complex instructions.
Weight capacity: Consider the weight capacity of the stand to ensure it can support your body weight comfortably.
Can I use any hammock with a portable hammock stand?
Most portable hammock stands are designed to accommodate a variety of hammock styles and sizes. However, it's important to check the specifications provided by the manufacturer to ensure compatibility. Some stands may have weight or size limitations, so make sure your hammock falls within the recommended parameters.
Are portable hammock stands sturdy enough?
Portable hammock stands are engineered to provide stability and support. However, their stability can vary depending on the specific stand and the terrain on which they are placed. To enhance stability, look for stands with additional support features, such as crossbars or non-slip feet. It's also advisable to set up the stand on a level surface for optimal performance.
How much weight can a portable hammock stand typically support?
Portable hammock stands usually have weight capacity ratings ranging from 200 to 500 pounds (90 to 227 kilograms). However, it's essential to refer to the manufacturer's specifications for the exact weight capacity of the stand you are considering. Exceeding the recommended weight limit may compromise the stand's stability and durability.
Are portable hammock stands easy to transport?
Yes, one of the primary advantages of portable hammock stands is their ease of transportation. Most stands are designed to be lightweight and can be disassembled into compact pieces. They often come with carrying bags or cases for convenient storage and transport. Whether you're going camping, hiking, or simply visiting the beach, you can easily pack and carry your portable hammock stand wherever you go.
Can I use a portable hammock stand indoors?
Yes, portable hammock stands can be used indoors as well. They are particularly useful when you don't have suitable anchor points or when you want to set up a hammock in a specific area without permanently installing hooks or fixtures. However, ensure that you have sufficient space to accommodate the length and width of the stand, along with the hammock's dimensions.
How much do portable hammock stands typically cost?
The cost of portable hammock stands can vary depending on factors such as brand, materials used, features, and overall quality. Generally, you can find portable hammock stands in the price range of $50 to $200. Higher-end models with advanced features or premium materials may be priced higher.
Are portable hammock stands covered by warranties?
Most reputable manufacturers offer warranties on their portable hammock stands. The warranty duration and coverage can vary, so it's important to review the warranty information provided by the manufacturer before making a purchase. A warranty ensures that you're protected against any manufacturing defects or faults in the stand's materials or workmanship.
Final Thoughts
When you're looking for the best portable hammock stand the two biggest concerns are price and functionality.
You want one that will hold you up securely, is easy to set up and that doesn't break the bank.
Depending on where you plan to take it and how you plan to use it different models will fit your needs better.