Top 3 Best Hammock Tents
Tentsile Connect 2-Person 4-Season Hammock Tent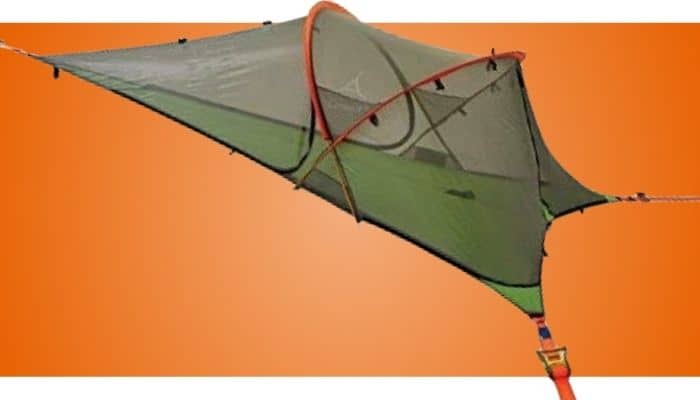 Versatile setup, either suspended or on the ground.
High-quality material, with a robust floor made from a blend of nylon and polyester.
Built-in bug net and an effective rainfly.
A generous load capacity of 880 lbs.
Lawson Hammock Blue Ridge Camping Hammock Tent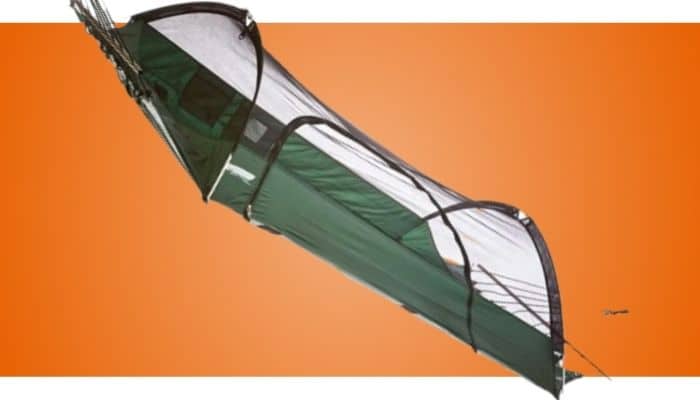 Ultralight with a flatter sleep surface thanks to the spreader bars.
Rip-stop nylon material, no-see-um mesh bug net, and a poly-coated nylon rainfly.
Roomy enough for two, with a weight limit of 275 lbs and a weight of just 4 lbs 4 oz.
Flying Tent Four-in-ONE Hammock Tent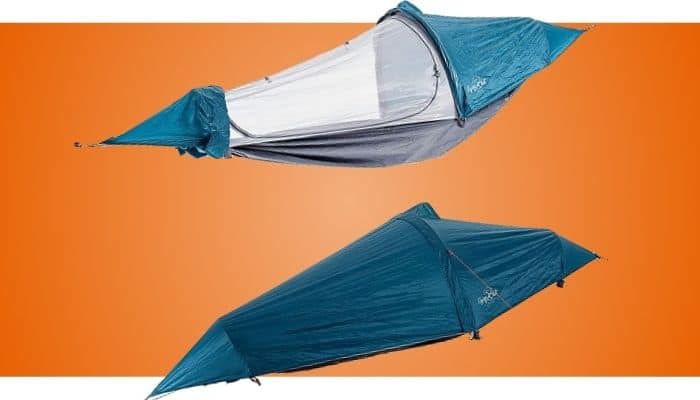 Multi-purpose design serving as a standard hammock, hammock tent, ground bivy tent, and poncho.
Durable ripstop nylon material coated with silicone for waterproofing.
A maximum load rating of 264 lbs and a color-coded buckle system for quicker setup.
Outdoorsman Toolkit is reader-supported. When you buy through links on our site, we may earn an affiliate commission.
Learn more
Sleeping in a hammock is one of the most comfortable ways to go camping. You get the gentle rocking motion of the hammock plus a cooling breeze underneath you. Many manufacturers are picking up on the growing popularity of hammock camping and creating purpose built hammock tents. Today we'll be reviewing some of these interesting new pieces of gear to help you find the best hammock tent for whatever kind of camping you like to do.
Best Hammock Tent Reviews
Hammock tents are a relatively new addition to the camping and outdoor world. There have always been hammock campers, but it wasn't until the last several years that companies started releasing purpose-built tents.
Because of that a lot of hikers and backpackers aren't familiar with the market.
To help you out we picked several great hammock tents at a variety of price points to help you find the perfect one for your needs.
Tentsile Connect 2-Person 4-Season Hammock Tent with Rainfly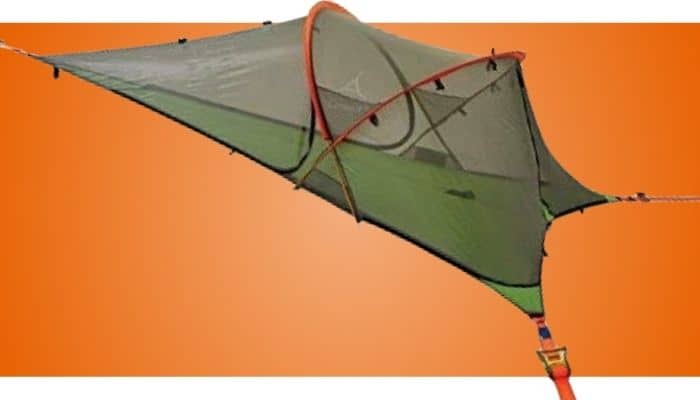 I've had my eye on a versatile tent that could elevate my camping experiences for a while, and the Tentsile Connect Hammock Tent caught my attention. It promised a tent-like experience while suspended off the ground, a concept that sounded thrilling for an outdoors enthusiast like me. The simple yet sturdy setup, which anchors to three trees, was straightforward and the triangular footprint offered a generous 52 sq feet of flat surface which was more than enough for myself and a companion.
The quality of material used in the Tentsile Connect is impeccable. Its floor made from a blend of 250D nylon/polyester composite reinforced at key points with seatbelt material was particularly impressive. It felt robust and laid almost totally flat, providing a sense of stability even while suspended. The maximum load of 880 lbs reassured me that it could easily handle the weight of two adults, or even a small child in addition.
The built-in bug net made of no-see-um mesh was a blessing in the evenings when the mosquitoes came out to play. The rain fly made of 210T PU coated polyester was effective in keeping us dry during a drizzle. I was enamored by the design, especially the suspension system which utilized three large straps designed to go around trees and a ratchet system that tightened the straps and floor until it's completely taut. It felt secure and snug.
I have to applaud the innovation behind the anodized aluminum poles that held up the bug net and rain fly, eliminating the need to run guy lines to trees surrounding the Connect. It's these little things that make the setup quicker and simpler, allowing more time to enjoy the outdoors.
Now, onto the downsides. The Connect is indeed hefty, weighing 16 lbs. This weight is quite a setback for hiking or ultralight backpacking. Although it's perfect for car camping or a short jaunt to a festival area, the weight could be a deal-breaker for long-distance hikers. The price tag is also on the higher side, often well over $400, which might deter budget-conscious campers.
Despite its weight, the Connect's versatility is praiseworthy. It's not just a tree tent; with a Ground Conversion Kit, it can easily morph into a ground tent, which is brilliant. The comfort it provided was unparalleled – the cloud-like comfort was real. The underfloor strap design that prevents occupants from rolling into the middle was thoughtful, ensuring a good night's sleep.
On a recent weekend getaway, I decided to put the Tentsile Connect to the test in a wooded area near a local lake. The setup was a breeze and in no time, my companion and I were lounging above the ground, the gentle sway of the tent syncing with the calm rustle of leaves. The night arrived with a sky full of stars, and the ability to roll back the rainfly and mesh provided an unobstructed view of the celestial dome, a sight so serene it's etched in my memory. However, the true test came with a surprise rain shower in the early morning.
The rainfly did its job splendidly, keeping us dry and cozy. Though we were suspended, the tent felt stable amidst the gentle pitter-patter of raindrops. As morning sun rays peeked through, the easy takedown of the tent was the cherry on top of a remarkable outdoor adventure. The Tentsile Connect added a touch of comfort and novelty that transformed a regular camping trip into an extraordinary escapade amidst nature.
The Tentsile Connect isn't just a tent; it's a unique camping experience. Whether suspended among trees or pitched on the ground, it offers a comfortable refuge from the elements and the creepy crawlies below. It's a wonderful option for car campers or anyone looking to enjoy a leisurely weekend in the woods. The Connect has certainly broadened my camping horizons, and despite its weight and price, it's an investment I am glad I made for the countless memorable nights under the stars it promises.
Pros:
Versatile Setup: Can be suspended between trees or set up on the ground with a Ground Conversion Kit, making it adaptable to various camping scenarios.
Quality Material: The blend of 250D nylon/polyester composite reinforced with seatbelt material provides a sturdy and nearly flat floor.
Spacious: Offers 52 sq feet of flat surface, making it roomy for two persons and even a small child.
High Weight Capacity: Can bear a maximum load of 880 lbs, reassuring for multiple occupants.
Effective Protection: Built-in no-see-um insect mesh and a 210T PU coated polyester rainfly provide excellent protection against insects and weather elements.
Comfortable: The central underfloor strap design prevents occupants from rolling into each other, ensuring a comfortable sleep.
Cons:
Weight: At 16 lbs, it's quite heavy for backpacking or hiking, making it more suited for car camping or short distances.
Price: Often priced well over $400, it might not be the most budget-friendly option.
Not Ideal for Long Hiking Trips: Due to its weight, it's not the most convenient option for long-distance hiking or ultralight backpacking.
Lawson Hammock Blue Ridge Camping Hammock Tent with Rainfly and Bug Net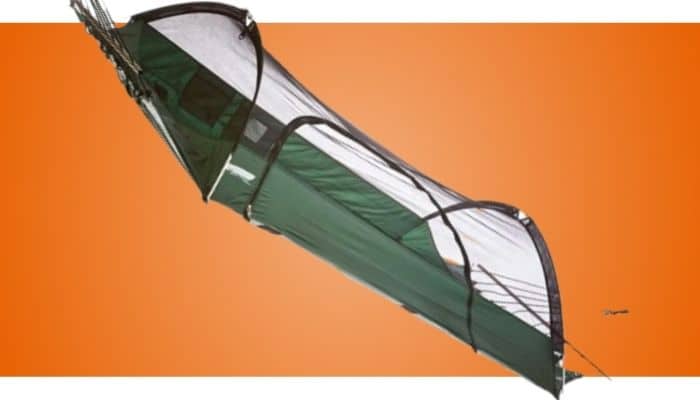 The Lawson Hammock Blue Ridge camping hammock tent is a curious innovation on the classic backyard hammock. It's made with the materials and extras of an ultralight camping hammock but has a pair of spreader bars to create a flatter sleep surface.
It's made from rip-stop nylon with a no-see-um mesh bug net and a poly-coated nylon rain fly. It uses a sealed nylon border around the edges to help prevent any water from blowing under the rain fly and wetting your tent.
It has a single zippered entrance on one side of the hammock in the shape of a half-circle. This allows you to easily enter and exit the hammock or access your gear.
The really interesting touch is the spreader bar. It has a 10 point attachment system to the body of the hammock and creates a remarkably flat sleep surface. The spreader bars and tent poles are made from lightweight aluminum and help give this hammock a very tent-like feel.
It has a 275 lb weight limit and is roomy enough at 11' long and 42" wide to sleep two. What's really shocking how light it is. The Blue Ridge weighs just 4 lbs 4 oz including tent poles and spreader bars.
That's a bit over what we would consider good for a hammock tent but the Blue Ridge does give you a great value add in comfort.
Overall the Lawson Blue Ridge hammock tent is innovative, comfortable, and well made. It's about the middle of the pack as far as pricing goes and gives you a very nice sleeping experience.
Flying Tent Four-in-ONE Hammock Tent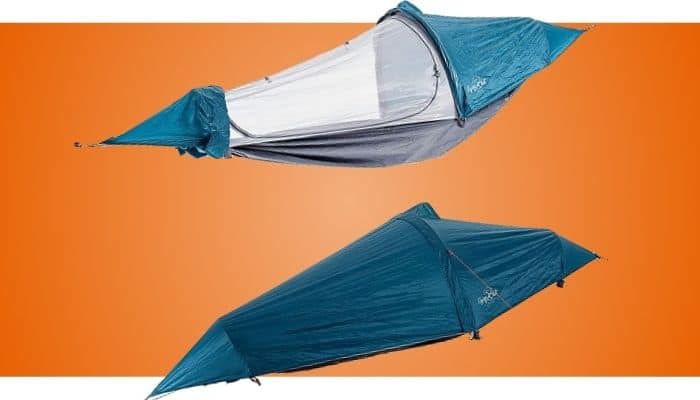 The Flying Tent is a multi-purpose hiking and camping tool designed to fill all your sleeping needs. It can be used as a standard hammock, a hammock tent, a ground bivy tent, and as a poncho.
It's made from ripstop nylon coated with a silicone finish for waterproofing. This gives it excellent tear resistance and the ability to stand up to a lot of water.
It has three fiberglass poles that create a cylinder effect at the feet and head. This is also what allows you to use the Flying Tent as a bivy tent on the ground.
It's rated for 264 lbs maximum load and uses a color coded Duraflex buckle system to speed the setup process. Price wise it's a bit on the expensive side, though it can often be found on sale.
The entire system put together weighs 5.4 lbs. That seems high at first glance but you have to remember that the rain fly replaces a poncho or raincoat. This helps get the weight closer to a lightweight hammock figure.
We like the Flying Tent. It has an interesting design, does a good job filling multiple roles, and honestly looks really sharp.
Tentsile Stingray 3-Person Suspended Camping Tree Tent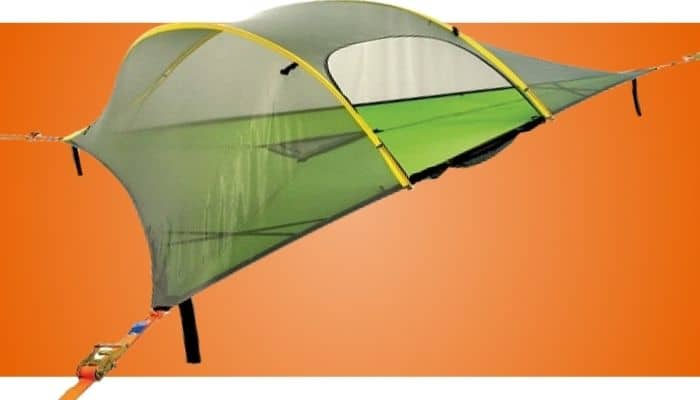 The Tentsile Stingray is a 3-person suspended hammock tent. It's basically a larger, higher capacity version of the Connect tent and is made in almost an identical way.
It's rated to 880lbs the same as the Connect but has 78 sq ft of floor space. That's enough for three adults or a family of four without any issues.
It's made using the same materials as the Connect and the same suspension system, just a little bit bigger in every dimension.
Now for the bad news. Given that it's a bigger, heftier version of the Connect it also carries a bigger, heftier price tag and a bigger, heftier weight. Just under 21 lbs all in. For three people that equals out to about 7 lbs per person for a sleep system, too heavy for hiking or backpacking.
Pricewise you should expect to spend well over $500.
Like the Connect the Tentsile Stingray is great if you want to go car camping or are taking a short jaunt into the woods. It provides a very comfortable sleep system and is extremely well made but is simply too large and heavy for hiking or backpacking use.
Hammock Bliss Sky Bed Bug Free Hanging Tent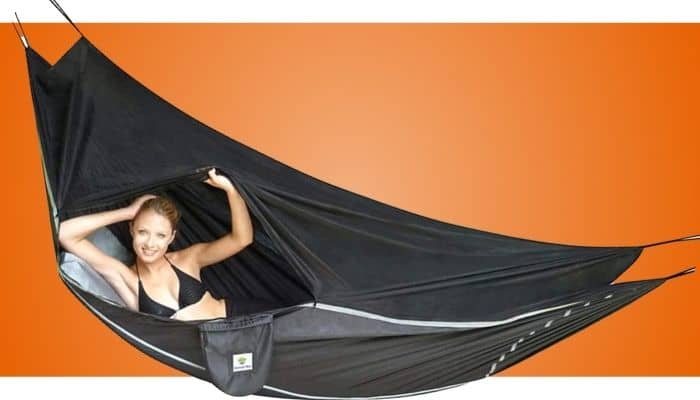 The Hammock Bliss Sky Bed is a hammock tent designed to provide you with the flattest sleeping experience in a gathered end hammock. It does this with a built-in sleeping pad sleeve that helps define the sleeping area of the hammock.
It's made from ripstop nylon with a no-see-um mesh bug net and is rated to a maximum load of 300 lbs. It weighs just 30 oz and includes a climbing rope style suspension system.
One thing we noticed when we tried it out is that the climbing rope isn't as easy to work with as hammock straps. You've got to be pretty handy with a knot to get it on there at the right height and strength to hold you up.
Another downside—No rain fly. The bug net and hammock are good quality for the relatively low price but the absence of a rain fly means you'll need to purchase a hammock tarp to complete this as a sleep system.
Overall we found the Hammock Bliss Sky Bed to be a good quality for the price product that gives you a lot of value. It isn't a complete hammock sleep system and it's not the easiest thing to set up but for the price you're doing alright.
ENO OneLink Hammock Shelter System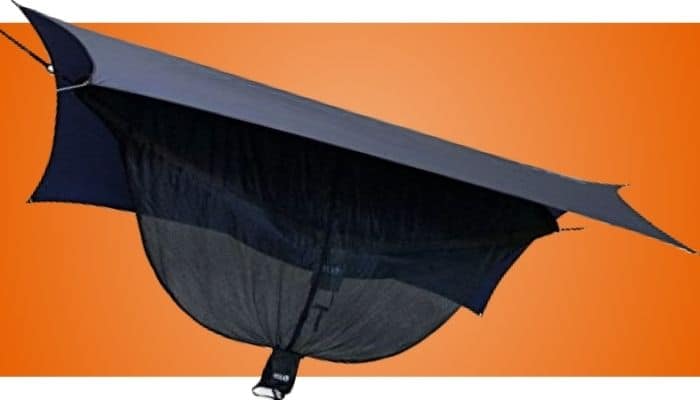 The OneLink hammock shelter system from ENO combines several of the company's most popular products to create an excellent hammock tent experience. It includes your choice of ENO hammock, ProFly/DryFly rain fly, Guardian bug net, and Atlas hammock straps plus stakes and carabiners for easy setup.
ENO is one of the largest and most respected companies in the hiking hammock space. They effectively revolutionized the market with the introduction of their ultra lightweight parachute nylon hammock.
The beauty of the OneLink system is that you can pick out exactly what you need for your situation. Solo hiking and quite small? Go with an ENO SingleNest and basic rain fly.
Hiking with your partner and want to share a hammock? The DoubleNest or DoubleDeluxe with a more comprehensive rainfly is probably the way to go.
We love the flexibility and convenience of the OneLink setup as well as the quality stuff sack ENO includes to pack everything into.
If you're already a fan of ENO hammocks and are looking to put together a full hammock tent sleep system OneLink is a great option.
Hammock Bliss Sky Tent 2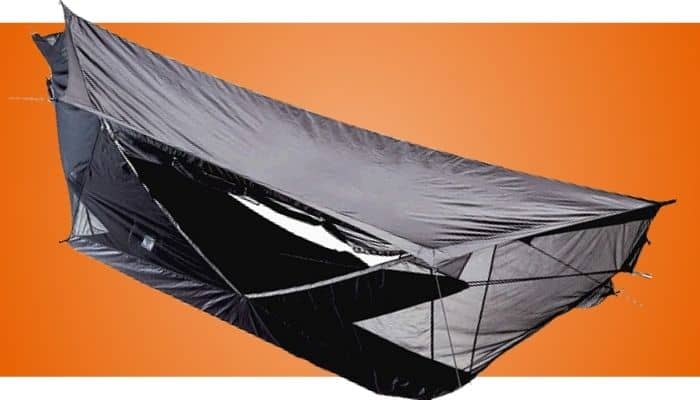 The Sky Tent 2 from Hammock Bliss is an updated version of the original Sky Tent hammock sleep system. It improves upon the features and price point that made the Sky Tent a good choice and adds in the things it was missing.
Unlike the Sky Tent the Sky Tent 2 includes a full rainfly system with guylines. It's made from weatherized nylon and has four tie points at the corners that allow you to extend it comfortably out. It uses the same no-see-um mesh as the original
One thing we really like was the presence of guy points on the hammock body itself. This allows you to apply tension to the hammock and create a flatter and more comfortable sleep space.
No trees in sight? The Sky Tent 2 has a reinforced hammock body that allows you to use it as a small bivy tent with a pair of trekking poles as tent poles.
Because of these extras the Sky Tent 2 is a little heavier than the original. 42 oz to the Sky Tent's 30 oz, and is a bit bulkier when packed away.
For the price, though it's almost impossible to beat the value the Sky Tent 2 gives you. It's a fully functional hammock tent well under $150.
Everest Double Camping Hammock Tent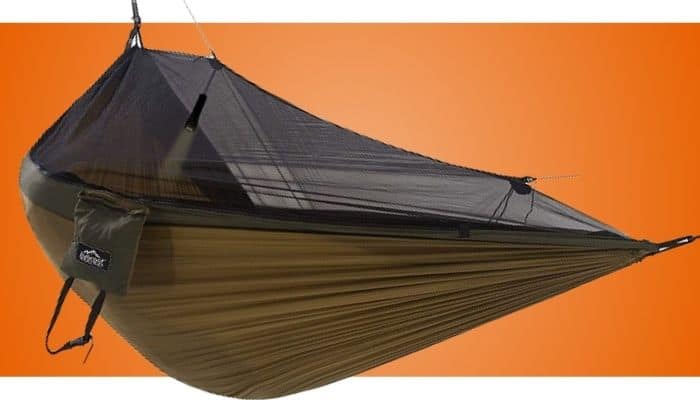 The Everest Double is a hammock tent built with an integrated bug net. It's made from 70D diamond weave ripstop nylon with a waterproof coating.
It's rated to a maximum load of 400 lbs and weighs just 2.9 lbs. This gives you a lightweight yet sturdy hammock able to keep out the bugs with a no-see-um mesh bug net.
It includes mesh straps and aluminum carabiners to suspend it from the trees but is noticeably lacking in a tent top or rain fly. To be honest though, we didn't mind too much.
The Everest Double is very affordably priced for a hammock with an integrated bug net. It's not too difficult to pick out your favorite hammock tarp and complete the system.
For our part we like the Everest Double. It lacks the features and extras of more expensive hammock tents but is overall a great valued priced hammock sleep system.
Best Hammock Tent Comparison Table
Buyer's Guide to Buying the Best Hammock Tent
The first thing to do when figuring out the best hammock tent to buy is actually defining what a hammock tent is. They almost didn't exist just a few years ago and there's still a good bit of confusion around the term.
To be a complete hammock tent sleep system it needs to include:
Hammock
tarp/Rain Fly
Bug Net
Straps/Suspension System
As long as the system you purchase has all those components it can call itself a hammock tent without issue. Let's dig a little deeper into how you can compare different hammock tents.
Price
We're not going to lie to you, purpose built hammock tents are expensive. You can put together a hammock sleep system inexpensively but if you want to purchase a ready to rock hammock tent with all the fixings you're looking to spend at least $100 and more likely several hundred dollars.
Weight
The whole point of hammock camping is to create as light and packable a sleep system as possible. We find right around three pounds to be the sweet spot and four-ish to be the limit.
That's still lighter than your average tent and isn't too big a step up from a hammock and tarp by themselves.
Sleep Positions
There are three positions you can lay in when inside your hammock. These are straight, diagonally, and widthwise.
Which of these is available to you depends on your hammock tent. Some hammock tents have a fairly rigid body from side to side. They spread out a certain amount because of tent poles and guy lines but don't go any further.
That can restrict you entirely from laying widthwise, arguably the best position for sleeping, and even diagonally.
Lying straight in a hammock actually isn't the recommended option. It causes your body to take on an upside down banana shape that's definitely not good for your back.
Try and find out how much space you have within a hammock tent and what sleep positions it allows you to take.
Space
You need a good bit of space to truly be comfortable in your hammock tent. We recommend it be a minimum of 10' long, and preferably 10'6". This gives you plenty of room to lay comfortably without your head or feet going into the more sloped areas near the straps.
As for width, about 4 feet is ideal. That allows plenty of space for just about any sleep position you care to try and a good bit of movement in the night.
Strength
How strong you need your hammock tent to be depends entirely on you. You want it to be rated for your weight plus your gear and a comfortable margin of error. Weigh yourself and the gear you'll keep in your tent and add about 15%.
200lbs is about the lowest rated hammock you'll be able to find so if you weigh considerably less than they you'll be good with just about any hammock tent.
Material
With modern hammock tents synthetic materials are the only way to go. Cotton or hemp is fine for a backyard lounger but they're too heavy and bulky for packing in and out of the backcountry.
Nylon, and preferably ripstop nylon, is by far the most popular material for modern hammocks.
Setup and Adjustments
One of the things campers most often cite as the reason they switched to a hammock sleep system is how easy it is. With traditional tents you've got to clear a patch of ground, lay out a ground cover/tarp and then build your tent up with lots of poles and stakes.
A hammock requires just a pair of trees and a couple straps to get pretty much ready to go.
Hammock tents add in a few more steps what with guy lines, ridgelines, and rain fly but are still a lot faster and easier than a tent.
We recommend you always choose a hammock tent with a strap system and easy adjustments. Old school hammocks relied on climbing rope and a knowledge of knots for hanging and adjusting the position.
Nowadays straps are durable, inexpensive, and extremely easy to adjust.
Bug Net
Ideally the bug net will be integrated right into the hammock tent itself. That both reduces its weight and makes it less likely a bug will slip through.
Look for quality zippers in the bug net. You want to be able to get in and out quickly and without worrying about snags.
Consider the insect conditions where you intend to hike of course, but we recommend you go for a full no-see-um mesh. This has significantly smaller holes than traditional mosquito netting.
It's able to stop any bug that wants in.
Outer Layer/Tarp
Because hammock tents are so new as a category, there's still some debate as to what kind of rain cover is best. You'll see models with a standard hammock tarp cover and others with something that looks a lot more like a traditional tent rain cover.
The rain tarp is generally more multipurpose and can even be used as a ground cover or a poncho in a pinch. The tent style rain cover is usually more tapered and fitted to your hammock tent and will probably weigh a little less.
Some rain flys require multiple guy lines while others are designed to attach snugly to the body of your hammock. Just consider how you want your rain fly to work when purchasing a hammock tent.
Insulation
When you're sleeping three feet in the air staying warm can become a bit of a problem in cold weather conditions. The best ways to stay warm and cozy in your hammock are an underquilt and a hammock sleeping pad.
The vast majority of hammock tents won't have a built in underquilt. When you're considering different models just make sure that they have fairly standard dimensions so that an underquilt will fit well.
For sleeping pads some hammock tents actually have a built in sleeve or liner that holds the sleeping pad in place. This makes it a whole lot easier to keep it centered under you when you sleep but is very dependent on just how you sleep.
Most of these sleeping pad sleeves are straight along the centerline of the hammock. If you want to sleep diagonally you'll probably need to put the sleeping pad in your sleeping bag or leave it loose in the hammock.
Poles or No Poles?
As hammock tents evolve some manufacturers are adding more and more features of traditional ultralight hiking tents. They've even started adding in things like semi rigid tent poles to help create shape and structure for your hammock.
There are pros and cons to this approach to be sure. Tent poles add weight to your hammock system and can reduce the benefit of actually carrying a hammock tent instead of a regular tent.
The tradeoff can be worth it though. A few aluminum or fiberglass poles on your hammock tent can seriously expand the feeling of space. You go from a narrow body with a low bug net to something a lot more like a tent floating in the sky.
Suspension System/Straps
The suspension system for a hammock tent is pretty much the same as for a regular hammock, just with more to it. Most of the time a hammock tent's suspension system will start with tree straps but also include guy lines and a central ridgeline to help hold up the bug net and rain fly.
Some hammock tents require more than two trees to function effectively. Some really cool models are designed to be suspended from three or even four different attachment points.
This makes for a great space to sleep in but does limit your ability to quickly find campsites.
Top Hammock Tents Video
Frequently Asked Questions (FAQ) – Best Hammock Tents
As you explore the world of camping and hiking, hammock tents have likely caught your attention as a unique and exciting alternative to traditional tents. To help you make an informed decision and address any doubts you may have, we have compiled a list of frequently asked questions about the best hammock tents. Whether you're a beginner or a seasoned camper, this FAQ section will provide you with valuable insights and answers to common queries. So, let's delve into the world of hammock tents and discover everything you need to know before embarking on your outdoor adventures!
What is a hammock tent?
A hammock tent is a hybrid camping shelter that combines the comfort and relaxation of a traditional hammock with the protection and coverage of a tent. It typically consists of a hammock bed suspended between two trees or poles, with an integrated rainfly or bug net for weather protection.
How is a hammock tent different from a regular tent?
Unlike traditional tents that require a flat and level surface, hammock tents can be set up virtually anywhere with trees or sturdy anchor points. They provide a unique sleeping experience by suspending the camper off the ground, offering better airflow, and reducing the need for a sleeping pad.
Are hammock tents comfortable for sleeping?
Yes, hammock tents can be incredibly comfortable for sleeping. They offer a gentle rocking motion and can help alleviate pressure points on your body, providing a more restful sleep compared to sleeping on the ground. However, comfort may vary depending on personal preferences and the quality of the hammock tent.
Are hammock tents suitable for all seasons?
Yes, hammock tents can be used in various seasons, but it's essential to choose the right hammock tent for the weather conditions you expect to encounter. Some hammock tents come with insulated features or removable insulation layers, making them suitable for colder seasons, while others are designed to provide better ventilation for warmer climates.
Can I use a hammock tent if I don't have trees available?
Yes, even if trees are not available, you can still use a hammock tent by utilizing hammock stands or finding alternative anchor points like sturdy posts or boulders. Some hammock tents also come with separate accessories, such as ground conversion kits, which allow you to set them up on the ground as a traditional tent.
How much weight can a hammock tent support?
The weight capacity of hammock tents varies depending on the model and the materials used. Generally, most high-quality hammock tents can support weights ranging from 250 to 500 pounds (113 to 227 kg). It's important to check the manufacturer's specifications and choose a hammock tent that suits your weight requirements.
Are hammock tents easy to set up?
Hammock tents can vary in terms of setup complexity, but many models are designed for easy and quick assembly. With practice and familiarity, most users can set up a hammock tent within a few minutes. It's recommended to practice setting up your hammock tent before heading out on your camping or hiking trip.
Can hammock tents be used for backpacking?
Yes, hammock tents are popular among backpackers due to their lightweight and compact design. They are particularly advantageous in areas with limited flat ground for traditional tent setups. When choosing a hammock tent for backpacking, consider factors like weight, packed size, and durability to ensure it meets your specific needs.
How do I maintain and care for a hammock tent?
Proper maintenance and care can extend the lifespan of your hammock tent. Always follow the manufacturer's instructions for cleaning and storage. Regularly inspect the hammock fabric, suspension system, and any additional components for signs of wear or damage. Clean the hammock tent after each use, avoid sharp objects, and store it in a dry and cool place when not in use.
Remember, when purchasing a hammock tent, consider your specific camping needs, the expected weather conditions, weight capacity, and durability. Reading customer reviews and seeking recommendations from experienced campers can also help you find the best hammock tent for your outdoor adventures.
Final Thoughts
When picking out the perfect hammock tent it really comes down to how much you're willing to carry and what you're willing to spend.
There are excellent ultra light options out there but you should expect to pay a pretty penny for them. Keep your eyes out for new developments. The hammock tent market is growing and changing rapidly, so new products might come out that really wow you.