Top 3 Best Knee Braces for Hiking
Cho-Pat Dual Action Knee Strap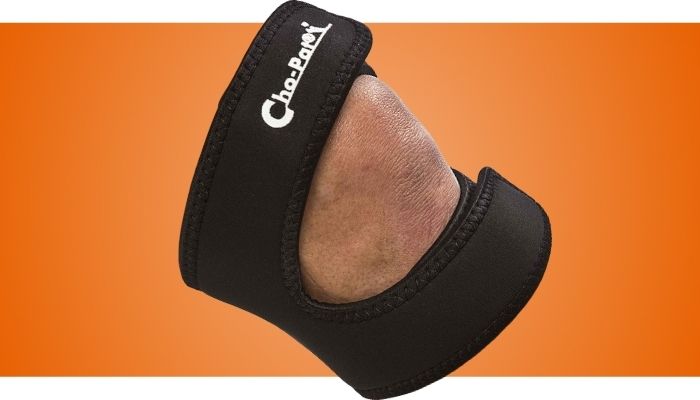 Substantial Support: Offers robust support both above and below the knee, crucial for demanding outdoor activities.
Adjustable Straps: Customizable fit with adjustable straps, ensuring the strap stays in place on rugged terrains.
Breathable Fabric: Lightweight and breathable, providing comfort during prolonged use.
Enhanced Mobility: Does not restrict range of motion, allowing for natural movement.
Long-term Durability: Proven to be a lasting solution, maintaining effectiveness over years.
Versatility: Suitable for various activities, including hiking, camping, and intense workouts.
IPOW Knee Pain Relief & Patella Stabilizer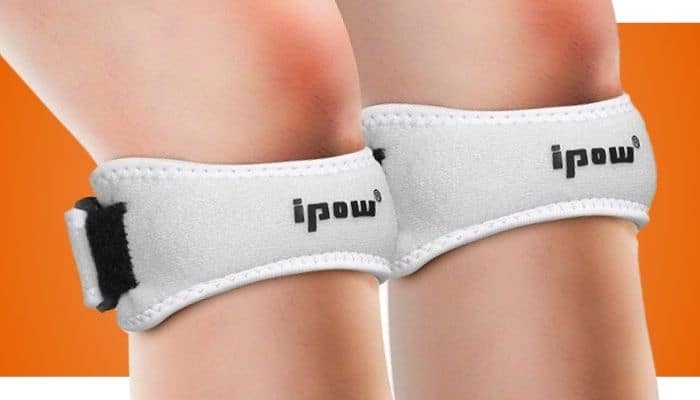 Preventive Care: Designed to prevent improper knee motion and encourage proper joint tracking.
Comfort Material: Soft material reduces impacts from rough terrain.
Lightweight Support: Provides essential support without heavy compression.
UFlex Knee Compression Sleeve Support for Hiking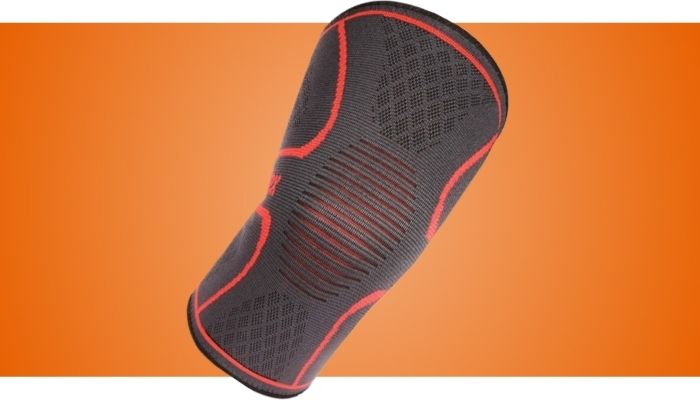 Supportive Compression: Firm compression around the knee without restricting movement.
Patella Movement Limitation: Helps limit patella movement to prevent accidental damage.
Flexible Design: Knitted design for maximum flexibility.
Slip-Resistant Features: Contains silicone points to prevent the brace from moving during activities.
Pain and Inflammation Relief: Offers relief for persistent knee pain.
Outdoorsman Toolkit is reader-supported. When you buy through links on our site, we may earn an affiliate commission.
Learn more
Hiking is one of the most relaxing and fulfilling outdoor activities around. Going out and communing with nature while also burning off a ton of calories. Unfortunately for people with chronic knee pain all that walking over rough terrain can be really uncomfortable. With a quality knee brace though you can get back out on the trails without fear of pain or injury. Today we're looking for the best knee brace for hiking to help you get back on the trails.
Best Knee Brace for Hiking Reviews
Knee pain is one of those things that's different for every person. For some of us it's a minor ache that shows up every now and then while for others it's a persistent pain.
Picking out the best knee brace for hiking really comes down to your level of pain, the intensity of your activities and any other medical conditions you're dealing with. If you're experiencing persistent knee pain we highly recommend you mention it to your doctor.
Our review today covers a variety of different knee supports and braces. We tried to pick out some excellent products across the price and capability spectrum.
Cho-Pat Dual Action Knee Strap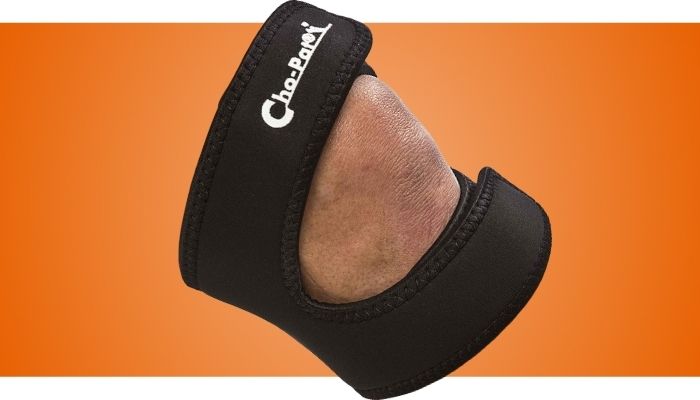 When it comes to outdoor adventures, be it hiking, camping or navigating through unchartered trails, my knees used to be a party pooper. The occasional knee pain was like that uninvited guest you can't turn away. However, the Cho-Pat Dual Action Knee Strap has turned the tables in my favor.
The moment I strapped it on, I could feel a substantial level of support enveloping my knee, both above and below. The two adjustable straps are nothing short of genius, delivering an optimal level of support while not compromising on my range of motion one bit. The design seems to embrace my knee in a firm yet gentle grasp, making it feel like a natural extension of my body rather than a foreign attachment.
But what really sets this strap apart is its fabric – lightweight and breathable. Even during long hikes under the sun, it stayed comfortable and didn't turn into a sweat lodge around my knee. It comes in a variety of sizes, making it a breeze to find the perfect fit. The adjustable straps are a boon, letting me dial in the right amount of pressure I needed to keep my knee stable, yet flexible.
I've had my fair share of knee braces in the past, some were too restrictive, while others would slide down to my shins before I could say "trail mix". But this one stayed put, no matter the terrain I was conquering.
The support this knee strap provides is exceptional, mitigating the minor knee pain that used to creep in during my hikes. I have also tried a knee sleeve earlier, but it could never match up to the comfort and support provided by the Cho-Pat strap, especially during extended hours of wear. The sleeve was a nightmare after three or four hours as it irritated my skin, but this strap has been a companion for more than eight hours on the trail, without a hint of discomfort.
I've heard praises of its durability from fellow hikers, one of them even used it for a good nine years before the need for a replacement arose. That's the kind of long-term relationship I was looking for in a knee strap.
Even after losing weight, which naturally alleviated some of my knee pains, the Cho-Pat strap remains an integral part of my hiking gear. It's not just a strap, it's a ticket to explore the wild without the nagging reminder of knee pain. Now, whether I'm on a simple camping trip or on a challenging hike, the Cho-Pat Dual Action Knee Strap is as essential as my backpack.
During a recent RV trip through the Rockies, I decided to test the Cho-Pat strap on a steep trail. The morning was cool and the path ahead seemed challenging but inviting. With the strap snugly fit, I embarked on what turned out to be a 6-hour hike. Through rocky inclines and slippery descents, the strap was steadfast, providing a level of support that made my knee feel secure yet agile. The real test came on a particularly steep descent where I had to rely on my knees a lot.
The strap didn't flinch, providing the same level of comfort and support as it did at the start of the trail. It was not just the physical ease but the psychological comfort of knowing that my knee had a reliable support. As I sat by the campfire that night, I realized, not a trace of the usual knee soreness was there to haunt me. It was clear, the Cho-Pat Dual Action Knee Strap had proven to be more than just a support, it was a companion that understood the needs of an avid outdoorsman.
This knee strap has indeed been a game changer for me, allowing me to venture out into the wilderness with confidence. It's not just a support, it's a silent promise that my love for the outdoors need not be overshadowed by knee pain. And for that, it earns a deserving spot in my list of hiking essentials, and I highly recommend it to any outdoor enthusiast dealing with minor knee pain.
Pros:
Substantial Support: Provides robust support both above and below the knee which is essential during demanding outdoor activities.
Adjustable Straps: The adjustable straps allow for a customized fit and the right amount of pressure, ensuring the strap stays in place even on rugged terrains.
Breathable Fabric: Made from a lightweight and breathable fabric, it remains comfortable even during long hours of wear.
Enhanced Mobility: Unlike some other knee supports, it doesn't restrict range of motion, allowing for natural movement.
Long-term Durability: Has proven to be a long-lasting solution for many, retaining its effectiveness over the years.
Versatility: Suitable for a variety of physical activities including hiking, camping, and even more intense workouts like kickboxing or racquetball.
Cons:
Price: Some may find the price a bit on the higher side, especially when needing a replacement.
Size Fitting: Finding the right size initially might require some trial and error, to ensure a snug fit without it being too tight.
Initial Adjustment Period: It might take a few wears to get used to the strap and adjust it to the perfect setting for individual comfort and support.
Might Not Suffice for Severe Knee Conditions: While great for minor knee pains and prevention of overuse, it may not provide sufficient support for more severe knee conditions or post-surgical recovery.
IPOW Knee Pain Relief & Patella Stabilizer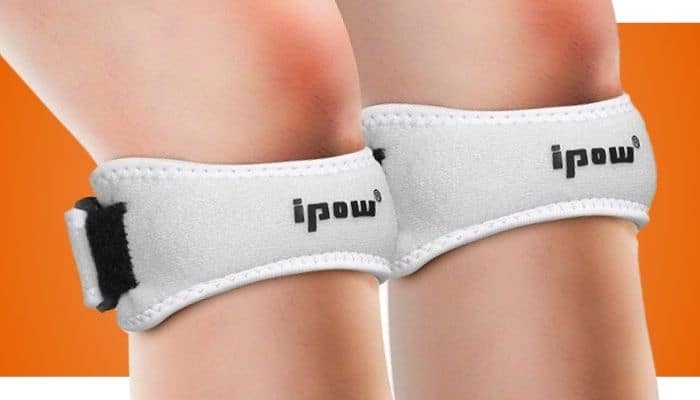 The IPOW Patella Stabilizer Knee Strap is designed to prevent improper motion of the knee. It straps into place with a hook and loop fastener for snug comfort and protects your patella while active.
The IPOW stabilizer is designed to provide preventative care for your knee. It stops you from moving your knee poorly and helps encourage the proper tracking of the knee joint.
The soft and comfortable material also helps to reduce impacts from jarring steps and hiking over rough terrain.
The IPOW Knee Stabilizer is a lightweight yet supportive brace. It's great at encouraging the proper movement of the knee but doesn't offer the kind of compression needed for inflammation relief.
UFlex Knee Compression Sleeve Support for Hiking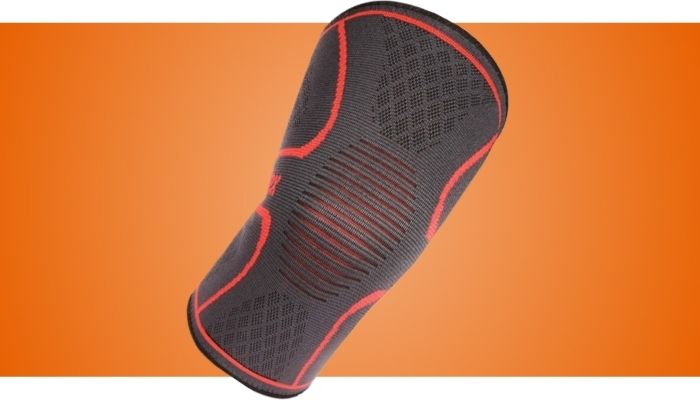 The UFlex Knee Compression Sleeve is designed to support your healthy range of motion while reducing pain and inflammation. It provides firm compression all around your knee without restricting your movements.
It's designed to add warmth to your knees and limit the movement of the patella itself. This keeps you from accidentally damaging your knee with poor movements. It's made using a knitted design for maximum flexibility.
UFlex also added in silicone slip resistant points to prevent the brace from moving or sliding around while using it. This is great when you're hiking under a hefty pack and can't afford to stop every few minutes for adjustment.
If you're dealing with persistent knee pain the UFlex Compression Knee Brace offers relief. It's designed to cocoon your knee in a firm and comforting pressure.
PowerLix Compression Knee Sleeve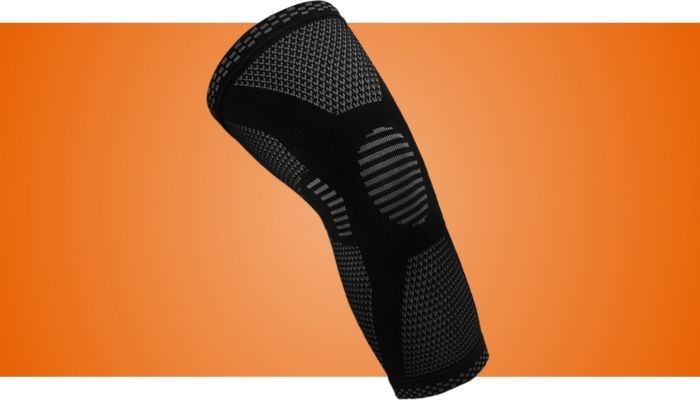 The PowerLix compression knee sleeve is a four way compression sleeve for active wear. It gives you excellent support and stability for your knee and extends for five inches above and below the knee cap.
It's made from a breathable and easy to clean knitted fabric with integrated silicone slip resistance. This prevents it from slipping even when sweaty and allows you to keep moving.
The sleeve provides compression from every necessary angle. It's designed to protect your knee joint without reducing your field of movement.
The Powerlix compression knee sleeve is great for reducing the pain from minor knee injuries. It's larger than many similar sleeves and provides excellent support from every angle.
Pro-Tec Gel Force Knee Sleeve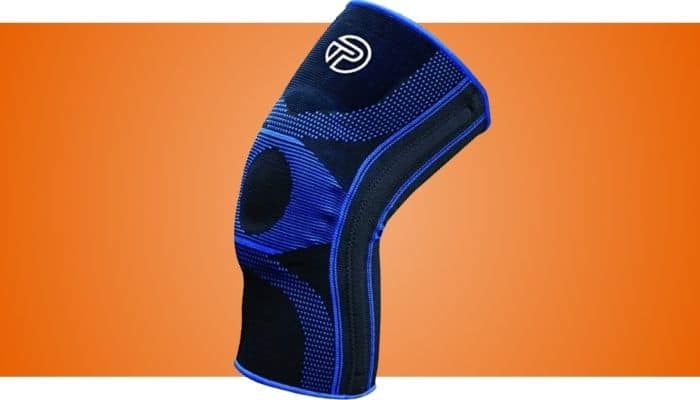 The Pro-Tec Gel Force knee sleeve combines a four way stretch fabric knit with thick gel supports. This gives you excellent inflammation relief and provides moderate knee joint stability.
It's a closed patella brace with a ring of gel that surrounds the knee cap. This helps keep the patella stable without reducing your range of movement.
The material itself is lightweight and breathable. This makes it great for hikes during warm weather where overheating is a concern.
The Pro-Tec Gel Force knee sleeve is a good option for preventing knee damage or relieving minor pain. It isn't as supportive as some of the other braces we cover here but it does a good job stabilizing the knee cap through light to moderate activity.
Bracoo Open-Patella Knee Support Brace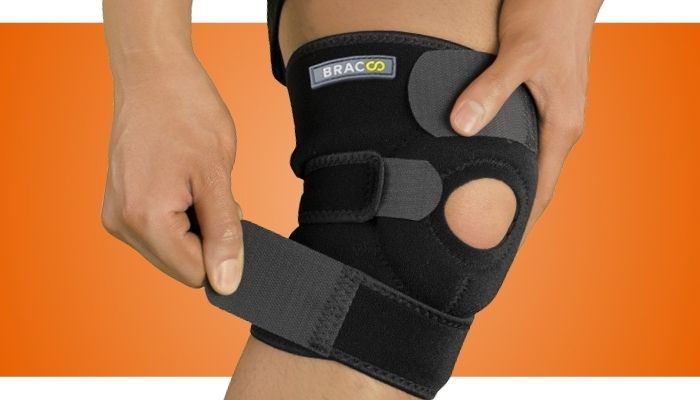 The Bracoo knee support brace uses an open patella design to keep the kneecap in its proper place during activities. It's fully adjustable designed for comfortable all day wear.
The Bracoo brace is made from thick neoprene to provide the best combination of comfort and support. It uses a set of hook and loop fasteners to allow quick adjustments throughout the day.
The adjustable compression helps improve circulation and decrease inflammation. When combined with the patella support you wind up with a quality knee brace that's highly adaptable and great for managing minor to moderate knee pain while active.
Winzone Best Knee Brace Support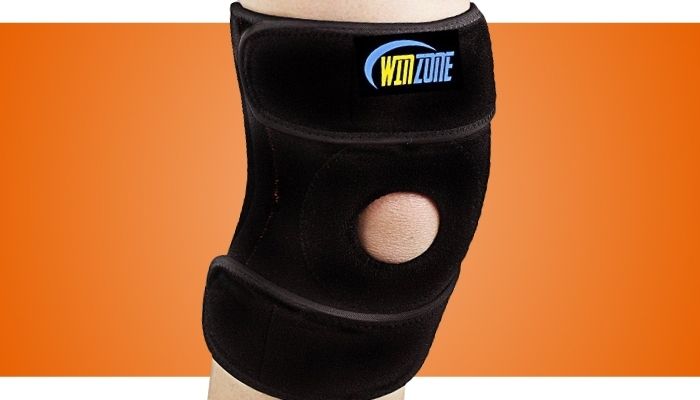 The Winzone knee brace is a wraparound knee support designed to promote healthy range of movement and reduce pain. It uses an open patella style to stabilize the kneecap and encourage proper movement.
It has two hook and loop fasteners that let you adjust the tightness and positioning whenever needed. The Winzone gives you firm compression to prevent inflammation without restricting healthy movement.
Overall the Winzone knee support is an easy to apply and highly adaptable knee brace. It supports your knee while protecting the joint and reducing inflammation.
TechWare Pro Knee Brace Support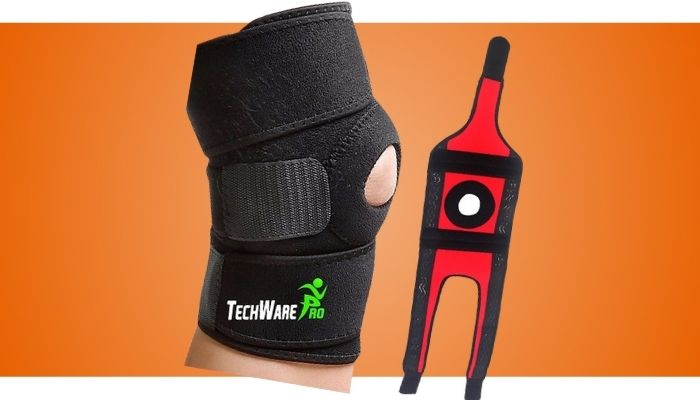 The TechWare Pro is a wrap style knee brace with an open patella design. It offers comfortable compression while helping to stabilize your kneecap.
One interesting feature of the TechWare Pro is its use of three straps. This gives you pinpoint control over the pressure and support the brace provides.
It's made from moisture wicking neoprene with nonstick silicone strips. This makes it comfortable to wear all day without the need to constantly adjust it.
Because you can easily unstrap it and lay it out flat it's easier to clean and air out the TechWare Pro as well.
The TechWare Pro is a well made knee support with interesting features. It gives you excellent patella stability and offers comfortable yet firm compression.
Vive Hinged Knee Brace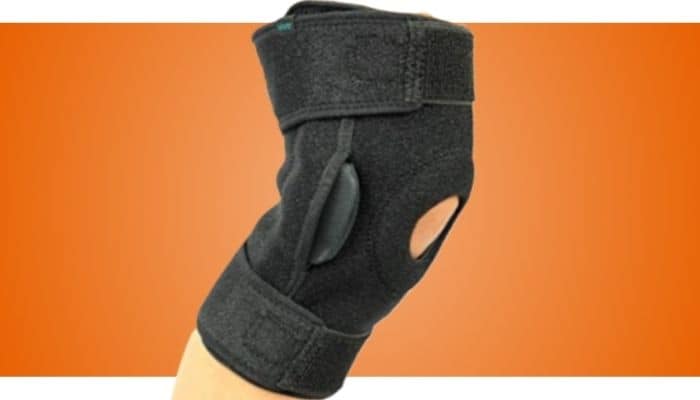 The Vive hinged knee brace is an adaptable brace that offers maximum support in a low profile package. It has two aluminum supports on either side to protect your knee after an injury.
It straps on for maximum compression and comfort and includes an open patella style stabilizer. This helps reduce pain and inflammation while preventing your joint from moving improperly.
One thing we really liked about this brace was how adaptable it was. The aluminum supports are removable, leaving you with a quality strap knee brace that gives you good support and a comfortable fit.
The Vive hinged knee brace is great if you've previously injured your knee but still want to enjoy hiking and camping. It gives you a range of support levels that fit how your knee is feeling on a day to day basis.
Shock Doctor Hinged Knee Brace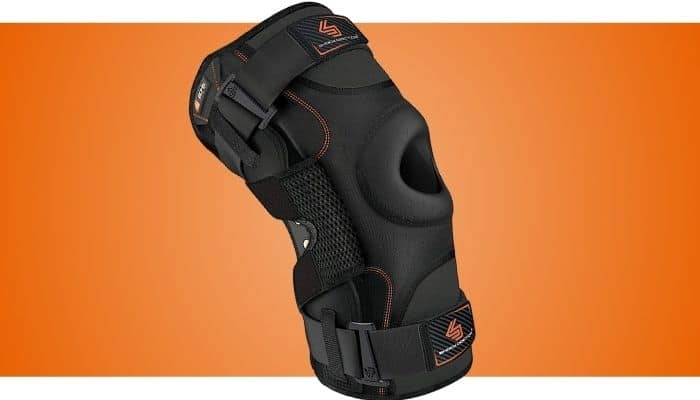 The Shock Doctor hinged knee brace gives you the ultimate protection for your knee and joint. It has dual hinges as well as a variety of straps and compression features.
It's made from antimicrobial and odor resistant materials with two hook and loop straps. Its open patella design is made to help stabilize the kneecap while preventing improper or damaging movements.
This isn't a brace to wear if you just want to encourage healthy range of motion or have occasional minor pain. It's a highly protective and restrictive brace that's designed for recovery after major injuries or for people with persistent pain.
If you fall into one of those categories and still want to enjoy a hike the Shock Doctor hinged knee brace is definitely one of the best options available.
Buyers Guide to Buying the Best Knee Brace
Picking out knee braces for hiking comes down to what level of knee pain you're experiencing and the intensity of your activity. There are tons of different types and styles of knee brace to choose from.
We've tried to cover the most common varieties of braces and how they're used. We also covered various ways you can help prevent knee injuries and reduce your knee pain.
Before reading our best knee brace buyer's guide we think you'd also like our best hiking poles and best trekking poles for women guides.
Price
Knee braces for hiking aren't expensive. You can get a pretty good sleeve or support style brace for $10 to $20 no problem.
Higher end medical grade models can cost more but generally aren't necessary for hiking. If you have a diagnosed medical condition relating to your knee you should check and see if your insurance company will cover it.
Types of Knee Brace
There are several
Patella Stabilizer – Patella stabilizing knee braces are designed to prevent the improper movement of the knee cap. They're generally open to relieve pressure on the patella but provide firm support of the entire knee joint.
Knee Straps -Knee straps are the smallest type of brace available. They're usually about two to three inches wide and designed to sit snuggly just above or below the knee joint.
They apply extra pressure to the patellar tendon and help maintain the proper motion of the knee joint. They're great for preventing knee injuries and improving your overall range of motion.
Dual Action Knee Strap – Dual action knee straps are exactly what they sound like—a knee strap with two straps. They bracket the patella above and below the knee and help prevent knee injuries and improper movements.
Styles
There are lots of different styles of knee braces available today. We'll cover the ones most commonly used for hiking and outdoor sports below.
Hinged and Stabilized – Hinged knee braces are the most restrictive heaviest. They have rigid or semi-rigid hinges built into the sides of the brace that limit the range of motion your knee can go through.
They aren't generally recommended for hiking because of how heavy they are. If you need to wear a hinged knee brace while hiking you should stick to lower intensity and duration trails.
Sleeves – Knee sleeves are the most basic type of knee brace available. They're just a tube of elasticized material that's designed to slip up your leg and apply pressure to your knee.
They're great for hiking as they're lightweight, easy to clean and provide good amounts of pain relief and support.
Knee Wraps – Wrap style knee braces are designed to wrap around your knee and leg with hook and loop fasteners. This allows you to adjust the pressure and positioning of your brace depending on the pain you feel.
They're great for hiking as you can adjust the level of support on the fly.
Closed Patella – Closed patella knee braces don't have the small hole found in open patella braces. This applies greater pressure to the knee itself and can help support your knee.
Open Patella – Open patella braces have a small circular opening that helps relieve the pressure on the kneecap. They're great for hiking as they allow proper movement and tracking of the knee joint.
Size
To find the right size knee brace you need to measure your knee and leg. Start by finding the point on your knee that the pain is centered on. Measure around this point and mark it with a marker.
Take measurements around your leg 6 inches above and 6 inches below the mark you made. Take these numbers and compare them to a sizing chart for your chosen knee brace.
Adjustment Capabilities
Depending on what kind of knee brace you choose you'll have more or less adjustment available. Basic knee sleeves generally can't be adjusted.
Straps and stabilized knee braces on the other hand are usually highly adjustable. You'll be able to loosen or tighten them to change the pressure and adjust how they sit in relation to your knee cap.
Material
The bulk of knee braces are made from a sturdy and elastic non-latex material like neoprene. This gives them excellent strength, good ability to apply pressure and makes them non allergenic.
If your brace has supports built in they'll usually be either metal or polymer. If you plan to hike in hot weather conditions look for braces that are breathable and easy to wash.
Other Methods to Prevent Knee Pain While Hiking
Knee braces can help keep your knees moving in the correct way. A lot of knee pain is caused because of improper movement in the joint.
This leads to inflammation and can contribute to tears in the cartilage of your knee.
Hiking Poles – A lot of people discount the benefit quality hiking poles can provide. They give you greater stability and actually take some of the weight of your body off your knees and legs.
For many people living with knee pain an injury was the original cause. Hiking poles make it a lot less likely that you'll lose your footing and twist or tear your knee.
Correct Footwear – One of the most common causes of knee pain among hikers is improper footwear. Too many people pop on their largest, heaviest boots without considering if they're the right choice for conditions.
There's an old saying among hikers—a pound on your feet is the same as 5 pounds on your back. If you aren't hiking on extremely rough terrain lightweight trail running shoes will usually do the job.
Boots are heavier and less flexible. This puts more strain on the muscles of your leg and requires you to move your knee joint more to avoid obstacles.
Losing Weight – Being overweight is one of the biggest contributing factors to knee pain. If you can commit to a healthy diet and exercise plan you'll be shocked how much better you feel at a healthy weight.
The reduced pressure on your knee just in everyday walking will go a long way to reducing pain.
Correct Walking Posture and Gait – More than 80% of Americans don't practice proper posture. This affects everything from organ health to back, leg and knee pain.
Gait has a more direct effect on the knees. Poor gait can cause the muscles and tendons of your leg to put pressure on the knee or rub against it. By improving your gait you reduce a lot of these stressors.
Massage Rollers and Balls – The benefits of massage for aches and pains has been understood for a long time. It's not always possible to see a massage therapist when the pain kicks in so massage balls and rollers are a good alternative.
They allow you to apply your preferred amount of pressure right where it hurts just by rolling the tool over your body.
Joint Supplements – Many people choose to take joint supplements to help with inflammation and aches. There isn't firm medical evidence to support their effectiveness but there's no harm in giving them a try. Some of the most commonly used include:
Glucosamine
Chondroitin
Omega-3
Green Tea
Knee Exercises – Before we get into any of the stretches and exercises it's important you understand when and how to use them. If you experience chronic or frequent knee pain you need to see a doctor as soon as possible.
It could be a sign of a potentially life altering injury that might be made worse by additional exercise. As long as your doctor signed off on them there are several easy exercises you can do to help strengthen your knee.
The goal with these exercises is to help stretch and strengthen the muscles that support the knee.
Lighten Your Pack – The heavier the load on your back, the more strain you're putting on the muscles and joints of your legs. If you can reduce the amount of gear you carry or replace it with lightweight versions you go a long way towards reducing the risk of knee injury and preventing knee pain.
Top Hiking Knee Brace Video
FAQ: Best Knee Braces for Hiking
As avid hikers and outdoor enthusiasts, we understand the importance of ensuring your adventures are as enjoyable and safe as possible. When it comes to hiking, our knees play a vital role in carrying us through rugged trails and picturesque landscapes. However, even the most experienced hikers can encounter knee discomfort or injuries along the way. That's where knee braces come into the picture.
In this FAQ section, we aim to address common queries and concerns regarding the best knee braces for hiking. Whether you're a seasoned hiker looking to protect your knees or a newcomer seeking preventive measures, we've got you covered. By shedding light on various knee brace types, their benefits, and how to choose the right one for your needs, we hope to equip you with the knowledge and confidence to embark on memorable hiking journeys with stability and support.
Remember, proper gear and preparation can make all the difference in your hiking experience. So, let's dive into the frequently asked questions about knee braces, ensuring you're ready to conquer any trail that lies ahead.
Why should I use a knee brace while hiking?
Hiking involves prolonged periods of walking, often on uneven terrain. Knee braces provide support and stability to your knees, reducing the risk of injuries and minimizing strain on the joints during challenging hikes. They can also help alleviate existing knee discomfort and aid in a quicker recovery.
What types of knee braces are suitable for hiking?
There are various knee brace types suitable for hiking, including:
Compression Sleeves: Lightweight and provide mild support, ideal for minor knee pain or as preventive measures.
Hinged Knee Braces: Offer more significant support with additional lateral stability, suitable for moderate knee conditions or recovering from injuries.
Patellar Stabilizing Braces: Targeted at patellar tracking issues and can be beneficial for individuals with kneecap-related problems.
How do I choose the right knee brace for my needs?
Consider the following factors when choosing a knee brace for hiking:
Support Level: Assess the severity of your knee condition or discomfort and select a brace with an appropriate level of support.
Material: Look for breathable, moisture-wicking, and durable materials to ensure comfort during long hikes.
Size and Fit: Choose a knee brace that fits snugly but not too tight, ensuring proper support without compromising circulation.
Adjustability: Some knee braces come with adjustable straps or closures, allowing you to customize the fit according to your preference.
Can knee braces prevent all knee injuries during hiking?
While knee braces can significantly reduce the risk of certain injuries, they cannot prevent all accidents or injuries. Proper hiking techniques, appropriate footwear, and listening to your body are also essential to minimize the risk of knee-related issues.
Are knee braces only for people with existing knee problems?
Not necessarily. Knee braces can be used proactively by hikers to prevent potential knee issues, especially if they are prone to knee discomfort during hikes or participate in physically demanding activities regularly.
Can I wear a knee brace over or under clothing?
Knee braces are designed to be worn over your clothing, making them easy to adjust and remove during hikes. However, make sure the brace is in direct contact with your skin, as this ensures optimal support and prevents it from slipping.
Are knee braces suitable for all hikers?
While knee braces are generally safe and suitable for most hikers, it's essential to consult with a healthcare professional if you have pre-existing medical conditions or concerns about using a knee brace. They can offer personalized advice based on your specific needs.
How do I care for and clean my knee brace?
Cleaning instructions may vary depending on the specific knee brace's material and construction. Generally, hand washing with mild soap and water is recommended. Avoid using harsh chemicals, bleach, or fabric softeners. Allow the brace to air dry completely before using it again.
Can I wear a knee brace while sleeping during camping trips?
While wearing a knee brace occasionally during sleep might be acceptable for certain injuries, it's essential to follow your healthcare professional's advice. In some cases, wearing a knee brace for an extended period during sleep could cause discomfort or restrict blood flow.
Where can I purchase the best knee braces for hiking?
You can find knee braces suitable for hiking at outdoor and sporting goods stores, medical supply shops, and online retailers. Make sure to read customer reviews and product descriptions to choose the most appropriate knee brace for your needs.
Remember, knee braces can be a valuable addition to your hiking gear, but they are not a substitute for proper training, adequate rest, and being mindful of your body's limitations. Always prioritize safety and listen to your body during your outdoor adventures.
Best Knee Brace for Hiking Recap
Final Thoughts
In the end it all comes down to what you need. If you're just trying to prevent knee injuries later in life a basic knee strap will serve you well.
If on the other hand you're recovering from a serious knee injury and still want to enjoy mother nature you should definitely look into something more supportive.