Top 3 Best Trauma Shears
Xshear Extreme Duty Trauma Shears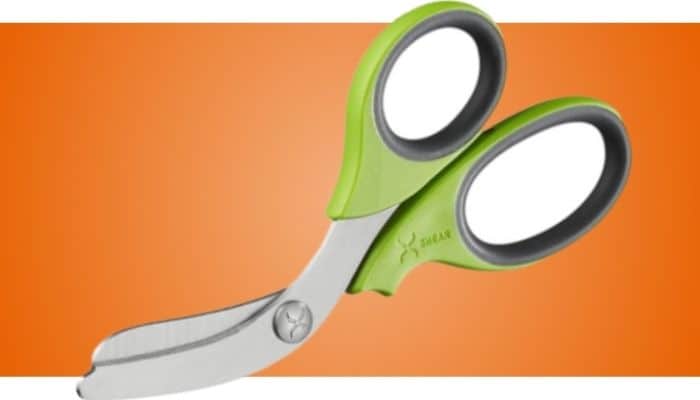 Robust 420J2 stainless steel construction.
Versatile cutting ability on various materials.
Comfortable grip with autoclave-ready plastic handles.
Leatherman Raptor Emergency Response Shears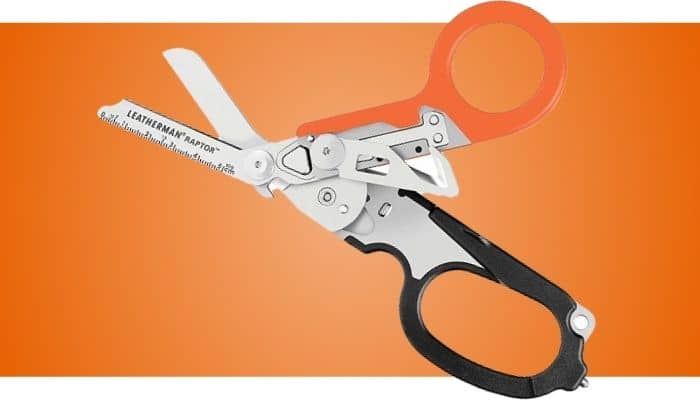 6-in-1 multi-tool: folding shears, strap cutter, ring cutter, ruler, oxygen tank wrench, and carbide glass breaker.
Compact design with foldable feature for easy storage.
Autoclavable, but can be tricky to clean with wipes.
Madison Supply – Medical Scissors, EMT and Trauma Shears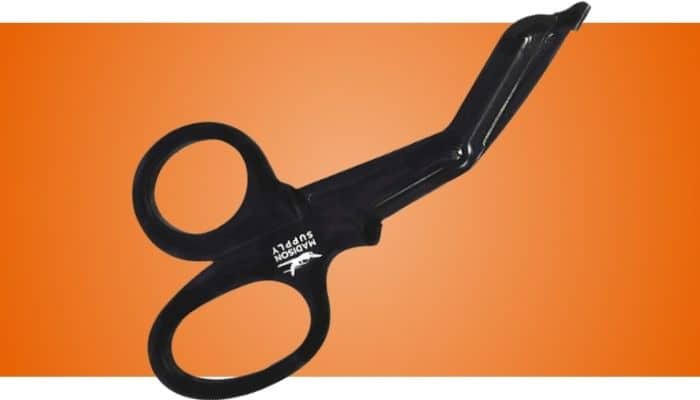 Durable stainless steel with plastic handles.
Milled serration blade design coated with fluoride for efficient cutting.
Autoclavable with a blunt tip for safety.
Outdoorsman Toolkit is reader-supported. When you buy through links on our site, we may earn an affiliate commission.
Learn more
Being able to remain cool under intense pressure is one of the skills required by EMT's, first responders, and military medics. Having the right tools for the job helps them keep their cool and effectively serve their patients. One of the tools most commonly used across the medical and preparedness world are survival shears. Today we'll cover what makes for great survival shears and help you pick out the best trauma shears available.
What are Trauma Shears
Trauma shears are a specialized type of medical scissors commonly used by first responders and military medics. They're specially designed to cut through clothing and other materials in a medical emergency without injuring the patient.
To do this they have a sharp angle between the handle and the blades, usually about 150°. This allows the user to operate them quickly and apply considerable force without having to push their hand against the patient's body.
Trauma shears always have a blunt tip. This prevents them from accidentally cutting the person whose clothes the medic is trying to remove.
Over the last few years their usefulness has been recognized by others outside the medical and military professions. As high quality cutting implements it's hard to beat trauma shears.
This has attracted hikers, fishermen, preppers, and all sorts of other people who need a pair of scissors/shears that can cut through anything without giving out.
Best Trauma Shears
For first responders and military medics quality trauma shears can literally be the difference between life and death for their patients. It's important that any tool they choose be rugged, reliable, and highly functional.
On the other end of the spectrum are general preparedness minded people, fishermen, hikers, and anyone else looking for highly effective shears. Picking just one best pair of trauma shears for all those different users is pretty much impossible.
Instead, we put together a list of several great trauma shears across a range of price points and intended use cases.

Xshear Extreme Duty Trauma Shears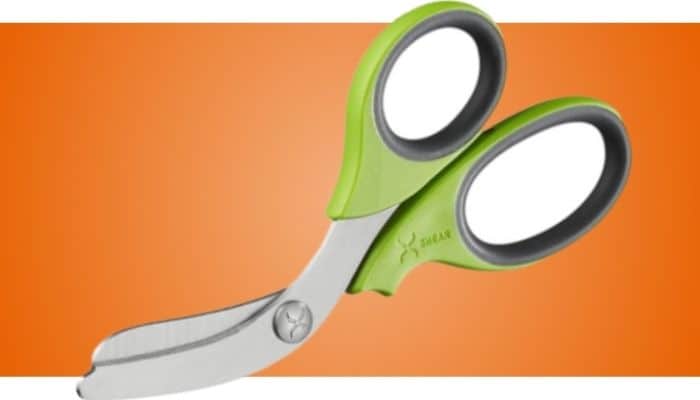 Having a knack for outdoor adventures, from hiking to camping, I have always believed in being prepared for any mishap that nature might throw my way. My first aid certificate is a testament to this belief. Over the years, I've collected a good number of first aid tools, but the crown jewel of my kit has become the Xshear Extreme Duty Trauma Shears.
The moment I held these shears, I knew they were built to withstand the wrath of the wild. The robust nature of the 420J2 stainless steel from which they are crafted, almost twice as thick as other alternatives, instilled a sense of rugged reliability. The handles, fashioned from autoclave-ready plastic, offered a soft touch that cradled my fingers comfortably, even during a testing cut through an old belt I found in the garage.
I had read about their effectiveness in medical environments, and even among the tree climbing and SCUBA diving communities. Their ability to cleanly slice through a 1/2" kernmantle climbing rope and also through heavy-duty materials while still being gentle enough to snip a child's hair caught in a climbing knot, convinced me of their versatility.
I was particularly keen on testing the straight-edged blade with a gentle curve, it seemed to promise a precision that I had not found in my previous shears. The first cut through a piece of leather was a revelation – it was effortless and clean. Their performance was consistent even when I tested them on various materials like cloth and tough plastic. The blunt tip ensured safety while the reinforced bolt promised durability.
The thickness of these shears is something that caught my eye – they are indeed THICC as one review humorously noted. They seemed to laugh in the face of the 'penny test', showcasing a strength that was reassuring. Slipping them into my camping pants, they fit snugly, ready to be drawn at a moment's notice.
The first real test came during a weekend camping trip. A friend had a minor fall and got a deep cut. The Xshear Extreme Duty shears were out in a flash, cutting through the denim like it was butter, allowing me to swiftly tend to the wound. The ease and safety with which they operated in that stressful scenario were commendable.
The price tag might seem on the higher end, but given their performance, durability, and the confidence they instill, it's a worthy investment. They are not just a pair of shears; they are a promise of safety and reliability when you are out exploring the wilderness. They have become a permanent fixture in my first aid kit, and I am already considering getting a second pair for my SCUBA kit. From a seasoned camper and a safety enthusiast, the Xshear Extreme Duty Trauma Shears get a solid A+.
Pros:
Robust Construction: Crafted from thick 420J2 stainless steel, designed for longevity and to withstand rigorous use.
Versatile Cutting Ability: Effortlessly slices through a variety of materials including cloth, leather, heavy ropes, and even minor metal objects, making them highly useful in diverse situations.
Comfortable Grip: The autoclave-ready plastic handles with a soft touch inner handle ensure comfort during use, reducing hand fatigue.
Safe Design: The straight-edged blade with a blunt tip provides a secure cutting experience, minimizing the risk of accidental injuries.
Easy Sterilization: Being autoclave-ready makes them easy to sterilize, ensuring they are ready for safe use whenever needed.
Compact and Portable: Despite their rugged construction, they are compact enough to fit into EMS pants or a camping first aid kit.
Cons:
Price: They are priced on the higher end compared to other trauma shears, which might deter some budget-conscious buyers.
Initial Stiffness: They may feel a bit stiff to operate initially, although this seems to ease up with use.
Fit: Depending on the design of EMS pants or carrying cases, fitting them snugly might require some adjustment or a workaround.
Leatherman Raptor Emergency Response Shears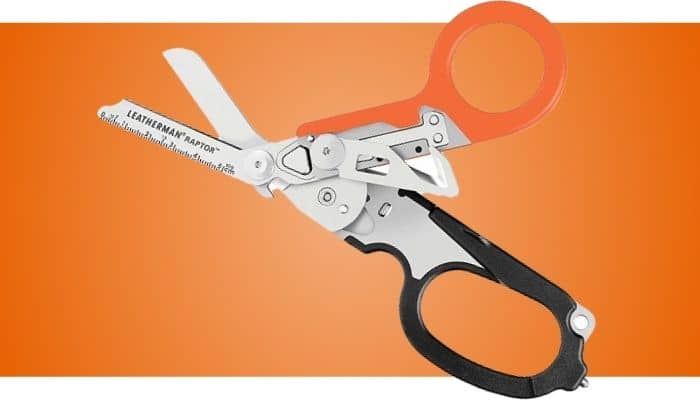 The Leatherman Raptor is the company's first responder focused multi tool. Like many of Leatherman's other products they're fully collapsible yet made from ultra durable materials. They give you 6 different tools in a very compact package, including:
Folding Trauma Shears
Strap Cutter
Ring Cutter
Ruler
Oxygen Tank Wrench
Carbide Glass Breaker
The Raptor is a tool built specifically with first responders and military personnel in mind. It offers a ton of tools beyond simple medical scissors and is overbuilt to stand up to heavy use.
One of the main selling points of the Raptor is its ability to fold down into a very compact package. It comes standard with both a molle compatible fabric pouch and a molded plastic belt sheath. You can store them either deployed or folded down in the belt sheath.
As shears they're some of the best available. They'll cut through just about anything without breaking a sweat.
The extra features are also incredibly useful for an EMT. The ring cutter is located just behind the main rivet and allows you to safely apply incredible pressure to a ring. The oxygen wrench and strap cutter are both designed to be used when in the closed position.
The strap cutter was easily able to slice through a canvas belt we had lying around and we're sure it would do the same to a seatbelt. The only real downside to the Raptor is the difficulty with disinfecting it.
They're autoclavable but can be difficult to clean with wipes and other techniques. Given the number of features they possess and their high price they aren't the best option for emergency room workers and others in hospital medical professionals.
If you're looking for just about the best survival shears or portable medical scissors that pack an extra oomph the Leatherman Raptor is definitely the way to go.

Madison Supply – Medical Scissors, EMT and Trauma Shears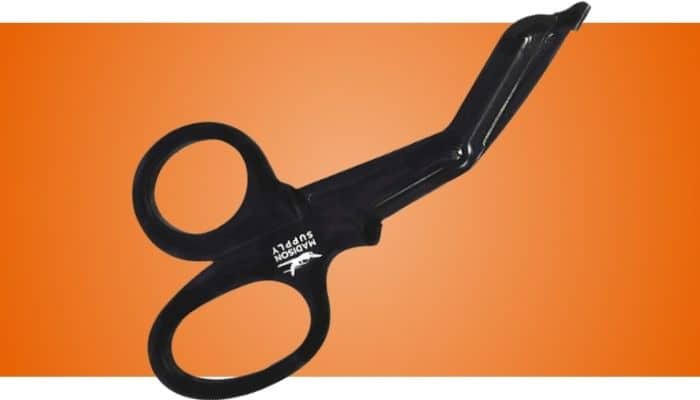 The Madison Supply EMT and Trauma Shears are 7.5 inch long shears made to be rock solid and tough as nails. They're made from durable stainless steel with plastic handles.
The blade uses a milled serration design and is coated with fluoride. This allows it to slice through tough materials and sticky bandages with equal ease.
The plastic used in the handles was carefully selected to stand up to the high temperatures required for effective autoclave sterilization. They have a blunt tip and are perfectly angled for easy use.
The Madison Supply EMT and Trauma Shears are a great middle of the road product. They lack some of the features found in high-end shears but are overall a great pair of trauma shears that won't let you down.

Carabiner Shears – EMT Trauma Shears with Carabiner
The Carabiner Shears are milled steel trauma shears with a built in carabiner clip for easy carry options. They're made from Japanese stainless steel and feature a milled serrated style blade.
The handles of the Carabiner Shears are made from temperature resistant plastic. This makes these shears suitable for frequent sterilization in an autoclave.
What really sets these trauma shears apart is their built in carabiner. It allows you to clip them to your belt or the side of your pocket without having to worry about them falling out.
This also makes them really useful as a fishing tool or other secondary type of shears. They're a lot easier to keep track of when out in the woods when they're attached to something.
The Carabiner Shears are quality trauma shears with a good value add. They're reasonably priced, well made, and overall a good tool to have around.

Surviveware Trauma Shears – Bandage Scissors for First Aid & Military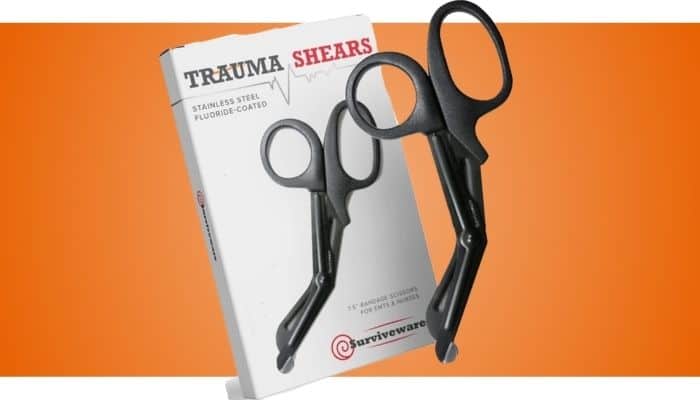 The Surviveware Trauma Shears are blacked out medical tools built to provide extra strong cutting force when it counts. They're made from bonded stainless steel covered in a black fluoride coating.
This gives them excellent non stick properties and adds that hint of tacticool that many of our readers enjoy. The Surviveware shears have milled serrations and a reinforced rivet that gives them extra strength when needed.
How strong you ask?
Strong enough to cut through belts, bandages, and even pennies without giving out. The handles are made from temperature resistant plastic allowing the whole thing to be autoclaved.
Overall the Surviveware Trauma Shears are sturdy yet inexpensive trauma shears. They may not be the absolute best on the market but they won't let you down when it counts.

Prestige Medical Fluoride Scissor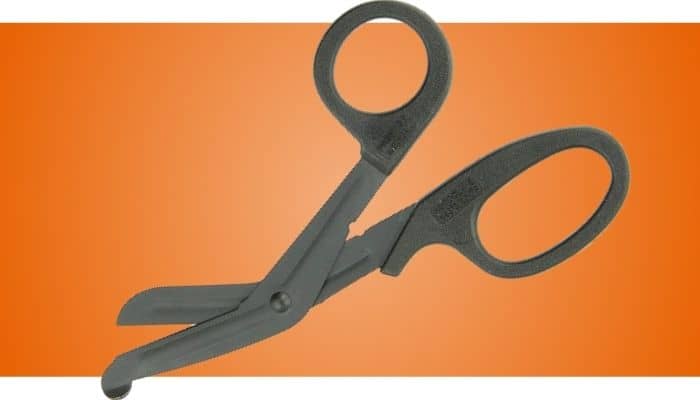 The Prestige Medical Fluoride Scissors are a black fluoride coated pair of stainless steel trauma shears. They're made from 420 stainless steel with black plastic handles.
They cut well enough but the handles are a little narrow and hard to apply pressure to. It's not as noticeable if you're wearing gloves but they can cause a bit of hand pain if you use them too often.
The steel and plastic are both temperature resistant, allowing these shears to be sterilized in an autoclave no problem.
These aren't the best trauma shears out there by far but they are a reasonably priced and generally effective tool to have.

Recon Medical – Titanium Bonded Trauma Shears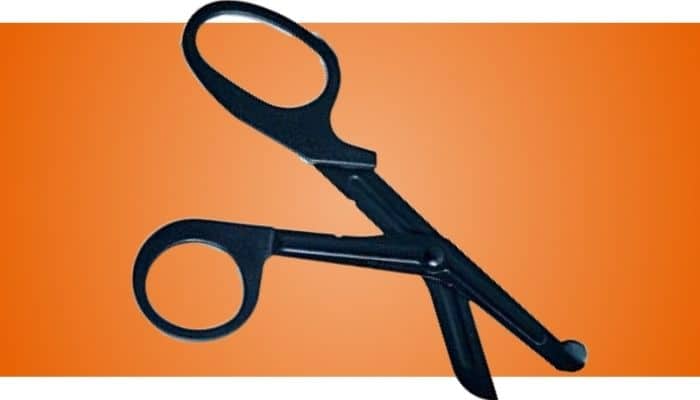 The Recon Medical Trauma Shears are made from stainless steel bonded to titanium. This gives them excellent hardness and corrosion resistance.
The titanium bonded blade then has a fluoride coating applied to allow it to easily glide through tape and other adhesives. They have a serrated blade and black plastic handles designed for comfort.
These are quality shears at a good price. They're rugged, reliable, and cut through just about anything without too much difficulty.
Buyers Guide to Buying the Best Trauma Shears
When you're comparing trauma shears there are just a few major considerations. For most medical personnel operating in a hospital setting price, durability, and extra features aren't really a consideration.
If you're a first responder or fighting on the frontline's though this becomes a much bigger need.
Price
Medical shears are a specialized tool used by first responders and medical personnel. They're widely used and thankfully benefit from economies of scale.
You can get a high-quality set of trauma shears for between $20 and $40 with top of the line field survival tools running up to about $100. For this you end up with a single purpose tool that's robust, easy to clean, and perfectly suited for its intended task.
Durability
Trauma shears are different from medical scissors. They're built for first responder's, military medics, and others working to stabilize people in high-stress situations.
To do this they need to be tough as nails while still able to cut through just about anything. Trauma shears are made from sturdy materials in a reinforced design.
More than anything they need to be able to cut tough materials without bending, chipping, or breaking.
Materials
To get the kind of durability they need trauma shears are usually made from just a few materials.
Stainless Steel – Stainless steel is one of the most commonly used materials in the world. It's no surprise then that many trauma shears are made from it.
It has a good combination of malleability, hardness and corrosion resistance but lacks the true razor edge of high-end carbon steel. For the purposes of trauma shears though it's a good enough starting point.
Surgical steel – Surgical steel is basically just stainless steel taken to the next level. It's much more corrosion resistant than regular stainless steel and handles frequent sterilization in an autoclave.
There's no official definition of surgical steel so it's a good idea to take any product labeled as such with a grain of salt.
Some of the most common types of surgical steel include:
austenitic SAE 316
martensitic SAE 440
martensitic SAE 420
martensitic 17-4
Coated Steel – Many trauma shears are given an additional coating to improve some aspect of their performance. Fluoride coated trauma shears are specially designed to cut through medical tape without sticking to the adhesive.
Titanium coated trauma shears are commonly used in field settings because of the hardness they add to the blades. This allows them to cut through harder materials than regular stainless steel without chipping or cracking.
Carry Options
For the vast majority of medical personnel carrying medical scissors or trauma shears is as easy as slipping them in their pocket. For first responders and medics it gets a lot more demanding.
Many entry level tactical trauma shears come with a built in or attached carabiner. This allows you to clip them to your bag but can slow down your ability to access them.
Some higher end trauma shears actually come with custom fitted kydex sheaths or molle compatible pouches. The vast majority though are thin enough that you can safely and easily fit them into just about any pouch or pocket.
Blade
As with pocket knives, trauma shears come in both straight edge and serrated blade types. Serrations allow thinner and less robust shears to effectively cut through thick materials that straight blades struggle with.
When you're comparing serrations it's important to consider milled vs stamped serrations. Stamped serrations are basically just pressed into the metal. They aren't as durable and are more prone to wear down with regular use.
Milled serrations are carved into the material of the blade. This requires a thicker and more robust steel to begin with and ends up with a finished product that's much more durable and effective.
Stamped blades are generally noticeably cheaper than milled blades.
Do The Shears Have Other Tools
Not all trauma shears need to be multi tools. If you work inside a hospital you're unlikely to need a tool capable of shattering a window, slicing a seatbelt, and turning on and off an oxygen tank.
You're much more likely to want something that's lightweight and easy to carry around in a pocket for a long shift.
For EMT's, firefighters, police, and members of the military a pair of trauma shears that are also a multi tool can really come in handy. This is especially true given how useful they are in non medical applications.
A good pair of trauma shears can cut rope, tape, string, fishing hooks, and a variety of other materials. In this application extra tools can really add to their value.
Sterilization
One of the most important aspects of quality trauma shears is how readily they can be sterilized. As medical devices it's extremely important they be kept free from pathogens.
The most commonly used medical sterilization device is an autoclave. This uses high temperature steam to sterilize medical implements. Most reach a temperature of at least 121 °C for an extended period of time.
If there's any plastic or other non metallic components to your trauma shears they'll be seriously damaged by those temperatures. Another option is ethylene oxide (EtO or EO) sterilization.
This relies on the properties of EtO gas in a confined space to kill pathogens. It's compatible with a vast range of materials as it operates at room temperature.
One major consideration for sterilization is the accessibility of your trauma shears. Ones that have a number of moving parts or multiple materials interconnecting have a lot more places pathogens can hide.
Top Trauma Shears Video
FAQ: Best Trauma Shears
As outdoor enthusiasts, we understand the importance of being prepared for any situation during camping adventures. Whether it's a minor mishap or a more serious emergency, having the right tools on hand can make all the difference. In this Frequently Asked Questions (FAQ) section, we aim to address common queries about the best trauma shears for camping.
From understanding the role of trauma shears to choosing the right features for your needs, we've compiled answers to help you make an informed decision. We'll also cover the versatility of trauma shears beyond emergencies and provide tips on maintenance and transportation. Read on to find the information you need to enhance your camping safety and be well-equipped for any unexpected situations.
Remember, being prepared doesn't mean expecting the worst—it means being ready for anything. So, let's dive into the frequently asked questions about trauma shears and explore the world of this essential camping tool.
What are trauma shears?
Trauma shears, also known as medical scissors or EMS shears, are specialized scissors designed for cutting through various materials, including clothing, seat belts, and bandages. They are commonly used by medical professionals, first responders, and outdoor enthusiasts for emergency situations.
Why do I need trauma shears for camping?
Trauma shears are essential for camping because they can help you quickly and safely cut through different materials in emergency situations. Whether you need to free someone from a tangled tent or cut bandages during a medical emergency, trauma shears can be a valuable tool in your camping gear.
What features should I look for in trauma shears?
When choosing trauma shears for camping, consider the following features:
Length: Opt for shears around 7-8 inches long, as they strike a balance between portability and functionality.
Blade Material: Look for stainless steel blades, as they offer durability and corrosion resistance.
Handle Design: Choose shears with ergonomic handles for a comfortable grip, even in wet conditions.
Safety Features: Some shears come with features like blunted or rounded tips to prevent accidental injuries.
Can I use regular scissors instead of trauma shears?
While regular scissors can cut through various materials, trauma shears are specifically designed for emergency situations. They have extra features like serrated blades and rounded tips for safer and more efficient cutting. Using trauma shears ensures you have a dedicated tool optimized for quick and precise cutting in critical situations.
Can trauma shears be used for other camping purposes?
Absolutely! Trauma shears are versatile tools and can be handy in various camping scenarios. You can use them for tasks like cutting fishing line, opening food packaging, trimming rope, or even performing minor gear repairs. Their multifunctionality makes them a valuable addition to your camping toolkit.
Are there different types of trauma shears available?
Yes, there are various types of trauma shears available on the market. Some may have additional features like built-in seat belt cutters or oxygen tank wrenches. Additionally, you can find shears with different handle designs, colors, and even camouflage patterns to suit your preferences.
How should I maintain my trauma shears?
To ensure the longevity and performance of your trauma shears, follow these maintenance tips:
Clean them after each use, especially if exposed to blood or other contaminants.
Dry them thoroughly before storing to prevent rust.
Lubricate the pivot point periodically with a drop of oil to keep the blades moving smoothly.
Store them in a protective sheath or secure them in your camping gear to prevent damage.
Can I take trauma shears on an airplane when camping?
Transportation regulations vary, so it's important to check with the relevant airline and transportation authorities before carrying trauma shears in your luggage. Some airlines may allow them in checked baggage, while others may require you to pack them in your camping gear. Always be aware of the rules and restrictions to ensure compliance and hassle-free travel.
Remember, trauma shears are a valuable tool that can enhance safety during your camping adventures. Choose a high-quality pair suited to your needs, and don't forget to practice responsible use and maintenance.
Final Thoughts
When it comes to trauma shears there are a lot of choices out there. Most cost next to nothing but don't give you the kind of performance and durability you're looking for.
When it comes to the best trauma shears available you really have to look at how you intend to use them.
For first responders and those performing battlefield triage the Leatherman Raptor is undoubtedly the best option. Its combination of rugged dependability and extra tools make it perfect for use out in the world.
If you're only using your trauma shears in a professional medical setting a lot of the need for ruggedness falls to the wayside. Instead you'll want something like the Xshears that's lightweight, dependable, and easy to use and sterilize.