Top 3 Best Hammock Tarps
ENO Hammock ProFly Rain Tarp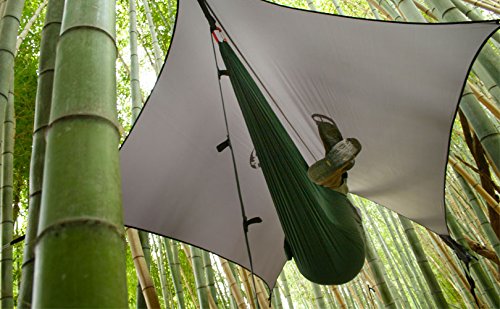 Lightweight: Weighs only 22 ounces, making it easy to carry on outdoor adventures.
Durable Material: Crafted from 70D PU coated rip-stop nylon, it withstands harsh weather including wind and heavy rain.
Easy Setup: Equipped with LineLoc tensioners and a six-point guy system for a quick, knot-free setup.
Spacious Coverage: The hexagonal catenary shape offers ample space for protection.
Aesthetic Design: Features subtle ENO branding and comes in various colors.
Quick Drying: Dries rapidly after rain, convenient for packing.
Hennessy Hammock Hex Rainfly Tarp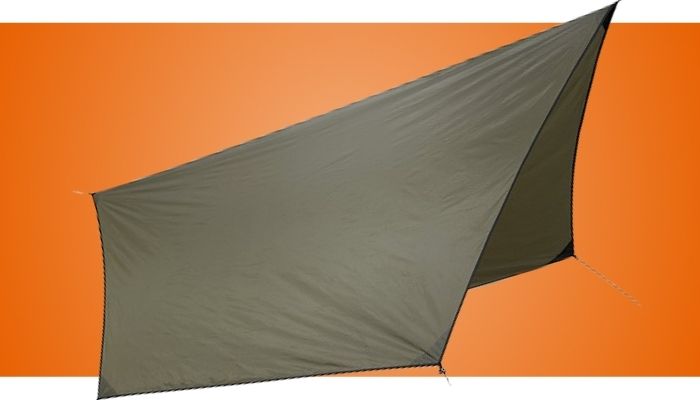 Material: Made from PU coated rip-stop polyester.
Size: Measures 143 inches along the centerline and extends up to 120 inches when set up flat.
Versatile: Functions well as both a daytime shade tarp and a hammock rainfly.
Easy to Set Up: Uses an end-only ridgeline with four permanently attached guy points.
Lightweight and Portable: Weighs 27 ounces and packs down small for transport.
Durable: Known for its quality and dependability.
ENO HouseFly Rain Tarp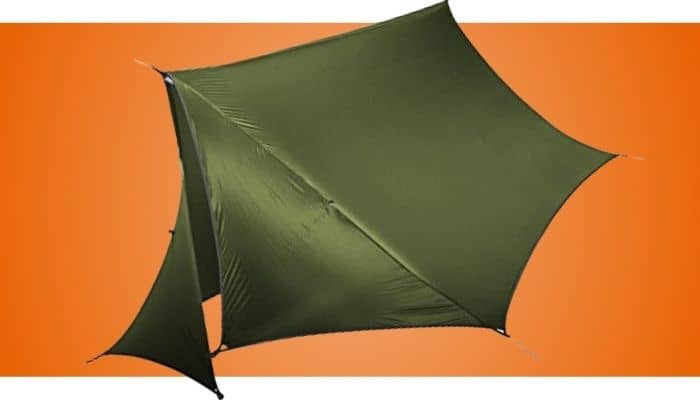 Four-Season Protection: Designed for all-weather conditions, providing warmth and comfort.
Material: Made from 30D silnylon with double-stitched, fully waterproof seams.
Anchor System: Features a 10-point system including two end-only ridge points and eight guy points.
Coverage: Offers 10 feet 8 inches of cover along the centerline and is 8 feet 10 inches wide.
Ease of Setup: Uses a knot-free tie-out system and comes with eight tie-down stakes.
Robust and Reasonably Priced: Offers excellent wind and rain protection, easy to pack for hiking.
Outdoorsman Toolkit is reader-supported. When you buy through links on our site, we may earn an affiliate commission.
Learn more
There's just something so utterly relaxing about drifting off to sleep in a slowly rocking hammock. Unfortunately, there aren't many things more shocking than waking up drenched to the bone from a sudden downpour in that same hammock. Hammock tarps are fast becoming an essential piece of gear for ultralight backpackers and day hikers alike. Today we'll review the best hammock tarps on the market to help you figure out what works for your needs.
Best Hammock Tarps Reviewed
With hammock tarps less is usually more. You want a product that's durable, sure, but it needs to be as light as possible. After all, you're probably going to have to hump it across who knows how many miles of hilly terrain.
We've picked out several great products all the way from entry level and ultra light to four seasons and top of the line.
ENO Hammock ProFly Rain Tarp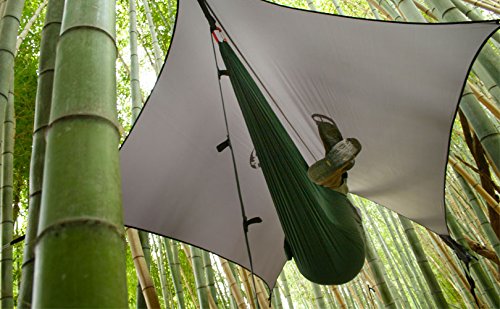 I am an avid outdoorsman, with my weekends usually packed with hiking, camping, and exploring the wild in my RV. My adventures often take me to places where the weather can shift from balmy to stormy in a heartbeat. This is where my ENO ProFly Rain Tarp has become an indispensable part of my gear.
I remember a particular weekend in the serene yet unpredictable wilderness of Ouachita National Forest. The day began with a gentle breeze and bright sunshine, but as fate would have it, menacing clouds gathered overhead during my hike. With the ProFly snug in my backpack due to its ultralight nature, whipping it out and setting it up was a breeze, even as raindrops began their relentless dance. In under three minutes, my companion and I were safely ensconced under the hexagonal catenary shaped shield, the tarp's sturdy 70D PU coated rip-stop nylon bravely facing the torrential downpour.
The six-point guy system proved its worth as the winds howled and skies roared. Thanks to the LineLoc tensioners, the tarp held taut, no annoying knots to fiddle with, especially under pressing circumstances. I had chosen to use MSR Groundhog stakes, which coupled with the ProFly, stood steadfast against nature's fury. As the rain poured, I could see the droplets bead up and roll off the tarp, though upon close inspection, I noticed a slight dampness on the underside. It wasn't enough to concern me, but it was there.
As the storm raged, the ENO branding subtly embossed on the tarp caught my eye – a quiet testament to the reliable craftsmanship I had come to expect from Eagle Nest Outfitters. The tarp held strong, even as quarter-sized hailstones pelted down. The sense of safety it provided amidst the wild, angry weather was comforting, to say the least.
Once the skies cleared, disassembling the tarp and getting back on the trail was a matter of minutes. Later, at our cabin, spreading it out under the gentle sun, it dried up pretty quickly, ready for whatever nature had in store next.
Despite its slight tendency to absorb some moisture and the absence of a full ridgeline, the ProFly Rain Tarp has earned its place in my outdoor escapades. Its balance of lightweight and robust protection makes it a worthy companion for anyone serious about enjoying the outdoors, come rain or shine. The minor dampness is a small trade-off for the assurance it provides when the skies decide to throw a tantrum.
On one chilly morning, I decided to venture into the heart of the Appalachian Trail. The forecast hinted at scattered showers, but that never could dampen my spirits. As I ascended through the misty trails, the skies decided to open up, turning the drizzle into a persistent downpour. Unfazed, I reached for my ENO ProFly Rain Tarp. Within minutes, it was up and sheltering me from the relentless rain. I anchored it securely among the trees using the LineLoc tensioners which made the setup a cinch, even for someone who's not a knot-tying expert.
The tarp's hexagonal design provided ample coverage as I nestled comfortably in my hammock, the rain creating a rhythmic melody on the tarp above. As I sipped on my hot coffee, I couldn't help but admire the subtle ENO branding on the tarp, a symbol of quality that stood between me and the elements. Despite the grey skies, I felt a sense of cozy contentment under my ProFly canopy. The rain continued for a good two hours, and not once did I feel a drop. Though I noticed a slight dampness on the inner side of the tarp, it was nothing significant to dampen the warmth of my experience. As I packed up after the rain subsided, the tarp folded up neatly into its stuff sack, ready for the next adventure. The ENO ProFly Rain Tarp didn't just provide shelter; it added a comforting layer to my outdoor experience, embodying reliability and a promise of protection whenever the skies decide to be mischievous.
Each time I head out now, whether on a leisurely RV trip or a rigorous hike, the ENO ProFly Rain Tarp is always tucked into my gear, a reliable ally against the unpredictable elements, and a testament to the quality and innovation synonymous with Eagles Nest Outfitters.
Pros:
Lightweight: At just 22 ounces, it's a breeze to carry along on any outdoor expedition.
Durable Material: The 70D PU coated rip-stop nylon stands up to harsh weather conditions including wind and heavy rain.
Easy Setup: With LineLoc tensioners and a six-point guy system, setting up is quick and knot-free, which is a godsend in sudden downpours.
Spacious Coverage: The hexagonal catenary shape provides ample space to stay dry under.
Aesthetic Design: Subtle ENO branding and a range of color options add a touch of class to the functional tarp.
Quick Drying: Dries up fast post rain, making pack up swift and convenient.
Cons:
Slight Water Absorption: The tarp tends to absorb some moisture rather than repelling it completely, which might cause a faint feel of wetness in light to medium rain.
Lack of Full Ridgeline: The absence of a full ridgeline may require some extra gear or personal adjustments for optimum setup.
Price: It's a bit on the pricier side, but the value and quality justify the cost.
Line Quality: The provided line could be more robust to match the overall durability of the tarp.
Hennessy Hammock Hex Rainfly Tarp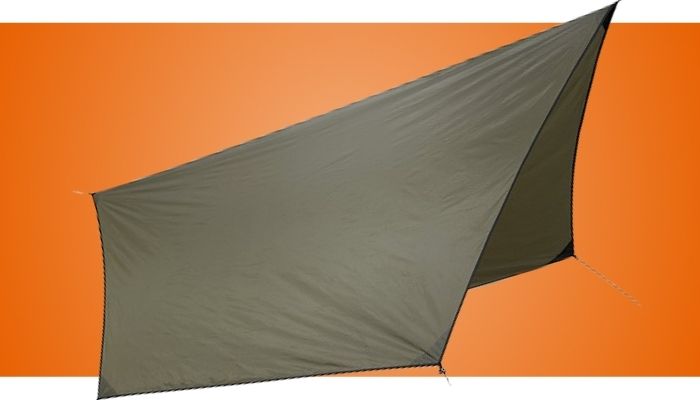 The Hennessy Hammock Hex Rainfly is a hexagonal catenary tarp. It's made from PU coated rip-stop polyester and weighs 27 ounces.
It's 143 inches long on the centerline and can extend out a full 120 inches when set up flat for shade. The Hex is designed to work just as well as a daytime shade tarp as it does as a hammock rainfly.
It uses an end-only ridgeline and has four guy points with lines permanently attached. It's quick and pretty easy to set up and quickly stuffs down into a small sack for transport.
Overall the Hennessy Hex is a quality hammock tarp made from durable materials. It's lightweight, easy to set up and dependable.
ENO HouseFly Rain Tarp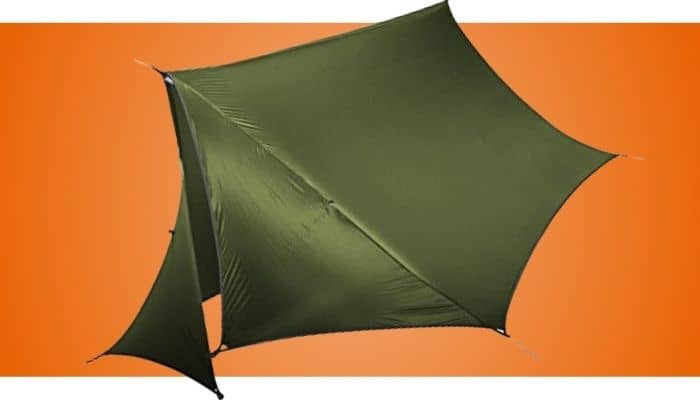 The ENO HouseFly is a four season hammock tarp designed to create an oasis of warmth and comfort around your hammock. It's made from 30D silnylon with double stitched and fully waterproof seams.
It has a 10-point anchor system including two end-only ridge points and eight guy points. This allows you to securely tie it down with end flaps open or closed.
It gives you 10 feet 8 inches of cover along the centerline and is 8 feet 10 inches wide. This gives you exceptionally good coverage in all weather conditions.
One of the things we liked most about the HouseFly is the relative ease to set it up. Unlike cheaper hammock tarps the HouseFly uses a knot free tie-out system. Instead of having to tie and tension your lines you can just pull them taut along the line. It even comes with eight tie down stakes.
The ENO HouseFly is a robust four season hammock tarp at a reasonable price. It provides excellent wind and rain protection yet is easy to pack down and hike with.
Chill Gorilla 10×10 Hammock Rain Fly Camping Tarp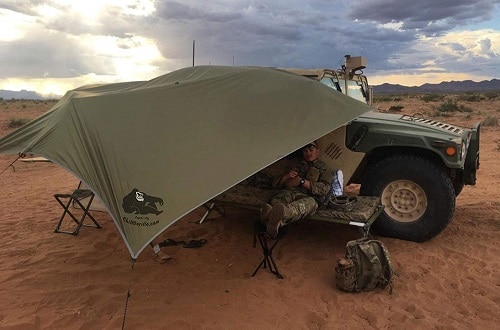 The Chill Gorilla is designed to be a jack of all trades camping tarp. It's made from PU coated ripstop nylon in a 12 foot by 12 foot square design.
This gives you tons of flexibility for how you use the tarp. You can go for a diamond centerline suspension and get a full 170 inches of coverage. If you prefer a classic rectangle it folds in the middle while still giving you five feet on either side.
It has nine tie-out points, four aluminum stakes, and includes six guylines plus tensioner clips. This allows you to set it up in a variety of positions and configurations without having to worry about complicated knots.
The Chill Gorilla is a quality hammock tarp that's versatile and priced to sell. You get a good product that provides a ton of value.
ENO DryFly Rain Tarp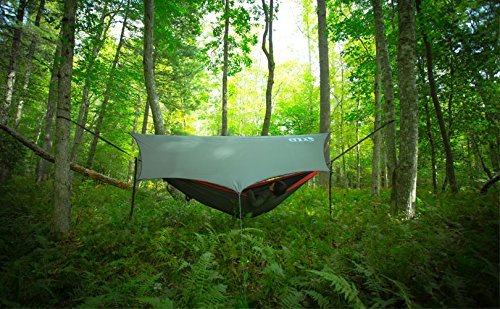 The ENO DryFly is basically a reinforced version of their wildly popular ProFly. It's made from the same 70D ripstop nylon as the ProFly and has mostly the same shape and configuration.
The only real difference between the two is the addition of another pair of guy points. Unlike the ProFly with six total attachment points including the ridgeline the DryFly has eight.
The two extra are right at the center of the hammock and add extra stability in very windy conditions. It's about the same dimensions as the ProFly and weighs just three ounces more at 25 ounces.
If you like the ProFly but camp in very windy conditions the DryFly is a great option to consider.
Free Soldier Waterproof Multifunctional Hammock Tarp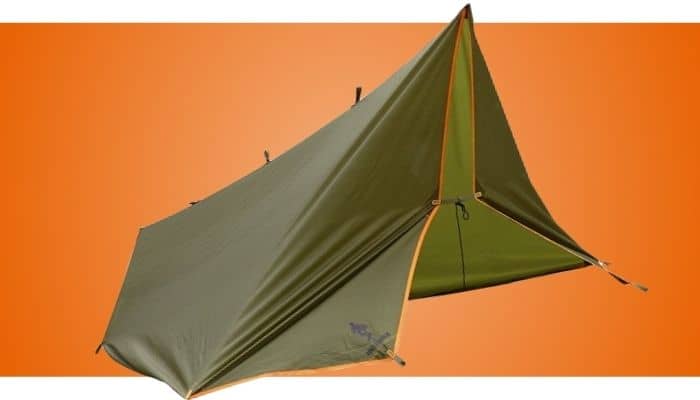 The Free Soldier multifunctional tarp is designed to fulfill many of the most crucial tarp needs while on a hiking or camping trip. It can be used to provide shade, as a rain fly or to create a makeshift tent.
It's made from 210T ripstop polyester with a waterproof PU coating. It offers a full 19 guy points. This allows you to set it up in a vast array of configurations and locations. Five of the guy points are actually reinforced fabric grommets for use as ridgelines or other suspension points.
It measures 118 by 126 inches, giving you substantial coverage while weighing 34 ounces. That's a bit on the heavy side for a hammock tarp but in line with the heavy duty feel of the Free Soldier.
If you're looking for a more versatile tarp that can work as a rain fly or a basic groundcover the Free Soldier multifunctional tarp should definitely be considered.
Foxelli Lightweight, Portable, Waterproof Rain Tarp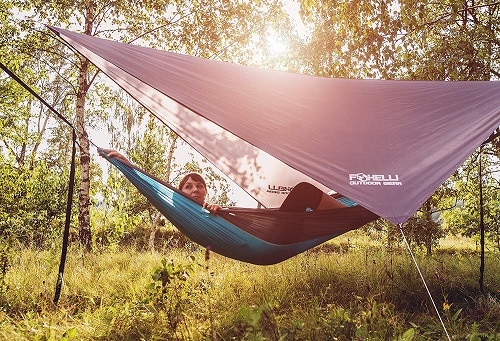 The Foxelli rain tarp is a lightweight camping tarp designed to work as a hammock rain fly or a basic shade tarp. It's a diamond shaped tarp with a 12 foot centerline that weighs just 18.2 ounces fully outfitted.
That makes it one of the lightest hammock tarps available. It has four total guy points with reinforced metal rings. This offers reasonably good coverage but doesn't allow for truly windy or blowing rain conditions.
If you're looking for a basic and affordable hammock tarp the Foxelli rain tarp is a great option. It doesn't offer the advanced features of some other tarps but it's inexpensive, lightweight, and gets the job done.
Ultimate Survival Technologies Tube Hammock Tarp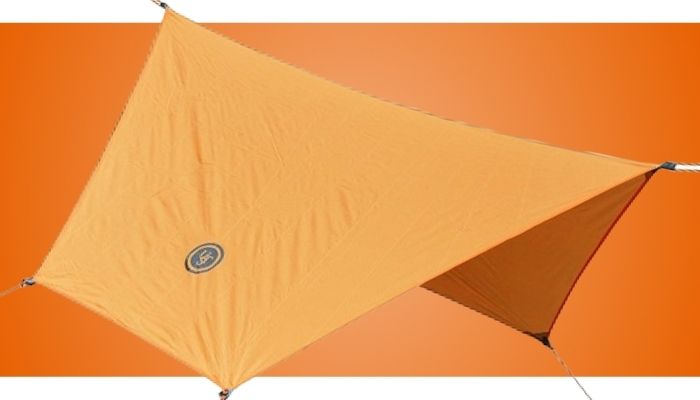 The UST Tube Tarp is a lightweight hex style tarp. It's designed for a single person and is smaller than many of the other tarps we've reviewed here at just 108 inches long.
It's made using a combination of synthetic fabric and an aluminized coating and weighs 24 ounces. This gives it thermal insulating properties other tarps just don't offer.
The body is designed to form an emergency tent through the use of a zipper point. This allows you to zip the tarp together into a tube for a single person tent/sleeping bag hybrid.
The UST Tube Tarp is a unique product that combines a lot of interesting features together. It's not the best or lightest hammock tarp to be sure but it's affordable and offers some features a lot of campers might really like.
Wise Owl Outfitters WiseFly Hammock Rain Fly Tent Tarp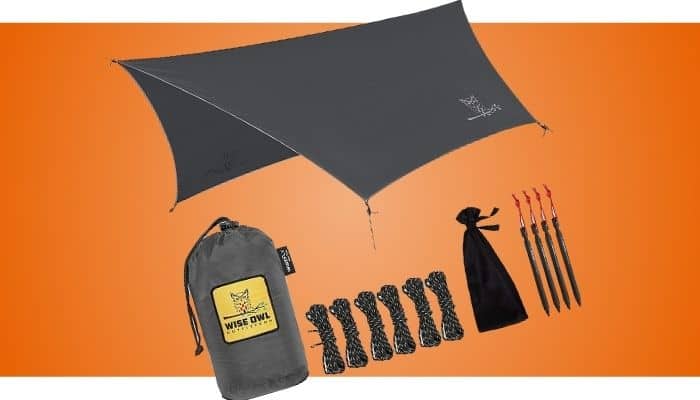 The Wise Owl Outfitters WiseFly is a hexagonal rain fly made from 210t ripstop nylon. It's 11 feet long and includes everything you need for comfortable coverage.
Despite its very reasonable price the WiseFly has all the markings of quality. The seams are triple stitched and sealed for maximum strength and water resistance. Despite being extraordinarily large it weighs just 19 ounces.
It comes with aluminum stakes and attached 10 foot guylines. This lets you tie it up just about anywhere, in just about any configuration.
The WiseFly is a large yet lightweight rain fly made from quality materials. It gives you excellent performance for a very reasonable price.
Chill Gorilla Fortress Hammock Rain Fly Camping Tarp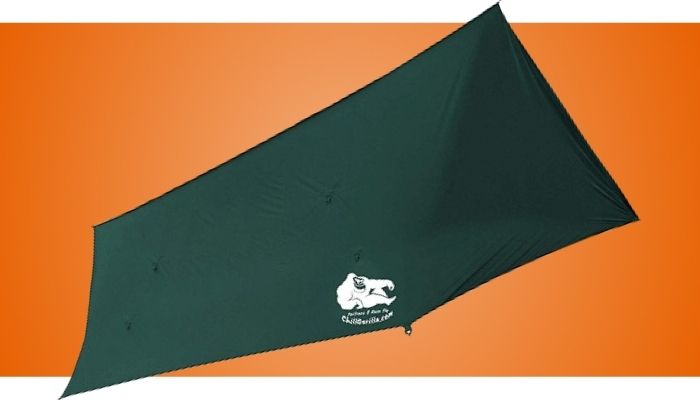 The Chill Gorilla Fortress is a four season rain fly made to stand up to any conditions. It's made from ultralight silnylon and weighs just under 21 ounces.
It measures 138 inches along the centerline and includes four door flaps to seal out the elements. This gives you ample coverage and a cozy little sealed off space.
It includes everything you need to really batten down the hatches while out camping. The eight tie-out points connect with included three meter guy line with tensioning clips and tent stakes. This lets you securely attach it without having to tie a single knot.
For a rainfly made from silnylon the Fortress is a really great bargain. It's definitely pricey, but when compared to other top-of-the-line four season hammock tarps you're getting a deal.
Best Hammock Tarp Comparison Table
Buyers Guide to Buying the Best Hammock Tarps
When it comes right down to it most hammock tarps are very similar to one another. There are just a few major factors you have to consider relating to coverage and quality.
Price
You can get a reasonably good hammock tarp for about $20-$30. If you want the lightest and most durable tarps expect to spend up to $200.
Within that range you'll see a lot of excellent tarps around the $60-$100 band as well.
Shape and Style
While most hammock tarps are roughly rectangular there are several different suspension styles and a few specialty shapes to think about.
Asymmetric Tarps – An asymmetric hammock tarp is basically a rectangular tarp with lines connecting to each of the four corners. Two corners opposite each other are connected between two trees or hooks with the other two corners tied down to stakes on the ground.
One of the stakes will be on one side towards your feet while the other will be on the opposite side more towards your head. This is one of the easiest hammock rain flies to set up and requires just two ground stakes and a single line across your hammock.
The biggest downside is that it provides less coverage. You pretty much have to sleep directly along the line of the tarp to stay dry.
Diamond Tarps – Diamond tarps are square or rectangular and are suspended in a diamond shape with two corners going across a center line. The other two corners are connected to stakes or other trees directly across from one another on opposite sides of the hammock.
Diamond tarps are easy to set up and take just a few minutes once the lines are attached. They provide good coverage from the rain while still allowing a comfortable breeze to blow through.
These are great for warm to cool weather hikes where you're more worried about avoiding the heat than the cold.
Hexagon Catenary Cut Tarps – This type of tarp is hexagonal in shape and has 6 corners that keep the material pulled taut. The ridgeline is centered above your hammock with four guy lines at each of the four corners spaced evenly around it.
This gives it excellent coverage from rain and wind blowing from the side. It also maintains the tautness of the fabric so long as all the stakes stay in the ground.
Because it has six points of contact instead of four it takes longer to get properly set up and centered.
Rectangle Tarps – Rectangular tops are the most common and simplest to understand. It's a rectangular piece of fabric suspended from a ridgeline with four tie-outs staked down.
Each of the corners pulls the material out the side at the top and the bottom. It's similar to the hexagonal catenary tarp but lacks the additional coverage near the head and feet.
It takes about as long to set up as the hexagonal tarp and gives you reasonably good coverage from rain and wind.
Winter 4-Seasons Tarps – For hammock camping in cold or stormy conditions it's hard to beat a 4-season tarp. It offers complete enclosure from the elements and is really more like a suspended tent than anything else.
It has the same basic shape as a rectangular tarp with four small flaps added on the ends. These have their own tie-outs and can be connected to close off each end.
This gives you a fully closed area that's highly resistant to wind and rain. If you use a tarp made from heavier materials it also acts as an insulator and helps trap more warmth near your hammock.
Tarp Material and Weight
Back in the day your only real options for tarps were oiled canvas or maybe heavy duty polyethylene sheeting. Thankfully new materials have been developed that make tarps lighter, stronger, and easier to work with than ever before.
The best quality hammock tarps and rain flies are made from nylon and dyneema. Nylon tarps come in several different varieties depending on the different coatings applied to them and how they're woven together.
Nylon tarps will range in price based on their weight and the type of coating. PU nylon and silnylon are two popular options for hammock tarps because they're lightweight and waterproof.
Dyneema tarps are going to be the best available. They're made using technology developed for creating sails and are actually a single sheet of ultra lightweight polyethylene. They fold into a very compact package, weigh almost nothing for their size, and are totally waterproof.
Size and Coverage
Most tarp sizes will work for hammock camping. The most basic sizing relates to the length of your hammock. Your tarp should extend out at least six inches past each end to prevent rain from dripping in.
Larger tarps offer more coverage and can help keep you warm and dry during wet or cold conditions. The tradeoff for more space is greater weight.
Larger tarps are also harder to pitch alone than smaller ones. If you're going on a solo trip make sure you practice setting up your tarp before going into the backcountry.
Durability
Hammock tarps are generally made with a focus on being lightweight and compact. They aren't designed to be used as a groundcover so they're less robust than traditional tarps.
They're able to stand up well to small branches and other blown debris and resist damage from falls. If you notice a tear or cut early it's relatively simple to stitch a patch in to stop it from spreading.
When possible purchase a tarp with rip-stop material. These are extra stitches put in place to help slow the spread of tears and cuts.
As long as you remember what hammock tarps should and shouldn't be used for they're very robust.
Ridge Lines
There are two basic styles of ridgelines with hammock tarps:
End-Only
Full-Length
End-only ridgelines are either permanently attached to each end of the tarp or clip into loops or eye holes. They help eliminate some weight from the reduced use of rope but have slightly lower strength than full-length ridgelines.
Full-length ridgelines run the entire distance between two attachment points. Most of the time they'll run underneath your hammock tarp and support it from below. There are several benefits to this type of ridge system.
If you're setting up camp alone you can string up a full-length ridgeline and toss your tarp over it. This makes it a lot easier to get the rest of the guy lines and tie-outs squared away.
With the ridgeline running underneath your tarp you've got a handy place to clip lights, hang clothes from, and generally keep yourself organized.
Guy lines
Guy lines work the same on hammock tarps as they do on tents. They attach to different areas on the tarp and connect to stakes firmly planted in the ground.
This helps keep your tarp taut and directs any rainflow where you want it to go. How many guy lines your tarp has and where they originate from is going to impact how easy it is to set up, how much it weighs, and how effective it is as a rain fly.
Top Hammock Tarp Video
Frequently Asked Questions about Hammock Tarps
As you delve into the world of hammock camping, it's natural to have questions about various aspects of hammock tarps. To address these common queries and provide you with a comprehensive understanding, we have compiled a list of frequently asked questions. Whether you're a seasoned camper or new to the hammock camping scene, this FAQ section will serve as a valuable resource to guide you through the essentials of hammock tarps.
In this section, we will cover a range of topics, including the purpose and benefits of hammock tarps, factors to consider when choosing the right size and material, tips for setting up and maintaining your tarp, and its versatility in different weather conditions. Additionally, we'll address questions about alternative uses for hammock tarps and provide insights on repairing and budgeting.
We understand that choosing the best hammock tarp for your needs can be a daunting task. However, armed with the knowledge gained from these frequently asked questions, you'll be equipped to make an informed decision. So, let's dive in and discover everything you need to know about hammock tarps, ensuring you have a comfortable and protected outdoor experience.
What is a hammock tarp?
A hammock tarp is a protective covering that is used to shield your hammock and yourself from the elements during camping or hiking trips. It acts as a rainfly and provides shelter from rain, wind, and sunlight.
Why do I need a hammock tarp?
A hammock tarp is essential for protecting yourself and your hammock from rain, snow, and harsh sunlight. It keeps you dry and shields you from wind, ensuring a comfortable camping experience. Additionally, it offers privacy and helps to create a cozy, enclosed space.
How do I choose the right size of hammock tarp?
The size of the hammock tarp depends on several factors such as the size of your hammock, the desired coverage, and the weather conditions you anticipate. As a general guideline, the tarp should extend at least 2 feet beyond each end of your hammock to provide sufficient coverage.
What materials are hammock tarps made of?
Hammock tarps are typically made of lightweight and durable materials such as nylon or polyester. These materials offer excellent waterproofing capabilities and are resistant to tearing. Silnylon and Dyneema Composite Fabric (DCF) are also popular choices due to their lightweight and high-strength properties.
Are hammock tarps easy to set up?
Yes, most hammock tarps are designed to be user-friendly and can be easily set up by following the included instructions. They often come with attachment points, such as grommets or tie-out loops, that can be secured to trees or stakes with guy lines. Practice setting up your tarp before your trip to ensure a smooth camping experience.
Can hammock tarps be used in different weather conditions?
Yes, hammock tarps are designed to be versatile and can be used in various weather conditions. Look for tarps that offer good waterproofing and wind resistance to keep you dry and protected during rainstorms and windy weather. Some tarps also provide UV protection for sunny days.
Can I use a hammock tarp for other purposes?
Absolutely! Hammock tarps have multiple uses beyond hammock camping. They can be used as picnic blankets, ground covers, or as a makeshift shelter for cooking or lounging. Their versatility makes them a valuable addition to any outdoor adventure.
How do I care for and maintain a hammock tarp?
To ensure the longevity of your hammock tarp, it's important to keep it clean and dry. After each use, thoroughly dry the tarp before storing it to prevent mold or mildew growth. If the tarp gets dirty, gently hand wash it with mild soap and lukewarm water, then rinse and air dry. Avoid using harsh chemicals or machine washing, as they can damage the tarp's waterproof coating.
Can I repair a damaged hammock tarp?
Yes, minor tears or punctures in a hammock tarp can often be repaired using a patch kit specifically designed for the tarp material. Follow the instructions provided with the patch kit to ensure a proper repair. However, if the damage is extensive, it may be more cost-effective to replace the tarp.
How much should I expect to spend on a hammock tarp?
The price of a hammock tarp can vary depending on the size, material, and brand. Generally, you can find hammock tarps ranging from $30 to $200. Consider your budget, camping needs, and desired features to find a hammock tarp that offers the best value for your money.
Best Hammock Tarps Recapped
Final Thoughts
When considering different hammock tarps it's important you consider where and how you'll be using it. If you mostly camp in the spring and summer there's no reason to pay for and carry a heavy duty four season tarp.
Figure out your budget and find a tarp that fits your needs. So long as you keep the things we mentioned above in mind you're sure to find one you like.