Outdoorsman Toolkit is reader-supported. When you buy through links on our site, we may earn an affiliate commission.
Learn more
Hammock camping has been growing in popularity over the last decade or so. Hammocks are lightweight, easy to pack, and offer a very comfortable sleeping experience that gets you up off the ground and away from bugs and moisture. Setting up your hammock though can seem a bit intimidating to a beginner. Thankfully, hammock straps have been getting stronger and easier to use alongside hammocks themselves. Today we'll be reviewing different types of straps to help you find the best hammock straps available.
Hammock straps have just a few things they need to do. They need to protect the trees, they need to go on easy, and most importantly they need to hold you up safely and comfortably.
Just about every hammock strap on the market can accomplish that. Picking out the best hammock straps involves comparing price point, weight, and things like packability and weight capacity.
We put together a list of several great hammock straps across a range of brands and intended uses.
ENO Atlas Hammock Suspension System Straps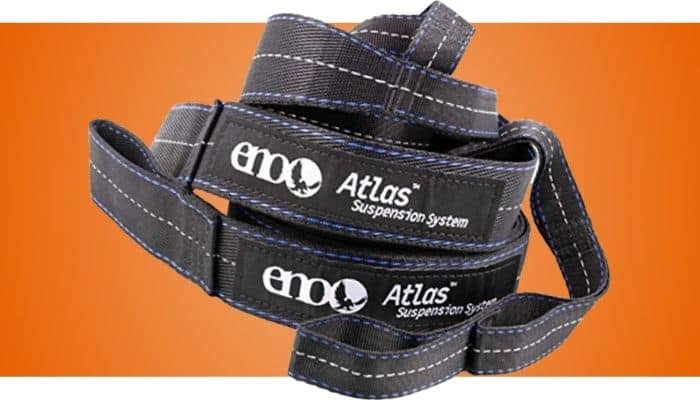 Eagles Nest Outfitters, better known as ENO, is one of the biggest names in the modern hammock world. Their Atlas hammock suspension system is lightweight, high-capacity and reasonably priced.
They're made from 1000D polyfilament webbing and weigh just 9 oz. The Atlas straps are each 9 ft long and have a variable width.
This gives you excellent tree protection while keeping the weight low. They're capable of holding up to 400 lbs and offer 18 attachment points.
The ENO Atlas Straps are extremely lightweight and very well made. They offer excellent performance for a good price.
KAMMOK Python Straps Tree-Friendly Suspension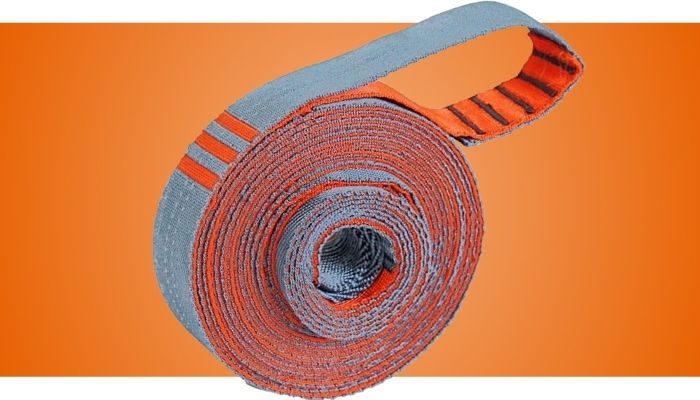 Kammok is a relative newcomer to the hiking hammock world, but have produced some very high-quality products that show a lot of innovative features. Their Python Straps are designed to be lightweight and tree-friendly.
They're made from polyester using Kammok's patented Nanoweave design. This gives them increased strength while reducing the overall weight. Each Python strap has 20 attachment points woven right into the body of the strap.
They're 10 ft long and 2.5 inches wide yet weigh just 8.2 oz and offer a 500 lb weight capacity. That makes them one of the lightest and most capable hammock strap systems available.
The Kammok Python straps are made from excellent materials and built to an innovative design. They're competitively priced and provide great performance at a very low weight.
Grand Trunk Tree Trunk Straps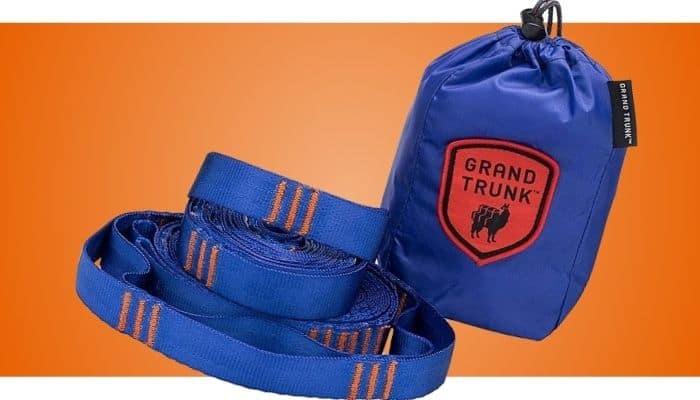 The Grand Trunk Tree Trunk Straps are 10 ft hammock straps designed for frequent use. They're made from polyfilament webbing and are available in a variety of colors.
Each strap is an inch wide and is triple stitched with 18 attachment points. This gives them excellent strength and plenty of options for hanging your hammock and other gear.
They weigh 12 oz and have a 400 lb weight capacity. One thing we really love is Grand Trunk's lifetime warranty. In their own words "If it breaks we replace it".
The Grand Trunk Tree Trunk Straps are quality straps at a good length. They're competitively priced but aren't quite as light as some other similar straps.
ENO Helios Ultralight Hammock Straps Suspension System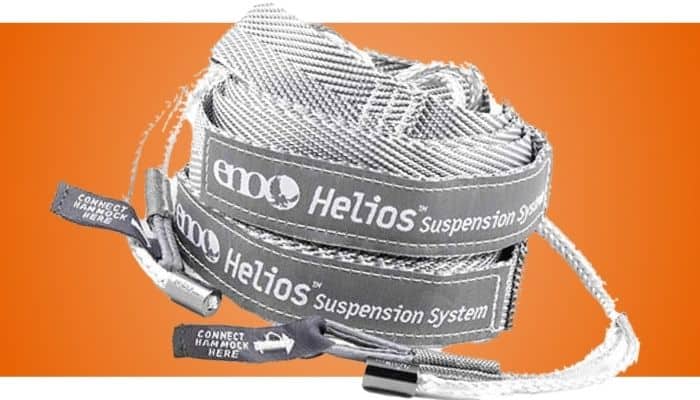 The ENO Helios Hammock Straps are designed with ultralight hikers in mind. They're far lighter and more packable than standard straps.
They're shorter than most hammock straps, coming right at 8 ft long, and use a variable width system. The part that goes around the tree trunk is just an inch wide while the actual attachment area resembles a rope more than a strap.
Instead of attachment points it has a single strap area that can be adjusted using a pull tab system a lot like a pulley. This greatly reduces the weight, the whole system weighs just 4.3 oz, but does present you with fewer options.
The Helios straps have 300 lb capacity and are made from the same 1000d polyfilament webbing as the ENO Atlas straps.
If cutting every possible ounce is important to you it's hard to beat the ENO helios Ultralight Hammock Straps. They're strong, incredibly lightweight, and easy to set up.
Wise Owl Outfitters XL Talon Hammock Straps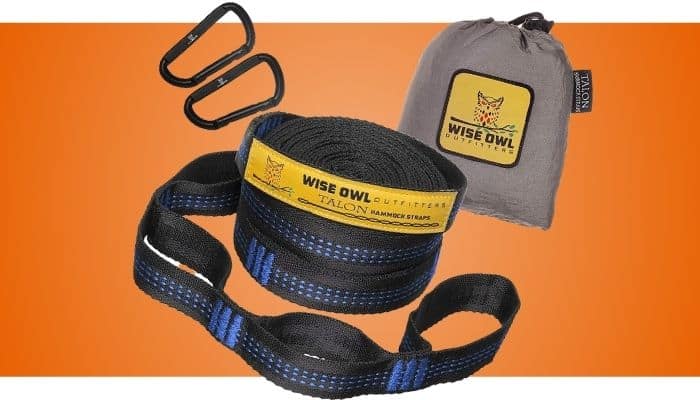 The Wise Owl Outfitters XL Talon Hammock straps are designed for double occupancy hammocks or those who just want a little extra strength. They're made from polyfilament webbing and have a weight capacity of 500 lbs.
Each strap is 10 ft long and offers 19 attachment points. This gives you plenty of flexibility in choosing trees and stringing up extras like bug nets or rain tarps.
The Talon XL straps are 2 inches wide and weigh a total of 15 oz. This gives you excellent tree protection and isn't a bad overall weight for heavy-duty straps.
If you're looking for hammock straps that can handle a heavier than normal load the Wise Owl Outfitters Talon XL straps are a great option.
MalloMe XL Hammock Straps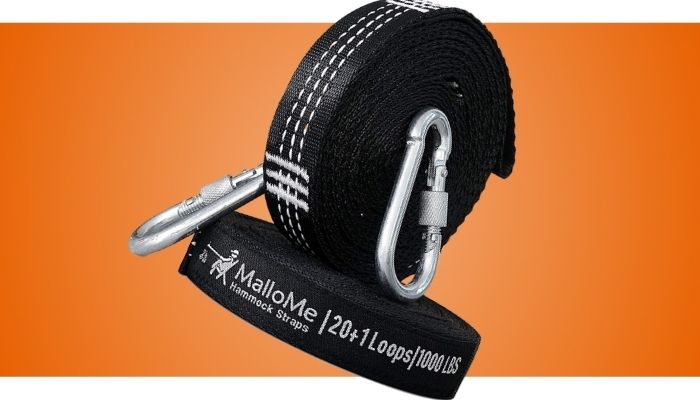 The MalloMe XL Straps are a heavy-duty hammock suspension system. They're made from stretch-free polyester webbing and are rated at an astounding 700 lb capacity.
Each strap is 12 ft long and has 20 attachment points. This allows you to set up an entire hammock sleep system quickly and easily.
They're one inch wide and weigh 16 oz. That's a bit on the heavy side but overall is balanced out by their high weight capacity.
For stringing up multi person hammocks or attaching a comprehensive hammock sleep system the MalloMe XL Straps aren't a bad choice. They're decidedly on the expensive side but given their high weight capacity we don't hold that against them too much.
ENO Fuse Tandem Hammock Straps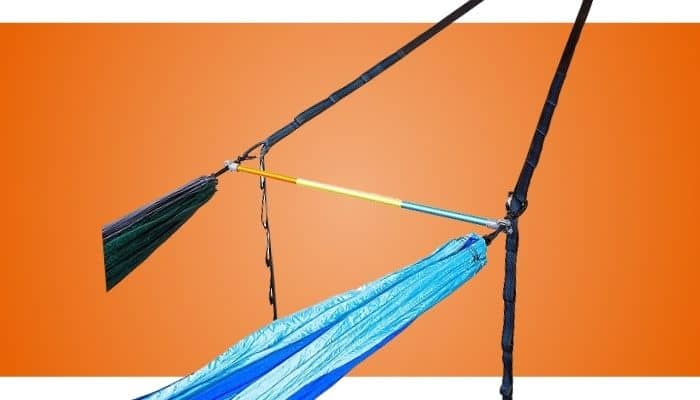 The ENO Fuse Tandem Hammock Strap system is unique among hammock straps. Rather than a single strap it's actually a dual suspension system designed to hold up two hammocks side by side.
The Fuse isn't actually a strap in the strictest sense of the word. It's a pair of collapsible aluminum poles designed to separate and spread a pair of hammock straps.
This allows you to suspend two hammocks from the same attachment point without getting too close for comfort. The poles weigh just 9.8 oz and quickly unfold to just under three feet in length.
A locking clasp system holds the poles firmly in place against the straps and allows you to enjoy a relaxing day in a hammock with a friend or loved one.
If you've already got a great hammock and suspension system and are looking for a way to enjoy it with friends the ENO Fuse Tandem Hammock system is well worth the money.
Foxelli Hammock Straps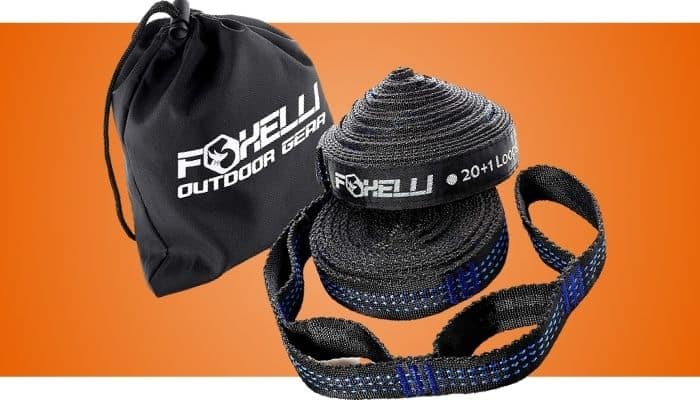 Foxelli Hammock Straps offer an inexpensive and easy to use hammock suspension system. They're made from polyester webbing and have a claimed weight capacity of 2,000 lbs.
Each strap is just over 10 ft long and has 21 attachment points. They're designed to wrap securely around just about anything and give you tons of suspension options.
They weigh 1.2 lbs, a bit on the heavy side, but do offer an excellent weight capacity. We certainly weren't able to test the straps up to the full 2,000 lbs but they did alright holding up a reasonably stout guy with a full pack.
Overall the Foxelli Hammock Straps are an inexpensive and reasonably high-quality way to set up your hammock. They're noticeably heavier than many other straps on our list but do offer excellent weight capacity.
Best Hammock Strap Comparison Table
Image
Title
Price
Prime
Buy

Top

Top

ENO, Eagles Nest Outfitters Atlas Hammock Straps, Suspension System with Storage Bag, 400 LB Capacity, 9' x 1.5/.75", Black/Royal

Prime

Buy on Amazon

Top

KAMMOK Python 10 - Hammock Straps, 10 ft Long and 20 Loops Per Strap, No-Stretch, Knotless, Durable and Compact, Set of 2 Straps with Stuff Sack

Prime

Buy on Amazon

Top

Grand Trunk Hammock Suspension System Trunk Straps, Blue, One Size

Prime

Eligible

Buy on Amazon

Top

ENO, Eagles Nest Outfitters Helios Ultralight Hammock Straps Suspension System with Storage Bag, 300 LB Capacity, 8' 1" x 1"

Prime

Eligible

Buy on Amazon

Top

Wise Owl Outfitters Talon Hammock Straps - Combined 20 Ft Long, 38 Loops W/ 2 Carabiners - Easily Adjustable, Tree Friendly Must Have Gear for Camping Hammocks Like Eno Blue Stitching

Prime

Eligible

Buy on Amazon

Top

MalloMe XL Hammock Straps - Hammock Tree Straps Set 2000+ LBS Heavy Duty 24 - 40 Loops & 100% No Stretch Suspension System Kit - Camping Hammock Accessories | 2 Carabiners | 10 or 12 Feet Options

Prime

Eligible

Buy on Amazon

Top

ENO, Eagles Nest Outfitters Fuse Tandem Hammock System, Retro Tri

Prime

Eligible

Buy on Amazon

Top

Foxelli Hammock Straps XL – Camping Hammock Tree Straps Set (2 Straps & Carrying Bag), 20 ft Long Combined, 40+2 Loops, 2000 LBS No-Stretch Heavy Duty Straps for Hammock, Compact & Easy to Set Up

Prime

Eligible

Buy on Amazon
Product prices and availability are accurate as of the date/time indicated and are subject to change. Any price and availability information displayed on [relevant Amazon Site(s), as applicable] at the time of purchase will apply to the purchase of this product.
Prices pulled from the Amazon Product Advertising API on:
Buyer's Guide to Buying the Best Hammock Straps
Thankfully there aren't a lot of factors that go into choosing the best hammock straps. Pricewise the market is very stable with a pretty narrow band of price points. It really comes down to weight capacity, length of the straps, and a few other key factors.
Buyer's Guide to Buying the Best Hammock Straps
If you're just getting into hammock camping buying straps for your hammock can seem a little odd.
After all, don't you already have plenty of rope in your garage?
What a lot of people don't realize is that suspending a hammock from rope can damage the bark of trees. When you put the full weight of a person on a quarter inch thick rope it applies a ton of pressure to a very small surface area.
Hammock straps spread the pressure out over a much larger area to make it easier on the tree. We encourage any hikers and campers thinking about trying out hammock camping to put a little money into a high-quality and tree-safe set of hammock straps.
Price
Hammock straps aren't super expensive. You can get reasonably nice ones for around $20 with high-quality and ultralight versions running up to about $50.
Strap Length and Width
The length of your hammock straps plays a major role in where and how you can use them. If you're hiking in a forested area with lots of trees to choose from shorter straps will probably work fine.
When the pickings are slim though, you'll be glad you brought longer straps that give you more options without sacrificing the strength of your hammock system. 10 to 14 feet is a good sweet spot.
It adds a bit of weight and bulk but isn't too noticeable compared to the benefit that extra length provides.
If you really like your straps but want to make sure you have enough to get the job done consider buying extension straps. These are designed to attach to your existing straps and add a few extra feet.
Width isn't nearly as important as length but it should still be considered. Some straps will actually have variable lengths.
The part that actually wraps around the tree will be wider to protect the bark. The attachment points will be narrower to reduce weight and make the straps more packable.
Weight Capacity
We'll be honest here, hammock strap weight capacity is a lot more about marketing than actual capability. In every hammock system we know of the hammock is going to be the point of failure way before the strap is.
The vast majority of straps are rated to at least 400 lbs, with third party testing showing evidence that most will stand up to more than double that.
Compare that to the majority of hammocks with weight capacities hovering around 250 to 300 lbs and you see what we mean. The exception to this is a two person hammock.
Some of these are rated to hold up to or over 400 lbs. Check out an XL or similar hammock strap to be sure.
Weight of Straps
Modern materials are stronger and lighter than ever before. A pound is the upper limit you should consider unless you're looking at heavy duty straps over 20 feet long.
The vast majority will weight between about 10 oz and 16 oz.
Adjustment/Attachment Points
Hammock straps rely on a series of stitched loops that allow you to attach your hammock at different points along the strap. This allows you to find the perfect length for your hammock style.
An added benefit of these attachment points is the ability to attach things like bug nets and hammock tarps. Instead of having to strip them up separately you can loop them through one of the extra attachment points.
Material and Durability
Hammock straps are designed to rest directly against tree bark, rock, and other rough surfaces. They need to be sturdy enough to stand up to repeated shifting, stretching, and limited bouncing without fraying or tearing.
Polyester is the most commonly used material and our recommendation. It's durable, lightweight, stitches well, and stands up to frequent use. It dries quickly when wet and is easy to roll up when your hammocking adventure is finished.
Top Hammock Straps Video
Frequently Asked Questions about Hammock Straps
As you embark on your camping or hiking adventure, finding the right hammock straps is essential for a comfortable and secure hammock experience. To assist you in making an informed decision, we've compiled a list of frequently asked questions about hammock straps. Whether you're a seasoned hammock enthusiast or a beginner exploring this relaxing outdoor activity, these FAQs will provide you with valuable insights and guidance. From understanding the benefits of hammock straps to learning how to properly hang your hammock, we've got you covered. So, let's dive in and unravel the mysteries surrounding hammock straps to ensure you make the best choice for your next outdoor escapade!
What are hammock straps?
Hammock straps are durable and adjustable webbing straps that are used to suspend a hammock between two anchor points, such as trees or posts. They provide a secure and reliable method of hanging a hammock and are often preferred over traditional ropes for their ease of use and minimal impact on trees.
Why should I use hammock straps instead of ropes?
Hammock straps offer several advantages over ropes. Firstly, they are specifically designed for hammock suspension, providing a stronger and more reliable connection. They also minimize damage to trees by spreading the weight and pressure evenly across a wider area. Additionally, hammock straps are quick and easy to set up and adjust, allowing for a hassle-free camping experience.
How do hammock straps work?
Hammock straps typically consist of two separate straps, each with multiple attachment loops or daisy chains. These loops allow you to easily adjust the height and tension of your hammock. To set up, you wrap the straps around your anchor points, pass one end through the appropriate loop, and secure it with a carabiner or hook. The process is straightforward and doesn't require any complicated knots.
What should I consider when choosing hammock straps?
When selecting hammock straps, there are a few key factors to consider:
Weight capacity: Ensure that the straps can support your weight and any additional load, such as gear or accessories.
Length and adjustability: Look for straps that are long enough to accommodate various anchor point distances and offer multiple attachment points for flexibility.
Material and durability: Opt for strong and durable materials like polyester or nylon webbing that can withstand outdoor conditions.
Ease of setup: Choose straps that are user-friendly, with clear instructions and intuitive adjustment mechanisms.
Weight and portability: If you plan on carrying your hammock on hiking trips, consider lightweight and compact straps that won't add excessive weight to your pack.
How do I properly hang a hammock using straps?
To hang a hammock with straps, follow these steps:
Choose suitable anchor points, ensuring they are sturdy and at an appropriate distance apart.
Wrap the straps around each anchor point, avoiding any damage to the tree bark.
Pass one end of each strap through the appropriate loop or attachment point on the other end.
Adjust the height and tension of the straps to your desired comfort level.
Attach the carabiners or hooks from your hammock to the loops on the straps.
Test the stability and adjust as necessary.
Can I reuse hammock straps for different hammocks?
In most cases, yes. Hammock straps are generally adjustable and compatible with different hammocks, as long as they have the same or similar attachment points. However, it's always a good idea to check the specifications of your particular hammock and straps to ensure compatibility before use.
Are hammock straps environmentally friendly?
Compared to traditional ropes, hammock straps are considered more eco-friendly. They distribute weight and pressure over a wider area, reducing the impact on trees. However, it's important to follow Leave No Trace principles and avoid damaging trees or sensitive vegetation when setting up your hammock, regardless of the straps you use.
How do I clean and maintain hammock straps?
Hammock straps are generally low-maintenance. To clean them, gently wipe off any dirt or debris with a damp cloth or sponge. Avoid using harsh chemicals or abrasive cleaners that could damage the straps. After use, make sure to store your straps in a dry and clean place to prevent mold or mildew from developing.
Remember, always consult the manufacturer's instructions and guidelines specific to your hammock straps for the best practices and recommendations.
Final Thoughts on the Best Hammock Straps
Picking out the best hammock straps for your needs doesn't have to be difficult. There are tons of great options out there, in a variety of patterns, styles, and sizes.
We recommend you consider where and how you intend to use the straps and find a balance between capability and weight.
As long as you keep your needs in mind you shouldn't have any trouble choosing a great set of hammock straps.