Top 3 Best Bandanas for Hiking
Levi's 100% Cotton Bandana Headband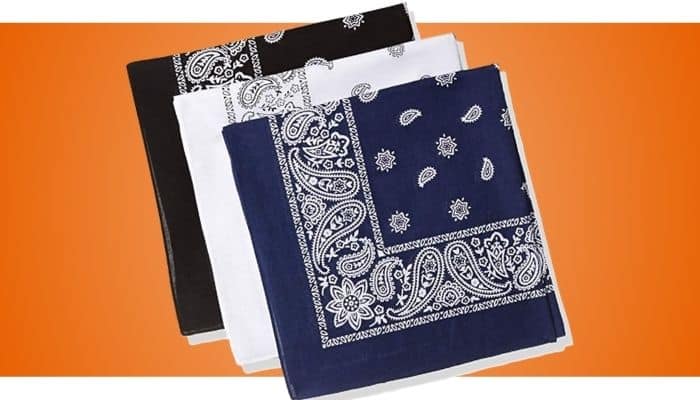 Versatile for various tasks
Durable and made of 100% high-quality cotton
Affordable and available in assorted colors
Multifunctional use such as face masks, headbands, and wrist wraps
Easy care with hand washable maintenance
Soophen Cotton Cowboy Bandanas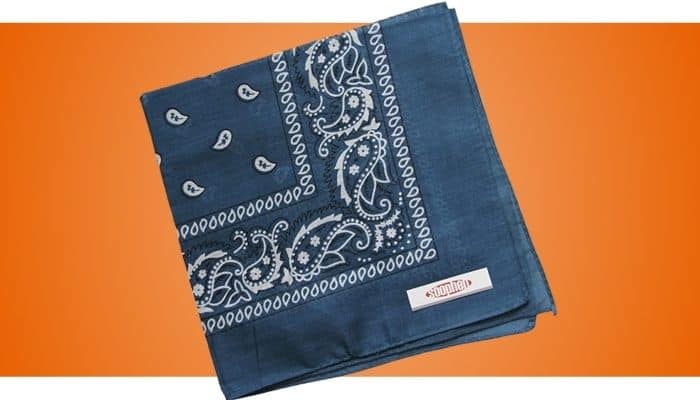 Designed to replicate old school cowboy bandanas.
Made from 100% cotton, measuring 22 inches on each side.
Available in a single pattern with various color choices.
Sold in a bundle of 12 at a reasonable price.
Stitching may not be clean and the fabric might feel rougher than other options.
Great value for utility despite being bargain-priced.
OHSAY USA Bandana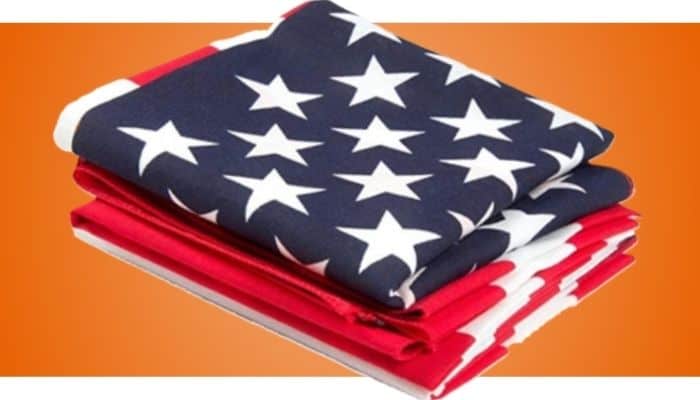 Quality 100% absorbent cotton that softens with use and wash.
American heritage with 77 years of history, made in the USA.
Stylish with a variety of colors, sized at 21″x21″.
Versatile for head, face, wrist wrap, craft projects, or pocket square.
Value pack of 3 bandanas per pack in a variety of colors and combos.
Outdoorsman Toolkit is reader-supported. When you buy through links on our site, we may earn an affiliate commission.
Learn more
In the not-so-distant past just about every man walking the street would have three things on him at all times: A watch, a wallet, and a handkerchief. These days most guys have replaced the watch with a phone and abandoned the noble handkerchief. We think that's a shame, because the noble handkerchief, and especially its larger cousin, the bandana, is one of the lightest and most versatile pieces of gear you can carry. Today we'll be reviewing lots of different products to help you find the best bandana for hiking.
Best Hiking Bandanas Reviewed
When you're out on the trail you have to watch everything you bring with you. Ounces add up to pounds and pounds send you home early with sore feet. One of the best things you can add to your kit is the basic bandana.
There are tons of different ways you can use a bandana, including as a basic napkin. Read on to find out some more great ways you can use a bandana and find out recommendations for the best bandana for hiking.
Levi's 100% Cotton Bandana Headband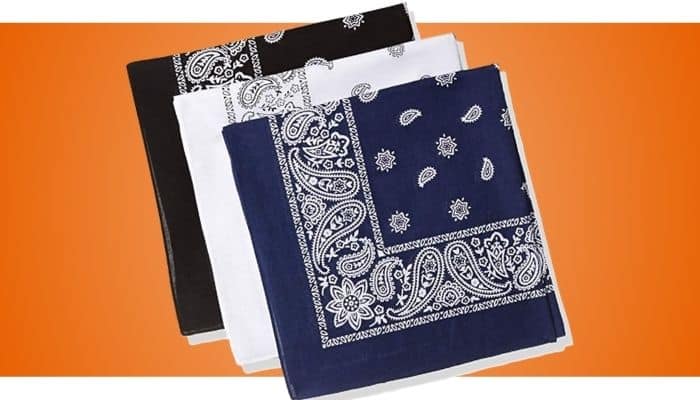 I absolutely love these Levi's 100% Cotton Bandanas! I'm always sure to have one with me wherever I go, and let me tell you, these bandanas are incredibly versatile. Whether I need to dry my hands, wipe away some oil or dirt after tinkering with my car or lawnmower, or just need some extra grip to open a stubborn jar, these bandanas come to the rescue. They even double as sun protection for my bald head or a quick sweat wipe on a scorching day. And yes, they've saved me from unexpected nose issues too!
What sets these bandanas apart is their durability and ease of care. I've used them in various situations, including as a makeshift dog collar for my furry friend on hot days. They've never let me down, no matter how I've put them to the test.
One thing to note is that the measurements might not be exact, but considering the affordable price, it's not a deal-breaker. These bandanas are one-sided, but that doesn't bother me at all – they serve their purpose well.
What's more, I appreciate the wide range of colors and patterns available in these boxed sets. It's fun to mix and match or share them with friends. And don't get me started on the versatility – these bandanas can be used as face masks, headbands, wrist wraps, or even pocket squares. The options are endless!
I also want to address the discussions about the brand and the "Made in China" label. Frankly, it doesn't bother me at all. I'm here for the quality and functionality, not the brand name or where it's made. Plus, let's be realistic – these are just bandanas. They serve their purpose, and that's what matters most.
In conclusion, I'll definitely be buying more of these Levi's bandanas. They're affordable, versatile, and do the job without a fuss. I encourage everyone to look past brand labels and manufacturing locations and focus on what truly matters – the practicality and value these bandanas provide.
Pros:
Versatile: Can be used for various tasks, from drying hands to headbands.
Durable: Made of high-quality 100% cotton for long-lasting use.
Affordable: Reasonably priced, making them accessible to all.
Assorted Colors: Available in various designs for style and variety.
Multifunctional: Suitable for a range of uses, including face masks.
Iconic Brand: Levi's has a rich heritage in American fashion.
Easy Care: Hand washable for simple maintenance.
Cons:
Slight Size Variability: Dimensions may not be exact, but it's not a major issue.
One-Sided: They have a single-sided design, which may not be to everyone's preference.
Brand Concerns: Some users may be concerned about the brand's authenticity or place of manufacture, but it doesn't affect product quality.
Soophen Cowboy Bandanas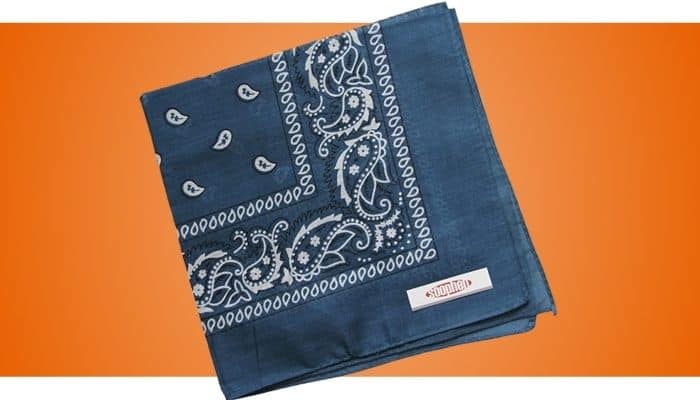 Soophen Cowboy Bandanas are designed to replicate the look and feel of old school cowboy bandanas. They're made from 100% cotton and measure 22 inches to a side.
You can get these Cowboy Bandanas in a single pattern with a whole bunch of color choices. They come in a bundle of 12 and are very reasonably priced. We'll be honest, you can definitely tell that they're bargain priced.
The stitching isn't super clean and they are a bit rougher than some other options. For less than a buck apiece though it's hard to argue with their utility.
OHSAY USA Bandana Sold by Vets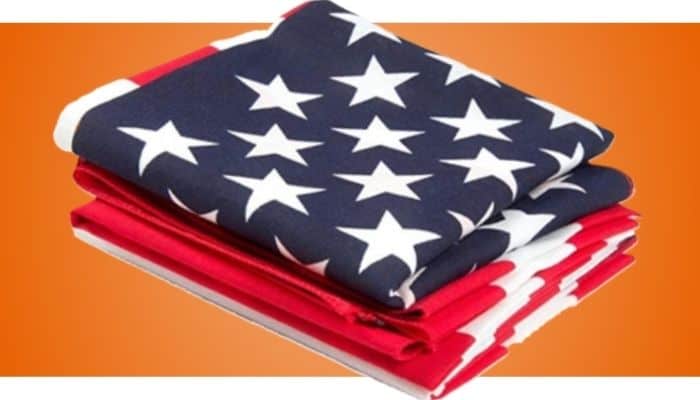 The OHSAY USA Bandana is an American flag print bandana made from a 50/50 blend of cotton and polyester. They've been proudly made in the USA for 70 years and measure 21 in on each side.
The blend of cotton and poly gives them good durability while still being comfortable and absorbent. They get softer every time you wash them, something you really start to notice after about the 5th or 6th wash.
If you want to rock an awesome and patriotic bandana that's durable and comfortable the OHSAY USA Bandana is a great choice.
Survival Metrics Head for Survival Bandana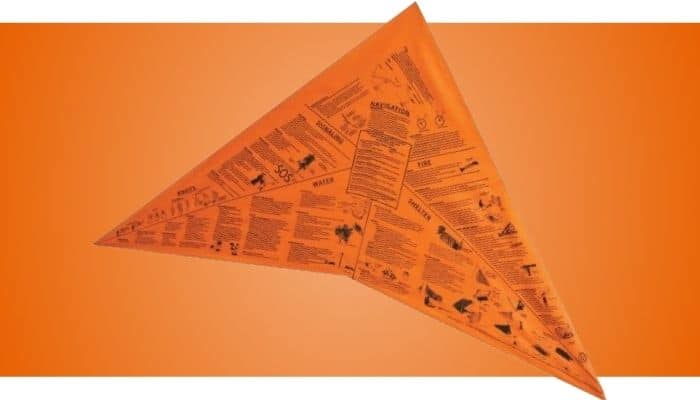 The Head for Survival Bandana is a wilderness focused bandana made by Survival Metrics. It's a very large triangular bandana, coming in at 39 inches on each side with a hypotenuse of 52 in, and is made from soft touch polyester.
The biggest thing that sets this bandana apart from the competition is what's on it. It's blaze orange in color and has printed survival instructions on both sides. This includes things like how to purify water, tie a splint, start a fire, and perform other basic survival skills.
This provides a ton of value in a true survival situation. It's definitely on the pricey side for a bandana but that's still under $10.
The Survival Metrics Head for Survival Bandana is a large and highly functional triangular bandana. It's a great tool to pack into your hiking pack, keep in your car or keep as part of your EDC.
Buff UV Headband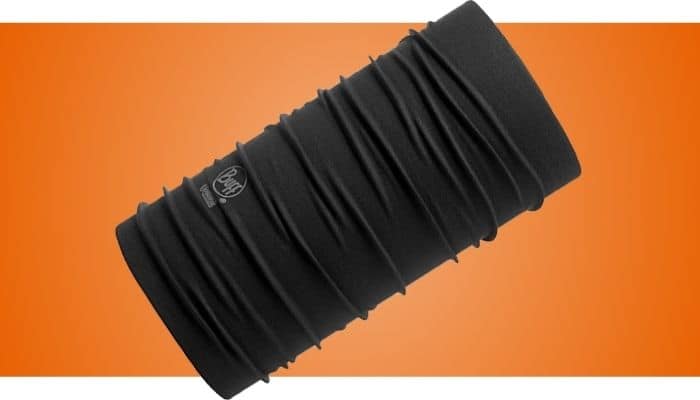 The Buff UV Headband is a microfiber polyester buff measuring 20.5 in high and 9.75 in wide. It offers more than a dozen different wear options and is designed to be as comfortable as possible.
It can be worn around the neck, used as a headband, a head covering, a facemask, and many other ways. The microfiber polyester construction is soft and very comfortable for long term wear.
One of the best features of this buff is how much UV protection it provides. It blocks 95% of UV radiation. This makes it great for use out on the water or in any situation where you're in the sun.
The Buff UV Headband is a comfortable and versatile bandana that's great for hiking, camping or spending time out on the lake. It's reasonably priced and very durable.
Zephyr Tactical Shemagh Desert Scarves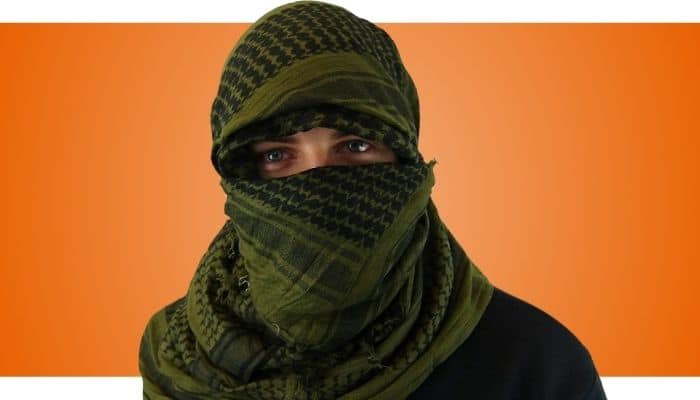 The Zephyr Tactical Shemagh is a desert style face covering based on the scarves used in the Middle East for centuries. It's made from a lightweight and breathable material and measures 40 x 42 in.
A shemagh is different from a traditional bandana but fulfills many of the same roles. It's larger and generally made from a lighter material designed to wrap around the head. Their original purpose was to protect the mouth and nose from a desert sandstorm.
Its large size makes it great to use as a head cover, makeshift cordage, and as a full face wrap. It's definitely on the high end of the bandana price range but it's still consistently available under $10.
The Zephyr Tactical Shemagh is great for use in windy or dusty conditions. It's large, inexpensive and packed full of useful functions.
UST Survival Bandana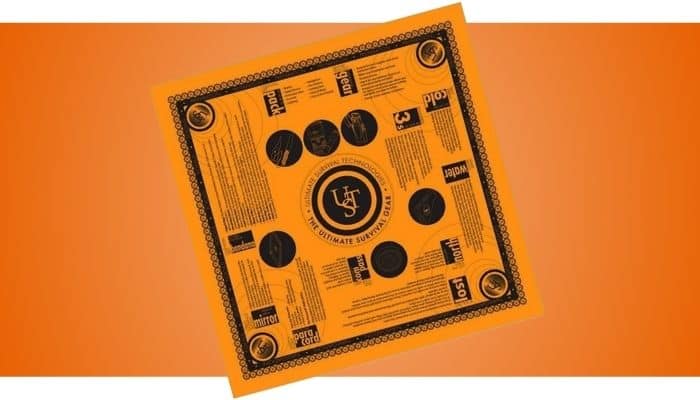 The UST Survival Bandana is a cotton bandana designed for outdoor and hiking use. It's made from cotton and measures 22 in on each side.
The coolest feature of the UST Survival Bandana is the useful survival advice printed on the front of it. It provides you with lots of tips and tricks to use when preparing to go hiking and while out on the trail.
The cotton is lightweight, comfortable, and able to absorb sweat and water. It can stand up to long term use and is reasonably priced for the benefits it provides.
CoolNES Neck or Face Sun Mask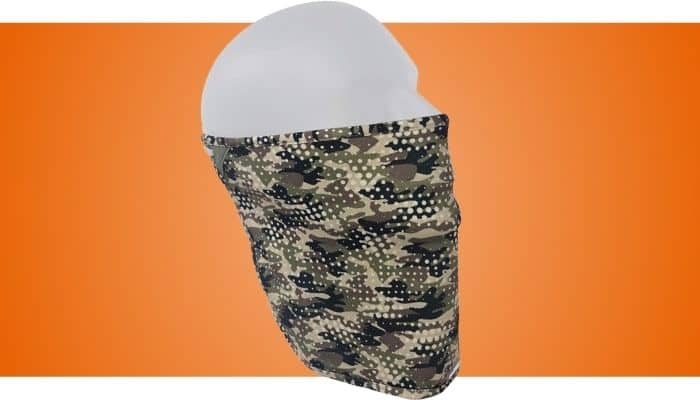 The CoolNES Neck or Face Sun Mask is a specially designed headband/bandana designed for protecting you from the sun. It's 8.5 inches long and made from UPF50 material.
Unlike most bandanas the CoolNES is connected together with a silicone headband designed to hold it securely in place. It can be worn forwards or backwards to protect your neck or face.
This gives you considerable flexibility in how you keep the sun off your body. It's reasonably priced and fulfills its purpose well. It isn't as large or able to perform as many tasks as other bandanas but it's great at its intended purpose.
Ways to Use a Bandana
Bandanas and handkerchiefs have been a big part of EDC for centuries. In the past it was expected that a gentleman would carry his own handkerchief around with him.
Nowadays technical bandanas for hiking, camping, and EDC provide a ton of really useful features.
Headwear
One of the best ways to use a bandana is as a head cover or makeshift hat. You can tie your hair back with a bandana rolled up, wear it as a headband, or wrap it all around your head.
Here are several good ways to tie your bandana around your head. One of the most widely known styles is the classic biker wrap bandana.
Neck Scarf
Tying a bandana around your neck serves several different purposes. You can keep the sun off your neck, stop dust and other debris from going down your shirt, or help keep the rain off your back.
If it's a hot day a great way to cool off is to soak your bandana in water and wear it around your neck. It keeps the sun off your neck and cools you down all at once.
Emergency Tourniquet
If you've got a serious cut or other traumatic wound on a limb an emergency tourniquet is a last ditch tool you can use to stop the bleeding. By wrapping the bandana into a ribbon about an inch around you can quickly tie it off above the wound.
Washcloth or Dishcloth
When you're hiking in the backcountry every ounce counts. A handkerchief is a lightweight way to wipe down and/or dry off your cookpot and utensils. It lets you keep your gear clean without adding any extra weight to your kit.
Pre-filter/Strainer/Colander
If you're trying to filter water from an unsure source a bandana is a great way to remove some of the larger particles. One of the easiest ways to do this is to wrap your bandana around the head of a water bottle and put it under the water.
This lets you fill up your water bottle without letting any dirt or other debris get in. If you're using a pump style filter you can wrap the handkerchief around the tube to achieve the same result.
Handkerchief/Napkin
One of the oldest ways handkerchiefs have been used is as a pocket napkin. You can clean up a quick spill, wipe off your hands or do pretty much anything else you would use a napkin for.
Secure items to backpack
Forget your cordage? A bandana is one of the best ways to quickly tie gear to your pack in a pinch. Roll it up into a small strip of cloth and tie a basic knot into it.
Facemask
One of the most well known ways to use a hiking bandana is as a face mask. By folding it over into a triangle you can tie it behind your head and protect your mouth and nose from smoke, dust, and other unpleasant airborne hazards.
Buyer's Guide to Buying the Best Bandana
When you're picking out the best bandana for hiking there are just a few major features you have to look at. Material, price, and shape are the biggest ones.
Before reading our best bandana for hiking buyer's guide we think you'd also like our best hiking poles and best hiking gift guides.
Price
Bandanas aren't expensive at all. You can get basic handkerchiefs/bandanas for as little as a dollar a piece. If you want to get a specialized bandana or one made from premium materials you'll spend a bit more, but still not a lot.
Material – Cotton vs Synthetic Bandana
You can find bandanas made from a variety of different materials. By far the most common materials are cotton and polyester. Cotton is more generally more comfortable and more absorbent. It's available in a vast range of colors, patterns, and shapes.
Polyester holds up better under constant use and doesn't fade as much in the sun. It's stiffer and noticeably less absorbent.
You can find other materials, especially in specialized things like buffs and shemaghs.
Buffs vs Bandanas
One of the most noticeable types of hiking bandana is the buff. It's basically an elastic tube that's designed to wrap around your neck. They can protect you from the cold, water spray or things like snow and ice.
A regular bandana can be used as a buff, but a buff doesn't provide the same flexibility. If you're looking mainly for a neck cover and facemask a buff is definitely the way to go.
UPF Rating
UPF, or ultraviolet protection factor, is a relatively new metric used to measure how well clothing protects against the sun. Some hiking bandanas provide this information but not all of them.
The higher the UPF the greater protection the clothing provides.
FAQ – Best Bandanas for Hiking
As avid adventurers, we understand the importance of having the right gear to make our outdoor experiences enjoyable and hassle-free. When it comes to hiking, a simple yet indispensable item that often gets overlooked is the trusty bandana. These versatile pieces of fabric can be your best friend on the trails, serving multiple functions to enhance your comfort and safety.
In this FAQ section, we address some of the most common questions hikers like you have about choosing the best bandanas for hiking. Whether you're a seasoned backpacker or a casual day-hiker, we've got you covered with essential information to help you make an informed decision. From the materials to look for and tying techniques to the additional features that can come in handy during survival situations, we aim to equip you with the knowledge you need to find the perfect hiking bandana that suits your needs.
Join us as we explore the world of hiking bandanas, their benefits, and how they can be an invaluable addition to your camping, hiking, and survival gear. Let's ensure your outdoor adventures are not only memorable but also comfortable and safe with the right gear on your side.
Why should I consider using a bandana while hiking?
Bandanas are versatile and lightweight accessories that offer numerous benefits during hiking. They can be used as a sweatband, sun protection for your neck and face, a dust mask to keep particles out of your airways, a pot holder for cooking, and even as an emergency water filter.
What materials should I look for in a hiking bandana?
Look for bandanas made of moisture-wicking and quick-drying materials like polyester or microfiber. These fabrics will help keep you cool and dry during intense hikes and sweaty conditions.
Can a bandana protect me from the sun?
Yes, many bandanas are designed to provide sun protection. Look for options with UPF (Ultraviolet Protection Factor) ratings to shield your skin from harmful UV rays.
Are hiking bandanas one-size-fits-all?
Most bandanas are designed to be one-size-fits-all, but the dimensions may vary slightly. Always check the product specifications to ensure it will comfortably fit around your neck or head.
How do I tie a bandana for different uses while hiking?
There are several ways to tie a bandana for various purposes: as a headband, neck gaiter, face mask, or pot holder. Many outdoor websites and tutorials provide step-by-step instructions and video guides for different tying techniques.
Are there bandanas with specific features for hiking and survival situations?
Yes, some hiking-specific bandanas come with additional features like built-in insect repellent, reflective strips for visibility in low light, or even a printed survival guide with essential tips for wilderness emergencies.
Can I wash my hiking bandana?
Yes, most hiking bandanas are machine washable. It's essential to follow the manufacturer's instructions for care and maintenance to ensure its longevity and effectiveness.
Will a bandana replace the need for a hiking hat?
While bandanas offer sun protection for your neck and face, they may not fully replace the need for a hiking hat, especially for protecting the top of your head from direct sunlight. A combination of both can provide comprehensive sun protection.
Can I use a regular cotton bandana for hiking?
While a regular cotton bandana may work in some situations, it may not be as effective for moisture-wicking and quick-drying purposes compared to specialized hiking bandanas. Cotton bandanas tend to retain moisture and can become uncomfortable during intense physical activities.
How do I keep my bandana clean during a multi-day hiking trip?
To keep your bandana clean during extended hikes, consider carrying multiple bandanas and rotating them throughout your trip. You can also rinse them in a stream or use a portable washing solution to clean them on the go.
Are bandanas only useful for summer hiking?
Bandanas are beneficial year-round. In warmer weather, they help wick away sweat and provide sun protection. In colder temperatures, they can be used as a neck warmer or to cover your face in windy conditions.
Can I personalize my hiking bandana?
Yes, many companies offer customizable options, allowing you to add your name, logo, or favorite hiking quote to the bandana. This adds a personal touch and can make for a unique gift for fellow hiking enthusiasts.
Remember to choose a bandana that suits your specific needs and preferences. Investing in a high-quality hiking bandana can enhance your outdoor experience and keep you comfortable during your adventures.
Best Hiking Bandanas and Alternative headgear Recap
Final Thoughts
Picking out the best bandana for your needs really isn't hard. There are tons of options on the market but there isn't a ton of differences between most of them.
For hiking and camping you can choose between basic bandanas and specialized versions made from technical materials.