Outdoorsman Toolkit is reader-supported. When you buy through links on our site, we may earn an affiliate commission.
Learn more
Body armor has come a long way over the last few decades. From the basic flak vests of the Vietnam War, modern ballistic plates are capable of stopping high-powered rifle rounds effectively. One of the key parts of modern body armor is the ballistic plate carrier vest. Today we'll be reviewing the best plate carriers available to help you find the one that best fits your needs.
What is a Plate Carrier
A plate carrier is a piece of tactical gear designed to hold ballistic plates. They can include additional soft armor such as kevlar or be simple strapped vests that position hard or soft plates over your vital areas.
They were pioneered by the military but have since become widely in demand for law enforcement and civilians alike. Tactical plate carriers usually offer additional features and function as tactical vests.
There are tons of tactical plate carriers available today. You can choose between basic models that do little besides hold body armor and feature packed ones designed to be the central element of your tactical loadout.
We picked out a variety of plate carrier vests across the range of price and style. Check them out.
VISM By NcSTAR Discreet Plate Carrier Vest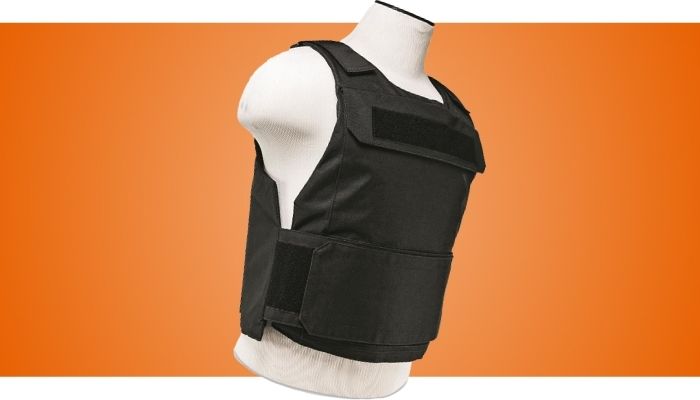 The Discrete Plate Carrier Vest from VISM by NcSTAR is a plate carrier designed for an undercover look. It has hook and loop fastened pockets on the front and pack capable of holding soft or hard ballistic plates.
The shoulder straps are adjustable as is the wrap around cummberbund. This allows you to get the perfect fit and feel while still positioning the plates properly for maximum protection.
It doesn't offer additional pockets, pouches or MOLLE webbing, but is perfect for wearing under other clothes when trying to keep a low profile. It's also very affordable and pretty comfortable to wear.
You can customize the look of the carrier vest with the hook and loop panels on the front and back. These allow you to attach patches, unit identifiers or other information.
If you need a discreet and inexpensive plate carrier that's comfortable and highly adjustable the Discreet Plate Carrier Vest from VISM is a great option.
Armor Express Rapid Base Plate Carrier Vest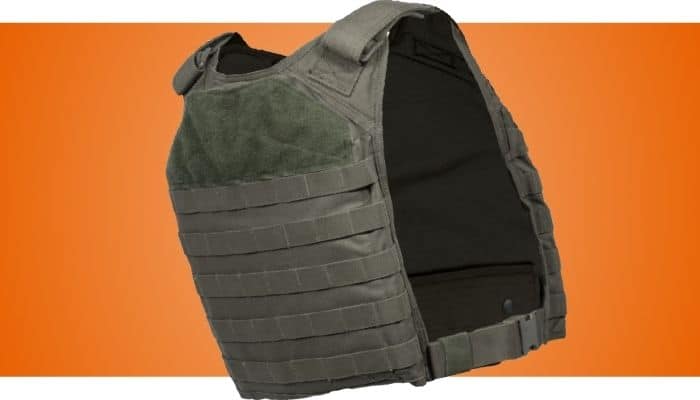 The Armor Express Rapid Base Plate Carrier Vest is a highly adaptable lightweight plate carrier. It's designed to hold level 3 and 4 ballistic plates up to 1.25 inches thick.
It uses a hook and look shoulder adjustment system for comfort and has a quick release clip on either side that makes it easy to quickly put on and take off. Both the front and back of the vest are fully covered with MOLLE webbing.
This allows you to attach all kinds of gear pouches, pockets, and additional equipment. It also has hook and loop fastener panels on the front and back to put department, unit or personal patches and identification panels.
The Rapid Base Plate Carrier Vest lacks some of the more advanced features of similar vests but makes up for it with excellent build quality and a focus on the key features that make a great plate carrier.
VISM Quick-Release Plate Carrier Vest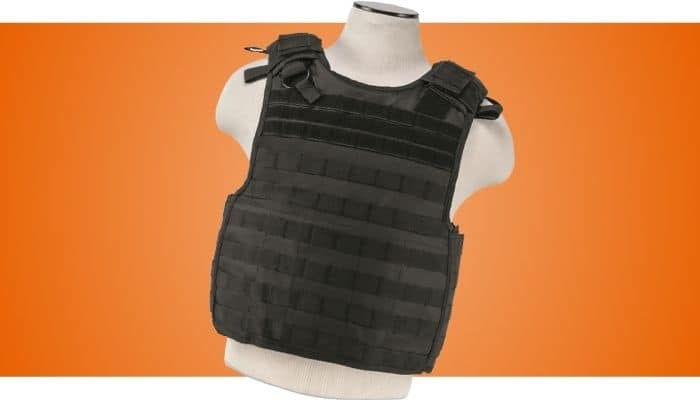 The Quick-Release Plate Carrier Vest from VISM is a standard SAPI vest. It offers full coverage from neck to navel and has substantial comfort and utility features.
As the name suggests it has a quick-release pull tab that allows you to near instantly remove the vest in an emergency. It has padded adjustable shoulder straps and a fully adjustable cummerbund.
This allows you to find the most comfortable fit for your vest without changing the positioning of the plates. Both the front and back of the vest are covered with MOLLE webbing and hook and loop panels for unit patches or other personal identifying patches.
The VISM Quick-Release Plate Carrier Vest is a feature packed plate carrier that will work well for just about anyone.
Voodoo Tactical MOLLE Armor Carrier Vest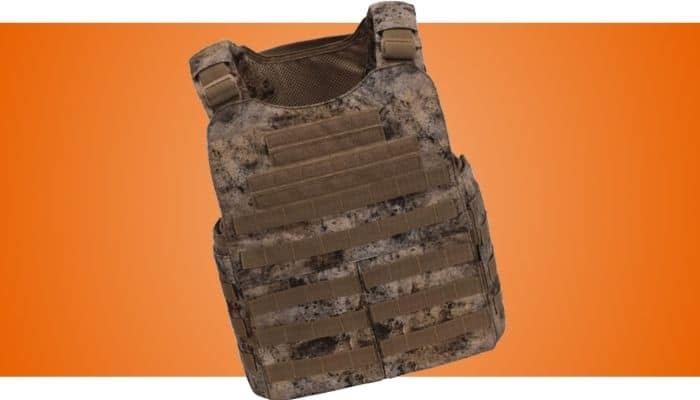 The Voodoo Tactical MOLLE Armor Carrier Vest is a compact plate carrier system designed with modular uses in mind. It has a wraparound cummerbund style design that allows you to fit additional soft armor plates into the side of the carrier.
The shoulder straps are padded and adjustable, as are the side areas. It's sized to fit 10" by 12" plates and has seven rows of MOLLE webbing on the front and back.
It also comes with hook and loop fasteners on both sides of the vest that allow you to display department or unit patches. The Armor Carrier Vest offers a comfortable and highly adjustable fit and allows you to change the level of protection you need.
The Voodoo Tactical MOLLE Armor Carrier Vest is a modular plate carrier system that allows you to adjust your use of soft and hard plates in a comfortable package.
5.11 Tactical TacTec Plate Carrier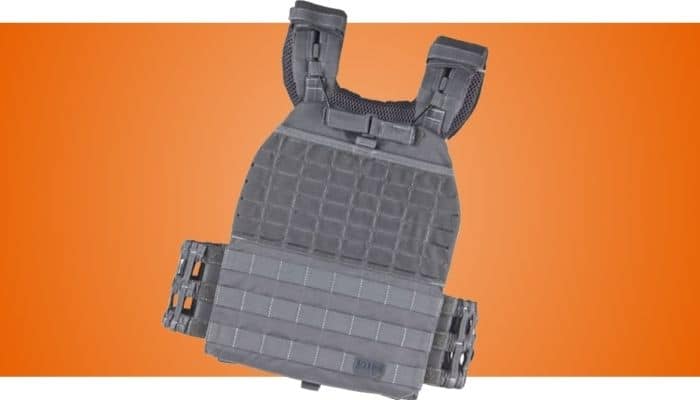 I've got a knack for the outdoors and a keen interest in tactical gear which led me to the 5.11 Tactical TacTec Plate Carrier. Upon unboxing, I was immediately impressed with the quality I held in my hands. The stitching, a crucial factor for longevity and durability in tactical gear, earned a five-star rating right off the bat. As someone who appreciates meticulous craftsmanship, seeing the sturdy nylon material along with Duraflex hardware made me eager to test it out in the field.
Slipping into the TacTec Plate Carrier was a breeze, thanks to the adjustable and padded yoke style shoulder pads. The comfort they provided, especially when loaded with medium to large ballistic plates, was unmatched. Even the Rogue weighted plates I used for training nestled securely without any wobble. Unlike my previous carriers, this one distributed the weight so evenly, it almost felt like an extension of my body rather than an added burden.
During a weekend hiking trip, the TacTec was put to the real test. The carrier stayed snug and comfortable even during the more strenuous ascents. The full MOLLE webbing was a handy feature, allowing me to attach essential gear without any hassle. Even a sudden downpour didn't dampen my spirits as the water-resistant coating lived up to its promise, keeping the carrier dry.
The extendable GrabDrag handle and one-handed quick release are features I hope to never need in an emergency, but testing them out, they worked smoothly and instilled a sense of confidence. The low-profile drag handle, in particular, was a smart addition that didn't interfere with movement but promises utility in critical situations.
The oversized airflow panels were a boon, keeping me relatively cool despite the physical exertion and the sunny weather. The hook and loop areas are a nice touch, allowing me to personalize the carrier with patches.
Whether it was running, climbing, or simply trekking through uneven terrain, the TacTec Plate Carrier held up brilliantly without any shifting. The tactical utility it offers, coupled with its workout-friendly design, makes it a versatile piece of gear I'd highly recommend to fellow outdoor enthusiasts or law enforcement personnel. The 5.11 Tactical TacTec Plate Carrier isn't just a carrier; it's a well-thought-out system that melds practicality with 'tacticool' aesthetics seamlessly. I've found it to be a worthy investment for both my professional and recreational pursuits.
Pros:
Quality Construction: High-grade stitching and durable Duraflex hardware ensure longevity.
Comfortable Fit: Adjustable, padded shoulder straps and yoke system distribute weight evenly, making it comfortable even during prolonged use.
Versatile Usage: Suitable for both tactical applications and fitness training, accommodating both ballistic and weighted plates securely.
Functional Design: Features like the MOLLE webbing, GrabDrag handle, and one-handed quick release add to its practicality in various scenarios.
Water-resistant Coating: Keeps the carrier protected in wet conditions, a plus for outdoor enthusiasts.
Excellent Weight Distribution: Ensures no shifting of plates during movement, providing a stable fit whether running, climbing or engaging in other active pursuits.
Airflow Panels: Help in keeping the user cool during strenuous activities.
Cons:
Shoulder Straps: While comfortable, could be wider for an even better distribution of heavy loads.
Learning Curve: Adjusting the settings and understanding features like the emergency pull release might require some initial familiarization.
Price Point: Might be on the higher side, but justified by the quality and features offered.
Long-term Performance: Though built from high-quality materials, the long-term performance is yet to be fully ascertained in differing conditions and rigorous use.
Voodoo Tactical X-Lite Gen II Plate Carrier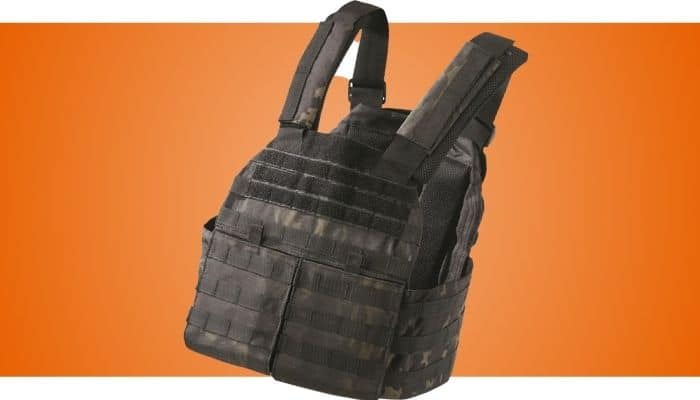 The Voodoo Tactical X-Lite Gen II is a lightweight plate carrier system designed for comfort and maximum mobility. It's designed to 10" by 12" ballistic plates in a minimalist setting.
It has a fully adjustable cummerbund and shoulder straps for a customized fit. If you prefer to go truly minimalist you can remove the cummerbund altogether.
The body is made from breathable mesh panels with a MOLLE webbing exterior. This allows you to attach any additional gear you need.
The Voodoo Tactical X-Lite Gen II is a light and highly customizable plate carrier. It lacks some of the premium features found on other carriers but does allow high levels of customization and mobility.
Shellback Tactical Banshee Elite 2.0 Plate Carrier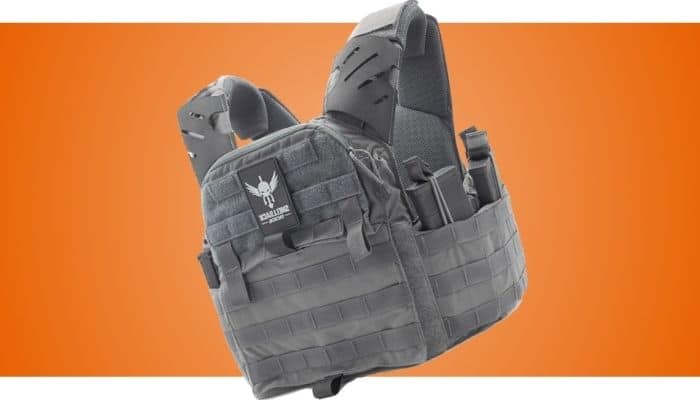 The Shellback Tactical Banshee Elite 2.0 is a top quality tactical plate carrier designed for serious operators. It's made from premium materials and includes all the most sought after features for a plate carrier system.
The shoulders on the Banshee 2.0 are fully adjustable and padded. They're designed to lay flat on your shoulders and distribute the weight of your gear as evenly as possible. They're covered with hypalon routing strips to help guide things like com wires and hydration reservoir tubes.
The front and back of the Banshee 2.0 is covered with six rows of MOLLE compatible PALS webbing and pile tape to allow the placement of various patches. The interior of all surfaces is made from a lightweight mesh material designed to help you stay cool and comfortable even when highly active.
The included cummerbund is fully adjustable and designed to hold three AR style magazines on either side. It can be removed via quick-release buckles and replaced with a simple nylon strap for reduced weight and improved comfort.
Overall the Shellback Tactical Banshee Elite 2.0 is a premium plate carrier at a premium price. It's loaded down with all the features in demand by tactical operators but is noticeably more expensive than similar vests.
Buyers Guide to Buying the Best Plate Carriers
Choosing the best plate carrier really depends on your own needs. If you're a tactical operator working in high-risk environments you're going to have much more demanding requirements than your average citizen.
Below you'll find a breakdown of the most common features to look for in a plate carrier system.
Price
Plate carriers are relatively inexpensive and are generally the cheapest part of a tactical carrier system. The plates themselves often cost several hundred dollars for a full set, with other tactical gear like night vision and optics significantly more expensive.
You can get a basic fabric carrier vest for well under $100. If you want any kind of soft armor built into the plate carrier you're looking at above $100 and can quickly get into several hundred.
Quick Release
Ballistic plates can save your life, but they can also become a liability in certain situations. If your plate carrier gets caught on something or you find yourself suddenly submerged you need a way to quickly drop your plates.
The best plate carriers have a quick release tab or handle built in that allows you to near instantly separate the two sides of your plate carrier and slip free. This can be a literal life saver under desperate circumstances.
Drag Handles
Drag handles are a little talked about but very important part of tactical gear. On plate carriers they show themselves as discreet but reinforced hand sized straps.
These allow you comrades to grab hold of you and drag you to safety should you become incapacitated.
MOLLE and Other Attachment Points
MOLLE, short for Modular Lightweight Loadbearing Equipment, is the most widely used attachment system for military gear and pouches. It's basically a ladder style arrangement of cloth strips at a specific size and placement.
MOLLE makes it really easy to attach any milspec gear, pouches, bags or other equipment. Pretty much any military gear made within the last 20 years will be MOLLE compatible.
It's not really an option, but we don't recommend you purchase any plate carrier that doesn't have MOLLE compatibility.
Shoulder Strap Padding and Adjustments
Everyone's body is a little bit differently shaped and proportioned. Adjustable shoulder straps are essential for a good fit in your plate carrier.
These allow you to position the actual ballistic plate directly over your vital areas. As an added bonus adjustable and padded shoulder straps provide for a much more comfortable experience through a day of wearing a plate carrier.
Pouches
The majority of plate carries double as a tactical vest. They're designed with numerous pouches and straps for more gear, or at the very least ways to attach these additional pouches.
Mag pouches – Mag pouches are specially sized to hold the magazines for your chosen firearm. You can get them for just about any handgun or long gun. Most militaries using the M16/M4 style combat rifle use 5 to 8 full magazines as a standard combat load.
Make sure you've got enough MOLLE space on your plate carrier to accommodate the amount of ammo you need.
Gear pouches – Gear pouches are your standard zipper or clasp pouch designed to hold just about anything. There are generic versions designed to hold lots of smaller items or highly specialized ones for holding things like flashlights, maps, and even different types of grenades.
All modern gear pouches will be MOLLE compatible.
Dump pouches – A dump pouch is basically a drawstring rigged or velcro pouch designed to hold miscellaneous items. They're commonly used as a pouch to put additional loose ammunition, spent shell casings, partially fired magazines or other various gear.
They don't have a specific purpose but are very useful for holding a wide variety of gear.
Pistol holsters – A chest mounted pistol holster is commonly used by tactical operators and SWAT members who need to carry a secondary firearm but don't want a waist or leg holster slowing them down. You can find a MOLLE compatible chest holster for most major handguns.
These always need some form of active retention such as a button/velcro strap or similar. They aren't designed for fast access.
Cummerbunds
The majority of plate carriers are designed as vests. This allows them to position their plates over your vital areas and reduces the overall weight.
If you want to add more protection to your plate carrier a cummerbund lets you position additional soft armor over your sides and lower back. It also gives you additional points to attach gear.
Flashlight, Sight, and Ocular Attachments
Many tactical plate carriers are designed to hold the entirety of your gear. They have either built in or MOLLE space available for specialized optics, flashlights, and other tech gear.
This allows you to protect potentially very expensive tools like night vision and holographic sites while still having them readily accessible.
Body Armor Ratings
Many plate carriers have integrated soft body armor as well. This is measured using the NIJ standard. Different levels of protection you'll see for soft armor in your plate carrier include:
Level IIA: Useful against 9mm to .40 rounds fired from short-barreled pistols. Ineffective against rifles.
Level II: Useful against 9mm to .357 magnum rounds from short-barreled pistols. No effect on rifle rounds.
Level IIIA: Useful against .357 and .44 magnum rounds from long-barreled pistols. Ineffective against rifles
Body armor above a level IIIA begins to incorporate ballistic plate armor. This is where your plate carrier vest comes in.
No plate carriers will use bullet resistant soft armor below a level IIA.
Types of Ballistic Plates
There are several different varieties of ballistic plates available. Each offers a different level of protection, comfort, reusability, and weight.
Ceramic Plates – Ceramic plates were developed over the last few decades and were used to great effect during Operation Desert Storm. They're fully capable of stopping high-powered rifle rounds, lightweight, and widely available.
That's not to say that they're light, any ballistic plate is going to be a noticeable weight in your kit. The biggest downside to a ceramic plate is how they stop a round. Ceramic plates are designed to shatter upon impact, making them useless after taking a single round.
SAPI Plates – SAPI plates, short for Small Arms Protective Inserts, are specially designed ceramic plates coated with a fragment trapping material. They're generally made from boron carbide or silicon carbide ceramic.
They offer great protection for a reasonably weight but suffer from the same downsides as other ceramic plates. They're only capable of stopping a single round from any one direction as the plate shatters on impact to reduce energy transfer.
The added fragment protection can help keep shrapnel and other fragments from causing secondary injuries.
Polyethylene Plates – Polyethylene ballistic plates are the lightest type of hard body armor available. They're made from densely woven materials like Kevlar and are designed to twist and melt the round upon impact.
They're some of the most comfortable ballistic plates because of their lighter weight, but they suffer from the same downside as ceramic plates. They're one time use.
Steel Plates – Steel plates have been used in body armor for centuries. Modern steel plates are designed to stop high-caliber rifle rounds and do a great job of it. They're also reusable for multiple rounds as the steel doesn't deform from the impact of the rifle rounds.
The downside to steel ballistic plates is their weight. Most steel plates are noticeably heavier than any other type of ballistic plate.
Weight and Durability
Weight is less serious a consideration than you would think when picking out a plate carrier vest. The vest itself is often the lightest part of a full tactical loadout.
The plates will always be heavier than the vest, as will the magazines, optics, and other equipment. We recommend you prioritize durability and comfort enhancing features like padding over saving a few ounces.
Top Plate Carriers Video
Best Plate Carrier Vest – FAQ
Welcome to the Frequently Asked Questions (FAQ) section of our article on the "Best Plate Carrier Vest" for camping, hiking, and hunting enthusiasts! Here, we've compiled some of the most common queries to provide you with comprehensive insights into this essential tactical gear. Whether you're a seasoned adventurer or a novice explorer, this section aims to address any doubts you may have regarding plate carrier vests and their relevance in outdoor activities.
From understanding the purpose and benefits of plate carrier vests to learning about their versatile features and proper usage, we've got you covered. Our team of experts has carefully curated these questions to help you make informed decisions and ensure your safety while venturing into the wilderness.
If you've ever wondered about the importance of a plate carrier vest in camping, hiking, or hunting scenarios, or if you're curious about how to choose the perfect one to suit your needs, you've come to the right place. Let's delve into the world of plate carrier vests and uncover everything you need to know to enhance your outdoor experience and stay prepared for whatever the great outdoors may throw your way!
What is a plate carrier vest, and why do I need one?
A plate carrier vest is a tactical gear designed to hold ballistic plates that offer protection against projectiles and potential threats. While it's commonly used by military and law enforcement personnel, it can also be beneficial for camping, hiking, and hunting activities in potentially hazardous environments. The vest provides an added layer of protection and can carry essential gear and equipment conveniently.
What features should I consider when choosing a plate carrier vest for outdoor activities?
When selecting a plate carrier vest for camping, hiking, or hunting, consider factors such as size and fit, material durability, weight, ease of adjustment, and compatibility with various plate sizes. Additionally, check for MOLLE (Modular Lightweight Load-carrying Equipment) webbing, which allows for the attachment of pouches and accessories to customize the vest according to your specific needs.
Can I use a plate carrier vest without ballistic plates for outdoor activities?
Yes, you can use a plate carrier vest without inserting ballistic plates. Many plate carrier vests are designed with pockets for plates that can be removed when not needed. This allows you to use the vest as a regular tactical gear for carrying equipment without the added weight of ballistic plates during less demanding outdoor activities.
Are plate carrier vests adjustable to fit different body sizes?
Yes, most plate carrier vests come with adjustable straps and buckles, allowing you to customize the fit to suit your body size and shape. This feature is essential for ensuring comfort during prolonged use and for accommodating different layers of clothing that you might wear during changing weather conditions.
Can a plate carrier vest carry other camping or hunting gear besides ballistic plates?
Absolutely! One of the advantages of plate carrier vests is their modular design with MOLLE webbing. This feature allows you to attach various pouches and accessories to carry items like water bottles, first aid kits, multi-tools, flashlights, and other essential camping or hunting gear. It offers convenient access to your equipment while keeping your hands free.
What are the benefits of using a plate carrier vest for outdoor activities?
Using a plate carrier vest during camping, hiking, or hunting can provide several benefits. The most significant advantage is the added protection it offers in potentially dangerous or unpredictable environments. Moreover, it allows for efficient gear organization and accessibility, making it easier to carry essential items without the need for a separate backpack or bag.
Can plate carrier vests be used for other outdoor activities, such as airsoft or paintball?
Yes, plate carrier vests are popular among airsoft and paintball enthusiasts. They offer protection from BBs or paintballs and allow players to carry extra ammunition, grenades, and other gear conveniently. However, for these activities, non-ballistic plates or foam inserts are typically used instead of real ballistic plates.
How do I properly clean and maintain a plate carrier vest?
Cleaning and maintaining your plate carrier vest are essential to ensure its longevity and functionality. Most plate carrier vests are made of durable materials like nylon or Cordura, which can be cleaned with mild soap and water. Make sure to remove any ballistic plates or inserts before washing and allow the vest to air dry completely. Regularly inspect the straps, buckles, and stitching for any signs of wear or damage and replace any worn-out components as needed.
Are plate carrier vests legal to use for civilians in camping, hiking, and hunting scenarios?
The legality of using plate carrier vests for civilians varies depending on your location and local regulations. In many areas, using plate carrier vests without ballistic plates for recreational purposes is generally allowed. However, it is essential to research and familiarize yourself with the specific laws in your region to ensure compliance.
What other safety precautions should I consider when using a plate carrier vest during outdoor activities?
While plate carrier vests offer added protection, they are not a substitute for proper safety practices. Always exercise caution during your camping, hiking, or hunting adventures. Inform others of your plans, carry essential communication devices, and be prepared for any emergencies. Remember that a plate carrier vest is just one part of staying safe in the great outdoors.
Final Thoughts
As long as you know the conditions you'll be using your plate carrier in it's easy to pick out the features you value. This makes it much easier to choose the best plate carrier for your needs.