Outdoorsman Toolkit is reader-supported. When you buy through links on our site, we may earn an affiliate commission.
Learn more
Tomahawks. Just the word evokes images of proud Native Americans and frontiersman living off the land. They've been used for centuries and are still one of the most versatile axe styles around. Tactical tomahawks combine the traditional tomahawk design with the latest manufacturing processes and materials.
We've put together a list of the 14 best tactical tomahawks available today plus a buying guide to help you find the perfect one for your needs.
Tactical tomahawks have to skirt the line between strength and weight. You could easily make a near indestructible tomahawk but good luck carrying it in a pack or swinging it more than a few times.
Most modern tactical tomahawks use a steel tang design with a glass filled nylon fiberglass handle. This gives them excellent strength to weight ratios overall.
They vary in the design and layout of the actual axe head but in general have either a single or double bit and a spike or hammer point.

SOG Tactical Tomahawk with Sheath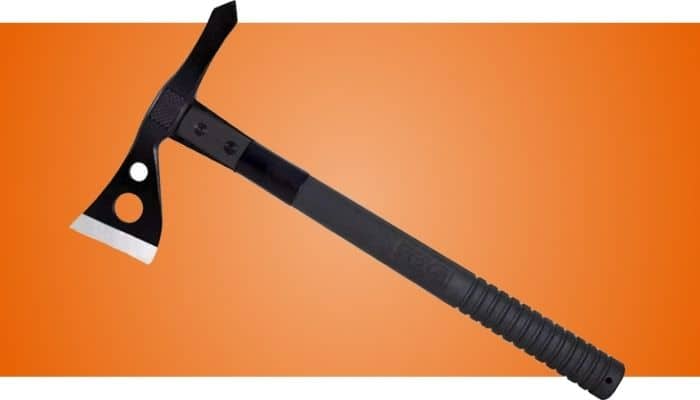 As a fervent outdoor enthusiast, I am always on the lookout for gear that can endure the rugged trails and unforeseen circumstances one might encounter in the wilderness. My adventures often lead me to remote places where a reliable tool can make a significant difference. Among the plethora of outdoor equipment I've amassed over the years, the SOG Tactical Tomahawk has earned a reputable spot.
At a modest length of 15.75 inches and a weight of 24 oz, this tomahawk is surprisingly easy to pack and carry along on my hiking or RVing escapades. Its design is a blend of robustness and portability which is a quality I appreciate. The 2.75-inch blade paired with a double-edged spike on the rear end of the head allows for versatility in use, something I tested extensively.
Having heard a mix of opinions about its wood chopping ability, I decided to test it out myself during one of my camping trips. While it may not replace a dedicated camping hatchet, it held its own and managed to get the firewood prepped. The textured glass-filled nylon handle, although lightweight and durable, felt a tad slippery especially as my hands got sweaty from the exertion. A quick trip to a local hardware store and a minor DIY with rubber O-rings significantly improved the grip, a hack I picked up from a fellow user. The improved grip felt reassuring especially when I tested its self-defense utility by practicing some swings and throws.
On one memorable hiking trip, we found ourselves in a tight spot where we needed to create a makeshift shelter due to unexpected weather changes. The SOG Tactical Tomahawk was instrumental in cutting and shaping branches swiftly, making the shelter setup a breeze. Its blade was sharp and held the edge well, even after hacking through some fairly tough wood. It was during this trip that I truly appreciated the tomahawk's lightweight design as it didn't add to the fatigue even after extended use.
The SOG Tactical Tomahawk isn't without its flaws. The quarter tang design may sacrifice some strength but it's a trade-off for the weight advantage. A slight bend in the tomahawk's head on the initial delivery was a hiccup, however, the replacement process was smooth and the second tomahawk was up to standard.
Moreover, the ballistic nylon sheath it comes with has multiple carry options making it a convenient carry along. For those like me who prefer a matching belt sheath, the SOG Specialty Knives & Tools HDN-F01 Tactical Tomahawk Molded Hard Nylon Sheath is a worthy addition.
In a market where comparably priced tactical axes like the United Cutlery UC2765 M48 Hawk Axe and the Cold Steel Trench Hawk Axe provide stiff competition, the SOG Tactical Tomahawk stands out for its balance between weight, strength, and utility.
In conclusion, the SOG Tactical Tomahawk has proven to be a reliable companion during my outdoor ventures. Its reasonable price point coupled with its performance makes it a valuable addition to my outdoor gear collection. Whether it's a peaceful camping trip or an unexpected survival scenario, this tomahawk is a tool I'd confidently reach for.
Pros:
Lightweight and portable, making it a great companion for outdoor adventures.
Versatile with a 2.75-inch blade and a double-edged spike for various utility purposes.
Durable and sharp edge that holds well even with rigorous use.
Accompanying ballistic nylon sheath with multiple carry options.
Reasonably priced compared to other tactical tomahawks in the market.
Improvement in grip can be achieved with a simple DIY modification.
Cons:
Quarter tang design might compromise on some strength.
Initial slipperiness of the handle can be an issue, especially with sweaty hands.
A slight bend in the tomahawk's head was noticed in the first delivery, although replaced promptly.
The protective coating on the blade edge can be a bit hard to remove.
Manufactured in China which might raise concerns over material quality for some users.
Note: You might like our best camping axe, best survival hatchet and types of axe articles

SOG Survival Hawk Tactical Tomahawk with Fire Starter and Claw Spike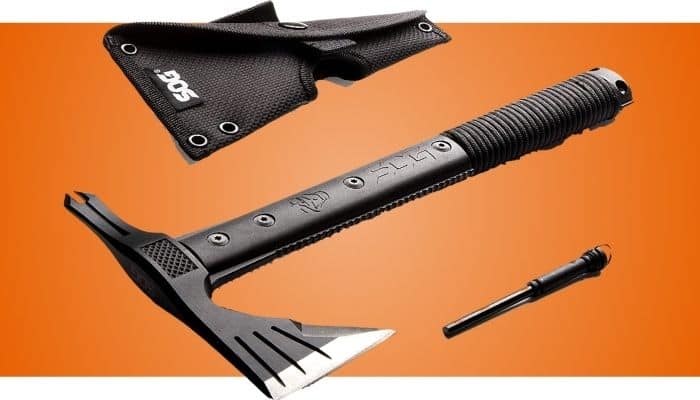 The SOG Survival Hawk is a tomahawk built to provide you with tons of useful features when out in the wild. It has a full tang design with a glass filled nylon handle.
Unlike most of the tomahawks on this list it actually includes a detachable tool, a small fire starter rod that slips into the butt of the handle.
It's 12.1 inches long and weighs just 19.5 oz. This makes it both compact and lightweight, easy to carry over long distances.
The Survival Hawk has a 3 inch blade and a nicely sized claw style spike on the rear. Its polymer handle is wrapped with paracord near the base. This doubles as a comfortable grip and a useful amount of cordage in an emergency situation.
If you're looking for a lightweight and packable tactical tomahawk for hiking or camping the SOG Survival Hawk is a great option.

SOG FastHawk Tactical Tomahawk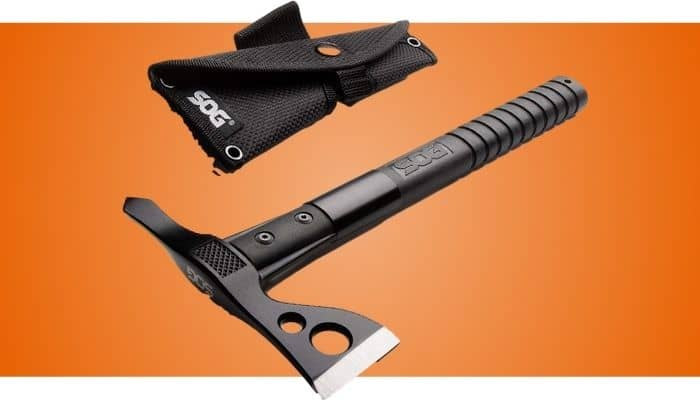 The SOG FastHawk is designed to be a lightweight throwing tomahawk. It's made with a quarter tang design and a 2 inch wide blade on a 12.5 inch body. The handle is made from glass filled nylon with a highly textured grip pattern.
The head of the FastHawk is smaller than similar tomahawks but works well for its intended role. There's a spike on the rear of the head that helps balance out the tomahawk when in flight.
As a throwing tomahawk the priority is more on balance and weight reduction that chopping strength. The SOG Fasthawk isn't ideal for use as a chopping or clearing tool but is perfect for practicing your axe throwing.

SOG Voodoo Tactical Tomahawk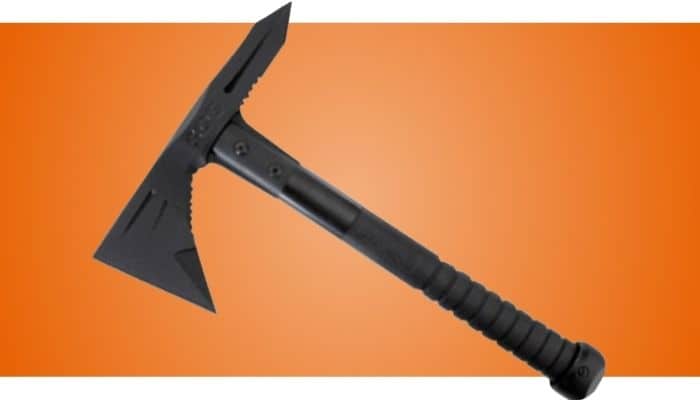 The SOG Voodoo is a tomahawk designed to be incredibly portable and effective. It's just over 12 and a half inches long and weighs only 28.5 oz. It's a quarter tang design to cut down on weight and uses a glass filled nylon handle in black.
The blade is 3.5 inches long from top to bottom and has a thick spike coming out the back. It's great for breaking through sheet rock or as a self-defense tool. The handle is coated with a ballistic polymer to provide a comfortable and slip resistant finish.
It comes with a nylon sheath designed to attach to a variety of belts, bags, and other carriers. Overall the SOG Voodoo is a well designed tactical tomahawk but slightly less durable than many others on this list.

SOG Throwing Tactical Tomahawk
This set of SOG Throwing tomahawks are designed to provide maximum accuracy and usability for beginner or advanced axe throwers. They're full tang tomahawks each 10.75 inches long and weighing just 18.6 oz each.
This 3 pack comes with a single nylon carry case designed to hold all your tomahawks between practice sessions. The handle is made of glass filled nylon and is wrapped with paracord for a secure grip.
In an emergency situation this also gives you several yards of useful cordage when unwound. They aren't great for cutting or splitting tasks due to their throwing focused design.
Because they're intended specifically for throwing they're smaller, lighter weight, and have a less aggressive bite pattern than many other tomahawks. They aren't suitable for real chopping work but are extremely well balanced and great for practicing your axe throwing.

Smith & Wesson Extraction and Evasion Tactical Tomahawk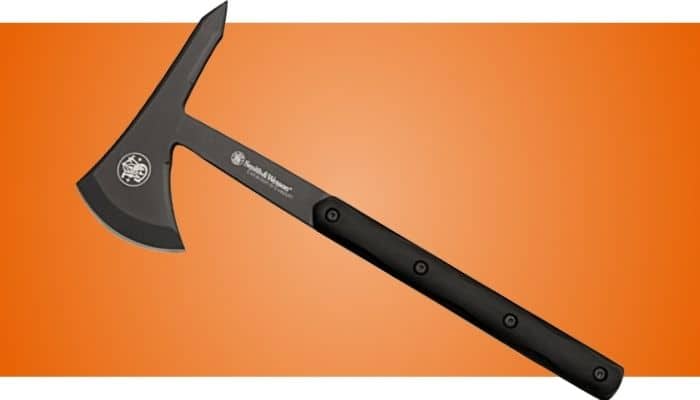 The Extraction and Evasion tactical tomahawk from Smith & Wesson is a full tang carbon steel tomahawk designed for heavy duty use. It's 15.9 inches long and made from a single piece of forged steel.
It's definitely on the heavy side for a tomahawk, weighing a full 2 lbs 11 oz, but is extremely durable for that weight. S&W put a textured polymer handle all along the metal of the main body. This makes it easy to grip and gives it added strength.
The blade is 3.9 inches long and has a substantial spike on the other end. It's great for chopping or breaking through doors and walls. It comes with a nylon snap case to protect you from the blade when not in use.
The S&W Extraction and Evasion tomahawk is built to be a serious tool for serious users. It's large, rugged, and won't let you down when it counts.

Gerber Downrange Tactical Tomahawk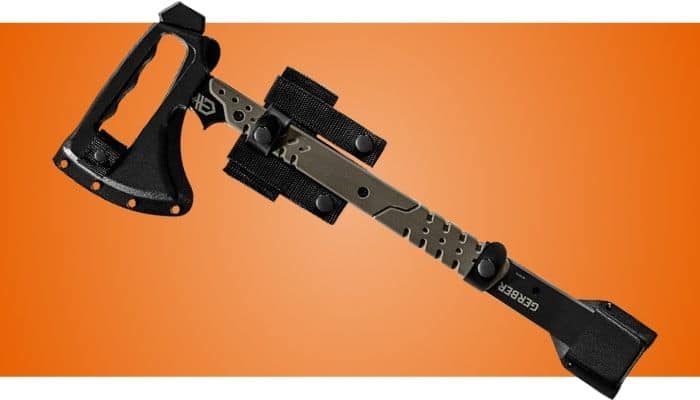 The Gerber Downrange tactical tomahawk is a true multi tool tomahawk. It's quite long for a tomahawk but gives you 3 different tools in a full tang forged steel body. These include:
The design of the tomahawk head puts weight reduction at the forefront. It's fully 19.27 inches long and is almost entirely hollowed out, with a textured hand hold running along the top inner edge of the head. The rear of the tomahawk has a flattened area to be used as a hammer while the bit is razor sharp.
Gerber coated the steel of the body with cerakote to improve corrosion resistance and attached polymer scales to the sides. These are highly textured to provide a firm grip and available in several color options.
Because of the full tang design of the Downrange the pry bar has significant strength. It's up to popping door frames or breaking open crates.
Overall the Gerber Downrange is a well made tactical tomahawk that gives you a lot of utility and value for your money.

Browning Shock N' Awe Tactical Tomahawk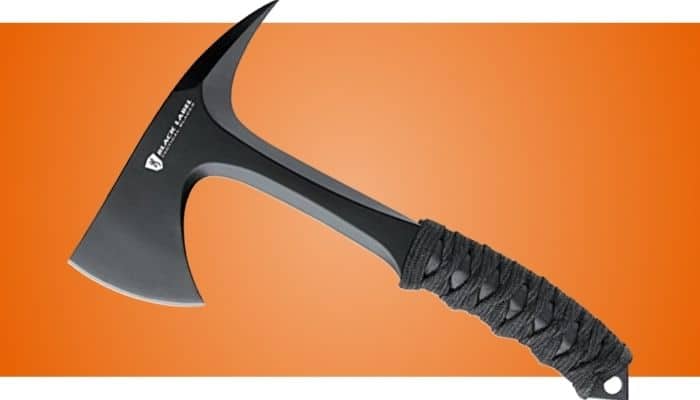 The Browning Shock N' Awe is designed to be an ultra compact tactical tomahawk for serious use. It has a full tang design made from forged carbon steel and is just 10.5 inches long in total.
The bit is 2.75 inches wide and tapers to an aggressive spike on the rear of the head. It's designed for swift motion and ease of use. The very short handle gives you maximum control in cramped conditions or when working in the field.
Browning is a respected knife and firearms manufacturer with decades of experience. The Shock N' Awe comes with a molded polymer sheath designed to lock onto your belt or bag. It can be carried at several different angles and styles depending on your needs.
The Browning Shock N' Awe is a great tactical tomahawk but does lack some of the day to day practicality of larger tomahawks. It's too short to allow you to really built up speed on the swing. If you're looking specifically for a self-defense tomahawk the Shock N' Awe is a great choice.

CRKT Chogan T-Hawk Tactical Tomahawk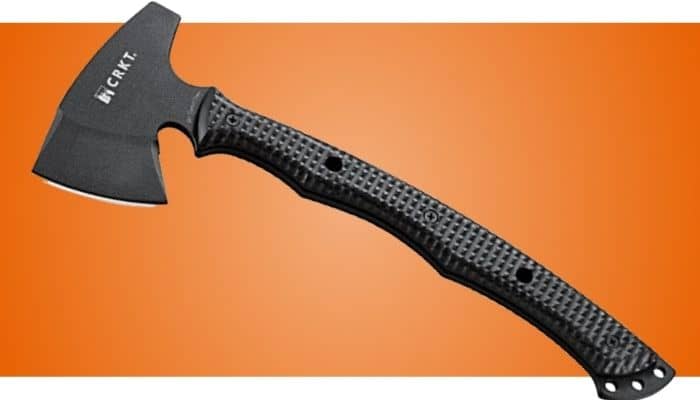 The CRKT Chogan T-Hawk is a full tang tactical tomahawk forged from a single piece of high carbon steel. This handle is sandwiched between two checkered polymer scales. This gives you the most effective grip in sticky situations.
The Chogan is 14 inches long and weighs 1 lb 8.6 oz. It has a blade angle and grind designed for heavy striking tasks. It's available with either a spike or a squared off area suitable for hammering.
It comes with a Boltaron sheath with MOLLE attachment points. This allows you to quickly and effortlessly hook it to your belt, bag, or any number of compatible points.
CRKT is well respected in the knife and tool world and the Chogan T-Hawk does credit to their reputation. It's a well made tactical tomahawk with excellent durability and utility.

CRKT Kangee Tactical Tomahawk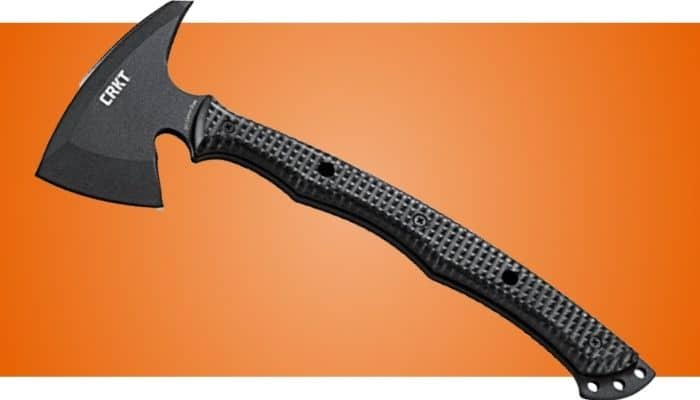 The CRKT Kangee uses a modernized tomahawk style head with a full tang handle style. CRKT chose to attach a polymer grip all down the handle for maximum purchase and strong grip.
Forged from a single piece of high carbon steel, the Kangee has a tapered blade geometry that runs from the bottom of the tomahawk head all the way around to the spiked end. It's designed to excel at general tasks while also being a very useful self-defense tool.
The Kangee is just under 14 inches long and weighs 1.8 lbs. The head is coated with a corrosion resistant material to improve its durability over the long term. It comes with a MOLLE compatible nylon sheath to easily attach to your belt, bag, or tactical carrier.
The CRKT Kangee is an innovatively designed tactical tomahawk that can stand up to heavy day to day use just as well as it can defend you in a time of need.

United Cutlery M48 Double Bladed Tactical Tomahawk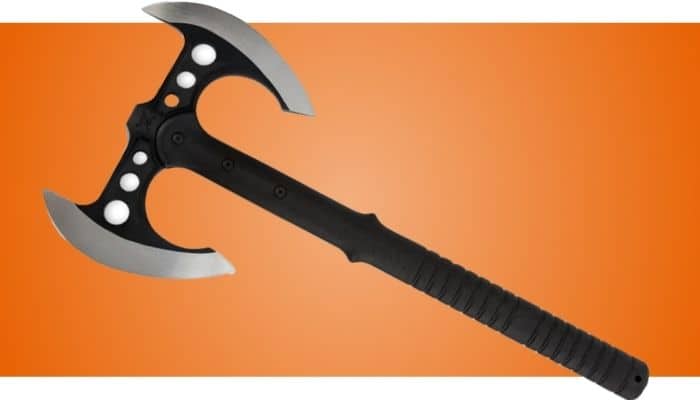 The Double Bit M48 tomahawk is the one to go for if you've always wanted to be a movie style Viking. It has a broad double bladed head on a 15 inch long handle. The whole thing is sharp, dangerous looking, and really really cool.
It uses a quarter tang forged head attached to a fiberglass handle. This reduces the weight of it substantially but does create a breaking point just below the tang. We usually prefer full tang designs but this one seems durable enough for its intended use.
If you're looking for a scary looking self-defense tool with the razor sharp bits to back up its appearance the M48 Double Bit Tactical Tomahawk may be the one for you.

United Cutlery M48 Tactical Tomahawk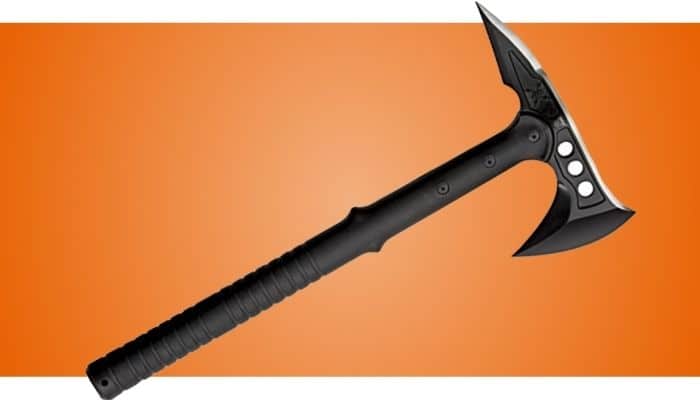 The M48 Tactical Tomahawk from United Cutlery is a wicked looking tomahawk with an 8-inch long head and a 3 ⅞ inch bit. It uses a quarter tang axe head attached to a nylon reinforced fiberglass handle.
This makes it lightweight and fairly durable, though in general we prefer full tang or axe eye style tomahawks. It's 15 inches long altogether and has a sharply curved spike on one end of the head.
It's a good tool for basic chopping, puncturing, and splitting tasks but shouldn't be used for long term high impact tasks. Overall the M48 is a quality tomahawk that's as effective as it is nice to look at.

Estwing Black Eagle Single Bit Tactical Tomahawk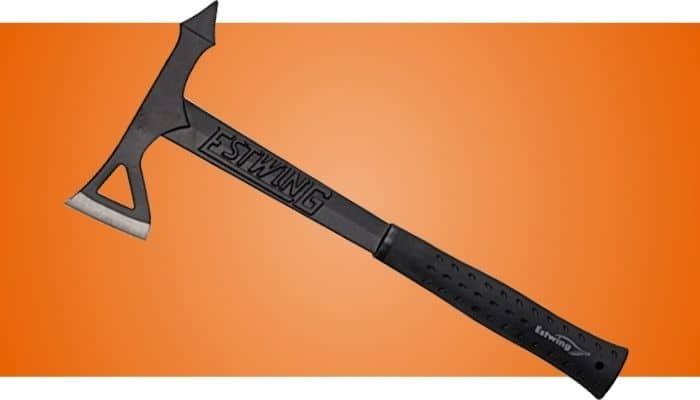 The Estwing Black Eagle Single Bit tomahawk is a lightweight but high strength tactical tool forged from American steel. It uses a full tang design with a shock absorbing grip.
The single bit design gives you a hollowed out tomahawk blade on one side and rugged spike on the other for penetrating drywall, wood, or the skulls of your enemies. It's just over 16 inches long and weighs 1.5 lbs in total.
You can choose from several different colors and handle finishes. Our personal favorite is Estwing's traditional leather wrapped handle but you might enjoy the desert tan or blacked out tactical style. Whatever color you go with you'll also receive a ballistic nylon belt or bag sheath for multiple carry options.
It's a well balanced tactical tomahawk that's surprisingly light for its size. We found it easy to control and comfortable to swing over a good period of time.

Estwing Black Eagle Double Bit Tactical Tomahawk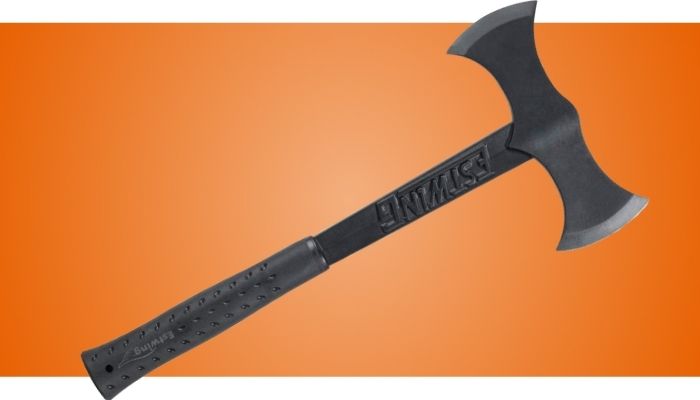 The Estwing Black Eagle Double Bit tactical tomahawk is forged from American steel in a double bit configuration. It's 17 inches long and weighs just 2 lbs 6 oz.
It has a full tang design with Estwing's patented shock absorbing grip. They claim it will reduce impact force by up to 70% during frequent use. The double bit design gives you two chopping surfaces to work with and extends your work time between sharpenings.
This makes the Black Eagle perfect for demolition work, hard chopping, or defending your homestead from intruders. It honestly looks really intimidating, with a blacked out design and a Viking-esque head shape. It includes a similarly blacked out ballistic nylon sheath.
Overall the Estwing Black Eagle is a well made double bit tomahawk that's heavy but durable. It's great if you're looking for a real workhorse tomahawk.
Best Tactical Tomahawks Comparison Table
Buyers Guide for Buying the Best Tactical Tomahawk
Picking out the best tactical tomahawks is seriously subjective. Everything from how you want to use it to how you're going to get it there will affect your choice.
These tips cover the most important features to look at and give you some suggestions depending on what you're looking for and what you're willing to spend.
Check them out.
Price/Value
With tomahawks you really do get what you pay for. That being said, the upper limit of the regular market is somewhere around $60. You can spend a whole lot more than that on one but you won't get much higher quality or functionality from it.
There are plenty of very nice tactical tomahawks in the $25-$50 range as well. We recommend you figure out what you're willing to spend then match that to one of the quality tomahawks on our list.
Head Shape Design
The best shape for your tomahawk's head depends on how you intend to use it. If you're looking for a self-defense tomahawk you'll want something different from a practical tool.
Most tomahawks will have a slightly shorter edge and come to a point on one end. This is great for breaching, puncturing heavy surfaces, and general striking tasks. Most self-defense or combat tomahawks will have a short edge less than three inches long.
More general purpose tomahawks usually have a lot in common with small axes. The head shape is more elongated and the blade is generally thinner and designed for chopping. It's about a 50/50 split between spikes and hammer ends. The spikes are great for demolition or puncturing utility work while the hammer is obviously useful for hammering tasks.
An important point to keep in mind is how much tomahawk you actually need. The wider the blade edge the heavier the tomahawk head has to be. Some try to get around this by hollowing out the center of the axe head. This is effective for self-defense tomahawks but does reduce their durability for heavy tasks.
Throwing tomahawks are their own category entirely. They focus more on the balance of the handle and head rather than long term durability. They're fun to toss around when done properly but aren't suitable for most practical uses.
Head Steel
The only material you should consider for your tomahawks head is forged carbon steel. It's extremely hard and durable. This makes it harder to sharpen but means it will keep an edge through hard work.
Softer steels are more corrosion resistant and easier to sharpen but don't hold an edge nearly as well. The best thing to look for is a coated carbon steel blade.
These combine the hardness of high carbon forged steel with the corrosion resistant properties of things like titanium dioxide. They also help the blade slip through materials easier.
Construction
When it comes to the construction of a tomahawk you're really talking about two different design philosophies:
Multi part designs are more traditional and combine a tomahawk head with a wooden or fiberglass handle. A benefit of this is that they're usually lighter and very well balanced. You can also replace the handle easily if it's damaged during use.
Single piece tomahawks are forged from a single piece of steel. They use a full tang design much the same as a large hunting or chopping knife. These will almost always have either a polymer or rubberized grip overtop the metal handle.
Handle Length
The length of a tomahawk only really has an upper limit. They're one handed tools so anything over about 18 inches is going to be too large for effective use.
Other than that you can find very short or quite long tomahawks depending on where you look.
Handle Material and Grip
There are several different material and grip options available for tomahawks. The classic tomahawk will come with a straight wooden handle that is often wrapped in cloth or leather.
More modern tactical tomahawks and utility tomahawks are built with a full tang steel design. They often have composite or rubberized scales overtop the metal core and provide a very firm textured grip. The only real downside to these is their weight. Generally they're heavier than wood or fiberglass handle designs.
There are also hybrids of these styles. A fiberglass handle with an attached tomahawk head and rubber or composite grip over it. These give you strength, durability, and lightweight but aren't quite as strong as the full tang steel design.
Depending on what kind of grip you choose you can customize it for your own comfort and style. Lots of guys wrap their tomahawks handle with paracord, tapes, and other patterned materials.
Multi Tool
Tomahawks, like all axes, fill multiple roles just by virtue of their design. They can chop, carve, cut, split wood, and be used as a hammer in a pinch.
While technically not multi tools we would definitely contend that they are a multi role tool that provide a ton of value for their size and weight. Tomahawks have the added benefit of self-defense practicality and usefulness in wilderness situations.
Newer designs, especially those intended for emergency or demolition work, really embody the values of the best multi tools. They have nail pullers, pry bars, glass breakers, and other useful tools built right in.
Weight
There's a definite upper limit to the weight of a tomahawk. They're one handed tools designed to be used for specific tasks. There's a lot more variety in tomahawk design based on how you intend to use it.
Throwing tomahawks in particular need to be very lightweight and exceptionally well balance. A heavy use survival tomahawk or combat use one will need to be much sturdier and heavier.
Make sure you think about how you plan to use your tomahawk when looking at its weight. Heavier tomahawks are stronger and more durable but will tire you out much faster than lighter ones.
Types of Tomahawks
Tactical Tomahawk – This is what you probably think of when you picture a modern tomahawk. It's ruggedly built out of composite materials with a full tang running down the handle. Tactical tomahawks are made to combine the old school military purposes of a tomahawk with the useful features of an axe.
They're sturdy, have a nice broad head, and generally have a general purpose spike or hammer on the back.
Throwing Tomahawk – Throwing tomahawks are generally used by enthusiasts and competition axe throwers. Rather than focusing on strength or impact resistance they put effort into perfecting the balance of the tomahawk.
These are generally several inches smaller than a tactical tomahawk and weigh significantly less.The blade is going to be narrower and the spike on the back is there more to balance out the head than actually be used.
Combat Tomahawk – Combat tomahawks, also known as self-defense tomahawks, are designed to be used in battle. While not necessarily practical in this day and age they're definitely still popular.
They generally have a lighter weight design to enable easier use and are designed to look scary. Think jagged spikes, aggressive blade grinds, and blacked out or desert tan handles. Half the battle in a close quarters struggle is convincing your potential enemy to give up or run away after all.
At a Glance: Our Top 14 Best Tactical Tomahawk
Top Tactical Tomahawks Video
FAQ: Best Tactical Tomahawks
As a camping, hiking, and survival enthusiast, choosing the right tactical tomahawk can greatly enhance your outdoor experience. However, with the wide range of options available, it's natural to have questions about these versatile tools. In this Frequently Asked Questions (FAQ) section, we address common inquiries to help you make an informed decision when selecting the best tactical tomahawk for your needs.
We delve into the definition and benefits of tactical tomahawks, as well as key factors to consider when making a purchase. We also explore the applicability of tactical tomahawks for self-defense and the suitability of these tools for beginners. In addition, we provide guidance on how to properly maintain and care for your tactical tomahawk to ensure its longevity and performance.
Furthermore, we touch upon the legal aspects of carrying tactical tomahawks in public, emphasizing the importance of understanding local regulations and seeking appropriate legal advice.
Whether you're a seasoned outdoor enthusiast or a novice adventurer, this FAQ section aims to address your questions and equip you with the knowledge needed to choose the right tactical tomahawk for your camping, hiking, and survival endeavors.
Please note that while we strive to provide helpful information, this FAQ section does not substitute for professional advice. It is always prudent to consult with local authorities, legal professionals, and the manufacturers of specific tomahawks for comprehensive and up-to-date guidance.
Now, let's dive into the frequently asked questions about the best tactical tomahawks!
What is a tactical tomahawk?
A tactical tomahawk is a versatile hand tool that combines the features of a traditional tomahawk with modern tactical elements. It typically features a sharp axe head on one side and a sturdy spike or hammer head on the other. Tactical tomahawks are designed to be multi-functional, serving purposes such as chopping, breaching, self-defense, and survival tasks.
What are the benefits of using a tactical tomahawk?
Tactical tomahawks offer several advantages for camping, hiking, and survival activities. They provide a compact and lightweight tool that can perform tasks like chopping wood, hammering tent stakes, opening crates, and breaking glass. Their versatility makes them useful for self-defense and emergency situations, while their portability makes them ideal for outdoor enthusiasts.
What should I consider when choosing a tactical tomahawk?
When selecting a tactical tomahawk, there are a few factors to consider:
Purpose: Determine your intended use. Are you primarily using it for camping, hiking, survival, or self-defense?
Materials: Look for tomahawks made of high-quality materials such as carbon steel or stainless steel for durability.
Design: Consider the shape and size of the axe head, spike, and handle to ensure they meet your specific needs.
Weight and Size: Choose a tomahawk that is lightweight and easy to carry, but still robust enough to handle your intended tasks.
Handle Grip: Look for a comfortable grip that provides a secure hold, especially in wet or cold conditions.
Can I use a tactical tomahawk for self-defense?
Yes, tactical tomahawks can be used for self-defense. Their sharp axe heads and sturdy spikes make them effective tools for deterring or defending against threats in close-quarters situations. However, it's important to note that self-defense laws vary by jurisdiction, so it's crucial to familiarize yourself with the laws in your area before considering using a tomahawk for self-defense.
Are tactical tomahawks suitable for beginners?
Tactical tomahawks can be suitable for beginners, depending on the specific model and their prior experience. It's recommended that beginners start with a tomahawk that is lightweight, well-balanced, and easy to handle. Additionally, beginners should take the time to learn proper techniques and safety precautions when using a tomahawk, including maintaining a secure grip and avoiding any reckless or dangerous swings.
How should I maintain and care for my tactical tomahawk?
To ensure the longevity and performance of your tactical tomahawk, it's important to take proper care of it. Here are some maintenance tips:
Cleaning: Regularly clean the blade and handle using a mild detergent and warm water. Dry it thoroughly to prevent rust.
Sharpening: Keep the blade sharp by using a suitable sharpening tool, following the manufacturer's recommendations.
Oil and Lubrication: Apply a thin coat of oil or lubricant to prevent corrosion and keep the moving parts smooth.
Storage: Store your tomahawk in a cool, dry place to avoid moisture damage. Consider using a protective cover or sheath to prevent accidental cuts or damage.
Remember to always follow the manufacturer's instructions and guidelines for maintenance and care specific to your tactical tomahawk.
Are tactical tomahawks legal to carry in public?
Laws regarding the carrying of tactical tomahawks in public vary by jurisdiction. Some places may classify them as weapons and restrict their public carrying, while others may allow them as tools for outdoor activities. It's essential to research and understand the local laws and regulations regarding the possession and carrying of tomahawks before taking them outside your property.
Note: The information provided in this FAQ section is intended for general guidance only. It is not legal advice, and it is advisable to consult local authorities or legal professionals for specific legal requirements in your area.
Final Thoughts
If you're considering purchasing a tactical tomahawk make sure you know what you're getting.
They're undeniably cool but we have to admit that they aren't the most practical axe variety out there.
In just about every category there's another axe style that's more effective. Where they really shine is in how versatile they are.
Show me another axe that is pretty good as a chopping, splitting, breaking, breaching, and puncturing tool. You're not going to find one.
As long as you consider the tips we outlined above and buy from a quality manufacturer you're sure to end up with a tomahawk you'll love using for years to come.