Outdoorsman Toolkit is reader-supported. When you buy through links on our site, we may earn an affiliate commission.
Learn more
As human beings we're severely limited without our hands. In a tactical situation, protecting your hands from damage can be the difference between life or death. Even when just out shooting or working with your buddies accidents can happen. One great way to protect your hands is by using the proper tactical gloves. To help you out with this problem we've put together a list of the best tactical gloves on the market today.
Tactical gloves have a few broad categories and a lot of different uses. Shooting sports enthusiasts, military and law enforcement personnel, and even paintball guys can all benefit from the protection they provide.
Unfortunately, this wide use case means different gloves are optimized for specific uses. Today we created this list of the best tactical gloves to help you find the pair perfect for your needs.

Mechanix Wear MultiCam M-Pact Tactical Gloves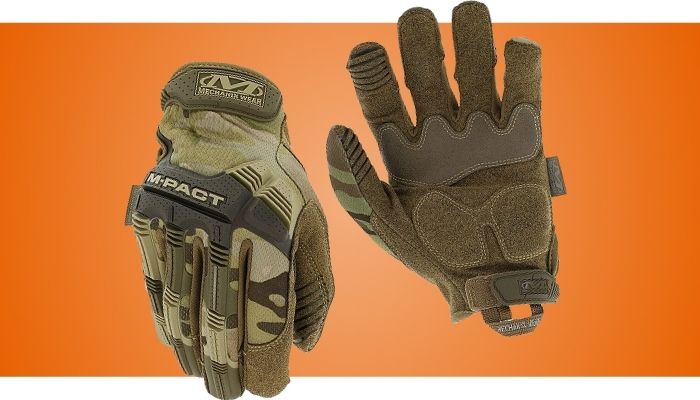 Having always had an affinity for outdoor activities, be it hiking through the wilderness or setting up camp under the stars, I have come to value the importance of durable gear. My latest addition has been the Mechanix Wear MultiCam M-Pact Tactical Gloves, and they have seamlessly found their place amid my rugged adventures.
Upon the first inspection, the quality of these gloves struck me. The patented TrekDry fabric coupled with thermoplastic elastomer (TPE) knuckle padding not only promised a robust structure but also a comfortable fit. Slipping them on, the hook and loop closure snuggled around my wrists comfortably. The TPE incorporation did an excellent job in offering good impact resistance which came in handy during my various tool-handling tasks around the RV and campsite.
The tactile feedback these gloves provided was remarkable. Despite the protective padding, I was able to maintain a good grip on my camping gear and tools. However, the lack of touchscreen compatibility was a minor setback, but given the range of activities I engage in, it was an acceptable trade-off.
The Mechanix Wear M-Pact gloves housed a bunch of useful features especially in the palms which were made from flexible synthetic leather. The D30 palm padding did wonders in reducing vibration, a feature I tested while chopping wood for the campfire.
The aesthetics of these gloves were on point as well. The MultiCam design blended well with my outdoor gear, and the absence of the hard knuckle cover, which I've always found to be an eyesore in other gloves, was a pleasant change. Moreover, the soft rubber protector on the knuckles provided adequate protection without compromising on the look or feel.
One aspect where these gloves fell a bit short was in providing warmth during the chilly nights. They were not exactly cut out for cold weather, but a pair of Under Armour Liners I paired up with them did the trick.
Price-wise, snagging these for $25 was a steal, especially when I realized that they are priced higher on their official website. Their performance and durability over the past month of rigorous use have been commendable. They held up well against the rough terrains and demanding tasks, standing true to the testimonials of their longevity even in more professional settings like the military or agricultural work.
The gloves added barely any weight to my gear, and they were not bulky, which is a common issue I've faced with other gloves. The snug fit (I went for a medium, and it was a perfect choice) ensured that they felt like an extension of my hands rather than an obstruction.
On a recent weekend escapade, I decided to test the Mechanix Wear M-Pact gloves on a rigorous hiking trail, known for its rocky terrains and dense foliage. As someone who likes to be hands-on, whether it's moving aside obstructing branches or steadying myself on rocky paths, I found these gloves to be extraordinarily resilient. The synthetic leather palms provided a dependable grip as I navigated through uneven terrains, and the TPE knuckle padding proved its mettle when I accidentally brushed against a rocky surface. The breathability of the fabric was a boon as the day warmed up, keeping my hands comfortable throughout the journey.
As the sun dipped below the horizon, the camping chores kicked in. The gloves transitioned seamlessly from the rough trails to the campsite, aiding in collecting firewood, setting up tents, and handling various tools for minor fixes on my RV. Despite the extensive use, I noticed no signs of wear or tear. As the night descended and the temperatures dropped, I slipped on some liner gloves underneath for additional warmth, and it worked like a charm.
The Mechanix Wear M-Pact gloves not only protected my hands but also added a touch of ease to my outdoor chores. The comfort, the snug fit, and the way they effortlessly blended with my active outdoor lifestyle made them an invaluable addition to my gear. And while seated around the campfire, reminiscing about the day's adventure, I couldn't help but appreciate the sturdy protection they offered, which allowed me to immerse fully in the wilderness experience.
In conclusion, the Mechanix Wear M-Pact Tactical Gloves have proven to be a reliable companion for my outdoor exploits. Their balance of protection, dexterity, and comfort, all bundled in a stylish design, has made them a staple in my outdoor gear. Whether it's handling rough surfaces, fixing motors, or simply gathering around the campfire, these gloves have risen to the occasion. Their minor shortcomings are easily overshadowed by the array of benefits they offer, making them a worthy investment for any outdoor enthusiast like myself.
Pros:
Durability: Stands up well to rough usage and demanding tasks, making them a long-term investment for outdoor enthusiasts.
Comfort: The patented TrekDry fabric and the flexible synthetic leather in the palms ensure a comfortable wear throughout the day.
Protection: The thermoplastic elastomer (TPE) knuckle padding and D30 palm padding offer good impact resistance, safeguarding hands from potential injuries.
Aesthetics: The MultiCam design is stylish, and the absence of a hard knuckle cover maintains a sleek look.
Tactile Feedback: Despite the protective features, these gloves provide good tactile feedback which is essential when handling tools or navigating through challenging terrains.
Price: Reasonably priced at $25, especially when compared to similar gloves in the market.
Cons:
Touchscreen Incompatibility: Lack of touchscreen compatibility could be a drawback in today's digital age.
Warmth: Not ideal for cold weather, requiring an additional pair of liner gloves for warmth during chilly days or nights.
Size Sensitivity: Finding the right size is crucial for ensuring the snug fit and tactile feel, which might take some trial and error.
Break-in Period: There might be a break-in period before they fit as comfortably, especially if one opts for the Mechanix Genuine Leather M-Pact model for more rugged work.
FREETOO Tactical Gloves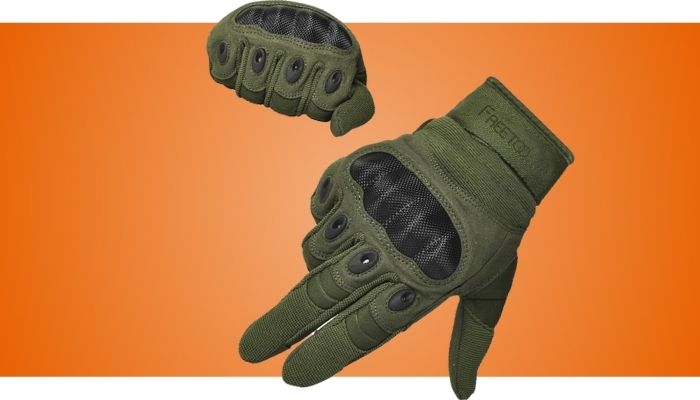 These FREETOO tactical gloves are made using a combination of micro fiber and synthetic suede. They're designed to be breathable and comfortable to wear while still providing extensive protection.
The palm is reinforced with grip improving dual layer synthetic leather and the knuckles are protected by thickened fabric. This gives you basic impact resistance while maintaining your full range of motion.
Each finger has a small ventilation hole located on it. This helps your hands stay cool throughout the day. The Velcro wrist strap lets you adjust the fit and tightness to whatever your needs are at the moment.
The FREETOO tactical gloves are available in full finger or fingerless varieties. They're reasonably priced and hold up well to regular use.

Mechanix Wear Original Covert Tactical Gloves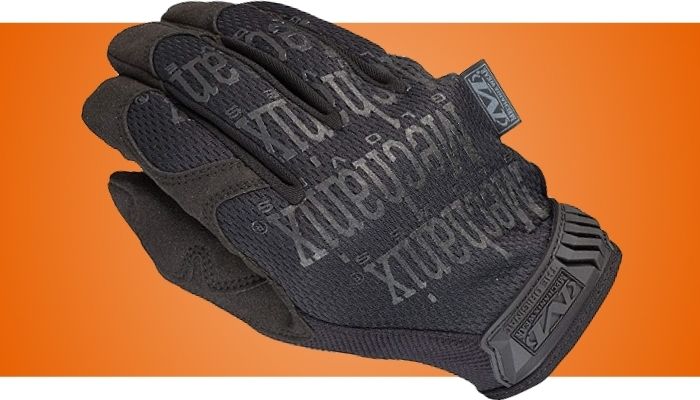 The Mechanix Wear original are the tactical gloves that started it all for the company. They're made from the company's signature Trek Dry fabric to keep your hands comfortable and dry throughout use.
These are about as basic as tactical gloves can get. They don't have any added knuckle protections but do give your hands a good deal of protection from things like hot gun barrels or abrasions. The palms are made from microfiber to give you durability and added grip.
If you're looking for a great pair of basic and inexpensive tactical gloves the Mechanix Wear Originals are a great choice.

Oakley Mens Factory Pilot Glove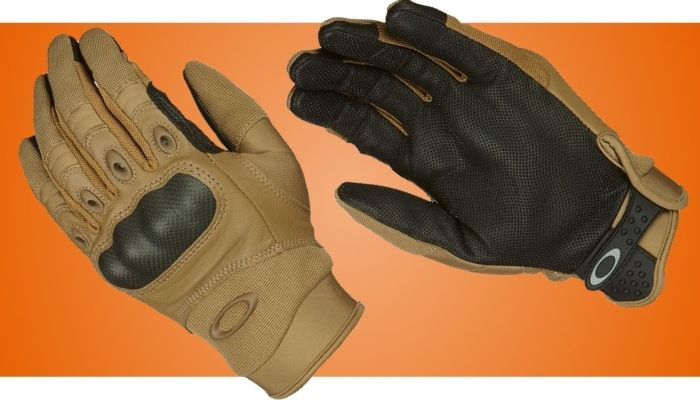 Oakley is better known for their sunglasses than their apparel but the Mens Factory Pilot gloves hold up. They're built with a combination of nylon upper fabric and soft leather palm materials.
The knuckles are reinforced with an impact resistant material and there are small ventilation ports on each finger. These keep your hands safe from impacts and help reduce sweaty palms in hot climates.
Oakley coated the fingers and other contact points with their signature Unobtainium treatment. This gives you greatly increased grip without making the palms feel rubbery.
The Oakley Mens Factory Pilot tactical gloves are well made and durable. They incorporate all the standard features you expect in tactical gloves but do cost above the average price.

PIG Full Dexterity Tactical Alpha Gloves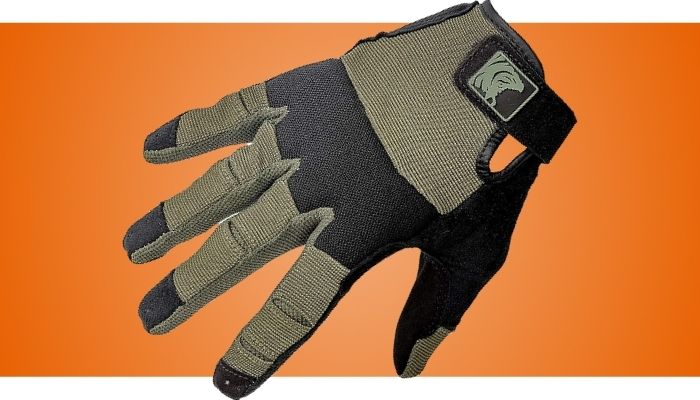 The PIG Full Dexterity Tactical Alpha Gloves are the tactical gloves you'll forget you're wearing. They're designed to be as low profile and unobtrusive as possible.
With this in mind they forgo the bulky fabrics and rigidized knuckle guards most other gloves incorporate. They're optimized specifically for high speed shooting sports or tactical operators who prioritize response time.
A really surprising fact is that durability isn't greatly reduced by these design choices. PIG strategically reinforced the most vital parts of the glove to improve protection without impacting dexterity and freedom of movement.
They're so light and thin the manufacturer claims you can even tie your shoelaces easily. One feature we really like is the touchscreen friendly finger pads. Being able to use your phone while wearing tactical gloves is a great extra.
If you're a shooting sports enthusiast looking for lightweight tactical gloves that won't interfere with your trigger time the PIG Full Dexterity Tactical Alpha Gloves are perfect for you.

Oakley Mens Factory Lite Tactical Glove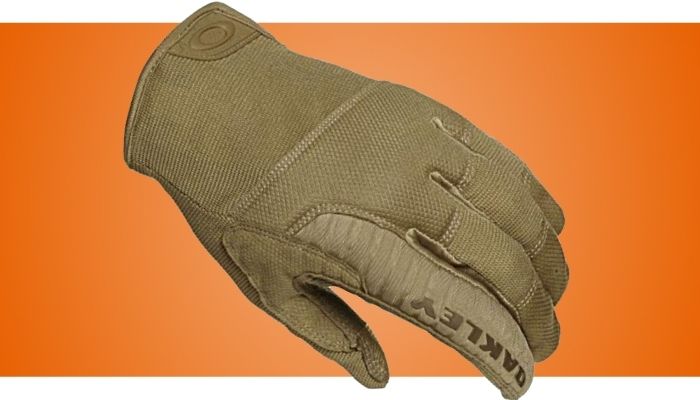 The lightweight cousins of the Oakley Pilots, the Mens Factory Lite tactical gloves are made to provide maximum dexterity. They lack the knuckle protection and some of the thickness of their larger cousins but are still excellent quality gloves.
They're made from a polyester back with ventilation points and a suede palm for excellent grip. The thumb is reinforced with an extra panel to help protect it from the slide or hammer of your handgun.
The Oakley Mens Factory Lite tactical gloves are an excellent choice if you like the Pilot's but need a little more finger control.

Outdoor Research Halberd Gloves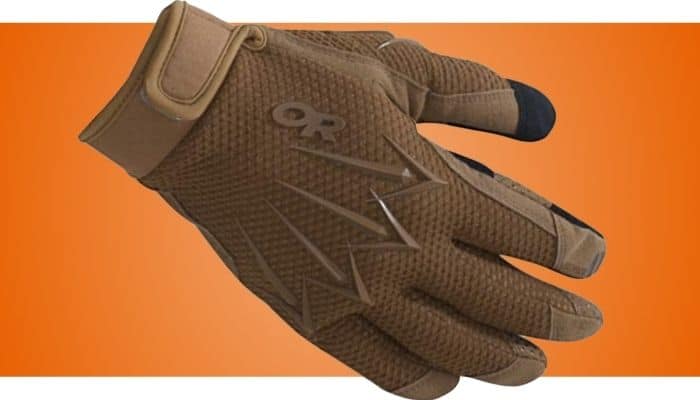 The Outdoor Research Halberd Gloves are designed for use in high intensity outdoor sports. They're made from a stretchy polyester shell with a perforated suede palm.
This combines excellent grip and abrasion resistance with all day comfort. There are also small dabs of silicone placed strategically on the palm to maximize your ability to grip surfaces securely.
The knuckles have limited impact protection in a very cool 4 part arrow design. They seal up with a hook and loop closure and give you a comfortable fit without compromising protective capability.
The Outdoor Research Halberd Gloves aren't ideal for shooting sports or military use. If you're planning to do any major outdoor adventure or go for some climbing though they're the best choice.

Hatch Specialist All-Weather Shooting Gloves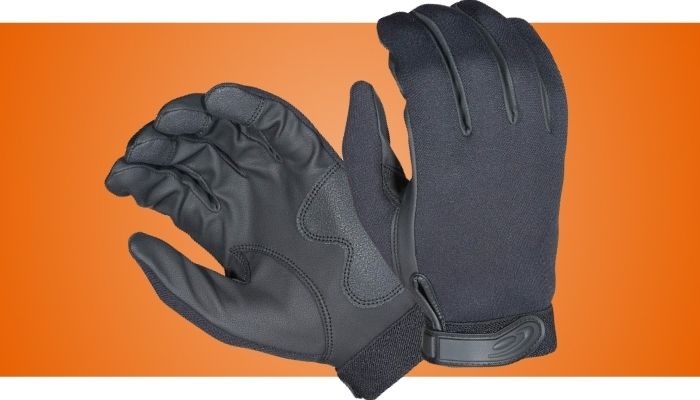 The Hatch Specialist All-Weather shooting gloves are built to maximize control and dexterity while shooting handguns. They're made from weather resistant neoprene with a synthetic suede palm.
Neoprene is widely used in wet suits and other water focused gear and provides great comfort and water resistance. It's also perfect for wicking away sweat in the summer and keeping your hands warm through the end of fall.
The palm of the Hatch glove is reinforced with several Extreme-Grip attachment points to increase your grip in all situations. This prevents stiffening of the fingers from substantial protection measures but still keeps your hands safe while shooting.
The Hatch Specialists are made for shooting sport and law enforcement use. They lack some of the heavy duty impact protection measures of other gloves but still provide a great value for your money.

5.11 Competition Shooting Tactical Glove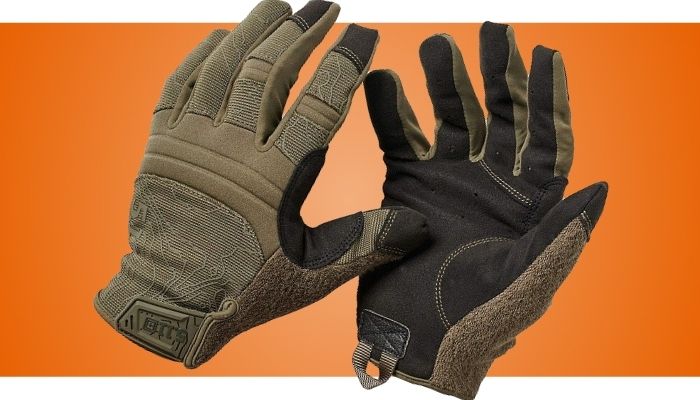 These 5.11 Tactical gloves are built with the competitive shooter in mind. They're primarily made from nylon spandex with several other reinforcing materials mixed in.
The first thing you'll notice is the accordion joint knuckles. These are made from neoprene patches and serve to both reinforce the knuckles and improve dexterity.
The palm is made from synthetic suede with a few grip improving add ins. The hook and loop closure is reinforced with TPE backing to help protect your wrists from impacts.
All of this equals tactical gloves that provide good levels of protection without reducing your dexterity noticeable. This is essential for competitive shooters in handgun and three gun sports.

PIG Full Dexterity Tactical Delta Gloves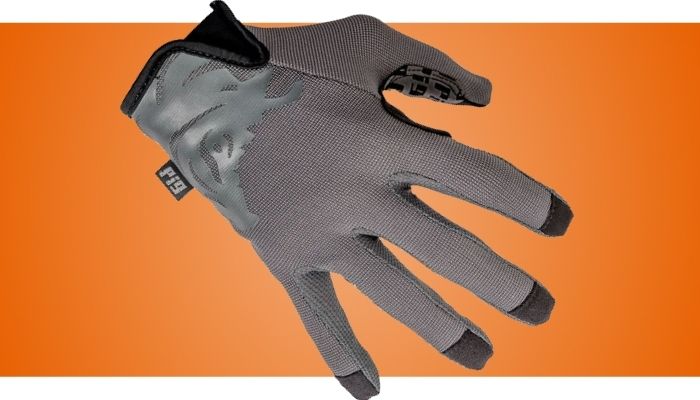 The PIG Full Dexterity Tactical Delta Gloves are a low cost alternative to the companies other products. They combine all the most popular features without breaking the bank.
They're made with single layer silicone printed palms to give the greatest dexterity possible. These gloves were designed as an effective utility version of the company's other top of the line gloves.
The FDT gloves are touchscreen compliant and use fold over construction on the fingers to improve finger speed and freedom of movement. The wrist is lined with neoprene for a perfect fit and can be loosened or tightened with a paracord pull.
These are quality gloves for target shooting and other sporting needs. The only downside to the PIG Delta's is that the high dexterity design can reduce durability.

VIKTOS Longshot Full Coverage Tactical Glove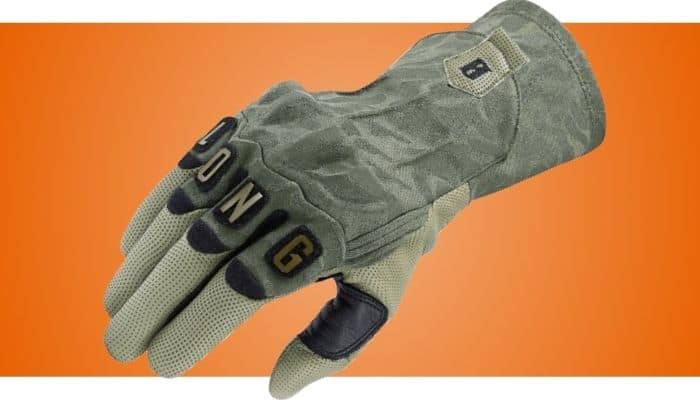 The VIKTOS Longshot tactical gloves are ultra rugged gloves built with all the bells and whistles. They incorporate a vented backing, goatskin palm, and high-end polymer knuckle guards.
The design of the gloves incorporates tactical seaming. This gives you added dexterity without reducing the durability of the gloves. One really cool feature is the included MORALPHABET system. This allows you to attach letters or other symbols to your knuckles before you go out on patrol.
The DigiHide goatskin palm is soft to the touch but able to stand up to heavy use. The fingers have been stitched with conductive thread to allow you to use your touchscreen devices.
The VIKTOS Longshot's are excellent and highly durable tactical gloves. They're great for the discerning operator or SWAT cop but might be overkill for the average guy or gal.
Buyer's guide to buying the best tactical gloves
When picking out the best tactical gloves there are several things you need to consider. By far the most important is how you intend to use the gloves and what your budget is.
Beyond that there are a number of secondary considerations.
Price
Tactical gloves aren't particularly expensive. You can get a good pair for around $20 or splurge on a really decked out set for $75-$100. Most of the features you'll get with the more expensive gloves won't really be needed for most general purposes though.
Identify your needs
There are a lot of different tactical gloves out there. They range from thin mechanics style gloves all the way up to high-tech armored gauntlets designed for combat.
Military and Law Enforcement – The original intended users of tactical gloves, military and law enforcement personnel often find themselves in situations where hand protection is essential.
These gloves need to provide maximum protection without inhibiting reaction time or your trigger finger. Most will have knuckle padding to protect your fingers from sudden impacts and additional grip material on the palms.
Shooting Sports – Anyone who's familiar with target shooting or modern shooting sports know that guns can get really hot. They also have a tendency to pinch and rub against your palms and fingers.
Gloves for shooting sports generally offer thermal protection but lack the significant padding of military tactical gloves. Simply put, you're a lot less likely to need to dive for cover at your local shooting range.
Airsoft and Paintball – Airsoft and paintball have exploded in popularity in recent decades and so has the necessary equipment to do it right. Paintball especially can be extremely painful if proper protective gear isn't warn.
A big part of that is tactical gloves to protect from the impact of the balls or airsoft BBs. These gloves are usually well padded on the outside to protect from stray shots with extra grip material on the inside.
Preparedness – Those in the preparedness community like to be ready for just about anything. Tactical gloves for preppers follow the same jack of all trades ethos.
Many go straight for the hardened military style gloves. Others choose to stock up on softer gloves meant more to protect against temperature and abrasions.
Buying the right size
Just about every tactical glove out there is built to a standard sizing system. To find out your size wrap a tape measure around your hand at the widest point. This is generally on your knuckles. Make a loose fist and mark down the size of your hand.
In the US this system starts at about 6 inches for extra small and goes up to 12 inches for XXX-large.
Material and Durability
There's no single material that makes for the best tactical gloves. Traditionally leather and canvas were used for durability but a number of synthetic fabrics and polymers are now incorporated.
A good rule of thumb, unfortunately, is that the softer and more comfortable the gloves are to wear the shorter their expected lifespan.
Knuckle Padding
Many tactical gloves you see have a pronounced bulge or plastic padding on the knuckles. This serves to protect your hands and knuckles from impacts.
These can be either with the ground or in a hand to hand combat situation. One important factor to keep in mind is that semi or totally rigid knuckle padding will have the biggest impact on dexterity.
Color Pattern / Camouflage
With most manufacturers you'll have several different colors and patterns to choose from. All of them will have a black and desert tan variety but many also offer things like ACU, BDU, MARPAT and other military standard camouflage patterns.
Extra Features
Beyond the basic protective and functional features of tactical gloves there are several extras you can choose from. These mostly focus on specific use cases or environmental factors.
Weatherproofing – As it stands it's not possible to make truly waterproof gloves. If you're in wet enough conditions eventually the water will get through. That being said, many manufacturers offer either oiled or naturally water and weather resistant gloves that resist water penetration.
Some will also include insulation for use in cold weather climates.
Cut Resistant – A really great feature for any tactical gloves is cut and knife resistance. Attempting to resist an attack by a knife wielding attacker barehanded is a recipe for disaster.
Just about any tactical glove will give you a little bit of protection but some go way beyond that. These have special puncture and slice resistant linings or things like kevlar strands. This gives you robust protection against every determined slicing.
Flame Resistant – Depending on where and how you intend to use your tactical gloves flame resistance can be a huge benefit. The last thing you want is cheaper plastic gloves melting onto your hands.
Most flame resistant or retardant gloves use NOMEX. It's made using spun aramid fibers and can resistant burning for several minutes.
Comfort and Dexterity
Comfort usually takes a back seat to utility with tactical products. For tactical gloves though it's essential you have a mix of useful features and all day comfort.
Another major consideration is your range of motion and dexterity. The most protective tactical gloves available won't be worth much if they prevent you from performing basic tasks.
Top Tactical Gloves Video
FAQ – Best Tactical Gloves
When it comes to camping, having the right gear is essential to ensure a safe and enjoyable outdoor experience. One crucial piece of equipment that often gets overlooked is a reliable pair of tactical gloves. These gloves offer more than just protection for your hands—they provide durability, enhanced grip, and versatility for various camping activities.
As we understand that you may have questions about tactical gloves and their suitability for camping, we have compiled a list of frequently asked questions to help you make an informed decision. Whether you're a seasoned camper or new to the outdoor adventure scene, this FAQ section aims to address common queries and provide the information you need to choose the best tactical gloves for your camping needs.
From understanding what tactical gloves are and their benefits to finding the right size and caring for them, we've got you covered. We'll also explore their usability in different weather conditions, touchscreen compatibility, and additional features such as cut-resistance and waterproofing.
Read on to discover answers to your burning questions and gain valuable insights into the world of tactical gloves. Remember, selecting the right pair of gloves can significantly enhance your camping experience by providing superior hand protection, grip, and functionality in various outdoor scenarios.
Note: If you can't find the answers you're looking for in this section, feel free to reach out to our camping experts or refer to the specific product pages for more details. Let's dive into the frequently asked questions about the best tactical gloves for camping!
What are tactical gloves?
Tactical gloves are specially designed gloves that offer protection, durability, and enhanced grip for various outdoor activities, including camping, hiking, hunting, and military operations. These gloves are typically made with rugged materials and feature reinforced knuckles and palms for added protection.
Why should I use tactical gloves for camping?
Tactical gloves are highly recommended for camping due to their numerous benefits. They provide excellent hand protection against rough terrain, sharp objects, and extreme weather conditions. Additionally, the enhanced grip offered by tactical gloves ensures better control when handling tools, ropes, or other equipment during camping activities.
Are tactical gloves suitable for all seasons?
Yes, tactical gloves are available in different designs to cater to various weather conditions. You can find tactical gloves specifically designed for cold weather, featuring insulation and thermal properties to keep your hands warm. Similarly, there are lightweight and breathable tactical gloves for hot and humid climates, ensuring comfort and preventing excessive sweating.
Can tactical gloves be used for other outdoor activities besides camping?
Absolutely! Tactical gloves are versatile and can be used for various outdoor activities. They are popular among hikers, hunters, climbers, and anyone engaging in rugged outdoor adventures. Additionally, they are often used by law enforcement and military personnel due to their superior protection and grip capabilities.
How do I choose the right size of tactical gloves?
To ensure a proper fit, it's essential to measure your hand size accurately. Most tactical glove manufacturers provide sizing charts that indicate the hand circumference and length associated with each size. Measure your dominant hand around the knuckles and compare the measurements to the sizing chart provided by the manufacturer to determine the appropriate size for you.
Are tactical gloves machine washable?
While some tactical gloves may be machine washable, it is generally recommended to follow the care instructions provided by the manufacturer. Some gloves may require hand washing or spot cleaning to maintain their durability and functionality. Always refer to the specific care instructions to keep your tactical gloves in the best condition.
Can I use touchscreen devices while wearing tactical gloves?
Many tactical gloves now feature touchscreen compatibility, allowing you to use smartphones, tablets, or GPS devices without removing your gloves. Look for gloves with touchscreen-compatible fingertips or conductive materials integrated into the design for seamless touchscreen operation.
Are tactical gloves cut-resistant?
Certain tactical gloves are designed to be cut-resistant, offering an additional layer of protection against sharp objects or blades. Look for gloves constructed with cut-resistant materials, such as Kevlar, to ensure enhanced safety when dealing with potentially hazardous objects during camping or other outdoor activities.
Can tactical gloves be used in wet conditions?
Yes, there are tactical gloves available that are specifically designed for wet conditions. These gloves are often made with waterproof or water-resistant materials, such as neoprene or synthetic leather with waterproof coatings. They provide excellent grip and dexterity even when wet, making them suitable for camping in rainy or humid environments.
How much should I expect to spend on tactical gloves?
The price of tactical gloves can vary depending on factors such as brand, materials used, and additional features. Generally, you can find a decent pair of tactical gloves for camping within the range of $20 to $50. However, premium or specialized gloves may cost upwards of $100. Consider your specific needs and budget when selecting the right tactical gloves for your camping adventures.
Remember to tailor the FAQ section to fit the context of your camping website and include any additional questions that may be relevant to your readers.
Final Thoughts
It's a good idea to look at tactical gloves as a consumable item. Their position on your hands means they come into contact with everything they touch.
For most people that's okay, after all, we aren't all engaging in firefights or shootouts.
By carefully considering how you plan to use your gloves you can find the feature set that perfectly matches your needs.