Top 3 Best Tent Footprints
ALPS Mountaineering Lynx 1 Person Tent Floor Saver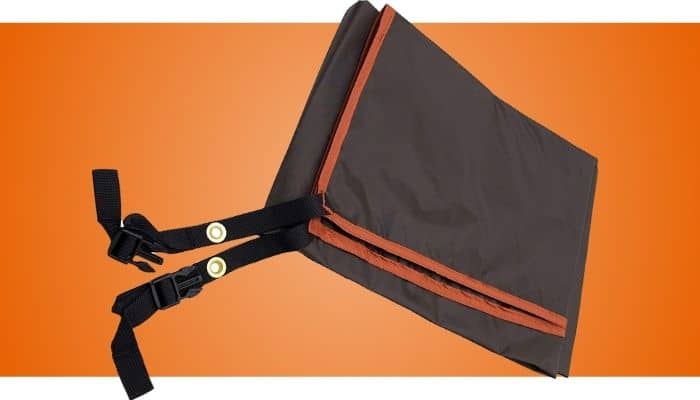 Meticulous design and practicality
Abrasion-resistant polyester material
Lightweight at 0.4 lbs
Compact size when folded (4.5″ x 7.5″ with a 1.25″ profile)
Smooth alignment with webbing straps, metal grommets, and corner loops
Cut slightly smaller than the tent to prevent water ingress
Slumberjack Daybreak Tent Footprint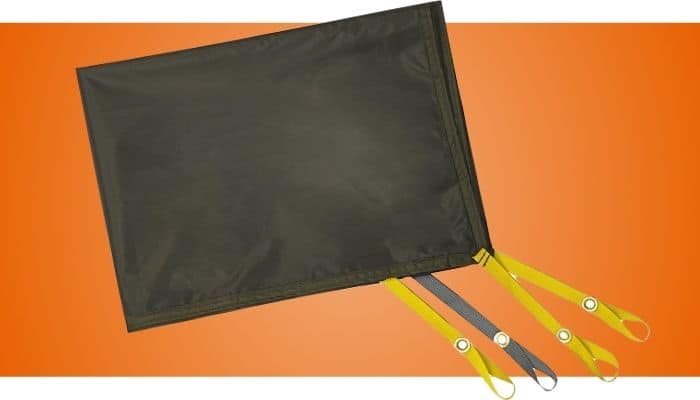 Accommodates a variety of tent sizes (2 to 6 person models)
Accommodates a variety of tent sizes (2 to 6 person models)
Four grommets mounted on web straps
Highly resistant to tears or abrasions
Lightweight and foldable
Comes with its own carry sack
Easy to clean
Kelty Outfitter Pro 2 Footprint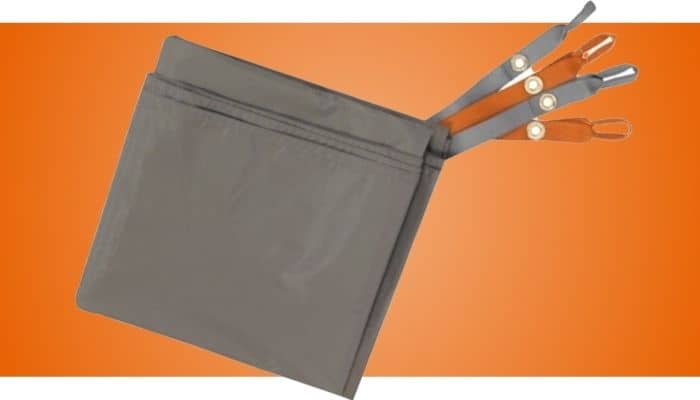 Designed specifically for the Kelty Outfitter Pro 2 tent
Made from PU coated 210D nylon oxford
Slightly smaller size than the tent to prevent rainwater ingress
Lightweight at 15 oz
Compact and easy to pack
Straps align perfectly with those on the tent for a snug fit
Outdoorsman Toolkit is reader-supported. When you buy through links on our site, we may earn an affiliate commission.
Learn more
One of the most important roles of a tent is keeping you dry in the great outdoors. Unfortunately the great outdoors rarely offers flat, clear campsites for you to set up in. A quality tent footprint provides a layer of protection between your tent bottom and the rocks, twigs, and rough ground below. Today we'll be covering the best tent footprints to help you pick out the one that fits your needs most effectively.
What is a Tent Footprint and what are the Benefits
A tent footprint, also commonly known as a groundcover or ground tarp, is a fitted piece of fabric designed to be placed on the ground before a tent. It helps keep the floor of your tent from tearing or abrading on the ground.
This is especially beneficial if you're using a more expensive tent such as an ultralight hiking tent. Tent footprints are far less expensive than high-quality tents and a lot easier to replace when they wear out.
Some tent footprints also double as general use camping tarps. They can be used as picnic blankets, beach groundcover, or to keep the sun off you.
Best Tent Footprint Reviews
The best tent footprints provide a solid layer of protection between your tent and the ground. They're made from durable and water resistant materials, and pack down to a very portable size.
We picked out some of the best tent footprints across a range of styles, sizes, and price points to help you find the best one for your specific needs.
ALPS Mountaineering Lynx 1 Person Tent Floor Saver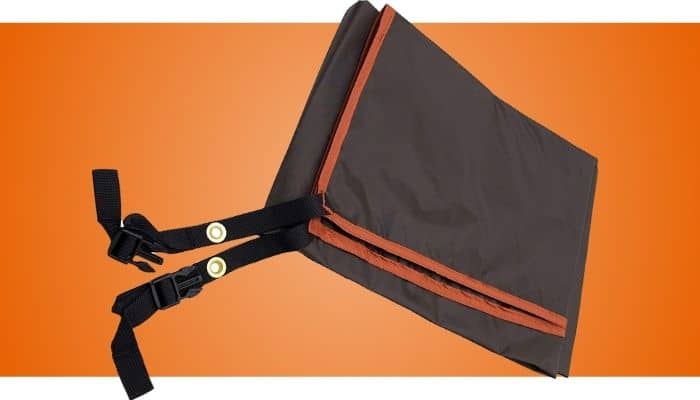 Navigating through the beautiful terrains of Mt. Mitchell, NC, with my trusty ALPS Mountaineering Lynx 1-Person Tent and its companion, the Floor Saver, I was reminded once again why investing in reliable camping gear is paramount. Engaging with nature often brings unforeseen challenges, and for someone like me who is infatuated with the outdoors, the Floor Saver has promptly become an inseparable part of my adventures.
What resonates with me the most about the ALPS Mountaineering Tent Floor Saver is its meticulous design and practicality. Crafted from abrasion-resistant polyester, this lightweight guard shielded my tent from the hostile underbelly of the wild – rogue twigs, unkind rocks, and the merciless ground. The Floor Saver, just about 0.4 lbs, easily folded into a compact 4.5″ x 7.5″ with a slim 1.25″ profile, seamlessly sliding into my tent bag without the need for its original drawstring bag.
Alignment was smooth, with webbing straps, metal grommets, and corner loops fitting in harmoniously with my Lynx tent, making the setup almost intuitive. I appreciated how the Floor Saver is cut slightly smaller than the tent, a thoughtful touch to prevent water from sneaking underneath. Even amidst the mountain's mood swings and unexpected rainy nights, I found solace under my tent, knowing the floor beneath me was safeguarded.
However, as much as I appreciate its assets, my adventures with the Floor Saver were not without slight disappointments. While it dutifully protected the sleeping area, I found myself wishing for an extension under the tent's vestibule. There were instances during rainfall where a protected spot outside the main tent area would have provided my gear, especially boots and backpack, a dry refuge.
Moreover, echoing the sentiments of fellow adventurers, my Floor Saver arrived without a designated bag. While this isn't a deal-breaker for a seasoned hiker like myself, and admittedly, I was fully prepared to nestle it with my tent regardless, the discrepancy between expectation and reality left a mild blemish on an otherwise impeccable experience. In reflection, a slightly more approachable price tag would have smoothed over this small inconvenience with ease.
Embarking on a solitary trek through the dense, sometimes unforgiving, landscapes of Mt. Mitchell, I recall a particular night where the ALPS Mountaineering Floor Saver truly demonstrated its worth. As dusk fell and the forest hummed with life, I found a seemingly idyllic spot to set up my camp. As someone who embraces every opportunity to meld with the wilderness, the apparent tranquility of the area was deceptive. Beneath the shadowy veil of nightfall, obscured rocks and twisted roots conspired against the sanctity of my tent floor. With practiced hands, I laid down the Floor Saver, its silhouette gently fading into the terrain, providing a silent guard against the unseen assailants below.
That night, a sudden downpour enveloped my encampment, water cascading down the landscape, eagerly seeking any entry point. Ensconced within my Lynx tent, I listened to the rhythmic patter of raindrops above, a serene melody contrasted by the tempest outside. Morning light revealed the aftermath, with evidence of water trails diverted around my shelter, and I was greeted by a dry interior, unscathed by the nocturnal turmoil. That moment solidified my appreciation for the silent protector that is the Floor Saver – an unspoken hero amidst the chaotic beauty of nature.
In essence, the ALPS Mountaineering Floor Saver has proven itself as an invaluable ally against the unpredictability of the wild, ensuring my cherished Lynx tent remains unscathed through numerous escapades. Though it isn't without room for improvement, the assurance it provides me as I lay under the stars, shielded from the rough embrace of the earth, cannot be overstated. My excursions into the wild continue with ALPS accompanying me every step of the way, providing a subtle, yet unyielding barrier between nature's rawness and my haven under the canvas.
Pros:
Durability: Crafted from abrasion-resistant polyester, providing reliable protection from rough terrain.
Lightweight and Compact: Weighs only 0.4 lbs and folds into a manageable size for easy transportation.
Fit: Precisely cut and fitted, with strategic grommets and loops for alignment, making setup straightforward and secure.
Protection: Effectively prevents water from seeping underneath, safeguarding the tent floor throughout the night.
Versatility: Available in multiple sizes, accommodating a wide array of ALPS Mountaineering tents.
Dry Setup Capability: Allows for the rainfly to be set up first, providing a dry environment to set up the rest of the tent during rain.
Cons:
No Vestibule Coverage: Does not extend under the tent's vestibule, leaving gear exposed to the elements.
Price: Some may find the cost a bit steep for what appears to be a straightforward accessory.
Missing Bag: Inconsistent packaging, with some units not arriving with the expected storage bag.
Limited Availability: Primarily designed to fit ALPS tents, limiting its universal applicability for other tent brands.
Slumberjack Daybreak Tent Footprint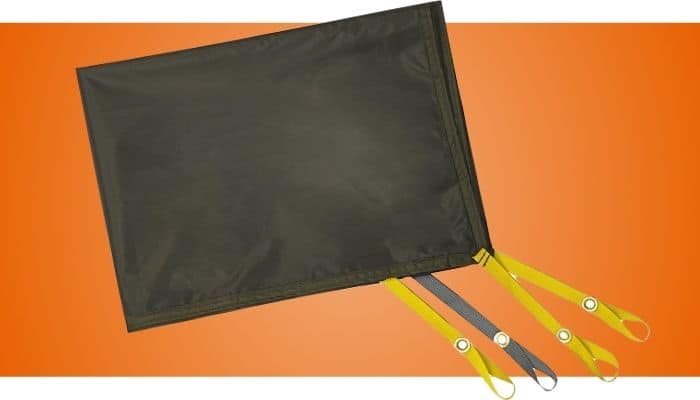 The Slumberjack Daybreak Tent Footprint is designed to accommodate a variety of tent sizes based on your needs. It's available in everything from a 2 person model all the way up to a 6 person one.
It's made from 66D polyester and has four grommets mounted on web straps. This makes the Daybreak both highly resistant to tears or abrasions and lightweight and foldable. The grommets allow you to securely stake it down and provide a more level surface for placing your tent.
The Daybreak comes with its own carry sack and is easy to fold up. Its polyester construction makes cleaning it fast and easy. Just hose it off and lay it out to dry once you get home.
Overall the Slumberjack Daybreak line of tent groundcovers are well designed and very affordable. They come in a variety of sizes and provide excellent footprints for various tents.
Kelty Outfitter Pro 2 Footprint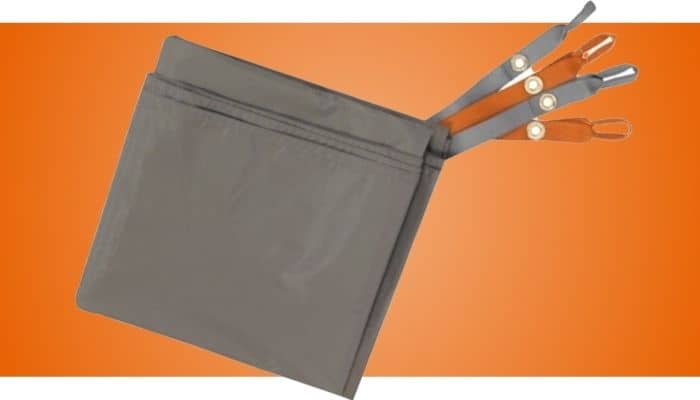 The Kelty Outfitter Pro 2 is designed to provide the perfect groundcover for the Kelty Outfitter Pro 2 tent. It's made from PU coated 210D nylon oxford, a highly durable yet supple and easy to fold performance fabric.
It's sized slightly smaller than the Outfitter Pro 2 tent to help prevent rainwater from getting underneath you while you sleep. It weighs just 15 oz and folds down to a square just a few inches on a side.
This makes it really easy to pack in and out. Because it's fitted for the Outfitter Pro 2 tent the straps fit with those on the tent. It gives you a perfect fit every time.
Mountainsmith Genesee 4P Tent Footprint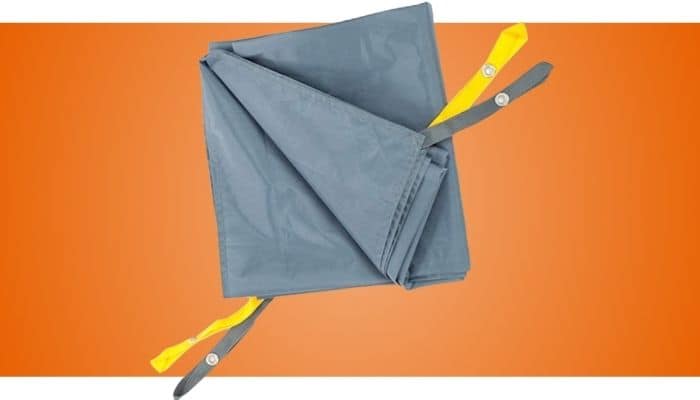 The Mountainsmith Genesee 4P Tent Footprint is perfectly sized to fit your Mountainsmith tent. It's made from 75D polyester with a PU coating, making it lightweight, durable, and highly water resistant.
It weighs 14 oz and also sports a fire retardant coating to keep you safe at night. It attaches to the ground alongside your Genesee 4P tent through webbed straps with reinforced metal grommets.
One of the things we really love about this footprint is the color coding on the straps. It makes it basically impossible to mismatch it with the tent body.
Terra Hiker Camping Tarp Tent Footprint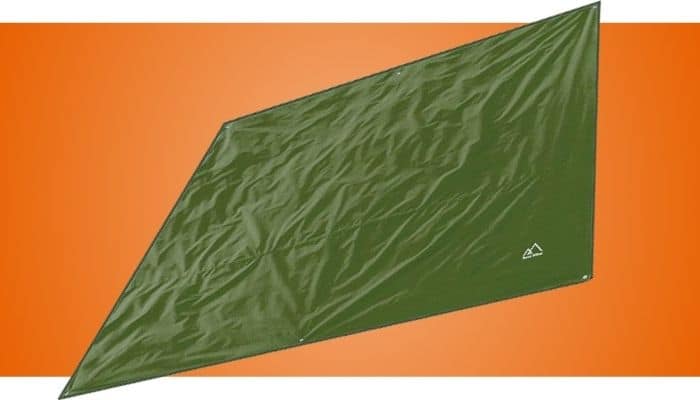 The Terra Hiker Camping Tarp is a multi purpose product that works well as a tent footprint. It's 210D oxford nylon and is available in three different sizes.
It works great under a properly sized tent, but can also function as a groundcover or camping blanket for picnicking, relaxing, or setting up a dry spot on the beach. It's treated with a waterproof coating to prevent any groundwater from seeping up into your tent or onto your clothes.
The Terra Hiker has sealed seam edges to protect from fraying or tearing and has reinforced metal grommets at each corner. This allows you to stake it down for use as a groundcover or suspend it with some cord for a sun cover.
We love how versatile, durable, and inexpensive the Terra Hiker camping tarp is. It's not going to be a perfect fit for every tent but it does a good job for most.
Red Camp Waterproof Camping Footprint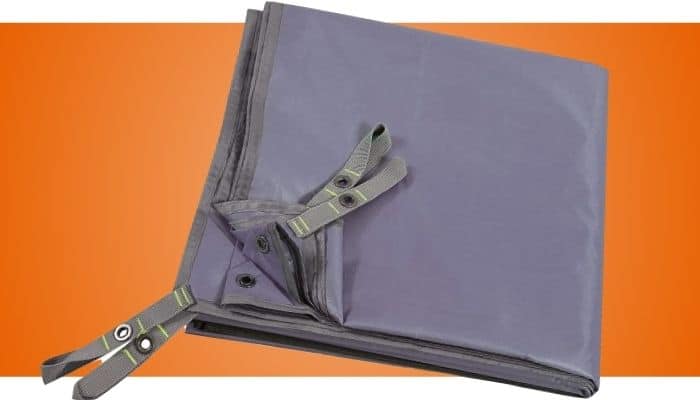 The Red Camp Waterproof Camping Footprint is a general use camping tarp and groundcover. It's made from 210D ripstop oxford nylon with a PU coating to protect against rain and water.
It can be used as a tent footprint, camping blanket, sun cover, and for many other purposes. It folds down to about the size of a book and fits easily into an included drawstring pouch.
To secure it to the ground there are four webbed straps, one on each corner, with a metal grommet at the end. This allows you to stake it down or suspend it in the air as both a rain fly and a sun cover.
You can choose from several different colors and sizes. This allows you to find the perfect fit for your tent.
GeerTop Ultralight Waterproof Tent Tarp Footprint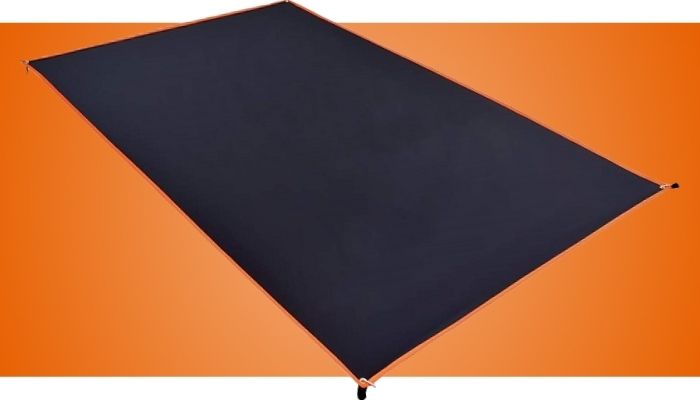 The GeerTop Tent Tarp is an ultralight and waterproof tent footprint. It's made from 20D ripstop nylon with a double waterproofing layer.
It has a primary siliconized coating and an inner silicone oil treatment. This provides excellent waterproofing compared to many other tent footprints. It also makes it very easy to clean when you're done camping.
The GeerTop isn't just a tent footprint. It can be used as a basic groundcover for things like picnics and beach outings or suspended on a cord as a rainfly or sunshade.
It has four metal grommets, one on each corner. The GeerTop folds down into a very small square and slips into an included drawstring pouch.
MSR Universal 2-Person Tent Footprint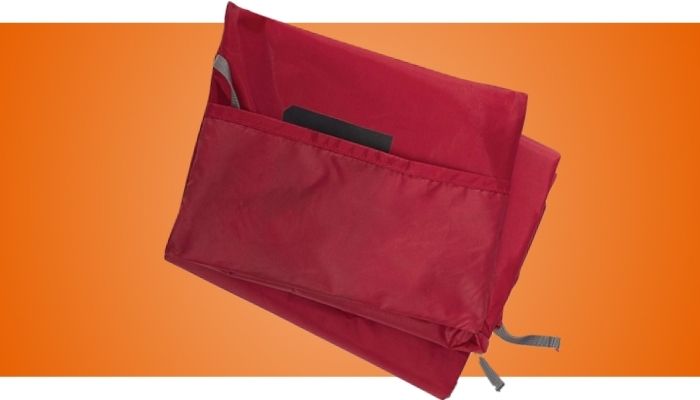 The MSR Universal 2-Person Tent Footprint is a groundcover that works on a number of different tents. It's also available in multiple other sizes.
It's made from durable polyester with a waterproof coating. It has four braided straps that can be staked down or attached to your tent or cover. The whole thing folds down and fits into an included stuff sack.
The 2-person size fits a variety of different 2-person tents from several different manufacturers. If you have a tent without a groundcover this is a good and affordable option.
Buyers Guide to Buying the Best Tent Footprint
Picking out the best tent footprint basically comes down to what type of tent you have and how you intend to use it. Larger tents will obviously need larger groundcovers and hikers will definitely want lighter ones.
Price
Tent footprints aren't usually very expensive. You can get a quality general purpose footprint for around $20 to $40, with ultralight versions a bit more expensive.
The exception to this is if you purchase the custom fitted option from your tent's manufacturer. Depending on the brand you may end up spending as much as $100 just on the footprint.
Durability – Denier
Tent footprints are most commonly made of woven synthetic fibers. Denier is the standard measurement used to show the density and durability of fabrics. A higher denier count gives you a tougher and more resilient footprint.
It does come at a cost though. As denier count goes up so does weight. Choosing the best tent footprint is a balancing act between toughness and portability.
Weight and Portability
Tent footprints need to be light and packable enough to match your style of camping. If you're strictly a car camper you can use something as thick as a heavy-duty tarp. If you're planning to pack your tent footprint in on a hiking trip though it needs to be a whole lot lighter.
Most hiking tent footprints will be well under a pound, with those designed for single person tents as light as a few ounces. There is a tradeoff though. The lighter your tent footprint is the more durability you sacrifice.
Size
The size of your tent footprint is entirely dependent upon the size of your tent. If you buy one specific to your model of tent it will conform exactly to the size and shape of your tent, with many models ending a quarter to half an inch from the edge of the tent.
This keeps them underneath your tent's rain cover and helps prevent water from pooling on the groundcover and infiltrating under your tent.
Generic tent footprints are usually square or rectangular and come in a variety of sizes to match different tents. One or two person tent footprints will be a whole lot smaller than the tarp sized ones used for larger family tents.
Storage
Storing a tent footprint is a lot like storing a tarp or camping blanket. Some are stuffable, but most are too rigid and tough to properly stuff down.
These need to be folded down and then put into a storage sack or bag.
Additional Features
As you get into more technical tent footprints there are a lot of really neat extra features you can choose from. One of the most common is an insulated and padded footprint.
These footprints are designed for use in serious winter weather where you have to set up your tent on snow, ice, or frozen ground. They give you extra insulation from the cold and make for an overall more comfortable night.
Top Tent Footprints Video
FAQ – Best Tent Footprint
As you embark on your outdoor adventures, ensuring the longevity and performance of your tent is crucial. A tent footprint, often an overlooked accessory, can play a vital role in safeguarding your tent and enhancing your camping experience. In this FAQ section, we address common queries about tent footprints, providing you with valuable insights to help you make an informed decision. Whether you're a seasoned camper or new to the world of outdoor living, we aim to demystify the importance of tent footprints and guide you in choosing the best one for your needs. From understanding the benefits to selecting the right material and maintenance tips, let's delve into the frequently asked questions about tent footprints to make your camping trips more enjoyable and worry-free.
What is a tent footprint?
A tent footprint is a protective groundsheet that is placed beneath the tent to provide an additional layer of insulation, waterproofing, and protection from rough or abrasive surfaces. It acts as a barrier between the tent floor and the ground.
Why do I need a tent footprint?
A tent footprint offers several benefits. It helps prolong the lifespan of your tent by preventing wear and tear caused by rocks, roots, and sharp objects. It also adds an extra layer of waterproofing, keeping your tent floor dry during wet conditions. Furthermore, it provides insulation, enhancing warmth and comfort inside the tent.
Can I use any material as a tent footprint?
While you can use a variety of materials as a makeshift tent footprint, it is recommended to invest in a purpose-built tent footprint. These are specifically designed to withstand outdoor conditions, offer durability, and fit your tent's dimensions perfectly.
How do I choose the right tent footprint for my tent?
To choose the right tent footprint, consider the dimensions of your tent. Look for a footprint that matches or is slightly smaller than the floor dimensions of your tent. It should cover the entire floor area without extending beyond the tent's edges. Additionally, ensure that the footprint is made from a durable and waterproof material.
Are tent footprints universal or brand-specific?
Tent footprints are usually designed to match specific tent models, taking into account their shape and size. While some tent footprints are brand-specific and tailor-made for a particular tent model, there are also universal footprints available that can fit a range of tent sizes and styles. Always check the compatibility of the tent footprint with your tent before purchasing.
Can I use a tarp as a tent footprint?
Using a tarp as a tent footprint is a common practice among campers. However, it's important to ensure that the tarp is cut to the correct size and properly secured to avoid water pooling between the tarp and the tent floor. Keep in mind that tarps may not provide the same level of durability and protection as purpose-built tent footprints.
How do I clean and maintain a tent footprint?
To clean a tent footprint, wipe off any dirt or debris with a damp cloth or sponge. If it's heavily soiled, you can rinse it with water and mild soap. Avoid using harsh chemicals or abrasive cleaners, as they can damage the waterproof coating. Ensure the footprint is completely dry before storing it to prevent mold or mildew growth.
Can I use a tent without a footprint?
While it's possible to use a tent without a footprint, using one is highly recommended. It significantly enhances the longevity of your tent by preventing damage and provides added comfort and protection from the elements. Investing in a tent footprint is a worthwhile consideration for any camping enthusiast.
Remember, the right tent footprint can enhance your camping experience by protecting your tent, improving insulation, and keeping you comfortable in various outdoor conditions.
Best Tent Footprints Recap
Final Thoughts
Picking out a quality tent footprint is a lot easier than it at first seems. So long as you know the general size and weight you need it really comes down to price and manufacturer.
The best tent footprint is the one that works for your needs and hits your price point.