Outdoorsman Toolkit is reader-supported. When you buy through links on our site, we may earn an affiliate commission.
Learn more
Just a few years ago going camping meant making a choice between pitching a tent or taking a travel trailer/RV out to the campground. They were good options to be sure, but many people wanted something different. Enter the roof top tent. These ingenious tents combined the best features of tent camping with the convenience of RVs. Today we're covering the best roof top tents on the market to help you find one that fits your needs best.
Roof top tents seem kind of weird when you first think about them.
After all, who really wants to camp on the roof of their car?
Once you've seen one in action though, you'll be hooked. They're easier to set up than traditional tents, ensure you've got a camping spot wherever you go, and cost a lot less than a travel trailer or RV.
We've put together a list of the best roof tents across a range of different price points, sizes, styles, and manufacturers.
Check them out and let us know what you think.
Tuff Stuff Ranger Overland Best Roof Top Tent with Annex Room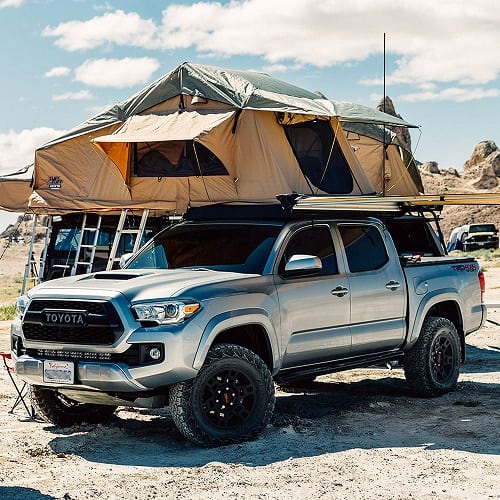 The Tuff Stuff Ranger is a large roof top tent with an expansive annex. The tent itself can sleep two on the roof, while the annex is large enough to comfortably fit a queen size mattress with room left over for gear storage.
It's a soft top roof tent made from a hybrid polyester/cotton ripstop fabric. It's treated with a heavy-duty polyurethane coating that makes it very water resistant.
The whole thing sets up in just a few minutes. It does this through a convenient fold out system that allows you to unsnap the buckles and literally fold the tent open.
There's a small collapsible ladder built into the body of the tent that allows you to climb right up into the main compartment. The annex we mentioned attaches around the ladder and can double as a dining room or storage space.
Attaching it to your car requires a standard roof rack or flat top base. The installation process took us about an hour and a half with two people working at it. Once you've got it attached though it's secure, covered with a durable 1000D PVC driving cover, and zipped up with YKK waterproof zippers.
The tent itself is rated at up to 685 lbs of capacity, though this depends heavily on your vehicle and rack limitations. This is plenty of capacity for two adults with room to spare.
We liked the Tuff Stuff Ranger quite a bit. It was definitely expensive, but not too bad on the scale of roof top tents. Its combination of quality construction, easy set up, and that awesome annex really impressed us.
Smittybilt Overlander Roof Top Tent
Smittybilt is one of the biggest names in off roading. They make a wide range of equipment, automotive add ons, and some really cool roof tents. The Overlander is a fold out style soft top roof tent rated to sleep two to three.
It has a waterproof top and rain fly both made from 600D heavy-duty rip stop polyester. This makes it highly resistant to wind, water, and dust clouds.
The heavy duty PVC cover protects it from rain and sun while you're driving yet zips open and deploys in just a few seconds. The Overlander has four mesh screen openings including the main door. What we really love about these openings are the built in awnings. Every window has a large sun and weather awning that lets you keep full ventilation no matter how narly the weather gets.
The Overlander includes a collapsible ladder rated to hold 261 lbs and can itself support up to 661 lbs. That's plenty for several average adults to comfortably move around on.
What really helps set the Overlander apart from the competition are the little extras. It has integrated LED light strips that give you workable light without having to break out a lantern. The base of the tent doubles as a 60 mm mattress, providing a much more comfortable sleep space than you find on many other roof top tents.
Overall we were impressed with the Smittybilt Overlander. It provides you with a lot of awesome features at a very attainable price point.
Tepui HyBox 2-Person Roof Top Tent & Cargo Box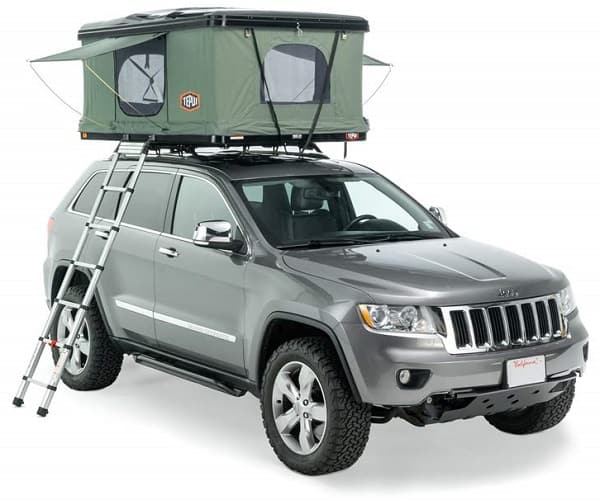 The Tepui HyBox is a hybrid rooftop tent and cargo box with a hard shell design. It's capable of supporting two people comfortably or a good amount of bags and other cargo.
It does this through a Tepui's novel ZipperGimp conversion system. This allows you to quickly zip a waterproof canopy onto the hard shell body of the box. When you're going on a trip and need extra luggage space you can remove the canopy and treat it like a standard cargo carrier.
Once you arrive at your destination you can unload the cargo into your vehicle and quickly zip up your tent.
The HyBox has four ventilation windows/doors covered with no-see-um mesh. This allows for panoramic views and plenty of breezes. The entrances both have fold out awnings and come with a collapsible ladder for easy entry and exit.
The hard shell box itself snaps into place on most standard roof racks and bars. This makes it suitable for winter use even in seriously cold climates.
We found the Tepui HyBox two person tent to be one of the most versatile designs we'd yet seen. It combines a comfortable and easy to set up tent with a practicable cargo carrying box. That makes it a lot easier to leave it mounted year round without sacrificing other functionality.
Tepui Ruggedized Autana Roof Top Tent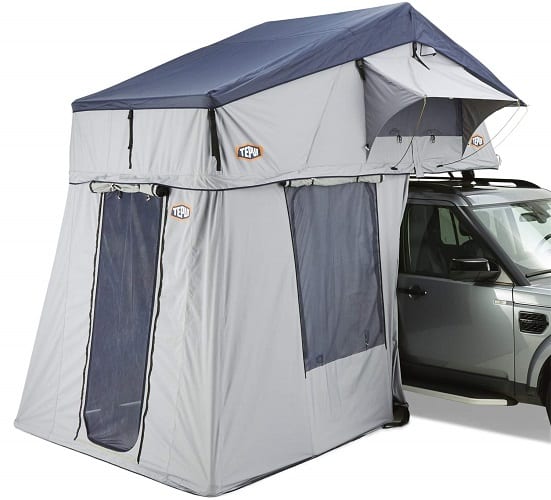 The Tepui Autana is a ruggedized version of their popular Autana line of roof top tents. It's over engineered with heavy-duty bolts, hinges, fasteners, and an extra thick outer fabric.
This helps protect it from rocks, branches, and other potential damage while off-roading and participating in other high-intensity activities. The tent itself sleeps four and is made from 600D ripstop nylon plus a heavy canvas canopy.
With its large ventilation windows and included annex it provides a ton of space and ample airflow. The interior of the tent has zippable windows, multiple storage pockets, and a high-density mattress built into the floor of the tent.
Underneath the main tent is an enclosed annex. This provides extra space for gear storage, a dining area, or more sleeping space. The fact that it's included standard is a really nice value add.
If you're planning a trip out to the salt flats or want to go overnight mudding with your buddies, the Tepui Ruggedized Autana is a great and highly durable option.
Front Runner Roof Top Tent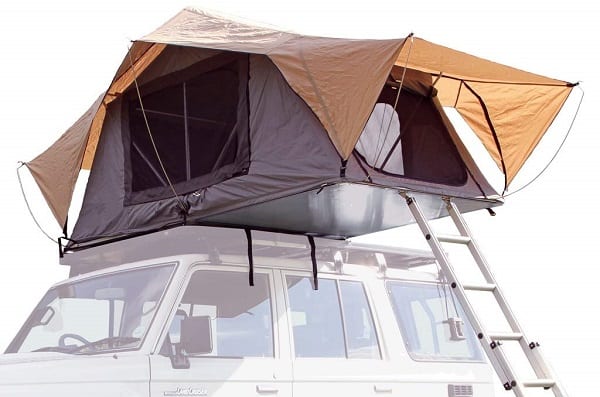 The Front Runner is a lightweight and low profile roof top tent able to sleep two adults comfortably. It's a soft shell style tent that folds open when needed.
It provides you with four large ventilation windows and doors, all with broad awnings from the removable rain fly. This gives you great airflow without letting in too much sun or rain during bad weather.
It includes a 2.25" high-density foam mattress with a machine-washable cover. That gives you a comfortable night's sleep and cuts down on clean up time once you're back home.
You can pick up an annex from Front Runner as well. They even offer a model that doubles as a shower skirt. This gives you ready made privacy for a quick scrub no matter where you find yourself.
Overall we found the Front Runner Roof Top Tent to be easy to attach, easier to set up, and comfortable to be in. With a few add on accessories it can match any roof tent on the market for features.
Tepui Explorer Ayer Roof Top Tent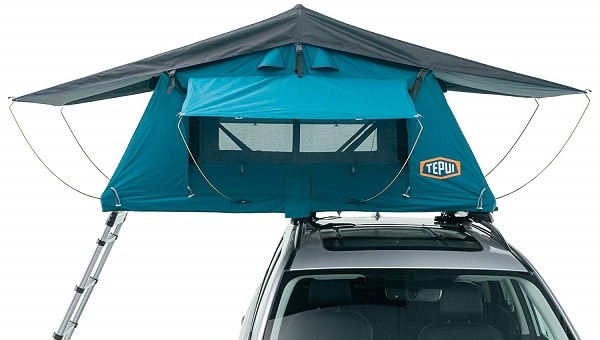 The Tepui Explorer Ayer is a lighter and slimmer version of their larger roof tents. It sits just 11" high when closed, a lot smaller than many other roof tents.
The body of the tent is made from a heavy-duty polyester/cotton blend. It's treated with a water and UV resistant ventilate coating. This helps improve its overall working life by protecting it from the sun and rain.
It offers four broad windows and doors that zip open when needed. Their covered with no-see-um mesh to allow a gentle breeze through but block annoying insects. When fully set up there are large awnings covered each opening. This allows you to keep them open even when it's raining or extremely sunny.
The design of the tent gives it a really classic look. It's based on traditional A-frame tents and owes a lot of its coolest design features to tents used by early campers and hikers.
Out of the box it's rated as a three-season tent. If you want to take it out for a cold winters camping trip you can upgrade it to a four-season with the addition of a Tepui Insulator (https://www.amazon.com/Tepui-Kukenam-Autana-4-Insulator/dp/B07QP2BFLD)
When you balance the features, design, and general quality build of the Tepui Explorer Ayer you end up with a high-quality roof tent great for smaller cars and multi season camping trips.
TMB Universal Pop Up Roof Tent for Cars, Trucks, and SUVs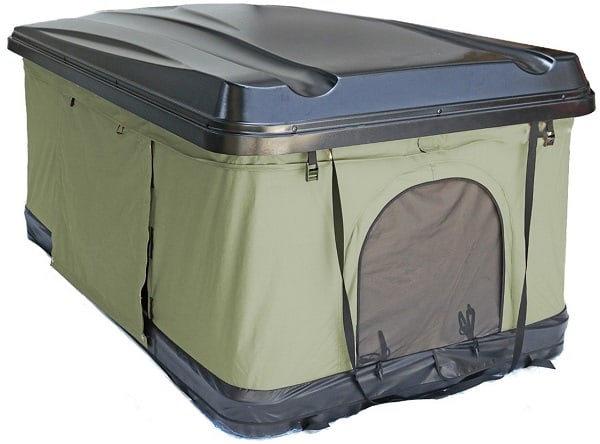 The TMB Universal Roof Tent is a pop up style tent designed to fit a wide range of cars, trucks, and SUVs. It uses a hard shell design with a straight up and down opening system.
This gives you a cube-like sleeping area accessible from the side of your car. It's rated to sleep up to two adults but is definitely on the smaller side.
Because it lacks a fold out floor section or add on awning you're left with just the footprint of your car below. If you're a solo camper or one who just uses your tent for sleeping this isn't a big deal though.
The roof of the tent has a shock strapped storage net that conveniently holds a lot of stuff. It was perfect to stow a pullover, tablet, snack, or other small objects for when you need them.
While it isn't an innovative or particularly inspired roof tent, the TMB Universal is well-made and fits the bill for a basic sleeping space on your car.
Raptor Series Camping Roof Top Tent with Ladder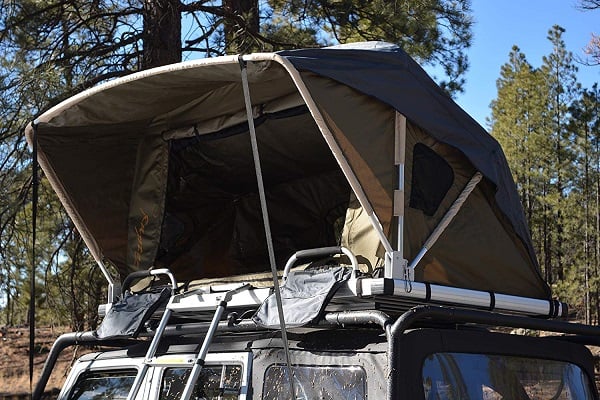 The Raptor Series Roof Top Camping Tent is a value priced roof tent built for off-roaders. It uses a unique half clamshell design that looks a lot like a pop up beach cabana.
It folds out rapidly and creates a sleep space with an integrated awning. It can sleep 2, though it's a little more cramped than we would have liked. It also comes standard with a mattress pad integrated into the floor of the tent.
It has three small ventilation windows and a large front opening. When we say large we mean it, this door takes up most of the front of the tent. They're all covered with no-see-um mesh to allow airflow without letting annoying bugs swoop in.
The front of the tent has both a detachable ladder and a pair of storage bags. They're useful in a pinch, but aren't fully covered by the tent or awning. Don't leave anything in them overnight that you wouldn't want to get wet.
Overall the Raptor Series Camping Roof Tent didn't impress. It's a solid value priced tent, but there are better options that cost only 10-15% more.
Buyer's Guide to Buying the Best Roof Top Tent
Picking out the best roof top tent comes down to a few key factors. You need to know your budget, the size tent you need, and most important of all, whether or not it's compatible with your vehicle.
After you've figured those out you'll have narrowed the field considerably.
Price
Roof top tents are definitely a premium outdoor product. You're not going to find one for less than several hundred dollars, and many top of the line models are several thousand.
Vehicle Compatibility
The most important factor to consider when purchasing a roof top tent is compatibility. It doesn't matter how amazing the features are if it won't fit on your vehicle.
Every roof tent manufacturer lists the make, model, and specific body types that are compatible with their tents. Double-check that your car is on the list before you make a purchase.
Attachment and Ease of Deployment
The initial installation of most roof top tents is pretty involved. Most of them literally bolt onto your roof or bed rack and require at least two people to safely set up.
Some are a little easier, with those made by major roof rack manufacturers often using their proprietary bar mount systems. This can make it a lot less difficult to install them.
Once you have them properly mounted you'll find them to be some of the easiest tents to set up. Most either fold out or pop straight up like a pop up camper. This is mainly because they aren't limited in weight and added comfort features the way a backpacking tent would be.
Weight Capacity
Weight capacity for roof top tents comes down a lot more to the capacity of your vehicle than the tent itself. Most are able to support at least 500 lbs, with larger models mounted on sturdier vehicles able to achieve capacities up to 1,000 lbs.
Check your vehicle's roof rack weight numbers before you purchase a really large roof top tent.
Weatherproofing
The weatherproofing on a roof top tent is important not just for comfort, but also for safety. The last thing you want is to be blown off the roof of your car during a windy night.
The first place to start is water resistance. Find out the hydrostatic head of your roof tent's rain fly or total body. This is measured in millimeters and tells you just how much water exposure it can handle. 1,000 mm is an acceptable starting point for dry climates, but 5,000+ mm is much better if you expect significant rain.
Wind proofing comes next. This one really depends on the types of poles used in the tent and how it's secured to your vehicle.
Trusted Brands
There's a lot of overlap between major outdoor equipment companies and car rack companies in the roof top tent space. Some of the best roof top tents are made by companies like:
Tepui
Yakima
Thule
iKamper
There are a bunch of other great roof top tents out there from independent companies as well. This list represents just a few of the best-known ones.
Size and Weight
Weight and size are less of a concern with a roof top tent than with backpacking tents. By their very design, you're going to be driving them to your destination.
You don't really need to worry about how heavy your tent is. This is definitely a good thing, as some roof top tents push 200 lbs.
Sizing comes down to how many people a tent will sleep. Most roof tents are rated for at least 2 people, with some larger ones capable of sleeping more.
Hard Shell or Soft Shell
Some of the best roof top tents use a hard shell design much like a standard travel container. This allows you to raise the tent up in a similar manner to a pop up camper.
The benefits to hard shell tents are their ease of deployment and improved resistance to things like snow, hail, and rainfall. They weigh more than soft shell tents, but as we mentioned previously, this isn't a big deal with roof top tents.
Top Roof Top Tents Video
FAQ: Best Roof Top Tents
As you embark on your outdoor adventures, considering the best equipment for your camping and hiking needs is essential. When it comes to finding the ideal shelter that combines convenience, comfort, and versatility, roof top tents are an increasingly popular choice. We understand that you may have questions about these innovative camping solutions, which is why we have compiled a list of frequently asked questions to help you make an informed decision. Whether you're a seasoned camper or new to the world of outdoor exploration, this FAQ section will address common queries about roof top tents, covering everything from their functionality and compatibility to setup, weather resistance, safety, and more. Read on to find the answers you're looking for and ensure that your camping experience reaches new heights with the best roof top tent for your needs.
What is a roof top tent?
A roof top tent, also known as an RTT, is a type of camping tent that is mounted on top of a vehicle, such as a car or an SUV. It allows campers to sleep comfortably above the ground and provides a convenient and elevated camping experience.
Why should I consider using a roof top tent?
Roof top tents offer several advantages over traditional ground tents. They keep you off the uneven or damp ground, provide better protection from wildlife, offer improved views, and are quick and easy to set up and take down. Additionally, they save space in your vehicle as they don't require extra room for storage.
What type of vehicles are compatible with roof top tents?
Roof top tents are designed to fit a wide range of vehicles, including SUVs, trucks, and some smaller cars. However, it's important to check the weight capacity and roof rack system of your vehicle to ensure it can support the weight of the tent.
Are roof top tents difficult to set up?
Most modern roof top tents are designed for quick and easy setup. They typically come with a folding design that allows for easy deployment and pack-up. Many models also come with integrated hardware or mounting systems to simplify the installation process.
What are the important factors to consider when choosing a roof top tent?
When selecting a roof top tent, consider factors such as tent size, weight capacity, durability, ease of setup, insulation, ventilation, and additional features like built-in mattresses, awnings, or annex rooms. It's also crucial to choose a reputable brand known for quality construction.
How do roof top tents handle different weather conditions?
Roof top tents are designed to withstand various weather conditions. They are typically made from durable and waterproof materials, such as ripstop canvas or polyester. Look for tents with good waterproof ratings and adequate ventilation to prevent condensation buildup.
Can I use a roof top tent on any terrain?
While roof top tents can be used on a variety of terrains, it's important to be mindful of the location and stability of your setup. Avoid setting up on steep or uneven ground, as it can affect the stability and safety of the tent. Always follow the manufacturer's guidelines and recommendations.
How much do roof top tents cost?
Roof top tent prices vary depending on factors such as brand, size, materials, and additional features. Entry-level models can start around $800, while high-end models with advanced features can cost several thousand dollars.
Are roof top tents safe?
Roof top tents are generally safe when properly installed and used according to the manufacturer's instructions. It's important to ensure that your vehicle's roof rack system is secure and capable of supporting the weight of the tent. Follow safety precautions, such as using a sturdy ladder and practicing good setup practices.
Can I leave a roof top tent set up on my vehicle all the time?
While it's possible to leave a roof top tent installed on your vehicle for extended periods, it's generally recommended to remove it when not in use. Extended exposure to the elements can cause wear and tear on the tent and affect its longevity. Additionally, removing the tent when not in use frees up space for other purposes.
Final Thoughts
For a market that didn't really exist just a decade or so ago, roof top tents have really come into their own. There are tons of amazing roof tents available that fit the vast majority of vehicle types.
Choosing the best roof top tent for your needs is a lot more about the size of your camping party and the features you value than it is picking a clear winner and loser.
So long as you know how many people will be camping with you, how much storage space you need, and what kind of conditions you'll be camping in, it's really easy to find one that you love.