Outdoorsman Toolkit is reader-supported. When you buy through links on our site, we may earn an affiliate commission.
Learn more
Lanterns have been used for thousands of years. Since the early 20th century, true camping lanterns have been the primary source of campsite light for expeditions, Boy Scout camping trips, and everything in between. With advances in battery and lighting technology though the market has changed in a big way. We've put together reviews on some of the best camping lanterns on the market today to help you find the perfect lantern for your needs.
Picking out a new camping lantern can seem a little overwhelming at first. The market is larger than it's ever been before, with literally thousands of options available. You can spend hours exploring fuel types, lumen numbers, runtime, and solar vs USB rechargeable.
We thought we'd help you get a head start on your search by making a list of 12 excellent hiking and camping lanterns.
Check it out and let us know what you think.
Coleman Multi-Panel LED Lantern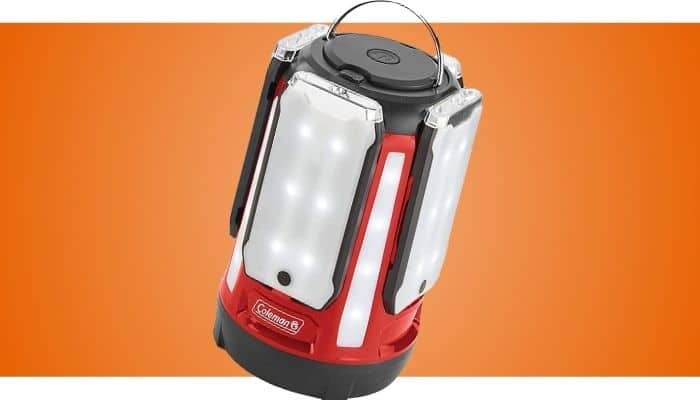 As someone who thrives in the great outdoors, I've always been on the hunt for gear that would make my camping, hiking, and RVing experiences more comfortable and hassle-free. Coleman has been a trusted name in my household for years, offering a range of outdoor equipment that rarely disappoints. Their Multi-Panel LED Lantern caught my eye recently, and given its innovative design and the brand's reputation, I was quick to add it to my collection.
The Coleman Multi-Panel LED Lantern is a marvel in its own right, housing four removable light panels that magnetically attach to a central base. The design is a fresh take on outdoor lighting, allowing for much-needed versatility during night-time escapades. The central base, powered by 8 D-cell batteries, charges these detachable panels when docked. As a singular unit, the lantern boasts a bright 800 lumens, providing ample light for up to 20 hours, a feature I found extremely useful during my camping trips.
What I appreciate most is the duality of each panel, serving as either a lantern or a flashlight with a commendable 3-hour standalone battery life. The small plastic stands and the redesigned handles on the panels are thoughtful additions, making it easy to prop them wherever needed or even to let them stand on their sides. The multiple brightness settings, including a flashlight mode, provide the right amount of light whether inside the tent or exploring trails after dusk.
The new sleeker and more compact design is a welcomed change, making it less cumbersome to carry around. Moreover, the ability to charge my devices through a USB port on the base is a modern-day necessity that Coleman has smartly integrated. However, it's not all sunshine with this lantern. The use of D-cell batteries, which are relatively expensive and not rechargeable, is a drawback. I would have appreciated a rechargeable option that aligns with today's eco-friendly trends.
Additionally, the panels, although innovative, have their quirks. They tend to pop off the base a bit too easily, and aligning them back requires a tad more attention to avoid damaging the charging contacts. I found the process of ensuring the prongs are lined up correctly before docking slightly tedious over time. This is where the strength of the magnets comes into question; a stronger magnetic attachment would have alleviated this minor annoyance.
Furthermore, the plastic material didn't feel as durable as I'd have liked, hinting at a possibility of damage if dropped. The maintenance of the NiMH batteries in the removable panels is another aspect to consider. They demand a bit of care to keep them in working condition over time, which might be a chore for some.
On a recent weekend expedition to the Catskill Mountains, this lantern proved to be a valuable asset. As night fell and the woods plunged into darkness, the Coleman Multi-Panel LED Lantern literally shone through. I detached two panels, handing one to my friend as we set up our camp. The convenience of having multiple light sources was immediately apparent. Later, as we trekked a short distance to a nearby stream, the flashlight mode came in handy, providing a focused beam that pierced through the darkness, guiding our path. Back at the camp, the lantern, with its soft glow, created a serene ambiance under the canopy of stars.
The light bar on the main base pillar was a subtle yet effective feature, helping me locate the lantern effortlessly when I needed to venture out in the middle of the night. Though the night was chilly, the batteries held up well, and we even charged our phones off the lantern's USB port. The Coleman Multi-Panel LED Lantern not only met but exceeded my expectations, offering a blend of functionality, versatility, and reliability. This experience has cemented its place as a staple in my outdoor gear collection, ready to brighten the corners of my next adventure.
Despite these minor setbacks, the Coleman Multi-Panel LED Lantern remains a solid companion for outdoor enthusiasts. It shines bright, literally and figuratively, in situations where reliable lighting is crucial. Whether it's providing a soft glow during a quiet evening under the stars or lighting up a trail during a nocturnal adventure, this lantern has proven its worth. Even though there's room for improvement, especially concerning the battery system and the panel docking mechanism, it's a worthy investment for anyone looking to brighten their outdoor experiences. The convenience of having multiple light sources in one compact unit is a game-changer, and I look forward to many more adventures with this lantern by my side.
Pros:
Versatile Lighting: With 4 removable light panels that serve as individual lanterns or flashlights, it provides versatile lighting solutions for various outdoor scenarios.
Bright Illumination: The lantern emits up to 800 lumens, providing substantial light in the darkest settings.
USB Charging Port: The integrated USB port is a handy feature for charging mobile devices during outdoor adventures.
Compact and Portable: The new slim design makes it less cumbersome, and the detachable panels provide portable lighting when needed.
Multiple Brightness Settings: The panels offer two brightness levels and a flashlight mode, allowing for customized lighting based on preference and need.
Reputable Brand: Coming from Coleman, a trusted name in outdoor equipment, adds a layer of reliability.
Cons:
Battery Type: The use of 8 D-cell batteries, which are not rechargeable and relatively expensive, can be a downside.
Panel Docking Mechanism: Docking the panels back on the base requires careful alignment to avoid damaging the charging contacts, which could be tedious over time.
Material Durability: The plastic material doesn't feel as durable, posing a risk of damage if dropped.
Battery Maintenance: The NiMH batteries in the removable panels require regular maintenance to keep them in working condition, which might be a chore for some.
Magnetic Attachment Strength: The magnets could be stronger to ensure the panels stay securely attached to the base, especially during more rugged use.
Goal Zero Lighthouse 400 Lantern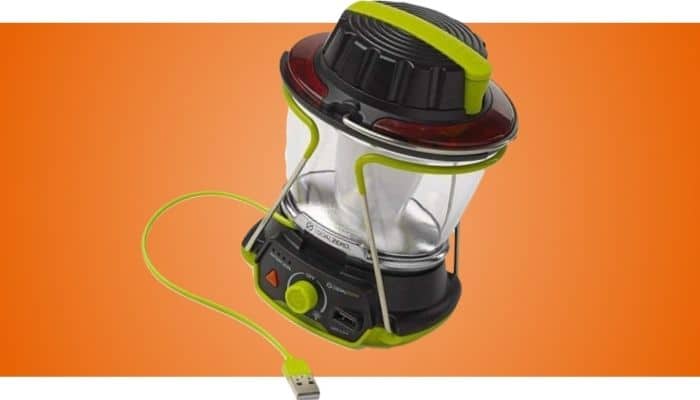 Goal Zero is rapidly emerging as one of the finest manufacturers of solar focused outdoor equipment in the world. Their Lighthouse 400 lantern weighs just over a pound but provides a maximum of 400 lumens of bright white light.
Its unique design lets you adjust the light produced to your needs. You can trigger the entire lantern or turn on just half depending on how much light you need. Either setting can be dimmed over a broad spectrum.
It all runs off a 4,400mAh lithium ion battery that recharges through an attached USB cord. It's optimized to work from wall power or to plug directly into one of Goal Zero's many solar panel products.
Even better, they included a highly efficient hand crank capable of providing 10 minutes of low light power for just a single minute of cranking. When fully charged you can get 48 hours of power on low and 2.5 hours on high with both sides of the lantern illuminated.
The Lighthouse 400 can charge your phone or light up your campsite. It's durable, highly adjustable, and offers multiple charging options. It's a great option for any car, RV, or other camper looking for a useful midsize lantern.
Black Diamond Apollo Lantern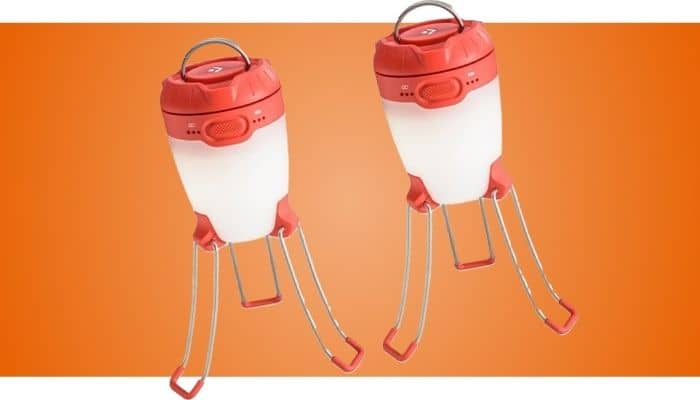 Black Diamond is a titan of the outdoor world. Their lighting, climbing, and other outdoor gear is rightfully known for its quality design and craftsmanship. The Black Diamond Apollo is a lightweight camping and hiking lantern that provides up to 225 lumens of soft white light.
The Apollo is designed to sit on three foldable metal legs or hang from a hook located on the top. This lets you light up a picnic table or illuminate your tent quickly and efficiently. It has a single button control that lets you dim the light or trigger a signaling strobe light.
It will run on either its internal 2,600mAh lithium ion battery or 4 AA batteries. This gives you significant flexibility in how you power it and allows you to quickly add more power in an emergency. You can also charge your smartphone or other small electronic devices from a USB port built into the side.
The Apollo is just under 6 inches long on its longest side and weighs 9.9 oz including the battery. This makes it small and lightweight enough for effective use by backpackers, hunters, and long distance hikers.
The Black Diamond Apollo is honestly one of the best hiking lanterns on the market today. It doesn't provide the most light but it's perfectly sized for illuminating your close surroundings or lighting up your tent.
BioLite BaseLantern and BaseLantern XL Lantern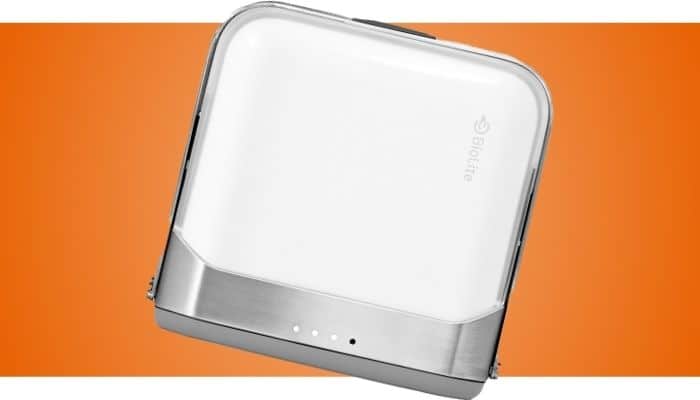 The BioLite BaseLantern and BaseLantern XL are rechargeable lanterns that provide up to 500 lumens of light in an innovatively designed package. They're quite small, just 5 inches long on their largest side, and weigh just under 1.5 pounds.
The BaseLantern has some of the most advanced functionality of any lantern on the market today. It's capable of pairing with your smartphone through Bluetooth. This lets you precisely control the color and amount of light being produced at any time.
They're made from ultra-lightweight stainless steel with edge-lighting panels to maximize the distribution of light. They have two foldable legs that can also be used to hang the BaseLantern. The only difference between the two lanterns is the size of their internal lithium ion battery. The BaseLantern is 7,800mAh while the XL is 12,000mAh. This gives you up to 78h runtime on low or 7.5h on high.
Each lantern can also be used to charge other small electronics such as smartphones or headlamps. One really neat feature is their ability to act as the base unit for other BioLite products.
Each has 2 SiteLight ports on either side of the lantern panels that you can attach BioLite SightLights to. These are adorable string lights you can use to really personalize your campsite.
The BioLite BaseLantern and BaseLantern XL are high tech, feature packed lanterns. They definitely aren't the cheapest camping lanterns out there but they offer a lot of functionality for their price.
Energizer LED Lantern with Light Fusion Technology
Energizer is better known for their batteries than their light products but their Light Fusion LED Lantern is actually really interesting. Instead of the rounded design most lanterns use it's more of a light panel. It gives you up to 240 lumens of brightness.
It honestly looks more like a plastic panel with a handle than a traditional lantern. It's designed to rotate around the handle, which can also be used as a hanging point in a tent or on a lantern hook.
The LED Compact Lantern works on either high or low mode. Low lasts for up to 100 hours and still provides 80 lumens of light. This is enough to perform useful tasks around camp but won't light the area up to a high degree. One place where it really shines is its price. This Energizer Lantern is frequently available for well under $20.
If you're looking for an inexpensive yet reliable camping lantern to throw in the minivan with your tent and sleeping bags the Energizer Light Fusion LED Lanterns are a great option.
BioLite Sunlight Solar Powered Lantern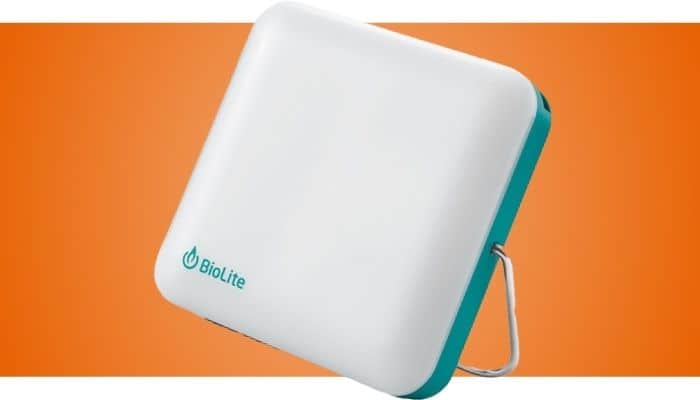 The BioLite Sunlight is a solar-powered lantern designed to provide up to 100 lumens of light. It doesn't provide a full 360-degree pattern of light but is great for use around a backcountry campsite.
The front of the Sunlight is an LED light panel capable of white, red, or 'party mode' that cycles through the color spectrum. The rear is a .45w solar panel capable of fully charging the Sunlight's battery in 7 hours. One thing we really liked about the design of the Sunlight was the inclusion of an analog sundial. It allows you to constantly find the optimal position for the panel to maximize the charge.
It's a small and lightweight solar powered lantern that's nonetheless durable and bright. It can't compete with larger full campground lanterns in light production but it's great as a hiking, hunting, or backpacking lantern.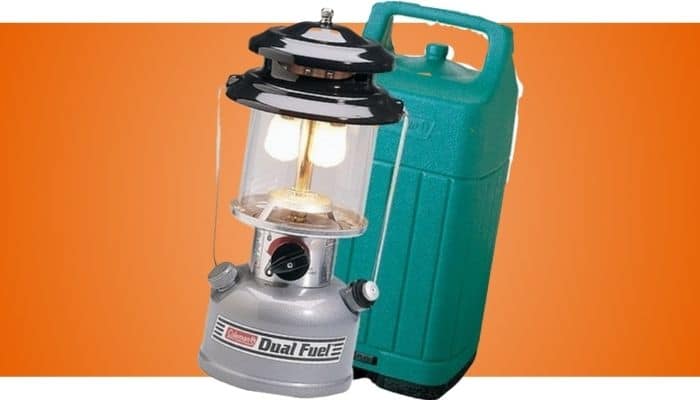 The Coleman Lantern is one of the most famous camping lanterns in the world. They've been making lanterns since 1914 designed to run off kerosene, camping fuel, and gasoline. The modern Premium Dual Fuel lantern is an upgraded version of their classic lanterns that will run on camping fuel or gasoline.
It uses a double-mantle design that burns vaporized fuel inside a treated cotton sack, called a mantle. This produces a golden yellow light and a comfortingly familiar hissing sound when turned on. One tank of fuel gives you 7 hours of light on the highest setting.
A great thing about fuel powered lanterns is their naturally dimmable design. By reducing fuel consumption you can turn the brightness down from 700 lumens to a minimum glow. Dual Fuel lanterns are prized for their bright light, ability to run all 4 seasons, and the cheap cost of fuel.
Because you can burn either camping fuel or gasoline they're great to keep on hand as emergency lanterns. Each lantern comes with a hard plastic carry case to protect the glass lantern itself while traveling. One thing to keep in mind though is that these aren't really packable lanterns.
They're heavy, they're bulky, and the fuel sloshes around while you're moving them. They're strictly for use during car camping or as bright light at a basecamp. For all that though there's a reason they've been making them for over 100 years. They're sturdy, reliable lanterns that work when it counts.
Princeton Tec Helix Lantern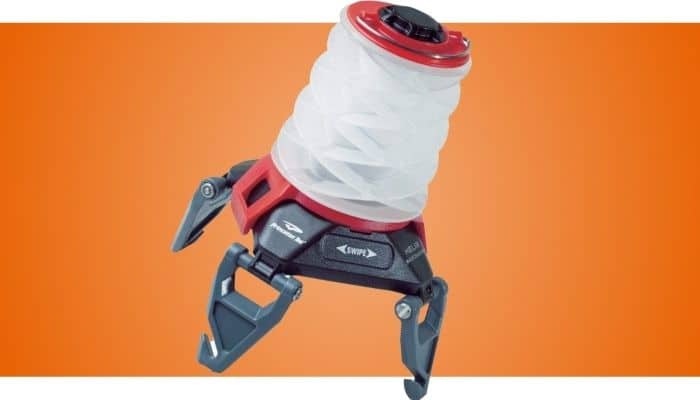 The Princeton Tec Helix lantern is one of the weirdest looking lanterns we've ever seen. It truly looks like someone put an inflatable light on the back of a mechanical spider. For all that though it gives you up to 150 lumens of light while weighing just 5.4 ounces.
It runs off of 3 AAA batteries and provides either bright white or red light. You can dim it down from high setting and get up to 24 hours of runtime on a single set of batteries. The spider legs we mentioned earlier fold out so you can set it on a table, a rock, or pretty much anywhere else you can imagine. The Helix also has a small hook on the top of the light diffuser so you can clip it inside your tent for easy to use light.
Despite its rather odd appearance the Helix is one of the best hiking and backpacking lanterns available. It's extremely lightweight, provides useful amounts of light, and has a relatively long battery life.
CORE CREE LED Battery Lantern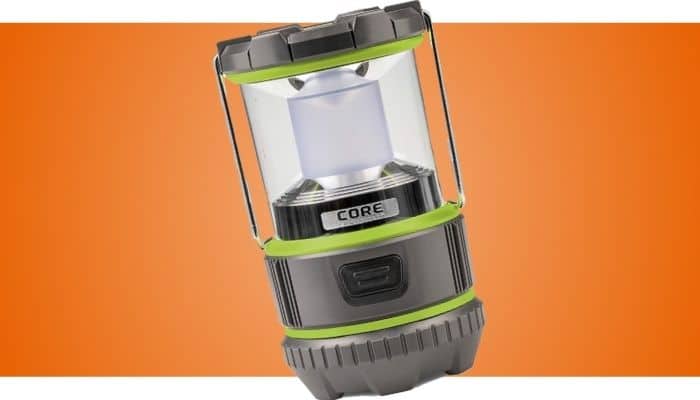 The CORE CREE LED lantern is a battery operated lantern designed to provide substantial light for camping. It's built tough but heavy, weighing nearly 2 pounds with the batteries inserted.
It gives you up to 500 lumens of bright white light powered by 3 D cell batteries. The runtime is actually quite impressive, 19 hours on high or 65 hours on 200 lumen low. This makes it perfect for a weekend long camping trip or to keep as an emergency backup with the batteries removed for corrosion protection.
The CORE CREE LED Lantern is a big, capable lantern that provides a lot of light for a very reasonable price. It's not suitable for hiking or other packable tasks but is a great option for car or RV campers looking for a lot of light.
Snow Peak Mini Hozuki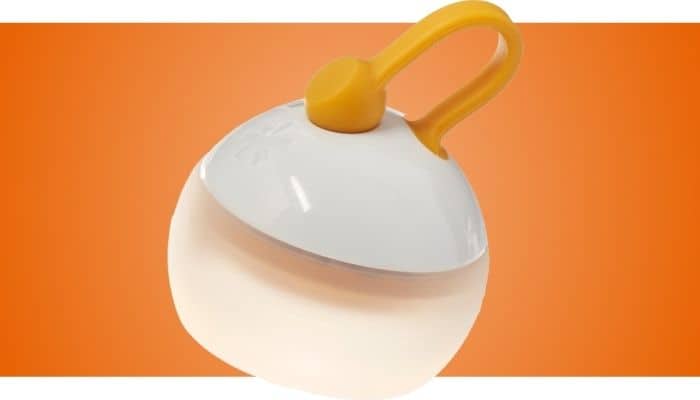 Snow Peak is a well known Japanese manufacturer of high-end ultralight hiking and camping gear. The Mini Hozuki lantern upholds their reputation well by being innovative, lavishly built, and quite cute.
It only produces 60 lumens of light but the light it gives off is warmer and more personal than brighter white LED light. It runs on 3 AAA batteries that give up to 70 hours of runtime on low setting. The Mini Hozuki is designed for use on a table or hanging from a magnetic plastic closure.
It's made up of two parts. The LED light source/battery compartment and a soft rubber diffuser. It weighs just over 3 ounces including the batteries and is rounded to easily fit inside the pocket of a hiking pack.
The Snow Peak Mini Hozuki is a reasonably bright ultralight hiking lantern. It's durable, runs on widely available AAA batteries, and looks extremely cute while doing it. If you're looking for just enough light in the lightest possible package you should seriously consider the Mini Hozuki.
Lighting Ever Rechargeable LED Camping Lantern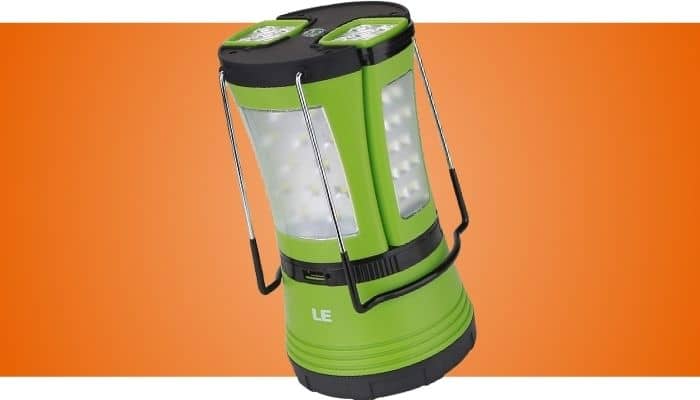 The Lighting Ever Rechargeable LED camping lantern combines a bright lantern with a pair of removable flashlights. Their goal was to be the only lighting solution you'd need for a camping trip, one they succeeded in fulfilling quite well.
When all the lights are attached to the base the lantern is capable of producing 600 lumens of light. The main lantern is powered by a rechargeable 1,800mAh lithium ion battery. It will also run on 3 D cell batteries while the two detachable flashlights each need 3 AAA batteries. You can use any of the lantern's components by themselves or turn them all on at once.
The main battery will power the lantern for about 5 hours on full. What's great about this design is the ability to run each part of the lantern one at a time. This lets you extend the total lighting time.
The Lighting Ever Rechargeable LED camping lantern is an interesting lantern with a lot of useful features. We liked the ability to remove the flashlights on their own but were disappointed with the relatively short battery life.
MPOWERD Luci Outdoor 2.0 Solar Lantern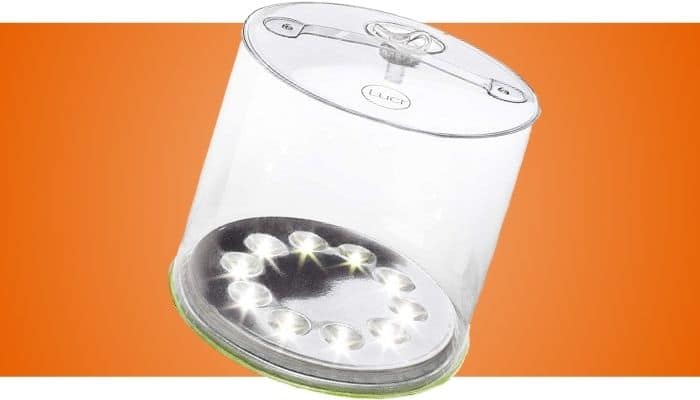 The MPOWERD Luci 2.0 is a solar powered lantern that's designed for anyone who needs a lot of light in a very lightweight package. Rather than a rigid lantern dome it uses an inflatable plastic ring to diffuse the light produced by its 10 white LEDs.
The solar cell is located on the top of the lantern, just under a clear plastic handle. It's capable of fully charging the internal battery in 7 hours. At low power the Luci 2.0 will run for 18 hours on a single charge.
Its inflatable design makes it the perfect lantern to take with you on rafting, kayaking, or other water-based trips. If it falls overboard you can just watch it float along next to you until you get a chance to grab it.
The MPOWERED Luci Outdoor 2.0 is a lightweight and reliable lantern. It provides useful amounts of light that can be replenished indefinitely no matter how deep you are in the backcountry.
Best Camping Lanterns Comparison Table
Buyers Guide to Buying the Best Camping Lantern
With camping lanterns there are two major categories to look at, each with plenty of smaller subcategories. The biggest choice you'll have to make is between large base camp style lanterns that produce tons of light or lightweight and packable hiking lanterns that are much more portable but far dimmer.
How you intend to use your lantern plays the biggest role in what kind of fuel/power source you should choose as well as the material and price.
Price
Light in the darkness is one of the most important comforts when exploring the wilderness. It makes sense that you should invest in a quality lantern to provide that light. You can find inexpensive models from about $10 all the way up to high end multi function lanterns for $100+.
If you're willing to spend about $50 to $80 you can get a high quality lantern that will last a lifetime with proper care.
Brightness
Like flashlights and headlamps the brightness of lanterns is measured in lumens. Unlike those other sources of light lantern light isn't focused on a single area. It diffuses in a 360 degree pattern around the lantern.
Brightness is important for a lantern, but it's also important to consider how you plan to use it. If you're looking for a good picnic table lantern for a camping trip it's easy to get one that's too bright. You don't want to be blinded every time you happen to look at it.
A good rule of thumb is to get as bright a lantern as your intended activity allows. Any time you plan to suspend a lantern above your head brightness needs can go up. If it's above your sightline you don't have to worry about being blinded at night.
Another thing to keep in mind is that the type of lantern you choose will affect the quality and color of light. LED lanterns generally produce a harsher blue/white light than fuel powered lanterns. It's not a huge difference but if you grew up with Coleman style lanterns you'll notice something is off.
Light Duration
How long a lantern can produce light depends on a great number of factors. Most fuel lanterns will run for about 6-10 hours while some LED battery lanterns have the capacity to run at full power for dozens of hours.
For most campers and hikers a lantern with 6-10 hours of runtime will be plenty. That's enough for 2-3 hours of camp light after dark for a full weekend. If you're planning a longer trip or camping somewhere with extended darkness hours you should plan accordingly.
Fuel and solar powered lanterns can greatly extend the light duration of your lanterns without the need to carry heavy replacement batteries.
Portability
In the past lanterns came in a single size, large. They were definitely portable but they usually weighed well over a pound and were unwieldy to carry long distances. With advances in modern LED, solar, and battery technology this is no longer true.
You can now get very good camping and hiking lanterns that aren't a lot larger than a quality flashlight. It's important to remember though that you can't maximize brightness, portability, and runtime all at once.
You have to make a compromise in either brightness or runtime as you make your lantern more portable. If you mostly car or RV camp a larger lantern that's very bright and runs for a long duration is probably going to be your best bet.
Types of Camping Lantern
There are now two broad categories of lanterns: fueled and electrically powered. Within these though there are many different sub categories and variants depending on where the power comes from, how it can be refueled or recharged, and what kind of light it provides.
Fuel Powered – The first commercial lanterns were all fuel powered. Most used kerosene or even whale oil as a fuel source and provided a remarkably clear light compared to candles and torches. The three most common commercially available lantern fuels today are:
White Gas/Camping Fuel/Naphtha – White gas lanterns are what most people picture when they think of a camping lantern. They have a reservoir that holds a liquid fuel that is then pressurized and vaporized. They create a gorgeous golden yellow light that's friendly and very bright.
Butane/Propane – Propane and butane lanterns are generally designed to fit onto standard hiking and camping fuel cylinders. They're commonly used by backpackers and long distance hikers because they let them carry a single fuel source for their cooking and lighting needs. They provide a similar light effect to camping fuel lantern's but are more expensive to operate. They also don't work well at high altitudes or very low temperatures
Kerosene – Kerosene lanterns are the oldest form of modern lantern. They use a traditional cloth wick to draw liquid kerosene up to a light fire. They produce the least light of all fuel powered lanterns but are extremely durable, easy to clean and care for, and widely used as emergency lanterns.
Candle Lanterns – Candle lanterns have been in use for thousands of years. They're basically just an enclosure around a candle to help diffuse or direct its light. They're inexpensive and easy to set up but they do require you to bring plenty of spare candles and a windproof lighter with you.
Battery Powered – All modern electric lanterns are battery powered to one degree or another. What separates them out is how they charge and what kind of power cells they require.
The cheapest models will use AA, AA, D, or C alkaline or lithium batteries. They're easy to find and inexpensive but generally run out of power faster than many similarly sized lithium rechargeable lanterns.
If you only power them with single use batteries you'll probably end up spending more than if you just purchased a rechargeable lantern from the beginning.
Hand Cranked – Hand cranked lanterns are usually very similar to emergency radios. They have a rechargeable battery that can be charged via USB or topped up with the attached hand crank.
One thing we should say with certainty is that you shouldn't rely on the hand crank for long periods of use. A few minutes of cranking will usually only provide a similar amount of usable light.
If you're purchasing it as an emergency backup or just as a curiosity though there are several highly rated models available.
Solar Powered – Solar charge lanterns were once as limited in their practicality as hand cranked ones. Advances in solar cell technology have finally brought them to their rightful place as reliable tools for hikers, campers, and those preparing for emergencies.
Ultra efficient LEDs use far less power than older bulbs. When combined with greater energy density battery storage and highly efficient solar panels you can get hours of useful light from a similar length of sun exposure.
Emergency flashlights/radios also often have a solar power cell built into them. This gives you multiple ways to top up their charge during a bona fide emergency situation.
Light Adjustability
A lantern with only a single setting isn't a very good lantern at all. Fuel lanterns have always been manually adjustable but until recently many battery operated lanterns were not. At best they would have a single low and high setting.
Now though you can often find lanterns with as many as 10 different settings or the ability to dynamically dim or brighten the light as much as you desire.
Extra Features
Modern camping lanterns are rapidly becoming multi tools in their own right. Many battery powered models include options like:
Phone Charging
Emergency Radios
Multiple Colors of Light
Emergency Sirens
Detachable Lights
As battery and solar charging technology continue to advance we'll likely see even more innovations in the camping lantern marketplace.
Top Camping Lanterns Video
Frequently Asked Questions (FAQ)
As outdoor enthusiasts embark on their camping adventures, it's natural to have questions about essential gear like camping lanterns. To shed light on common inquiries and help you make an informed decision, we've compiled a list of frequently asked questions about the best camping lanterns. Whether you're a seasoned camper or new to the wilderness, this FAQ section will provide valuable insights into the world of camping lanterns, ensuring you find the perfect illumination companion for your outdoor escapades. From understanding different types of lanterns to considering brightness levels, battery life, and maintenance, we'll address your queries, making your camping experience safer, more convenient, and unforgettable. So, let's delve into the questions that often arise when seeking the best camping lantern for your next adventure.
What is a camping lantern?
A camping lantern is a portable lighting device designed specifically for outdoor use during camping trips. It provides a reliable and efficient source of light to illuminate the camping area and facilitate various activities after dark.
Why do I need a camping lantern?
A camping lantern is essential for providing adequate illumination in and around your campsite during the nighttime. It enables you to navigate safely, cook meals, play games, read, and engage in other activities without relying solely on campfires or flashlights.
What are the different types of camping lanterns available?
There are primarily three types of camping lanterns available: traditional fuel-powered lanterns, battery-powered lanterns, and solar-powered lanterns. Traditional fuel-powered lanterns use liquid fuel, battery-powered lanterns rely on batteries, and solar-powered lanterns harness solar energy to charge an internal battery.
Which type of camping lantern is the best?
The best type of camping lantern depends on your specific needs and preferences. Traditional fuel-powered lanterns are durable and provide bright light but require regular fuel refills. Battery-powered lanterns offer convenience and portability, while solar-powered lanterns are eco-friendly and ideal for extended trips in sunny areas.
How bright should a camping lantern be?
The brightness of a camping lantern is measured in lumens. The required brightness depends on the size of your camping area and your intended use. For general camping needs, a lantern with 200-500 lumens is usually sufficient, but if you require more intense illumination or plan to light up a larger area, consider lanterns with higher lumen outputs.
What features should I consider when choosing a camping lantern?
When selecting a camping lantern, consider factors such as brightness, battery life, durability, weight, size, ease of use, water resistance, adjustable light settings, and additional features like built-in USB ports for charging devices or red light mode for night vision.
How long do camping lantern batteries typically last?
The battery life of camping lanterns varies depending on the type of lantern and the battery capacity. Battery-powered lanterns can typically last anywhere from a few hours to several days, depending on the power setting used and the quality of batteries. It is recommended to carry spare batteries or opt for lanterns with longer battery life for extended camping trips.
Can I use a camping lantern indoors?
Yes, camping lanterns can be used indoors as emergency lighting during power outages or in areas where traditional lighting is not available. However, ensure proper ventilation and follow safety precautions when using fuel-powered lanterns indoors.
Are camping lanterns waterproof?
Not all camping lanterns are waterproof, but many are designed to be water-resistant to withstand light rain or accidental splashes. However, it is important to check the product specifications or labeling to ensure the level of water resistance and to avoid submerging the lantern in water unless specifically mentioned.
How should I maintain my camping lantern?
To maintain your camping lantern, follow the manufacturer's instructions regarding cleaning, storage, and maintenance. Keep the lantern dry when not in use, avoid exposing it to extreme temperatures, regularly inspect and clean the lantern's components, and replace batteries or fuel as needed.
Final Thoughts
Finding the perfect camping lantern is difficult. There are just too many excellent options available these days.
It's a great position to be in of course, but it still makes choosing the right one complicated. As long as you follow our buying guide above and consider how you plan to use your lantern, and over what length of time, you're sure to pick out one that will fulfill your needs.