Top 3 Best Camping Generators
Honda EU2200i Super Quiet Portable Inverter Generator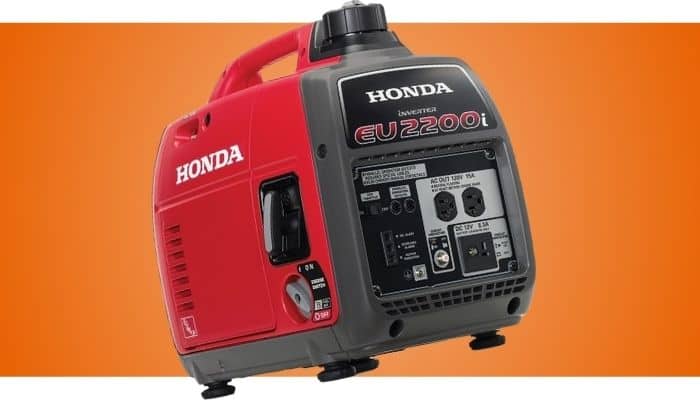 Compact and portable design
Fuel efficient and quiet operation
Bluetooth connectivity for monitoring power output and usage
Parallel capability with another EU2200i for increased power
Yamaha EF2200iS Inverter Generator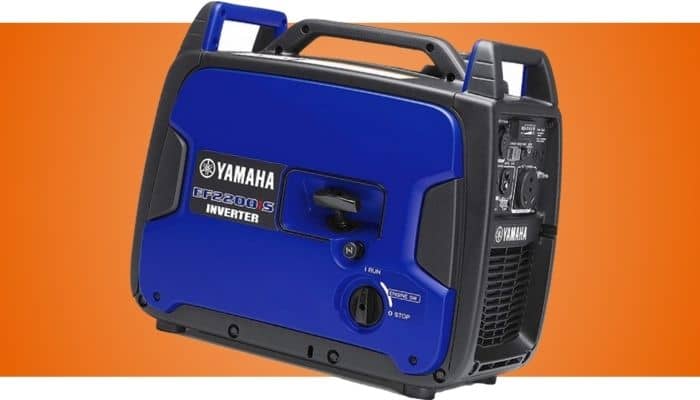 2,200 watts of usable power, designed for RV camping
Multiple outlet types for easy connectivity
Fuel efficient with a 1.24-gallon fuel tank
Easy to move with a three-part handle design.
Generac GP2200i Portable Inverter Generator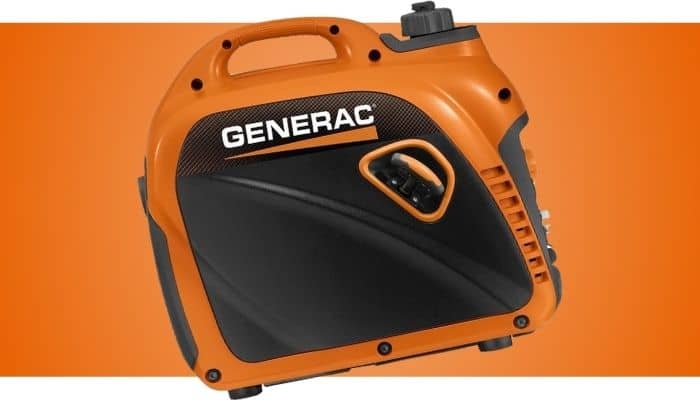 2,200 watts of power with parallel capability
Weather-resistant outlet covers for protection
Economy mode for reduced fuel consumption and noise
Built-in low oil shutoff and power overload indicator
Outdoorsman Toolkit is reader-supported. When you buy through links on our site, we may earn an affiliate commission.
Learn more
Camping is an incredible way to commune with nature and get back in touch with our wild roots. Once you've enjoyed the peace and silence a bit though, you may find yourself craving some modern conveniences. Enter the portable camping generator. It allows you to take your own little piece of civilization out camping and keep it all running smoothly. Today's review will cover the best portable camping generator and help you understand what features and extras to look for in a great model.
Best Generators for Camping
Portable generators have been around for a long time. Until fairly recently though they were expensive and required a lot of really involved maintenance. Advances in small scale generator technology have created generators the size of shoeboxes capable of powering the essentials for comfort.
Our list includes a variety of the best portable camping generators across a range of prices, capacities and fuel types.
Read on to find the perfect one for you.
Honda EU2200i Super Quiet Portable Inverter Generator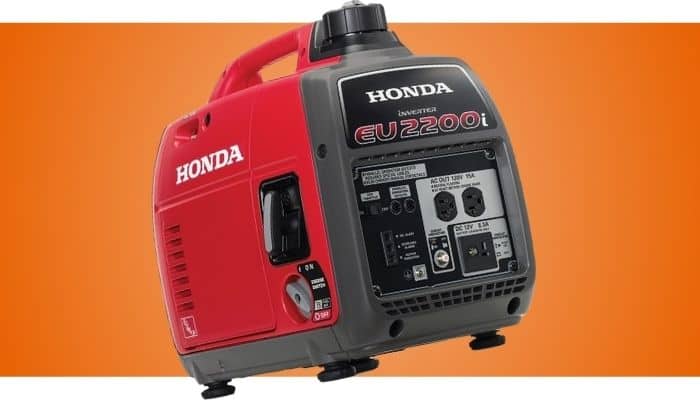 After numerous camping trips, often surrounded by the peaceful wilderness, the reality of returning home to unexpected power outages led me on a quest for a reliable generator. My love for the outdoors made me lean towards something portable, fuel-efficient, and quiet, to mimic the serenity I find in nature. Honda's reputation nudged me towards the EU2200i Super Quiet Portable Inverter Generator, and it's been a commendable companion ever since.
The first aspect that won me over was its compact size, reminiscent of a small cooler, tipping the scales at a manageable 47 pounds. This portability proved handy on my weekend retreats into the woods, allowing me to enjoy a bit of civilization amidst the wild. Its design is quite straightforward, making the setup a breeze even for someone who's not mechanically inclined like myself.
Now, onto the heart of the matter – performance. The EU2200i is a successor to the well-regarded EU2000i, coming with an additional 200 watts of power which although might seem slight, is a boon at higher altitudes where every watt counts. This extra juice was quite the savior during chilly nights at the campsite, effortlessly powering up electric heaters alongside my gadgets.
Speaking of gadgets, the presence of two 110 V AC ports and a 12 V DC port became an absolute necessity to keep my phone, laptop, and camera charged, ensuring I don't miss capturing the breathtaking sunrise or a chance encounter with wildlife. The generator's ability to run in parallel with another EU2200i is a feature I haven't explored yet but holds promise for larger gatherings or more power-intensive needs.
Silence is golden, and the EU2200i holds true to this adage. Its low noise level, just 57 dBA at rated load, barely competes with the whispers of the forest, making my outdoor sojourns peaceful and the unforeseen residential power outages less stressful.
A significant upgrade that caught my eye was the Bluetooth connectivity, enabling me to monitor the power output from the comfort of my tent or home, a feature that speaks volumes about Honda's leap towards modernization. This, coupled with the app tracking the hours of use, makes maintenance less of a chore and more of a reminder to ensure the longevity of my trusty generator.
Honda's addition of a fuel cut-off switch was a long-awaited feature that previously had me eyeing other brands. This simple yet vital feature ensures that the carburetor doesn't gum up, promising a longer lifespan and less fuss over maintenance.
However, no product is without its shortcomings. The lack of a digital display and a fuel gauge had me wishing for more, especially when the night creeps in, and I'm left guessing the remaining fuel level. Moreover, the absence of clear maintenance tutorials from Honda did require a bit of self-education, mostly through YouTube.
During a recent weekend escapade into the Rocky Mountains, the Honda EU2200i was put to a real test. As an enthusiast of the great outdoors, I often find myself amidst nature's calm yet far from modern conveniences. This time, a cold front was forecasted, and I was wary of the plummeting temperatures as night approached. However, with the Honda EU2200i by my side, my apprehensions were put to rest. As the evening chill set in, the generator powered up my electric heater, casting a warm glow on the campsite.
Its tranquil operation was a harmonious accompaniment to the rustle of the leaves, creating a serene ambiance that resonated with the wilderness around. The ease of starting it up, even in the cold, was a relief and the fuel efficiency was notable as it hummed through the night on a single tank, keeping the cold at bay. What genuinely impressed me was its quiet operation, which allowed me to hear the distant calls of the wild under a starlit sky. This experience not only added a layer of comfort to my rugged retreat but also fortified my trust in the Honda EU2200i as a reliable companion in the wilderness.
In retrospect, the EU2200i has proven its worth, whether amidst the rugged trails or during the silent nights with power outages. Its blend of portability, quiet operation, and reliable power output resonates well with my outdoor spirit while ensuring I'm never left in the dark at home. Honda could up their game with a few more user-friendly features, but the EU2200i is a solid investment for anyone with a penchant for the outdoors and a need for dependable power.
Pros:
Portability: Compact size and manageable weight make it a convenient choice for outdoor and home use.
Quiet Operation: Low noise level ensures a peaceful environment whether camping or during residential power outages.
Fuel Efficiency: Notable fuel efficiency, especially beneficial during extended use.
Additional Power: Extra 200 watts compared to its predecessor, beneficial in higher altitude or power-demanding scenarios.
Bluetooth Connectivity: Ability to monitor power output and usage hours from a mobile device is a modern and useful feature.
Reliable Performance: Consistent and dependable power output, living up to Honda's reputation for reliability.
Parallel Capability: Ability to run parallel with another EU2200i for increased power when needed.
Fuel Cut-off Switch: Helps in maintaining the generator's lifespan by preventing carburetor issues.
Cons:
Lack of Digital Display: Missing digital display can make monitoring operational statuses less intuitive.
Absence of Fuel Gauge: Difficulty in estimating remaining fuel, especially during nighttime use.
Insufficient Manufacturer Tutorials: Lack of clear maintenance and operational tutorials from Honda necessitates self-education through other sources.
Cost: Higher purchase price compared to other generators with similar power ratings, though the quality justifies the cost.
Lack of Certain Features: Misses on some user-friendly features like a runtime hour meter and a propane conversion kit which could enhance the user experience.
Yamaha EF2200iS Inverter Generator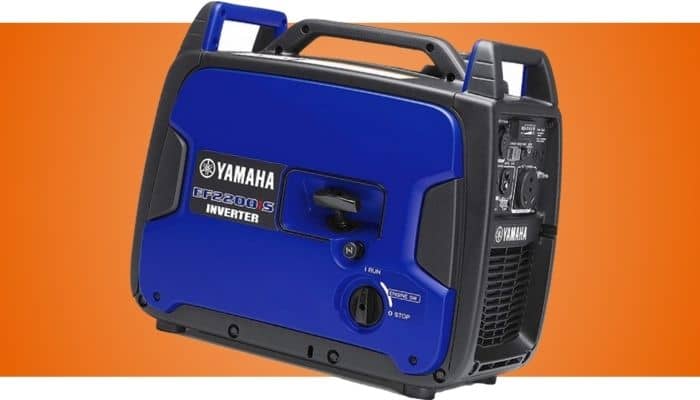 The Yamaha EF2200iS is a gas powered inverter generator designed for camping and RV trips. It provides up to 2,200 watts of usable power with a rated continuous load of 1,800 watts.
That's enough to power everything you need in a full size class B RV without issue. Just looking at the face of it shows the EF2200iS was built with the RV camper in mind.
It has two standard 120 V AC outlets, a DC cigarette style outlet, and a 30 amp RV standard AC outlet. This makes it really easy to hook your RV's systems up to the generator without searching for an adaptor.
The EF2200iS has a 1.24 gallon fuel tank rated to run at ¼ power for up to 10.5 hours. It's a little louder than some of its competitors, coming in at between 57 and 65 dBA at ¼ rated load. If you're pushing the load higher the volume will rise as well.
There were several things we really liked about this generator. The first was the handle design. It uses a three part handle designed to make moving it with two people easier. Considering it comes in at 55.2 lbs this is a really useful feature.
We also liked the easy-to-read output indicator and intuitive controls. Even without reading the manual we had a pretty good idea of how to get it started and troubleshoot basic problems.
The feature we thought most useful for the long term was the Yamaha easy carburetor drain valve. It allows you to empty any leftover fuel out of the carburetor before storing your generator.
This makes it a lot less likely to need additional maintenance the next time you pull it out.
It's capable of running in parallel with another EF2200iS. This gives you the ability to power a full 30 amp plug, ample power for most RV uses.
All in all the Yamaha EF2200iS is a quality and fuel efficient generator. It's a little noisier than some of its competitors but puts up a strong showing in other categories.
Generac GP2200i Portable Inverter Generator – Parallel Ready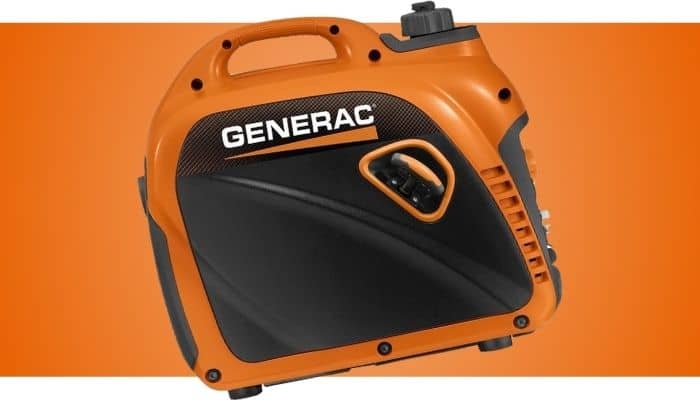 The Generac GP2200i is a portable inverter style generator rated at up to 2,200 watts. It's powered by gasoline and is capable of providing up to 10.75 hours of a ¼ load with just 1.2 gallons of fuel.
It offers a pair of 120 V AC outlets, a DC cigarette plug, and includes USB ports. They're all covered with weather-resistant covers to protect it from the elements. The inverter is designed to provide clean and stable power perfect for sensitive electronics and other appliances.
It weighs 53.8 lbs and has a variety of LED indicators to make operating it easier. One of these is the included economy mode switch. When in economy mode it automatically lowers engine speeds to reduce fuel consumption and noise.
The GP2200i also has a built-in low oil shutoff and an indicator for power overload and general engine performance. It's also fully parallel capable, giving you the option to double your total power output.
It sits in the middle of the pack as far as price goes. Among the well-known brands it's hard to beat the Generac GP2200i's combination of performance and price.
WEN 56200i Super Quiet Portable Inverter Generator – CARB Compliant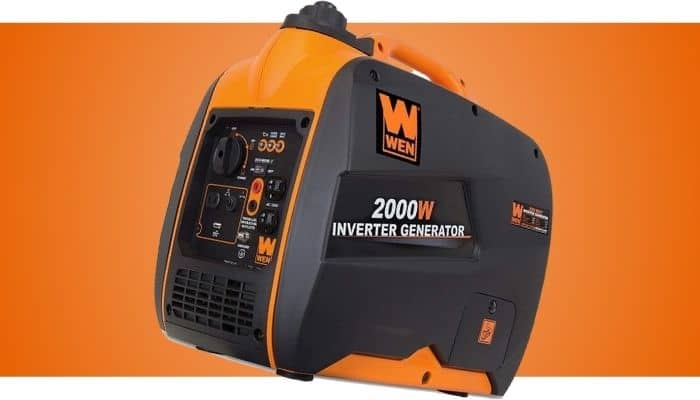 The WEN 56200i is a 2000 watt portable inverter generator. It runs off gasoline and is capable of providing up to 6 hours of ½ load runtime on a single one-gallon tank.
It gives you two 120 V AC outlets, one 12 V DC receptacle, and one standard USB port. Its inverter is capable of producing clean and stable power with less than 1.2% harmonic distortion. You can plug your phones, tablets, and laptops directly into it without worrying about damage.
There are three LED indicators that warn you about overloads, low oil, and output issues. It also has an eco-mode switch that helps reduce noise and fuel usage.
Speaking of noise, we were really impressed with the sound level of the WEN 56200i. It produces just 51 dBA when operating at ¼ load. That's one of the quietest generators in its size range and capacity.
It includes both low oil and low fuel auto-shutdown switches. These allow you to comfortably use your generator overnight without having to wake up and check it in the middle of the night.
You can run the 56200i in parallel with another generator as well. This allows you to scale up your power production as needed and helps you save money in the long run.
If you're looking for a reasonably well made value priced inverter generator it's hard to beat the WEN 56200i.
Champion 2000-Watt Stackable Portable Inverter Generator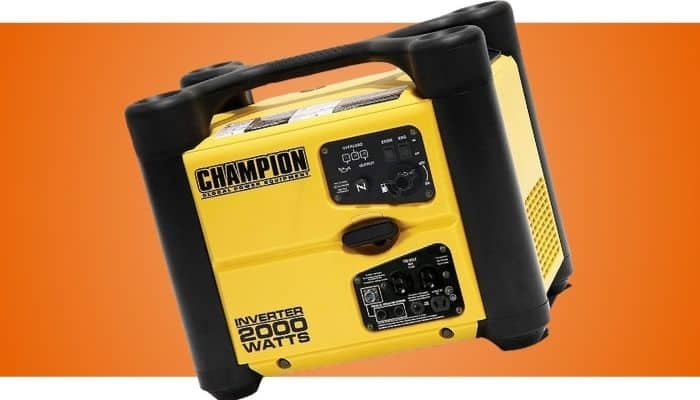 The Champion 2,000 watt inverter generator is a gas powered workhorse designed for camping and job site use. It's designed from the ground up with stackable parallel capability built right in.
The actual shape of the generator allows it to be stacked vertically with other Champion generators. This makes it a lot easier to store your generators when they aren't in use as well.
It includes a pair of 120 V AC outlets plus a single 12 V DC outlet. At ¼ of rated load it can run continuously for up to 9.5 hours on a gallon of gas. That's pretty good for a generator of its size.
It's also on the lower end of the noise spectrum. At ¼ load it's just 53 dBA, about the same as a conversation or washing machine in the next room.
At 48.5 lbs the Champion is just under the weight of many similarly powered generators. Given its compact design and specialized shape this makes it a good bit easier to move than other generators of a similar size.
The display shows the standard low oil, overload, and low fuel indicators found on most portable camping generators. It also includes a low oil and low fuel shut-off standard.
Overall we found the Champion 2,000 watt generator to be a good choice for camping needs. It's stackable design is novel and useful, while its actual functionality matches up with any other generator on the list.
Briggs & Stratton PowerSmart Series Portable 2200-Watt Inverter Generator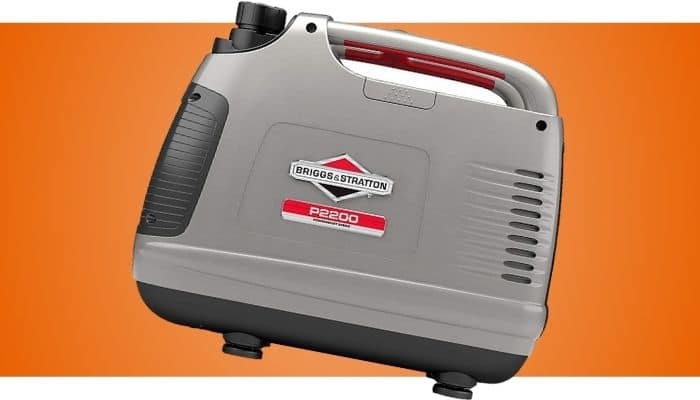 The Briggs & Stratton PowerSmart series 2,200 watt inverter generator is a sleek little generator designed for camping and recreational use. It's capable of powering everything from smartphones to TVs thanks to its efficient inverter system.
It has a pair of 120 V AC outlet, a 12 V DC outlet, and ports to allow parallel connections with another generator. It boasts harmonic resonance of less than 3%, enough to allow safe charging of smartphones and other sensitive electronics.
At ¼ of rated load it has an 8 hour runtime on a gallon of gas. It produces 59 dBA at that same ¼ load. That's low on the runtime and high on the decibels for generators of this capacity.
It weighs 54 lbs and has a convenient carry handle designed to allow two hands or two people to carry it. As far as convenience goes it matches up with similarly sized generators well.
It uses a three LED indicator panel that has lights for low oil, overload, and an OK tab that indicates everything's functioning as it should.
Overall the Briggs & Stratton PowerSmart 2,200 watt generator is an acceptable if uninspired inverter generator. It's marginally cheaper than the best portable camping generators and marginally lower quality. If you want a dependable generator at a reasonable price there are definitely worse choices you could make.
Jackery Portable Power Station Explorer 500 – Solar-Ready Generator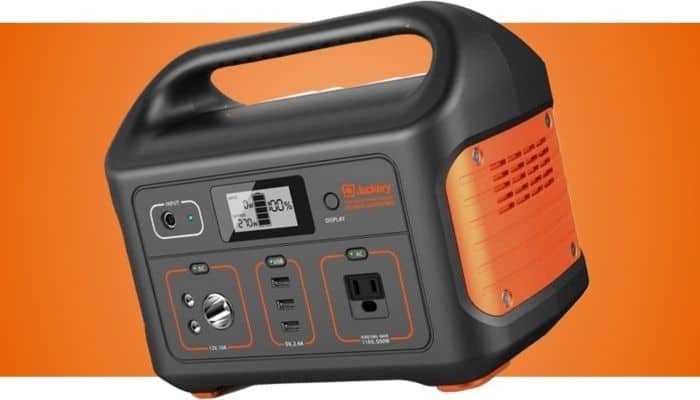 The Jackery Explorer 500 is a portable solar generator designed to work with solar panels. It offers 518 Wh of capacity and a variety of different charging and port options.
As a solar generator it's capable of being charged via solar panels. In the case of the Explorer 500 it can be fully recharged with a 100 watt solar panel in just 14 hours. If you're getting ready to head out on a trip it's not a bad idea to top it off at home or on the car ride there.
Wall or car plugs will charge it up faster and provide you with some starting power. It offers three USB ports plus a 120 V AC plug. This allows you to hook laptops, tablets, and other small electronics plus things like small appliances.
One thing to keep in mind is the difference between a solar generator and a fueled generator. The Explorer 500 is basically a large battery when you're using it to charge your devices. It can top up its charge in sunny conditions, but it won't produce any power at night.
Some really nice extras on the Jackery include several built-in flashlights, a digital battery level display, and a battery management system. This protects both your devices and the internal battery of the Explorer 500. It helps prevent surges and changes in current that can damage sensitive electronics.
The Jackery Explorer 500 is a really good option If you'd prefer to go zero emissions with your camping generator. It doesn't provide as much power as the fuel powered generators and takes a lot longer to charge up, but it does give you a basic charging capability no matter where you find yourself.
A-iPower SUA2000iV Super Quiet 2000-Watt Portable Inverter Generator
The A-iPower SUA2000iV is a value-priced camping generator designed for RV and car camping. It includes most of the functionality of its more expensive cousins, but at a fraction of the price.
It provides you with up to 2,000 watts of power in a 48 lb package. It doesn't have quite as many outlets as similarly sized generators. It only offers a single 120 V AC outlet, a 12 V DC outlet, and an RV 120 V AC 30 amp outlet.
That allows you to plug in just about anything but does limit the number of devices you can have simultaneously attached. On the flip side though, it offers an impressive 7 hour run time at 50% of rated load. Given its 1.1 gallon fuel tank that's a lot of power produced very efficiently.
Noise wise it sits in the middle of the pack. At 50% capacity it only produces 58 dBA of noise. It also offers the capability to run parallel with another SUA 2000iV.
The controls are intuitive to use and the three LED indicators provide all the information you need for basic use and troubleshooting.
By far the best thing about the SUA2000iV is its price. It's barely a third the cost of some name brand competitors and still provides comparable usefulness.
If you're looking for the most affordable portable camping generator the SUA2000iV is a great option that won't let you down.
Best Camping Generator Comparison Table
Buyer's Guide to Buying the Best Camping Generator
Picking out the best portable camping generator is all about finding the specific features you need at a price you're willing to pay. The key choices to make are the type of generator, its fuel source, power requirements, and sizing/portability.
Once you've got a good idea what you want in regards to those there are a few extras and add-ons to consider.
Price and Warranty
The price of a portable camping generator depends heavily on the brand and build quality. They start around $400 to $500 and rise up to a high of just over $1,000. You can absolutely find generators more expensive than that but they're mostly too large or overpowered for basic camping needs.
The type and length of warranty offered is another important consideration. Generators are a big ticket purchase, you want to have at least two years coverage to make sure you know what quality your generator really is.
Conventional or Inverter Generators
Choosing between a conventional or inverter generator depends entirely on what you need to power. Conventional generators are cheaper than inverter generators pretty much across the board, but you should know why that is before you make your decision.
Conventional generators are extremely simple in how they operate.
A fuel powered motor causes an alternator to spin and produces electrical power. The motor runs at a constant speed to produce electrical current at a consistent frequency.
This is perfectly fine if all you're powering is some lights and basic appliances like a toaster. They can get along just fine with minor fluctuations in the power coming through.
Inverter generators use that same alternator that conventional generators do, but immediately run the AC power it produces through a rectifier. This changes it into DC power before running it through a pure sine wave inverter back to AC.
The biggest benefit of this process is how 'clean' the power is. It comes through at a constant frequency and has far fewer fluctuations than a conventional generator.
If you're hooking anything with a microprocessor to your generator, basically everything in today's connected world, it needs to be an inverter generator. The small fluctuations in power quality can seriously damage something like a smartphone or tablet. No reason to brick a $1,000 device to save a hundred bucks on a generator.
Fuel
Modern generators are available in a variety of different fuel options. These include gasoline, LPG, dual fuel, diesel, and solar generators.
Gas-Powered – Gas powered generators are one of the most popular options for campers. They aren't the most fuel efficient or cheapest, but they have by far the best fuel availability.
Anywhere you go camping is going to have a ready supply of gasoline. That's a really important consideration for casual campers.
Propane/LPG-Powered – Propane is another extremely popular generator fuel. While it's less efficient than some other fuel sources it is just about the cleanest fuel source possible for a portable generator.
This is great for the environment, but also makes it much easier to clean and maintain an LPG generator.
Liquid propane gas is widely available and can be purchased in a variety of tank sizes. That makes it second only to gasoline in fuel availability and even better in ease of use.
Diesel-Powered – diesel powered generators are the most efficient fueled generator option available, but aren't really suited for camping use.
There's a hard limit on how small a diesel generator can be built. If you're operating a camp with lots of people and a 10,000+ watt power demand they can work.
Otherwise, you should stick with other fuel sources.
Solar-Powered – Portable solar generators are a very new concept in the generator market. They combine a solar charge controller, internal battery, and inverter to effectively convert the raw power produced by solar panels into something more usable.
They're available in a variety of sizes and can be charged multiple ways other than solar panels. They're a good option if your power needs are modest and don't include things like air conditioners.
Few portable solar generators provide more than 1,000 watts. They also can't be charged back up unless the sun is shining. If you're going winter camping they aren't nearly as effective.
That being said, they're still really cool and really useful. They require no fuel, produce no emissions, and are perfect for running lights, charging devices, and powering small electronics. We expect them to make up a much larger share of the portable camping gear market within the next few years.
We only featured a single portable solar generator on this list, but we did a full article on their benefits, how to choose a great model, and a review of some of the best on the market here.
Duel Fuel – Dual fuel generators provide the benefits of gasoline's wide availability with the clean burning option of LPG. They're capable of running off both LPG and gasoline.
This allows you to use LPG when you have it or switch to more widely available gasoline when needed.
Wattage – Your Power Requirements
The wattage of your generator determines how many things you can power at once. The most precise way to do this is to add up the surge and operating draw of all the things you plan to use and size your generator accordingly.
That can be quite the hassle though, especially if you only need a generator for a few weeks of camping a year.
For charging phones, tablets, and computers a generator up to 1,000 watts is perfectly suitable. It can even power small appliances and things like TVs. That can take your camping up to full scale glamping.
If you're looking to power everything in an RV or travel trailer you need to go up in wattage. We recommend at least 3,000 watts. That gives you plenty of power for running refrigerators, TVs, lighting, and even high-draw items like AC units.
Size, Weight, and Portability
In most cases smaller and lighter is going to be your best bet with a camping generator. The newest generators can produce an impressive amount of power for a very small size.
In most cases 1,000-2,000 watt generators are less than two feet on a side and weigh under 50 lbs. The best quality ones can be even more compact.
Figure out how much space you have to spare in your car or RV and go from there.
Another thing to keep in mind is how portable a generator is. Smaller models have built-in handles, while medium to large ones often have wheels.
Noise
One of the biggest complaints people have about generators is noise. This is especially true if you want to run your generator overnight to keep your refrigerator and AC unit going.
The vast majority of generators will list the minimum possible noise level they produce in decibels (dB). Modern generators with noise reduction measures generally produce between 50 and 60 dB. That's about the same noise level as a normal conversation or an electric clipper.
If you're talking really large generators with 5,000+ watt capacity the noise starts to rise fast. For camping use it's unlikely you'll need that much power.
Fuel Efficiency and Runtime
Fuel efficiency and total runtime are some of the most important factors to consider when looking at generators. The more efficient your generator is the less it costs to use it.
Most camping appropriate generators provide six to eight hours of runtime on a gallon or so of fuel. Most display this metric as 'runtime per tank' with fuel tanks for 1,000-2,000 watt generators rarely exceeding 1.5-1.7 gallons.
The best portable camping generators can adjust their fuel consumption based on load. This allows you to extend the runtime substantially if you use less than the maximum rated load.
Parallel Capable
One really nice feature to have in a camping generator is parallel capability. This allows you to connect two or more generators together to boost the total power produced.
It's an excellent way to reduce your overall costs. Smaller generators are less expensive to purchase, maintain, and operate than larger ones. If you have a highly variable load, such as camping by yourself vs with friends or summer to winter, it can save you a lot of money over the course of the year.
Extra Features
Once you get past the core features there are some extras that are really nice to have. These include a visible fuel gauge, digital display, volt-meter, and auto cut off switches for things like low fuel and low oil.
While not essential, these make it much easier to monitor your generator and use it overnight. If you plan to run your generator to keep an air conditioner, refrigerator, CPAP machine, or other essential tool operating a low fuel sensor is a great add on.
Top Camping Generators Video
Frequently Asked Questions about Camping Generators
As you embark on your camping adventures, having a reliable source of power becomes essential to enhance your comfort and convenience in the great outdoors. Camping generators have become a popular solution, providing electricity for various appliances and devices while you enjoy the serenity of nature. To address any queries you may have regarding camping generators, we have compiled a list of frequently asked questions (FAQ) to guide you through the process of selecting and using these portable power sources. Whether you're a seasoned camper or new to the world of outdoor exploration, this FAQ section aims to provide clarity and insights into the key aspects of camping generators. From understanding the different types and features to ensuring safety and eco-consciousness, we've got you covered. Let's dive into the most commonly asked questions to help you make informed decisions and embark on unforgettable camping experiences powered by the best camping generators.
What is a camping generator?
A camping generator is a portable power source designed to provide electricity while camping or in outdoor settings where access to traditional power outlets is limited or unavailable. It typically runs on gasoline, propane, or batteries and can power various camping appliances and devices.
Why do I need a camping generator?
A camping generator can be incredibly useful during outdoor adventures. It allows you to power essential appliances such as lights, fans, heaters, refrigerators, and even charge electronic devices like phones, laptops, and cameras. With a camping generator, you can enjoy a comfortable camping experience while staying connected.
What should I consider before purchasing a camping generator?
Before buying a camping generator, consider factors such as power output, fuel type, runtime, noise level, portability, and overall reliability. Determine the wattage requirements of your camping gear and devices to ensure the generator can meet your power needs. It's also important to consider the weight and size of the generator, as well as any additional features like eco-mode or parallel capability.
What is the difference between starting watts and running watts?
Starting watts refer to the initial surge of power required by an appliance or device when it is first turned on. Running watts, on the other hand, represent the continuous power needed to keep the appliance or device running. When choosing a camping generator, ensure that the generator's rated running watts can handle the total running wattage of your devices, while the peak starting watts can accommodate the initial power surge.
Can I use a camping generator indoors?
Most camping generators are designed for outdoor use due to the emission of exhaust gases, such as carbon monoxide (CO). It is generally not recommended to use a camping generator indoors or in enclosed spaces, as this can lead to a buildup of dangerous fumes. However, there are specific models available that are designed for indoor use, such as in an RV or camper.
How noisy are camping generators?
The noise level of camping generators can vary depending on the model and manufacturer. In general, smaller inverter generators tend to be quieter compared to conventional generators. Manufacturers often provide information about the noise level of their generators in decibels (dB) at a specific distance. If noise is a concern, look for generators with lower dB ratings or those equipped with noise-reduction features.
How can I safely use a camping generator?
To use a camping generator safely, follow these guidelines:
Read and follow the manufacturer's instructions and safety guidelines.
Use the generator in a well-ventilated area to prevent carbon monoxide buildup.
Keep the generator dry and away from flammable materials.
Do not overload the generator beyond its rated capacity.
Use grounded, heavy-duty extension cords suitable for outdoor use.
Allow the generator to cool down before refueling.
Regularly maintain the generator according to the manufacturer's recommendations.
Can I connect multiple generators together for increased power?
Some camping generators offer parallel capability, which allows you to connect two generators together using a parallel kit. This setup can effectively increase the available power output. However, not all generators are designed to be paralleled, so it's important to check the specifications and compatibility of your generator before attempting to connect multiple units.
Are camping generators eco-friendly?
Many modern camping generators are designed with eco-friendly features to reduce their impact on the environment. Some models include eco-mode, which adjusts the engine speed based on the power demand, resulting in improved fuel efficiency and reduced emissions. Additionally, certain generators offer dual-fuel capabilities, allowing you to switch between gasoline and propane, which can be a cleaner-burning fuel alternative.
How do I maintain a camping generator?
Regular maintenance is crucial for ensuring the longevity and reliable performance of your camping generator. Follow the manufacturer's maintenance instructions, which typically include tasks such as checking and changing the oil, inspecting the spark plug, cleaning or replacing the air filter, and properly storing the generator when not in use. Regular maintenance helps prevent issues and ensures the generator is ready for your next camping adventure.
Best Generators for Camping Recap
Final Thoughts
Finding the best portable camping generator requires a little bit of know how on your part.
You have to know how much power you need, what you're willing to spend, and what kind of capabilities you're looking for.
If you value flexibility and want to always have extra power on hand a larger generator with dual-fuel capabilities may be the way to go.
For those looking for the best bargains and basic functionality a solid entry level camping generator will do just fine.