Welcome to the enchanting world of camping in Scotland, where rugged landscapes, rich cultural heritage, and untamed beauty come together to offer an extraordinary outdoor experience. Nestled amidst majestic mountains, pristine lochs, and breathtaking coastlines, Scotland presents a captivating playground for adventurers and nature lovers alike.
In this comprehensive guide, we invite you to embark on a journey through the diverse wonders of camping in Scotland. From embracing the splendor of nature's playground and discovering hidden gems off the beaten path to indulging in delightful culinary experiences and immersing yourself in local legends and folklore, Scotland has a multitude of treasures waiting to be uncovered.
Picture yourself waking up to the gentle sounds of waves crashing against the shore, or the serenade of a distant bagpipe echoing through the glens. Imagine pitching your tent under a star-studded sky, gazing in awe at the Northern Lights dancing above the rugged Highlands. Whether you seek thrilling outdoor adventures, peaceful moments of solitude, or vibrant cultural celebrations, Scotland offers it all.
As you venture into the wild landscapes, you'll find yourself traversing ancient trails steeped in history, encountering diverse wildlife, and unraveling tales of Scottish folklore passed down through generations. Explore the rolling hills of the Scottish Borders, the mysterious depths of Loch Ness, or the dramatic cliffs of the Isle of Skye. Each corner of Scotland tells a unique story, waiting to be discovered.
In this guide, we'll delve into various aspects of camping in Scotland to ensure your journey is filled with adventure, knowledge, and unforgettable experiences. From essential camping tips and must-visit locations to sustainable practices and local festivals, we aim to provide a comprehensive resource that will help you make the most of your Scottish camping adventure.
So, grab your camping gear, pack your sense of adventure, and get ready to embark on a journey through Scotland's awe-inspiring landscapes. Whether you're a seasoned camper or new to the camping world, Scotland's beauty and charm will captivate your heart and leave you with memories to cherish for a lifetime. Let's dive into the enchanting world of camping in Scotland and unlock the magic that awaits!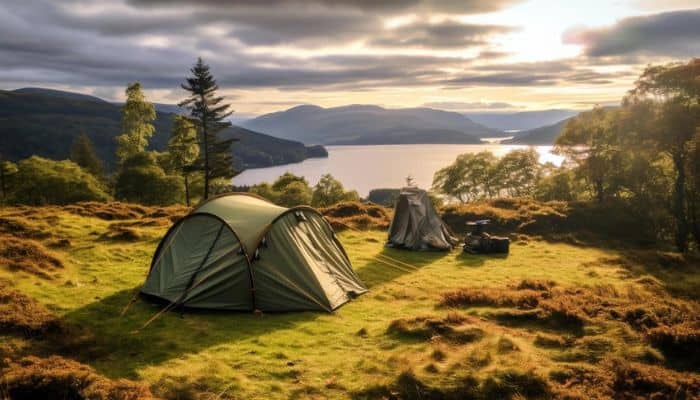 Embrace Nature's Majestic Playground
Scotland's natural landscapes offer a diverse range of camping experiences, each with its own unique charm and allure. Whether you're seeking adventure in the rugged mountains, tranquility by the serene lochs, or the magic of ancient forests, Scotland has it all. Here are some remarkable destinations to consider:
The Highlands: A visit to Scotland would be incomplete without exploring the magnificent Scottish Highlands. Towering mountains, expansive moors, and shimmering lochs define this breathtaking region. Glen Nevis Camping and Caravan Park, nestled at the foot of Ben Nevis, offers stunning vistas and convenient access to hiking trails. Torridon Campsite, located near the Torridon mountain range, boasts awe-inspiring scenery and opportunities for outdoor pursuits like climbing and mountain biking.
Loch Lomond and The Trossachs National Park: Situated just a short drive from Glasgow, Loch Lomond and The Trossachs National Park is a haven for nature lovers. This picturesque park encompasses the stunning Loch Lomond, as well as rolling hills, dense forests, and charming villages. Milarrochy Bay Camping, located on the eastern shores of Loch Lomond, provides a serene setting for camping, with opportunities for water sports, fishing, and scenic walks. Cashel Campsite, situated near the village of Gartmore, offers a tranquil escape surrounded by woodland and open fields.
Isle of Skye: Prepare to be captivated by the ethereal beauty of the Isle of Skye. This enchanting island, known for its dramatic landscapes and ancient legends, is a paradise for nature enthusiasts. Glenbrittle Campsite, located at the foot of the majestic Cuillin Mountains, offers a gateway to explore the island's rugged charm. Torvaig Caravan and Camping Site, situated in the picturesque town of Portree, provides a convenient base for exploring the island's iconic landmarks, including the Fairy Pools and the Quiraing.
Cairngorms National Park: As the largest national park in the UK, Cairngorms National Park is a playground for outdoor adventures. With its towering mountains, pristine lochs, and vast forests, this park offers endless possibilities for camping. Rothiemurchus Camp and Caravan Park, nestled within the Rothiemurchus Estate, allows you to immerse yourself in the tranquility of the ancient Caledonian pine forest and enjoy activities such as hiking, wildlife spotting, and mountain biking.
Coastal Camping: Scotland's coastline is a treasure trove of scenic beauty and hidden gems. From the rugged cliffs of the North Coast 500 to the sandy beaches of the Outer Hebrides, camping by the sea offers a unique perspective on Scotland's natural wonders. Sands Caravan and Camping, located on the beautiful Shetland Islands, provides an opportunity to explore stunning coastal landscapes and encounter unique wildlife, including puffins and seals. Camusdarach Campsite, situated on the West Coast near Arisaig, offers breathtaking views across the white sands and turquoise waters of the Morar Peninsula.
Wherever you choose to camp in Scotland, you'll be surrounded by nature's grandeur, enveloped in a sense of tranquility, and inspired by the sheer beauty that this majestic playground has to offer. So, pack your camping gear, embrace the great outdoors, and embark on an unforgettable adventure in Scotland's pristine wilderness.
Essential Camping Tips for Scotland
Camping in Scotland offers a unique and rewarding experience, but it's essential to be well-prepared to make the most of your adventure. Here are some essential tips to ensure a safe and enjoyable camping trip:
Weather Readiness: Scotland's weather can be unpredictable, even during the summer months. Pack a variety of clothing layers to accommodate changing weather conditions. Be sure to include waterproof and windproof outer layers, as well as warm and moisture-wicking base layers. Sturdy, waterproof hiking boots are essential for navigating Scotland's diverse terrain.
Midges: Midges, small flying insects, can be prevalent in certain areas of Scotland, particularly during the warmer months. To protect yourself, pack midge repellent and consider using midge nets for added protection. Camping near coastal areas or areas with a breeze can help reduce the presence of midges.
Campfire Etiquette: When camping in Scotland, it's crucial to respect the environment and follow campfire regulations. Before lighting a campfire, check if it's permitted at your campsite and use designated fire pits if available. Always ensure the fire is fully extinguished before leaving. Use firewood responsibly and never collect wood from protected areas or from the forest floor. Remember the principles of "Leave No Trace" and clean up after yourself to preserve the pristine beauty of the camping area.
Wildlife Awareness: Scotland is home to a diverse range of wildlife, and encountering these creatures can be a highlight of your camping trip. However, it's essential to respect their habitats and ensure your own safety. Observe wildlife from a safe distance and avoid feeding them, as it can disrupt their natural behavior and create dependency. Familiarize yourself with wildlife guidelines and adhere to them to minimize your impact on their environment.
Book in Advance: Popular campsites in Scotland can fill up quickly, especially during peak seasons and weekends. To secure your preferred campsite and dates, it's advisable to book in advance. This ensures a stress-free camping experience and allows you to plan your itinerary accordingly.
Navigation and Maps: Scotland's wilderness areas can be vast and remote, so it's important to have reliable navigation tools. Carry detailed maps, a compass, or a GPS device to help you navigate trails and ensure you stay on track. Familiarize yourself with the route and potential hazards before setting off on any hikes or outdoor excursions.
Safety Precautions: Prioritize safety during your camping trip. Let someone know your itinerary and expected return time, especially if you plan to venture into more remote areas. Carry a well-stocked first aid kit, a whistle for emergencies, and a fully charged mobile phone or a portable charger for communication. Check local weather forecasts and heed any warnings or advisories.
Respect Local Communities: When camping near towns or villages, be mindful of the local community. Observe noise restrictions, dispose of waste properly, and be respectful of the area's cultural and historical sites.
By following these essential camping tips, you'll be well-prepared to embrace the beauty of Scotland's wilderness while ensuring a safe and responsible camping experience. Prepare for the elements, respect the environment, and immerse yourself in the natural wonders that Scotland has to offer. Happy camping!
Unforgettable Camping Experiences
Camping in Scotland is not just about pitching a tent and enjoying the great outdoors. It's an opportunity to embark on unforgettable adventures and immerse yourself in unique experiences. Here are some remarkable experiences that will make your camping trip in Scotland truly memorable:
Munro Bagging: Scotland is renowned for its Munros, mountains over 3,000 feet (914 meters) in height. Munro bagging has become a popular pursuit for outdoor enthusiasts. Challenge yourself to climb some of these iconic peaks and be rewarded with breathtaking panoramic views. Whether you aim to conquer Ben Nevis, the highest peak in Britain, or explore the dramatic Cairngorms National Park, Munro bagging will provide a sense of accomplishment and allow you to witness Scotland's majestic landscapes from new heights.
Coastal Explorations: With over 10,000 kilometers of coastline, Scotland offers an array of coastal camping opportunities. From the stunning North Coast 500 to the remote beauty of the Outer Hebrides, camping by the sea promises breathtaking views and a chance to connect with Scotland's maritime heritage. Explore the rugged cliffs of the North Coast, discover hidden coves along the Moray Firth, or relax on the pristine beaches of the Isle of Harris. Coastal camping in Scotland guarantees stunning sunsets, invigorating walks, and the soothing sound of crashing waves.
Stargazing Spectacles: Scotland's vast, remote areas provide excellent conditions for stargazing. Escape the city lights and witness the splendor of Scotland's dark skies. The Galloway Forest Park, designated as a Dark Sky Park, offers unparalleled opportunities for stargazing. Set up camp and marvel at the Milky Way, spot constellations, and if you're lucky, catch a glimpse of the mesmerizing Northern Lights. Remember to bring a star chart, a telescope or binoculars, and a cozy blanket to fully appreciate the wonders of the night sky.
Whisky Trail Camping: Scotland is renowned for its whisky production, and camping near distilleries offers a unique and immersive experience. Explore whisky regions such as Speyside or Islay, where you can camp amidst picturesque landscapes and visit world-famous distilleries. Take distillery tours, learn about the whisky-making process, and sample the rich flavors of Scotland's national drink. Camping near distilleries allows you to indulge in the beauty of the surroundings while savoring the spirit of Scotland.
Wildlife Encounters: Scotland's diverse landscapes are home to a wide array of wildlife. Keep your eyes peeled for red deer, golden eagles, otters, seals, and even dolphins as you explore the countryside. Consider camping near wildlife-rich areas like Cairngorms National Park or the Isle of Mull, where you may have the opportunity to spot elusive creatures in their natural habitats. Remember to maintain a safe distance, use binoculars for observation, and respect the wildlife's space.
Historical and Cultural Immersion: Scotland is steeped in history and culture, and camping allows you to delve into its rich heritage. Visit ancient castles, explore prehistoric sites, and learn about Scotland's folklore. Consider camping near historical landmarks such as Eilean Donan Castle or the standing stones of Callanish. Immerse yourself in the stories and legends that have shaped Scotland's identity and appreciate the sense of timelessness that surrounds you.
From conquering mountains to marveling at celestial wonders, Scotland offers a myriad of unforgettable camping experiences. Embrace the adventure, connect with nature, and create lasting memories as you explore the breathtaking landscapes and immerse yourself in the rich tapestry of Scottish culture. So pack your camping gear, set out on a journey of discovery, and let Scotland's captivating beauty unfold before you.
Delightful Culinary Experiences
Camping in Scotland not only allows you to immerse yourself in the breathtaking landscapes but also provides an opportunity to indulge in the country's delightful culinary offerings. Scotland's rich culinary heritage is influenced by its natural bounty of fresh produce, traditional dishes, and world-renowned beverages. Here are some culinary experiences to savor during your camping adventure:
Traditional Scottish Cuisine: Embrace the flavors of Scotland by trying its traditional dishes. Sample haggis, a savory pudding made with sheep's offal, onions, and spices, typically served with neeps (turnips) and tatties (potatoes). Enjoy a plate of smoked salmon, a Scottish delicacy known for its exceptional taste and quality. Tuck into a comforting bowl of Cullen skink, a creamy smoked fish soup. Don't forget to try Scottish shortbread, a buttery and crumbly biscuit that pairs perfectly with a cup of tea.
Seafood Delights: Scotland's coastal location makes it a paradise for seafood lovers. Indulge in freshly caught Scottish salmon, known for its delicate flavor and rich texture. Savor the sweet and succulent flavors of langoustines, mussels, and scallops sourced from the pristine waters of Scotland. For a true seaside experience, visit local fish markets, such as those in Oban or Aberdeen, where you can select the catch of the day and prepare a delicious seafood feast at your campsite.
Whisky Tastings: Scotland is world-famous for its whisky production, and no camping trip is complete without a whisky tasting experience. Visit distilleries in regions like Speyside, Islay, or the Highlands to learn about the whisky-making process, explore aging warehouses, and sample a diverse range of single malts and blended whiskies. Immerse yourself in the complex flavors and aromas of Scotland's national drink, and perhaps even bring a bottle back to enjoy around the campfire.
Farmers' Markets and Local Producers: Scotland's countryside is dotted with farmers' markets and local producers offering an array of fresh produce, artisanal cheeses, homemade preserves, and more. Visit markets like the Edinburgh Farmers' Market or the Stirling Farmers' Market to discover the flavors of Scotland. Engage with local farmers and producers, and stock up on fresh ingredients to create delicious meals at your campsite. Supporting local businesses and enjoying farm-to-table experiences will enhance your culinary journey.
Campfire Cooking: Take advantage of the serene surroundings and enjoy the art of campfire cooking. Gather locally sourced ingredients and prepare simple but satisfying meals over an open flame. Whether it's grilling fresh fish caught from a nearby loch or creating hearty stews with local vegetables, the unique ambiance and flavors of campfire cooking will add a special touch to your culinary experiences in Scotland.
Food Festivals and Events: Scotland hosts a vibrant calendar of food festivals and events throughout the year. Plan your camping trip to coincide with events like the Royal Highland Show in Edinburgh, the Speyside Whisky Festival, or the Taste of Orkney Festival. These events celebrate Scotland's culinary heritage, showcasing local delicacies, artisanal products, and traditional recipes. Participate in cooking demonstrations, attend tastings, and embrace the festive atmosphere that these food-focused gatherings offer.
Camping in Scotland provides an opportunity to explore the diverse flavors of the country. From savoring traditional dishes to indulging in fresh seafood and experiencing whisky tastings, the culinary experiences will add depth and satisfaction to your camping adventure. So, pack a cooler, gather local ingredients, and let the flavors of Scotland enchant your taste buds as you revel in the beauty of the Scottish outdoors.
Outdoor Adventures for All Ages
Scotland's stunning landscapes and diverse terrain offer a plethora of outdoor adventures suitable for adventurers of all ages and abilities. Whether you're embarking on a family camping trip or seeking thrilling experiences with friends, there are activities in Scotland to cater to everyone's interests. Here are some outdoor adventures to consider during your camping trip:
Gentle Hikes and Nature Trails: Scotland is crisscrossed with an extensive network of gentle hiking trails and nature walks suitable for all ages. From short walks along coastal paths to leisurely strolls through enchanting forests, these trails allow you to immerse yourself in Scotland's natural beauty. Family-friendly routes such as the Fairy Pools on the Isle of Skye or the Birks of Aberfeldy near Perthshire offer picturesque scenery and manageable distances, making them perfect for introducing younger explorers to the joys of hiking.
Water Sports and Coastal Exploration: Scotland's abundant coastline and pristine lochs provide excellent opportunities for water sports enthusiasts. Try your hand at kayaking or canoeing on calm lochs, such as Loch Ard or Loch Tay, or venture to the coast for thrilling sea kayaking experiences. Stand-up paddleboarding is another popular water activity that allows you to explore the coastline at your own pace. Families can enjoy beachcombing, rock pooling, and sandcastle building on the many sandy shores that line Scotland's coast.
Thrilling Mountain Biking Trails: Scotland is a paradise for mountain biking enthusiasts, with a wide range of trails catering to different skill levels. From gentle forest tracks to challenging downhill descents, there's something for everyone. Trails like the Seven Stanes in the Scottish Borders or the Glenlivet Mountain Bike Trails in the Cairngorms National Park offer thrilling adventures amid spectacular landscapes. Families can enjoy off-road cycling along dedicated family-friendly trails, such as the Loch Leven Heritage Trail or the Great Glen Way.
Wildlife Safaris and Nature Spotting: Scotland is home to a diverse range of wildlife, and wildlife safaris provide a unique opportunity to observe these magnificent creatures in their natural habitats. Join guided tours in locations like the Cairngorms or the Isle of Mull to spot red deer, golden eagles, seals, and even dolphins. Wildlife centers and reserves, such as the Highland Wildlife Park or the Scottish Seabird Centre, offer interactive experiences suitable for all ages, allowing you to learn about and connect with Scotland's incredible fauna.
Climbing and Abseiling Adventures: Scotland's mountains and craggy cliffs offer thrilling climbing and abseiling experiences for those seeking an adrenaline rush. Whether you're a seasoned climber or a beginner looking for an introductory session, there are guided adventures available to suit all levels. The rugged peaks of the Cairngorms, the sea cliffs of the Isle of Harris, and the famous Ben Nevis all present exciting challenges and breathtaking views for adventurers of all ages.
Forest Adventures and Tree-Top Walks: Scotland's enchanting forests provide a playground for exploration and adventure. Discover forest parks such as the Queen Elizabeth Forest Park or the Glenmore Forest Park, which offer a range of activities including tree-top walks, zip lines, and adventure playgrounds. Walk along elevated platforms, swing from tree to tree, and immerse yourself in the magic of the woodland surroundings. These forest adventures are suitable for families and provide an opportunity to connect with nature while having fun.
Geocaching and Outdoor Treasure Hunts: Engage the whole family in the exciting outdoor activity of geocaching. Geocaching involves using GPS coordinates to locate hidden caches and treasures scattered throughout the countryside. It's a modern-day treasure hunt that combines outdoor exploration with a sense of adventure. Scotland's landscapes provide the perfect backdrop for geocaching, with numerous caches waiting to be discovered in stunning locations.
Scotland's outdoors offer a myriad of adventures for all ages, ensuring that your camping trip is filled with excitement and exploration. From gentle hikes and water sports to wildlife encounters and forest adventures, there's something for everyone to enjoy. So, gather your family and friends, embrace the spirit of adventure, and create unforgettable memories amidst Scotland's awe-inspiring natural playground.
Cultural Festivals and Events
Camping in Scotland offers a wonderful opportunity to immerse yourself in the country's vibrant cultural heritage through its diverse array of festivals and events. From traditional music and dance to historical reenactments and celebrations of Scottish folklore, these gatherings showcase the rich tapestry of Scottish culture. Here are some cultural festivals and events to consider during your camping trip:
Edinburgh Festival Fringe: The Edinburgh Festival Fringe is the world's largest arts festival and a highlight of Scotland's cultural calendar. Held annually in August, it features thousands of performances across various venues in the beautiful city of Edinburgh. From theater and comedy to music and dance, the Fringe offers a diverse range of shows and events to suit all tastes. Consider camping near Edinburgh during this time to fully immerse yourself in the electric atmosphere and enjoy the captivating performances.
Highland Games: The Highland Games, held throughout Scotland during the summer months, are a celebration of traditional Scottish culture. These events feature a variety of traditional sports and activities, including caber tossing, hammer throwing, and Highland dancing. The games also showcase bagpipe bands, tartan-clad competitors, and the iconic massed pipe band performances. Camping near a Highland Games event allows you to witness these displays of athleticism, enjoy traditional music and dance, and indulge in delicious local food.
Celtic Connections: Celtic Connections is a renowned winter music festival held in Glasgow. It celebrates Celtic music and brings together artists from Scotland and around the world. The festival features concerts, workshops, and community events, showcasing a diverse range of music styles including folk, traditional, and contemporary Celtic music. Camp near Glasgow during Celtic Connections to immerse yourself in the vibrant atmosphere and enjoy the sounds of Scotland's musical heritage.
Up Helly Aa: Up Helly Aa is a unique fire festival held in Shetland, an archipelago off the north coast of Scotland. This event takes place annually on the last Tuesday of January and involves a procession of costumed participants carrying torches and culminating in the burning of a Viking longship. The festival celebrates Shetland's Norse heritage and includes music, dancing, and revelry. Camping in Shetland during Up Helly Aa offers a chance to witness this spectacular event, delve into local traditions, and experience the warmth of Shetland hospitality.
Traditional Music Festivals: Scotland is renowned for its rich musical heritage, and there are numerous traditional music festivals held throughout the country. From the Orkney Folk Festival to the Speyfest in Fochabers, these festivals showcase traditional Scottish music, including fiddle tunes, bagpipes, and Gaelic songs. Camp near these festival locations to enjoy live performances, participate in workshops, and experience the lively atmosphere of Scotland's traditional music scene.
Historical Reenactments: Scotland's history is brought to life through historical reenactments held at various locations across the country. From the Battle of Bannockburn to the Jacobite reenactments at Culloden, these events allow you to step back in time and witness key moments from Scotland's past. Camping near these historical sites provides a unique opportunity to learn about Scottish history, witness authentic reenactments, and gain a deeper understanding of Scotland's cultural heritage.
Folklore and Storytelling Events: Scotland is steeped in folklore, myths, and legends. Participate in storytelling events, such as the Scottish International Storytelling Festival in Edinburgh, where professional storytellers captivate audiences with enchanting tales of Scotland's past. These events provide insight into the country's oral traditions and allow you to immerse yourself in the magical world of Scottish folklore.
Immersing yourself in Scotland's cultural festivals and events adds a layer of richness and depth to your camping experience. Whether you enjoy music, history, storytelling, or traditional festivities, there's a cultural event to suit your interests. So, plan your camping trip to coincide with these celebrations, and let the vibrant spirit of Scottish culture weave its magic around you.
While Scotland is renowned for its iconic landmarks and popular destinations, there are also hidden gems and off-the-beaten-path sites that offer a quieter and more intimate camping experience. Exploring these lesser-known locations allows you to discover secluded beauty spots, immerse yourself in nature, and create memories that few others have experienced. Here are some hidden gems to consider during your camping adventure:
Remote Islands: Scotland is dotted with remote islands that offer tranquil retreats and breathtaking scenery. Consider camping on islands like the Isle of Arran, known as "Scotland in Miniature," where you can explore majestic mountains, ancient castles, and beautiful coastal paths. The Isle of Jura, with its rugged landscapes and abundance of wildlife, provides a remote camping experience for those seeking solitude. The Shetland Islands, situated to the northeast of mainland Scotland, offer stunning coastal scenery, ancient archaeological sites, and vibrant birdlife.
Remote Lochs: Scotland is home to numerous lochs, both famous and hidden. While Loch Ness and Loch Lomond attract crowds, there are lesser-known lochs that offer serenity and natural beauty. Loch Maree in the Northwest Highlands is a hidden gem surrounded by ancient Caledonian pine forests and dramatic mountain scenery. Loch Morlich in the Cairngorms National Park is a peaceful freshwater loch with sandy beaches, perfect for swimming or picnicking. Camping near these remote lochs allows you to enjoy the tranquility of nature without the crowds.
Hidden Waterfalls: Scotland's landscape is adorned with enchanting waterfalls that often lie off the beaten path. Hunt for hidden cascades such as the Eas a' Chual Aluinn, Scotland's highest waterfall located in Sutherland. Explore the Falls of Glomach, a secluded and impressive waterfall in the Highlands. Discover the Fairy Pools on the Isle of Skye, a series of crystal-clear pools and cascades that lead to the foot of the Cuillin Mountains. These hidden waterfalls offer magical settings for camping and are perfect for nature lovers and photographers.
Secret Beaches: Scotland's coastline boasts a multitude of hidden and secluded beaches that are waiting to be discovered. Remote stretches of sand such as Sandwood Bay in Sutherland, Camusdarach Beach near Arisaig, and the Silver Sands of Morar provide idyllic camping spots with stunning coastal vistas. These hidden beaches offer opportunities for coastal walks, wildlife spotting, and peaceful relaxation away from the more crowded tourist areas.
Off-the-Beaten-Path National Parks: While popular national parks like the Cairngorms and Loch Lomond and The Trossachs attract visitors, there are lesser-known national parks that offer quieter camping experiences. Consider exploring the Northumberland National Park, just south of the Scottish border, with its rolling hills, ancient ruins, and the famous Hadrian's Wall. The Galloway Forest Park in southwest Scotland is an International Dark Sky Park, providing unmatched stargazing opportunities in addition to its lush forests and picturesque lochs.
Hidden Trails and Walks: Scotland is crisscrossed with numerous hidden trails and walks that lead you through captivating landscapes. Seek out lesser-known routes such as the Rob Roy Way, a long-distance walking trail through stunning Perthshire scenery, or the Kintyre Way, which winds along the Kintyre Peninsula, offering breathtaking coastal views. These hidden trails allow you to escape the crowds and connect with nature in a more secluded setting.
Camping at these hidden gems and off-the-beaten-path sites allows you to experience the untamed beauty of Scotland in a more intimate and personal way. Discover secluded landscapes, find solace in nature's serenity, and create memories that will be cherished forever. So, venture off the well-trodden paths, embrace the spirit of exploration, and uncover the hidden treasures that await you in the Scottish wilderness.
Sustainable Camping Practices
Camping in Scotland offers the perfect opportunity to connect with nature and immerse yourself in the country's stunning landscapes. However, it's crucial to practice sustainable camping to minimize your impact on the environment and help preserve Scotland's natural beauty for future generations. Here are some sustainable camping practices to consider during your trip:
Leave No Trace: Embrace the principles of Leave No Trace, which emphasize minimizing your impact on the environment. Pack out all trash and waste, including food scraps and packaging. Leave your campsite in the same or better condition than you found it. Dispose of waste properly by using designated bins or taking it with you until you can properly dispose of it. Leave natural objects, such as rocks and plants, as you found them, as they contribute to the ecosystem.
Campsite Selection: Choose established campsites whenever possible, as they have designated facilities and minimize the impact on sensitive areas. If wild camping is permitted, follow guidelines and choose a location that is durable and away from fragile ecosystems. Avoid setting up camp near water sources to protect water quality and wildlife habitats.
Respect Wildlife: Observe wildlife from a safe distance and avoid disturbing or feeding them. Do not leave food or waste accessible to wildlife, as it can disrupt their natural behavior and create dependence. Familiarize yourself with local guidelines for interacting with wildlife, such as maintaining a safe distance and using binoculars or telephoto lenses for observation. By respecting wildlife and their habitats, you help preserve the natural balance of Scotland's ecosystems.
Minimize Campfire Impacts: Before lighting a campfire, check if it's permitted at your campsite and use established fire rings or fire pits whenever available. Use only small amounts of dead and downed wood for fuel, and never collect wood from live or standing trees. Ensure the fire is fully extinguished before leaving the campsite or going to sleep. Avoid burning plastic or other non-natural materials, as they can release harmful toxins into the environment.
Use Sustainable Camping Gear: Choose camping gear made from sustainable materials whenever possible. Opt for eco-friendly alternatives, such as reusable water bottles and food containers, to minimize waste. Use biodegradable soaps and detergents for washing dishes or clothes, and avoid using harsh chemicals that can harm the environment. Consider investing in solar-powered chargers or portable batteries to reduce reliance on single-use batteries or electricity.
Conserve Water and Energy: Practice water conservation by using water sparingly and avoiding wastage. Collect and filter water from natural sources when it's safe to do so. Reduce energy consumption by using energy-efficient lighting options and turning off lights and appliances when not in use. Limit noise pollution by being mindful of noise levels, particularly during quiet hours, to respect the tranquility of the natural environment and neighboring campers.
Support Local and Sustainable Businesses: Choose local and sustainable products and services when possible. Purchase food from local farmers' markets, support local businesses for gear rentals or tours, and opt for eco-friendly transportation options. By supporting local economies and sustainable practices, you contribute to the conservation and preservation of Scotland's natural and cultural heritage.
By adopting these sustainable camping practices, you can minimize your environmental impact and help protect the pristine beauty of Scotland's wilderness. Remember, leaving a place better than you found it ensures that future campers can also enjoy the splendor of the Scottish outdoors. Let's all do our part in being responsible stewards of the environment while enjoying the wonders of camping in Scotland.
Local Legends and Folklore
Scotland's rich history is steeped in legends, myths, and folklore that have been passed down through generations. Exploring the country's landscapes and camping in its wild beauty provides the perfect opportunity to immerse yourself in these captivating stories and connect with the spirit of Scotland's folklore. Here are some local legends and folklore tales to delve into during your camping adventure:
The Loch Ness Monster: One of Scotland's most famous legends, the Loch Ness Monster, affectionately known as "Nessie," is believed to inhabit the depths of Loch Ness. Camping near Loch Ness offers a chance to learn about the fascinating stories and sightings associated with this mythical creature. Take a boat tour of the loch, visit the Loch Ness Centre and Exhibition, and keep watch over the water in hopes of catching a glimpse of Nessie.
Fairy Folklore: Scotland is abundant with tales of fairies, mischievous creatures who are said to inhabit ancient forests, hills, and lochs. Explore locations like the Fairy Glen on the Isle of Skye or Doon Hill in Aberfoyle, both known for their connections to fairies and enchanting landscapes. Listen to stories of fairy rings, changelings, and encounters with the "little people" to immerse yourself in the magical folklore of Scotland.
Kelpies and Water Spirits: Scotland's lochs and waterways are said to be inhabited by supernatural creatures, including kelpies and water spirits. Kelpies are shape-shifting water horses that are often depicted as powerful and malevolent beings. Learn about the legends surrounding specific lochs, such as Loch Morar or Loch Maree, which are associated with kelpie sightings. Explore the mystical atmosphere surrounding these bodies of water and let your imagination be captivated by tales of these mythical beings.
The Blue Men of the Minch: The Minch, a strait between the Outer Hebrides and mainland Scotland, is said to be the domain of the Blue Men. These legendary creatures are known for their melodic voices and haunting songs that lure sailors to their watery demise. While camping on the shores of the Minch, listen to the waves crashing against the rocks and imagine the eerie echoes of the Blue Men's songs floating through the air.
The Fairy Pools: Located on the Isle of Skye, the Fairy Pools are a collection of crystal-clear pools and cascading waterfalls that captivate the imagination. According to folklore, these pools are believed to be a gateway to the fairy realm. Camp nearby and embark on a mystical journey, exploring the enchanting scenery and allowing yourself to be transported into the realm of fairy folklore.
Jacobite Legends: Scotland's history is intertwined with the Jacobite rebellion, and tales of bravery, betrayal, and loyalty abound. Visit historical sites such as Culloden Battlefield or Glenfinnan, where Bonnie Prince Charlie raised his standard, and hear stories of the Jacobite uprising. These legends provide a glimpse into Scotland's past and the fierce spirit that still echoes in the highlands.
Local Ghost Stories: Scotland is known for its haunted castles, eerie ruins, and ghostly tales. From the ghost of Mary Queen of Scots at Edinburgh Castle to the Green Lady of Crathes Castle, there are countless spine-chilling stories to discover. Camp near these historical sites and let the stories of restless spirits and haunted places add an air of mystery and intrigue to your camping experience.
By immersing yourself in Scotland's local legends and folklore, you not only gain a deeper appreciation for the country's cultural heritage but also enhance the sense of wonder and magic during your camping trip. Share these tales around the campfire, explore the sites associated with these legends, and let the rich tapestry of Scottish folklore ignite your imagination.
Year-Round Camping Adventures
While summer is the most popular time for camping in Scotland, the country offers captivating outdoor experiences throughout the year. Each season brings its own unique beauty and activities, allowing you to embark on year-round camping adventures. Here's a glimpse into the possibilities that each season offers:
Winter Wonderland: Winter camping in Scotland is a magical experience. Blanketed in snow, the landscapes transform into a winter wonderland. Camp amidst snow-capped mountains, frozen lochs, and frost-kissed forests. Winter is an ideal time for those seeking tranquility and solitude. Enjoy invigorating hikes through crisp snow, indulge in starry nights and the chance to witness the Northern Lights in the dark skies of northern Scotland. Be sure to pack warm, insulated gear, a four-season tent, and be prepared for the colder temperatures.
Spring Blossoms: As spring arrives, Scotland bursts into life with vibrant colors and renewed energy. Camping during this season allows you to witness the emergence of blooming wildflowers, cascading waterfalls fed by melting snow, and the return of migratory birds. Explore woodlands awash with bluebells, venture on scenic coastal walks, and breathe in the fresh scents of spring. Spring camping is an opportunity to experience the awakening of nature and witness the beauty of Scotland's landscapes coming alive.
Summer Adventures: Summer is the peak camping season in Scotland, offering longer days, milder temperatures, and the opportunity to explore the outdoors to the fullest. Camp under the midnight sun in the northern reaches of the country, where the sun barely dips below the horizon. Enjoy long hikes, swim in freshwater lochs, and bask in the warm sunshine on sandy beaches. Summer is ideal for water sports such as kayaking, paddleboarding, and wild swimming. Take advantage of the longer days to explore more remote areas and make the most of Scotland's diverse landscapes.
Autumn's Golden Hues: Autumn paints Scotland's landscapes with warm hues of red, orange, and gold, creating a breathtaking backdrop for camping. Witness the dramatic fall foliage as you hike through forests, explore tranquil lochs, and wander along coastal paths. Autumn is also the season of harvest, and you can visit local farmers' markets to taste the flavors of the season. Embrace the crisp air, capture stunning photographs of the autumnal landscapes, and revel in the serene ambiance of Scotland's autumn camping.
Year-Round Wildlife Encounters: Scotland's wildlife can be enjoyed throughout the year, offering captivating encounters regardless of the season. In winter, spot red deer gathering in snowy glens. In spring, observe nesting seabirds along coastal cliffs. Summer offers opportunities to witness seal colonies basking on rocky shores, while autumn sees the arrival of migratory birds. Keep your eyes peeled for otters, dolphins, golden eagles, and other magnificent creatures that call Scotland home. Remember to respect wildlife and their habitats, observing from a safe distance.
Festivals and Events: Scotland's festivals and events take place year-round, providing additional attractions and entertainment for camping enthusiasts. From winter celebrations like Hogmanay to summer music festivals, there's always something happening. Consider planning your camping trip around events such as the Edinburgh Festival Fringe, the Highland Games, or traditional harvest festivals. These events offer a chance to immerse yourself in Scotland's vibrant cultural scene and add an extra layer of excitement to your camping adventure.
No matter the time of year, Scotland's natural beauty and outdoor opportunities await you. Each season brings its own charm and adventures, ensuring that year-round camping in Scotland is a delight for outdoor enthusiasts. So, pack your camping gear, dress accordingly, and embark on a camping journey that showcases the ever-changing landscapes and the enchantment of Scotland throughout the seasons.
Frequently Asked Questions
As you embark on your camping adventure in the breathtaking landscapes of Scotland, you may have questions and uncertainties about various aspects of your trip. To provide clarity and guidance, we have compiled a list of frequently asked questions to address common queries regarding camping in Scotland. From camping permits and essential gear to wildlife encounters and weather conditions, this section aims to equip you with the information you need for a safe, enjoyable, and memorable camping experience. So, let's explore the answers to these commonly asked questions and set off on your Scottish camping journey fully prepared.
Do I need a camping permit or permission to camp in Scotland?
In Scotland, you have the right to camp on most unenclosed land as long as you do so responsibly. This is known as "wild camping" or "informal camping." However, there are certain areas where wild camping is restricted or prohibited, such as private land or protected sites. Always check local regulations and guidelines before setting up camp. If you prefer staying at established campsites, make reservations in advance, especially during peak seasons.
What are the essential items to pack for camping in Scotland?
When camping in Scotland, it's important to be prepared for changing weather conditions. Essential items to pack include a sturdy tent, warm sleeping bags, insulated sleeping pads, waterproof and layered clothing, sturdy footwear, a camping stove, cooking utensils, food supplies, a first aid kit, and navigation tools. It's also advisable to bring insect repellent, sunscreen, a headlamp, and a portable charger for electronic devices.
Are campfires allowed in Scotland?
Campfires are generally allowed in Scotland, but regulations vary depending on the location and time of year. Some campsites provide designated fire pits or fire rings, while others may have restrictions or bans due to safety concerns or environmental protection. Always check with the landowner or campsite management regarding fire regulations. If campfires are permitted, use only dead and downed wood, keep fires small, and ensure they are fully extinguished before leaving the area.
How do I find suitable campsites in Scotland?
Scotland offers a wide range of campsites, from wild camping spots to fully equipped campgrounds with facilities. To find suitable campsites, you can refer to official camping websites, camping guidebooks, or use online resources that provide campground directories and reviews. It's advisable to book campsites in advance, especially during peak seasons, to secure your spot.
How is the weather in Scotland for camping?
Scotland's weather is known for its variability, and it's essential to be prepared for changing conditions. It can be sunny and warm one moment and rainy and chilly the next. Pack waterproof and layered clothing to adapt to the changing weather, including rain gear, warm layers, and hats. Keep an eye on weather forecasts and be prepared for lower temperatures, especially at night and in higher elevations.
What wildlife should I be aware of while camping in Scotland?
Scotland is home to a diverse range of wildlife, including deer, wildcats, seals, otters, and various bird species. While encounters with wildlife are often a highlight, it's important to observe animals from a safe distance and avoid feeding or approaching them. Proper food storage is crucial to prevent wildlife encounters in your campsite. Learn about local guidelines for wildlife interactions and respect their natural habitats.
Are there any midges or ticks in Scotland?
Scotland is known for its midges, small biting insects that can be bothersome, especially in the summer months. It's advisable to pack midge repellent, wear long sleeves and trousers during peak biting times, and consider using a midge net for added protection. Ticks are also present in certain areas and can carry diseases. Wear long clothing, use insect repellent, and check your body for ticks regularly, especially after walking through tall grass or woodland areas.
Can I bring my pet when camping in Scotland?
Pets are generally welcome at many campsites in Scotland, but it's important to check the specific pet policies of each campground. Some campsites may have restrictions or require pets to be kept on a leash. Additionally, make sure to clean up after your pet and respect the environment and other campers.
How can I ensure a sustainable camping experience in Scotland?
To have a sustainable camping experience, practice Leave No Trace principles by properly disposing of waste, leaving your campsite clean, and minimizing your impact on the environment. Respect wildlife and their habitats, use sustainable camping gear, conserve water and energy, support local and sustainable businesses, and follow any specific guidelines provided by the landowner or campsite management.
Is it safe to camp alone in Scotland?
Camping alone in Scotland can be safe, but it's important to take necessary precautions. Inform someone about your camping plans and expected return time. Choose well-traveled camping spots or established campsites for added safety. Be aware of your surroundings, follow basic safety guidelines, and trust your instincts. It's advisable to have a means of communication, such as a charged mobile phone or a personal locator beacon.
Camping in Scotland offers a remarkable outdoor experience, but it's essential to be well-prepared, informed, and responsible. By considering these frequently asked questions and planning accordingly, you can have a memorable and enjoyable camping adventure in the captivating landscapes of Scotland.
Final Thoughts
Camping in Scotland is a truly remarkable experience that immerses you in the untamed beauty of its landscapes, rich cultural heritage, and the warmth of its people. From the majestic mountains and serene lochs to the rugged coastlines and enchanting forests, Scotland offers a diverse range of natural wonders to explore. Whether you're a seasoned outdoor enthusiast or a first-time camper, Scotland has something to offer everyone.
In this comprehensive guide, we have delved into the various aspects of camping in Scotland, covering everything from embracing nature's majestic playground to essential camping tips, unforgettable experiences, culinary delights, cultural festivals, hidden gems, sustainable practices, and frequently asked questions. Armed with this knowledge, you are now ready to embark on an unforgettable camping adventure in the land of tartan, bagpipes, and breathtaking landscapes.
As you pitch your tent under starlit skies, wake up to the soothing sounds of nature, and embark on thrilling outdoor adventures, remember to respect and preserve Scotland's pristine environment. Follow sustainable camping practices, leave no trace, and engage with local communities in a responsible and respectful manner.
Scotland's landscapes are ever-changing, offering unique experiences throughout the seasons. From winter wonderlands and blossoming springs to adventurous summers and golden autumns, each season presents its own captivating allure. So, whether you're camping in the snow-covered peaks of the Highlands, hiking through blooming meadows in the Borders, or exploring the rugged coastline of the Hebrides, every moment spent camping in Scotland is an opportunity to create memories that will last a lifetime.
Embrace the local legends and folklore, savor the culinary delights, connect with nature, and immerse yourself in the vibrant cultural scene. Engage in outdoor activities for all ages, seek out hidden gems, and participate in festivals and events that celebrate Scotland's rich heritage. By doing so, you will not only forge a deeper connection with this captivating country but also contribute to its preservation for future generations to enjoy.
So, pack your camping gear, unleash your spirit of adventure, and let the rugged beauty of Scotland captivate your senses. Discover the wonders that lie beyond the well-trodden paths, and let the untamed landscapes and warm Scottish hospitality leave an indelible mark on your camping journey. Whether you're camping by a mist-covered loch, gazing at ancient castles, or wandering through heather-clad moors, Scotland is ready to welcome you with open arms. Let your Scottish camping adventure begin!